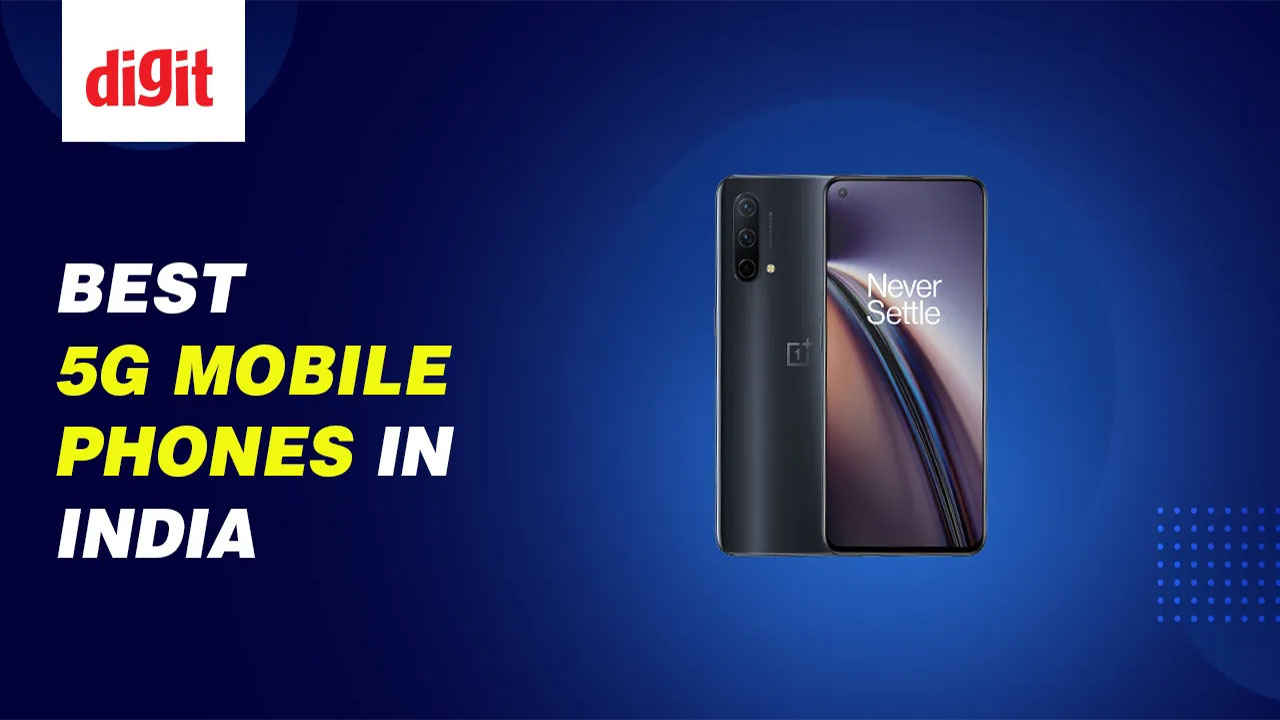 5G is arguably the most in-demand feature at this point. Pretty much anyone who is upgrading to a new smartphone is looking for a 5G option, just to have the access to the latest network standard and fastest-possible internet speeds. Before 5G was rolled out in India, the feature was mostly limited to premium or high-end smartphones. However, with the widespread use of the technology, we now have good 5G smartphones for every budget. Be it the top-of-the-line Apple iPhone 14 Pro Max, a mid-range iQOO Neo 7, or a budget-centric Moto G73, there are multiple 5G smartphones for buyers in all budgets. Here are some of our favourite 5G smartphones in every budget:
The Apple iPhone 14 Pro Max tops the best 5G smartphones in every budget list purely becuase the smartphone supports the most amount of 5G bands on any smartphone. The Apple iPhone 14 Pro Max comes with 22 5G bands, along with everything else you get with the best iPhone in the market. The Apple iPhone 14 Pro Max, while being last year's flagship, still holds the highest Geekbench score in all the flagship smartphones we have tested at Digit so far. The iPhone 14 Pro Max also comes with a Dynamic Island, which replaced the notch in the iPhone 14 Pro models, along with a new 48-megapixel shooter, which clicks sharp, detailed, and colourful images. We also get Apple's ProMotion display which is basically what the company calls its adaptive refresh rate tech (up to 120Hz).
Samsung Galaxy S23 Ultra comes second as the smartphone holds the mosot amount of 5G bands on any Android device. The Samsung Galaxy S23 Ultra uses 16 5G bands, which gives the smartphone a larger 5G coverage than many other options. The Samsung Galaxy S23 Ultra is this year's Ultra-flagship for Android, and comes with a custom Qualcomm Snapdragon 8 Gen 2 chipset paired with 12GB of RAM. The custom Snapdragon 8 Gen 2 on the Galaxy S23 Ultra basically has a higher clock speed as compared to other Snapdragon 8 Gen 2-powered smartphones. This helps the Galaxy S23 ultra achieve a higher single-core speed than its rivals. We also get Samsung's best camera chops with the Galaxy S23 Ultra. The smartphone comes with a quad rear camera setup including a new 200-megapixel primary Samsung ISOCELL shooter, a 12-megapixel ultra-wide angle lens, a 10-megapixel telephoto shooter, and another 10-megapixel periscope telephoto shooter. The camera on the Samsung Galaxy S23 Ultra is one of the best on any smartphone, just not as elaborate as we have seen from some competing smartphones recently.
Xiaomi's flagship for this year, the 13 Pro isn't only the first smartphone with Leica-powered cameras to come to India, it comes with a wide 5G coverage of 15 5G bands. This is right below the Samsung Galaxy S23 series. The Xiaomi 13 Pro's Leica-powered camera setup is also one of the first in India to come with a 1-inch type sensor. We get a 50MP Sony IMX989 shooter with a 1-inch type sensor, a 50-megapixel telephoto lens, which has a floating lens technology that allows the telephoto to also act as a macro shooter. Further, there is a 50-megapixel wide angle shooter. The camera on the Xiaomi 13 Pro is elaborate, to say the least. Other things on the smartphone include a top-spec Snapdragon 8 Gen 2 chip, 12GB of RAM, and a fantastic 6.73-inch curved LTPO AMOLED display. We also get support for Dolby Vision and HDR10+ which makes watching movies and TV shows on the Xiaomi 13 Pro a delight. The only drawback here is that the smartphone is very heavy and you won't be able to hold it for too long while viewing content.
The smartphone that is more "OnePlus" than the OnePlus flagship, the OnePlus 11R is also a good 5G smartphone as you get a proper flagship chip (Qualcomm Snapdragon 8+ Gen 1), more RAM than on many people's laptops (up to 16GB RAM), and a nice Fluid AMOLED display with a 120Hz refresh rate. The OnePlus 11R is the younger sibling to the OnePlus 11, which means we don't get as many premium features and the camera is just about average as compared to some other devices in this range. Other specs on the OnePlus 11R include an ultra-fast 100W fast charging, a triple rear camera, and very good, sturdy build quality.
iQOO's mid-cycle refresh for last year, the iQOO 9T is still a very good 5G smartphone and deserves a prominent spot, being one of the high-end devices that are still right up there with the latest flagships. The iQOO 9T was launched late last year as a competitor to the likes of the OnePlus 10T and Oppo Reno 8 Pro. The iQOO 9T is powered by a Qualcomm Snapdragon 8+ Gen 1 SoC paired with up to 12GB of RAM. We also get Vivo's proprietary ISP, the Vivo V1+, which takes care of all the camera processing on the iQOO 9T. Coming to camera, it includes a 50-megapixel primary shooter, a 12-megapixel wide angle lens, and a 13-megapixel telephoto shooter. The iQOO 9T also has a superb display, which is a 6.78-inch 10-bit AMOLED display with a 120Hz refresh rate and up to 1,500 nits of peak brightness. This display also comes with support for HDR10+, which will make the experience of watching movies and TV shows on the smartphone a super pleasing experience.
One of the few Oppo smartphones to feature in our top 10 lists, the Oppo Reno 8 Pro was the company's high-end offering last year. The Oppo Reno 8 Pro is a very good 5G offering, since the smartphone offers a very premium Android experience, along with a good coverage of sufficient 5G bands. The Oppo Reno 8 is powered by a MediaTek Dimensity 8100 Max chipset paired with up to 12GB of RAM, which helps the smartphone achieve a good AnTuTu score of more than 710,000. The Oppo Reno 8 Pro is a premium Android offering, meaning that we also get a high-end AMOLED display with 120Hz refresh rate and HDR10+ support that is great for both entertainment purposes and gaming, and the smartphone has a brilliant camera setup with a 50-megapixel primary shooter, an 8-megapixel ultrawide angle lens, and a 2-megapixel macro shooter.
The gaming-centric mid range smartphone from iQOO, the Neo 7 is one of the most powerful smartphones in this segment at this point. The smartphone showed us some of the best benchmark scores in this budget, touching up to 857,930 points on AnTuTu, and up to a 3922 multi-core score on Geekbench. The iQOO Neo 7 also offers a good 5G coverage with 8 5G bands ranging from low frequency to high frequency. The iQOO Neo 7 also has a nice display and battery. We get a stunning AMOLED display with 120Hz refresh rate and HDR10+ support, adding to the smartphone's gaming and entertainment chops. The iQOO Neo 7 also has good battery backup with the 5000mAh unit, but at times it drains battery. This is still not bad since the 120W fast charging charges the iQOO Neo 7 from 0 to 100 in under 30 minutes!
Xiaomi's premium mid-ranger for 2023, the Redmi Note 12 Pro+ comes with many premium features like a Pro AMOLED display, a powerful camera setup with 200-megapixel primary shooter, good performance, and a nice build quality. Icing on cake, the Redmi Note 12 Pro+ also has very good 5G coverage, using 10 bands across frequencies. The Redmi Note 12 Pro+ is powered by MediaTek's new mid-range chip, the MediaTek Dimensity 1080 paired with up to 12GB of RAM and upto 256GB of internal storage. The storage standard on the Redmi Note 12 Pro+, however, is a bit dated at UFS 2.2.
Being the first budget phone in our list of best 5G smartphones in every budget, the Moto G73 comes with 13 5G bands. Apart from the 5G bands, we also get 3 carrier aggregation and 4X4 MIMO to bolster network and connectivity. The Moto G73 is also an impressive performer with a great battery life. The smartphone also has a pretty decent camera with an 50MP + 8MP dual rear camera setup, but it struggles a bit in low light. The display is responsive, but the IPS LCD panel has a low peak brightness. Further, the G73's display is a step down from the predecessor, since the Moto G72 had a 10-bit p-OLD display.
Last in the list, the iQOO Z7 5G has good 5G coverage for a sub-Rs 20,000 smartphone. We get six 5G bands with a nicely capable MediaTek Dimensity 920 SoC, which is paired with 8GB RAM to give a good gaming experience on the smartphone. The iQOO Z7 5G is also one of the only smartphones in this range to come with an OIS-enabled camera. The display on the iQOO Z7 5G also impressed us quite a bit. We get a 6.38-inch FHD+ AMOLED panel with a 90Hz refresh rate. While it is not the most responsive in the segment, it gets the job done pretty well.
Disclaimer: Digit, like all other media houses, gives you links to online stores which contain embedded affiliate information, which allows us to get a tiny percentage of your purchase back from the online store. We urge all our readers to use our Buy button links to make their purchases as a way of supporting our work. If you are a user who already does this, thank you for supporting and keeping unbiased technology journalism alive in India.