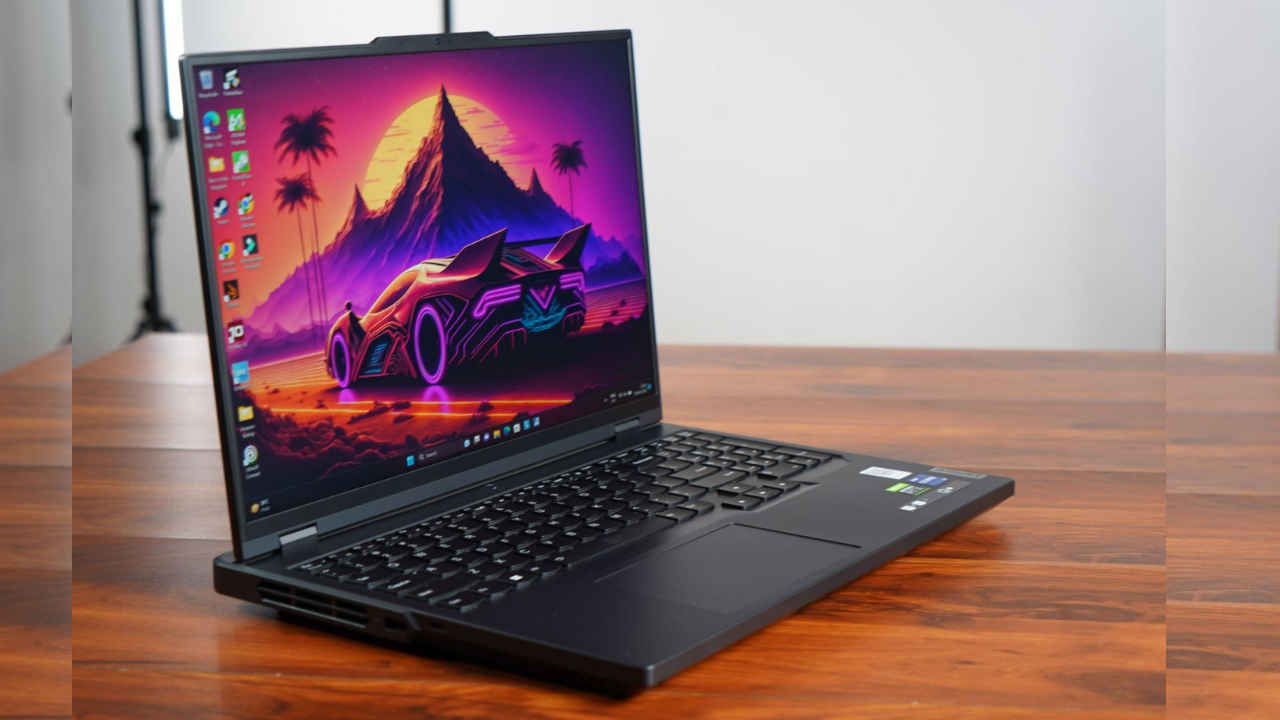 PROS:
Solid build quality, Superb display, Fantastic I/O Support
CONS:
No manual fan control, Only 512GB SSD in the base variant,
VERDICT:
The Lenovo Legion 5i Pro offers an intelligent fusion of design, functionality, and affordability. Powered by an Intel Core i7-13700HX processor, Nvidia GeForce RTX 4060 graphics card, 16GB DDR5 memory, and a 1TB SSD, the laptop stands out as a potent contender in the mid-tier gaming laptop sector. Its robust CNC aluminum and PC-ABS chassis, coupled with impressive connectivity options and a 16-inch 240Hz display with superb color accuracy, sets a high bar. While its GPU might not be the most advanced, it ensures a satisfying gaming experience across most modern 3D titles, making the Lenovo Legion 5i Pro a compelling choice for mid-tier gamers in 2023.
The Lenovo Legion 5i Pro Review: The Tesla Model 3 of Gaming Laptops
Christian Von Koenigsegg, CEO of Koenigsegg Automotive AB, called the Tesla Model 3 as the "best EV daily driver". You must be wondering then that the Tesla Model 3 must be one really fast car, and objectively, it is. You must also think that the Tesla Model 3 must be the best-handling, the most feature loaded, or the most reliable car out there. Well, I am afraid, it isn't so either. What it really is is a very clever mixture of performance, design, and features that feel just right for the money you have to spend in order to own one. And in the same sense, the Lenovo Legion 5i Pro is also just like the Tesla Model 3 of the gaming laptop world.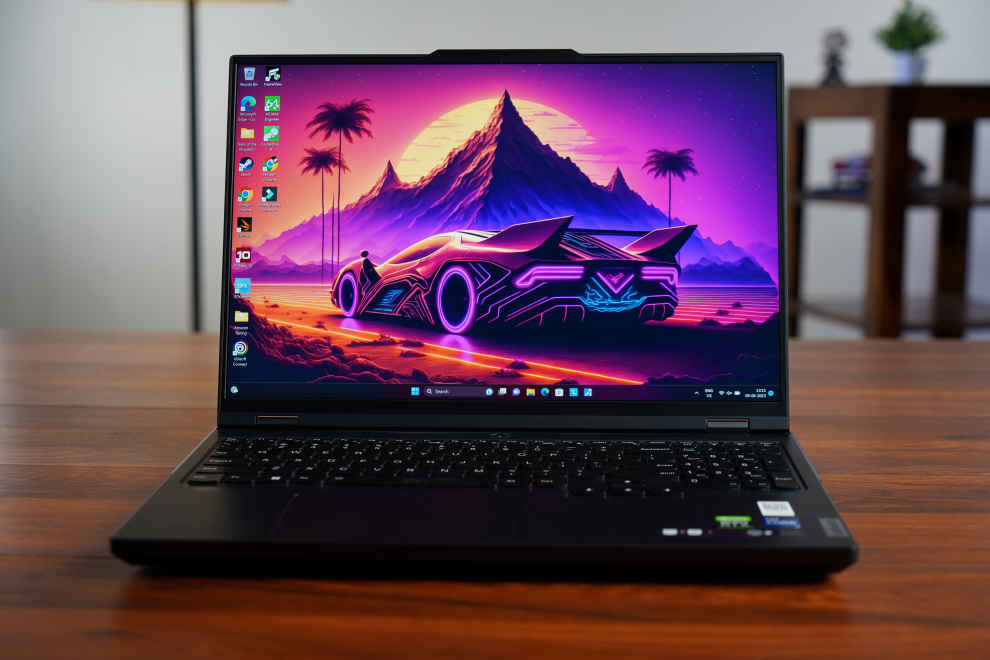 By now you must have gotten an idea about where the new Lenovo Legion 5i Pro 2023 stands as a gaming laptop. But if you didn't get my reference, then here's what you need to know. The Lenovo Legion 5i Pro is a high-end gaming laptop that isn't exactly "super-premium" but delivers performance to easily play games at 1440p 60FPS and even higher in most cases. So what can we concur from this? Is the Lenovo Legion 5i Pro worth the price tag? To answer that question here's the Lenovo Legion 5i Pro (2023) review.
Lenovo Legion 5i Pro – Specifications
Processor – Intel Core i7-13700HX 24-core CPU with 5.00GHz maximum turbo boost frequency.
Graphics – Nvidia GeForce RTX 4060 with 8GB GDDR6 VRAM (140W TGP)
Memory – 16GB DDR5
Display – 16-inch WUXGA+ IPS LCD 240Hz display with 500 nits of brightness
Storage – 1TB SSD
Battery – 80Wh
Weight – 2.55kg
Lenovo Legion 5i Pro – Design And Build Quality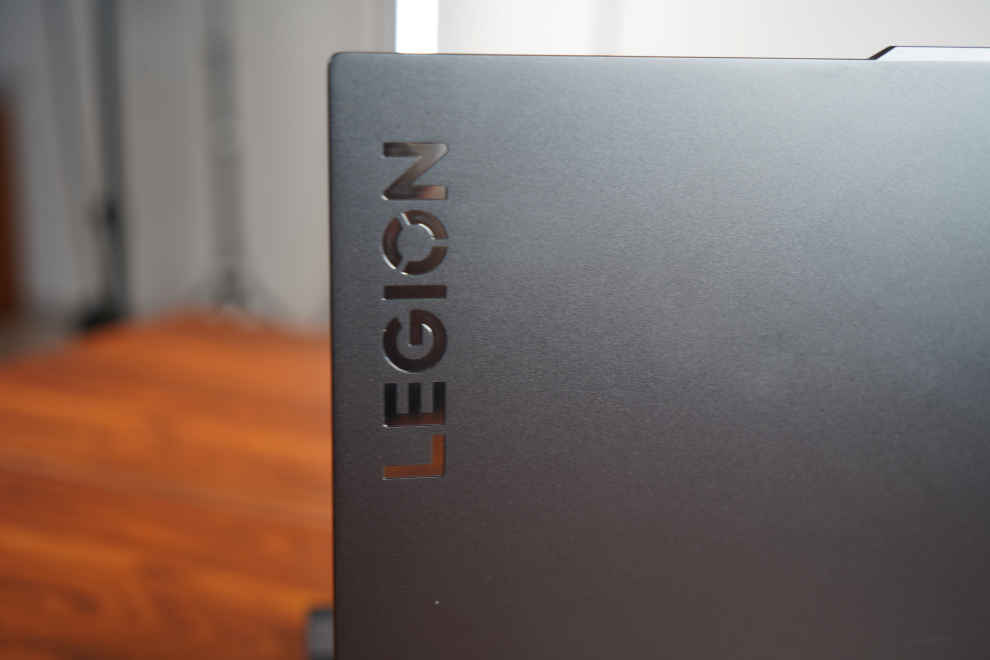 The Lenovo Legion 5i Pro chassis uses plastic as well as metal. The lid cover is made up of CNC or Computer Numeric Control aluminium, in which metals, in this case, aluminium, are precisely cut with the help of machines. And the CNC process does not affect the strength of aluminium in any way and the lid does indeed feels very sturdy.
The rest of the laptop's chassis meanwhile, is made up of PC-ABS, which stands for polycarbonate (PC) and acrylonitrile butadiene styrene. These two plastics combine resulting in a material that is strong and also heat resistant. The ABS part of the "PC-ABS" also helps prevent cracking or breaking in the laptop chassis.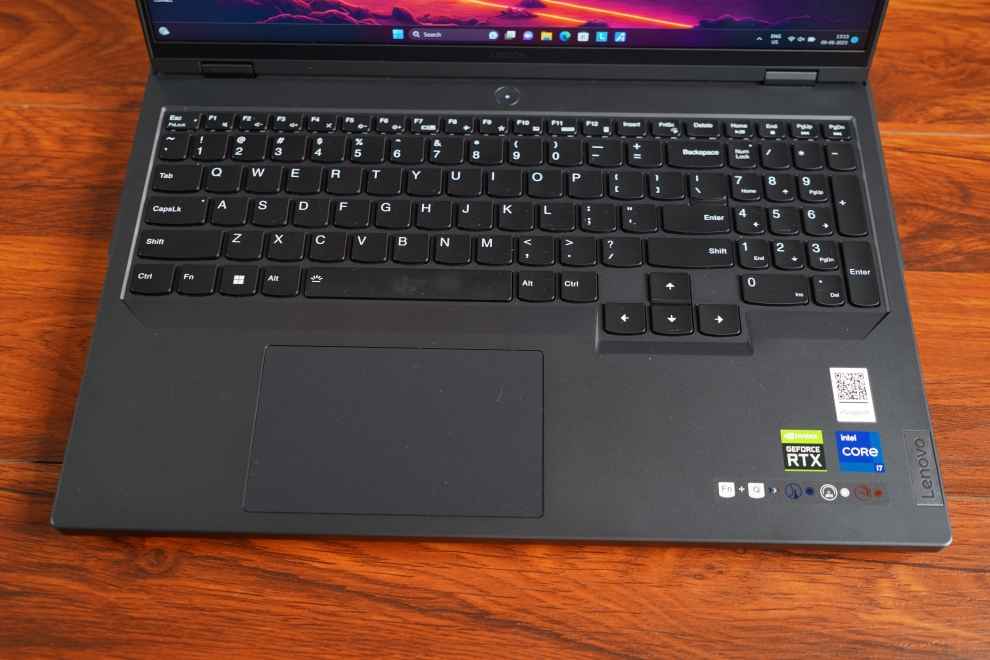 Also Read: Lenovo IdeaPad Gaming 3 15IAH7 Review: The Ideal Budget Gaming Laptop?
My Legion 5i came in a greyish colour but obviously, Lenovo being a brand has to call it something fancy. And it indeed does, my laptop's colour name is Onyx Grey. I think all the Pokémon fans just got hit with a wave of nostalgia. Nevertheless, it looks stealthy, with no RGB lights sticking out on its lid, and with a 22.45mm thickness and 2.55kg body weight, it is also decently portable.
Both sides of the chassis and the back of the laptop feature air vents and a wide variety of I/O ports. However, one small detail that impressed me a lot was the curved corners of the laptop. I mean, they're not excessively curved but curved enough to prevent discomfort in your wrist while typing.
Lenovo Legion 5i Pro – I/O Ports Review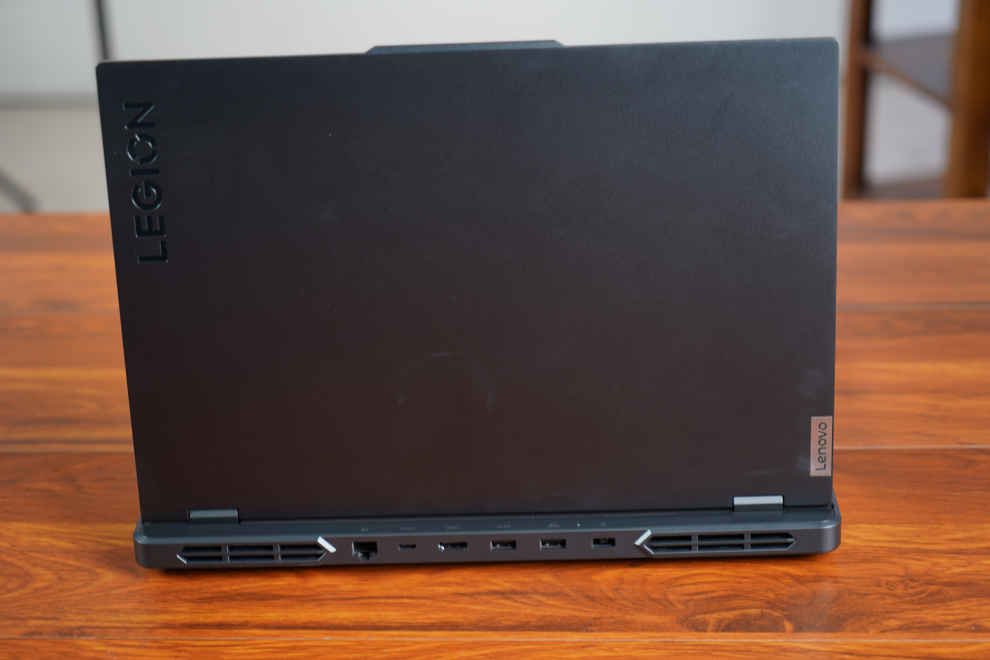 In terms of connectivity, the Lenovo Legion 5 Pro earns impressive accolades. A standout feature is its USB-C port, which boasts DisplayPort Alternate Mode and Power Delivery up to 140 watts. While this doesn't match the full power the laptop requires at maximum load, as it's supplied with a 300-watt power adapter, it's ample for less intensive tasks. This versatility allows users to leave the hefty 300-watt power adapter behind when the laptop's peak performance is not a necessity.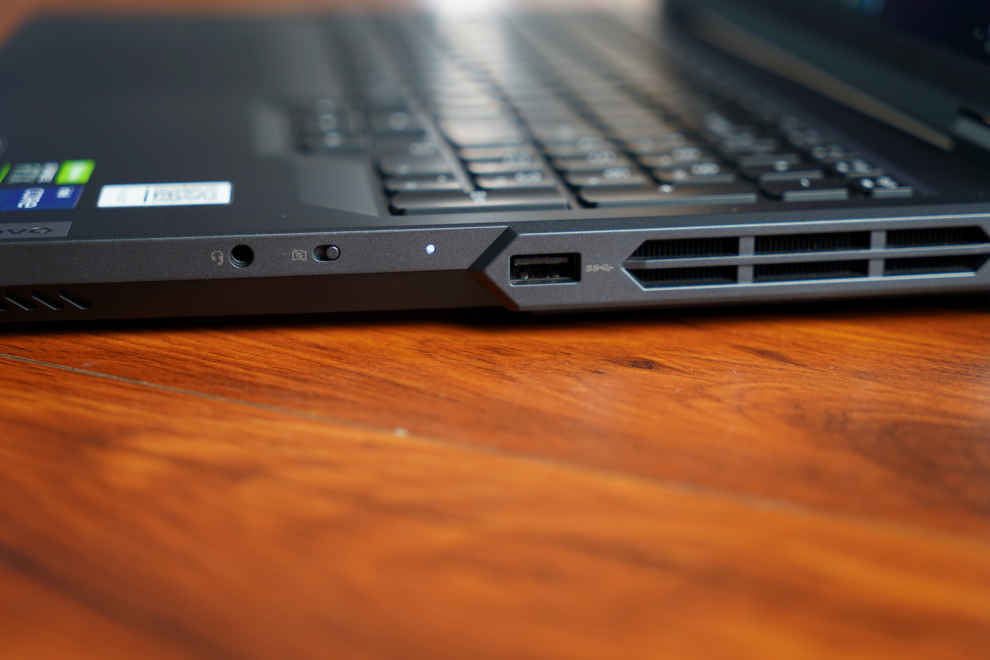 Complementing the primary USB-C port is another USB-C port, which supports DisplayPort but lacks Power Delivery, and three USB-A ports. The combined count of five USB ports is commendable for any laptop available in 2023. These are supplemented by an HDMI 2.1 port, an Ethernet port, and a 3.5mm combo audio jack. The strategic placement of most of these ports at the rear of the laptop enhances desk-based cable management.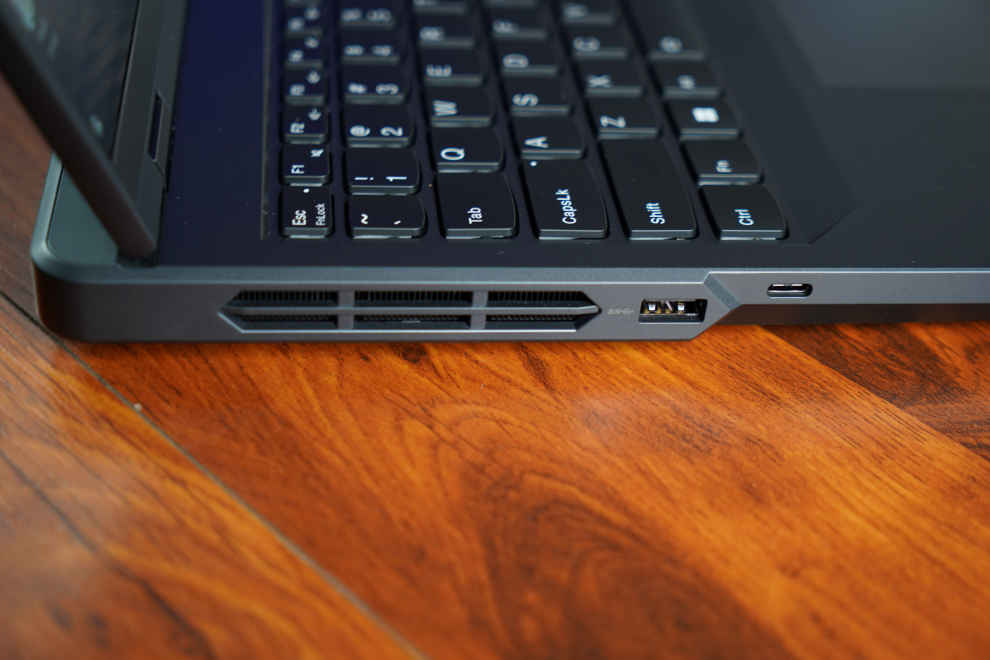 On the wireless front, the Legion 5 Pro incorporates Wi-Fi 6E and Bluetooth 5.1, in line with the standards set by contemporary gaming laptops. The Wi-Fi performance proves to be quite robust when linked to a Wi-Fi 6 or Wi-Fi 6E router, negating the need for a wired Ethernet connection for many gamers, though it's available if required.
Lenovo Legion 5i Pro – Keyboard Review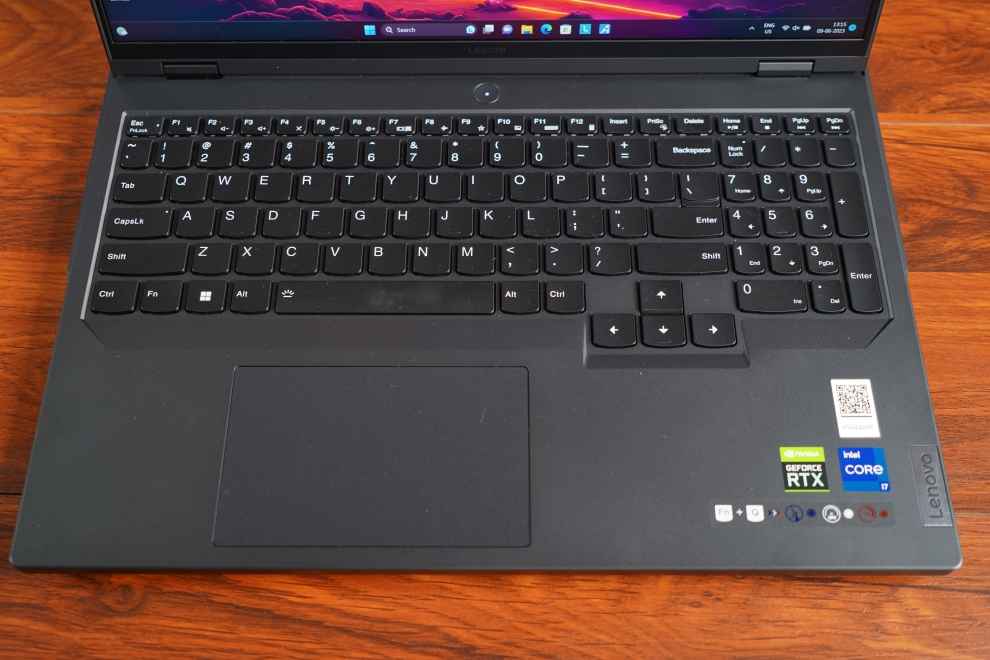 The Legion Pro 5i from Lenovo is a substantial piece of machinery that doesn't bring the tactile satisfaction of a mechanical keyboard to the table but still provides an unexpectedly comfortable and pleasing typing experience. Its keys function with a level of discretion that would appeal to noise-sensitive users, while still offering the personalization of a color-customizable keyboard, separated into four unique zones.
Lenovo has incorporated a full-size keyboard which means it has a dedicated number pad. Despite the numerical keys being somewhat less expansive compared to the standard keys, they offer a streamlined way to for using programs like Google Sheets, Excel, etc. As for the touchpad, Lenovo has opted for a plastic construction that, though smaller compared to the increasingly oversized touchpads that have become somewhat standard in recent releases (the Samsung Galaxy Book 3 Ultra being a case in point), still capably handles navigation within Windows 11. That said, in the realm of gaming where precision is paramount, my preference was towards a wireless mouse when I was using the Legion Pro 5i.
Lenovo Legion 5i Pro – Display Review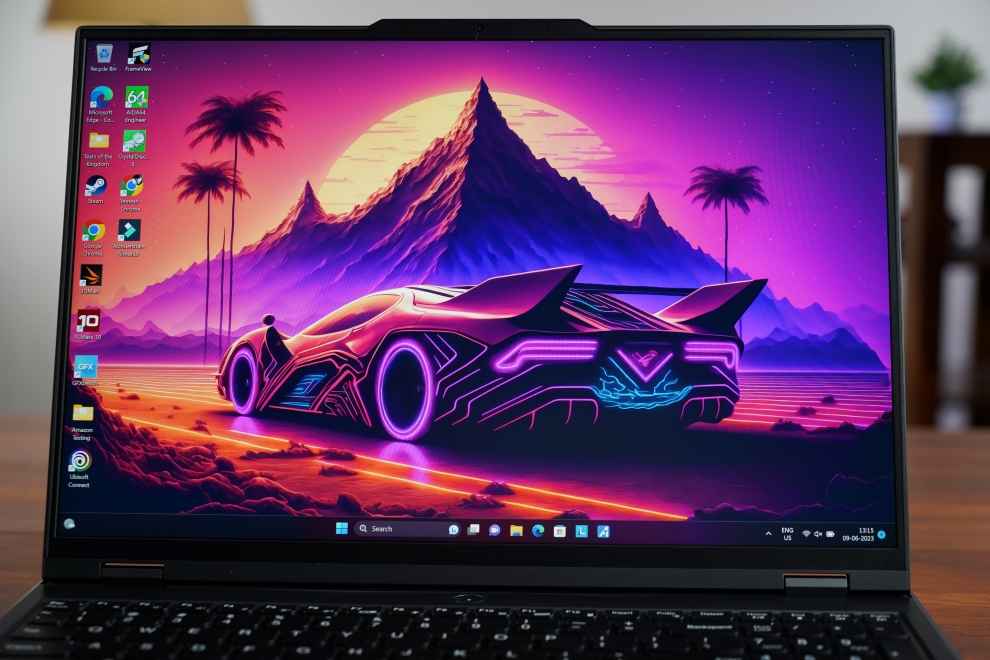 The Lenovo Legion 5i Pro 2023 gaming laptop features an expansive 16-inch display and a resolution of 2560 x 1600, all framed within a 16:10 aspect ratio, and enhanced by a 240Hz Hz refresh rate. The goal? To provide an excellent visual experience.
Transitioning to the more technical side of things, a comparison with the previous Gen 7 model reveals some adjustments Lenovo has made in the Gen 8 variant. According to my readings, the Legion Pro 5i achieved a peak brightness of around 540 nits, making it one of the brightest laptops in its segment. Moreover, the Legion 5i Pro maintained commendable scores in both the sRGB and DCI-P3 color spaces, registering at 106.4% and 78.2% respectively.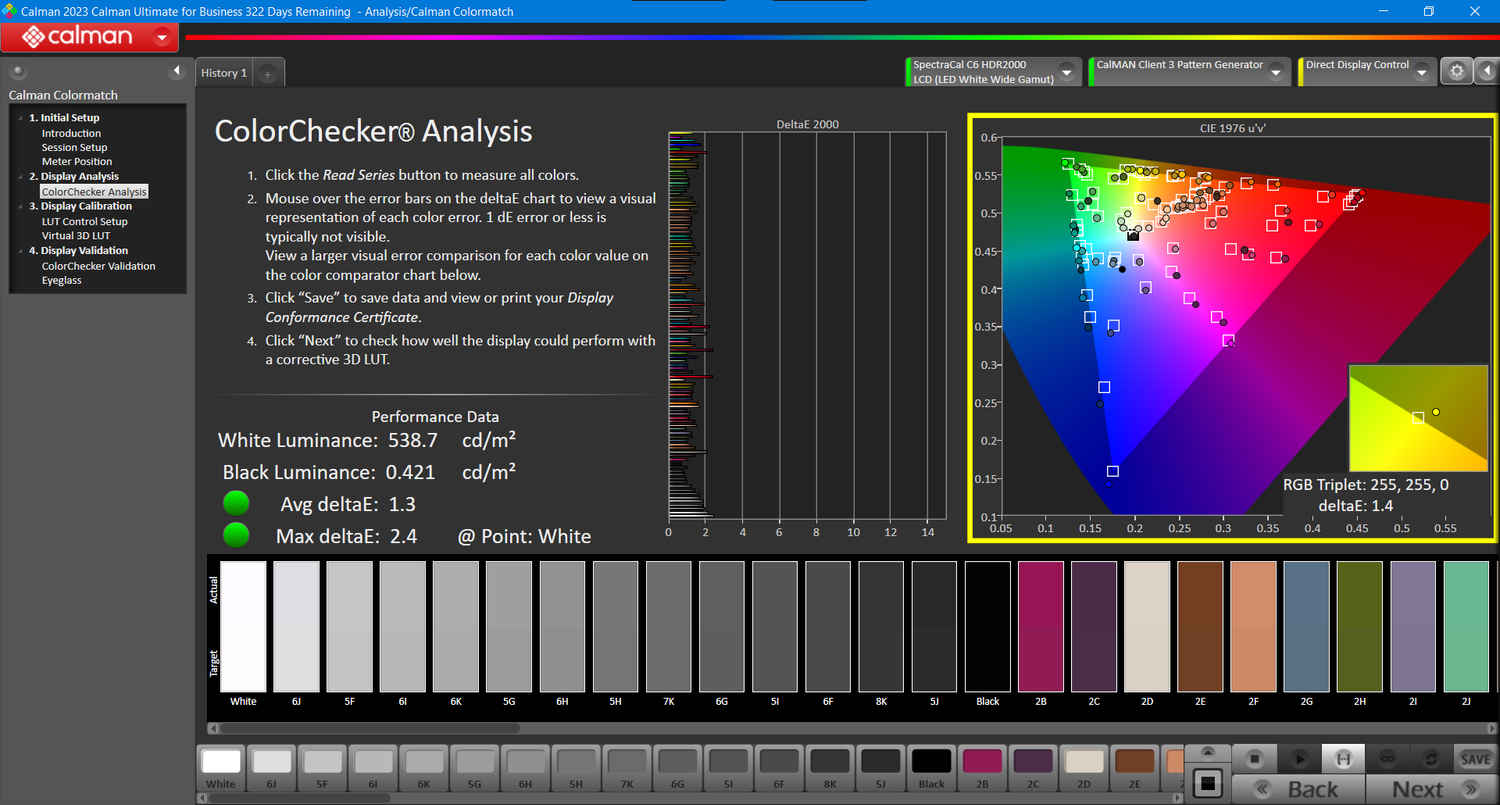 The Legion 5i Pro's display also has a very high degree of colour accuracy. During the Calman ColorChecker analysis test, the laptop's display scored an Average Delta E value of 1.3. For context, this value is inversely proportional to the display. And the maximum Delta E value is 2.4, making the Legion 5i Pro's display one of the best in its segment in terms of colour accuracy.
To conclude, it's clear Lenovo has successfully elevated the display capabilities in their transition from the previous generation to the Legion Pro 5i.
Also Read: Lenovo Yoga 9i Review: The 2-in-1 all-rounder
Lenovo Legion 5i Pro – Performance Review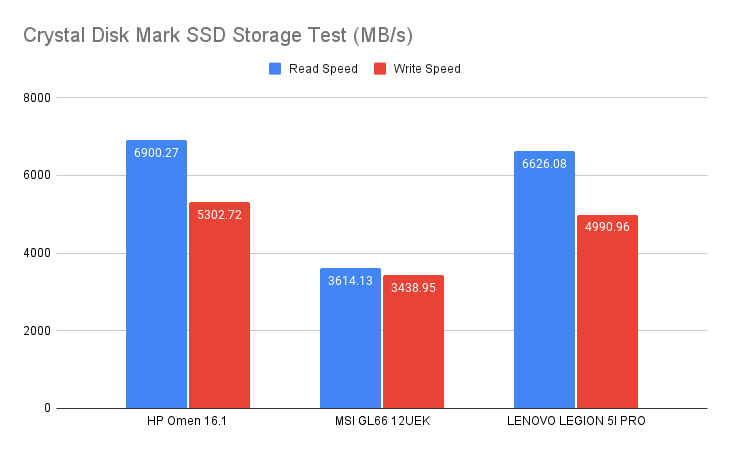 Performance is one of the main reasons why you could consider buying this machine. Let me talk about some numbers – 19133 Multicore scores in Cinebench R23, 8665, and 20133 in 3d Mark's TimeSpy and Firestrike. For reference, here are its CPU and GPU benchmarks in comparison with the MSI GL66 and HP Omen 16. The Legion 5i Pro easily beats both of them.
The Lenovo Legion 5 Pro flexes its robust mid-tier specifications, boasting an Intel Core i7-13700HX processor with an aggregate of 16 cores – eight Performance and eight Efficient ones – reaching a maximum clock speed of 5GHz. This powerhouse couples with 16GB of DDR5 memory and a 512GB solid-state drive, whose read and write speed you can see down below.
As you're undoubtedly aware, the Lenovo Legion 5i Pro is equipped with high-performance components that consume considerable power. Consequently, after extended periods of gaming, it's not unusual to observe a significant rise in the laptop's surface temperature. Moreover, with an initial PCMark 10 score of 9424, the Lenovo Legion starts on a strong footing. Though this score may not shatter records, it's indeed commendable and situates the Legion 5 Pro amongst the top mid-tier gaming laptops, demonstrating its potential for impressive overall performance.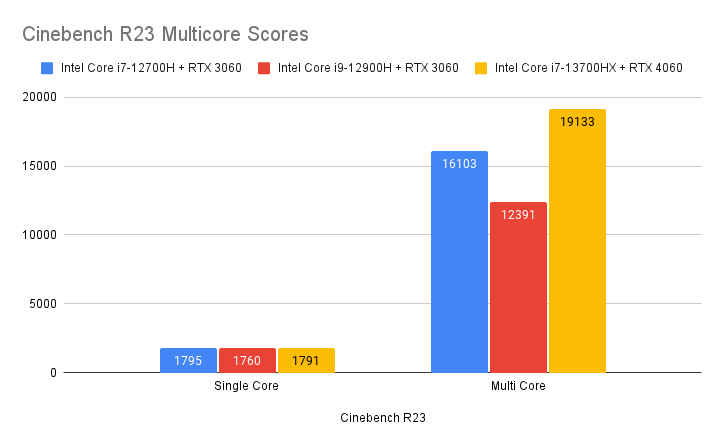 The performance of the RTX 4060, while not a top-of-the-line GPU, is still robust enough to tackle most modern 3D titles at high settings, ensuring a satisfying gaming experience. It is noteworthy that the laptop was able to recover and sustain high frame rates in Shadow of the Tomb Raider without Nvidia's DLSS technology turned on. But its performance in games like Metro Exodus positions RTX 4060 as a less significant upgrade compared to last year's RTX 3060.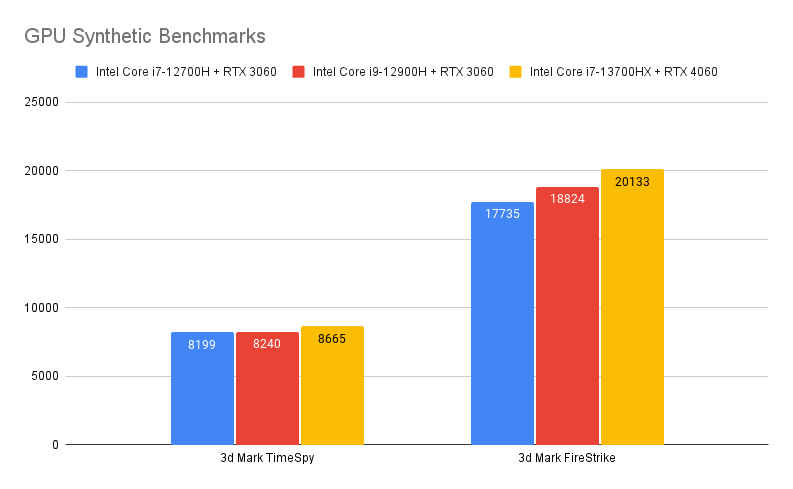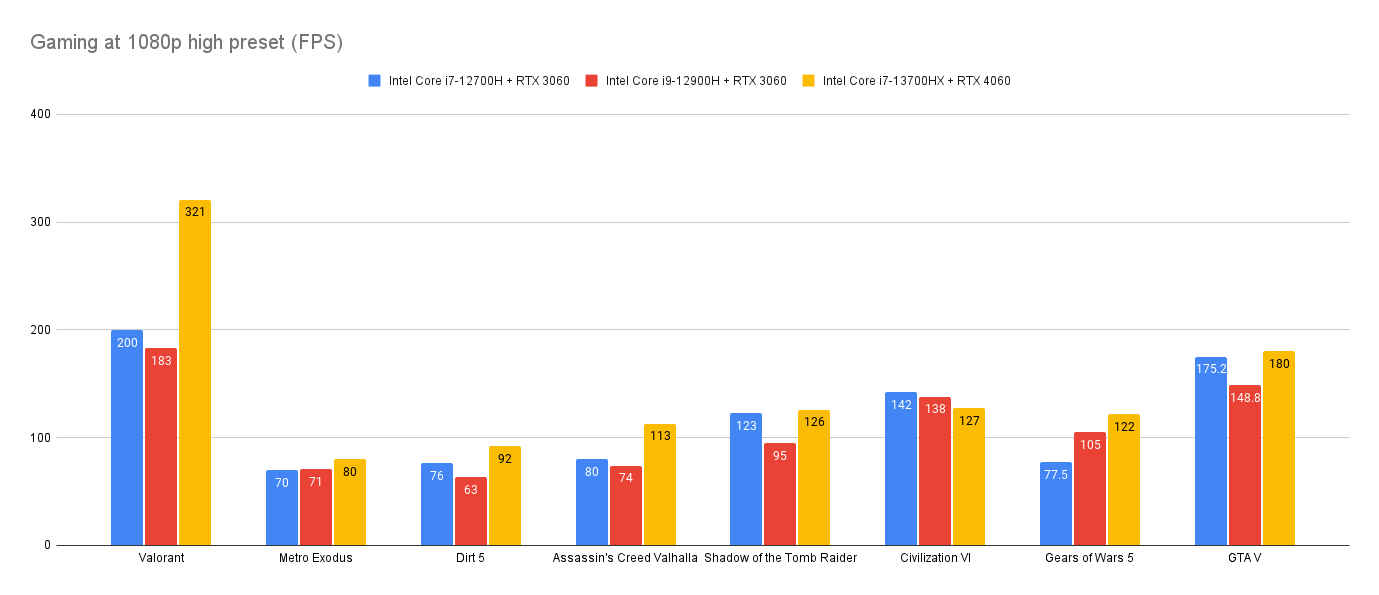 Overall, the Lenovo Legion 5 Pro's real-world gaming performance should satisfy most mid-tier gamers. The gaming experience is generally smooth and enjoyable, especially for those who value high frame rates and are ready to make some minor concessions on the highest possible settings for the most demanding titles.
Lenovo Legion 5i Pro – Verdict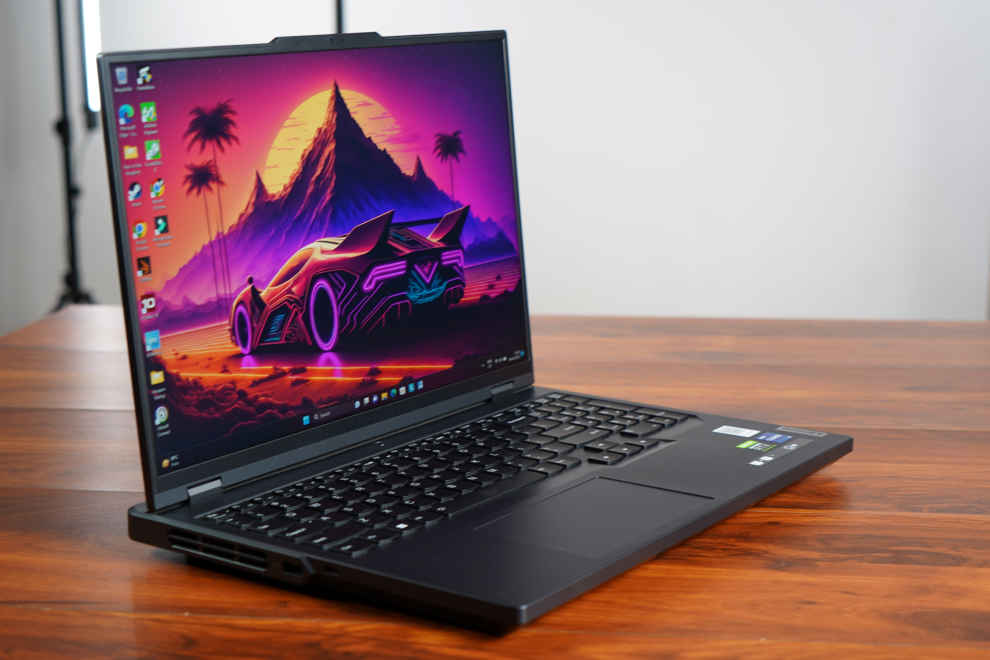 In the world of gaming laptops, the Lenovo Legion 5i Pro, priced at Rs 186,837, stands out as a significant player. Much like the Tesla Model 3 in the realm of electric vehicles, the Lenovo Legion 5i Pro is a high-performance machine that presents an intelligent blend of design, functionality, and value for money. It's a well-built, robust laptop, delivering a commendable gaming performance at 1440p 60FPS and higher. The device is powered by an Intel Core i7-13700HX processor, paired with an Nvidia GeForce RTX 4060 graphics card, 16GB DDR5 memory, and a 1TB SSD, presenting itself as a substantial contender in the mid-tier gaming laptops. Although the laptop's base model only comes with a 512GB SSD you can upgrade it to 1TB and other specifications on Lenovo's official website as well.
The laptop's chassis, built with a precise CNC aluminium lid and sturdy, heat-resistant PC-ABS body, exudes strength and durability. Coupled with its connectivity prowess, which includes two USB-C ports, three USB-A ports, an HDMI 2.1 port, an Ethernet port, and wireless capabilities, the laptop sets a high bar for versatility. The quality continues with a pleasing keyboard experience and an expansive 16-inch 240Hz display with excellent color accuracy and brightness. Although the RTX 4060 GPU may not be the most advanced on the market, it is more than capable of providing a smooth and enjoyable gaming experience across most modern 3D titles. Despite the significant power consumption and resultant heat output, the laptop maintains impressive performance, positioning the Lenovo Legion 5i Pro as a compelling option for mid-tier gamers in 2023.
| | |
| --- | --- |
| Release Date: | 12-06-2023 |
| Market Status: | Launched |
Key Specifications
operating system (with

Windows 11 Home

processor model name

13th Gen Intel Core i7-13700HX

Storage drive capacity

512 GB

display size (in inches)

16