Laptop processors are beginning to get really good. Even in an affordable laptop that costs between Rs 55,000 to 65,000, you get a decently rich performance package. Using this you can do almost all your productivity and work-related tasks very easily. You can also do some light gaming on these processors because a lot of them now come with decently capable integrated graphics. But when you begin to ask for this performance in a portable form factor, the price tag begins to go up.
To pack power and maintain a small size as well, OEMs have to pull a lot of tricks ranging from artificially limiting a processor's performance, to using a high-end heat sink to soldering the RAM and thus making it non-upgradable and some other shenanigans as well. Therefore, keep the above context in mind because today I am going to talk about the HP Pavilion Aero 13, which is India's (and probably the world's) lightest laptop.
Together, you and I are going on a journey to discover how such a thin and light device can exist and perform in the same league as a relatively big laptop. Remember that the real beauty is on the inside so we're going to take a look at this laptop's internals and see how well/poorly it performs in real life. And after all, is said and done, we will see, together, who is this machine for and whether it is worth a buy or not.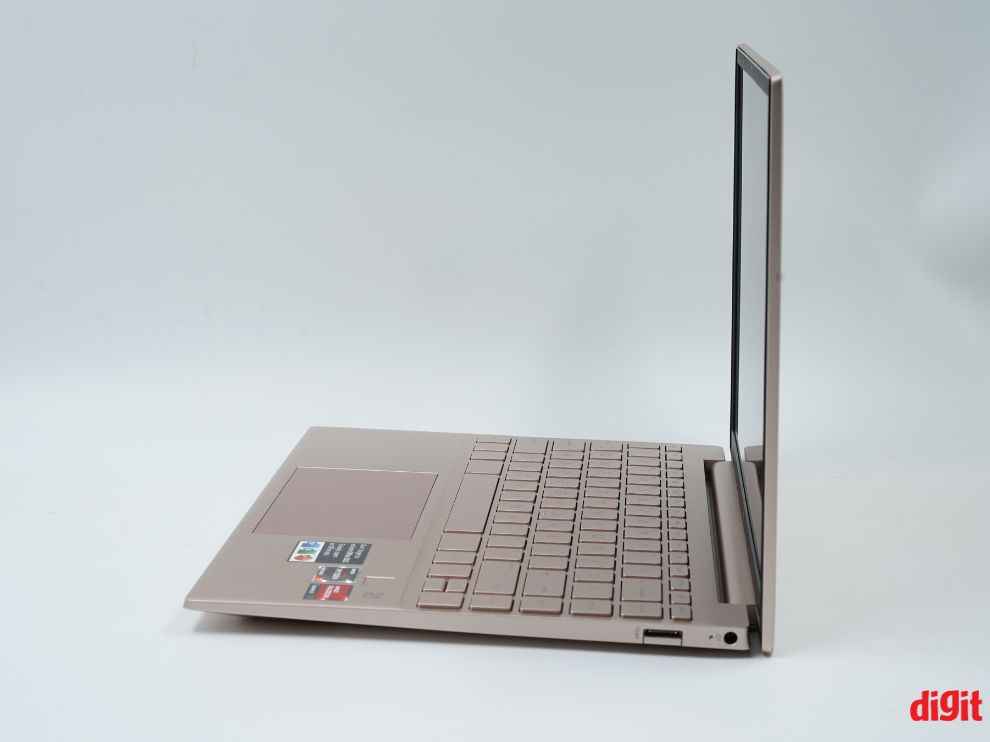 HP Pavilion Aero 13 - Specifications
Processor - AMD Ryzen 7 7735U CPU featuring 8-Cores, 16-Threads with 4.7GHz Max Boost Clock and 28W TDP
Graphics - AMD Radeon 680M 12-core GPU running at 2200MHz frequency
Memory - 16GB LPDDR5 RAM running at 6400MHz
Storage - 1TB NCME PCIe Gen 4 SSD
Display - 13.3-inch WUXGA IPS LCD display
Battery - 43Wh
Weight - 990g
HP Pavilion Aero 13 - Design And Build Quality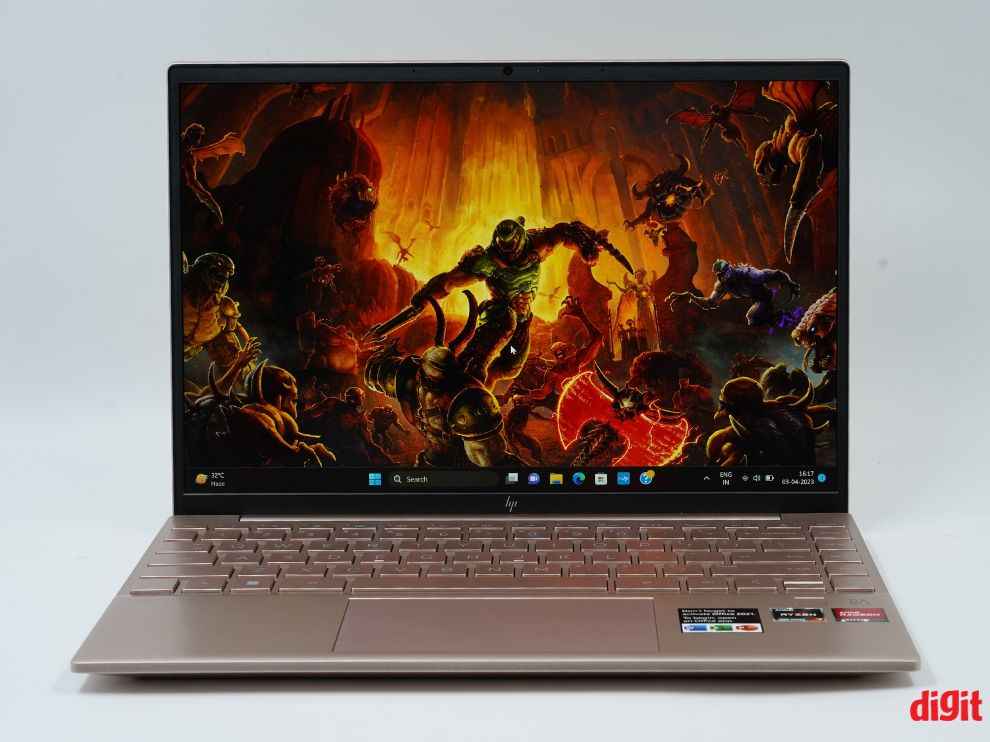 Clever engineering is an important pre-requisite if you want to make (arguably) the world's lightest laptop. Moreover, HP isn't the first company that has tried to build a featherweight laptop. The 12-inch Apple MacBook was close to 920g. The Acer Swift 7 is another ultra-lightweight laptop that you can buy in India and it weighs just 889g. However, it is quite old at this point and uses an 8th gen Intel processor. FUJITSU also makes some really good and lightweight machines. And most of its laptops feature a rock-solid chassis that screams Japanese engineering. It'd be safe to assume FUJITSU is the Toyota of the Windows laptop world.
The HP Pavilion Aero 13 also manages to stand on its own in presence of these giants. The laptop's chassis is made from Magnesium Alloy. I received the Aero's Rose Gold variant and the laptop has a brushed aluminum finish all over it. The laptop's panels are decently tough. But you will find some flex in the area adjacent to the keyboard deck, and you'll notice some flex above the function keys if you try and press really hard. However, the rest of the laptop feels pretty rock solid.
On top of the lid, you'll see the new revised HP logo and it looks more minimalistic than the previous generation. I can't say that it looks either good or bad but I much rather prefer the old design. Near the deck area you'll see a Bang & Olufsen branding and adjacent to it is the fingerprint sensor. I think that on a 13.3-inch thin and light laptop saving as much real estate as possible should be OEM's priority. So considering that they should integrate the fingerprint and the power button together. Moreover, now I also have to first press the power button and then press the fingerprint sensor which is placed away from the keyboard entirely.
HP Pavilion Aero 13 - Keyboard And Trackpad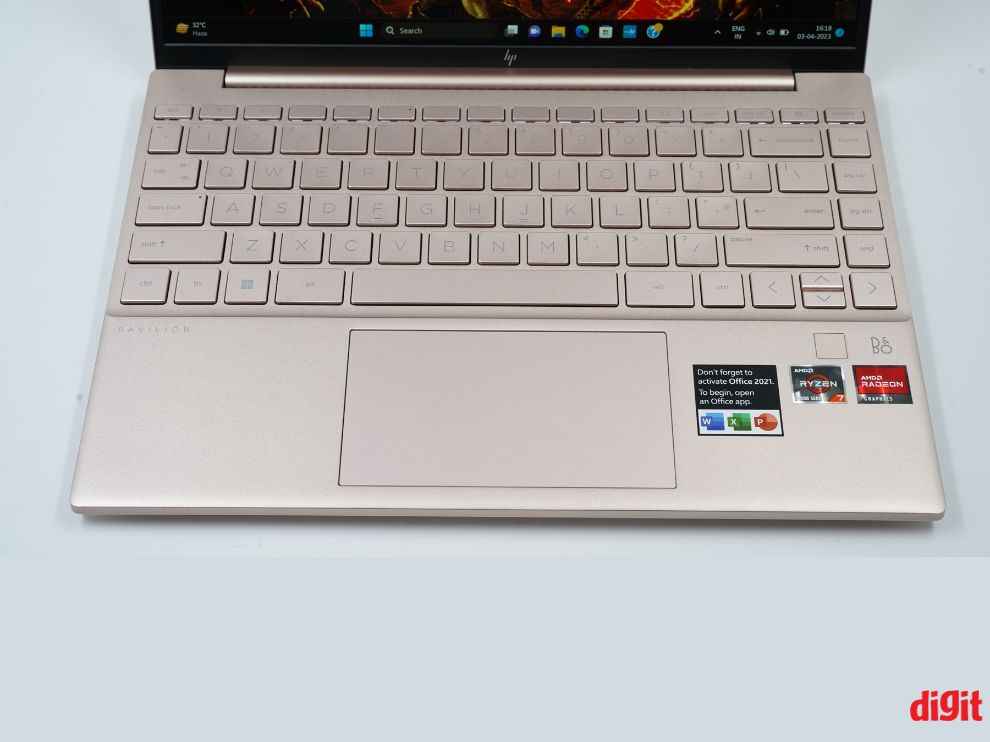 The HP Pavilion Aero 13 comes with a 60% keyboard. However, its right side is occupied by the home, pg up, pg dn, end keys, and the right navigation key as well. I personally don't mind if the keyboard is a full size or a 60% one but you will require some getting used to if you were using the former one, probably due to the laptop's small size and the keyboard's layout.
HP has merged the Function keys with the dedicated feature buttons for volume, brightness, etc. But by default, the dedicated keys work when your press these buttons. The keys themselves have a 1.5mm travel to them so they're very 'clicky.' But despite that, they are relatively silent. And thanks to the 60% keyboard layout your palm stays clear of the touchpad.
Speaking of the touchpad, it is quite small. It has no dedicated left or right button, instead, it is one single unit. I like that the trackpad is placed a bit away from the laptop's lower edge. This helps a lot in preventing any accidental touches on it especially when you're typing while sitting in a chair or lying on your bed. Another good thing about the keyboard is that the ctrl and alt keys on the left side are relatively bigger.
HP Pavilion Aero 13 - Screen And Speakers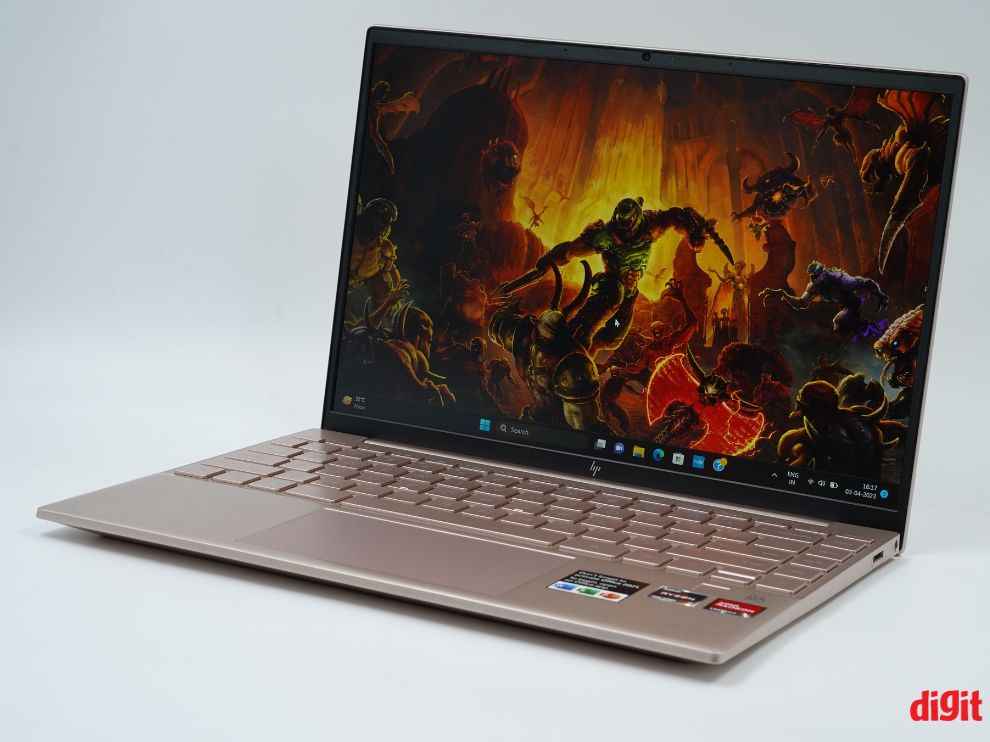 The 16:10 FHD+ display gives you more screen real estate compared to a conventional 16:9 panel. It is not as good as a 3:2 display in terms of productivity but it is a good compromise between the two. As you can still watch normal cinematic content, which is usually shot at 16:9, and have just enough screen height to be a tad more productive.
HP has once again chosen a 60Hz panel and not a high-refresh-rate one. I understand that this decision comes with the objective of making the HP Aero 13's relatively small 43Wh battery last as long as possible. And with everything this laptop is designed to do, a high refresh rate display won't add much to the device's overall capability.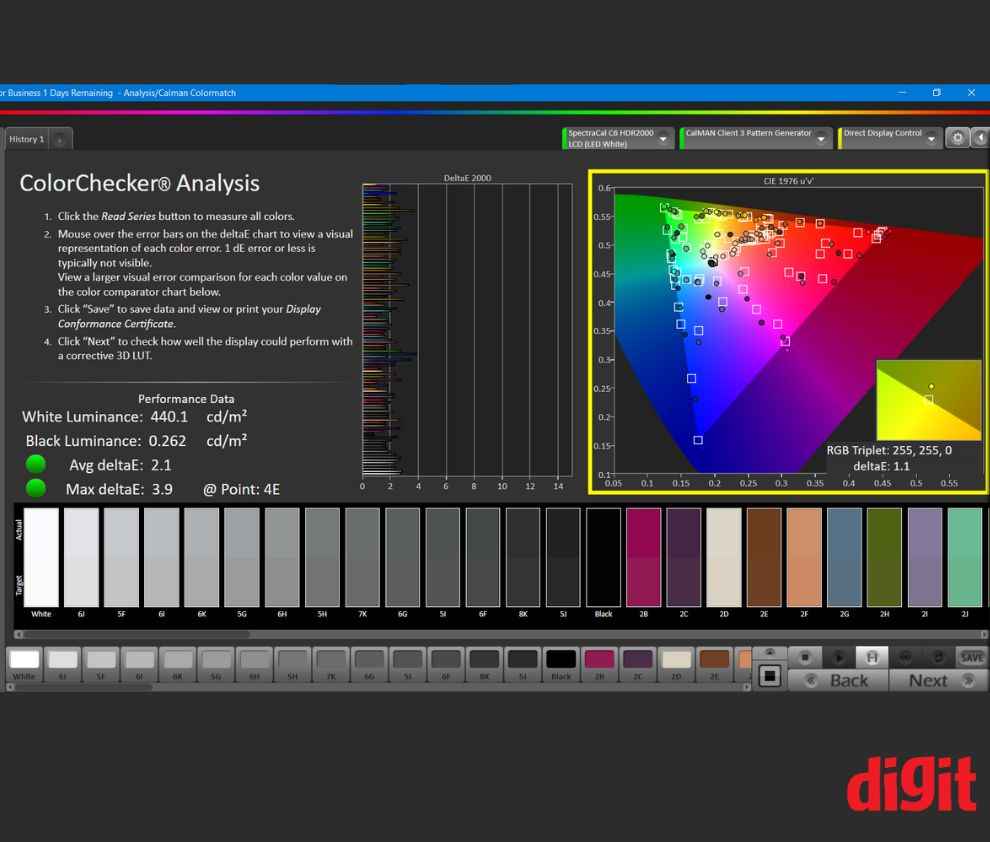 In terms of display and colour quality, I ran the display through our usual suite of tests and found some interesting results. Firstly, the peak luminance of the display is pretty high at 440nits. To put it in perspective, I recently tested the Samsung Galaxy Book3 Pro 360 which has an AMOLED display and it had a peak brightness of 415nits. Moreover, the HP Pavilion Aero 13's display has a matte finish to it compared to the glossy one you'd find on Samsung's laptop.
A matte display prevents unnecessary on-screen reflections when working in a brightly lit environment. The display is also really great at showing accurate colours in the sRGB colour spectrum thanks to 99.2% coverage. So if you're developing any piece of graphic or content to be viewed on Chrome or any other web browser, this laptop will show you accurate colours as these platforms showcase colours that majorly lie in the sRGB colour spectrum.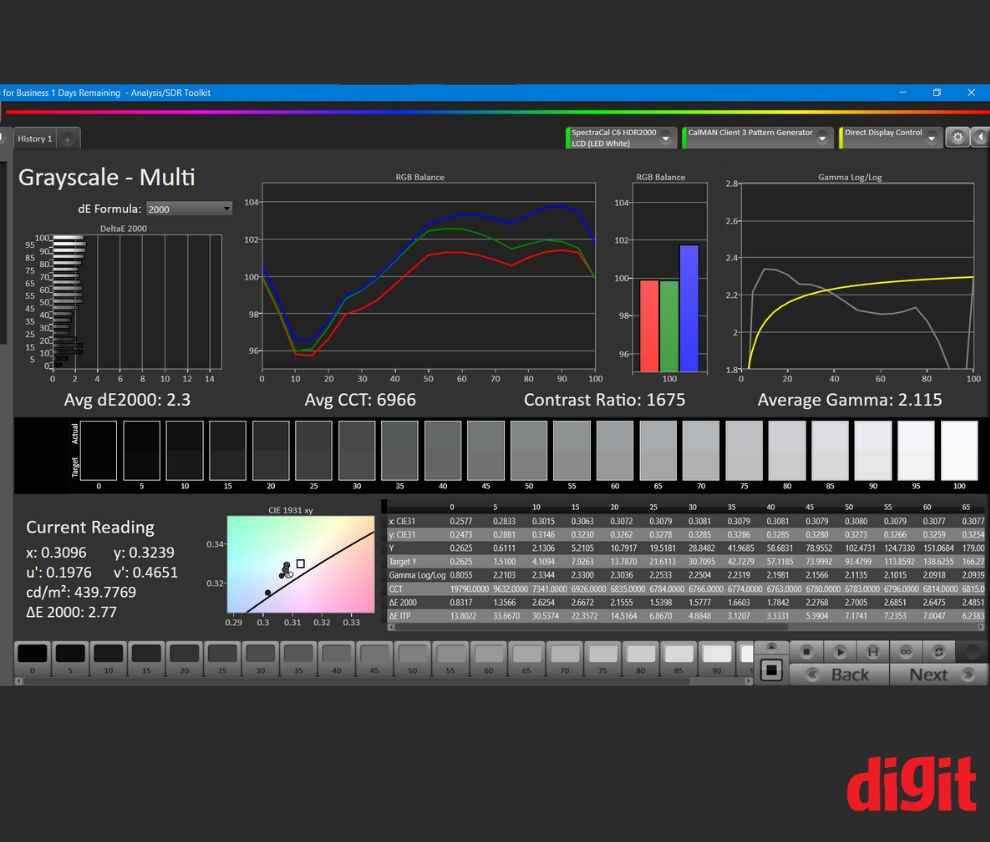 In terms of colour accuracy, the Average Delta E during the Calman ColorChecker analysis came out to be 2.1 with a black luminance of 0.262.
However, the laptop has 76.5% DCI-P3 coverage, which is pretty average. So unless you're not developing content to be viewed specifically on displays with high DCI-P3 colour space or if you're fine with not experiencing the wide gamut of colours in HDR on your display then this number is fine.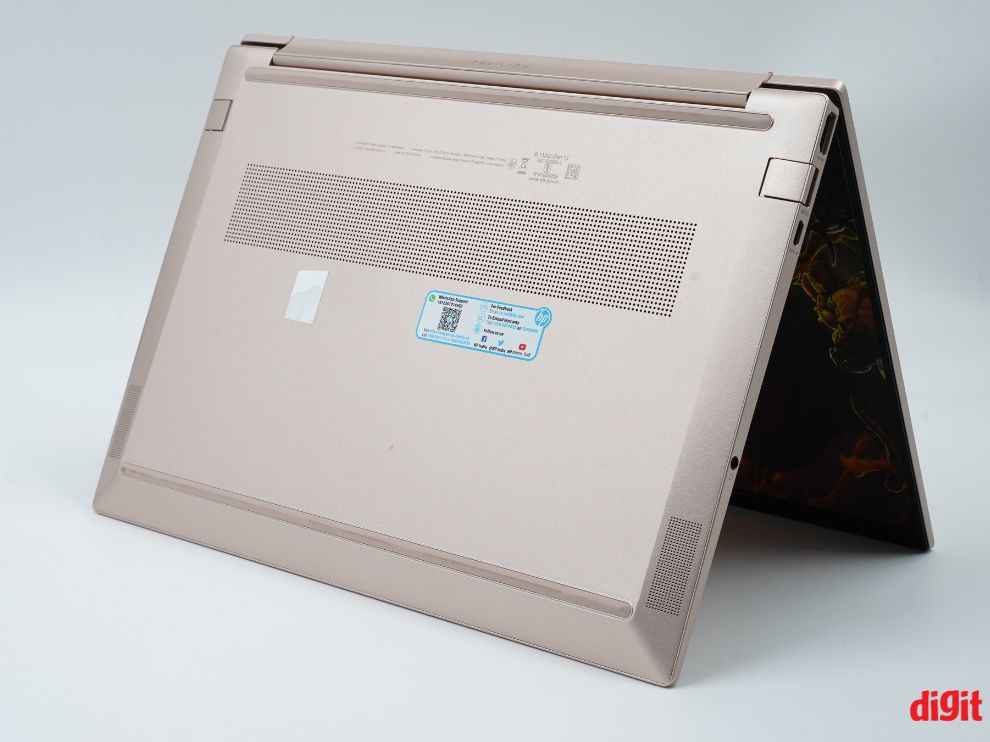 Another thing about the display is that the gamma tracking is a bit off. In the charts, it is clear that the display messes up regions with high brightness and shadows (darkness). So if you're watching any piece of content with these features, this screen would not feel as much suitable.
The speakers on the other hand are pretty loud. They're downwards facing as the keyboard runs from one end to the next horizontally thus leaving no room for the speaker grille. They have good mids, and decent treble but very poor base and you can't even expect a machine this small to have a good base either, so it's not a surprise.
HP Pavilion Aero 13 - Performance And Battery Life
AMD's latest Ryzen 7 7735U uses TSMC's 6nm process nodes. It features 8-high performance cores and 16 threads with a base clock speed of 2.7GHz and a boost clock speed of up to 4.75GHz. The processor also has a boost clock speed of 4.75GHz but the laptop manages to reach around 3.7 to 3.5GHz. The laptop heavily limits the CPU's average core temperature to 70 degrees Celsius. It does so by throttling the core clock and the CPU package power as well when under extreme load.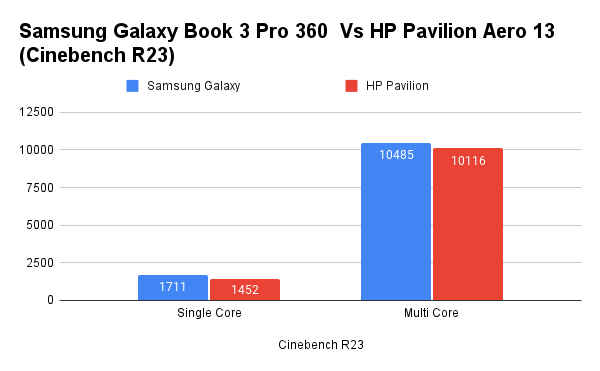 And managing that load is this processor's forte as it can easily provide a backup of 5.5 to 6.5 hours, depending upon usage. I used the laptop in balanced mode at 70% screen brightness, and it lasted close to seven hours. Considering that it has a small 43Wh battery and powers an ultra-bright 440-nit display, I'd say it's a win.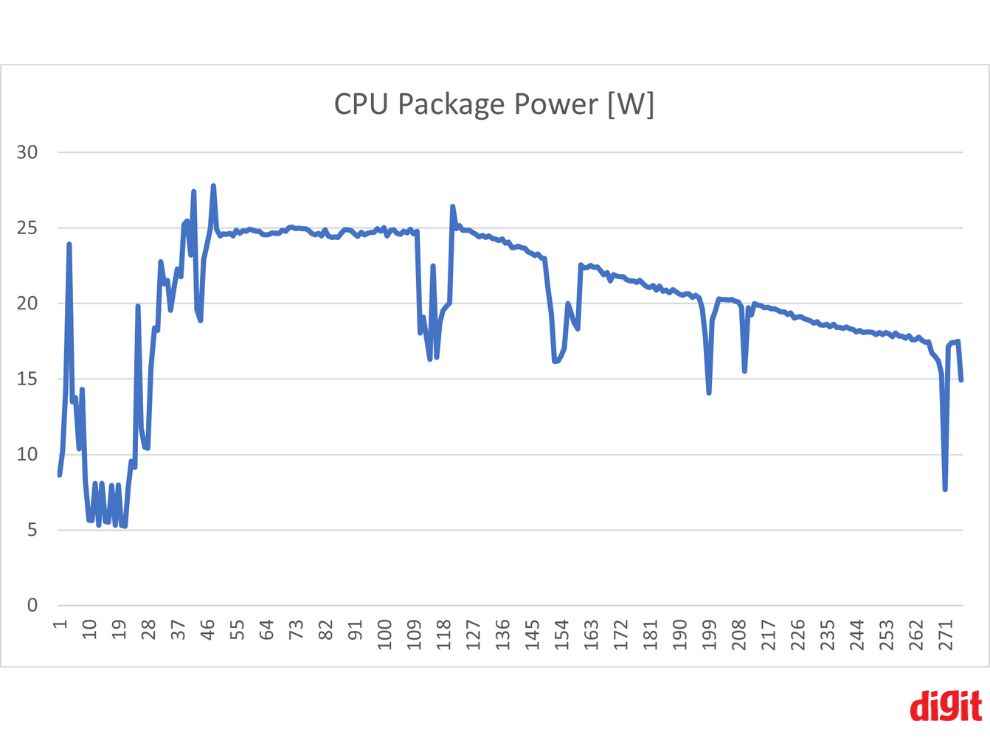 I tried playing Doom Eternal on the laptop and while the initial gameplay was pretty smooth, the laptop started to heat up after a quick session. Following that the performance dipped a bit. But I was playing the game at 1200p with high graphics preset, so lowering that can improve thermal performance.
However, this was one extreme example. For instance, you can play a less demanding title or even a newer game in a less demanding setting, and everything will be fine. Similarly, everything else apart from hardcore gaming that you can manage to throw at this laptop can manage pretty well.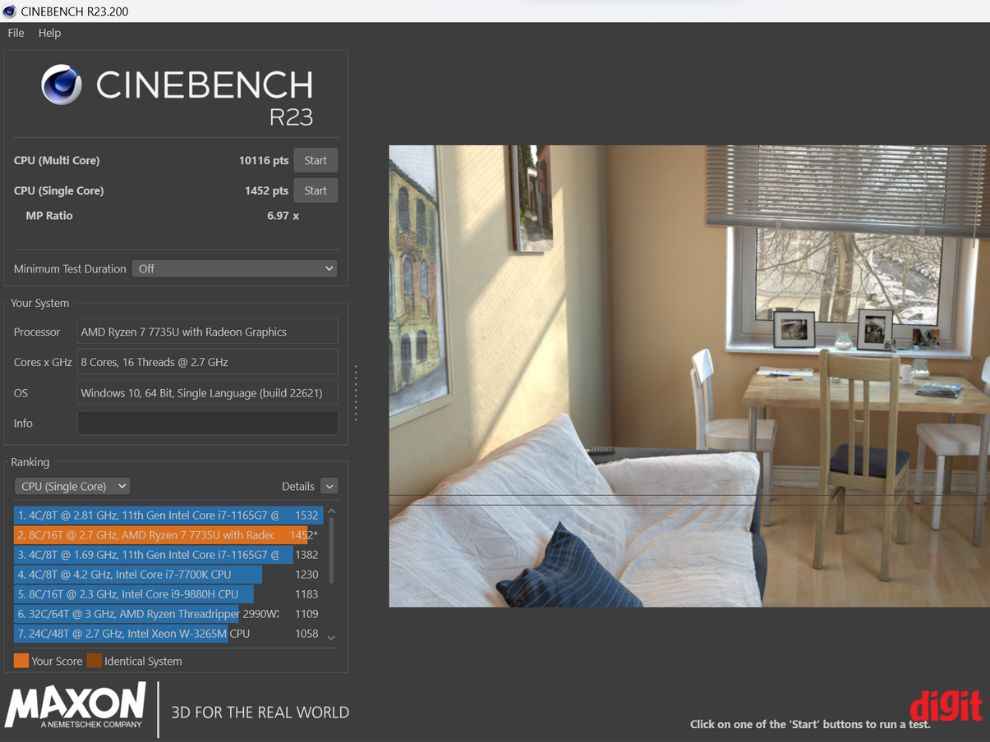 The benchmarks I ran also confirm this trend. During a single run of the Cinebench R23 test, the laptop scored 10116 in the multicore test. However, during a sustained run, the multicore performance decreased, resulting in a score of 8956. The single-core performance remained virtually unchanged in both cases.
The AMD Radeon 680M integrated GPU is also pretty good as it scored 2065 and 4917 in 3D Mark's TimeSpy and FireStrike, respectively. As a reference point, the TimeSpy score for the AMD Radeon Graphics is typically 1000 to 1500 points lower than that of the Nvidia GeForce GTX 1650 laptop GPU. This suggests that the AMD Radeon Graphics offer impressive performance per watt.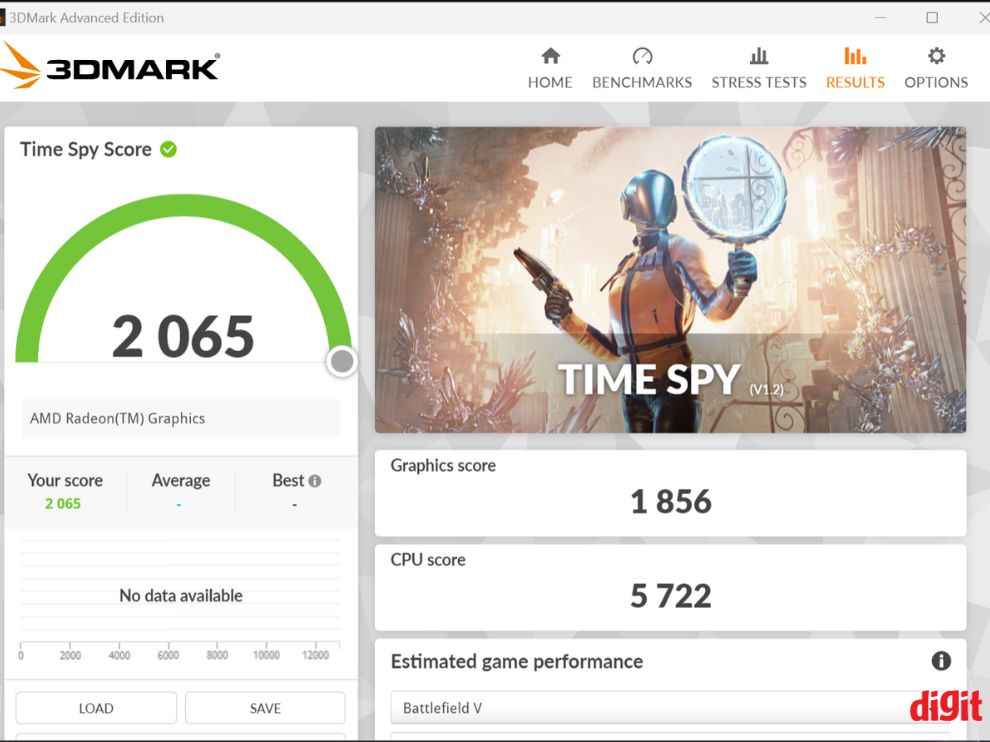 Meanwhile, the 1TB NVMe SSD powering the HP Pavilion Aero 13 is also decently fast. In the Crystal Disk Mark speed test, the sequential read and write speeds of the SSD came out to be 3373.35MB/s and 2806.52MB/s, respectively. To get a complete picture of the laptop's performance, I also ran it through the PCMark 10 extended benchmark, which gave me a score of 5800. For reference, the Samsung Galaxy Book Pro 360 and the Dell XPS 13 9300 scored 5403 and 5627, respectively.
HP Pavilion Aero 13 - Verdict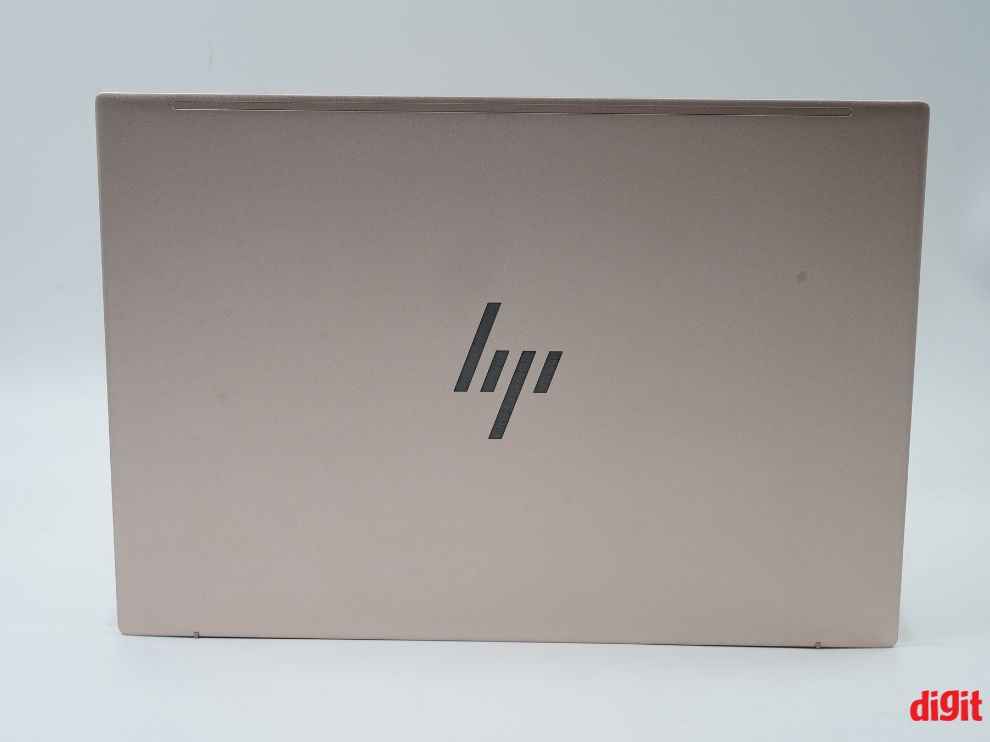 The HP Pavilion Aero 13 is a lightweight laptop with a magnesium alloy chassis and a brushed aluminum finish, making it an ideal travel companion. Although it is one of the world's lightest laptops, it offers decent performance with its AMD Ryzen 7 7735U CPU and Radeon 680M 12-core GPU. The 13.3-inch WUXGA IPS LCD display provides more screen real estate, and the 16GB LPDDR5 RAM and 1TB NVME PCIe Gen 4 SSD make it a productivity and workhorse.
The keyboard is a 60% keyboard with a 1.5mm travel, and the touchpad is small but placed a bit away from the laptop's lower edge to prevent accidental touches. The HP Pavilion Aero 13 is for anyone looking for a lightweight laptop that provides decent performance and is easy to carry.
In terms of performance, the laptop can handle most productivity and work-related tasks with ease, and can even do some light gaming. However, due to the laptop's small form factor, it has a difficult time delivering peak performance under extreme sustained load.
If you're looking for more options in the 13-inch laptop category then you can also go for the Dell Inspiron 13 5310 and the FUJITSU UH-X 2-in-1 as well.