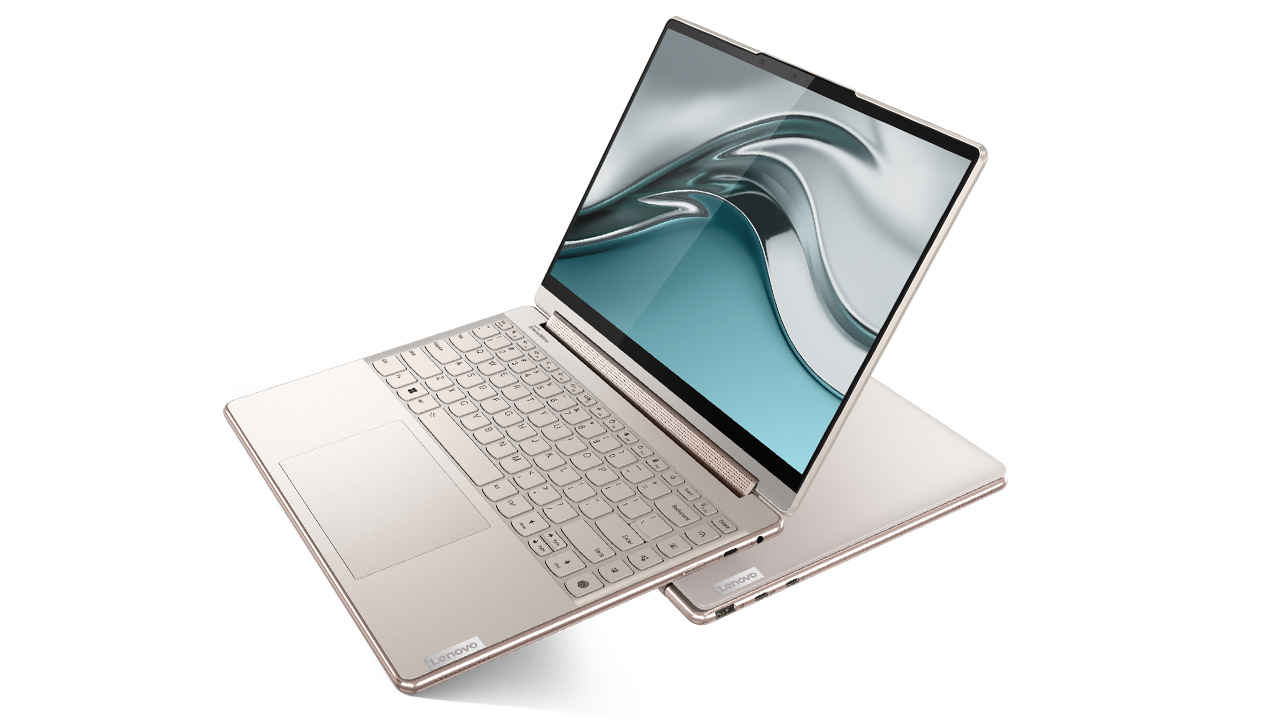 PROS:
Excellent build quality, Gorgeous OLED display and battery life, Rounded sides for easier holding
CONS:
No dedicated GPU, Overall aesthetics feel weaker than previous iterations
VERDICT:
The Lenovo Yoga 9i is an all-rounder 2-in-1 which offers good performance across the board. They've made some design changes over the previous Yoga laptops which actually makes it more comfortable to hold nowand it should have no trouble with just about everything you throw at it, other than gaming.
Lenovo have been in the 2-in-1 game for a long time, and have been refining their design over the years. The Yoga lineup is easily one of the best when it comes to 2-in-1 laptops, and the Yoga 9i that we recieved aims to top whatever Lenovo has done so far. How good is the new Lenovo Yoga 9i? Let's dive into the review to find out.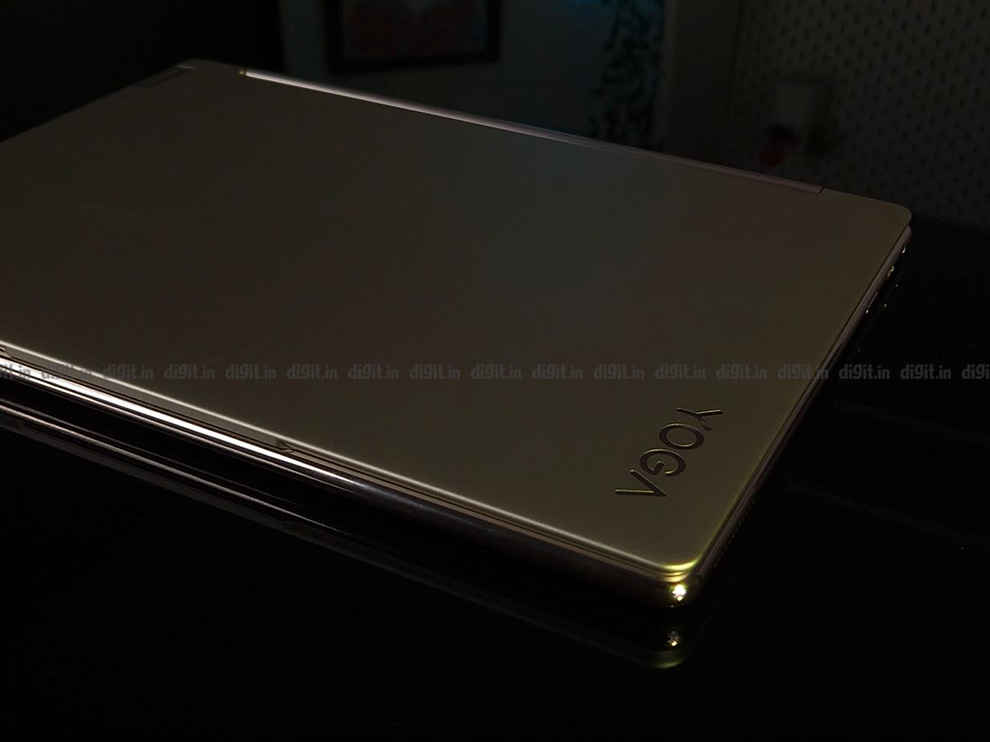 Lenovo Yoga 9i Build and design
The Lenovo Yoga 9i is constructed out of matte aluminium, including the lid, and the body. This naturally makes the Yoga 9i feel quite robust and sturdy. There's little to no flex when folding the display, as it should be considering this is Lenovo's flagship 2-in-1. The colour looks like a mix between champaign and rose gold, Lenovo are calling it Oatmeal.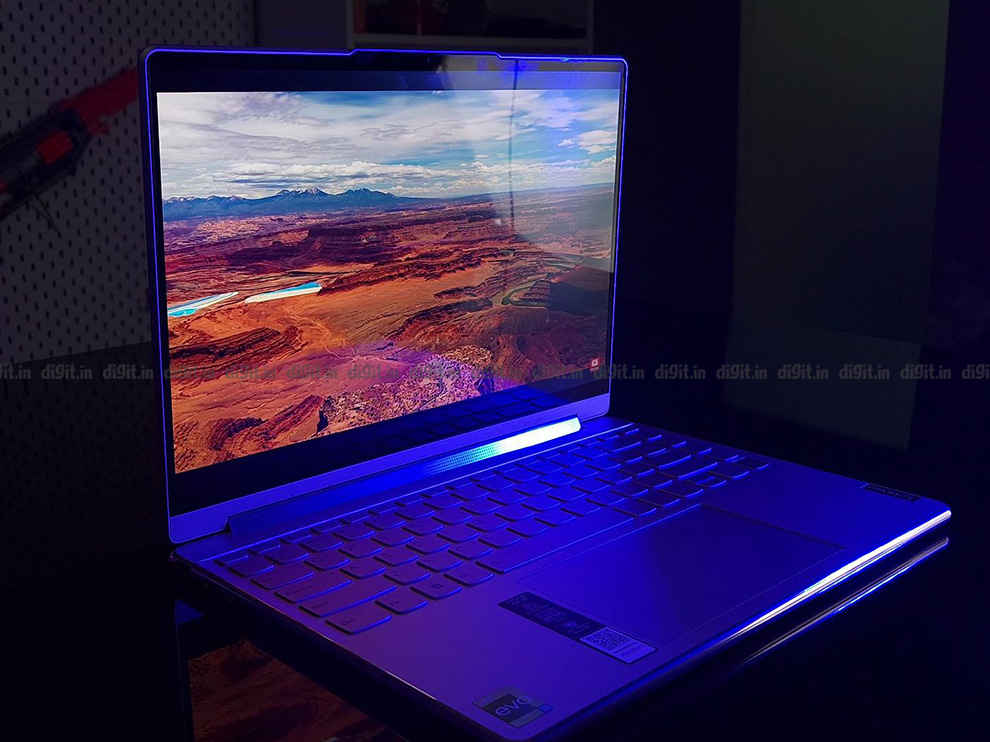 The sides on the Yoga 9i are rounded, which makes it a lot more comfortable to hold when compared to flatter sides, especially when using it in tablet mode. A small gripe on our side is that they made the sides glossy, as opposed to matte finish featured on the rest of the laptop. This same glossy finish is also present on the speaker bar, which doubles as the hinge for the laptop. It feels like a bit of a mismatch but this is just a personal nitpick though.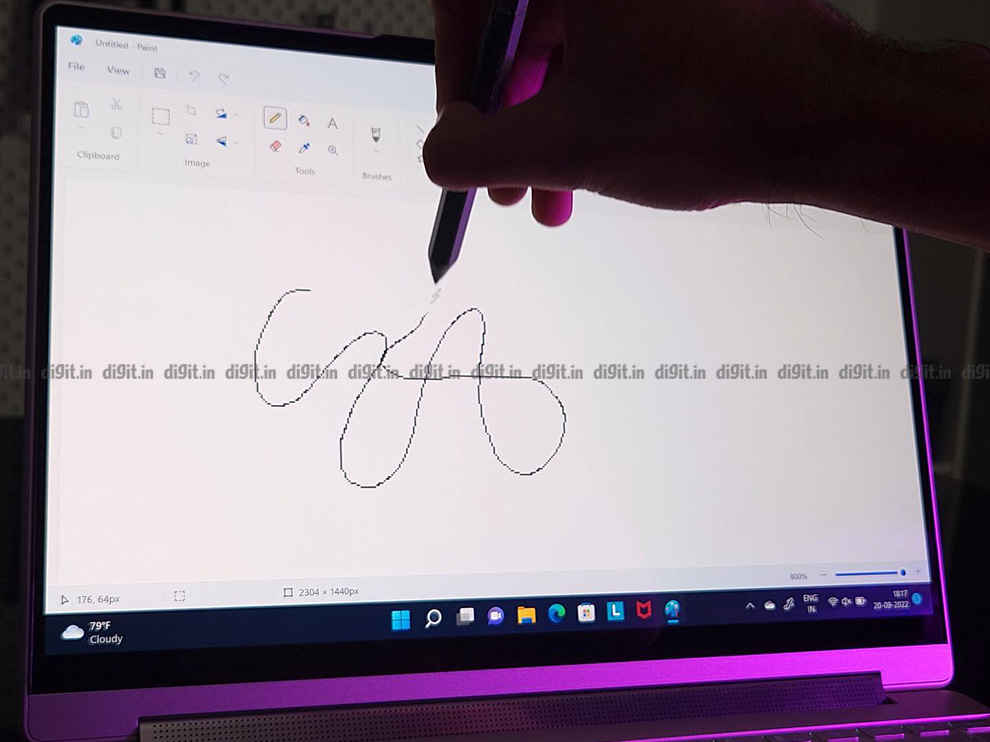 The touchpad size is just large enough that it doesn't get in the way of typing and the keyboard, well, we're not fans of chiclet keyboards because they're not satisfying to type on. This applies to the Yoga 9i as well, with the travel distance and actuation force needed being very less. At least it's backlit, which is nice.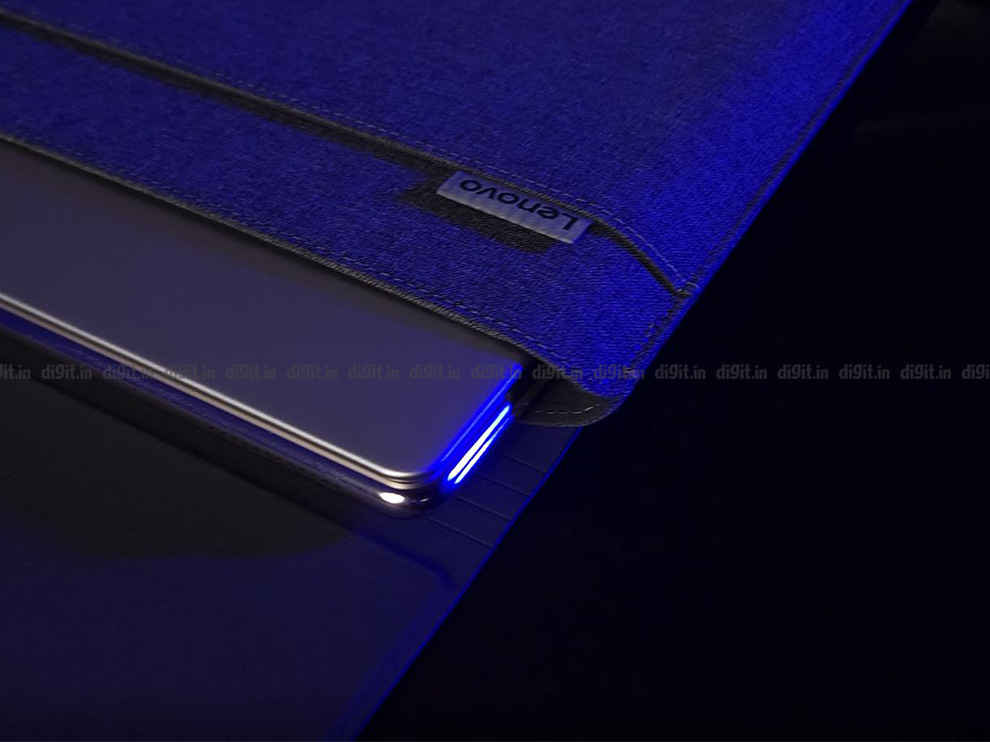 The Yoga 9i comes with a 1080p webcam, which should more than suffice for all your video calling needs. It might struggle a bit in low lighting, but it works great otherwise. It supports Windows Hello (so you can unlock the device with your face). Plus, you've got the physical shutter to close the lid on the webcam when it's not in use for added security. There's an included fingerprint reader at the bottom right of the laptop keyboard as well.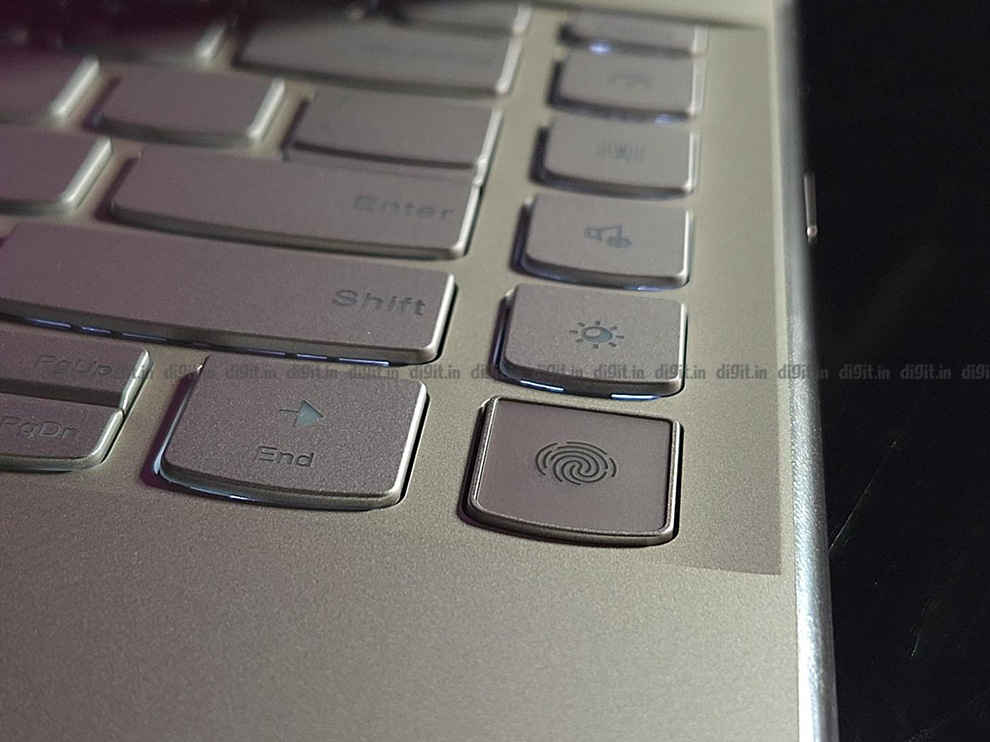 The Lenovo Yoga 9i also comes with a stylus, the Lenovo E-color Pen, which is pretty cool. However, you have to carry the stylus around separately as there's no place to store it on the laptop itself. If you're prone to misplacing stuff, this could be a pain. Fortunately, you can stash both the laptop and the stylus in the travel sleeve that comes with the laptop. The stylus itself comes with built-in USB-C for charging.
I/O ports
For the ports, we were pleasantly surprised to find plenty of options. You've got one USB-A 3.2 port, one USB-C 3.2 which also supports power delivery 3.0, data transfer and DisplayPort 1.4. And finally you've got two Thunderbolt 4 ports which also support data transfer, Power Delivery 3.0, and DisplayPort 1.4.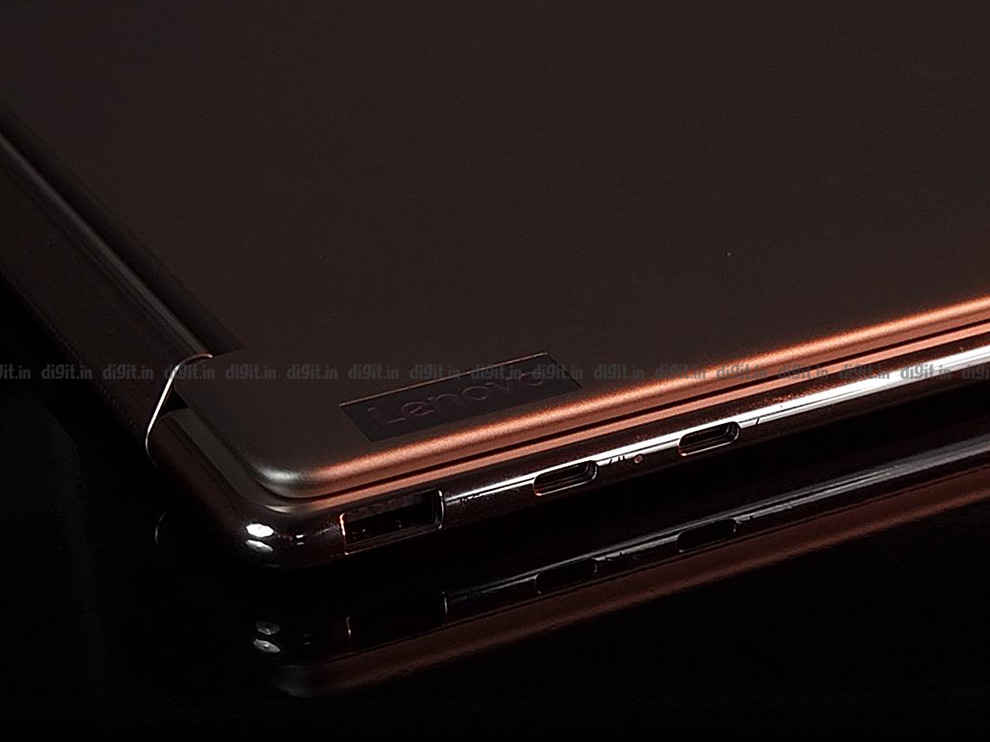 The overall build quality on the Yoga 9i is great, like we mentioned, there's little to no flex across the body.
Lenovo Yoga 9i Display and audio
The Yoga 9i features a 14-inch 10-point multitouch display, and the model we got features a 4K OLED display. That's a resolution of 3840×2400. It comes with an advertised brightness of 400 nits, and it scored pretty close to that in our tests, at 373 nits. It also comes with an advertised 100% DCI-P3 coverage; the laptop scored 99.1% in our tests. The display is VESA DisplayHDR 500 certified, so blacks look great. Overall, visuals on the Yoga 9i are rich, crisp, and vivid. Everything pops, and we really have no complaints about the display on the Lenovo Yoga 9i.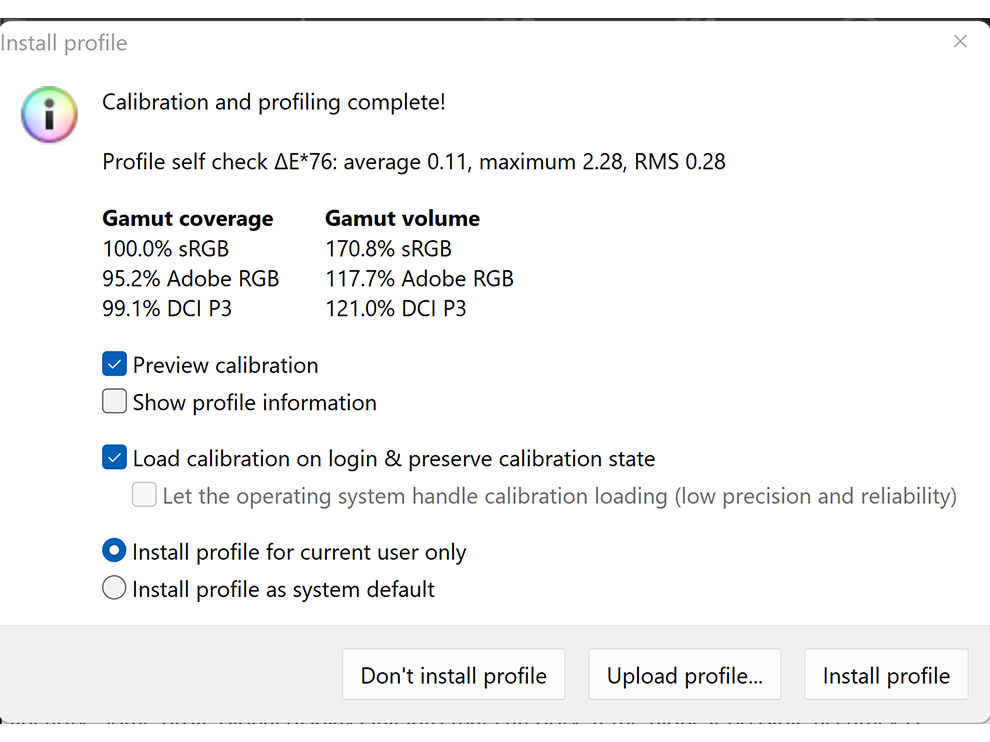 The Yoga 9i features a speaker bar hinge; a design that ensures the speaker is pointed towards the user regardless of the mode the laptop is in. Unless you decide to place it facedown of course. The audio quality is actually pretty decent, however, you'll probably end up using earphones to consume most media either way. Still, it's nice that you're not relegated to earphones because of poor laptop audio performance.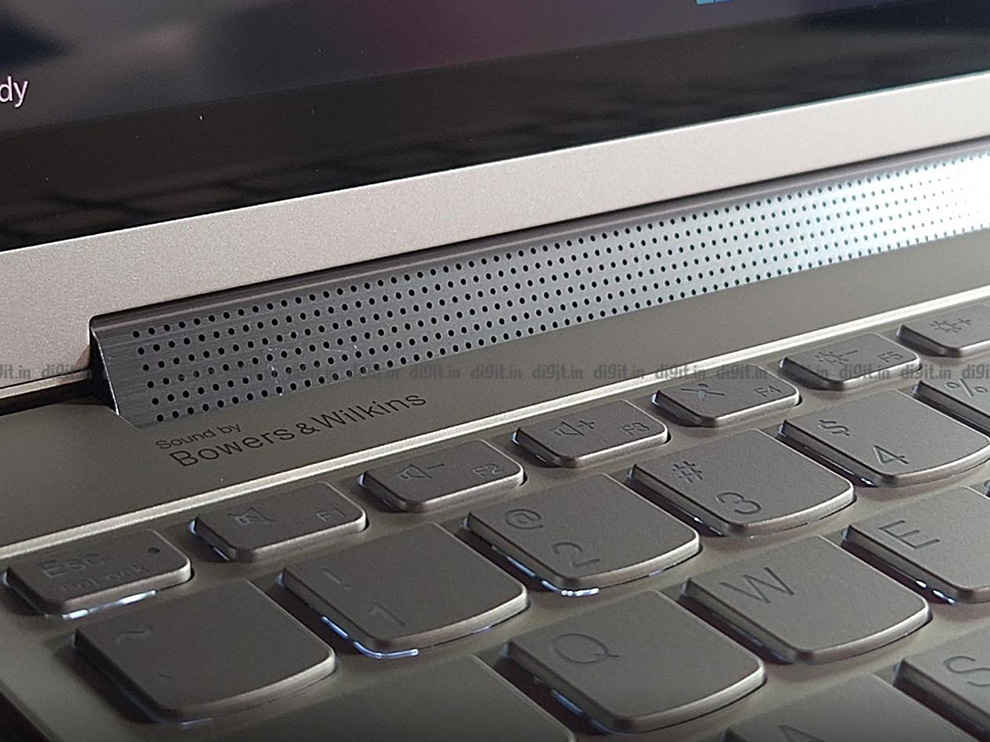 The laptop features a 3.5mm headphone / microphone combo jack, so that should cover most of your audio needs.
Lenovo Yoga 9i Performance
The Lenovo Yoga 9i comes packed with some pretty serious specs, including a 12th gen Intel Core i7-1280P CPU with 14 cores and 20 threads, and a max boost clock of 4.8 GHz, 16 GB of LPDDR5 RAM clocked at 5200 Mhz and a speedy 1 TB M.2 2280 SSD from Samsung.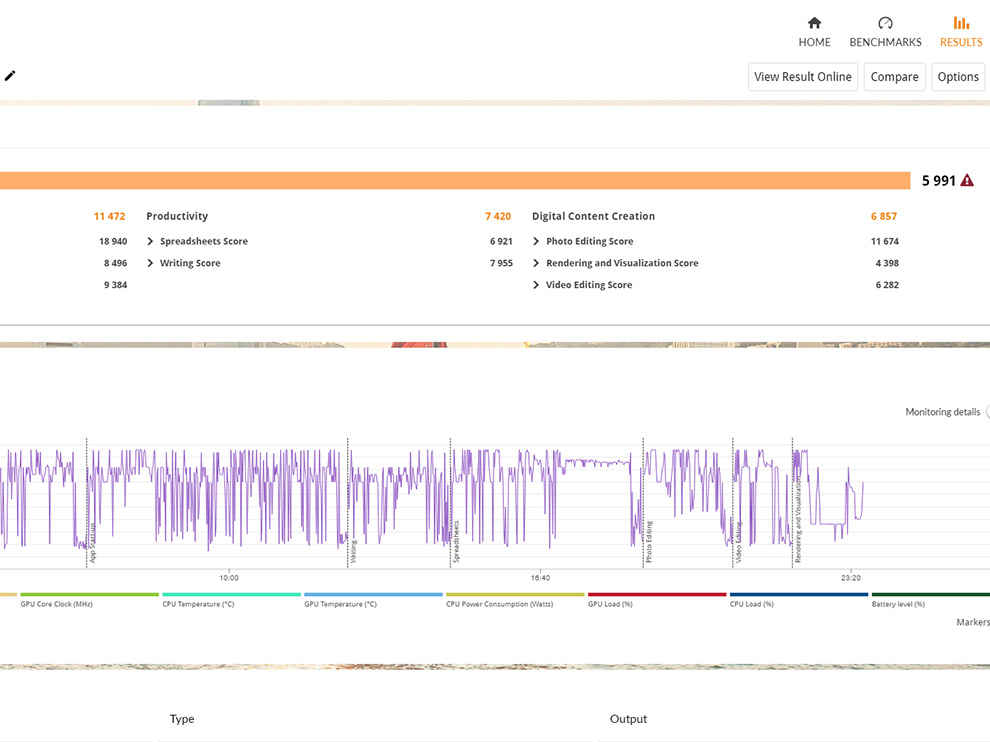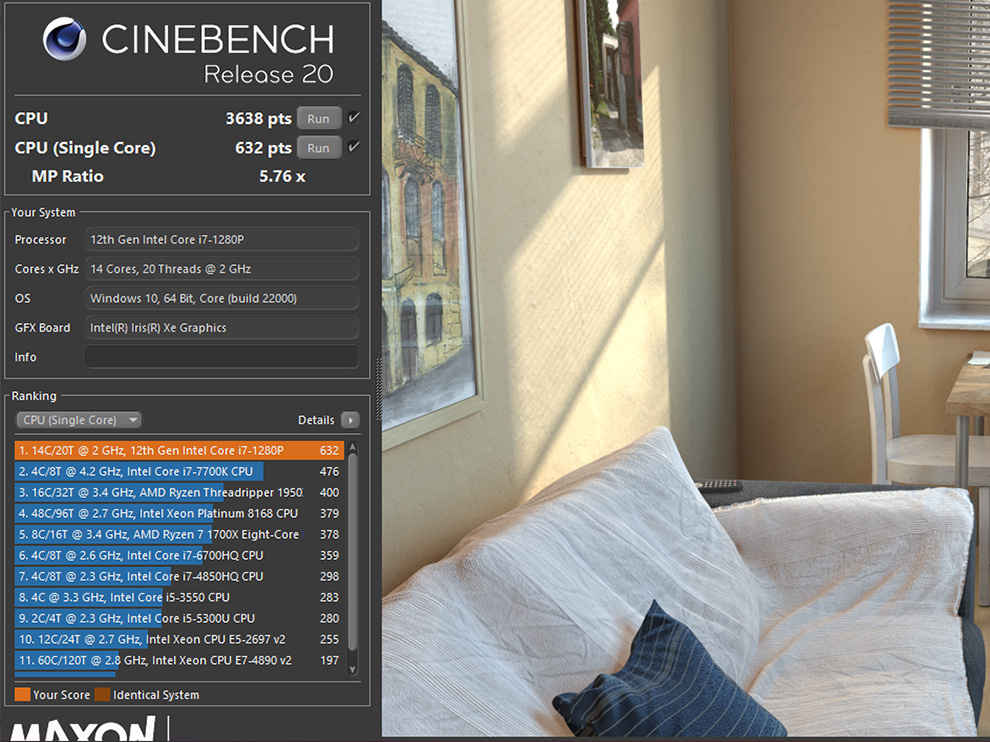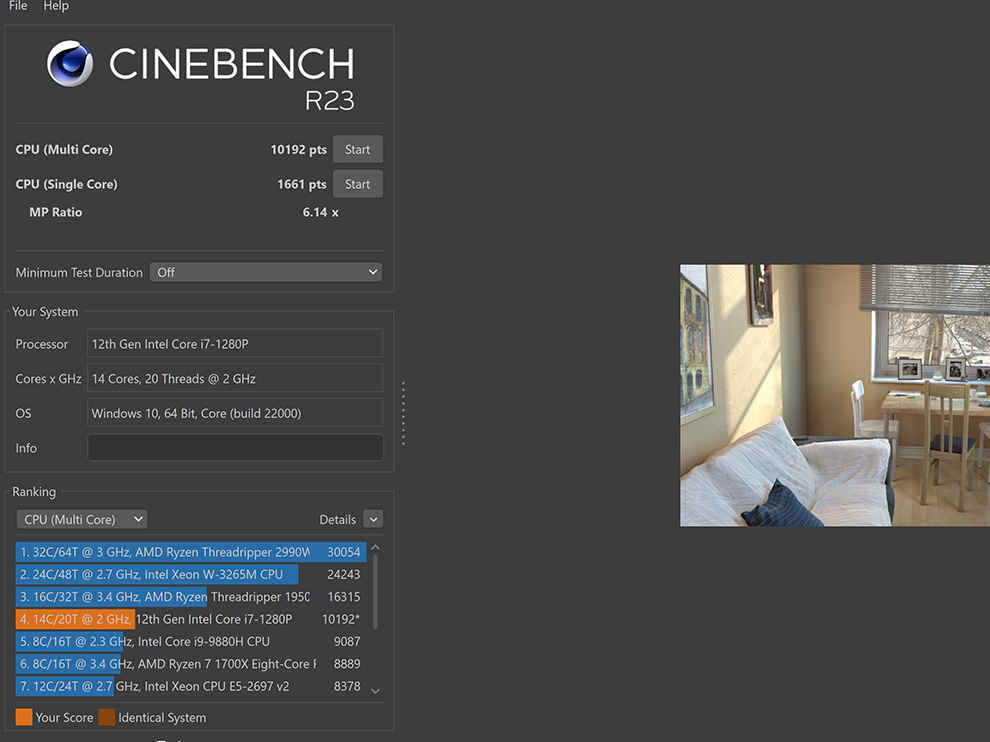 The benchmark scores speak for themselves, as you can see in the PCMark10, R20, and R23 scores.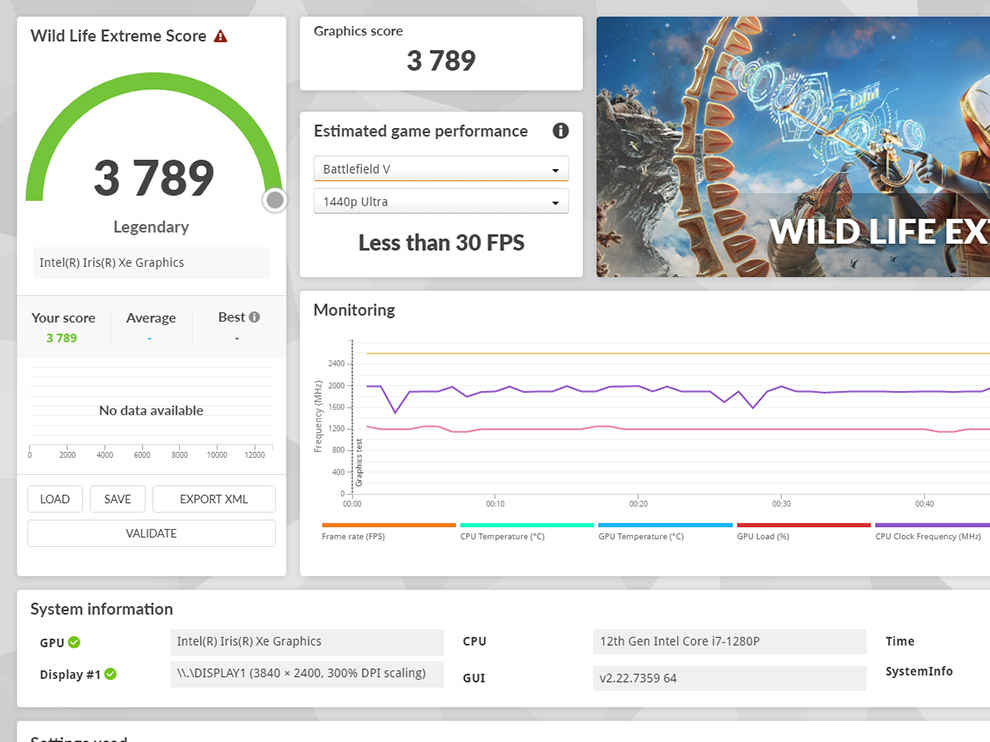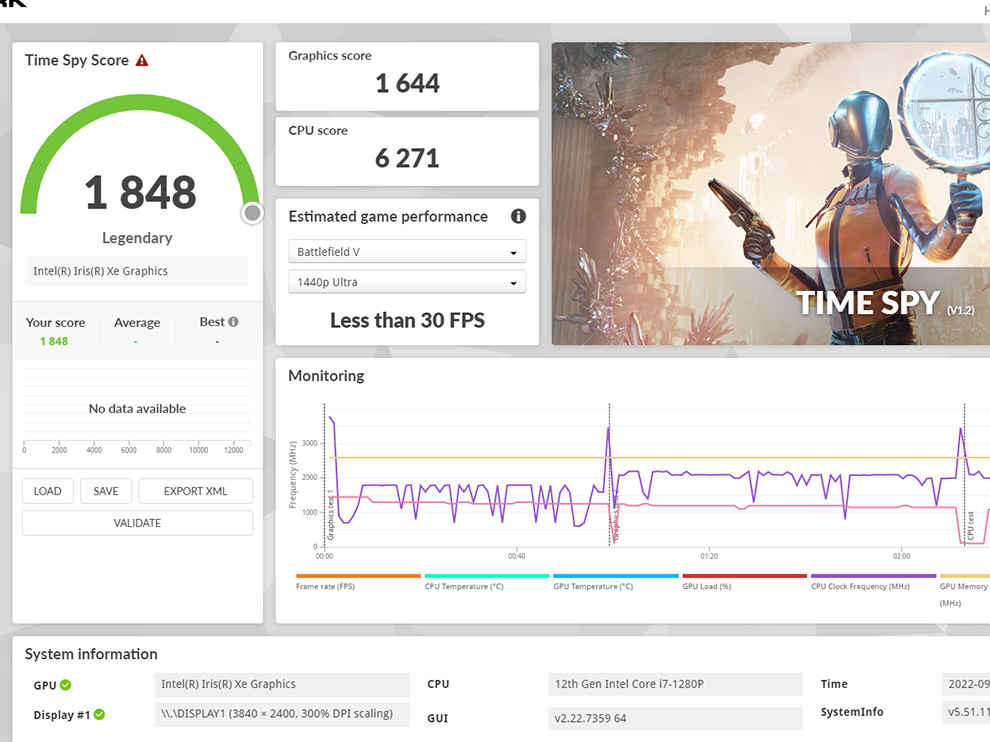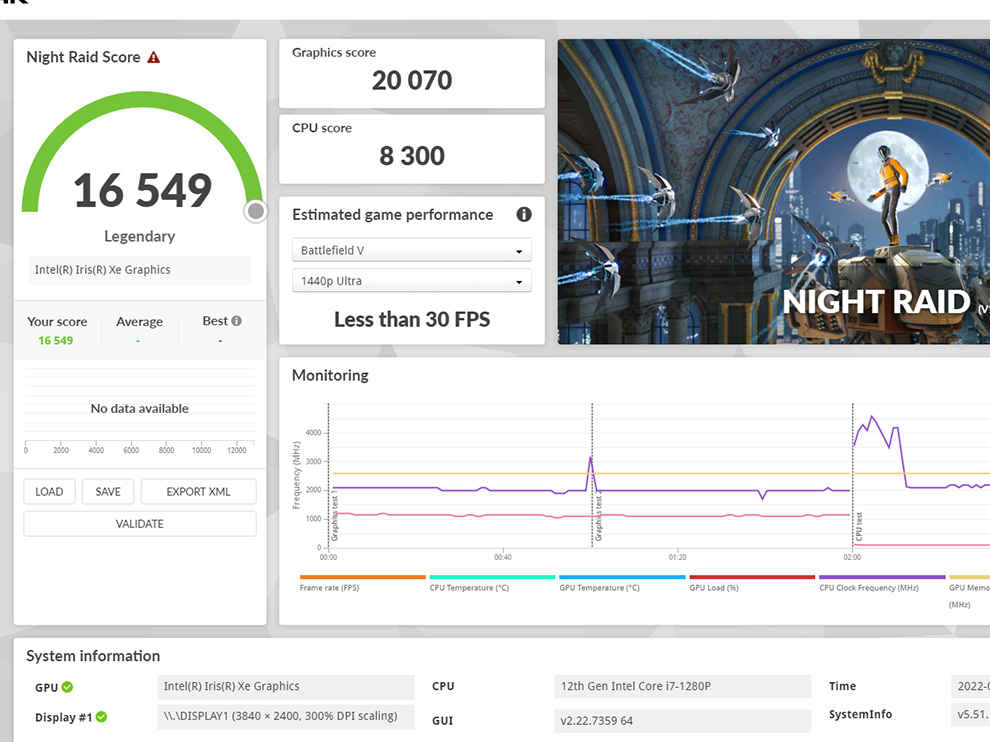 However, the Yoga 9i does not have a dedicated GPU; instead you've got the integrated Intel Iris Xe. While not as good as a dedicated GPU, it's still pretty solid, good enough to comfortably play older titles as can be seen with the 3DMark benchmarks. However, we would still advise against using the Yoga 9i for heavy photo or video editing work.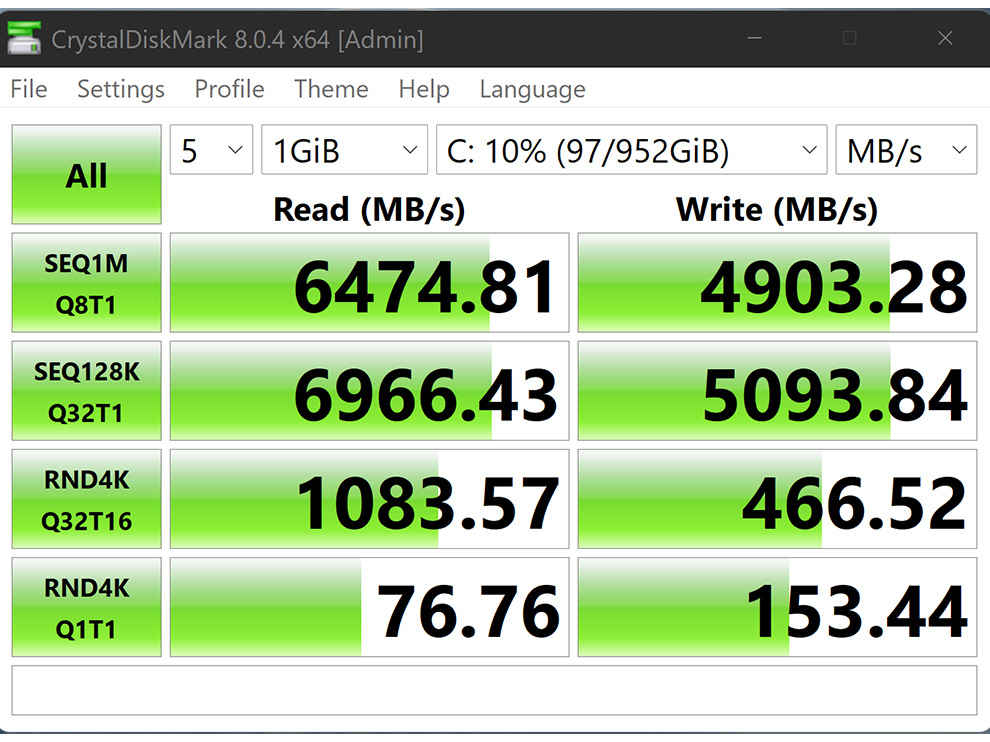 The M.2 2280 SSD also works as advertised, with our tests getting us close to the advertised read and write speeds of 7000 and 5100 MB/s.
Lenovo Yoga 9i Battery
Finally we come to the battery. The Lenovo Yoga 9i comes with an integrated 75Wh battery. This comes with an advertised battery life of 10 to 14 hours, depending on the kind of content being consumed. At maximum brightness the Yoga 9i was able to last around 8-9 hours on the PCMark 10 battery benchmark, so it's safe to say that the battery performance is as advertised, which is great.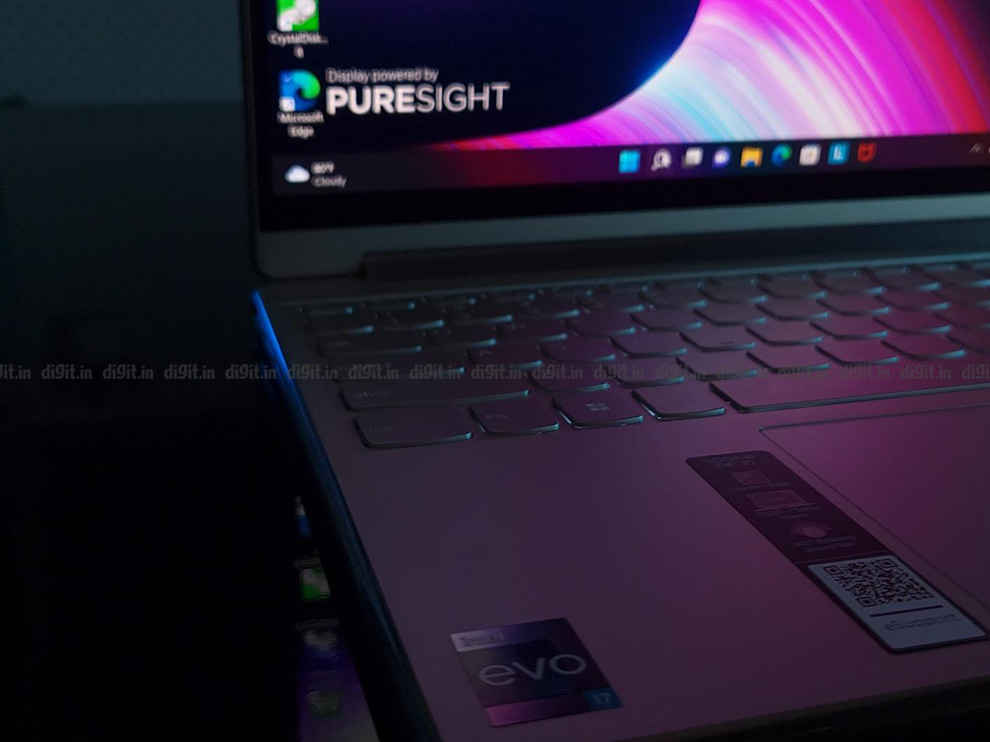 As a plus, the laptop comes with a 65W USB-C power adapter. The benefit of USB-C is that you should have no trouble finding a charger in case you've forgotten the laptop's charger at home.
Lenovo Yoga 9i Verdict
The Lenovo Yoga 9i is an all-rounder 2-in-1 which offers good performance across the board. They've made some design changes over the previous Yoga laptops which actually makes it more comfortable to hold now, however we still prefer the older versions in terms of aesthetics. Of course it's not the complete package, since you don't get a dedicated GPU, however you're not buying this laptop to play games. It should have no trouble with just about everything else you throw at it. The Lenovo Yoga 9i starts at 1.3 lakhs, but the model we have with the 4K display will set you back by Rs 179,990. That's pretty pricey, but keep in mind that you're probably getting the best 2-in-1 laptop in the market for that price.
Lenovo Yoga 9i Key Specs, Price and Launch Date
| | |
| --- | --- |
| Release Date: | 23-09-2022 |
| Market Status: | Launched |
Key Specifications
operating system (with

Windows 10 Home

processor model name

11th Gen Intel Core i7-1185G7

Storage drive capacity

1 TB

display size (in inches)

14