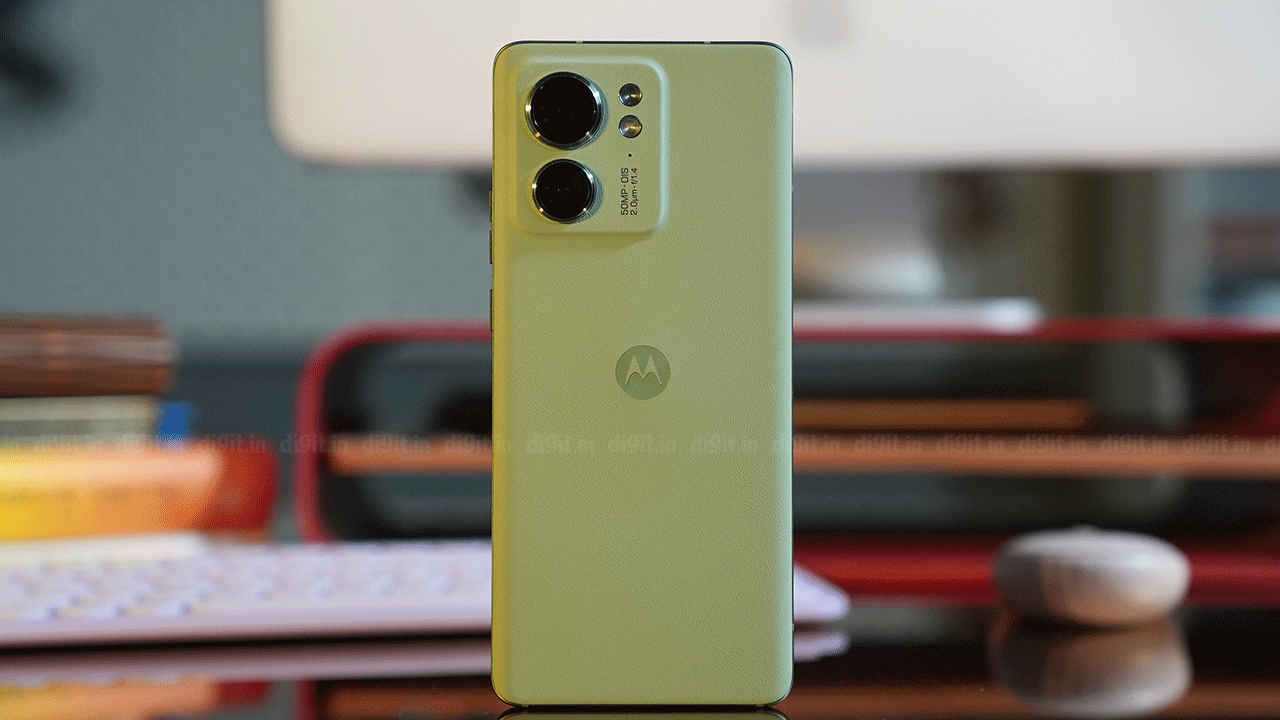 PROS:
Premium and sleek design, 15 W wireless charging, Good primary camera, IP68 dust and water resistance, Vibrant and bright pOLED display
CONS:
Adaptive Refresh Rate doesn't go up to 144 Hz, Inconsistent selfie camera, Not the best for gaming
VERDICT:
Motorola is generating some serious buzz for its smartphones, all because they're giving the users what they want. A clean software experience, stylish and lightweight design, dependable performance, and fast charging to name a few. The Motorola Edge 40 is my favourite mid-range all-rounder so far this year. Not because of its performance chops – there are faster performers – but because it offers users a holistic experience with very few compromises.
Motorola phones have garnered quite a bit of acclaim in the past few years for two primary reasons – Motorola's bloatware-free MyUX skin and the slim and lightweight form factor of most of its phones. In fact, the Motorola Edge 30 which launched last year was THE thinnest 5G smartphone in the world! Cut to 2023, and we've got the successor of the Edge 30 at the Digit Test Lab. Meet the Motorola Edge 40, which comes with a flurry of improvements over its predecessor including a faster chipset, IP68 dust and water resistance, improved battery life, and faster charging. However, this comes at the cost of a more bulky form factor than the Edge 30. Regardless, it continues to be one of the lightest 5G smartphones on the market – now with a more premium design as well. So, at ₹29,999, is the new Motorola Edge 40 worth your money and how does it perform compared to the competition? Let's delve right into it.
Motorola Edge 40 Review: Build and Design
Let's get the bad out of the way first. As I mentioned before, the Motorola Edge 40 is no longer as slim and lightweight as its predecessor. The Edge 40 is available in three colourways – Nebula Green, Lunar Blue, and Eclipse Black – out of which the Green and Black variant sport premium-looking vegan leather backs while the Blue variant sports a matte PMMA (plastic) back. The Nebula Green leather variant I got for review weighs 171 g, which is 16 grams more than the good ol' Edge 30. It is also thicker – 7.6 mm compared to 6.8 mm.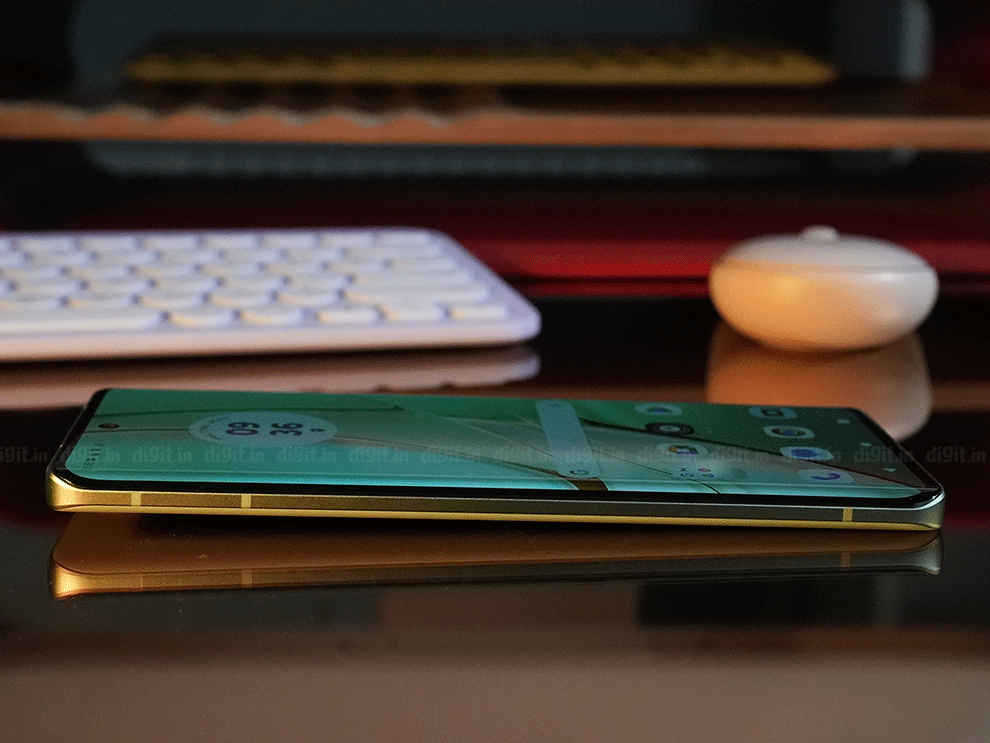 If you keep the Motorola Edge 30 out of the equation, this is still an extremely sleek 5G phone. In fact, Motorola claims that the Edge 40 is the "slimmest and lightest 5G phone with IP68 water protection". And that's the key factor here. The Edge 40 now comes with IP68 dust and water resistance, which was missing on the Edge 30 (the phone was simply dubbed water-repellent). For us, this tradeoff for a better design and IP rating doesn't seem too bad, but you be the judge for yourself.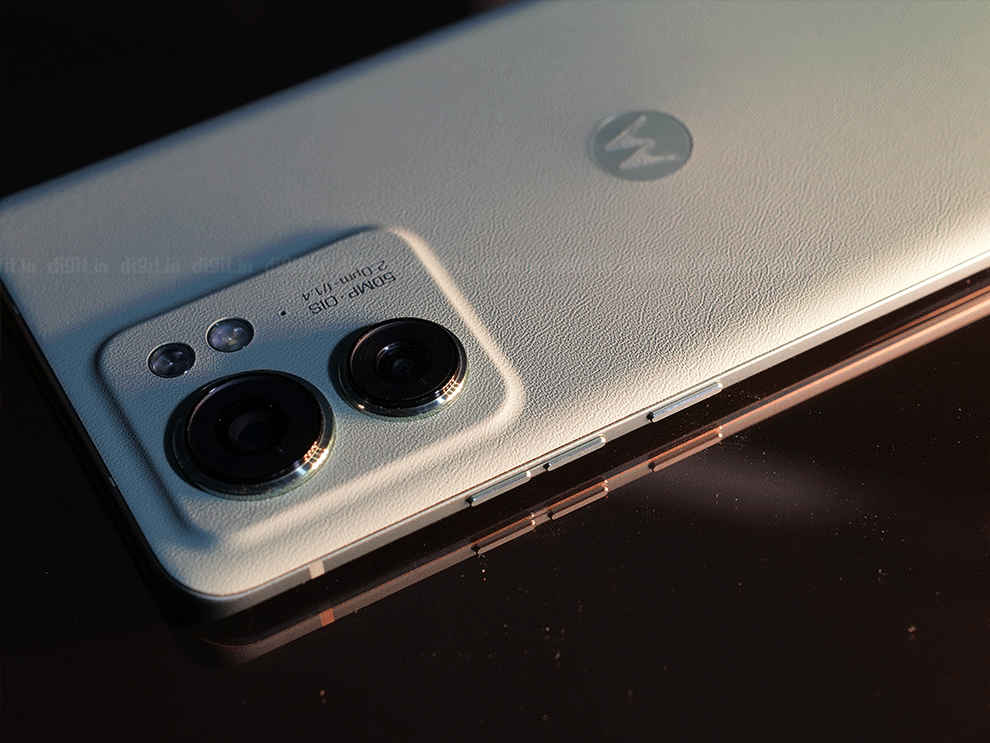 Speaking of the premium design, the Motorola Edge 40 looks very svelte. There's a certain wow factor that is often missing at this price point. You get a soft vegan leather finish, an aluminium frame, and the classy-looking camera module that blends into the rest of the rear panel. The inconspicuous Motorola logo looks great as well and the rounded edges of the front display and the back panel add to the premium factor. Also, due to the rounded edges and lightweight design, this is one of the most comfortable phones to hold.
Motorola Edge 40 Review: Display
Motorola has jammed pack its display with impressive specifications. For example, it comes with a 144 Hz refresh rate pOLED display that rivals most of the competitors in this price range. Motorola has added a curved display to the Edge 40 which makes it look very sleek and stylish, but it could provoke a lot of accidental touches. The 6.55-inch pOLED display sports an FHD+ resolution and HDR10+ support. There's support for Edge ambient lighting as well, to notify users about calls and messages. I recall this feature being quite popular on older Samsung flagships and it's nice to see this make a comeback.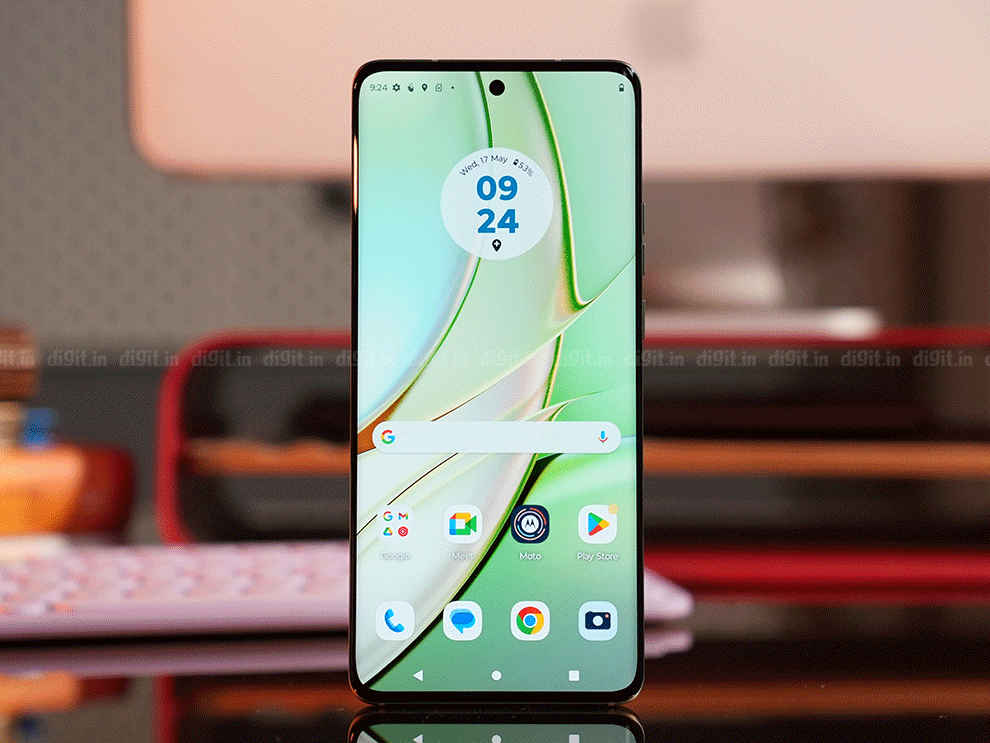 The display is bright, vibrant and crisp. I also found the viewing angles to be excellent. Sunlight visibility is no problem since the display can get sufficiently bright – even for outdoors usage. I tested the phone's display with a LUX meter and got a reading of 801 nits under direct sunlight, using Auto Brightness, which is not a bad number at all. Motorola claims 1200 nits of peak brightness though, and I didn't get a result anywhere close to that number.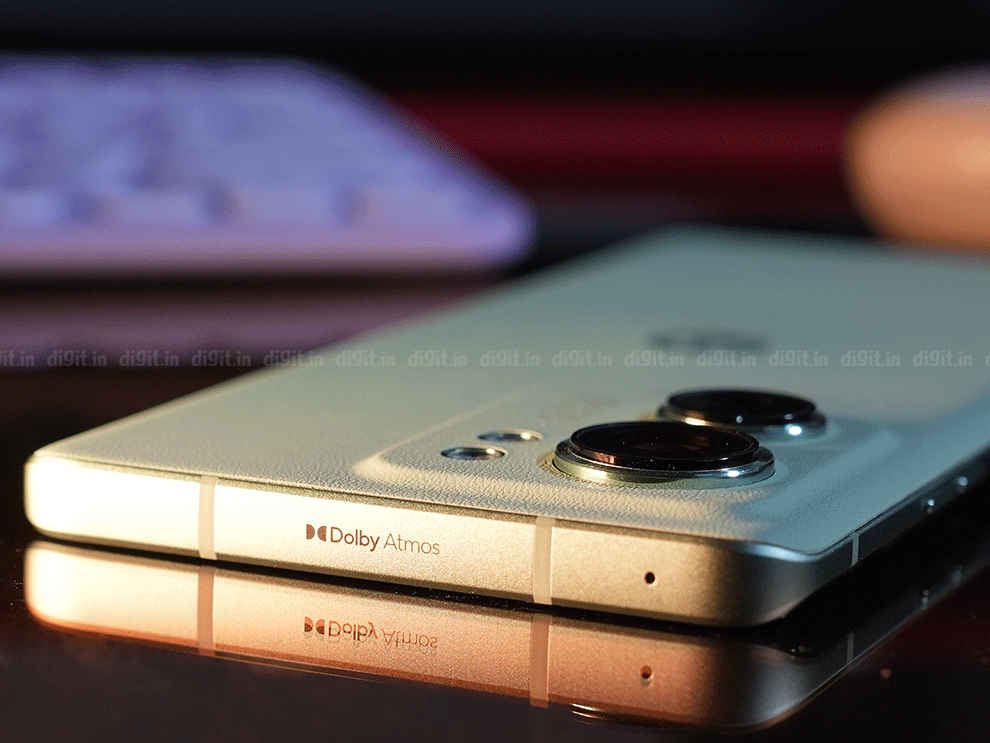 The Motorola Edge 40 sports an impressive display, but there's one hiccup. The 144 Hz refresh rate support can be used but at the cost of severe battery drain. This is because Moto's Adaptive Refresh rate mode on this phone doesn't go all the way up to 144 Hz and remains capped at 120 Hz. So, if you want to experience 144 Hz – a feature you've paid money for – you will have to keep it toggled on at all times, which can severely deplete the phone's battery life. We hope Motorola can fix this with a software update in the near future. That aside, it is a good display for content consumption with support for Dolby Atmos sound as well.
Motorola Edge 40 Review: Performance
The Motorola Edge 40 is the world's first phone to feature the spanking-new MediaTek Dimensity 8020 SoC. It essentially sports the same core configuration as the older Dimensity 1100 but in my testing, I found that it scored higher in benchmarks, so there could be some extra tuning done. The Edge 40 comes packing 8 GB LPDDR4X RAM and 256 GB UFS 3.1 storage. There's no expandable storage though, which is disappointing.
Let's start with synthetic benchmarks. I decided to pit the Motorola Edge 40 against similarly-priced competitors including the POCO F5, iQOO Neo 7, Samsung Galaxy A34, and OPPO Reno 8T. In AnTuTu, the phone sits somewhere right in the middle of the pack. It scored an impressive 6,47,389 which is not as blazing fast as the gaming mid-range champs – Poco F5 and iQOO Neo 7 – but it is considerably better than the Samsung Galaxy A34 and OPPO Reno 8T.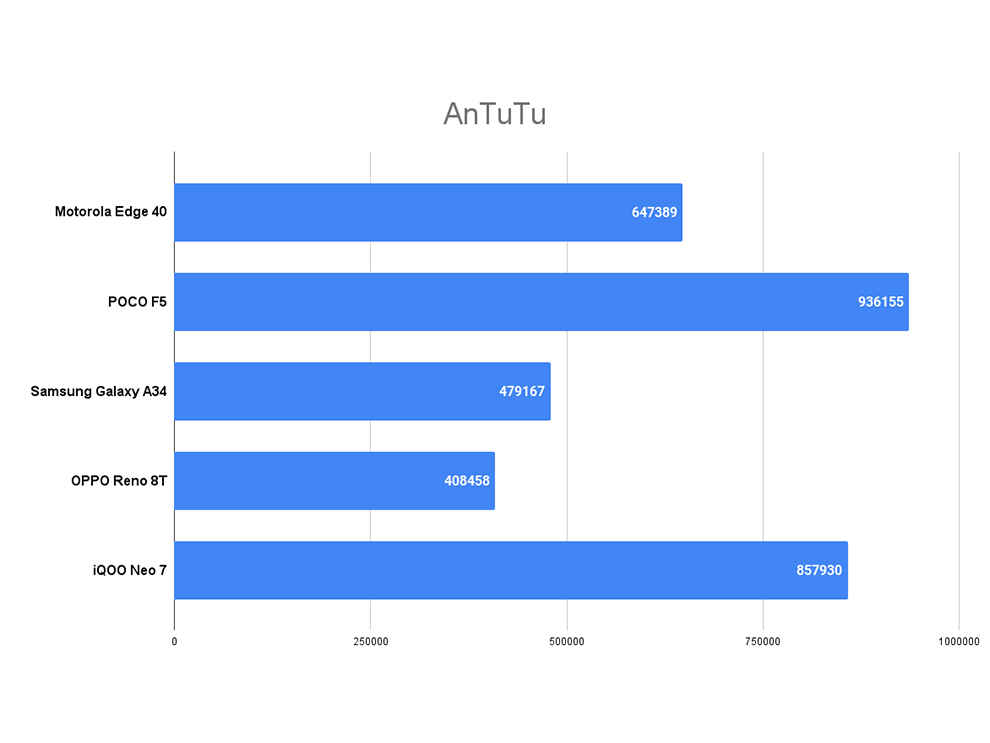 I also ran GeekBench, and in the Single Core test, the Motorola Edge 40 squeaked out 1,112 points while in the Multi-Core test, it got a score of 3,557. Here, it still lags behind the POCO F5 considerably but it manages to beat the iQOO Neo 7 in the Single Core test, surprisingly! In PCMarkWork, the phone coughs up the highest score of the lot, which means it will be a reliable performer in daily workload tasks such as sheets, web browsing, photo and video editing, and more. All this while not throttling much! In the CPU Throttling Test, the phone throttled to only 83 per cent of its peak performance after 30 minutes, which is fantastic.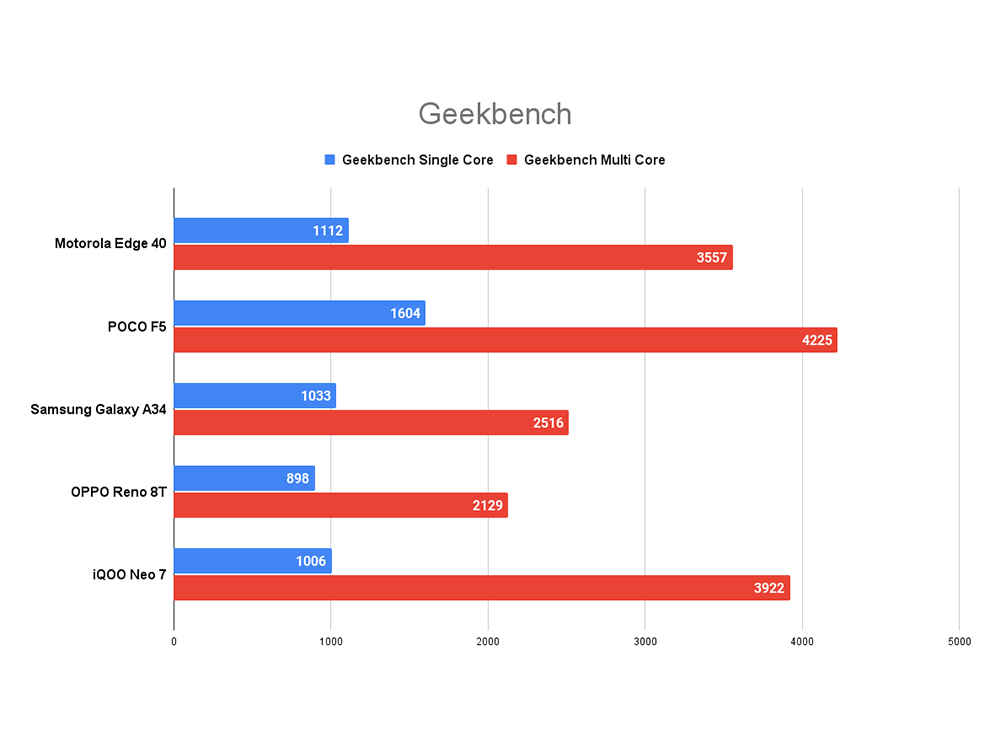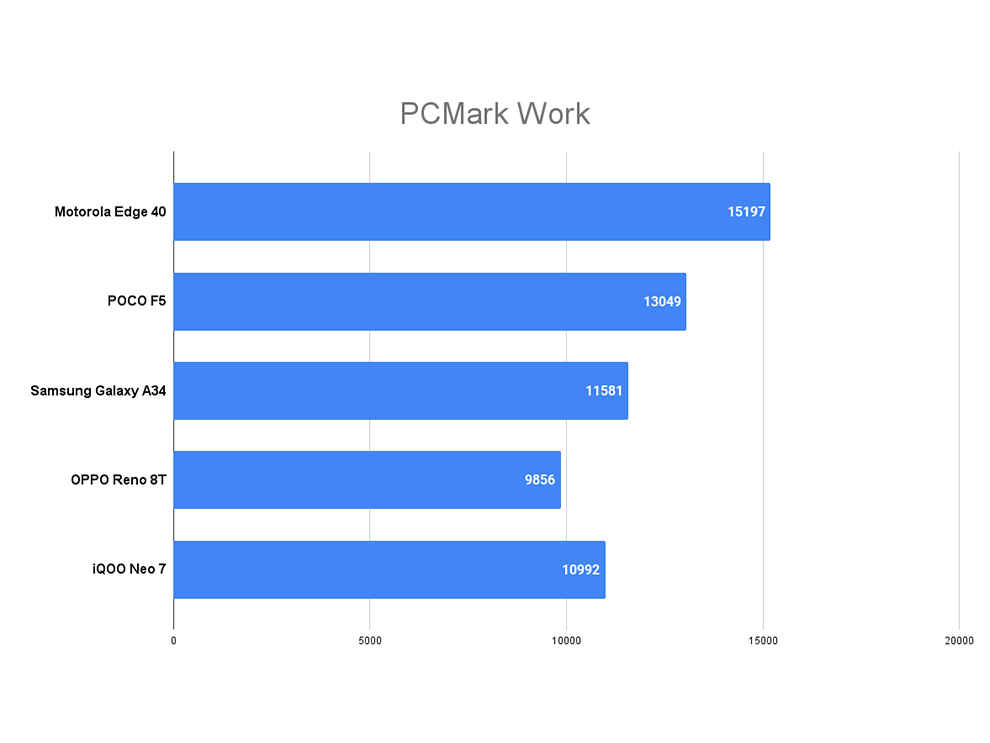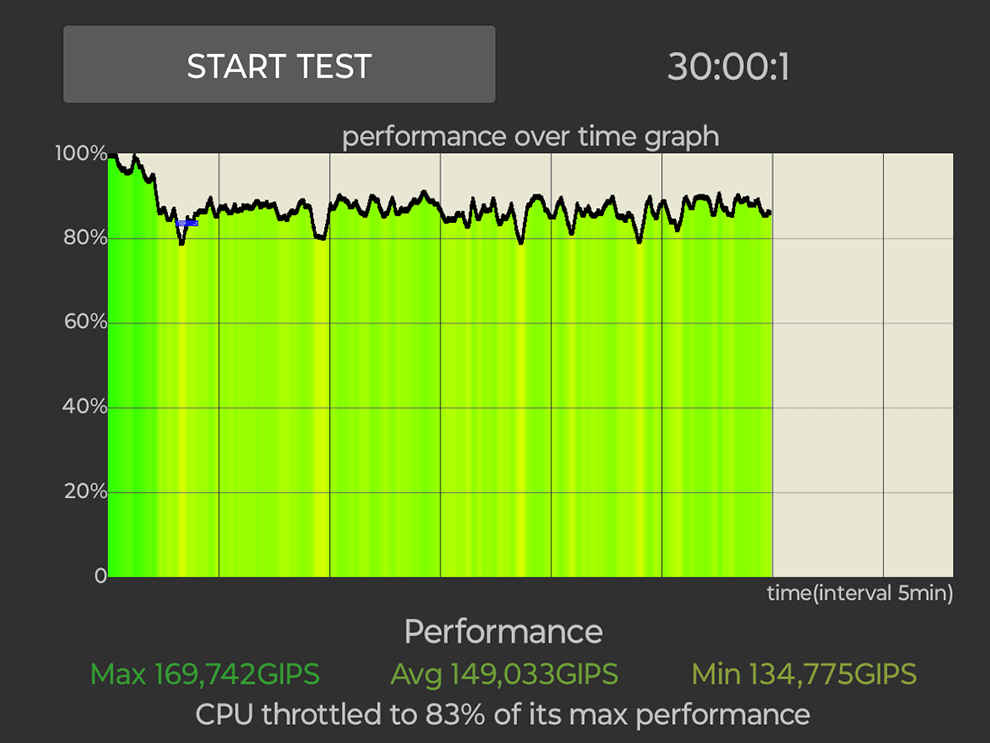 Moving on to GPU tests, the Motorola Edge 40 continues to impress. It got a score of 4,479 in 3D Mark Wild Life Extreme which is only rivalled by the iQOO Neo 7 (POCO F5 didn't support this test). The phone proved its mettle in GFXBench too with impressive scores across the board. Despite these scores, the Motorola Edge 40 is not the best option for gaming at this price. That title would have to go to the POCO F5 and the iQOO Neo 7. The phone got considerably warm after 15-30 minutes of Call of Duty: Mobile which is when we began to notice a couple of frame skips.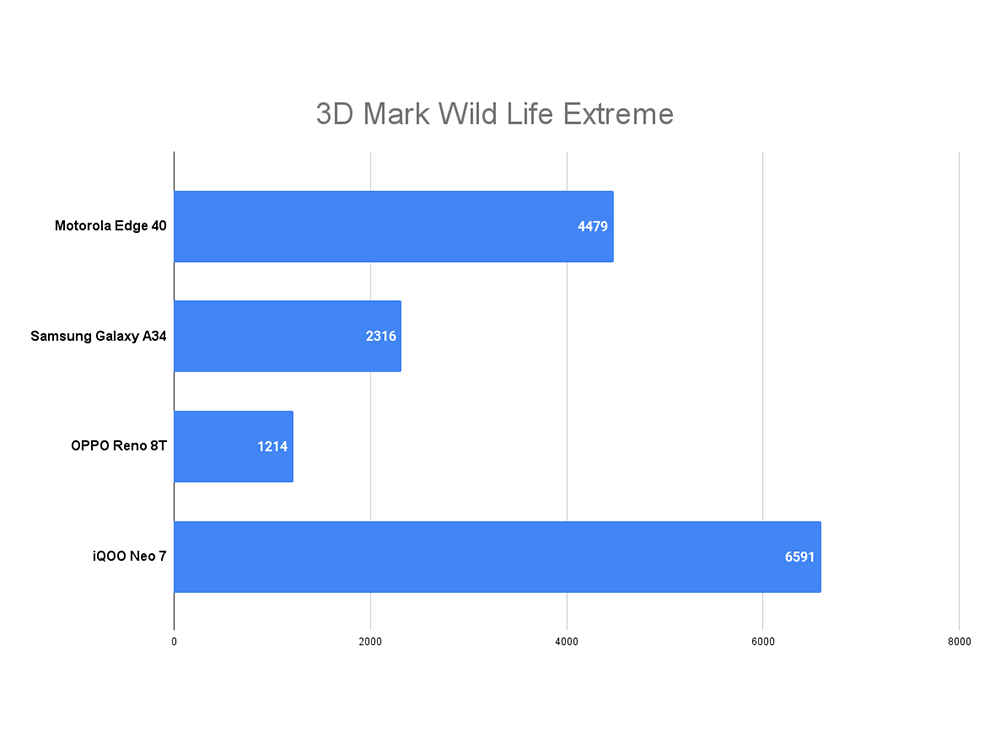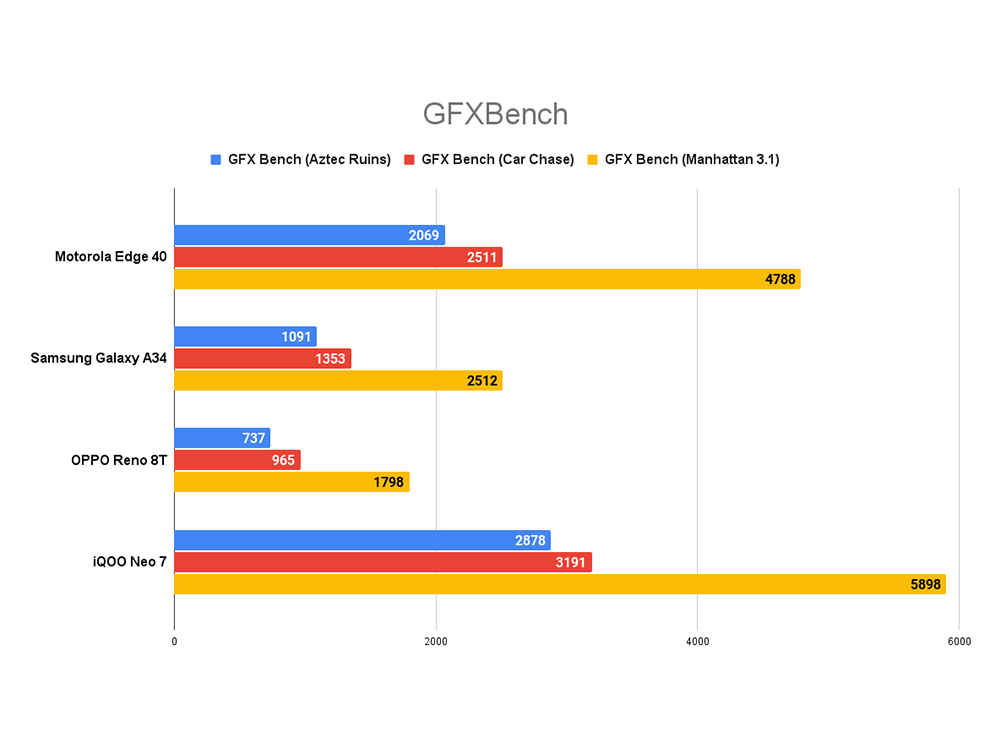 In general, though, the Motorola Edge 40 is a solid and reliable performer under ₹30,000. Multitasking is a smooth affair and the phone can handle most of what you throw at it, with ease. Running Android 13 out of the box, Moto's MyUX software is largely bloatware-free and very easy to navigate. There are also perks such as Ready For, Family Spaces and Moto Secure with ThinkSheild. Ready For is particularly handy since it allows you to connect your phone wirelessly to a TV or display to play games, make video calls, and more, while still having a fully-functioning phone on the side. Overall, a massive thumbs up for the Motorola Edge 40's performance and UI, if you're not a hardcore gamer.
Motorola Edge 40 Review: Cameras
In 2023, when smartphone OEMs everywhere are packing on more and more cameras in their smartphones, Motorola has actually removed a lens from the Motorola Edge 40's rear camera setup compared to its predecessor. The phone features a 50 MP primary sensor with OIS support, but the kicker here is its wide aperture of f/1.4. This allows for great low-light pictures and close-up shots with excellent natural depth of field.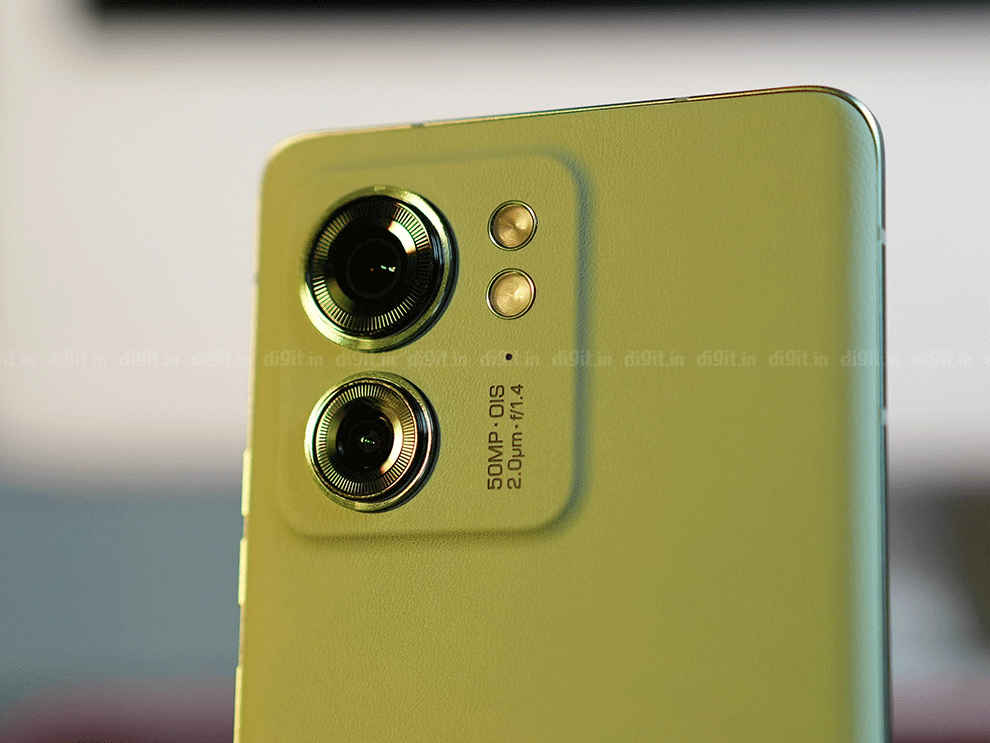 You've also got a secondary 13 MP shooter which doubles as an ultrawide camera and a macro shooter. The Moto Edge 30 had a 50 MP ultrawide camera though, so this is a bit of a downgrade. Nevertheless, the added functionality of a good-quality macro camera makes the tradeoff seem manageable.
In my time with the Motorola Edge 40, the primary camera clicked detailed shots with decent dynamic range in daylight. Shadows can appear a bit crushed at times though. Also, there's an obvious amount of over-saturation that makes the shots look more social-media-ready but also a bit unrealistic. Nevertheless, if you like poppy colours, this will be right up your wheelhouse. Additionally, the primary camera also shoots impressive portrait shots with very natural skin tones, good detail, and solid edge detection. Overall, this is an impressive primary camera in daylight, if you ignore some small nitpicks.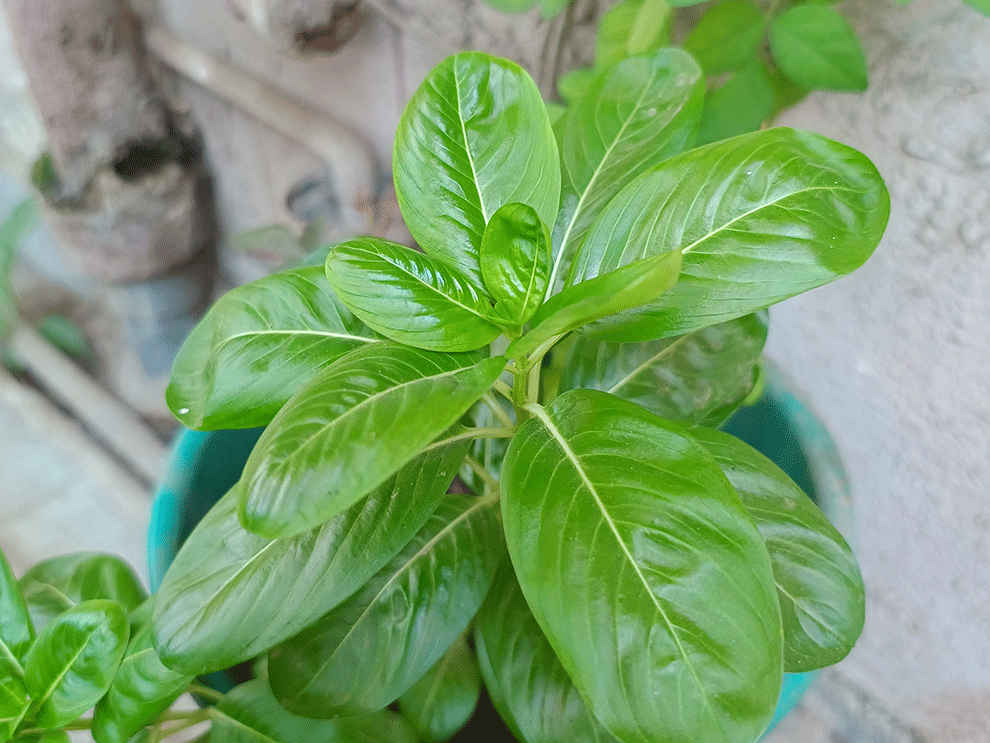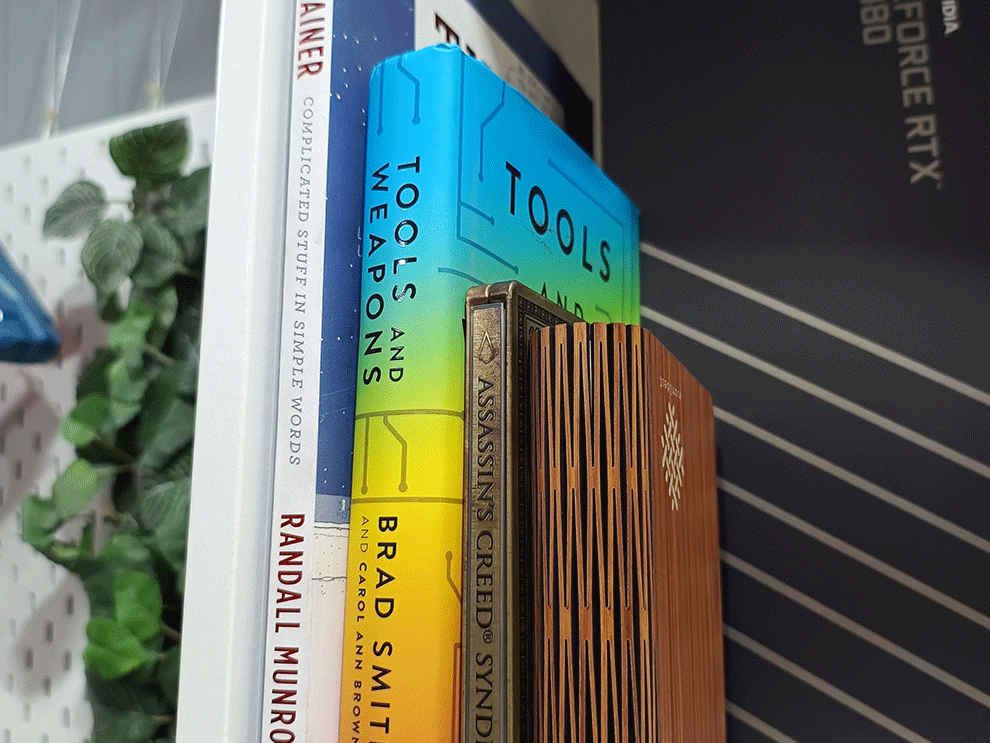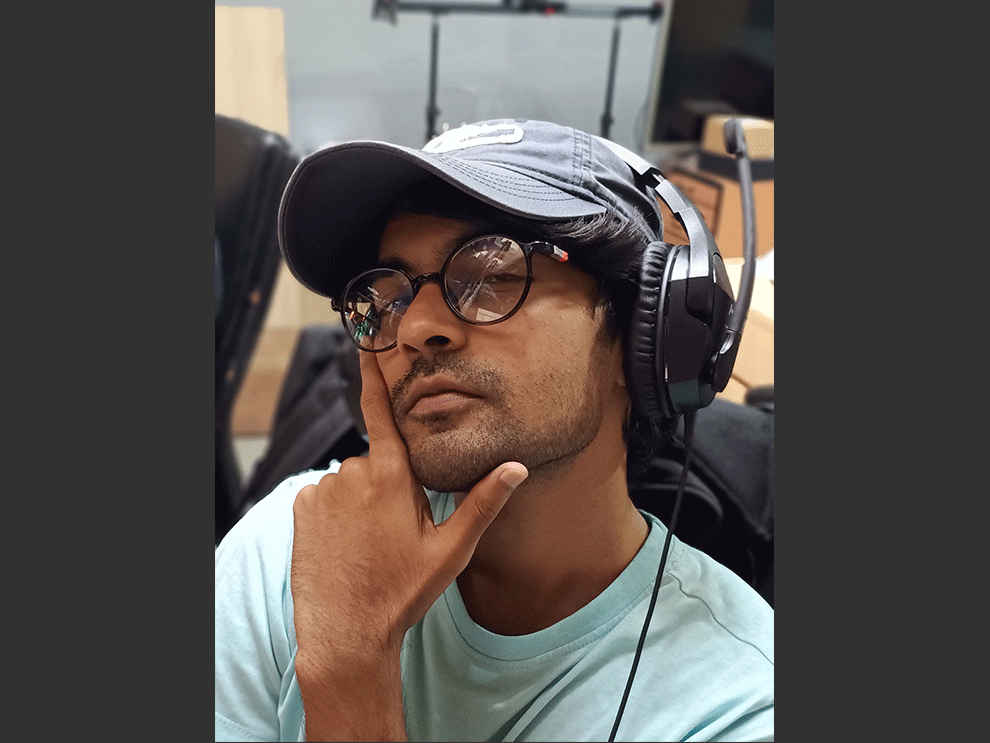 Ultrawide photos have great dynamic range and surprisingly, the colour science between the primary and ultrawide camera is very close, which I love to see. Macro photos taken with this lens also come out looking surprisingly detailed. Low-light shots from this lens are quite grainy but the primary camera can take some amazingly detailed nighttime shots.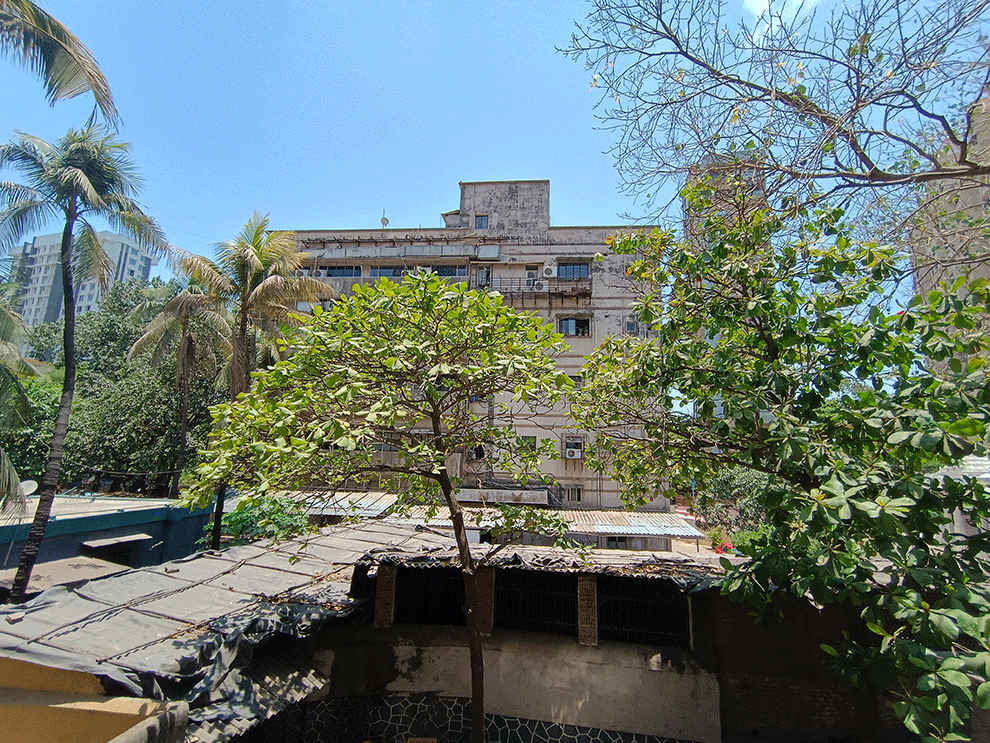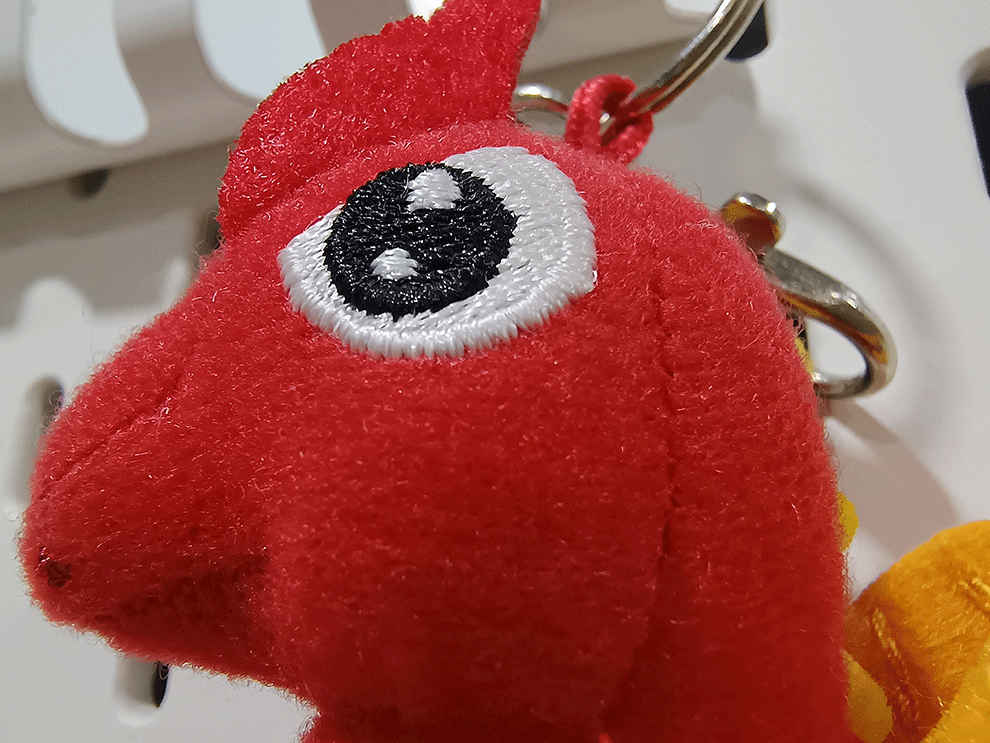 As for selfies, in good lighting, you will get solid results with little to complain about. However, if the lighting is even slightly unfavourable, the selfie camera can boost the highlights a bit too much. In low light, the selfie camera does have quite a bit of noise as well. So, you won't get consistently great performance with the Motorola Edge 40's selfie shooter.
Motorola Edge 40 Review: Battery life
Battery life was one area of concern on the Motorola Edge 30 since it had a tiny 4,020 mAh cell. This time around, most of those worries are dispelled since the Edge 40 now sports a 4,400 mAh battery while still housing a similarly-sized screen with the same refresh rate. So, naturally, the battery life of the Motorola Edge 40 has definitely improved.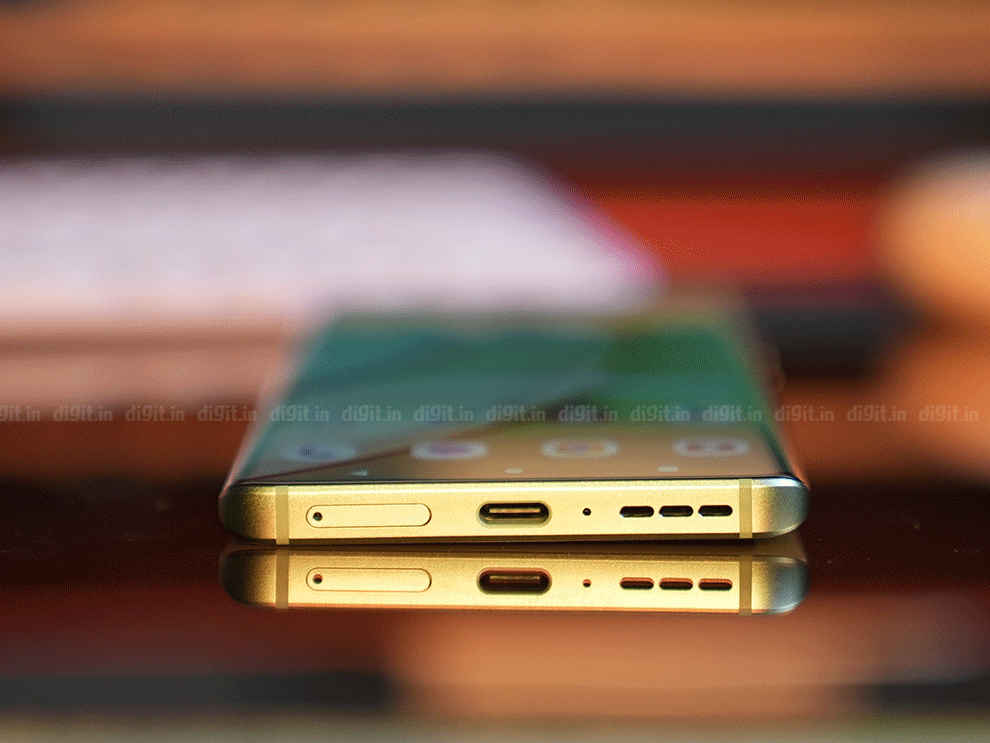 In our 4K video loop test, the Motorola Edge 40 lasted a healthy 13 hours and 24 minutes. So, it outperforms the POCO F5 and the Samsung Galaxy A34 here. Similarly, it only lost 4 per cent battery when streaming Netflix for half an hour and dropped by 5 per cent after playing Call of Duty: Mobile for 15 minutes. This is not the best in the segment, but it is a solid improvement.
Motorola has also bumped up charging speeds with this one. You get a super fast 68 W charger in the box that tops up the phone from empty to full in just 49 minutes. In fact, 0-50 per cent happens at a much faster rate. Not just that, Motorola also added wireless charging to this segment, which is a true rarity. You can wirelessly charge this phone up to 15 W on any Qi-certified wireless charger.
Motorola Edge 40 Review: Verdict
Motorola is generating some serious buzz for its smartphones, all because they're giving the users what they want. A clean software experience, stylish and lightweight design, dependable performance, and fast charging to name a few. The Motorola Edge 40 is my favourite mid-range all-rounder so far this year. Not because of its performance chops – there are faster performers – but because it offers users a holistic experience with very few compromises. The new MediaTek Dimensity 8020 breezes through everyday tasks and Moto's MyUX skin is a pleasure to use mainly due to low bloatware. The Motorola Edge 40 also wins due to its IP68 build, wireless charging support, good primary camera, and a seriously premium design that makes it look like it is worth at least ₹45,000-₹50,000. All of this at just ₹29,999! Motorola has truly found a recipe for success with the fantastic Edge 40!
Motorola Edge 40 Key Specs, Price and Launch Date
| | |
| --- | --- |
| Release Date: | 25 May, 2023 |
| Market Status: | Launched |
Key Specifications
Screen size (in inches)

6.55

Battery capacity (mAh)

4400