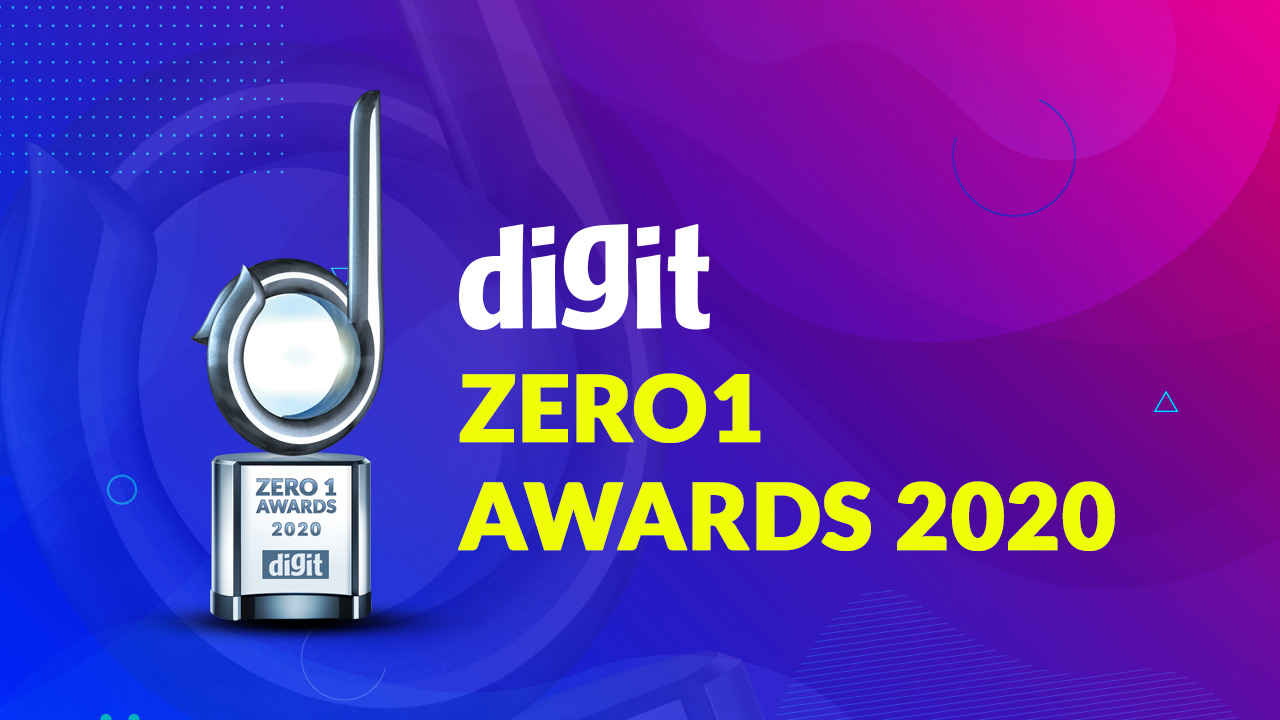 HIGHLIGHTS
The Digit Zero1 Awards look at the products that offer the best performance

Only products launched after November 15, 2019, and on or before November 15, 2020 will be considered

If you are a brand thinking about sending us your product to be nominated for the Zero1 Awards, reach out to editor@digit.in
The Digit Zero1 Awards, now more than a decade old, are given out to the best performing products of the year. The idea behind our initiative is to reward brands for putting in years of research and development to come up with the products that value performance over everything else. If you're out in the market looking for the best performing products to own, here is where you will get the answer.
In order to keep things fair, we accept products that were launched in the 12-month period between Zero1 Awards. For 2020, the best products will be chosen from products launched after November 15, 2019, and on or before November 14, 2020. Why such weird dates? That's because we publish the awards on our December issue of the magazine every year, and considering we don't have superpowers (yet!), we need time to test them. As a result, for products launching near the end of our acceptance period, we call for them under embargo. Entries for Digit Zero1 Awards close on 15th November 2020.
Oh, and by 'test', we mean we put all these products through the wringer that is our comprehensive test process. Each and every product category that we cover has a rigorous test process and each and every product is made to pass through this test. Calculating the scores, a winner is declared. The test process for Zero1 Awards is almost the same as our review test process, except that we don't consider scores for features, price or design.
This is what makes our Zero1 Awards unique. Nowhere else will you get such laser-focus on the best performing products of the year, simply because most others 'review' products instead of testing them. For the Zero1 Awards, opinions of reviews aren't considered. This is about pure performance and the ability of the product to do the job in the best possible way.
So, when you ask "What's the best performing gaming laptop in India?", you need to check our Zero1 Award winner of that category because that's the only place where it's only about pure performance and not about the features of the laptop or how it looks or how much it costs.
That's also another reason why the Zero1 Awards are so important. Because we don't look at the price, but only pure performance, we get to showcase products you might have missed or didn't pay much attention to because of budget restrictions. That doesn't mean this award caters only to the rich kids with deep pockets since most of the products in the list are usually expensive. But that's not our rationale for doing it, though. The product that wins our Zero1 Award is considered the industry benchmark for the year. And what do brands love to do with benchmarks? Beat them of course! So think of the Zero1 Awards as a predictor of things to come next year. The new devices that will launch in 2020 will have to do better than the benchmark, and not just in terms of performance, but also price!
Update: Because the Digit Zero1 Awards are given out based on tested performance scores, no product that we have not received in our Test Centre can participate. We make every effort to test all possible products launched in the year, however, sometimes we just do not receive some products at our Test Centres because of logistics issues, or because brands cannot send us review samples in time.
Categories for the Zero1 Awards
Smartphones
1. Best Premium Smartphones.
2. Best High-end Smartphones
3. Best Mid-range Smartphones.
4. Best Budget Smartphones.
5. Best Performing Premium Smartphone Camera
6. Best Performing High-end Smartphone Camera .
7. Best Performing Mid-range Camera Smartphones.
9. Best Performing High-end Camera Smartphones.
Laptops
1. Best Performing Mainstream Laptop
2. Best Performing Thin and Light Laptop
3. Best Performing Creator's Laptop
4. Best Mainstream Laptop
5. Best Gaming Laptop
6. Best Entry-level Gaming Lapto
Wearables
TV
Purifiers
Computer Components
1. Best B550 Motherboard
2. Best Z490 Motherboard
3. Best External SSD
4. Best NVMe M.2 SSD
5. Best Graphics Card
6. Best Mainstream Desktop Processor

Gaming
1. Best Gaming Mouse
2. Best Gaming Headset
3. Best Gaming Monitors
4. Best Wi-Fi 6 Wireless Router
5. Best Mechanical Keyboard

Cameras
1. Best Full-Frame Mirrorless Camera

Audio
Best Performing Wireless IEM
Best Performing Budget Truly Wireless IEM
Best Performing Premium Truly Wireless IEM
Best Performing Wireless Headphone
Best Performing Smart Speaker

How can you participate?
If you are a brand thinking about sending us your product to be nominated for the Zero1 Awards, reach out to editor@digit.in. Do note that products launched after November 15 2020 will not be considered for this year's awards. You can see all the winners from 2019 here.