In September 2020, we started seeing a barrage of launches by practically every brand. Dell, which had showcased its brand new XPS 13 at CES in January, also launched the machine in India months later after the lockdown situation had eased up. We've had many viable contenders this year, given that Intel finally managed to shrink their process node from 14nm to 10nm for the chips that power this year's thin and light laptops. There's a lot that's happened, and yet, there can only be one that comes out on top.
Winner: Dell XPS 13
The Dell XPS 13 manages to hold an envious position of being one of the most powerful in this category despite being one of the thinnest laptops you can buy today. This laptop weighs just 1.2 kilograms and measures just 15.8mm in thickness. Inside this cramped space is packed an Intel Core i7-1065G7 and 16GB of DDR4 memory. The Dell XPS 13 pulls ahead in terms of raw performance with respect to other machines with a similar configuration, in part thanks to its thermal solution. Dell partnered with GORE to put the latter's thermal insulation solution inside the laptop. This provides far better thermal conductivity than air, allowing heat to dissipate much faster, keeping this chip chugging at its peak speeds for longer. Additionally, the XPS 13 also sports the brightest display we've tested this year, with the 4K panel hitting peak brightness of 500-nits, and hence supporting both HDR10 and Dolby Vision content playback. All of this comes with an impressive battery life of a little over 8 hours. We award the Dell XPS 13 with the Digit Zero1 Award for best Thin and Light laptop in 2020.
Runner Up: Surface Laptop 3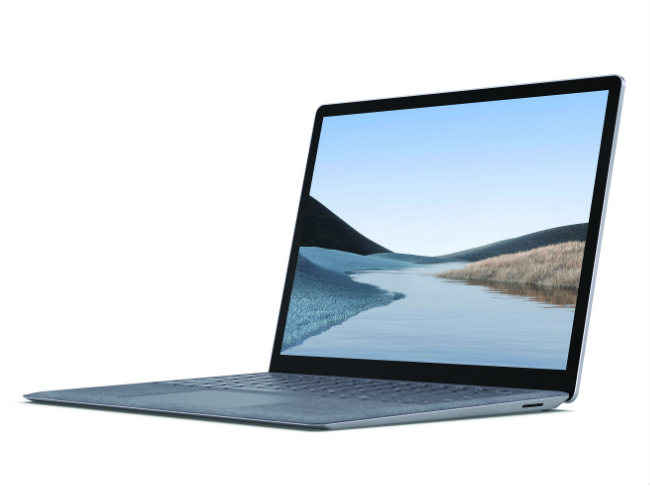 Microsoft's Surface lineup has always been something of a marvel, with every Surface device being a somewhat stand-out device in terms of design. The Surface Laptop, in its third iteration, is an incredible device. Pow-ered by the Intel Core i5-1035G1 and 8GB DDR4 memory, the Surface Laptop 3 delivers a really strong CPU-GPU performance, along with also offering incredible battery life. The Surface Laptop 3 delivered 773 minutes on the PCMark 10 battery test, the highest we've recorded this year. The Surface Laptop 3 is ideal for students and office goers alike thanks to its strong performance and excellent ther- mals. However, the Surface Laptop 3 could not match up to the performance of the Dell XPS 13, leaving it in the runner-up spot for the best thin and light laptop.
Best Buy: Yoga Slim 7i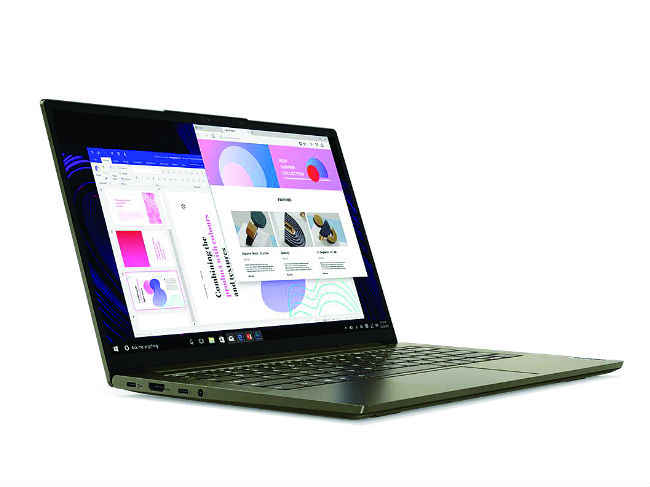 Lenovo's Yoga series has gone through a very interesting transition this year, with the name becoming synonymous with thin and light laptops rather than just the 2-in-1 form- factor. Our review unit came equipped an Intel Core i5-1035G1, 8GB DDR4 memory and an NVIDIA GeForce MX350 dedicated graphics chip. This puts the Yoga Slim 7i in a unique position to, allowing it to trump all other laptops in this category when it comes to graphic-heavy workloads. We were able to easily run Adobe Lightroom (not Lightroom Classic) and edit 24MP RAW files, without any crashes or major lag. The export times were long, but not as long as those recorded on other thin and light laptops. The 1080p display on the Lenovo Yoga Slim 7i is adequately bright, registering 370-nits of brightness, but it is still a 1080p panel. The low resolution improves battery life, and the Lenovo Slim 7i clocked 12 hours and 42 minutes on our battery test. The pricing of the Lenovo Yoga Slim 7i is the real star here, and it easily beats the others in terms of performance per rupee (value for money), making it our Best Buy for 2020.
About Digit Zero 1 Awards:
With a legacy of 20 years, the Digit Zero 1 Awards is recognized as the Industry's only performance-based awards. Digit rewards brands for putting in years of research in developing and introducing performance-driven products for their audience. All products are made to pass through a rigorous and scientific test process and compete with competitor brands in the same category. The Winner in each category is announced on the basis of their total score post complete performance analysis done across an average of 56 tests conducted for every category, across key performance parameters. The test process for the Zero1 Awards does not consider scores for features, price or design. The aim is to identify the very best products that money can buy, celebrate the innovations that push the industry forward, and reward the products that dare to disrupt the market.