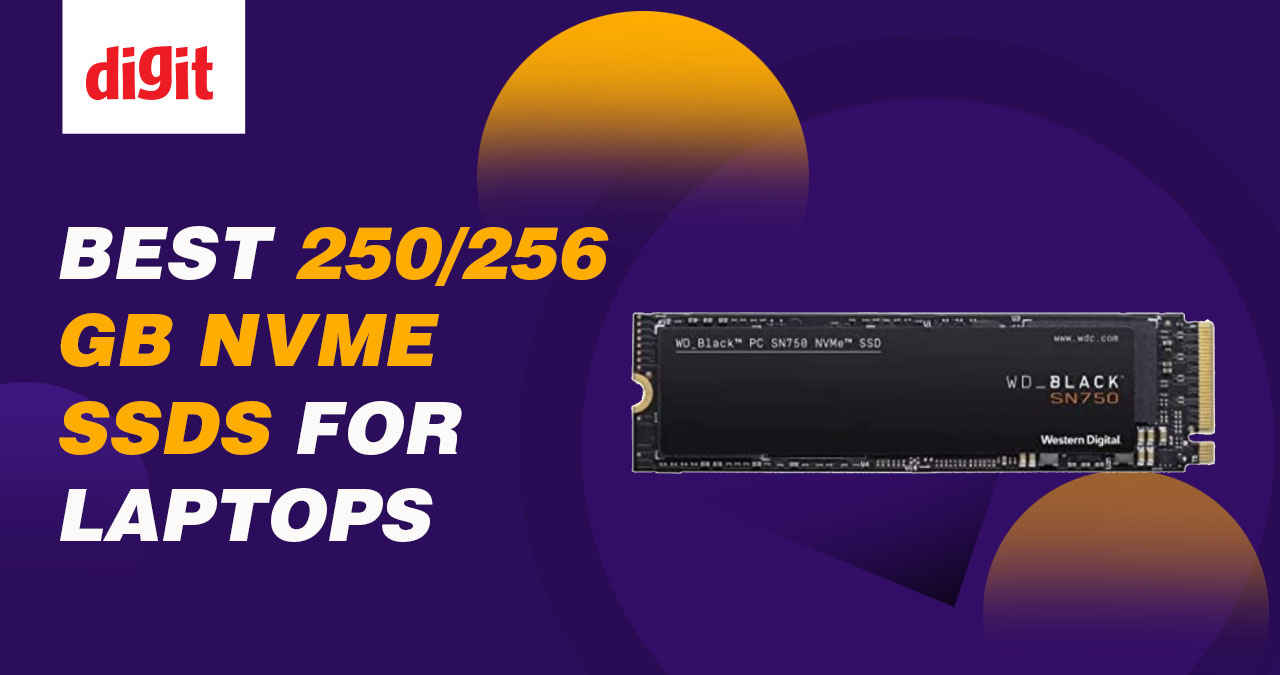 SSDs have become one of the most important components in a laptop or gaming PC. Switching your boot drive from a traditional Hard disk to an SSD makes a huge difference in your overall user experience making it much snappier and drastically reducing load times of applications and in-game. Installing an SSD in your system is one of the easiest upgrades you can do to your laptop enhancing your experience and installing all your frequently used applications on the SSD can really improve your productivity as all apps will run much quicker and save you a lot of time.
1. Samsung 980 PRO 250GB NVMe SSD
Samsung is one of the best memory manufacturers in the world so to no one's surprise the 980 pro from Samsung is one of the best Gen 4 250GB NVMe SSD for laptop you can buy in the current market. The 980 Pro has a sequential read and write speed of 6400 MB/s and 2700 MB/s respectively which when paired with its 1GB of DDR4 SDRAM cache makes this SSD one of the fastest consumer SSDs in the market right now. The SSD is also backwards compatible with PCIe Gen 3. As for IOPS on PCIe Gen 4.0, we get up to 500K Random IOPS for reads and 600K IOPS for writes. The 980 Pro also comes with Samsungs Magician Software which you can use to check the drive health and do a TBW check along with performance benchmarks and optimisation and you can even encrypt the drive which is excellent.
2. WD Black SN750 250GB NVMe SSD
The WD Black SN750 is one of the fastest consumer PCIe Gen 3 NVMe 250GB SSDs for laptops available in the market right now. It has a sequential read and write speed of 3100 MB/s and 1600 MB/s respectively with up to 220,000 IOPS for a smooth and responsive gaming experience which is great. Some of its other notable specs would have to be its inclusion of DDR4 DRAM cache along with Westen Digitals in-house controller for excellent sustained performance and it also comes in a variant which includes a thermal heatsink for the SSD. The Western Digital Dashboard is included with the drive which includes tools for analysis of the disk like its firmware version and its SMART attributes and updating the drive's firmware which is great. At its price of Rs 6000, the 250GB version cost Rs 24 per GB which is amazing considering its performance compared to other alternatives which make it one of the best 250GB SSD price in India.
3. Samsung 970 EVO Plus 250GB NVMe SSD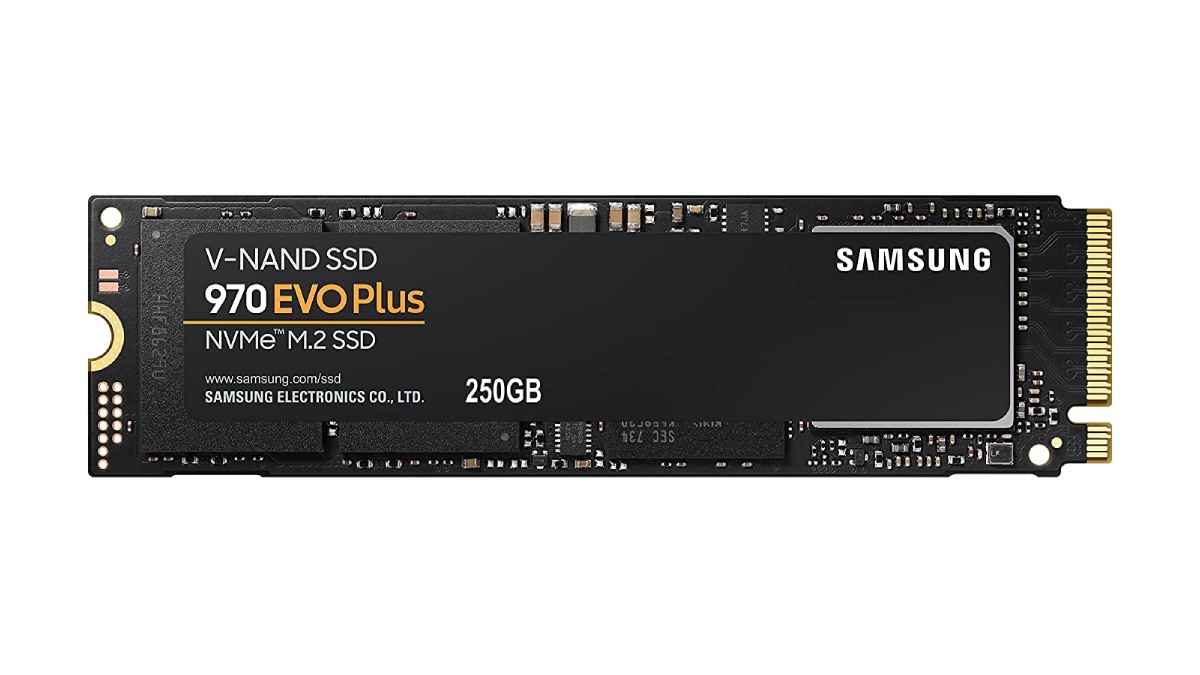 Samsung has one of the best SSD catalogues in the market and when it comes to PCIe Gen 3 SSDs the 970 EVO Plus is one of the best Gen 3 NVMe SSD available in the market right now. When it comes to sequential read and write speeds of 3500 MB/s and 2300 MB/s respectively along with random read IOPS of up to 250K and random write IOPS of up to 60K for a smooth and responsive experience. Unlike most SSDs in this range which uses QLC memory, Samsung SSDs use 3-bit MLC NAND which is much more reliable and it's one of the biggest reason to buy a Samsung SSD. Another great thing about the 970 EVO Plus is that it has 512MB of LPDDR4 DRAM cache which along with the Samsung Phoenix controller means it has great sustained performance.
4. WD Blue SN570 250GB NVMe SSD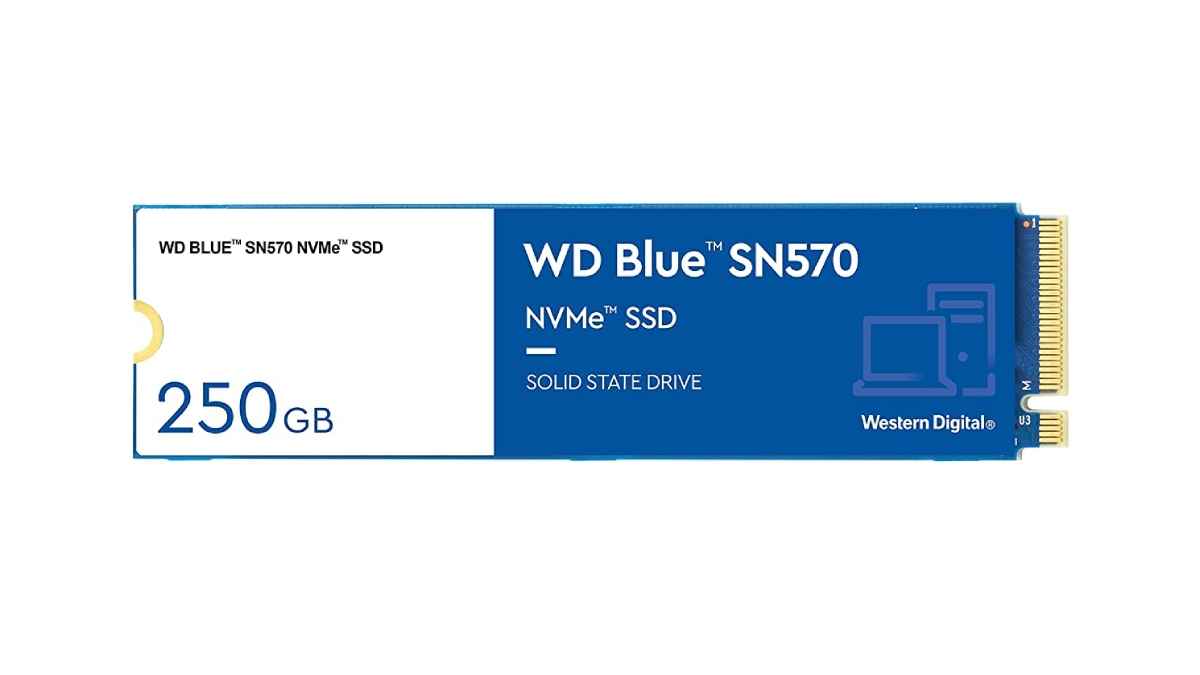 Launched in late 2021, the SN570 is the long-awaited successor to the WD SN550 which used to be a go-to option for people who needed an NVMe SSD on a budget but unlike its predecessor, it doesn't compromise on performance. The SN570 can hit sequential read and write speeds of 3300 MB/s and 1200 MB/s respectively which is a roughly 50% improvement compared to the SN550. Even though it is a DRAM-less SSD, it goes neck and neck with Samsungs 980 in terms of both price and performance. The SN570 also uses a new memory controller manufactured in-house by WD which when paired with its Random read of 190K IOPS and random write of 210K IOPS, you will have an excellent and smooth experience. WD drives also come with the Western Digital Dashboard which allows you to monitor your drive and update its firmware.
Disclaimer: Digit, like all other media houses, gives you links to online stores which contain embedded affiliate information, which allows us to get a tiny percentage of your purchase back from the online store. We urge all our readers to use our Buy button links to make their purchases as a way of supporting our work. If you are a user who already does this, thank you for supporting and keeping unbiased technology journalism alive in India.