VERDICT:
The Sony 85Z8H brings with it a very bright panel, making HDR content pop. It is an 8K TV, making it future proof. 1080p and higher resolution content looks good on this TV. 720p and lower content does look grainy. The sound output from the TV is powerful and you can use the TV as a centre speaker in your home theatre setup. It runs on Android TV and has a smooth UI. The TV performs very well for consuming content from physical media like Blu-rays and also for gaming. However, for streaming, the bit-rate and stream quality can affect playback. When the quality of the stream is good, the content looks immersive on this TV. The one and only biggest qualm is that the TV has only one 8K capable HDMI port of the four ports available.
Over the past week, I've been spending a lot of time with an 8K TV. This is the Sony Z8H, Sony's flagship 8K 2020 TV. It is a massive behemoth of an 8K TV, 85-inches in screen size. This isn't the first 8K TV I've experienced but this is the first one I have in my house to experience it as a consumer would.
We all know there is no 8K content commercially available and the handful of content on YouTube is heavily compressed. Modern flagship smartphones can shoot video in 8K, so that's something to note as well. I feel like we are back in the chicken and egg situation that we find ourselves at the cusp of every new generation of TV technology. When 4K became mainstream, we wondered when 4K content would be abundant. While 4K content is not as widespread as say FHD content, you'd be hard-pressed to tell the difference between 4K and 1080p content (of good quality) on a 55-inch 4K TV. I've fooled a lot of people into thinking they were watching 4K content when in fact it was a very good 1080p source. Is it possible to feel the same on an 8K TV? How does 720p, 1080p, 4K and even SD content look on this TV? Well, those are the questions we will answer in this review.
Sony Z8H specs at a glance
Panel Size: 85-inch
Panel Type: VA, Full-array LED backlighting
Panel Resolution: 7680 x 4320 – 8K
Panel Refresh Rate: 120Hz (via HDMI 4 only)
HDR 10 support: Yes
Dolby Vision Support: Yes
Weight (with stand): 67.8kgs
HDMI Ports: 4
USB Ports: 3
Bluetooth: Yes
Wi-Fi: Yes
Ethernet: Yes
Speakers: 60W (12.5 W + 12.5 W + 12.5 W + 12.5 W + 5 W + 5 W – Mid Range x2, Subwoofer x2, Tweeter x2)
Built-in storage: 16GB
Price: MRP: Rs 14,99,900 (introductory price: Rs 13,99,990)
Sony Z8H: Display and picture quality
The behemoth Sony Z8H has an 85-inch display with a VA panel with Sony's X-Wide Angle technology, Triluminos display and is powered by Sony's X1 Ultimate chip. It has a full array backlighting with local dimming zones and we don't know the exact number of dimming zones nor the peak brightness of the TV. However, we can confirm that this TV gets very bright and is the brightest TV we've seen. Since this is an 8K TV, it will be interesting to see how it handles lower resolution content. We sat at about 11 to 15 feet away from the TV to consume content and while this is still pretty close, it is a good measure to see how good low-resolution content looks on this TV.
Let's get into some content performance.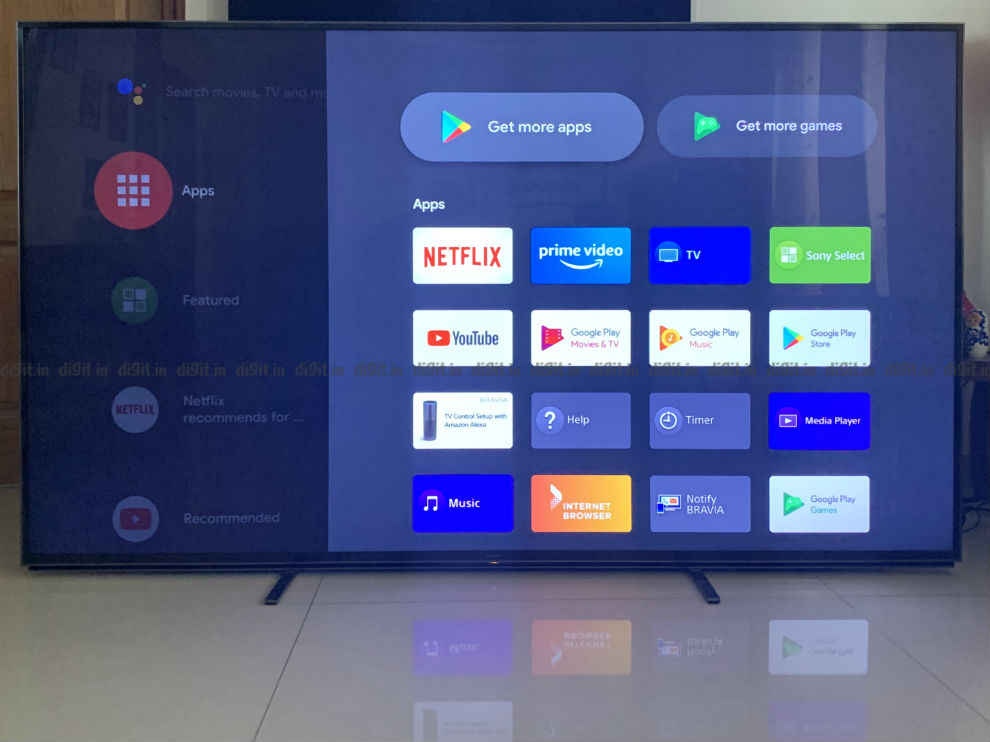 8K content
While we don't have access to any 8K content that's commercially available, Sony did share a PC that has some 8K clips on it. This included Polyphony Digital's Grand Turismo, beautiful landscape clips, a jazz concert and more. The first thing you will notice is how bright, rich and detailed these clips are. The PC that was shared with us had a DisplayPort 1.4 which supports 8K and also HDR 10. There was a converter used to connect it to the TVs HDMI 4 port which is the 8K port on this TV. Yes, the TV has a single port which will work with an 8K external source, which is a bummer. With a price tag of nearly 15L, one would expect to get all 4 or at least 2 ports with 8K support.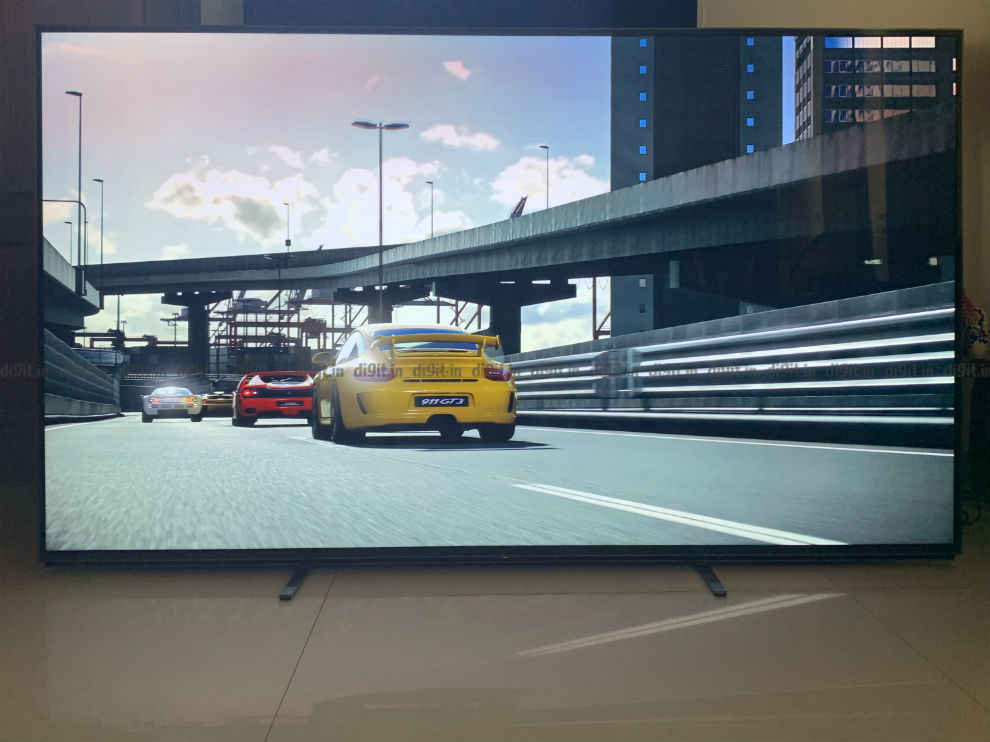 Coming to the content itself, it looks nothing short of the demos you see when you walk into a store to purchase a new TV. Deep colours, bright highlights, and an overall rich and vibrant image is what we saw. Even standing 1 foot away from the TV, it was hard to see any pixelation or blemishes. Needless to say, this 8K demo content is the benchmark for what content has the potential to look like on this TV.
4K and HDR performance
There is an abundance of 4K and HDR content available online and we have some content offline as well, which will not be limited by streaming services bandwidth constraints. Whether it's online or offline 4K content from various sources, be it YouTube, Netflix or Prime Videos, Apple TV+ and more, it all looks fantastic. The catch is that the quality shouldn't drop. When playing content on Netflix, one can press the information button (at the absolute bottom right) to see the quality of the stream. Even when the quality, for a couple of minutes, dropped to 1440p or even 1080p before picking back, it wasn't noticeable. However, when the content quality drops below 1080p, it does become visible. To be fair, this is something you'd notice on a high-end 4K TV as well.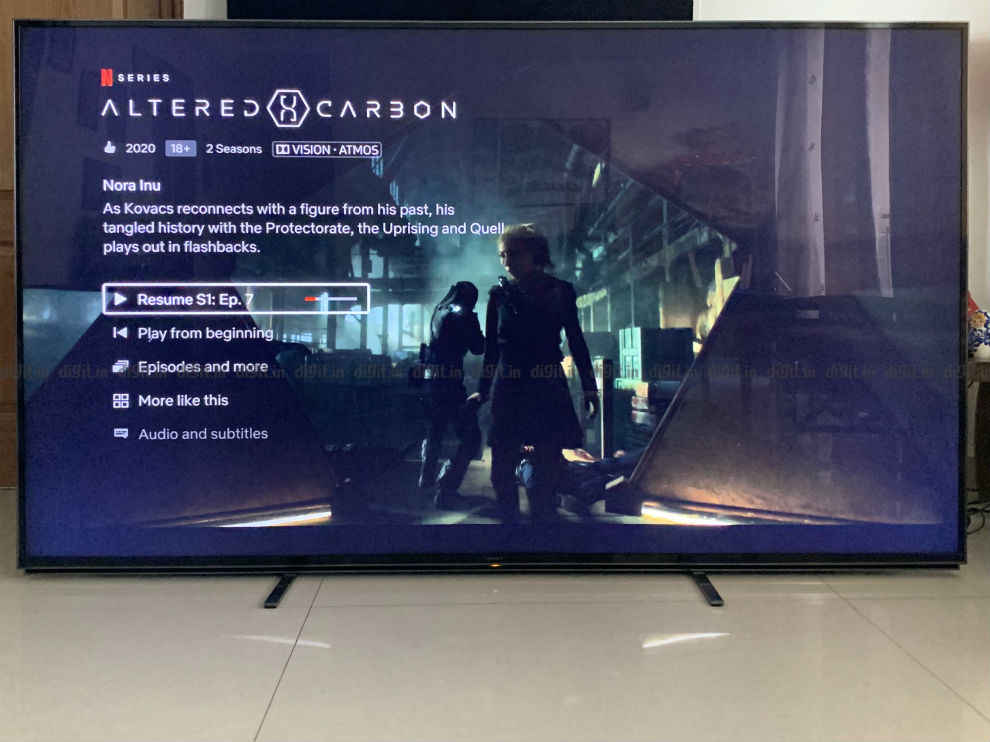 Sony claims that it has a database and the more content you play; the database will improve and your upscaling experience will be better. If you watch content in 1080p or 4K on the TV today and watch the same content a year from now, the upscaling will be better, how something like this will work in reality is something only time will tell.
Being a VA panel, one can expect deep blacks from the TV but a special mention needs to be made to the brightness. In a show like Our Planet, Season 1 Episode 1 where we have so many bright highlights, it can get retina-burning bright and that isn't a bad thing. Wonder Woman on Blu-ray is one movie that crosses the 1000 nits peak brightness in the final battle sequence and you need a TV like the Z8H to properly appreciate the HDR mastering. On the other hand, even though it has a VA panel, the blacks can never get as inky black as we have seen on an OLED. On the other hand, an OLED cannot produce such bright highlights.
Even YouTube's compression looked good on this TV, be it movie trailers, gaming videos or simply our own Digit videos shot in 1080p. Let's move on and see how other 1080p and lower content performed.
FHD performance
We played a lot of FHD content from the TV like Spider-Man: Homecoming, Young Sheldon, Mission:Impossible and more. Now, newer shows like Young Sheldon and Big Bang Theory and even an old show like Friends, are all in SDR and FHD on streaming services. The thing is, sitting at a distance you'd be hard-pressed to call the quality of the broadcast bad. Immediately switching the source from the 8K demo content down to the FHD content and one will immediately notice the stark difference, but that's not the right comparison to draw. It is to tell you that on such a big screen, the slightest drop in quality below the minimum benchmark will be noticeable. If the 1080p quality drops to 720p or lower because of your internet connection, then yes, you will see a blurry image on the screen.
I even tried this. I played some 4K show off a 1080p streaming stick (the Fire TV stick). Shows like The Blacklist on Netflix, or David Letterman looked quite good in their 4K and 1080p avatars (these shows are in SDR) whether played from the built-in app or my external 1080p source.
Needless to say, the more stable your internet connection, the better the quality of output in FHD.
Gaming performance
The PS4 Pro and Xbox One X may be marketed as 4K consoles, but they use upscaling trickery to maintain that resolution. Upscaling trickery has to be the keyword here because sitting 15 feet away from this TV, I was hard-pressed to find flaws in its performance. Sure, textures in some games look low resolution, but that's exactly how they look on a 4K TV as well. I played a lot of games on this TV. From The Last of Us Part II, Ghost of Tsushima, God of War, Marvel's Spider-Man, Forza Horizon 4, Gears 5, Assassin's Creed Odyssey and so many more and the first thing that comes to mind is how cinematic these games look. The games on this list boast of some impressive visual fidelity and it shows. From the bright sun in Assassin's Creed to the details in the cars in Forza and even the sublime HDR performance in a game like Spide-Man, this is one TV to enjoy games on, especially next-generation games.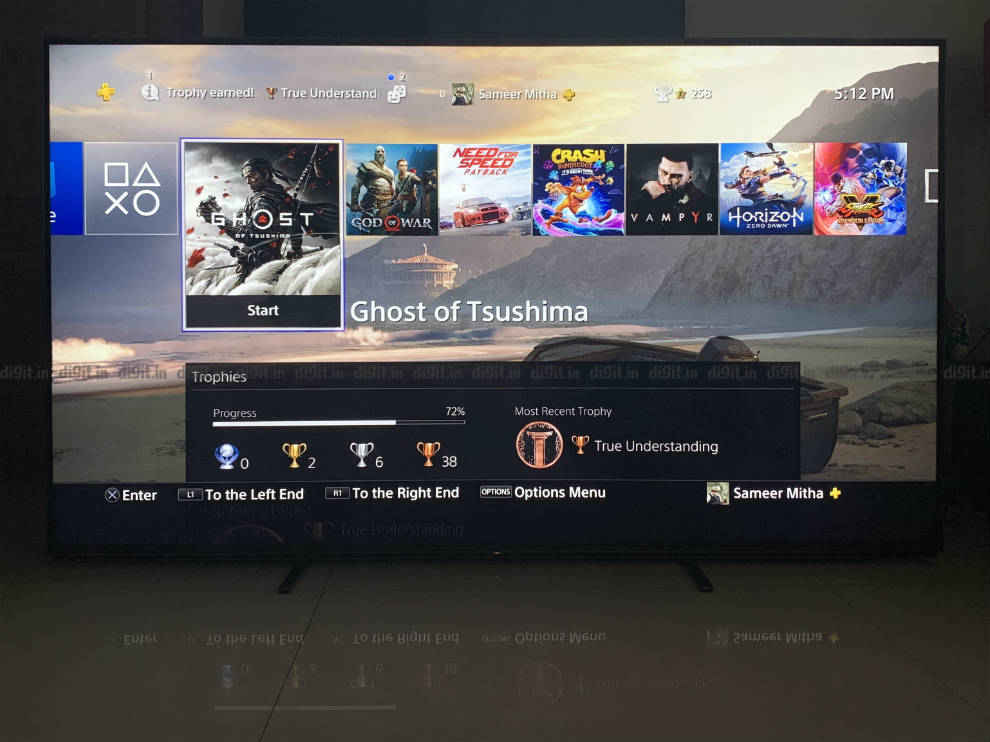 One can say that the only downside to this TV is that 120Hz is only available in HDMI port 4, as per Sony's website. Which is a major downer, when you consider the fact that the Sony X90H has two HDMI 2.1 enabled ports and TVs from LG, like the C9 we reviewed, has four HDMI 2.1 enabled ports. So if connecting multiple 8K enabled external sources is something you want out of this TV, then you are limited to a single port.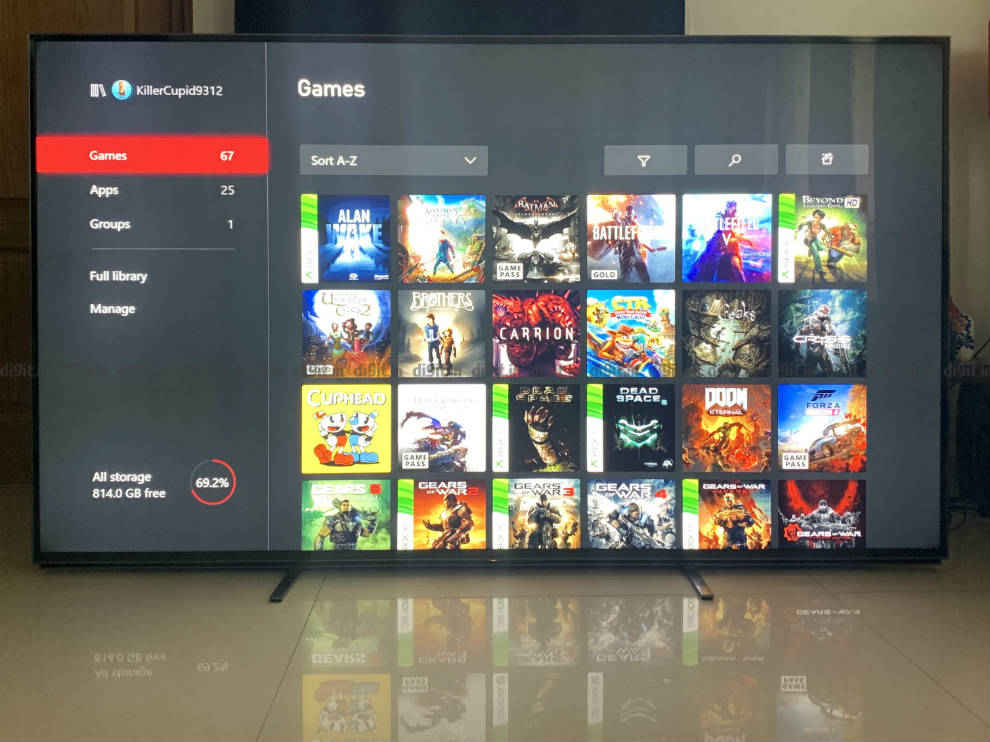 Sony Z8H: Audio performance
The Sony Z8H brings with it 60W of sound output. This TV can get really loud and brings with it all the bangs and whistles you'd expect from a flagship TV. The TV has two mid-range drivers, two subwoofers and two tweeters. With frame tweeters, you can hear the sound exactly from where it is meant to be heard on the screen rather than the generic sound from below the TV. You can also use the TV as the centre speaker in your home theatre setup.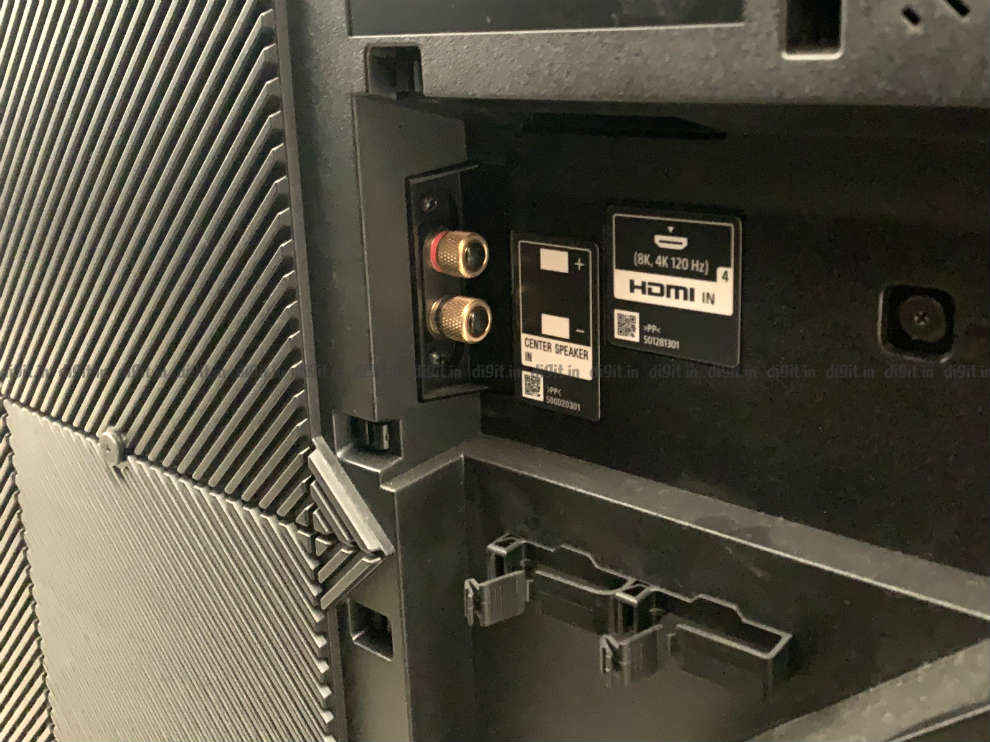 The speakers on this TV can get pretty loud and pack in decent bass, considering they are TV speakers. Movies like John Wick, Mad Max: Fury Road and games like Doom Eternal are great to showcase the thump of your home theatre. The TV doesn't have the deepest bass but its presence is felt. Even in a movie like Trial of the Chicago 7, the dynamic range of audio from the TV speakers is quite good.
Sony Z8H: UI
On the Sony Z8H, we get the same UI we saw on the Sony X90H (review). The TV runs on Android TV out of the box with support for all popular streaming services. For basic setting changes like picture mode, audio, source and more, a small strip comes up at the bottom of the display and it is easy to navigate. You can add certain settings you'd like to change to this bar at the bottom making it easier for you to change your most frequently used settings.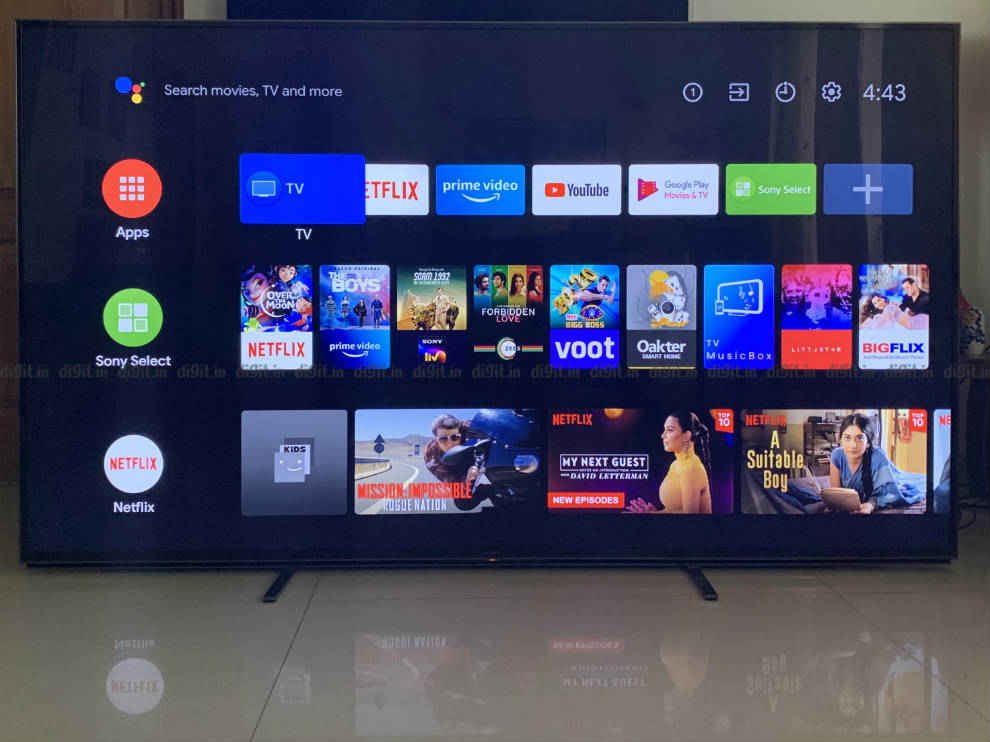 In addition to this, we also now have a graphically heavier and more detailed side navigation UI. So, when you enter the motion settings, for example, you get a small description explaining what the setting does and the effect it will have on the picture. This adds a layer of explanation to each setting, making it easier for people to navigate and know the settings they are changing.
The TV has built-in mics so you can control the TV without the remote control by simply using your voice. The feature works very well and in addition to asking Google to check the weather and open Netflix, you can also change the source and some settings using your voice.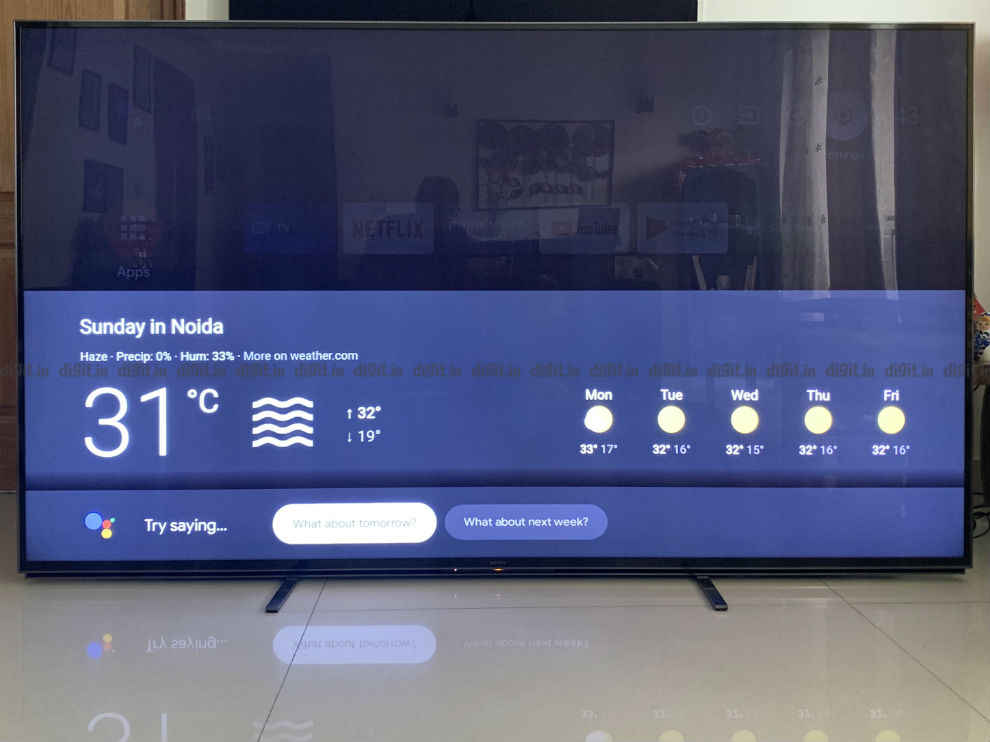 Overall, the Android TV UI is the same we've known for years and the improvements in picture setting and navigation is a welcome change.
Sony Z8H: Remote Control
The remote control is the same as what we saw with the X90H and that's a good thing as we really liked that remote. While we have seen a lot of TV makers go for a more minimalistic approach, this is a full-sized remote control with rubbery and clicky keys and a textured back adding to the grip. If you grip the remote in the centre, you will have access to most of the functions in the reach of your thumb. Unlike the LG TV UI, Sony's TV remote still doesn't have a mouse feature and typing is still manually navigating the onscreen keyboard, but you can use the Android TV app on your smartphone to make the typing process easier. Since passwords for apps like Netflix, and more can be saved in your Google log-in, logging into the TV once ensures other services are logged in as well.
Build and design
This TV commands attention when it is in the room, thanks to its size. If you are planning on getting an 85-inch TV, then know that you will need to make some serious space for it in your entertainment setup. The TV is a little thick, but this isn't a bad thing considering this is a full array backlit LED TV with dimming zones and can produce some serious brightness.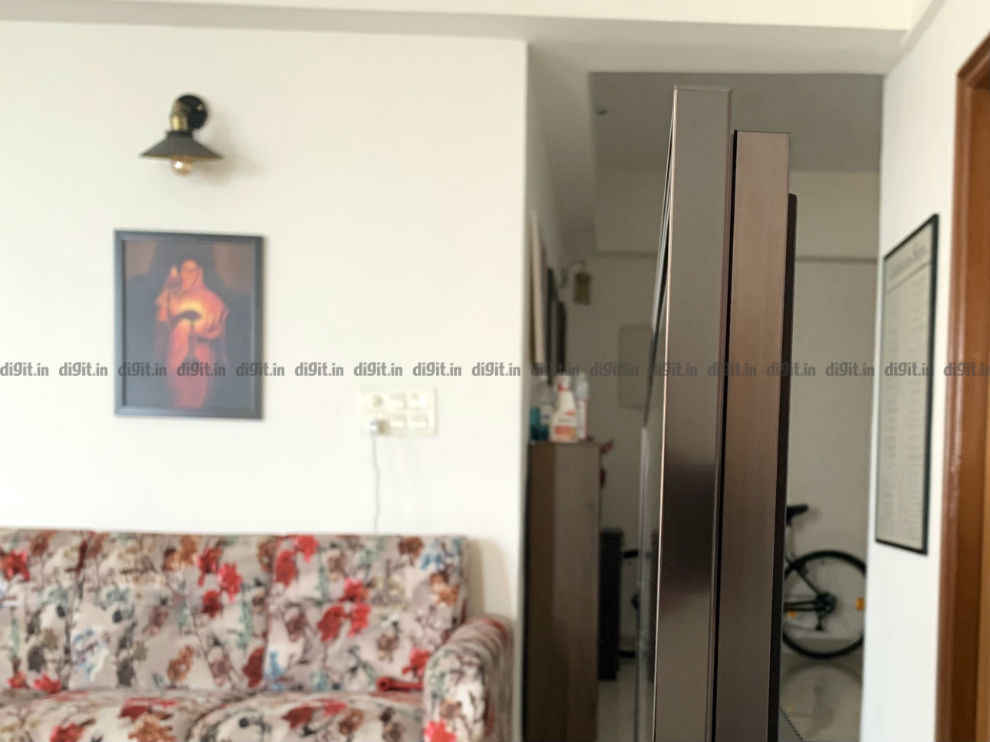 The TV's frame has a very industrial minimalist design with sharp corners. There are no bezels surrounding the display. The border that surrounds the TV has a brushed aluminium finish, again adding to its premium design.
When kept on a tabletop, this TV sits flush with the table, in our case the floor. This TV weighs more than 60Kgs so you may want to check the strength of your table if you plan on putting this on a tabletop. You can have two different positions for the feet of the TV. There is a narrow position that we have used and you can also set the feet in a wide position. We have seen these multi-feet positions on a number of TVs and it is nice especially for those that have a smaller TV cabinet.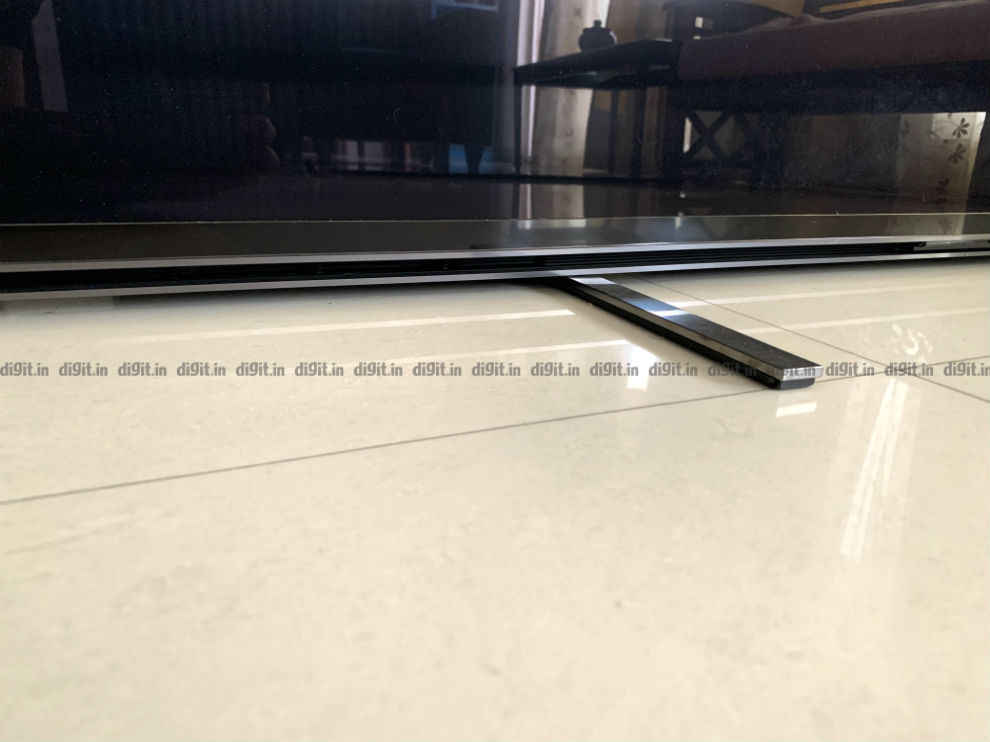 As far as connectivity options are concerned, we have a video in, headphones port, two USB ports and one HDMI port facing the side. Facing down, we have one more USB port, then two HDMI ports, optical port and LAN port. The 8K enabled HDMI port (port 4) and the connector to use the TV as a speaker are a little further away in this same line. Its almost as though different hardware was needed inside the TV and hence these 2 connectivity options are a little farther apart from the rest. All these ports can be hidden behind panels which have a textured finish, giving the TV quite the seamless look, ideal for those obsessed with cable management.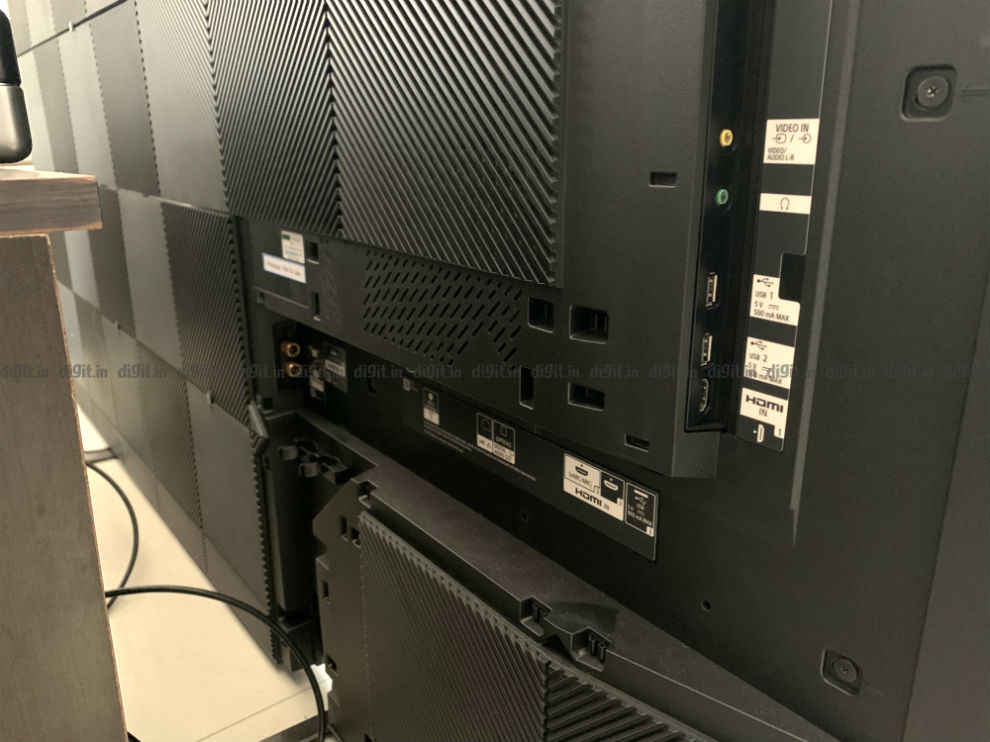 Bottom Line
With the lack of commercially available 8K content, it is hard for us to tell you what the future of content consumption looks like on this TV. What we can tell you is that content available today looks fantastic, especially HDR content. The TV has the potential to get really bright, making HDR content pop. If you have a collection of blu-rays then you will enjoy them in great fidelity on this TV. Even streaming content looks great on this TV, provided the resolution doesn't drop below 1080p. Don't even think about using this TV to consume broadcast content which in India, isn't even 720p for a lot of channels. It just looks bad.
Overall, if you are a first-mover or a first adopter of an 8K TV then know that you are getting one of the best TVs money can buy. It has great picture output, good sound and a smooth UI. The only problem is that we only have 1 HDMI port that is 8K capable and that's a bummer.
With the way things are progressing, it looks like consumer and broadcast level 8K content is still years away. If you want to be one of the early adopters of 8K, then this is a good place as any to start.