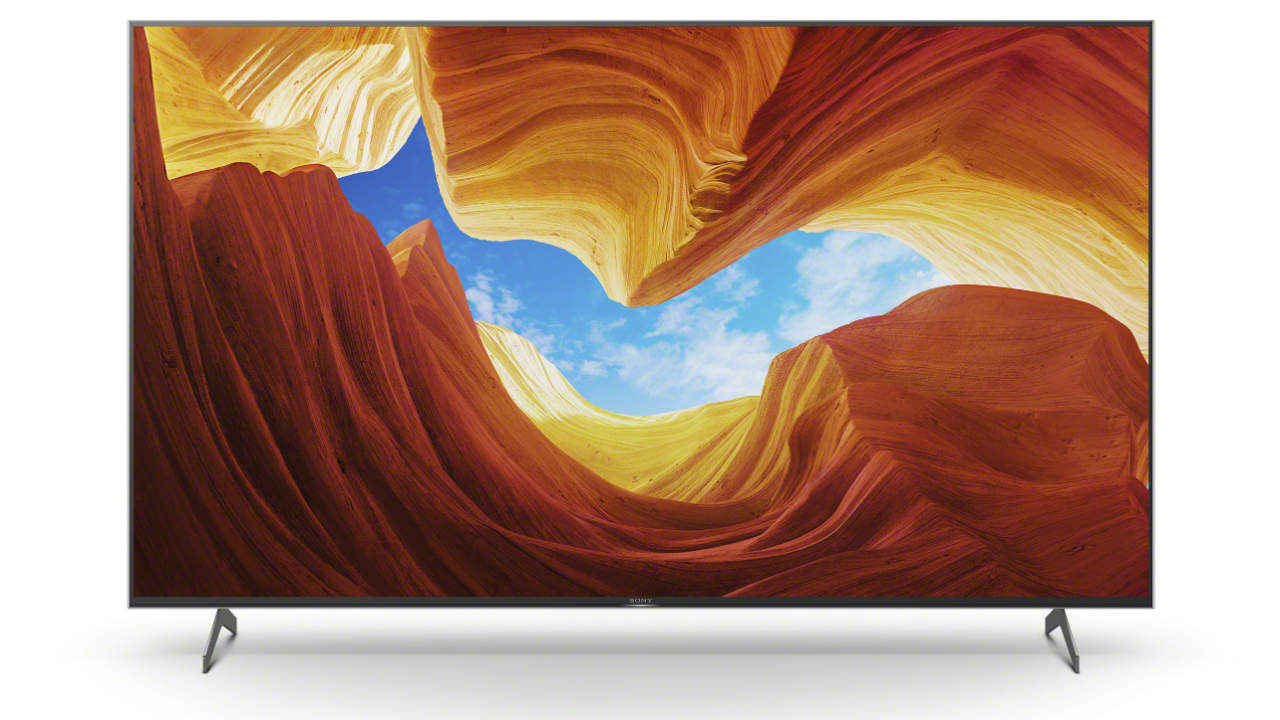 VERDICT:
The Sony X90H brings with it great picture performance for consuming 4K HDR, SDR and FHD content. It's also a great TV for gaming. It has the smoothest Android TV UI we've seen and the changes to picture settings in terms of navigation and information displayed is a welcome change. The TV has good sound output and comes with an ergonomic, easy to use remote control. The only place where it falls short is that only two HDMI ports will be HDMI 2.1 enabled when the TV gets the update later this year.
It is that time of the year when we are waiting with bated breath for the launch of the PS5 and Xbox Series X and if you are wondering why I am starting a TV review with the next console generation, then you should know that apart from improved hardware under the hood, the next-gen gaming consoles come with a feature called HDMI 2.1. While breaking down HDMI 2.1 will be an article in itself, know that it brings with it features like 120FPS, Auto Low Latency Mode, Variable Refresh Rate and more to enhance your gaming experience. Since the next-gen consoles boast of these features, it makes sense for you to keep an eye out for them if you plan to purchase a TV in 2020 and want it to be future proof. So, is the Sony X9000H your next entertainment/gaming TV?
Well, before we get into it, a small note. A firmware update will be released to enable HDMI 2.1 on this TV and as of writing this review, the update isn't out. Also, only HDMI ports 3 and 4 will be HDMI 2.1 enabled. More on that later in this review.
Specs at a glance
Panel Size: 65-inch (available in 55-inch as well)
Panel Type: VA LED
Panel Resolution: 3840 x 2160 – 4K
Panel Refresh Rate: 120Hz
HDR 10 support: Yes
Dolby Vision Support: Yes
Weight (with stand): 23.2kgs
HDMI Ports: 4
USB Ports: 2
Bluetooth: Yes
Wi-Fi: Yes
Ethernet: Yes
Speakers: 20W (Full Range (Bass Reflex) x 2, Tweeter x 2)
Built-in storage: 16GB
Price: 1,69,990 for 65-inch and Rs 1,09,990 for the 55-inch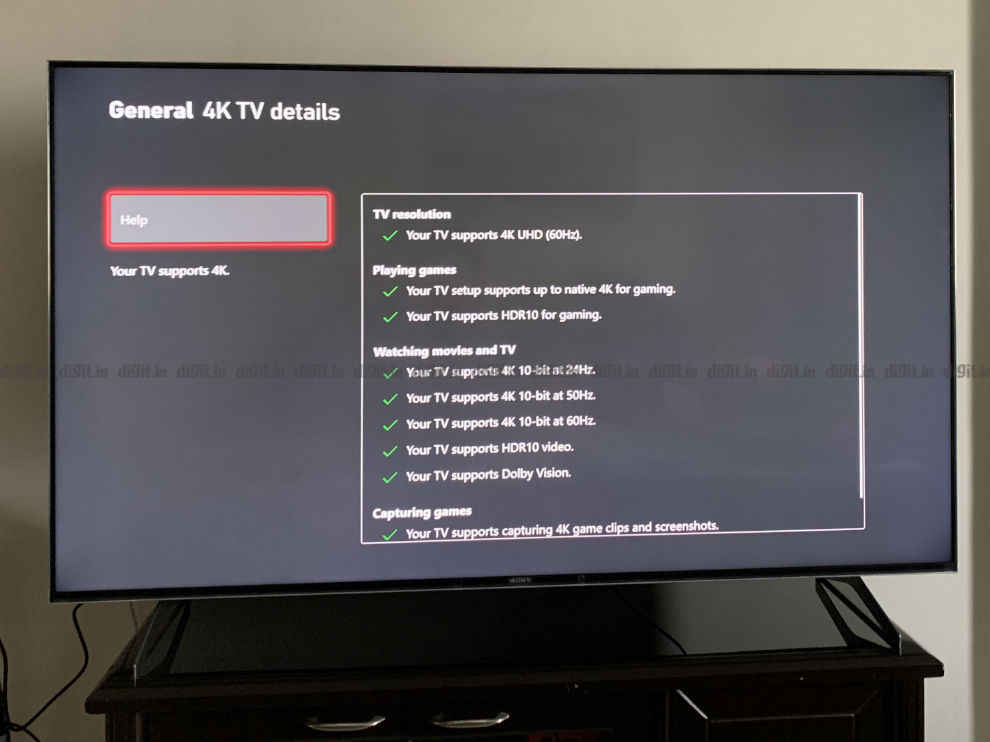 Display and picture quality
Let's dive into the thing that matters the most first – display and picture quality. The Sony X90H has a VA panel with support for 4K resolution and HDR 10 along with Dolby Vision support. It also supports Dolby Atmos. It also has a Netflix Mode which we've seen on multiple Sony TVs. For Dolby Vision content it has two settings – Dolby Vision Bright and Dolby Vision Dark, again, something we've seen on multiple Sony and some Android TVs as well. While the TV has full-array backlighting and local dimming, it does not have Sony's X-Wide Angle technology which helps improve the viewing angles of the TV. We have seen this tech in higher-end Sony TVs and it works quite well. Its absence here is missed, but the viewing angles on the Sony X90H aren't bad by any means. It is only when you get to absolute extremes that you will notice a colour shift. Considering it is a VA panel, the viewing angles are good. Let's get into some content performance.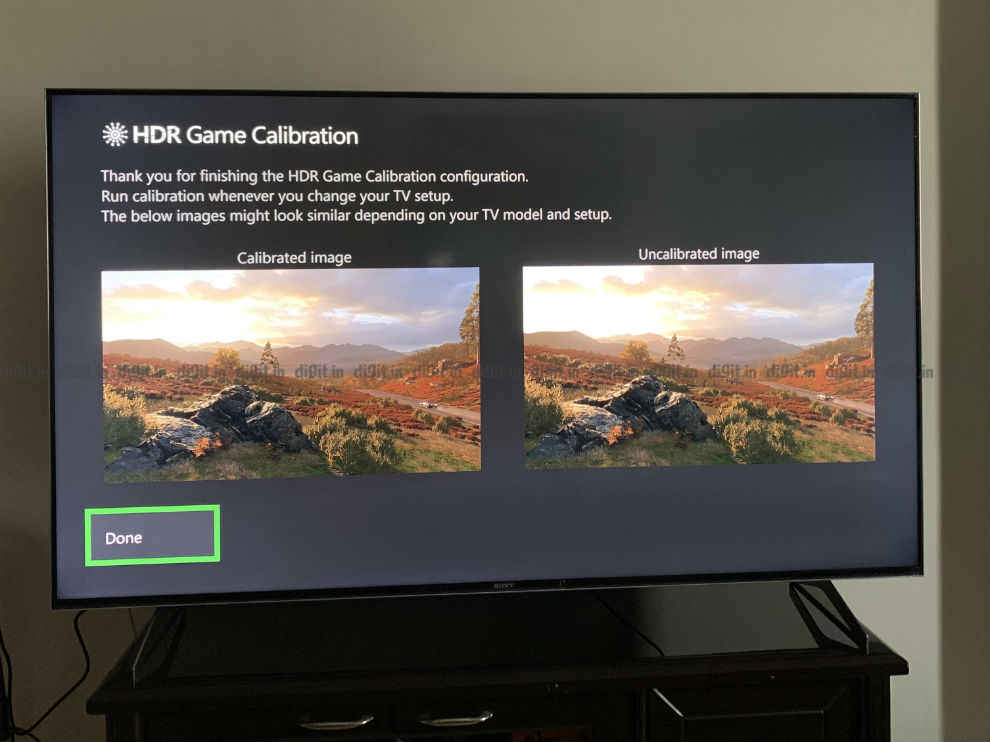 4K and HDR performance
Holy smokes, this panel is bright is the first thing that comes to mind when you start watching the TV. While we do not know the peak brightness of the TV, know that it can get really bright, especially when consuming HDR content. In fact, all our test videos, be it Altered Carbon, Our Planet Grand Tour, looked sublime. There are a lot of TVs available in the 50 to 70K price point, both 55 and 65-inches, and they all have some impressive performance, but one look at the X90H and you know why you are paying a premium. Firstly, with the dimming zones – while it doesn't look to be as many as what we got on the X95G (review) last year, it's still enough to distinguish bright and dark objects right next to each other. So, when watching a show like Our Planet which has some lush environments and some dark corners in a jungle, the content looks very crisp.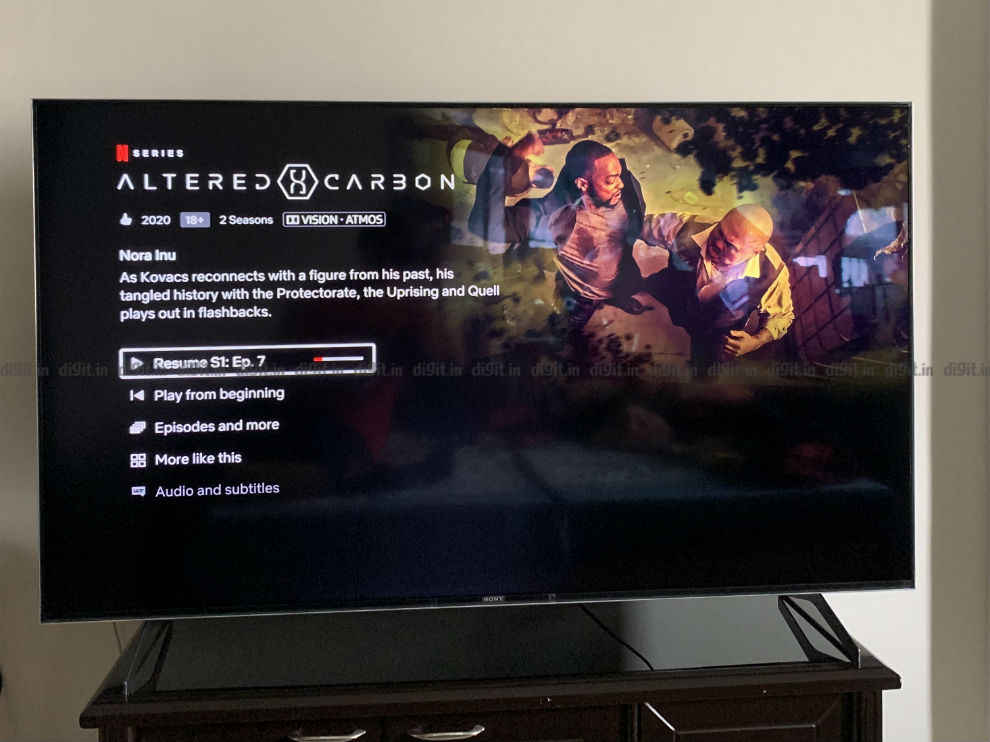 When consuming Dolby Vision content in a bright room, you may want to stick to Dolby Vision Bright and in a dark room, Dolby Vision Dark as those settings work quite well. With standard HDR content, you can stick to standard or vivid, whichever suits your palate. I prefer the standard preset as in some cases Vivid made the colours pop a bit much.
The surprising thing is that the "Netflix Calibrated Mode" was off by default and I had to go into the settings to switch it on. What this mostly does is switch off motion flow and tweak some settings, but I prefer the standard presets with motion flow off. Again, that's just a personal preference.
FHD performance
We played a lot of FHD content from the TV like Spider-Man: Homecoming, Young Sheldon, Mission: Impossible, and more, and FHD content is presented beautifully as well. The scenes in Young Sheldon look bright, and the facial features of the characters are visible with a lot of details. Even Spider-Man in FHD and not HDR looks Vivid. In some cases, you'd be forgiven for thinking the TV was producing content in a higher resolution. So, if SDR and FHD content is what you will consume, the TV will work fine.
Gaming performance
Since this is the "ready for PS5" TV and we sadly don't have access to the new console yet, we hooked up both the Xbox One X and the PS4 Pro to the TV. For the PS4 Pro, we played some God of War and Ghost of Tsushima. The former has a sequence where you are in a mine and in most budget 4K HDR TVs, it is a bit harder to see the details in the dark unless you shine your light source to it. Here, you could see the details in the dark corners, which is great. Even in Ghost of Tsushima or Assassin's Creed: Odyssey, which lets you play in a nighttime setting, which is what we did and under a moonlit sky the games looked quite breathtaking with the visuals. The performance of the Sony TV with these game's sequences surpassed the performance of TVs we've reviewed like the Hisense 55A71F (review) and the Realme SLED TV (review) with ease.
Even bright action sequences in a game like Gears 5 (review) which is an HDR game looked absolutely gorgeous on this TV.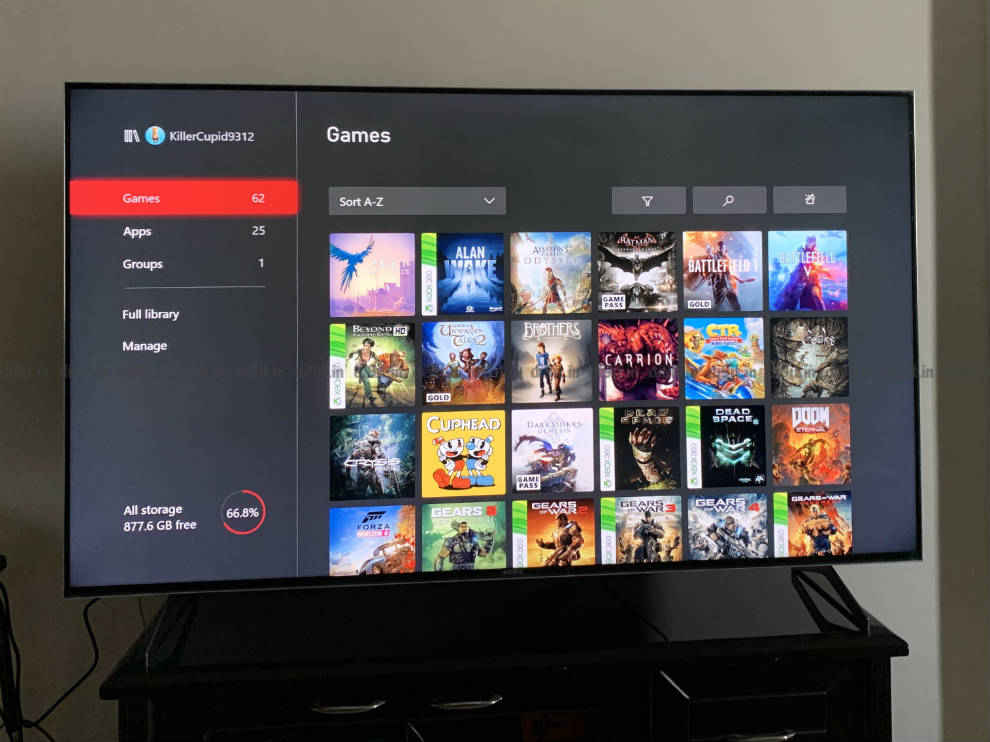 So, let's address the elephant in the room – HDMI 2.1. The sad thing is that the TV will only have 2 ports supporting HDMI 2.1 (port 3 and 4) which is a bummer when you consider that 1 of them is the ARC port. So, if you have a home theatre hooked up to this TV via ARC, you only have one HDMI 2.1 enabled port for a console. If you only get one next-gen machine, you should be good. But if you want to connect more than two HDMI 2.1 enabled devices, this will be a problem. Especially when you consider that LG with its high-end NanoCell and OLED TVs offers all four HDMI 2.1 ports. In fact, LG has been doing this since 2019.
Audio performance
For audio, the Sony X90H has two full-range (Bass Reflex) drivers and two tweeters in the 65-inch TV, which we have here for review. In the 55-inch variant, you only get two full range (Bass Reflex) drivers only. The output from the TV is 20W but it definitely feels louder. For starters, to enjoy the content, you don't need to go beyond the 40% mark and you can hear the bangs and thuds quite well. Even in mixed performance with multiple characters talking on screen, it does feel like the sound is coming from different points on the screen. This effect isn't as pronounced as we've seen on Sony's OLED TVs, but its presence here is noticeable.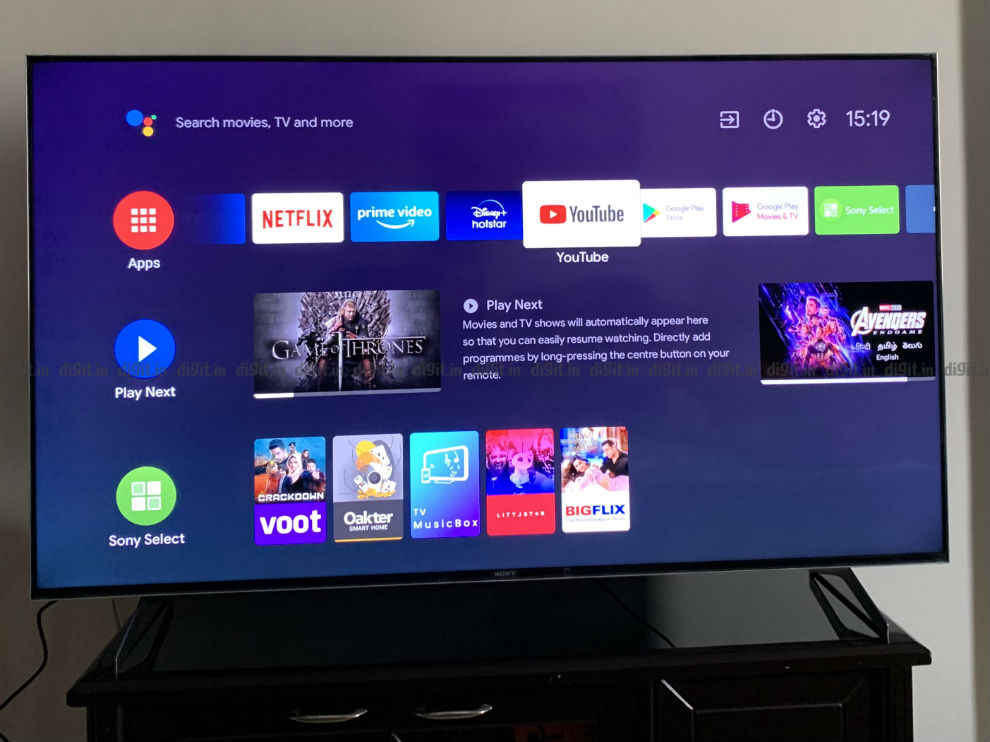 With Sony's Bass Reflex speakers, you do get decent low end considering these are TV speakers, but to have a truly immersive experience, you should invest in a soundbar.
UI
Sony has been helming Android TV OS since the beginning of Smart TVs. With the X95G in 2019, we saw some subtle changes to the UI which made it easier to change the picture settings when consuming content. If you want to change picture or audio settings, you don't need to pull up the right-side navigation menu to hamper the viewing experience. For basic setting changes like picture mode, audio, source, and more, a small strip comes up at the bottom of the display and it is easy to navigate. You can add certain settings you'd like to change to this bar at the bottom making it easier for you to change your most frequently used settings.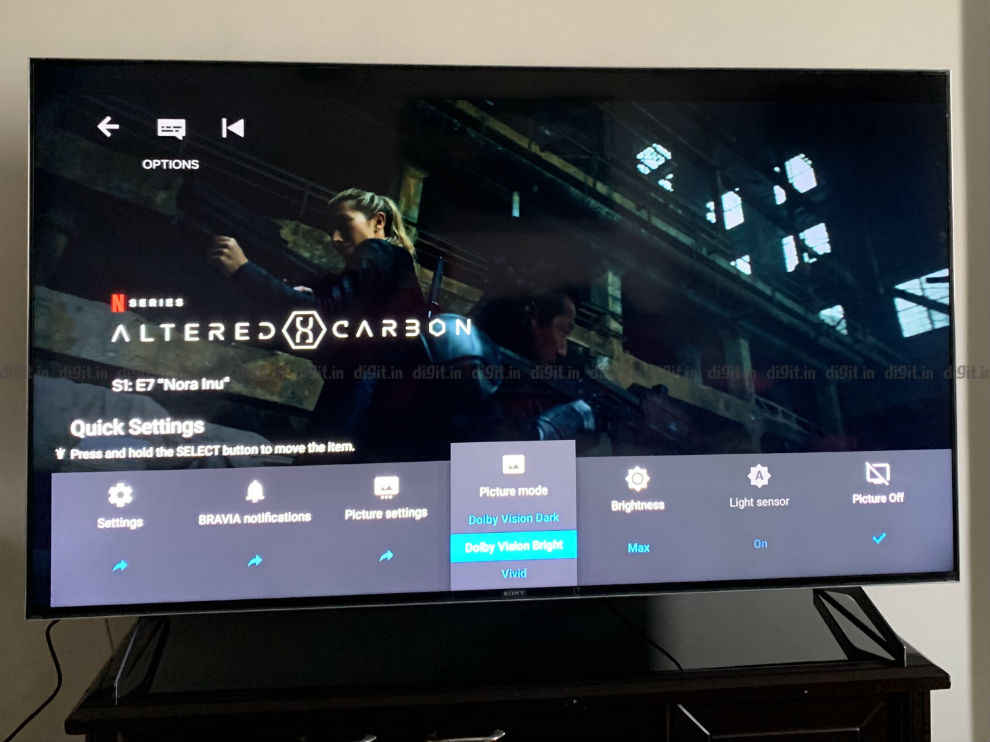 In addition to this, with the X90H, we also now have a graphically heavier and more detailed side navigation UI. When you enter the motion settings, for example, you get a small description explaining what the setting does and the effect it will have on the picture. This adds a layer of explanation to each setting, making it easier for people to navigate and know the settings they are changing.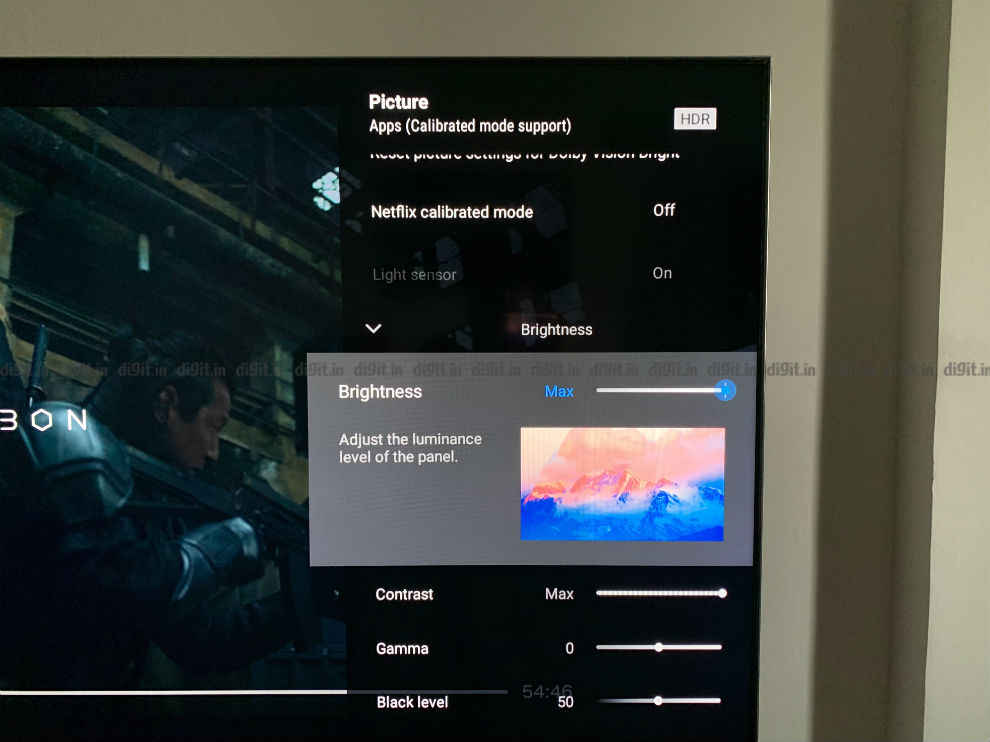 Overall, the Android TV UI is the same we've known for years and the improvements in picture setting and navigation are a welcome change.
Remote control
The remote control is the same as what we saw last year of the X95G and that's a good thing as well really liked that remote. While we have seen a lot of TV makers go for a more minimalistic approach, this is a full-sized remote control with rubbery and clicky keys and a textured back adding to the grip. If you grip the remote in the center, you will have access to most of the functions in the reach of your thumb. Unlike the LG TV UI, Sony's TV remote still doesn't have a mouse feature and typing is still manually navigating the onscreen keyboard, but you can use the Android TV app on your smartphone to make the typing process easier. Since passwords for apps like Netflix, and more can be saved in your Google log-in, logging into the TV once ensures other services are logged in as well. Overall, the remote control feels premium and is quite ergonomic.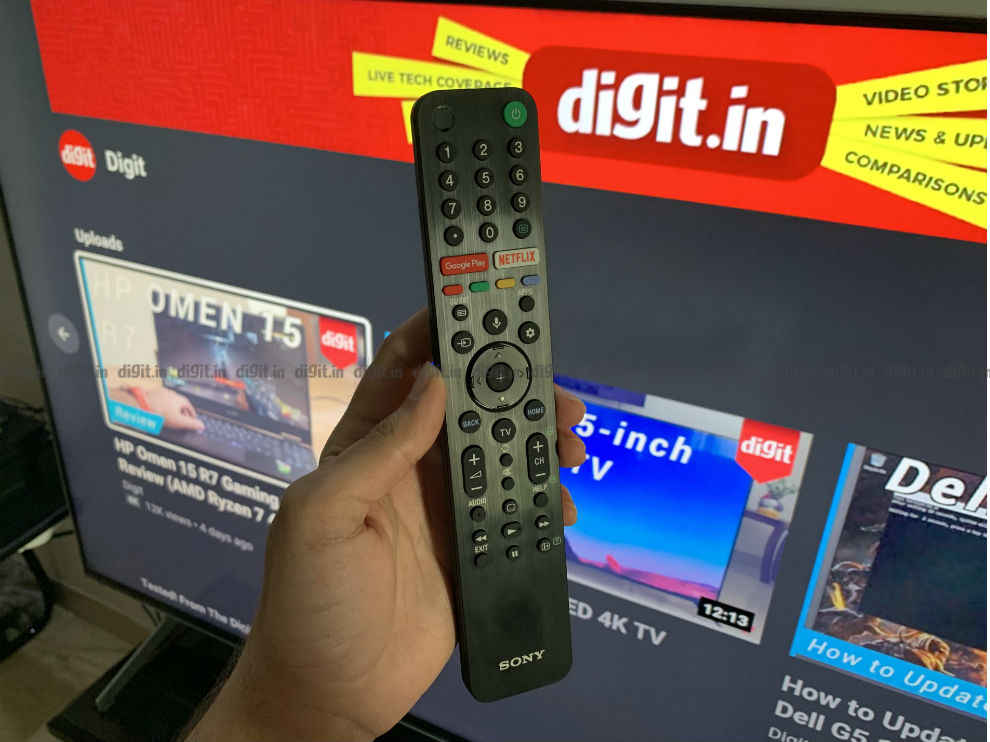 Build and design
Finally, let's talk about the build and design of the TV. The TV isn't the slimmest there and considering this is a Full Array backlit TV with local dimming, the thickness is justified. The placement of the ports is pretty standard. They are all on the right side of the TV facing outwards. We have two USB ports, optical audio out, headphones port, an AV port, 4 HDMI ports, an ethernet port, and a good old antenna.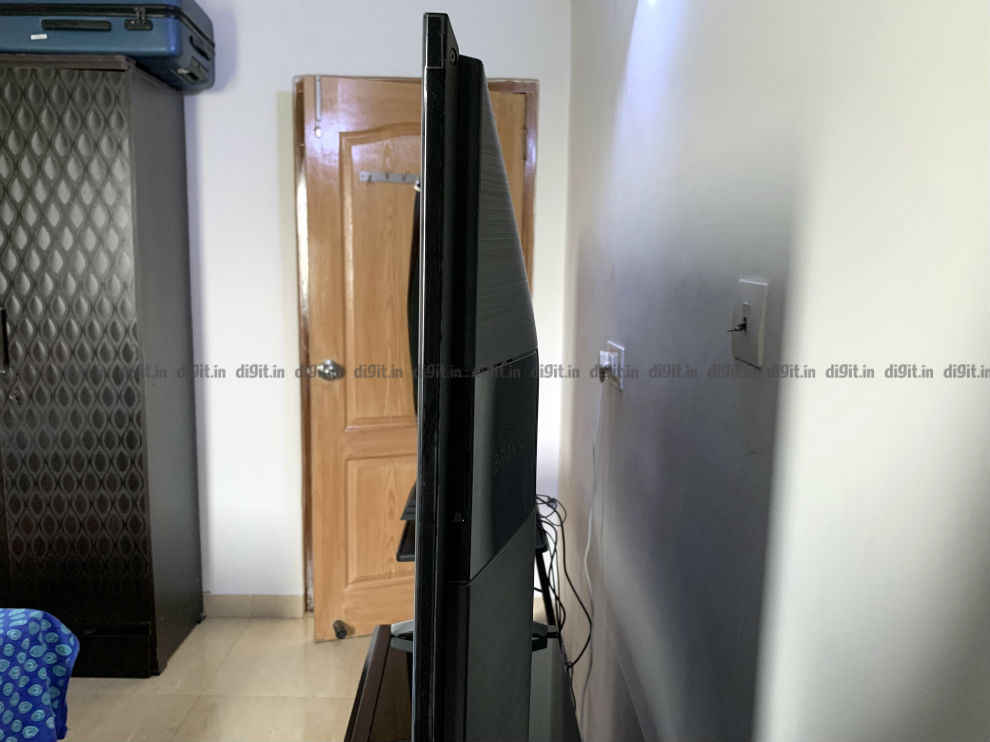 The thickness of the TV makes it convenient to reach the ports on the side when the TV is wall mounted.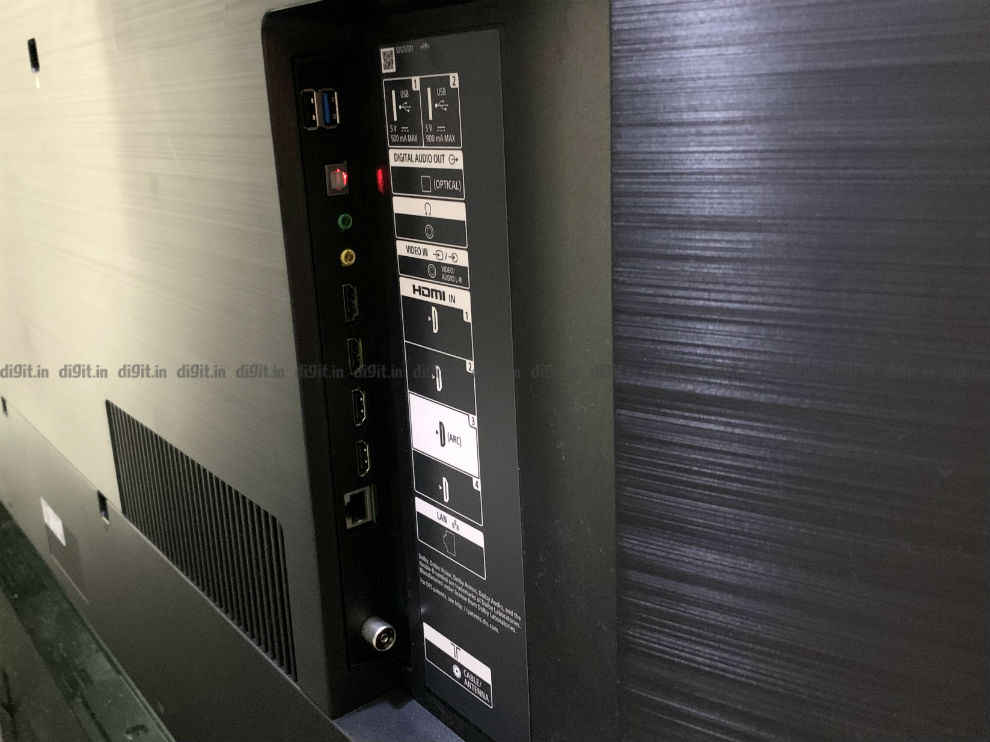 Coming to the bezel, the TV has really slim bezels that do not interfere with the viewing experience. One thing to note is that the TV has silver borders all around it, giving it a premium finish. A special mention to the feet that hold the TV in place. The feet have a really slim design, reminding me of the blades on ice skating shoes. Despite how slim they are, they hold the TV in place quite well. One more thing to note is that the feet aren't screwed into the TV. They have more of a slot in design. One more thing to note is that the feet aren't at the extreme ends of the TV. but a little on the inside ensuring they fit most home entertainment tables that can house a 55-inch TV.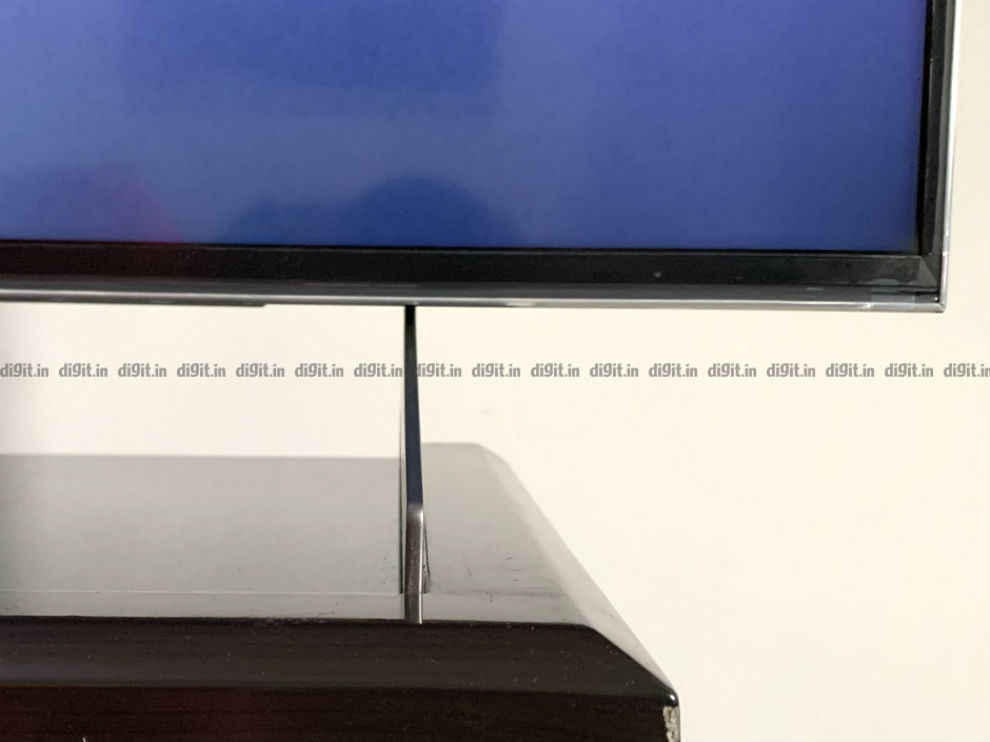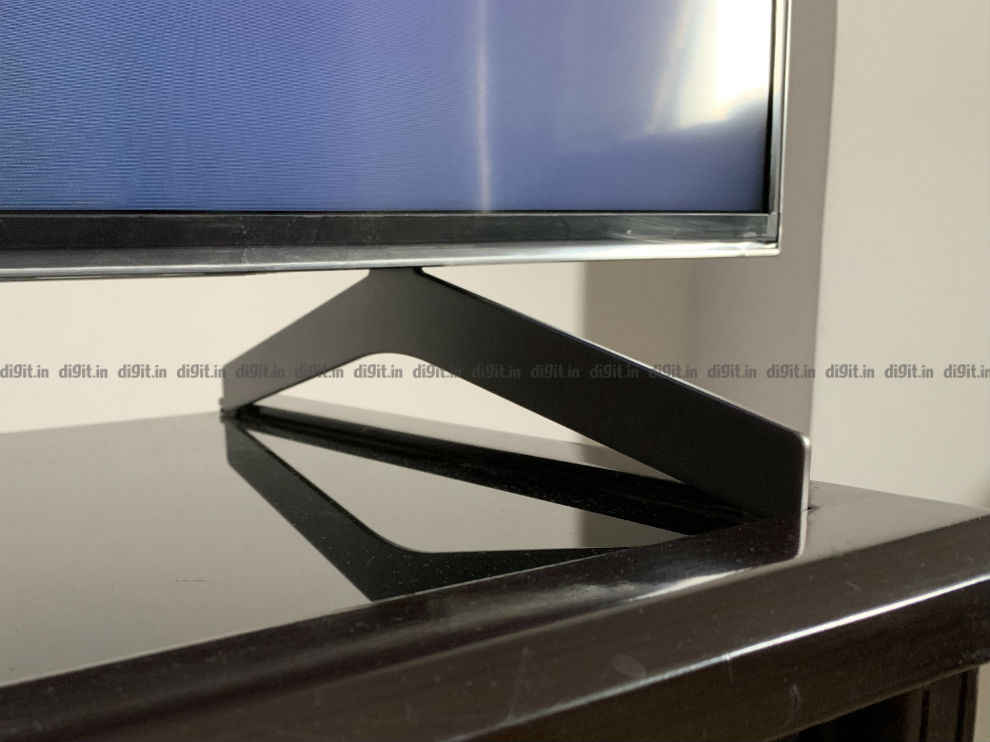 Bottom Line
While the Sony X9000H isn't Sony's top of the line 2020 LED TV, it is at the sweet spot catering to those that want a flagship TV for next-gen gaming and along with enjoying content consumption. It is a very well-built TV bringing with it a premium design. It has great picture quality for gaming and content consumption and I don't think I've ever seen a smoother Android TV. The subtle changes to the Android TV UI, with respect to picture quality settings, is a welcome change as well. If there is a problem I have with this TV, it's the fact that only 2 ports will get HDMI 2.1 and that is a bummer.