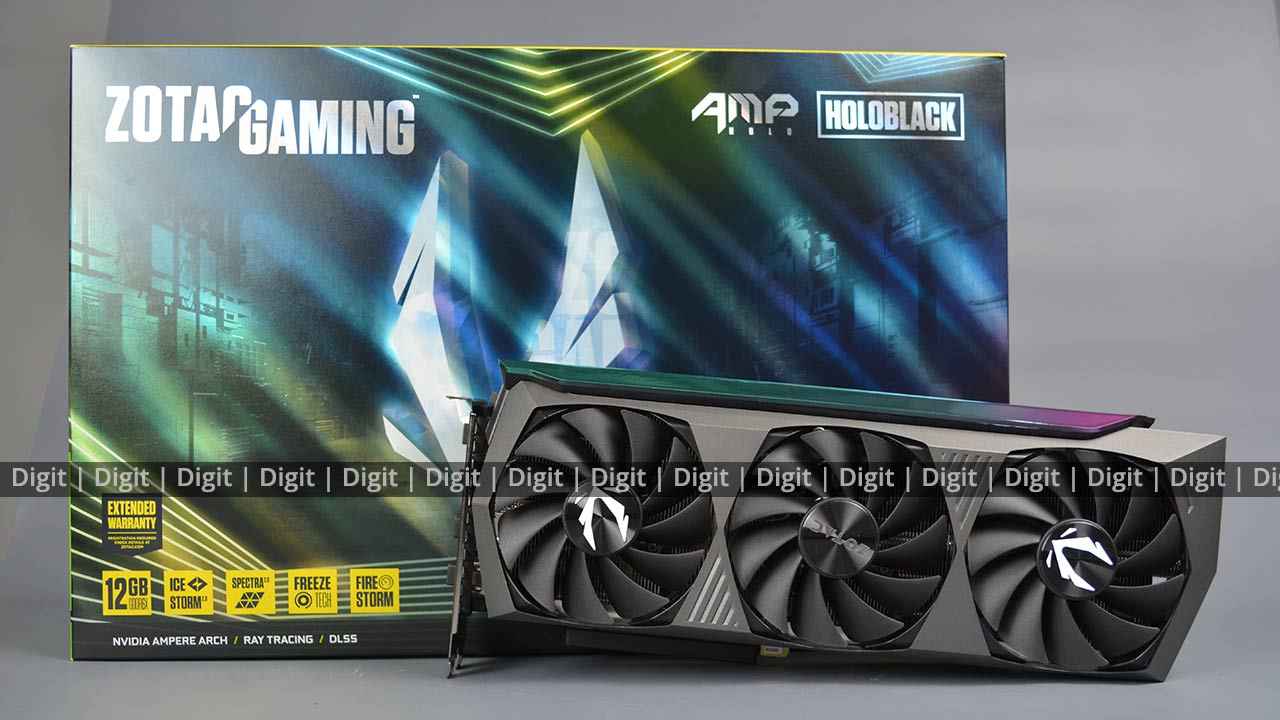 VERDICT:
The ZOTAC RTX 3080 Ti AMP Holo is practically the RTX 3090. It's performance is very simlar given that barely any games take advantage of the higher VRAM on the RTX 3090. Sure, synthetic benchmarks would indicate these two cards to be miles apart but for the gamer who wants all the bells and whistles, the RTX 3080 Ti is one of the prime candidates. For INR 1,47,000, this isn't a cheap graphics card and we'll see how the Indian retailers price the card tomorrow at launch.
NVIDIA announced the GeForce RTX 3080 Ti and the RTX 3070 Ti at COMPUTEX 2021. Up until now, NVIDIA only had AMD to contend with but that's set to change as Intel's discrete gaming GPU is also right around the corner. As is tradition, the 'Ti' cards are slightly better than their non-Ti variants. Today, we have the ZOTAC GAMING GeForce RTX 3080 Ti AMP Holo which is the top RTX 3080 Ti model from ZOTAC. They have the Trinity and Trinity OC aside from the AMP Holo model. ZOTAC has declared the official Indian MSRP for the RTX 3080 Ti AMP Holo at INR 1,47,000 and it will go on sale on June 3rd, 2021 at 6:30PM. Currently, the ZOTAC RTX 3080 AMP Holo which is a step down from the 3080 Ti retails for approximately INR 1,94,500 on several specialist computer stores so you can expect the RTX 3080 Ti AMP Holo to retail between INR 1,94,500 and 2,80,000. Why INR 2,80,000? Because that's how much the RTX 3090 currently sells for in India. This is, unfortunately, the sad state of affairs in the GPU market. India is not an outlier at the moment since the RTX 3090's EU price is about 3299-3749 Euros, and prices in the US are no better. Prices are expected to subside over a 1.5-2 year period and return to normal.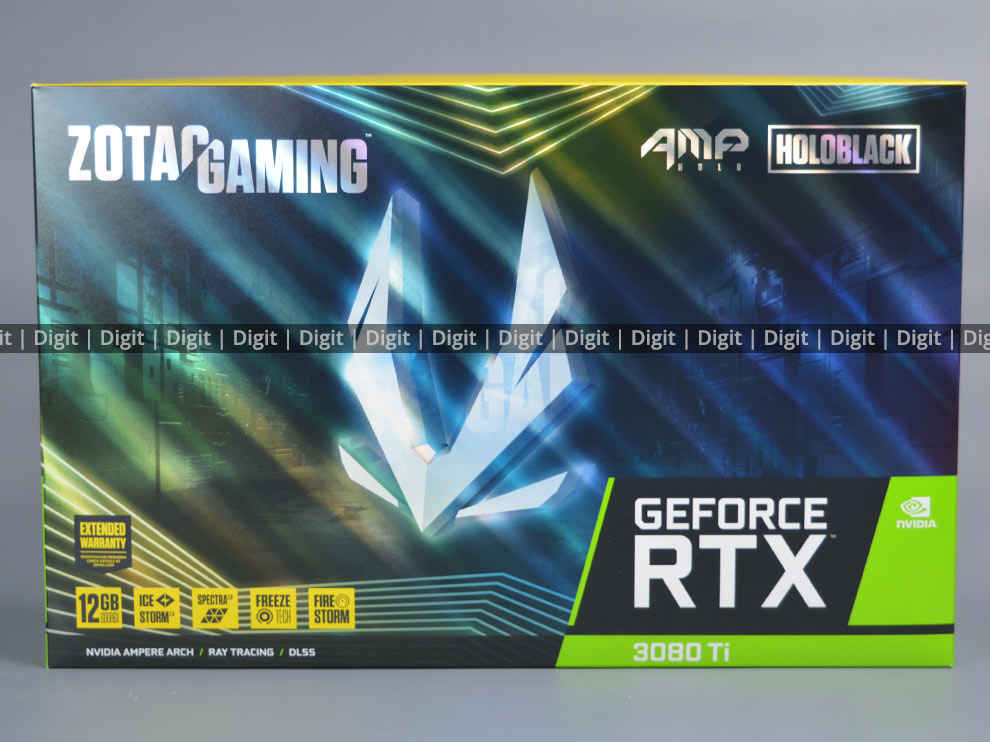 Aside from the two new graphics card models, NVIDIA also announced that they now have more than 130 video games that have adopted Hardware-Accelerated Ray-Tracing technologies that can be accelerated with NVIDIA RTX graphics cards. NVIDIA RTX is usually accompanied by DLSS which is one of NVIDIA's most innovative features and the COMPUTEX 2021 conference saw NVIDIA showcasing these new technologies in games such as The Ascent, DOOM Eternal, DYING : 1983, Icarus, LEGO® Builder's Journey and The Persistence.
ZOTAC GAMING GeForce RTX 3080 Ti AMP Holo Specifications
The RTX 3080 Ti supposedly offers about 1.5x the performance of an RTX 2080 Ti which makes it a good generational upgrade on paper. You can scroll down to the benchmark section to see if that holds true. Meanwhile, let's take a look at the specifications.
| | RTX 3090 | RTX 2080 Ti | RTX 3080 Ti | RTX 3080 | RTX 3070 Ti | RTX 3070 |
| --- | --- | --- | --- | --- | --- | --- |
| GPU | GA102-300-A1 | TU102-300-K1-A1 | GA102-225-A1 | GA102-200 | GA104-400-A1 | GA104-300-A1 |
| CUDA Cores | 10496 | 4352 | 10240 | 8704 | 6144 | 5888 |
| TMUs | 328 | 272 | 320 | 272 | 192 | 184 |
| ROPs | 112 | 88 | 112 | 96 | 96 | 96 |
| Tensor Cores | 328 | 544 | 320 | 272 | 192 | 184 |
| RT Cores | 82 | 68 | 80 | 68 | 48 | 46 |
| Boost Clock | 1695 MHz | 1545 MHz | 1665 MHz | 1710 MHz | 1770 MHz | 1725 MHz |
| Memory | 24 GB | 11 GB | 12 GB | 10 GB | 8 GB | 8 GB |
| Memory Type | GDDR6X | GDDR6 | GDDR6X | GDDR6X | GDDR6X | GDDR6 |
| Memory Clock | 1219 MHz | 1750 MHz | 1188 MHz | 1188 MHz | 1188 MHz | 1750 MHz |
| Memory Bus | 384-bit | 352-bit | 384-bit | 320-bit | 256-bit | 256-bit |
| Bandwidth | 936 GB/s | 616 GB/s | 912 GB/s | 760 GB/s | 608.3 GB/s | 448 GB/s |
| TGP | 350 W | 250 W | 350 W | 320 W | 290 W | 220 W |
| Process | Samsung 8NM | TSMC 12nm | Samsung 8NM | Samsung 8NM | Samsung 8NM | Samsung 8NM |
The RTX 3080 Ti is practically an RTX 3090. The RTX 3090 has 82 Streaming Multiprocessors whereas the RTX 3080 Ti has 80. With just two SMs being cut down, we should see near about the same performance as the RTX 3090 in most titles. Only the synthetic benchmarks would show any stark differences in performance. The RTX 3080 Ti comes with 12 GB of GDDR6X memory that's clocked a little slower than the RTX 3090, something that should be easily surpassable with a teensy bit of overclocking. One could almost say that the RTX 3080 Ti is what the original RTX 3090 would have been had rumours about AMD beefing up memory on their Radeon cards not surfaced.
The ZOTAC GAMING GeForce RTX 3080 Ti AMP Holo takes it up a notch. The boost clock on the AMP Holo can go up to 1710 MHz which is a 45 MHz bump. It's not mind-boggling but that should provide a few more FPS in most games. The build quality of the card is another story altogether.
ZOTAC GAMING GeForce RTX 3080 Ti AMP Holo Build Quality
ZOTAC went for a design refresh with the launch of the NVIDIA RTX 30-series. It's mostly visual changes. The hardware has to follow the specifications laid down by NVIDIA. The RTX 30-series cards consume a lot of power and we had a lot of capacitor-related issues early on which were resolved in the first few weeks post-launch. Let's take a closer look at the ZOTAC GAMING GeForce RTX 3080 Ti AMP Holo.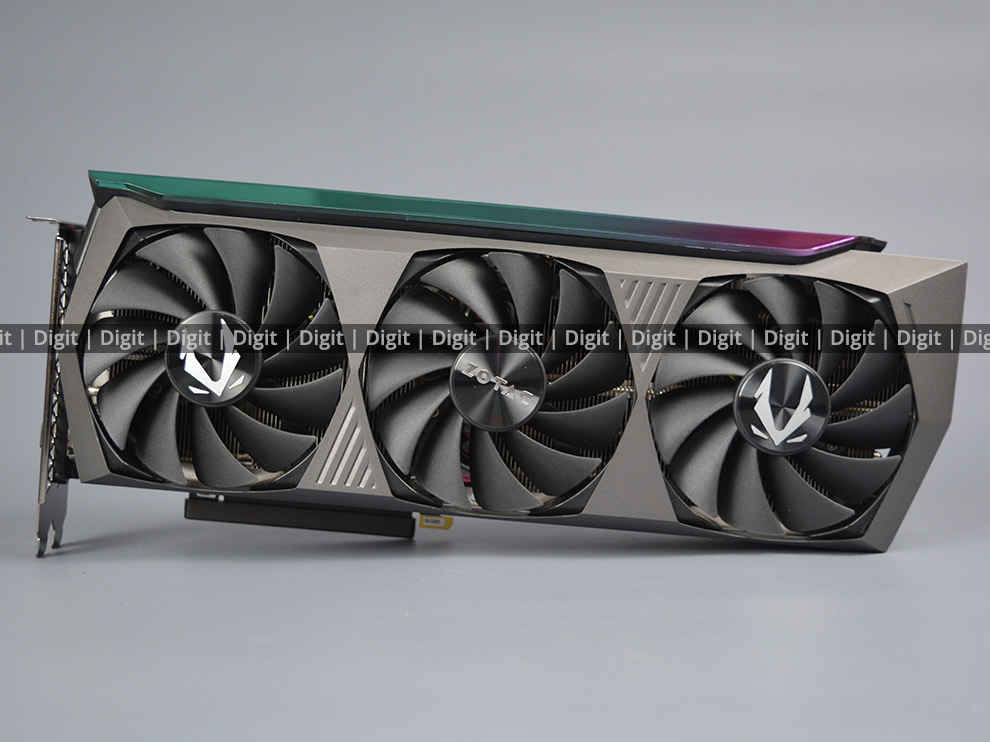 The AMP Holo uses a triple-fan cooler on the front and we can see that ZOTAC has paid more attention to the shroud. The air is now better channels through the fins with reduced blowback. The overall colour scheme has a little black among a sea of grey that ZOTAC has been known for. They've kept the grey for close to, if not more than, 10 years now.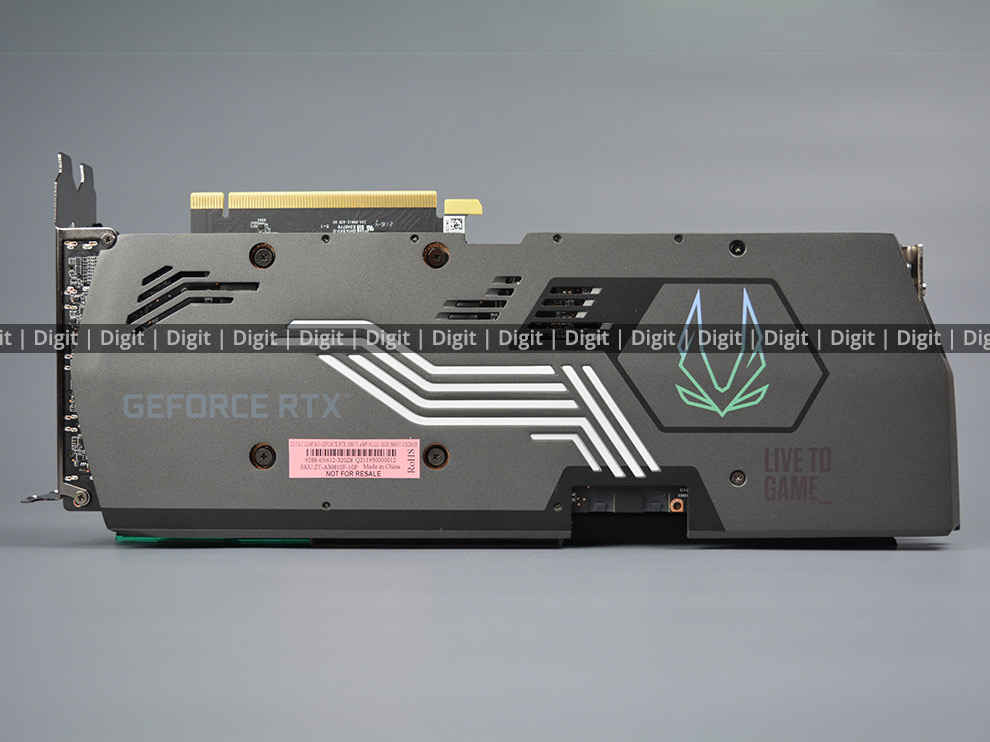 The back is guarded with a backplate with a few RGB diffusers embedded in them. It's a mix of plastic and metal. Cutouts have been provided near the power sockets to allow easy insertion and removal of the PCIe power connectors.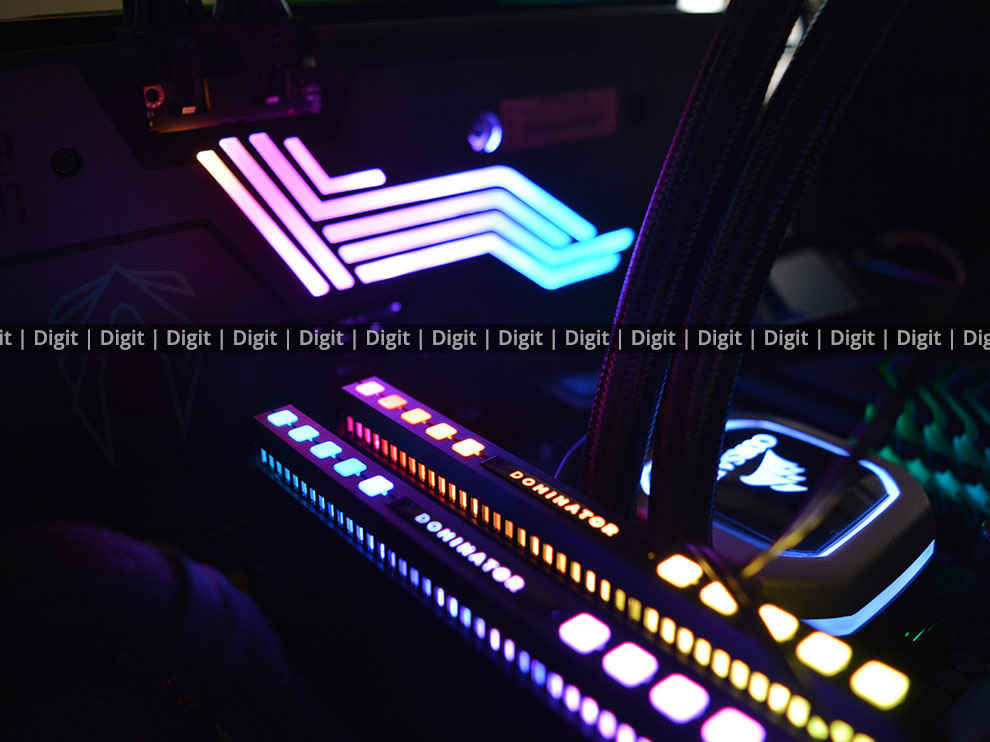 Here's the RGB diffuser on the back in all it's 16 million glory.

We can clearly see that the ZOTAC GAMING GeForce RTX 3080 Ti AMP Holo is a triple-slot card and has a pretty thick heatsink. There's a metal bracket running along the length of the board to provide rigidity and we can count 10 heat pipes in all.
The top of the card has the power sockets in the usual place. The RTX 3080 Ti AIC cards seem to have 2x 8-PIN PCIe sockets and the ZOTAC AMP Holo is no different. ZOTAC also provides 2x 6-PIN to 8-PIN adaptors in the box.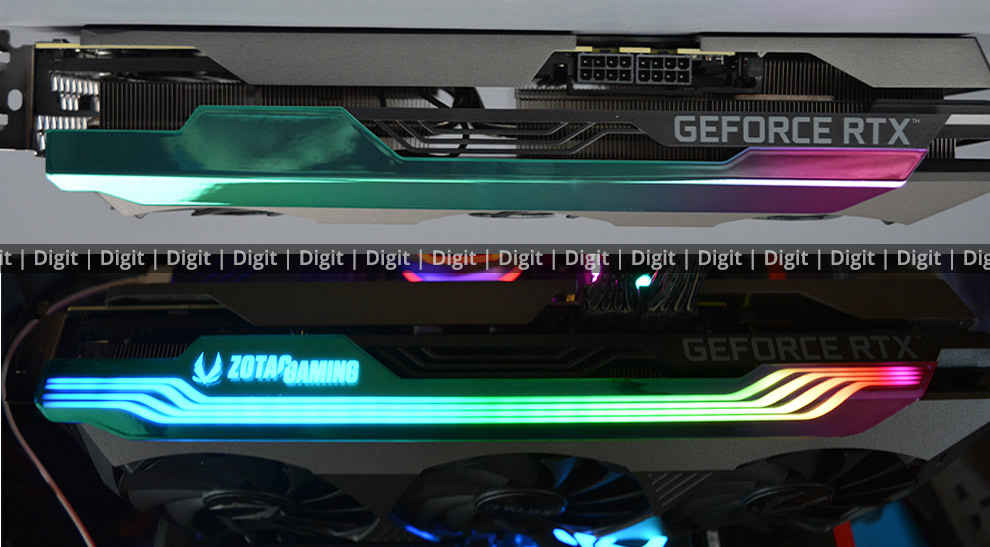 The turquoise-magenta holo strip on the top houses an RGB element underneath it and the lighting patterns can be controlled using the SPECTRA software from ZOTAC's website.

For the ports, the ZOTAC GAMING GeForce RTX 3080 Ti AMP Holo comes with three DisplayPorts (1.4a) and one HDMI 2.1 port. You will need a Ultra High Speed HDMI cable to connect an 8K/60 FPS or 4K/120 FPS panel. Lastly, the inner side is sealed off with little air spewing from that end.
ZOTAC GAMING GeForce RTX 3080 Ti AMP Holo Performance
With the new set of benchmarks, we've featured some of the older GTX 10 series cards along with most of the RTX 20 series cards including the Super cards. We also have AMD RX 5000 series cards as well as the latest RDNA2 based RX 6000 series cards. Also included are the RTX 30 cards that were launched previously. Some of these cards haven't been retested for close to nine months, so we expect some discrepancies since driver optimisations will have improved performance of the older graphics cards in our list.
Like always, we have a section for synthetic benchmarks as well as gaming benchmarks with plenty of charts to showcase differences. Coming to the rig, we've tested the cards on an Intel platform.
INTEL GPU BENCHMARKING RIG
Processor – Intel Core i9-10900K
CPU Cooler – Corsair H115i RGB PLATINUM
Motherboard – ASUS ROG MAXIMUS XII EXTREME
RAM – 2x 8 GB G.Skill Trident Z Royal 3600 MHz
SSD – WD Black SN750 1TB x2
PSU – Cooler Master V1200
Graphics cards
AMD RX 6900 XT
AMD RX 6800 XT
AMD RX 6800
AMD RX 6700 XT
RTX 3090
RTX 3080 Ti
RTX 3080
RTX 3070
RTX 2080 Ti
RTX 2080 Super
RTX 2080
RTX 2070 Super
RTX 2070
RTX 2060 Super
RTX 2060
GTX 1080 Ti
GTX 1080
AMD RX 5700 XT
AMD RX 5700
AMD RX 5600 XT
Let's start with the synthetic benchmarks.
3DMark
In 3DMark, we prefer the Fire Strike Ultra benchmark since the Extreme and normal runs have started producing ridiculous scores with newer GPUs. The other benchmark within 3DMark which we use is Time Spy and we run both, the normal run and the extreme run. Here, we're showcasing Fire Strike Ultra and Time Spy scores.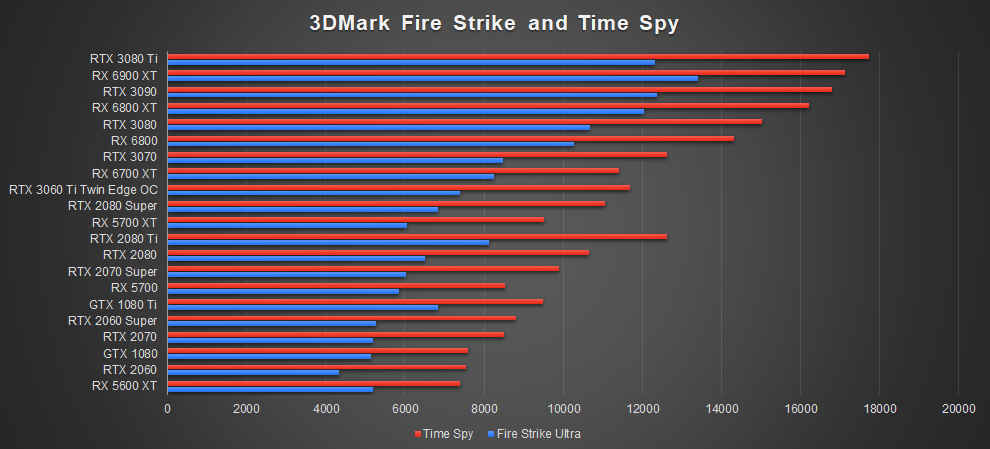 Basemark GPU
Basemark GPU is a nice benchmark to compare the performance of different graphics APIs between cards. We can use the same textures with OpenGL, Vulkan and DirectX 12 to see if the graphics card excels at any particular API more than the rest or if the performance is consistent across the board.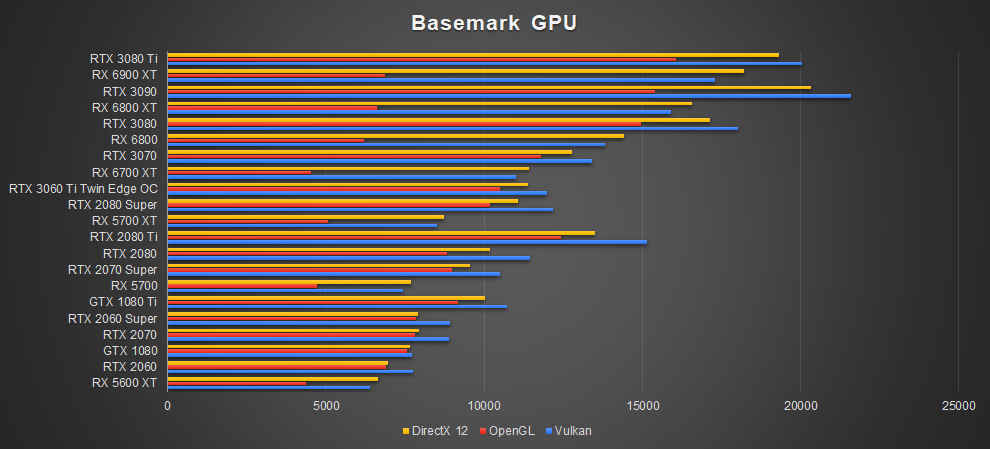 Blender
Blender is a great 3D modeling and animation software that's open-source and it is the preferred tool for folks wanting to get their hands dirty with 3D modeling. We use version 2.8 to keep up with legacy scores that we have for older cards. The latest stable version would be 2.9 and it's an incremental upgrade. We use the classroom scene since that's capable of utilising the GPU for rendering the scene aside from the CPU.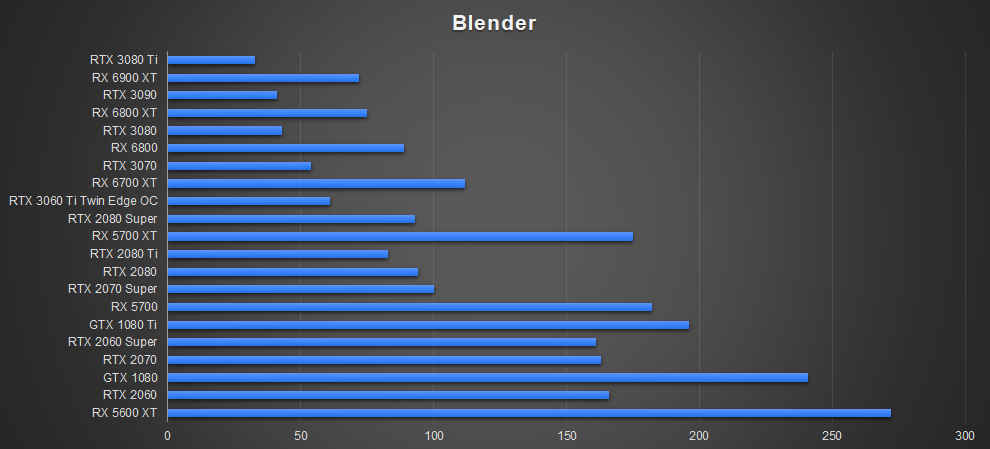 IndigoBench
This is the latest synthetic to be added to our test suite. IndigoBench is based on the Indigo 4 rendering engine that's available for popular software such as SketchUp, Blender, 3ds Max, Cinema 4D, Revit and Maya. It uses OpenCL and can benchmark both, the CPU and GPU together or individually. We prefer to test just the GPU with the software and the score provided is in terms of .M samples/s'.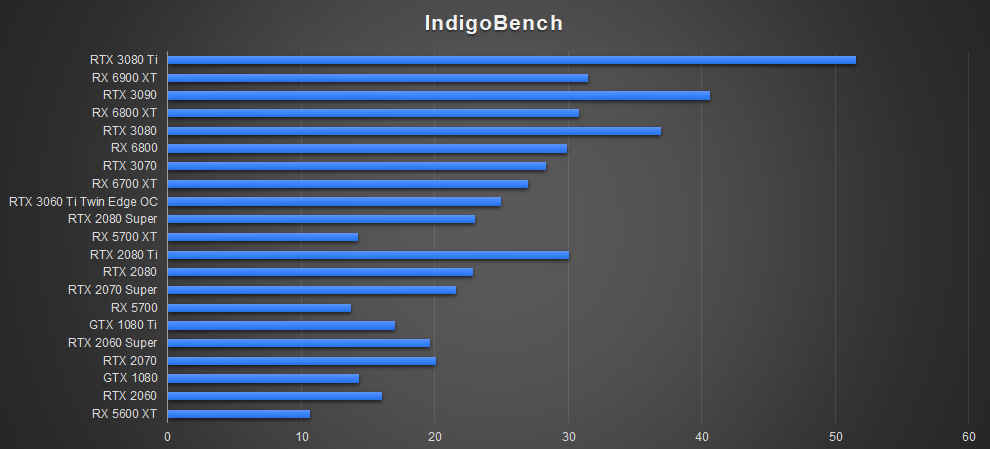 Unigine SuperPosition
Unigine SuperPosition is the other popular DX11 benchmark which we prefer to use alongside 3DMark. We run it on the Extreme Quality preset and use the score metric for delineating the performance between graphics cards.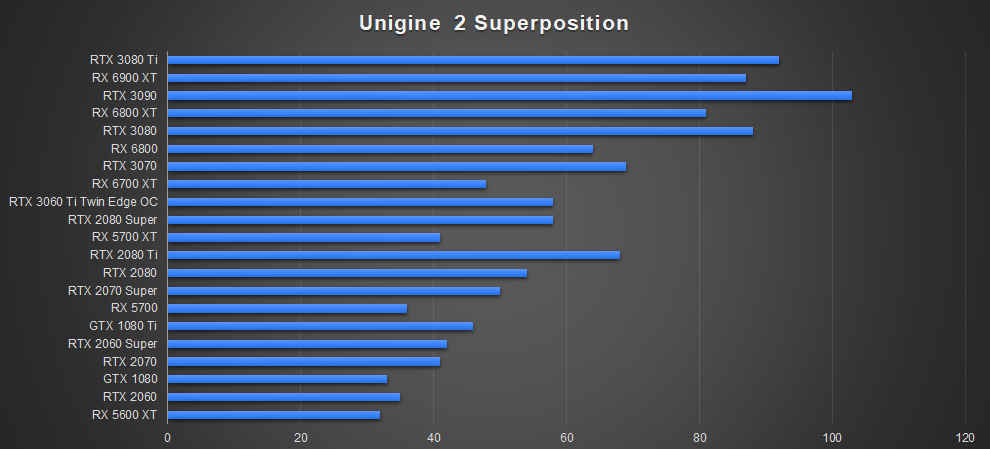 Borderlands 3
Gearbox's latest game in the Borderlands franchise which uses Unreal Engine 4 and allows you to switch between DirectX 11 and 12. The game has an inbuilt benchmark which takes you through an array of stressful scenarios. The DirectX 12 version is quite flaky and we prefer to use the DirectX 11 API while benchmarking the game and all our existing data is based off the DX11 version so there's no point switching now.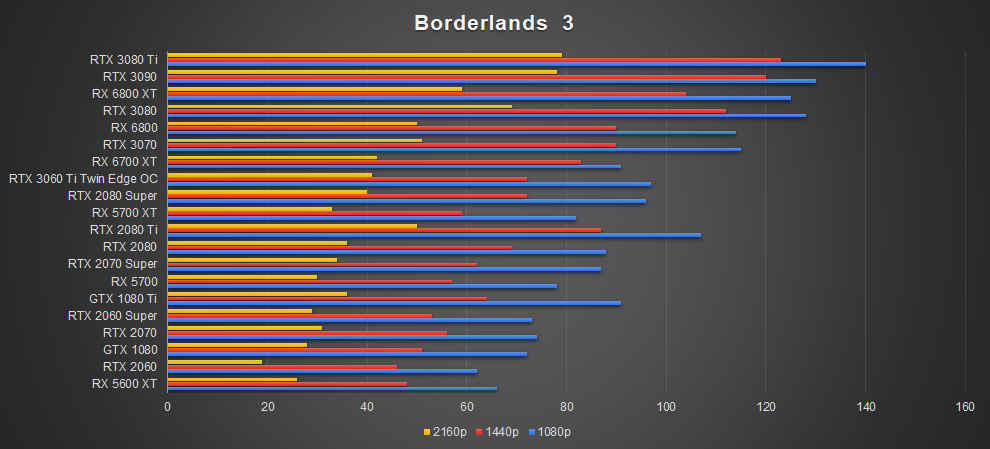 Death Stranding
Hideo Kojima's Death Stranding has been a recent addition to the PC scene and had been a PlayStation exclusive until July 2020. Being a console game, the game engine is quite optimised to make use of the scarce resources one gets with consoles. However, when 505 Games ported the game to PC, you wouldn't end up calling the game a console port. The Decima game engine is capable of rendering up to 4K and can use high dynamic-range imaging and is also geared for the upcoming next-gen PlayStation console. It's also the same engine used by Horizon Zero Dawn.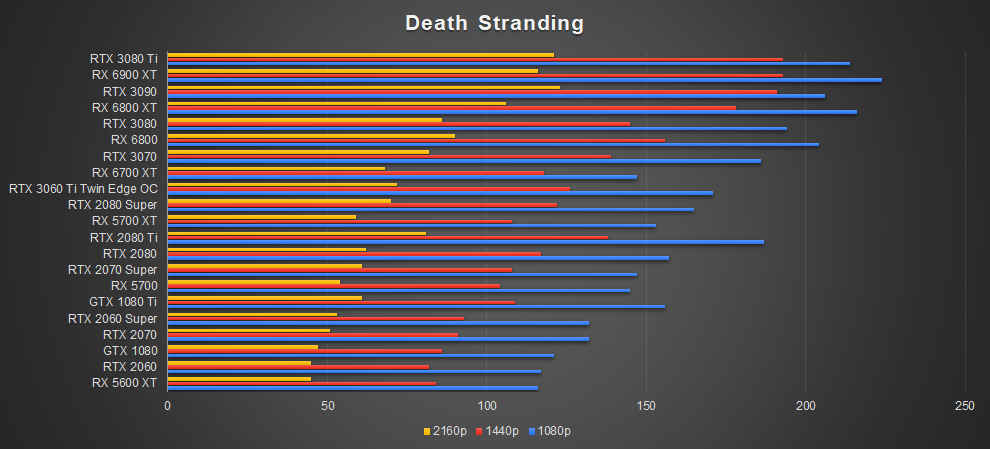 Doom Eternal
Doom Eternal takes the story forward from the 2016 DOOM and it does it in spectacular fashion. It's also one of the new games to incorporate ray-tracing as an update. The game is based on the latest Id Tech 7 game engine from Bethesda and is tremendously optimised for current gen hardware. Unlike the previous DOOM which allowed you to choose between DirectX and Vulkan, Doom Eternal is locked to Vulkan and makes use of RTX to level-up the ingame visuals. We keep the FOV at default with all the other graphics settings cranked up to Ultra Nightmare. Motion Blur is switched off across all runs because it takes away from the visual fidelity and makes running a benchmark kinda pointless.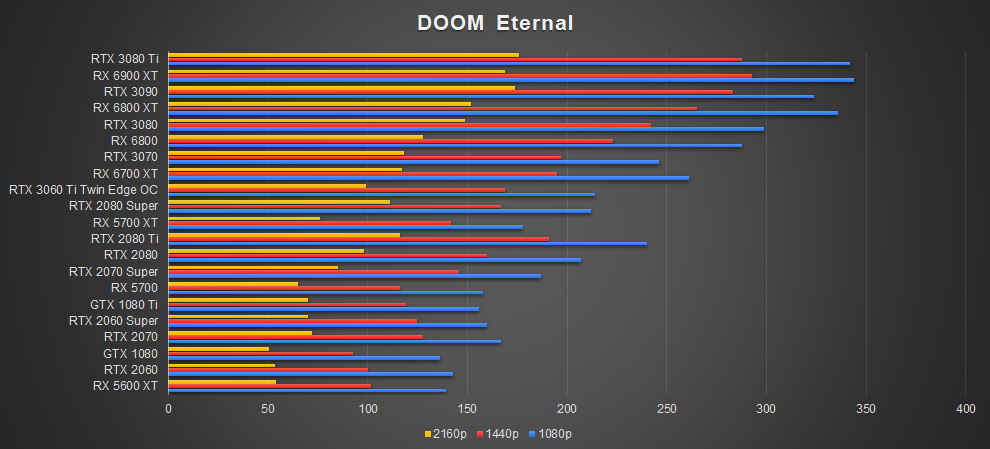 Shadow of the Tomb Raider
We run Shadow of the Tomb Raider in DirectX12 mode. It ends up consuming a little more memory as most games that support both DirectX 11 and DirectX 12. The preset is set to the highest quality and HBAO+ enabled. The ingame benchmark tool takes us through several scenes which feature open spaces as well as closed spaces with lots of world detail aside from the central character.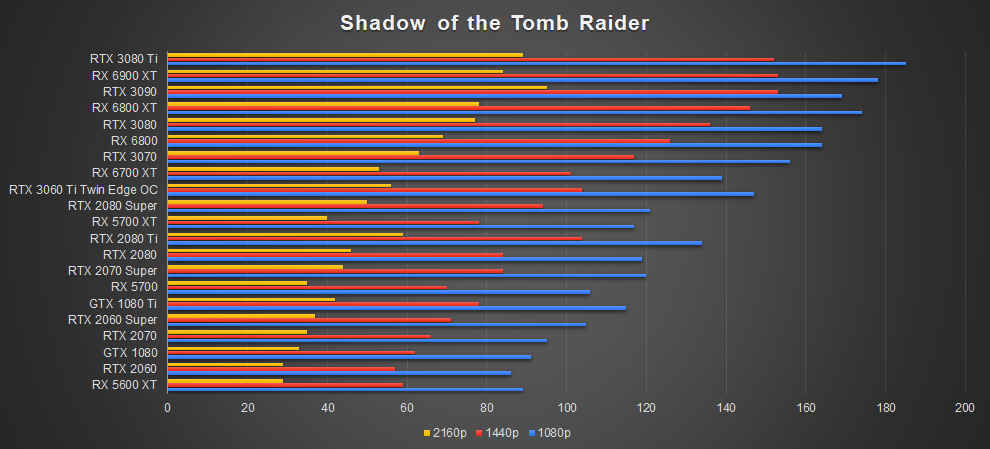 The Witcher 3
The Witcher 3: Wild Hunt is yet another game wherein we can see the generational improvements quite clearly as the game is still capable of stressing the top-end graphics cards. We switch off NVIDIA Hairworks in our bench runs since it's a proprietary NVIDIA feature and that messes up the performance measurements between AMD and NVIDIA cards.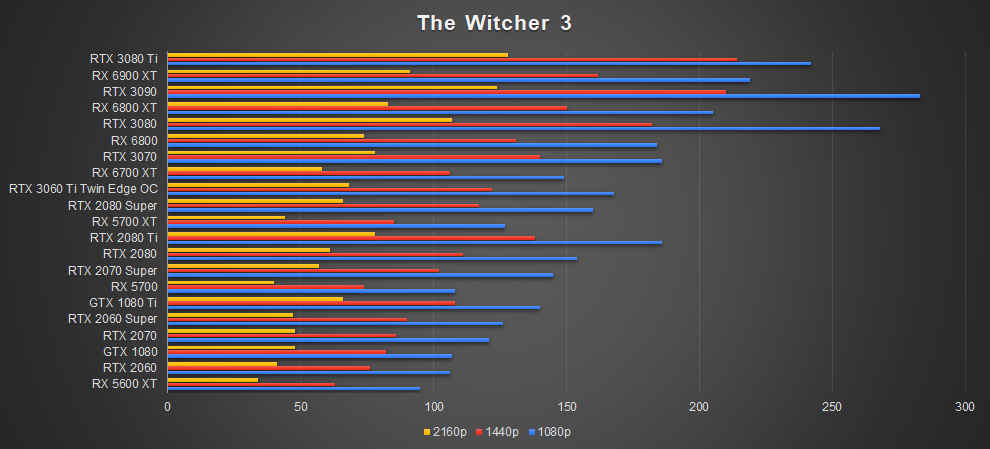 ZOTAC RTX 3080 Ti AMP Holo Ray Tracing
Our RTX 3090 numbers are way too old to compare here so we're dropped that from the list and retained all the graphics cards that do have ray-tracing. So you won't see any of the 10-series or RX 5000 series cards here. And the RTX 3080 Ti is right at the top. We'll update this chart once we source another RTX 3090 again.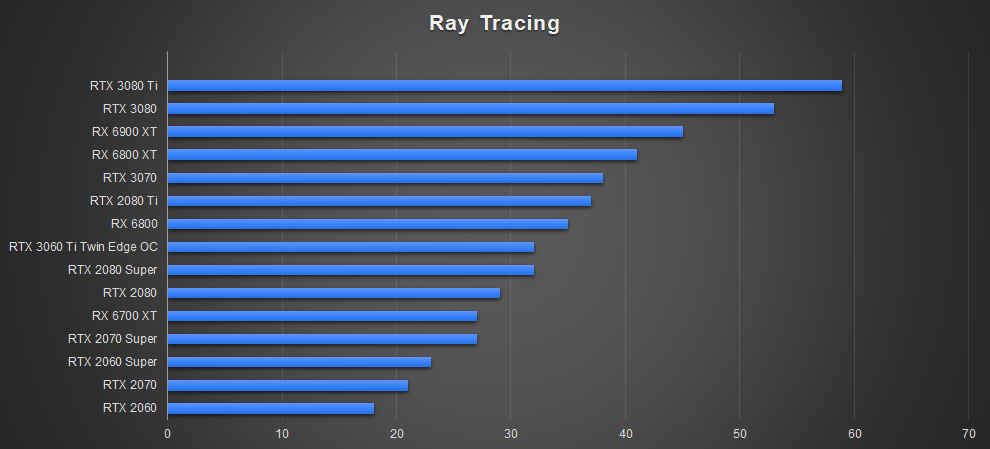 ZOTAC RTX 3080 Ti AMP Holo Power consumption and thermals
During most of our gaming benchmarks, we saw the ZOTAC RTX 3080 Ti AMP Holo hit a peak of 78 degrees celsius. During overclocking with the power limits removed, this would go up to 86 degrees. Peak power consumption levels during the gaming benchmarks was 320 watts during a run that took up close to 94% GPU usage.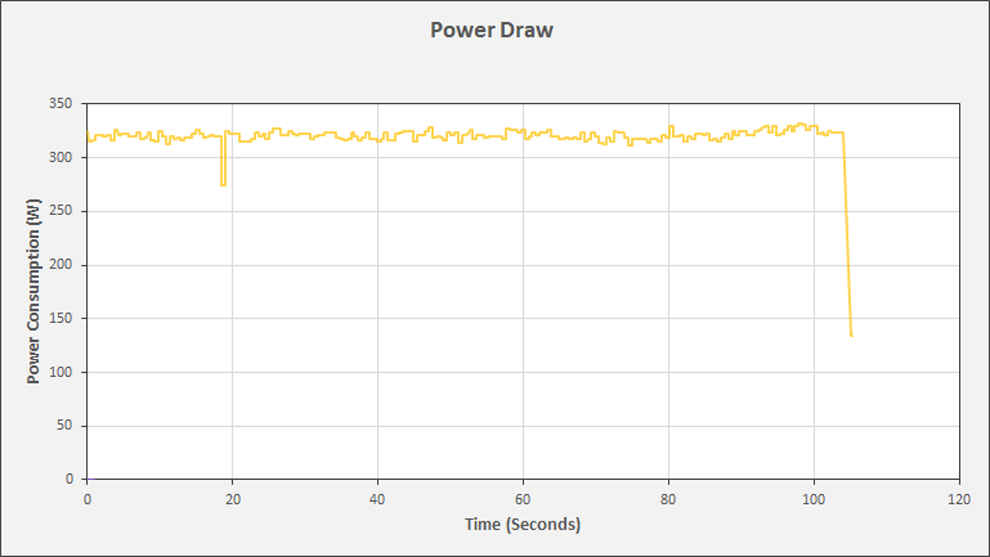 Pricing and availability
The ZOTAC RTX 3080 Ti AMP Holo will be available for sale in India from tomorrow onwards i.e. June 3rd, 2021 6:30PM. ZOTAC has declared it's MSRP at INR 1,47,000 but we expect it to see close to what the RTX 3090 sells for since the performance of the two cards is very similar.
Verdict
The ZOTAC RTX 3080 Ti AMP Holo is practically the RTX 3090. It's performance is very simlar given that barely any games take advantage of the higher VRAM on the RTX 3090. Sure, synthetic benchmarks would indicate these two cards to be miles apart but for the gamer who wants all the bells and whistles, the RTX 3080 Ti is one of the prime candidates. For INR 1,47,000, this isn't a cheap graphics card and we'll see how the Indian retailers price the card tomorrow at launch.