The AMD Radeon RX 6700 XT would be the first mid-range RDNA 2 card from Team Red but with all launches coming out during the global chip shortage, this too has managed to raise a few eye-brows. The 6700 XT is based on a smaller GPU than the previously released 6900XT, 6800 XT and 6800 and is set to compete with the likes of the NVIDIA RTX 3070 given that it is priced at INR 46,008. NVIDIA has also released a few new mid-range GPUs and both manufacturers are finding it extremely hard to produce enough GPUs to meet market demand. Neither of them have their own fabs with NVIDIA using Samsung for their consumer cards while AMD is using TSMC. Comparatively, NVIDIA has more cards available in India at the moment and AMD did state that they'll ensure better stocks for the launch of the RX 6700 XT. We'll see if that's true in the days to come.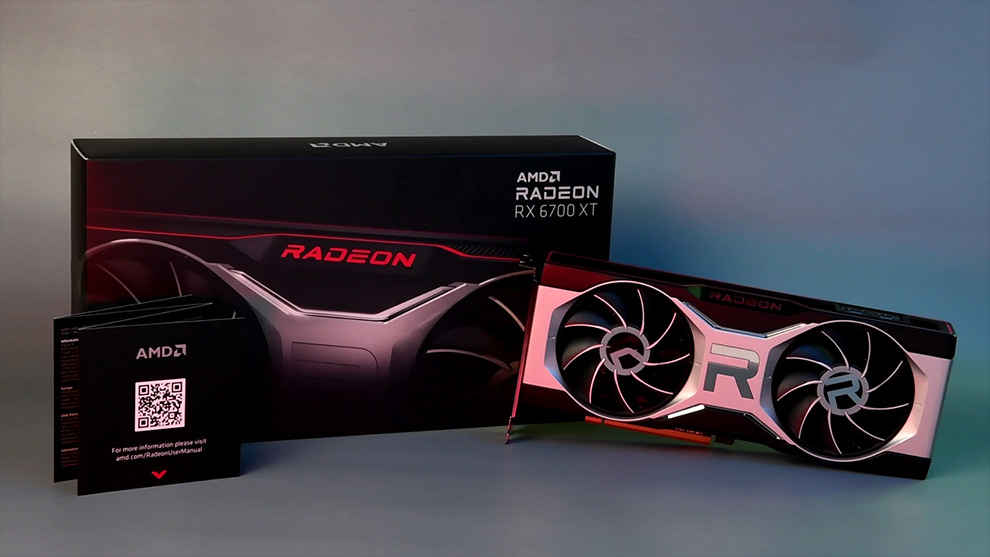 We've previously touched upon all the new features that RDNA 2 brings to the table. First and foremost was the new hardware-accelerated ray-tracing capability that leverages Microsoft's DXR but they still don't have an equivalent to NVIDIA's DLSS. In its current iteration, DLSS 2.0 has proven to be a very useful feature when paired with RTX. In AMD's case, they have only spoken about plans to launch FidelityFX Super Resolution or FSR this year which is AMD's equivalent for DLSS. We were expecting FSR earlier this year but it seems that we might have to wait a lot longer. Another key feature is SAM (Smart Access Memory) which is based on the Resizable-BAR feature within the PCIe specifications but that's no longer exclusive to AMD as NVIDIA and Intel have implemented the same across their graphics cards and motherboards, respectively. NVIDIA only has it on the latest RTX 3060 with the rest of the portfolio set to receive it in the coming months.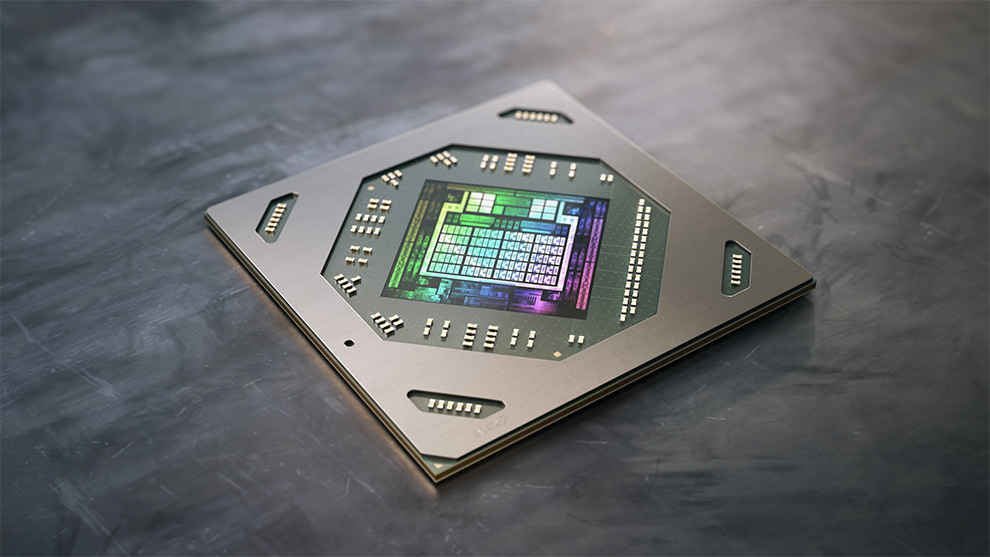 Unlike the 5000-series launch, we aren't seeing multiple mid-range GPUs this time around. One could very well blame the global chip shortage for that. And if you're wondering how AMD or NVIDIA has the ability to launch a new card in the midst of this global crisis, then you need to read up on binning. With that out of the way, let's check out the specifications of the only mid-range AMD RDNA 2 graphics card at the moment.
AMD Radeon RX 6700 XT Specifications
The AMD Radeon RX 6700 XT uses a different GPU from the 6800 and the 6800 XT, so there's no way you can cross flash firmware from another member of the 6000-series. The die is 335 mm2 and fits about 17.2 billion transistors built on the 7nm TSMC node. Compared to the older gen RX 5700 XT, we see a massive increase in clock speeds while the number of Compute Units remain the same. The RDNA 2 Compute Units have been redesigned to improve the graphics pipeline and each CU includes a new Ray Accelerator component. Which means, the 6700 XT has 40 Ray Accelerators which use DXR.
| | RX 6800 XT | RX 6800 | RX 6700 XT | RX 5700 XT | RX 5700 | RX 5600 XT |
| --- | --- | --- | --- | --- | --- | --- |
| Architecture | RDNA 2 | RDNA 2 | RDNA 2 | RDNA 1 (Navi) | RDNA 1 (Navi) | RDNA 1 (Navi) |
| Process | 7nm | 7nm | 7nm | 7nm | 7nm | 7nm |
| Transistor Count | 26.8 billion | 26.8 billion | 17.2 billion | 10.3 billion | 10.3 billion | 10.3 billion |
| Die Size | 519 mm2 | 519 mm2 | 335 mm2 | 251 mm2 | 251 mm2 | 251 mm2 |
| Compute Units | 72 | 60 | 40 | 40 | 36 | 36 |
| Stream Processors | 4608 | 3840 | 2560 | 2560 | 2304 | 2304 |
| Base Clock | 1825 MHz | 1700 MHz | 2321 MHz | 1605 MHz | 1465 MHz | 1230 MHz |
| Game Clock | 2015 MHz | 1815 MHz | 2424 MHz | 1755 MHz | 1625 MHz | 1375 MHz |
| Boost Clock | 2250 MHz | 2105 MHz | 2581 MHz | 1905 MHz | 1725 MHz | 1560 MHz |
| TFLOPs SP | 20.74 TFLOPS | 16.17 TFLOPS | 13.21 TFLOPS | 9.75 TFLOPS | 7.95 TFLOPS | 7.19 TFLOPS |
| TFLOPs Half Precision | 41.47 TFLOPS | 32.33 TFLOPS | 26.43 TFLOPS | 19.5 TFLOPS | 15.9 TFLOPS | 14.4 TFLOPS |
| Texture Fill-rate | 648.0 GT/s | 505.2 GT/s | 413 GT/s | 304.8 GT/s | 248.4 GT/s | 224.6 GT/s |
| ROPs | 128 | 96 | 64 | 64 | 64 | 64 |
| Pixel Fill-rate | 288.0 GP/s | 202.1 GP/s | 165.2 GP/s | 121.9 GP/s | 110.4 GP/s | 99.8 GP/s |
| Memory Capacity | 16 GB | 16 GB | 12 GB | 8 GB | 8 GB | 8 GB |
| Memory Type | GDDR6 | GDDR6 | GDDR6 | GDDR6 | GDDR6 | GDDR6 |
| Memory Bandwidth | 512 GB/s | 512 GB/s | 384 GB/s | 448 GB/s | 448 GB/s | 288 GB/s |
| Memory Bus-width | 256-bit | 256-bit | 192-bit | 256-bit | 256-bit | 192-bit |
| TBP | 300 W | 250 W | 230 W | 225 W | 185 W | 150 W |
Coming to the build quality, the chassis of the AMD Radeon RX 6700 XT looks very similar to the other Radeon RX 6000-series cards with the exception of the cooler design. We now have two fans instead of three and the entire card weighs a lot less. The card is still solidly built and follows the two-tone black-silver aesthetic with red accents. Lastly, you'll need an 8-PIN and a 6-PIN PCIe power connector for the reference 6700 XT.
AMD Radeon RX 6700 XT Performance
With the new set of benchmarks, we've featured some of the older GTX 10 series cards along with most of the RTX 20 series cards including the Super cards. Last year's AMD RX 5000 series cards are present to help gauge the generational improvement of RDNA2 against RDNA. Also included are the new RTX 30 cards so you can get a good idea of how the RDNA2 cards go up against NVIDIA's latest GPUs. And since the launch windows of the two cards are overlapping, this list couldn't have been more even. We have removed the older AMD Vega cards since we haven't retested them in a long time and a lot of driver-related performance improvement cannot be gauged without a retest. Like always, we have a section for synthetic benchmarks as well as gaming benchmarks with plenty of charts to showcase differences. Coming to the rig, we've tested the cards on an Intel platform. We no longer have the Ryzen 9 5950X that was used to test out Smart Access Memory, so that section has been removed from our benchmarks.
INTEL RIG
Processor - Intel Core i9-10900K
CPU Cooler - Corsair H115i RGB PLATINUM
Motherboard - ASUS ROG MAXIMUS XII EXTREME
RAM - 2x 8 GB G.Skill Trident Z Royal 3600 MHz
SSD - Kingston KC2500 NVMe SSD
PSU - Cooler Master V1200
Graphics cards
AMD RX 6900 XT
AMD RX 6800 XT
AMD RX 6800
AMD RX 6700 XT
RTX 3090
RTX 3080
RTX 3070
RTX 2080 Ti
RTX 2080 Super
RTX 2080
RTX 2070 Super
RTX 2070
RTX 2060 Super
RTX 2060
GTX 1080 Ti
GTX 1080
AMD RX 5700 XT
AMD RX 5700
AMD RX 5600 XT
Let's start with the synthetic benchmarks.
3DMark
In 3DMark, we prefer the Fire Strike Ultra benchmark since the Extreme and normal runs have started producing ridiculous scores with newer GPUs. The other benchmark within 3DMark which we use is Time Spy and we run both, the normal run and the extreme run. Here, we're showcasing Fire Strike Ultra and Time Spy scores. The AMD Radeon RX 6700 XT scores 11,416 in TimeSpy which puts it a little behind the RTX 3070's 12,618. Similarly, in Fire Strike Ultra, the 6700 XT scores a little over 200 points lower than the RTX 3070. The cards are similarly priced in India and the 6700 XT with taxes costs a little more than the RTX 3070. TimeSpy shows a 20 per cent improvement over the 5700 XT and about a 36 per cent improvement in Fire Strike Ultra.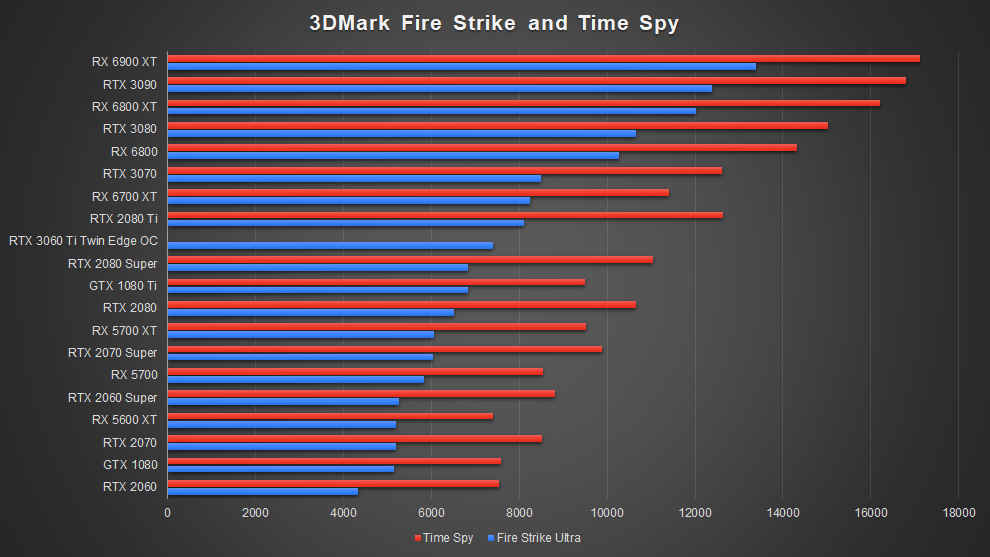 Basemark GPU
Basemark GPU is a nice benchmark to compare the performance of different graphics APIs between cards. We can use the same textures with OpenGL, Vulkan and DirectX 12 to see if the graphics card excels at any particular API more than the rest or if the performance is consistent across the board. The RX 6700 XT still falls short of the RTX 3070 in terms of performance across all the APIs. As observed with all the other RDNA 2 cards tested so far, OpenGL performance in Basemark is usually less than half of what the competing cards are capable of. The new RTX 3060 Ti also scores more than the RX 6700 XT. Compared to the 5700 XT, the 6700 XT shows a 30 per cent generational improvement in scores except in the OpenGL benchmark. There's actually a 10 per cent reduction in OpenGL performance Gen-on-Gen.
Blender
Blender is a great 3D modeling and animation software that's open-source and it is the preferred tool for folks wanting to get their hands dirty with 3D modeling. We use version 2.8 to keep up with legacy scores that we have for older cards. The latest stable version would be 2.9 and it's an incremental upgrade. We use the classroom scene since that's capable of utilising the GPU for rendering the scene aside from the CPU. The 6700 XT performs a little better than the RTX 2060 Super but is nowhere close to beating the RTX 3070.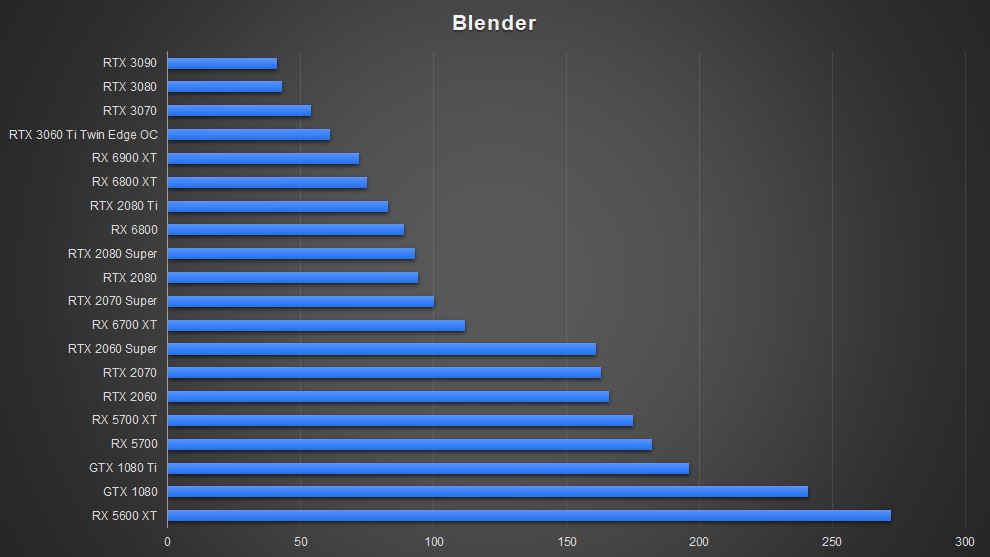 IndigoBench
This is the latest synthetic to be added to our test suite. IndigoBench is based on the Indigo 4 rendering engine that's available for popular software such as SketchUp, Blender, 3ds Max, Cinema 4D, Revit and Maya. It uses OpenCL and can benchmark both, the CPU and GPU together or individually. We prefer to test just the GPU with the software and the score provided is in terms of .M samples/s'. The AMD Radeon RX 6700 comes really close to the RTX 3070 in this test with a performance difference of 5 per cent, however, against the 5700 XT, we see an 88.6 per cent improvement.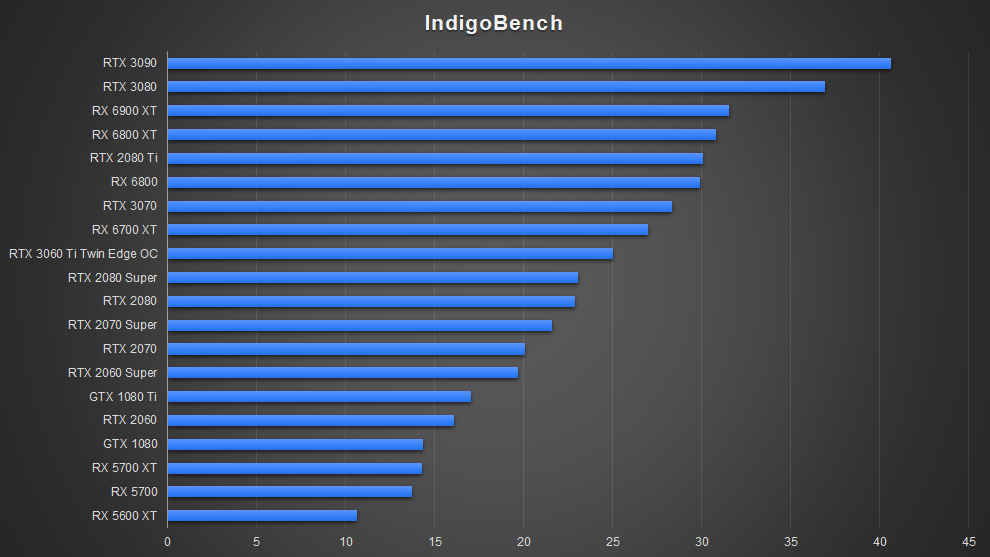 Unigine SuperPosition
Unigine SuperPosition is the other popular DX11 benchmark which we prefer to use alongside 3DMark. We run it on the Extreme Quality preset and use the score metric for delineating the performance between graphics cards. The 6700 XT scores just about the RTX 2070 Super and is way below the RTX 3070 and shows a 15-16 per cent improvement in performance over the RX 5700 XT.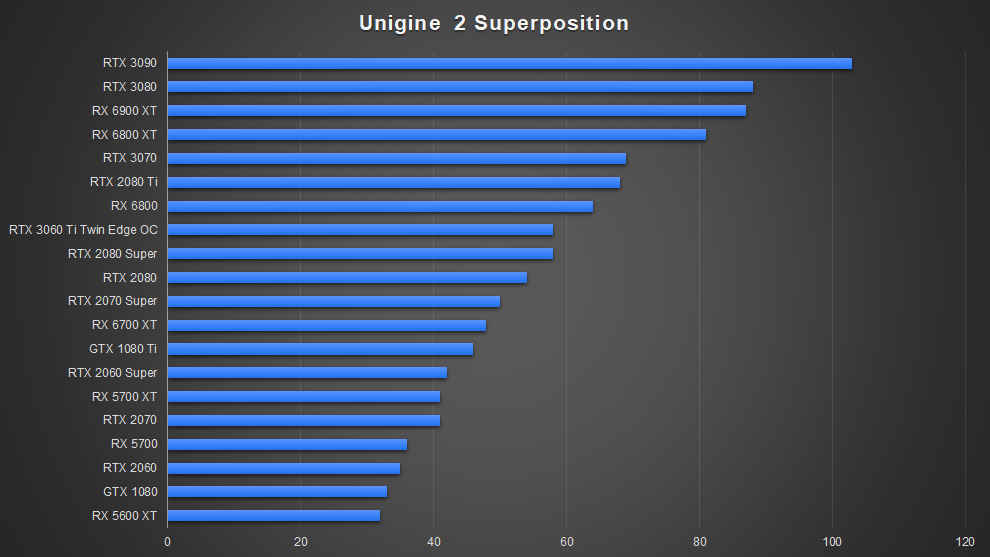 Borderlands 3
Gearbox's latest game in the Borderlands franchise which uses Unreal Engine 4 and allows you to switch between DirectX 11 and 12. The game has an inbuilt benchmark which takes you through an array of stressful scenarios. The DirectX 12 version is quite flaky and we prefer to use the DirectX 11 API while benchmarking the game and all our existing data is based off the DX11 version so there's no point switching now. In Borderlands 3, the RX 6700 XT scores about 30 per cent better than the RX 5700 XT but the RTX 3070 scores 21 per cent higher.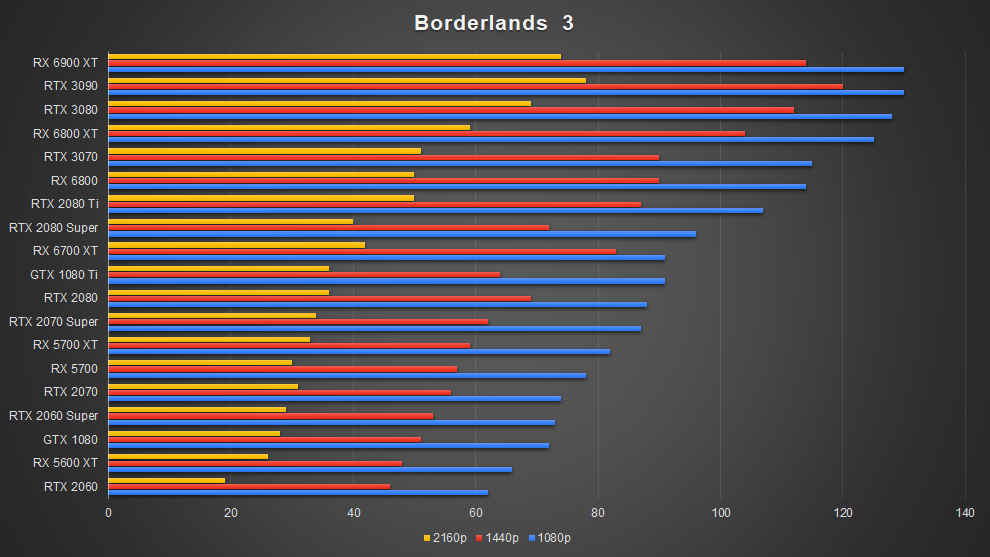 Death Stranding
Hideo Kojima's Death Stranding has been a recent addition to the PC scene and had been a PlayStation exclusive until July 2020. Being a console game, the game engine is quite optimised to make use of the scarce resources one gets with consoles. However, when 505 Games ported the game to PC, you wouldn't end up calling the game a console port. The Decima game engine is capable of rendering up to 4K and can use high dynamic-range imaging and is also geared for the upcoming next-gen PlayStation console. It's also the same engine used by Horizon Zero Dawn. We see the RTX 3070 scoring higher by about 20-25 per cent across 1080p, 1440p and 2160p compared to the RX 6700 XT. You still get about 68 FPS at 4K resolution which makes it great for playing 4K console ports.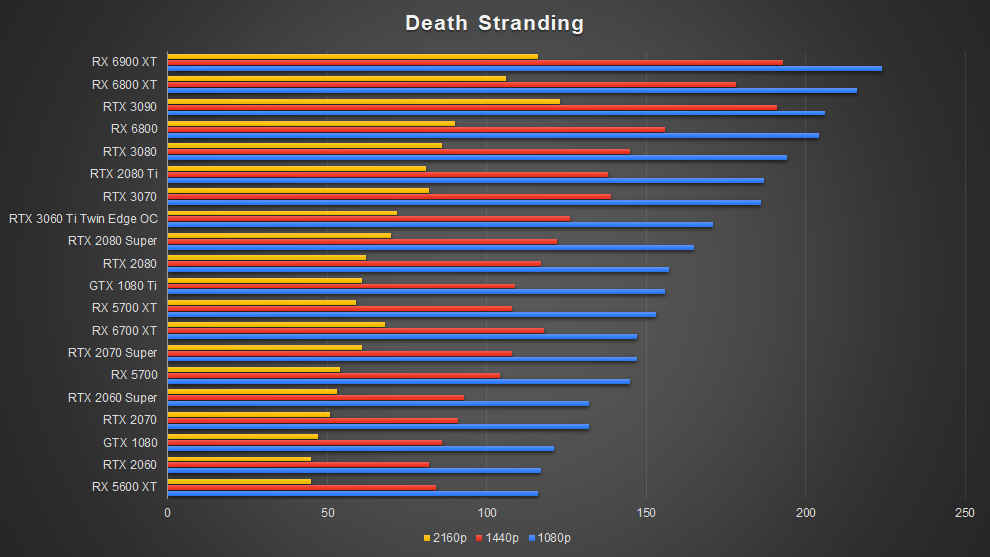 Doom Eternal
Doom Eternal takes the story forward from the 2016 DOOM and it does it in spectacular fashion. It's also one of the new games to incorporate ray-tracing as an update. The game is based on the latest Id Tech 7 game engine from Bethesda and is tremendously optimised for current gen hardware. Unlike the previous DOOM which allowed you to choose between DirectX and Vulkan, Doom Eternal is locked to Vulkan and makes use of RTX to level-up the ingame visuals. We keep the FOV at default with all the other graphics settings cranked up to Ultra Nightmare. Motion Blur is switched off across all runs because it takes away from the visual fidelity and makes running a benchmark kinda pointless. DOOM Eternal is one of the few games where the RX 6700 XT goes neck-and-neck against the RTX 3070. It also shows about 37-53 per cent improvement in performance over the RX 5700 XT across all tested resolutions.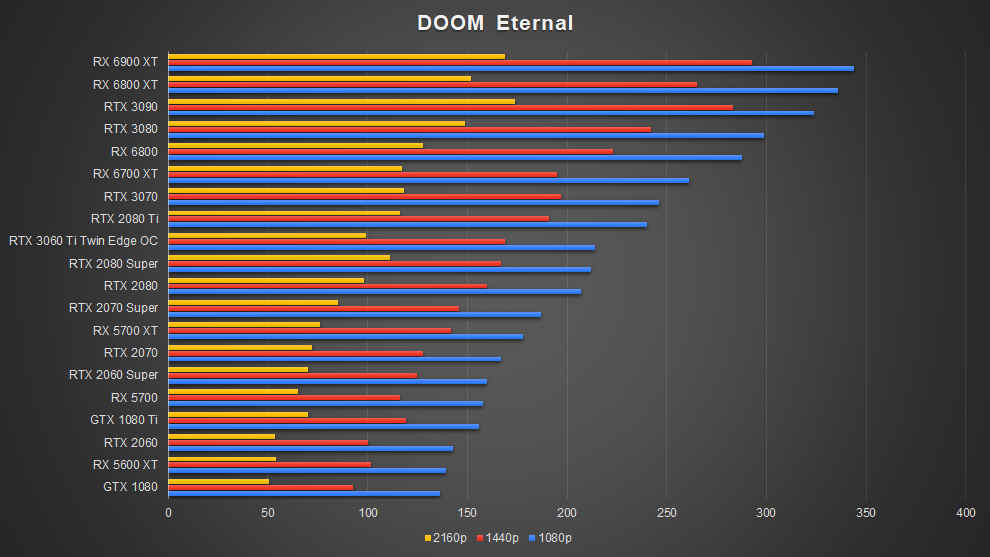 Shadow of the Tomb Raider
We run Shadow of the Tomb Raider in DirectX12 mode. It ends up consuming a little more memory as most games that support both DirectX 11 and DirectX 12. The preset is set to the highest quality and HBAO+ enabled. The ingame benchmark tool takes us through several scenes which feature open spaces as well as closed spaces with lots of world detail aside from the central character. In Shadow of the Tomb Raider, we see a 30 per cent improvement in performance over the RX 5700 XT but the RTX 3070 is ahead by 12-18 per cent across all tested resolutions.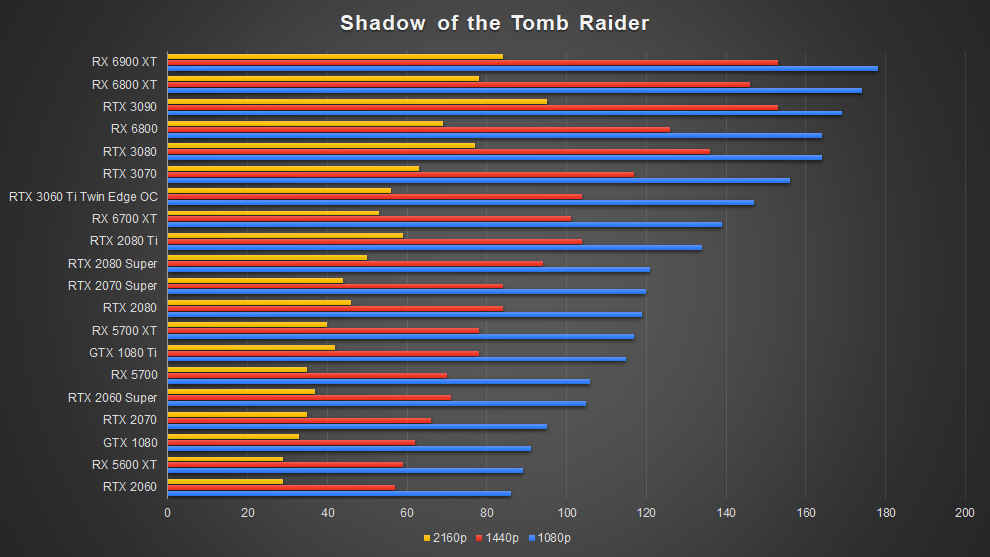 The Witcher 3
The Witcher 3: Wild Hunt is yet another game wherein we can see the generational improvements quite clearly as the game is still capable of stressing the top-end graphics cards. We switch off NVIDIA Hairworks in our bench runs since it's a proprietary NVIDIA feature and that messes up the performance measurements between AMD and NVIDIA cards. In Witcher 3, we see the RX 6700 XT scoring about 150 FPS at 1080p which is a 17 per cent improvement over the RX 5700 XT and 25 per cent lower than the RTX 3070. At 1440p, we get a little over 100 FPS and at 4K we're a little shy of 60 FPS.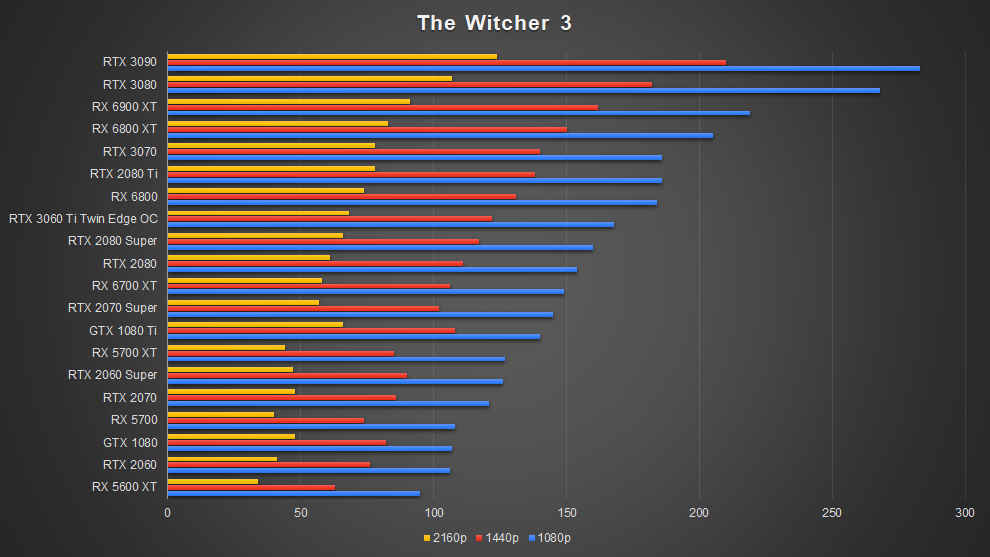 AMD Radeon RX 6700 XT Ray Tracing
The Radeon RX 6700 XT ends up being just as capable as the RTX 2070 Super in terms of ray-tracing performance. The RTX 3060 Ti and the RTX 3070 score much higher. In fact, the 3070 provides 40 per cent higher performance in synthetic benchmarks. It should be noted that RDNA 2 is the first hardware-accelerated ray-tracing microarchitecture from AMD and we should see them become competitive in future generations but the fact that they come close is commendable. In gaming, we saw the 6700 XT hit approximately 81 FPS in Metro Exodus at 1080p and the RTX 3070 scored 105 FPS. So the synthetic performance gap narrows down in real-world gaming scenarios. We'll run additional benchmarks across more titles to get a better picture.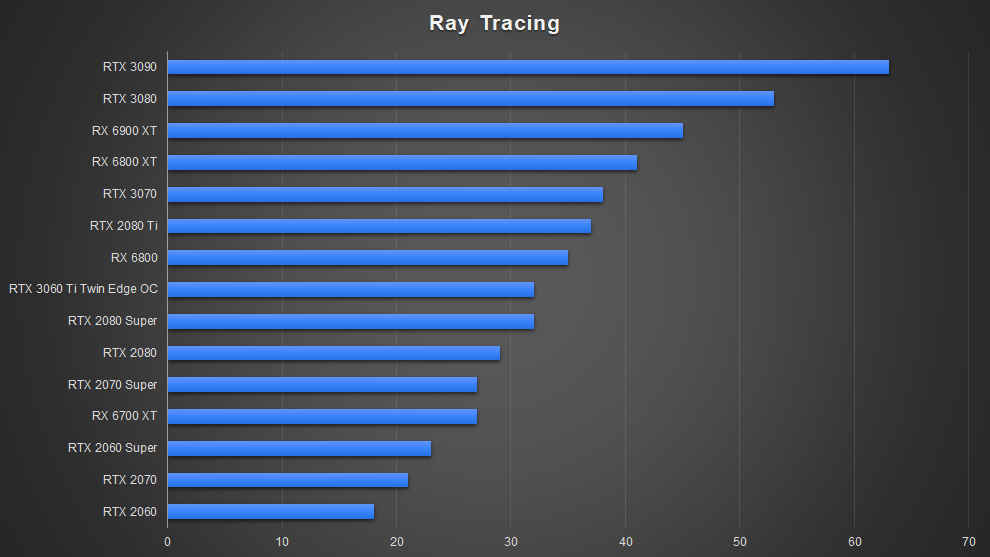 AMD Radeon RX 6700 XT Power consumption and thermals
During most of our gaming benchmarks, we saw the RX 6700 XT hit a peak of 84 degrees celsius. While overclocking with the power limits removed, this would go up to 86 degrees. The junction temperature would easily hit 106 degrees under the same conditions but for the most part, we averaged around 76 degrees celsius. Peak power consumption levels during the benchmarks was 186 watts as reported by the Radeon Software. During our OC attempts, we saw the power draw hit about 213 watts peak.
Overclocking
Overclocking the AMD Radeon cards using the Radeon Software isn't as complicated as it used to be and your options are also limited. In a way, it helps folks get a little extra performance without letting their graphics cards go up in smoke. We tried out some of the default Auto Tuning profiles to see what anyone can get with just a few clicks. The options are to let it run at the factory settings, or you can auto overclock the GPU, overclock the VRAM or undervolt the GPU. Here's what we ended up getting:
| Profile | GPU | Mem | Time Spy |
| --- | --- | --- | --- |
| Default | 2130 | 1990 | 11254 |
| GPU OC | 2769 | 1990 | 11454 |
| VRAM OC | 2130 | 2150 | 11383 |
| Undervolt | 2100 | 1986 | 11385 |
| Manual | 2950 | 2150 | 11698 |
Overclocking within the AMD software happens by altering the peak values of each metric. Essentially, we're expanding the overhead available to the cards but the ceiling has been pre-defined by AMD. So for the GPU clock, 2950 MHz is as high as we can go using the software but your average clock across a benchmark will be much lower. In our case, we saw the GPU hover around 2509 MHz for most runs with rare moments spent at a higher frequency. VRAM clock speed, on the other hand, tends to stick to whatever you set. We don't see much gains with the VRAM OC. The Radeon RX 6700 XT does have a narrower bus width so we aren't certain how much overclocking the VRAM can deliver. Moreover, there's also the reduced intermediary InfinityCache to be considered as an additional factor that could bottleneck the memory. Lastly, manual overclocking only involved pulling the sliders all the way to max with no fear of crashes. We scored the most in this case and saw the average power draw jumping from 186 watts to 213 watts. Without increasing the power ceiling, the additional GPU OC and VRAM OC led to minimal gains. We ended up scoring about 11440. It was only after the power limits were increased that we saw the top score of 11698. That's a 3.9% improvement in performance which seems to be moderate considering the power trade-off.
AMD Radeon RX 6700 XT Pricing and availability
The AMD Radeon RX 6700 XT is priced at INR 38,990 + Taxes which becomes INR 46,008 for the end-consumer had the global chip shortage problem not been a thing. Back before the chip shortage problem had gotten acute, we had a tough time finding the Radeon RX 6800, 6800 XT or even the 6900 XT in India. Barely any stores had stocks and those who did were selling at exorbitant rates. AMD did explicitly state that they were working towards delivering more stocks for the RX 6700 XT but we checked all popular PC hardware stores in India, Amazon and even called up a few vendors on Lamington Road to see if listing had been put up. So far, we've got nothing. Also, nobody that we'd contacted had great things to say about the stock situation. Let's hope that changes in the months to come.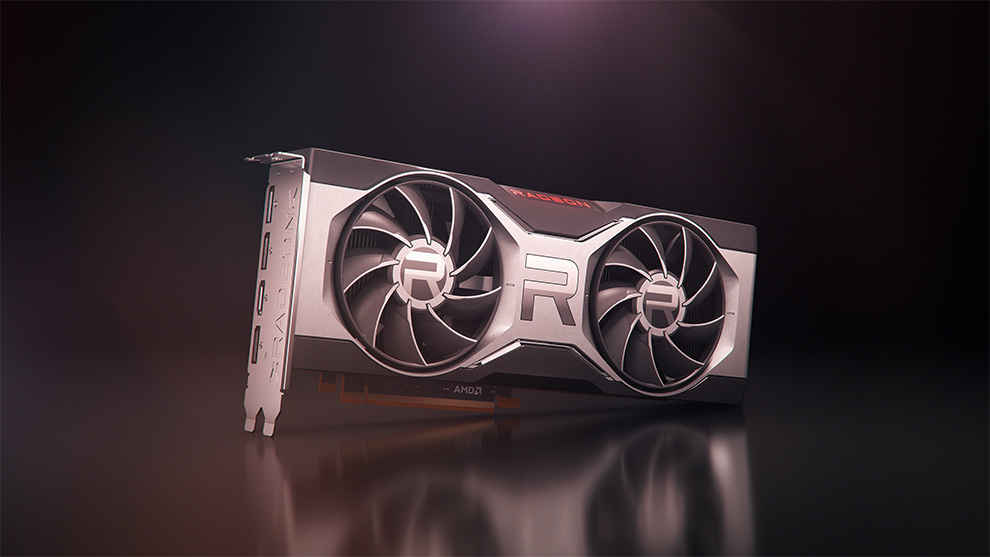 Verdict
The Radeon RX 6700 XT is a decent card with the pricing being a little off. Considering its Indian pricing, it's a direct competitor to the RTX 3070 and it falls short in practically all of the benchmarks that we ran it through. Moreover, considering that it's the generational upgrade over the RDNA 1 Radeon RX 5700 XT, we see significant performance gains that actually make it a great buy. Add the fact that you also have ray-tracing capabilities and this becomes even more impressive. Alas, all of this doesn't matter if you can't buy the card.