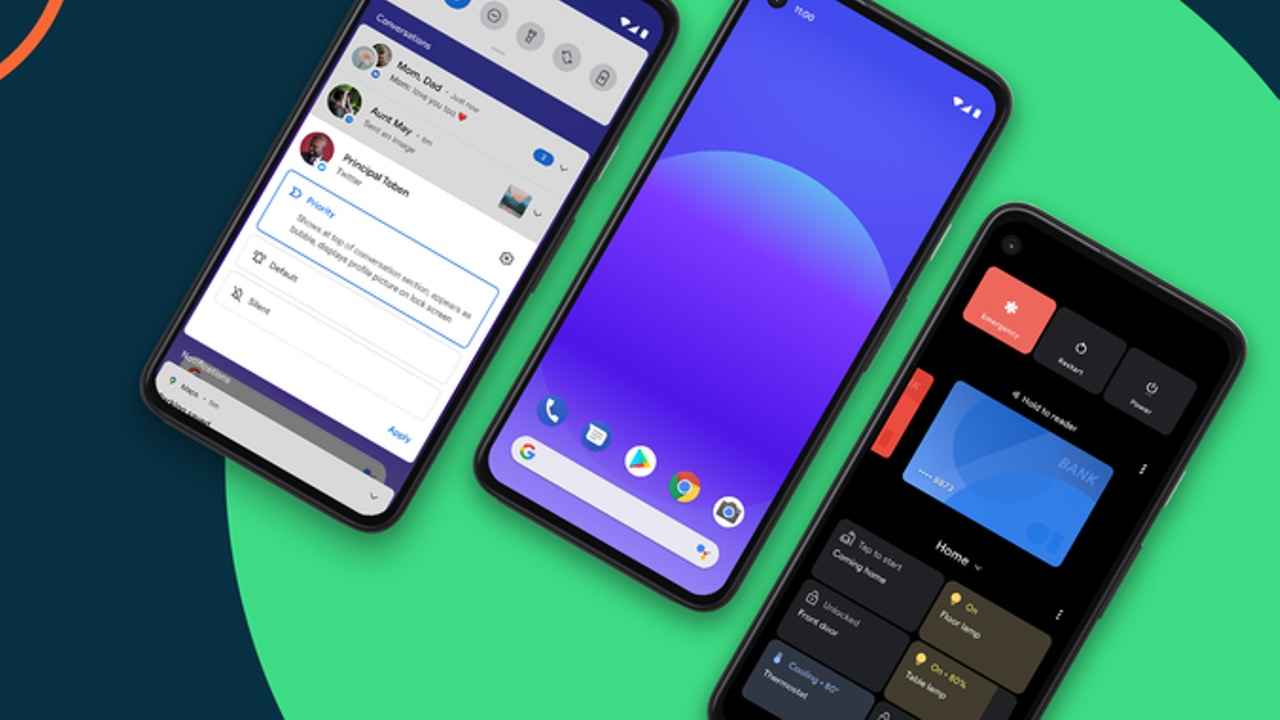 HIGHLIGHTS
Google releases final Android 11 update for certain smartphones

The latest Android 11 update has just been released for Pixel, OnePlus, Xiaomi, Realme and Oppo phones

We've listed down all the phones that are set to receive the Android 11 update
UPDATE: ColorOS 11 update timeline is now out for Oppo smartphones in India.
The Google Android 11 update is officially rolling out for Pixel, OnePlus, Xiaomi, Oppo and Realme smartphones. As of now, these are the only companies that will receive the update with more phones set to get the update in the coming months. Google has released the final Android 11 update for Pixel phones. In fact, other manufacturers are kicking off public beta tests for their mid-range and flagship smartphones right now.
With the Android 11 update, Google is adding a dedicated Conversations tab in the notification centre that groups all the chats from messaging apps, native screen recorder, smart reply features, app suggestions, one-time permissions to apps and more. The Android 11 update brings a lot of optimizations, fine-tuning the system and other enhancements that make the experience a lot smoother.
Hello, Android 11! Learn all about the new features that make staying in touch easier, controlling your connected devices simpler, plus new privacy improvements: https://t.co/qUCmyz37WZ pic.twitter.com/ExkZIXafau

— Android (@Android) September 8, 2020
Here is a list of all the smartphones set to receive the Google Android 11 update in India.
Google Pixel Android 11 update
Google Android 11 update is now available for Pixel phones and if you are a user who owns a Pixel 2 or above, the update should be reaching you soon. Google has announced the availability of Android 11 update for the following phones:
Pixel 2 and Pixel 2 XL
Pixel 3 and Pixel 3 XL
Pixel 3a and Pixel 3a XL
Pixel 4 and Pixel 4 XL
OnePlus OxygenOS 11 update
OnePlus has announced OxygenOS 11 Open Beta 1 for the OnePlus 8 series. The company had already pushed out the Android 11 Developer Preview 3 based OxygenOS earlier in August. Now, users of OnePlus 8 and OnePlus 8 Pro can download the Open Beta 1 that brings in a slew of changes to the design and optimisations that make the OxygenOS 11 a smooth affair.
If you own either the OnePlus 8 or OnePlus 8 Pro, you can download the Open Beta 1 manually from the links below. Do note that if you choose to perform a local upgrade (recommended), there won't be any loss of data and your OnePlus 8 series phone will get updated to OxygenOS 11 beta.
Download OxygenOS 11 Open Beta 1 for OnePlus 8 here and for OnePlus 8 Pro here.
After downloading the update, copy it to the root directory. Go to the Settings menu and scroll down to System and then tap System Updates. Tap the "Settings icon" on the top-right corner and select local upgrade. Choose the installation package and the phone will begin updating.
Read more about the new features and changes in OxygenOS 11 here.
Xiaomi MIUI Android 11 update
#Android11 is ready to rock!

Mi 10 and Mi 10 Pro will be the first batch Xiaomi devices to receive the update of Android 11. @Android

Check out for more information: https://t.co/RyQkL8EQwt pic.twitter.com/bAKHrS7JX3

— MIUI (@miuirom) September 8, 2020
Xiaomi has announced MIUI 12 global beta based on Android 11 for the Mi 10 series and Poco F2 Pro. In a post on its Mi Community, Xiaomi is accepting submissions for pilot testers for its Android 11 beta ROM made for Mi 10, Mi 10 Pro and Poco F2 Pro.
It is a limited release so interested users will have to fill a form with details about their smartphones and only a selected few will be chosen to test out the MIUI Global ROM.
Realme UI Android 11 update
We are thrilled to announce that #realme is among the first smartphone brands to provide @Android 11 to its users. Our official Android 11 Preview is now available for #realmeX50Pro. Check out #realmeCommunity to join & get to enjoy #Android11 right away→ https://t.co/WPdPu0VFow pic.twitter.com/V53vjphyHO

— realme (@realmemobiles) September 8, 2020
Realme is offering the Android 11 Preview of the Realme UI for the Realme X50 Pro. Like the Xiaomi MIUI beta test, Realme is also accepting applications from its fans and has limited the preview release program for 100 users of the Realme X5 Pro.
Oppo ColorOS Android 11 update
ATTENTION
#OPPOColorOS11 based on #Android11 is coming! Save the date to uncover the endless wonders of ColorOS 11 by joining our Global Launch Event at 9AM (GMT) on September 14th! pic.twitter.com/IOzTmTGNpi

— ColorOS (@colorosglobal) September 9, 2020
Oppo has also released the ColorOS 11 public beta for the Oppo Find X2 series. The company has also revealed that it is going to launch the ColorOS 11 officially on September 14 in a virtual event. The ColorOS Android 11 beta update will be provided to 2,000 users and Oppo is accepting applications for beta testers over on its Community forum.
UPDATE 14/09/2020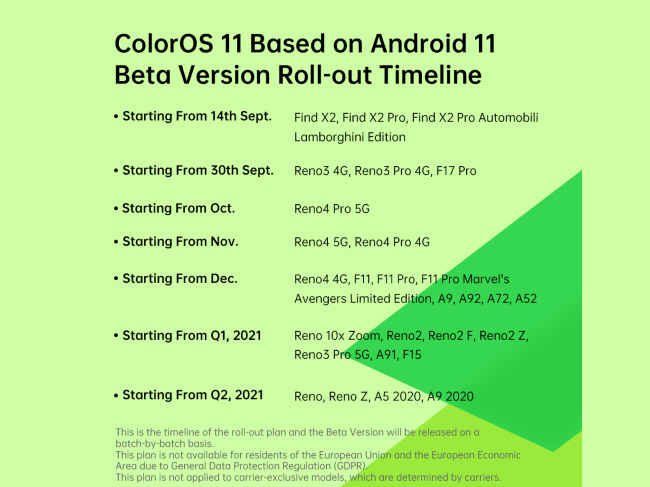 The Android 11 build of Oppo's ColorOS is simply called ColorOS 11 and the beta version of the update has started to roll out to the Oppo Find X3 and the Reno3 series. That means the Oppo Find X2 and the Oppo Reno3 Pro users can update their smartphones to Android 11 starting today. Oppo has also shared the roadmap of updates for its other flagship portfolios across the world. Some are also relevant for the Indian market.
We will update this list as and when more phones start receiving the Android 11 update in India.