Google will host its I/O 2019 event from May 7 to 9 this year and it is expected to show off innovation at this annual developer conference. Company CEO Sundar Pichai will deliver the keynote at 10am PT (10:30pm IST) at the Shoreline Amphitheater. This year, Google will launch the Pixel 3a and the Pixel 3a XL, talk about the Android Q, may bring updates in Google Maps, and could reveal more info on its gaming platform Stadia.
The company will live stream the event on its official YouTube channel. Digit will also be keeping a close tab on the developments so can keep up to date with the announcement on our website. Below you can find the YouTube video so you don't have to go through the tedious process of searching the stream link.
Following is a brief rundown of what may be launched at the event:
Pixel 3a and Pixel 3a XL
Google has already teased that it will launch a Pixel device at the event. Rumours are pointing that the company may announce two phones, the Google Pixel 3a(₹ 30999 at flipkart) and the Google Pixel 3a. These phones are said to take on the phones selling in the Rs 35,000-Rs 45,000 segment. The Google Pixel 3a and Pixel 3a XL are expected to come equipped with a 5.6-inch and 6.3-inch OLED displays, respectively. Under the hood, they are expected to be powered by the Snapdragon 670 platform coupled with 4GB RAM.
Both the phones are expected to be announced running on Android 9 Pie and would be the first to receive the Android Q update when it gets rolled out eventually. Google could also bring back the headphone jack, which it killed off with the Google Pixel 3 smartphones. Rumours also suggest that the phones will feature Google's Pixel Visual Core chip for image processing as well as the Active Edge technology. The Pixel 3a could be backed by a 3,000mAh battery.
Android Q
Every year at I/O, Google discusses the next iteration in detail, and this year is not likely to be different. The company has already released the Beta 2 and we could get the Beta 3 at the event. The Beta 2 of Android Q brought the foldable emulator and Bubbles for multi-tasking. The foldable emulator will let developers make games and apps for the upcoming wave of foldable devices, and Bubbles is aimed at ease of multitasking. Google has also enabled Scoped Storage for new app installs in Beta 2. This will help developers and testers to easily see what is affected. This year, Google may also bring "Pixel Themes" that will let the Pixel owners change the accent colours, icon shapes and even the fonts.
Maps
Google has done a lot on Maps to make it a go-to app. Whether it's providing notifications at a time when you approximately leave office, or using Augmented Reality to provide turn-by-turn navigation, the app has been at the centre of all innovation. Last year, Google spent a significant amount of time talking about Maps and its features, and this year as well, we can also see a dedicated time slot for announcements.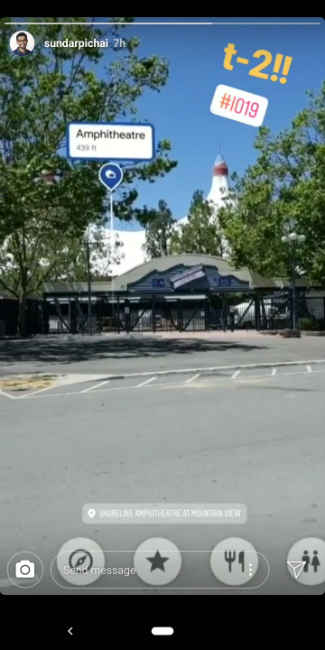 As mentioned, Google showed off the ability to use Augmented Reality to navigate using Google Maps at I/O 2018. Earlier this year, the company gave access to Local Guides to test it. Local Guides is the community that reviews places for Google and provides feedback on them. It is expected that Google may roll out the feature to the masses. Moreover, Pichai shared a Story on Instagram showing off this feature. This is a strong hint that Google has something in store for Maps.
Stadia
Stadia is Google's game streaming service that was announced earlier this year and is set to launch later in in 2019. At the launch, Google said it was working with a large number of developers to bring their games to Google's platform. Although unlikely, we may see some announcements regarding Stadia and on how far have partnerships reached, and even a launch date. There may be some Google Assistant-related announcements as well.