Google is all set to announce its Pixel 3a and 3a XL smartphones on May 7. The upcoming phones are being teased via Flipkart and multiple reports have given us a fair idea of what to expect from the phones, both in terms of design and specifications. Ahead of the official unveiling, the Pixel 3a XL smartphone has been spotted at Best Buy in Springfield, Ohio, in its retail packaging. Android Police posted an image of the phone's retail box, which was spotted behind a glass cabinet. The image reiterates some of the Pixel 3a XL's leaked specifications like it being launched in a purple colour variant, which the retail box suggests might be called "Not Violet." Additionally, the phone is tipped to come in a "Just Black" colour variant as well.
The packaging also reveals that the Pixel 3a XL might feature G020C as its model number and could be equipped with a 6.0-inch display. The handset's 64GB model was spotted on the Best Buy shelves, but it is also speculated to be launched in a 128GB storage variant. An earlier report suggests that Google Pixel 3a and Pixel 3a XL might feature 5.6-inch and 6-inch OLED displays, respectively. While the larger Pixel 3a XL is expected to run on the Qualcomm Snapdragon 710 SoC, the Pixel 3a might be backed by the Snapdragon 670 platform. Both phones are rumoured to come equipped with 4GB RAM.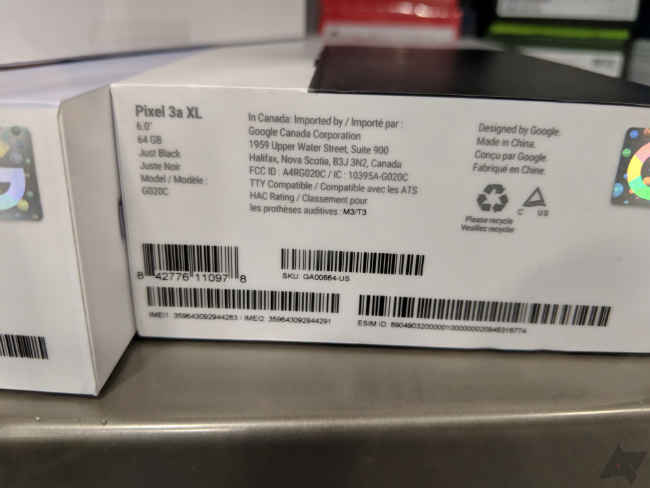 Just recently, the retail box of the Pixel 3a had also leaked on a YouTube channel. The leak also tips at the phone's pricing. The Pixel 3a could be priced at $399 (Rs 28,000 approx) and the 3a XL could be announced for $479 (Rs 33,500 approx) in the US. Canadian prices of the Pixel 3a and Pixel 3a XL were also leaked, as per which, the Google Pixel 3a might cost CAD $649 (Rs 34,000 approx), while the bigger Pixel 3a XL could be priced at CAD $799 (Rs 41,500 approx).