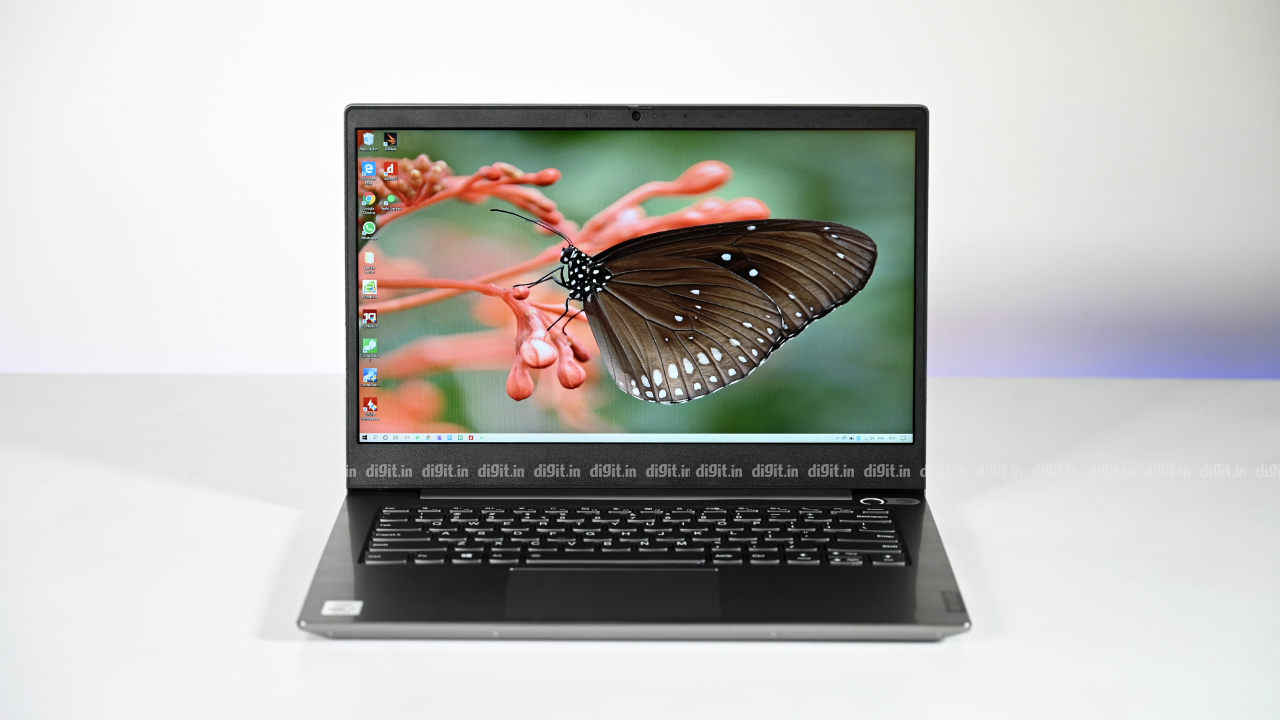 VERDICT:
The Lenovo ThinkBook 14 comes with ample computing power and a few nifty features that'll prove to be useful in the average office environment but fails to get the basics right, such as display, audio, and touchpad.
Since its inception in the early 1990s by IBM, the ThinkPad brand has been associated with high-end enterprise-grade computing. ThinkPad models, usually sold in an all-black paint scheme with red accents, have generally never come cheap, except the relatively newer E- and L-series ones. Lenovo, the ThinkPad brand's second owner, launched the IdeaPad brand in early 2008 to cater to everyday consumers. These models are generally more colourful and stylish. Since then, both brands have had distinct definitions and co-existed independently. Now, however, Lenovo is throwing a new name into the mix.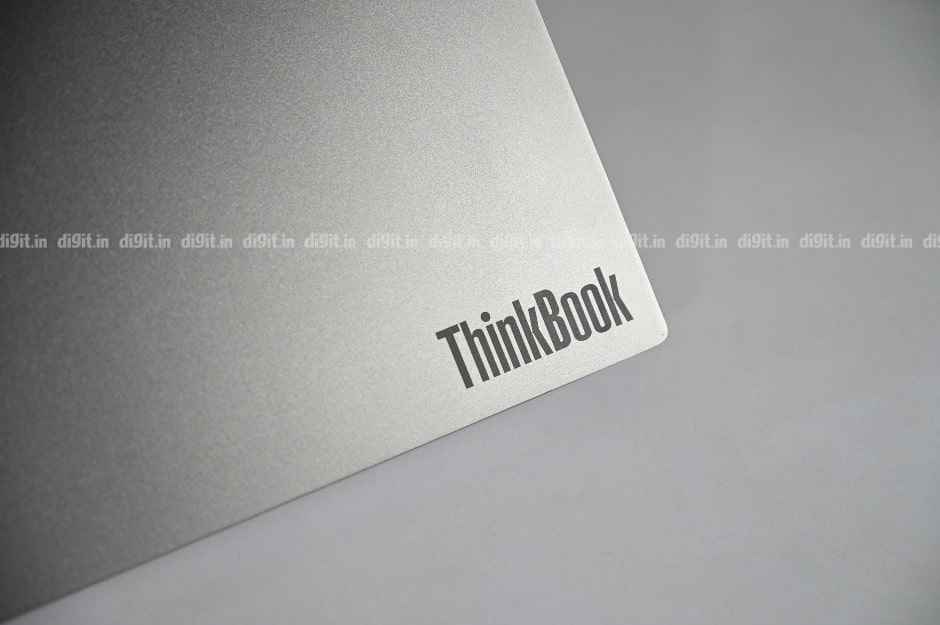 ThinkBook sits between the ThinkPad and IdeaPad
Called ThinkBook, the new sub-brand from Lenovo finds itself straddling the space between the ThinkPad and IdeaPad in terms of features, looks, and even price. This space in between is designed to cater to working professionals in small and medium businesses (SMBs). At least, that's how Lenovo sees it. The ThinkBook is designed to carry over all the essential features of the ThinkPad (data encryption support, etc.) while infusing the IdeaPad's DNA (style, friendliness, etc.) Now, let's see if all of that has gone according to plan in the Lenovo ThinkBook 14, which is expected to go on sale this month starting at a rather steep price of Rs 80,000+.
Performance
The Lenovo ThinkBook 14 can be configured with up to an Intel 10th Gen Core i7 CPU with six cores along with 24GB of RAM and 2TB of storage on a hard drive (or 1TB on a solid-state drive). Our review unit came with the Intel Core i7-10510U chip, a quad-core variant of the top-end processor. It was complemented by 16GB of RAM and 512GB of storage on a Samsung PCIe NVMe M.2 solid-state drive. The ThinkBook 14 can be bought with discrete graphics in the form of an AMD Radeon 625 graphics card but our review unit employed internal Intel UHD Graphics.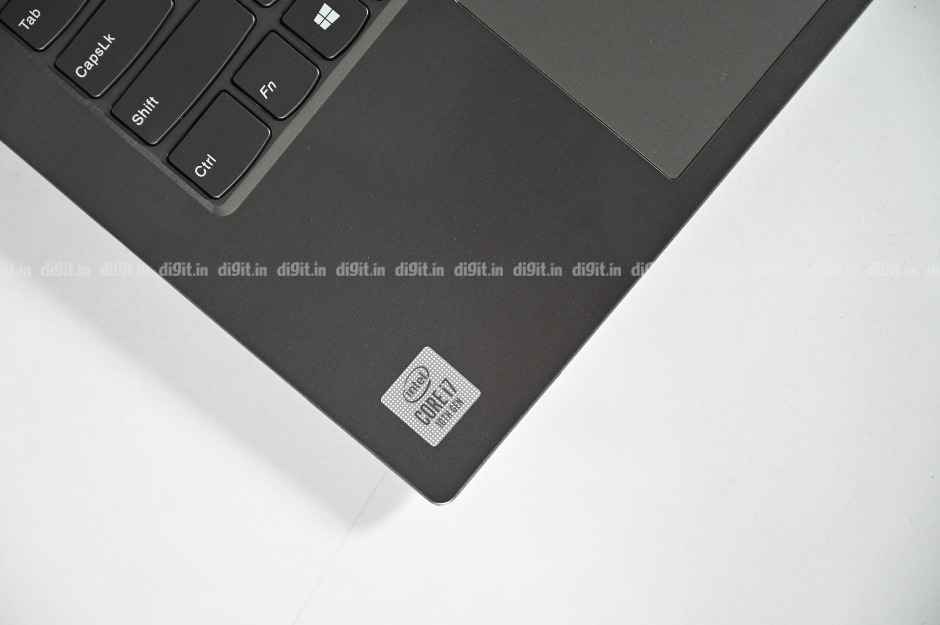 10th Gen Core i7 CPU from Intel
The review unit bagged decent scores on our CPU and GPU benchmark tests. On PCMark 8's Accelerated Creative test, the review unit scored 3843 points. The IdeaPad S540, by contrast, scored a slightly lower 3584 on the same test. The Asus VivoBook X403, which costs about Rs 54,610 at the time of writing this review, also scored a marginally lower 3724 on the same test. On 3DMark's Fire Strike and Cloud Gate, the review unit scored 1192 and 9079 points, respectively. I was happy to note that our review unit had fared splendidly on our storage test.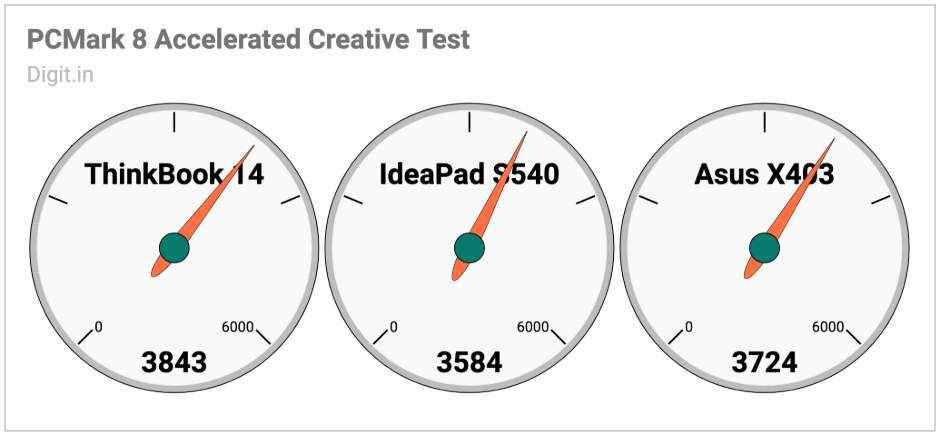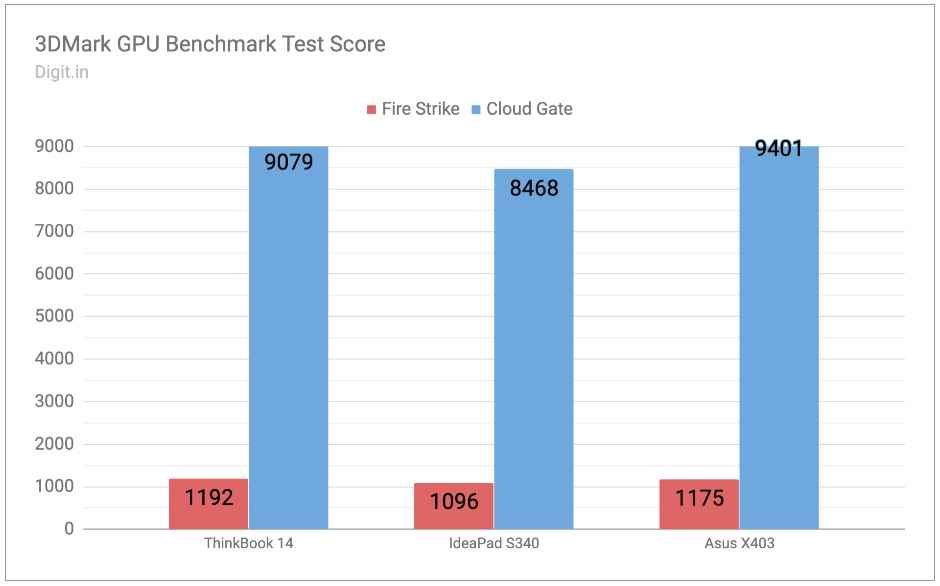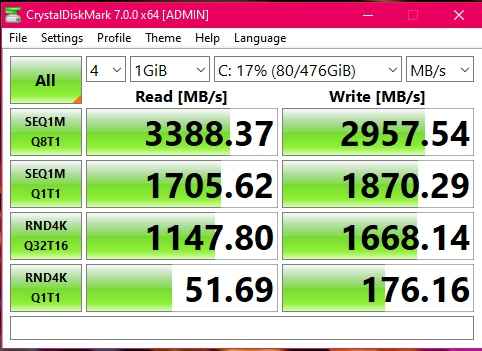 Everyday performance of the review unit was pretty good except for one minor glitch, which we'll address in a minute. I was able to use everyday applications such as Word, Excel, OneNote, Chrome, File Explorer, Photos, and WhatsApp for PC independently without having to wait a long time for any of them to open. All of these apps behaved well and responded quickly. File open times were especially fast. But it was while switching between these applications (multitasking) that I noticed an anomaly. The window switcher showed a noticeable amount of lag almost every time I hit Alt + Tab. The switcher often remained on the screen for over one whole second after I had released the combination keys for switching windows.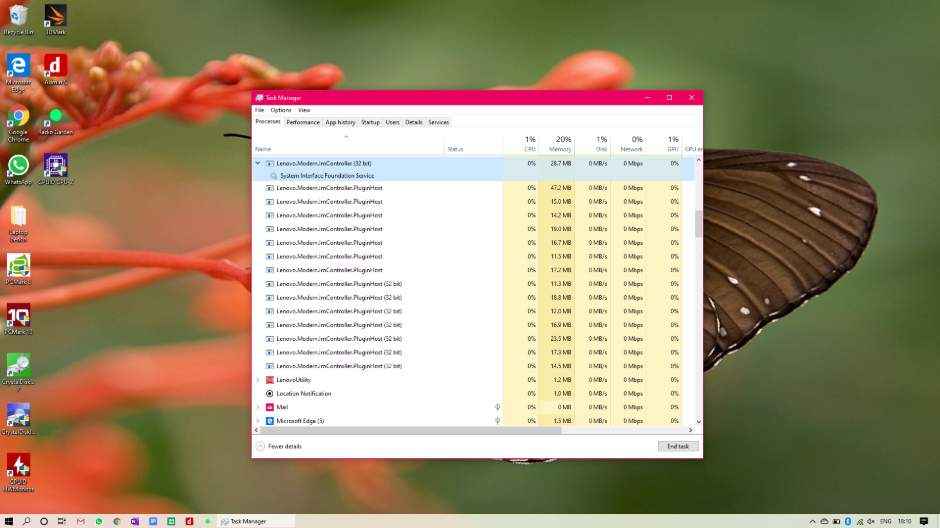 Lenovo.Modern.ImController.PluginHost.exe ran rampant on the ThinkBook 14 review unit, making it slow in window switching
I observed that killing the process titled 'Lenovo.Modern.ImController.PluginHost (32 bit)' in Task Manager made the lag in window switching go away completely. By my understanding, it was an errant process sprouting from Lenovo's System Interface Foundation package, which helps the bundled Lenovo Vantage app do its hardware scans. If this lag issue is persistent across Lenovo's current laptops, then the Chinese electronics manufacturer ought to do something to fix it. At any rate, we reached out to Lenovo India about the issue. The company has still yet to acknowledge it as a software issue. Performance otherwise, on the ThinkBook 14, was quite good.
Battery
The ThinkBook 14 comes equipped with a 45Wh non-removable lithium-ion battery. On our standard battery benchmark test, our review unit scored an unexpectedly low 2 hours, 50 minutes. That's lower than the score bagged by all the other IdeaPad models launched earlier in the year, including the entry-level IdeaPad S145 (3 hours, 16 minutes). Even the power-hungry ThinkPad X1 Extreme from January managed to hold on for 3 hours, 35 minutes on battery power.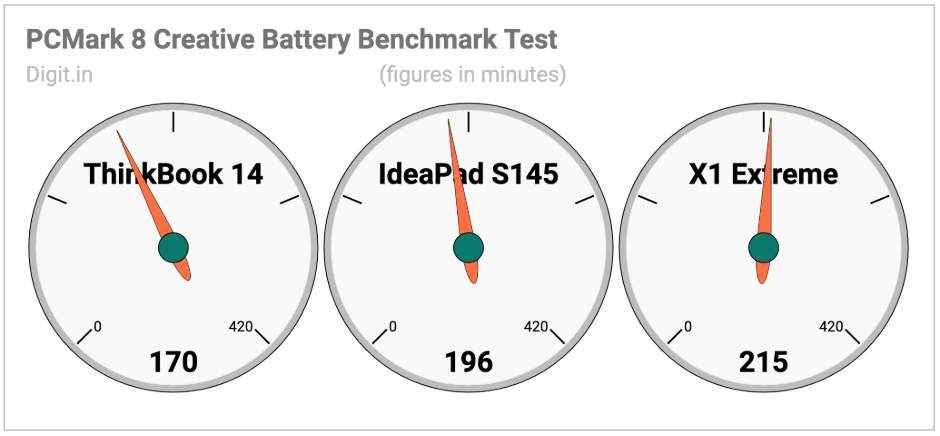 In everyday use scenarios, the review unit performed much better. With the screen brightness set to 80 per cent, Wi-Fi and Bluetooth enabled, the review unit's battery level fell from 100 to 88 per cent in a little over an hour. During that time, the laptop was tasked with heavy browsing and background music playback through USB headphones. When the screen brightness was pushed to full, the battery's drain rate increased noticeably. The review unit lost over 16 per cent of its full charge in about 45 minutes. In summary, the ThinkBook 14 should last you up to six hours on battery power if your play your cards, which is decent but nowhere close to great.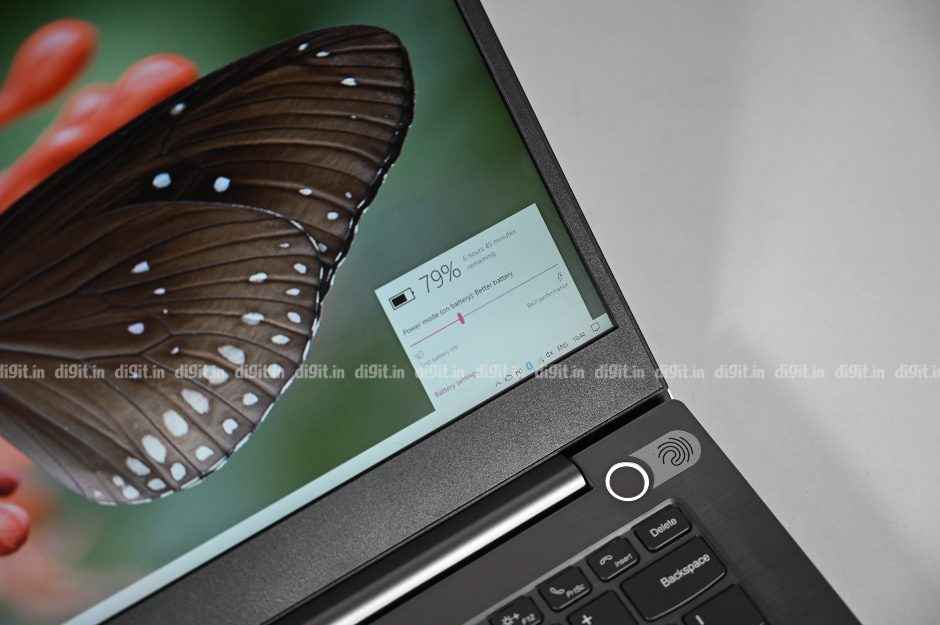 Display, Audio, and IO
Our review unit of the ThinkBook 14 came with a 14-inch TN panel with an anti-glare finish and Full HD resolution. After just a day's use it was easy to tell that the panel sorely lacked contrast, brightness, and colour. Text appeared grainy and almost completely unreadable when the lid was pushed forward. Colours on the whole were dull and washed out, making even spreadsheet and document work a proper pain. Owing to the panel's low contrast ratio, there was what appeared to be a consistent layer of white haze across all the regions of the screen when the brightness was set to max. It was like viewing a post-Diwali Delhi sky on a laptop's screen. The ThinkBook 14's display is honestly amongst the worst I have ever come across on a laptop of its price.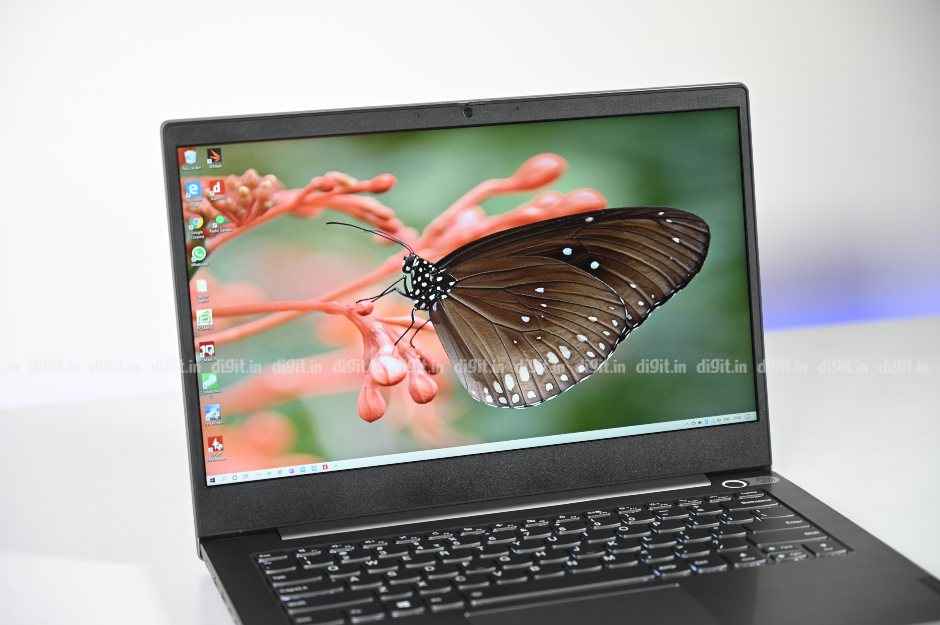 14-inch screen sorely lacks brightness, colour, and contrast
The sound from the review unit's two down-firing speakers was flat and unexciting, even with the bundled Dolby Audio app set to Music mode. In a popular tune like The Weeknd's Starboy, highs and mids sounded mostly distorted, while lows were completely absent. The two weak bottom-facing units on the ThinkBook 14 are thus best saved for simple speeches and unplanned video calls. At any rate, you might want to get yourself a good headset for VoIP calls because the max volume isn't all that much. The drivers on the review unit failed to fill a small, empty conference room.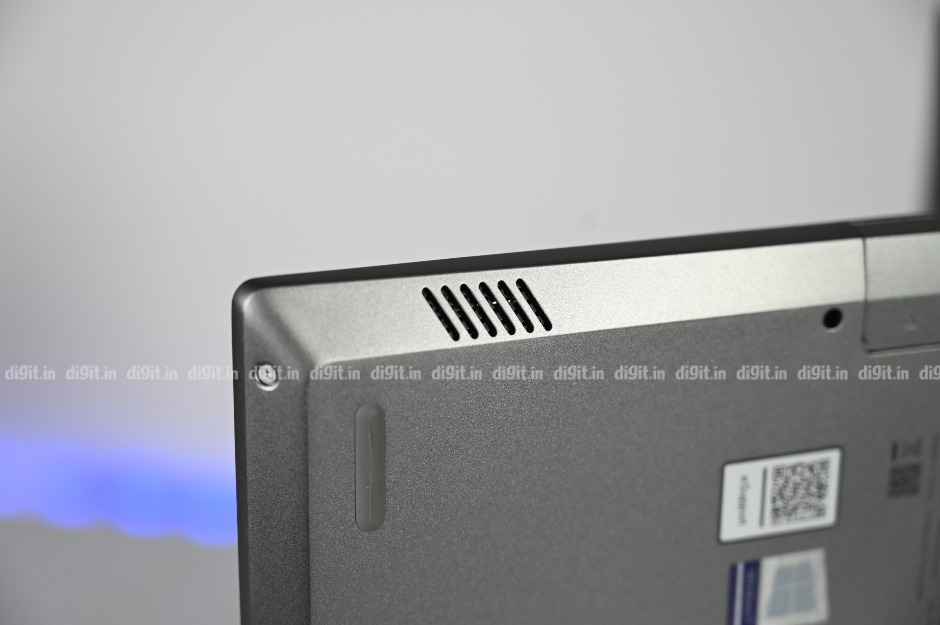 Weak audio
The ThinkBook 14 comes with plenty of ports for connectivity. On the left side of its 0.7-inch-thick body, we see a LAN port, a USB-A 3.1 port (with 'Always On' function to charge mobile phones), two USB-C 3.1 ports (one of which is Gen 2 with support for DisplayPort and Power Delivery), and a 3.5mm jack for headsets. On the right side, we see a proprietary power port, a USB-A 3.1 port, a full-size SD Card reader, and a 'Lenovo Hidden Port'. That's basically a USB-A 2.0 port that's tucked away deep inside a tethered flap with enough space to accommodate a wireless mouse' dongle. This nifty little parking space for dongles is easily the most intelligent feature I've seen on a laptop in recent times. If you've bought many new mice over lost dongles, you'll come to appreciate this little innovation.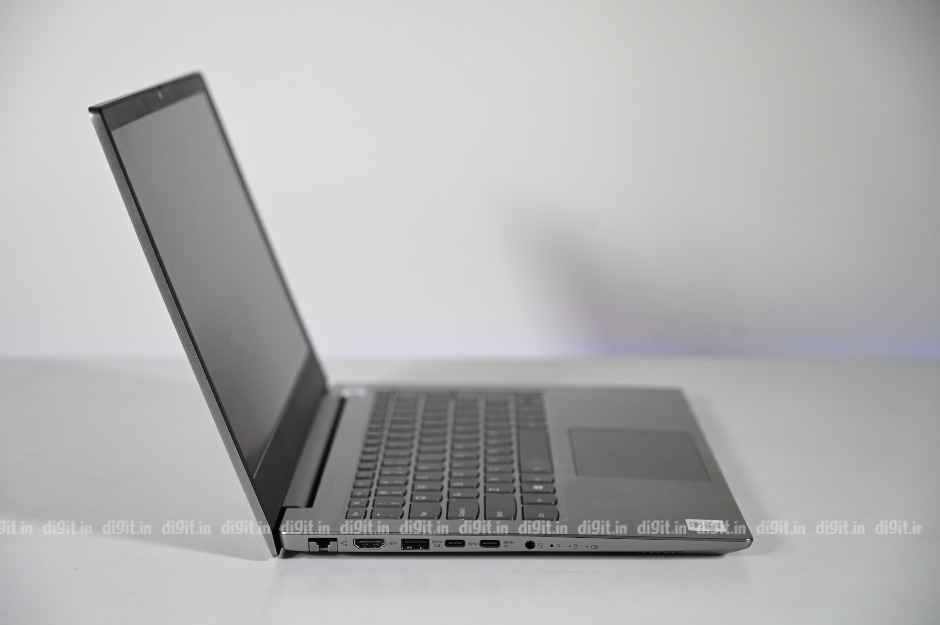 Plenty of ports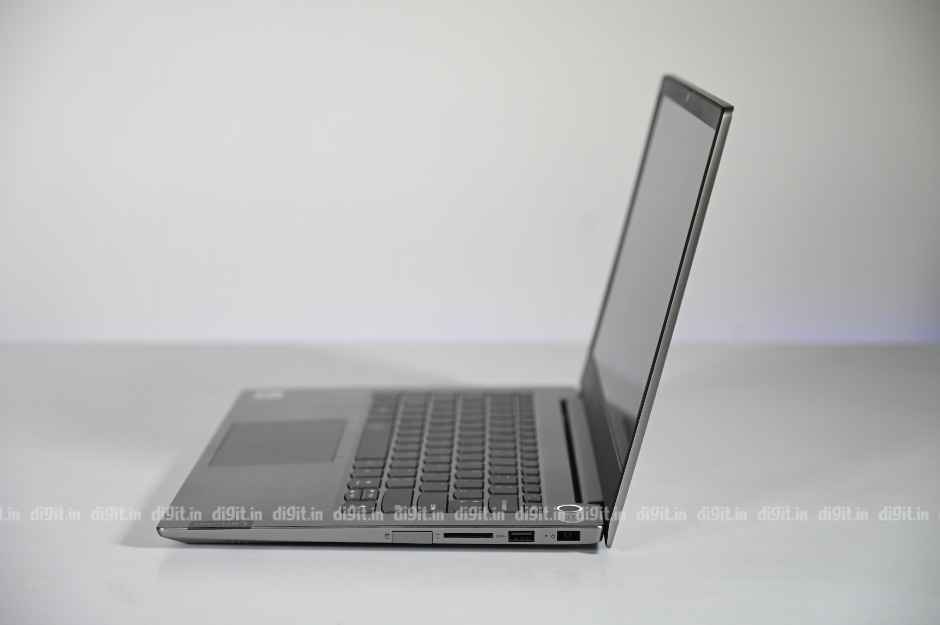 Full-size SD Card slot is appreciated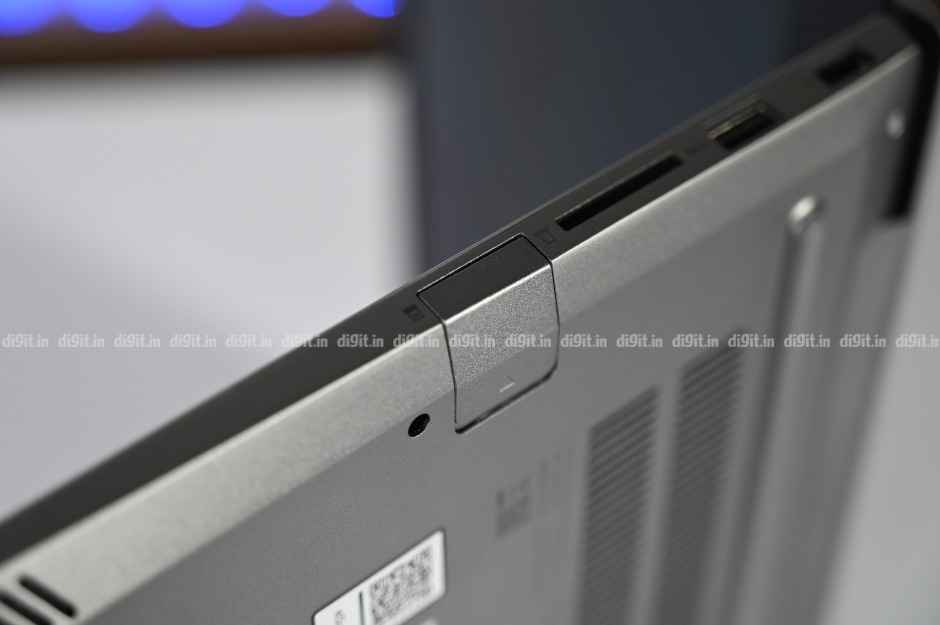 A dedicated parking space…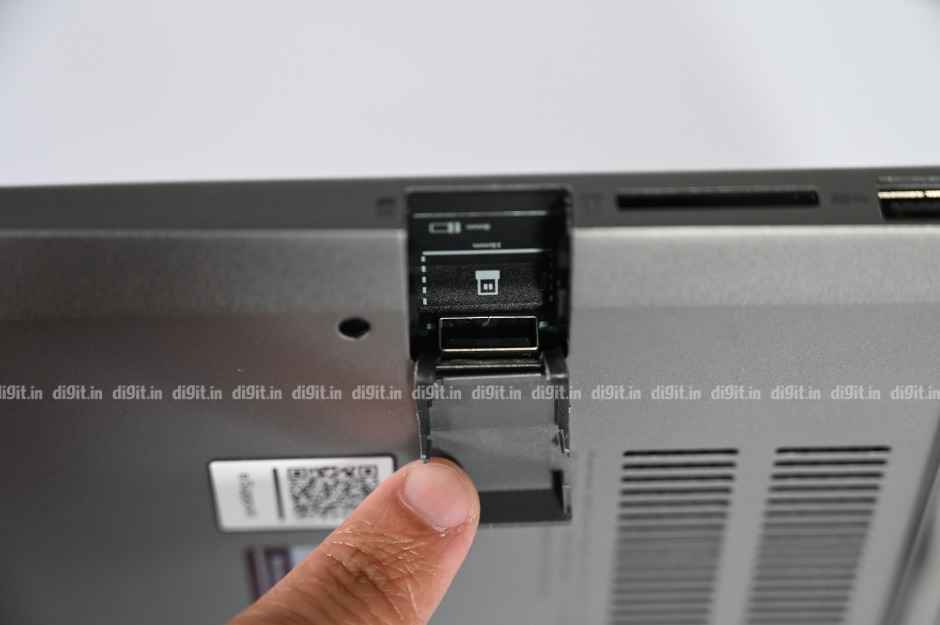 …for your mouse's wireless dongle
Like the other 2019 IdeaPad models (except the entry-level IdeaPad S145), the ThinkBook 14 features a physical sliding shutter for its webcam. This means you no longer have to go around taping that camera shut with sticky notes that peel off easily. The ThinkBook 14 has one more trick up its sleeve: its large, circular power button doubles as a fingerprint scanner. This means that if you push the button with a registered fingerprint, Windows 10 will boot up and log you right in without asking for authentication a second time. This thoughtful feature is bound to save you some time and energy when you're hurriedly getting set up for a meeting or presentation. Good job there, Lenovo!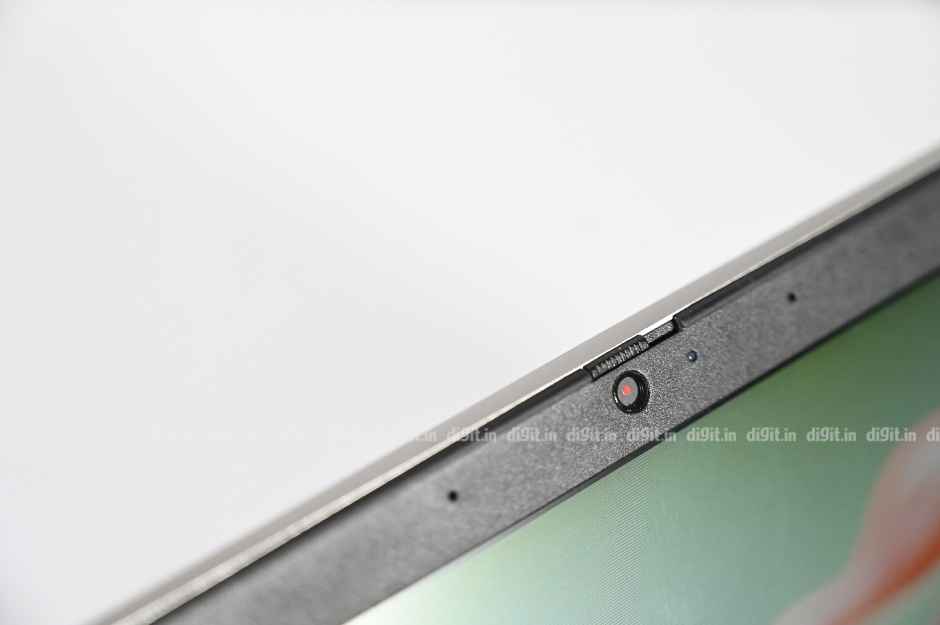 Physical shutter for webcam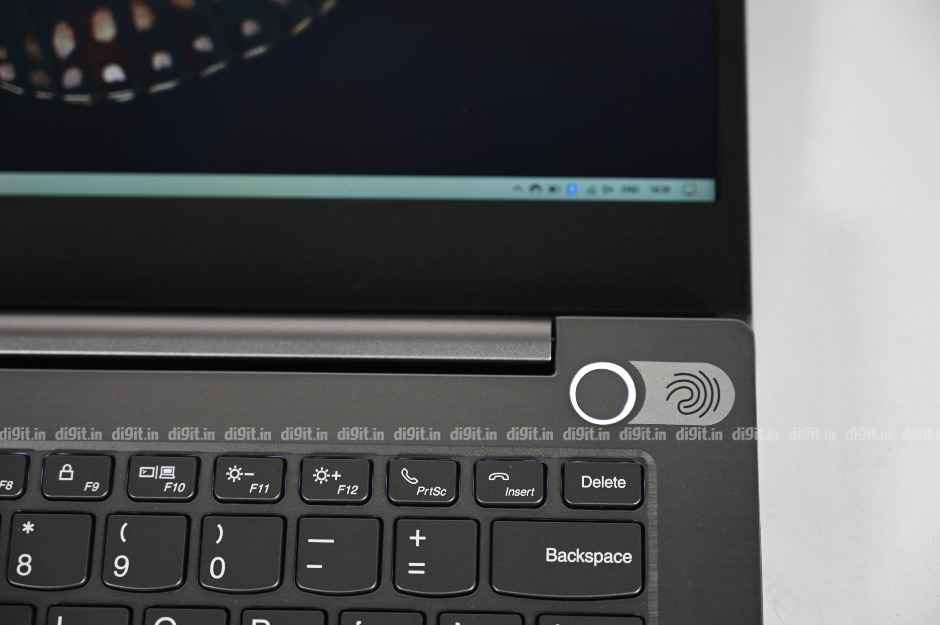 Press just once for boot and unlock
The ThinkBook 14's biggest biological link to the ThinkPad is possibly the presence of on-board data encryption. Like most enterprise-ready machines, the ThinkBook 14 is equipped with Discrete TPM (Trusted Platform Module) 2.0, which is a dedicated cryptographic coprocessor for data encryption. In Microsoft's books, it is capable of random number generation and secure generation (and limitation) of cryptographic keys.
Keyboard and Touchpad
The ThinkPad has arguably one of the most comfortable keyboard setups out there but it would be unfair to compare that with the IdeaPad-style unit on the ThinkBook 14. The keys on it look the same as those on say, the IdeaPad S340 but they're far more easy to press. Compared to the keys on the other 2019 IdeaPad laptops, these offer more travel and much better feedback, making them suitable for long documents and emails. What's more, they come with dedicated keys for call answer/end. These keys are programmed to work with calling apps such as Skype on Windows.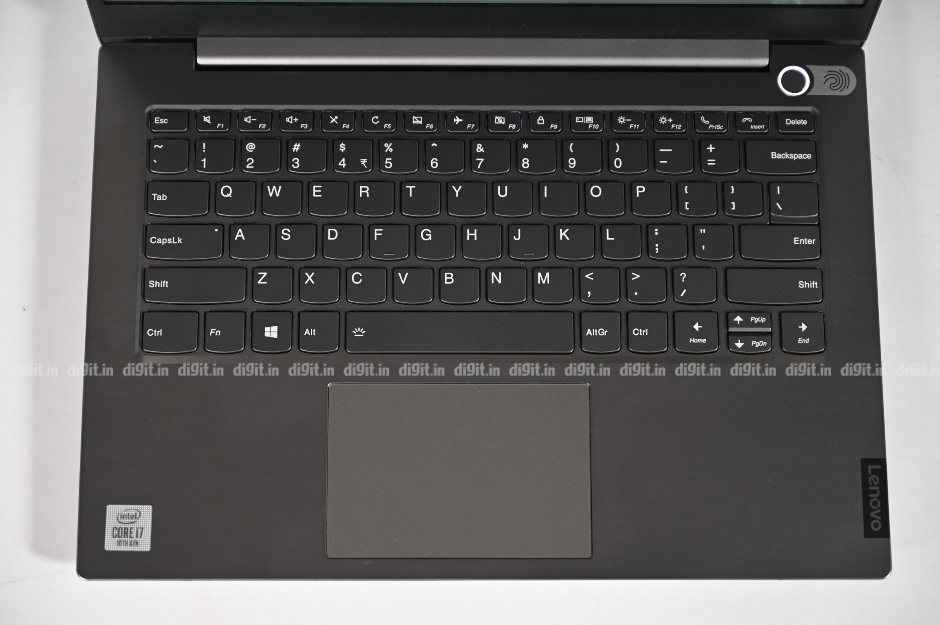 Comfier typing setup than IdeaPad series'
Like the display and battery benchmark score, the touchpad on the ThinkBook 14 is an unexpected disappointment. The touchpad has a large and smooth surface but is simply not a modern Windows 10-recognised precision unit. In other words, the pointer movement isn't very linear and the touchpad doesn't support multi-finger taps and swipes natively. Settings for these gestures won't be found in Windows Settings. We wrote to Lenovo India asking why the ThinkBook 14 is an exception to the industry-standard precision unit, only to receive the following response: "Current Thinkbook 14/15 generation doesn't support Precision Touchpad. Our global team is working on including this in future generations of ThinkBooks." The only consolation is that the click keys under the touchpad's surface are very easy to press.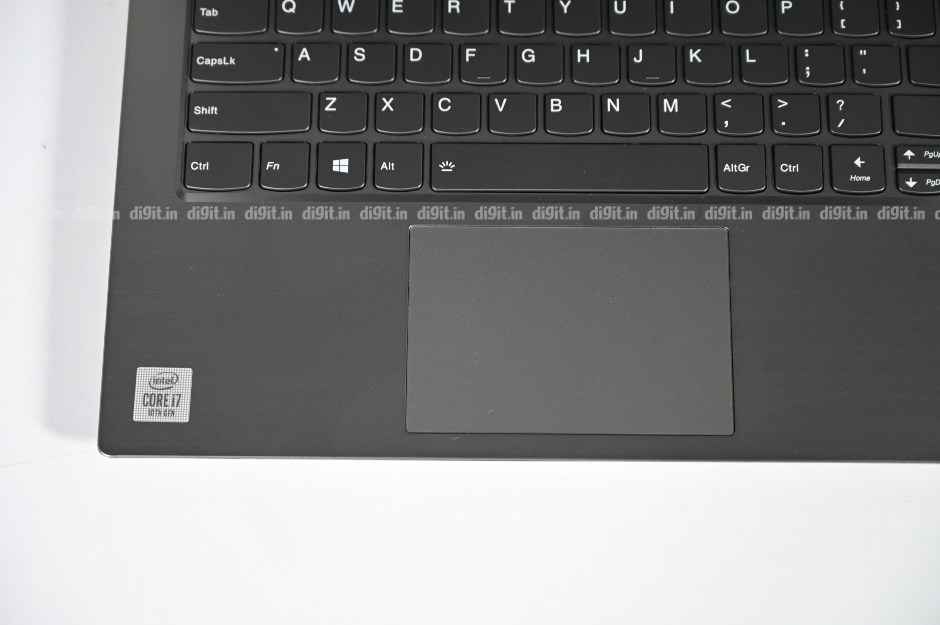 No precision touchpad on a modern laptop that costs upwards of Rs 80,000
Build and Design
The ThinkBook 14 takes after the IdeaPad more than it does the ThinkPad. In fact, in its plain silver colour option it looks like a slightly beefed up IdeaPad S340. And that's not a bad thing at all. The top and bottom covers are made of anodised aluminium and the laptop offers sufficient grip when it's being pulled out of a bag or carried around between conference rooms. Though it weighs an industry-accepted 1.5 kilogrammes, the ThinkBook 14 feels heavier than most other 14-inchers in the same price range. A large but dull ThinkBook badge adorns the lower right corner of the top cover, giving the laptop its identity.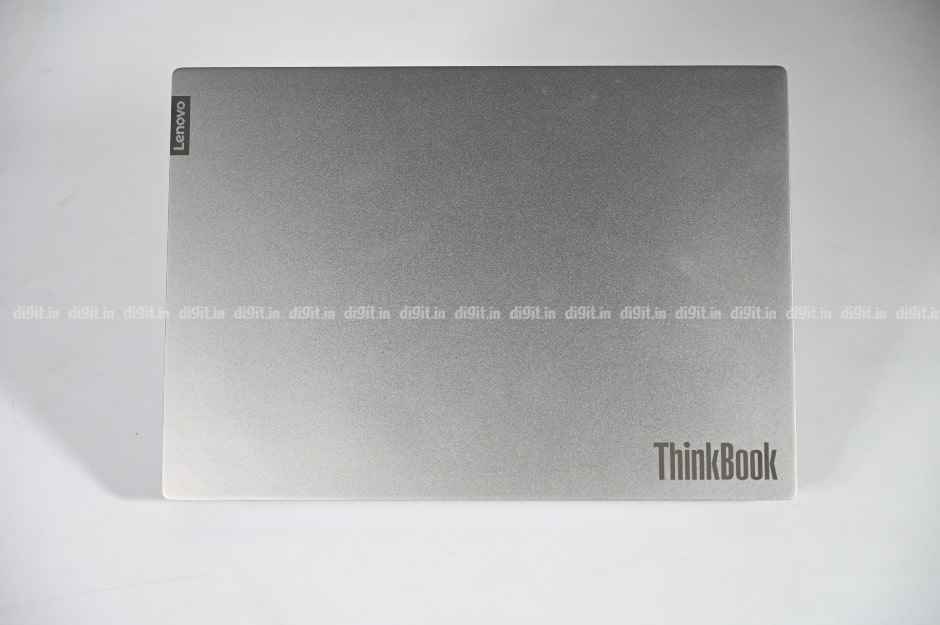 Solid build and design
Opening the lid reveals a 14-inch display with a matte finish. It's surrounded by fairly thick horizontal bezels. Like almost every other Lenovo out there, the ThinkBook 14 has a display that folds all the way back to 180 degrees, which is convenient if you're working from the bed. Lenovo says the laptop's keyboard is designed to withstand minor liquid spills (up to 60cc), which means if you knock your lime mint cooler over you should turn the laptop over immediately to drain it. Because it's not a pure-blooded ThinkPad, it doesn't get drain holes at the bottom. Oh, and it also doesn't get the famous TrackPoint and dedicated click keys. That's only fair, right?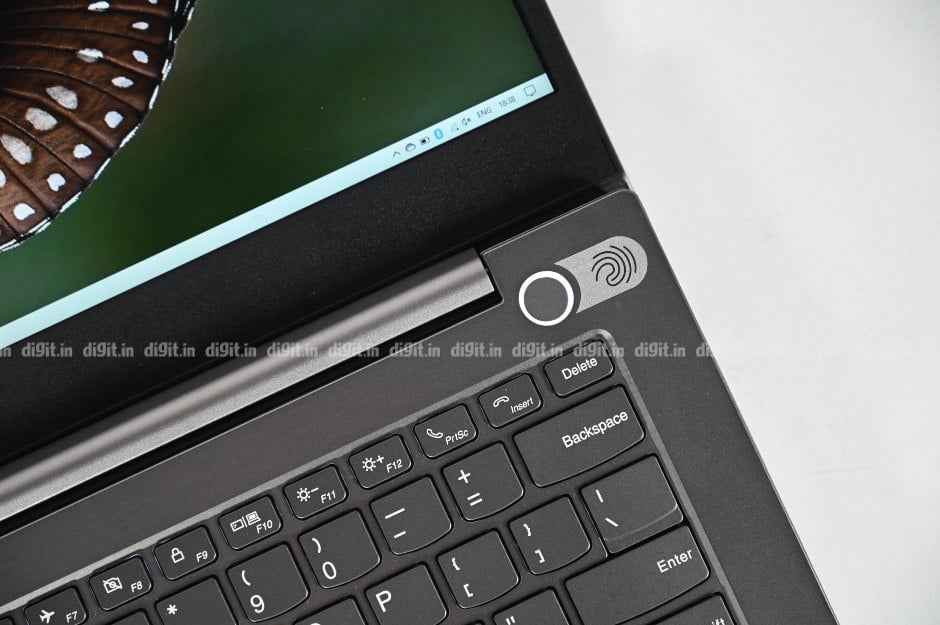 180-degree hinge, spill-resistant keyboard
Bottom Line
It's hard to form a clear opinion on the Lenovo ThinkBook 14. On the one hand, it features these tiny but nifty innovations that can make office life considerably easier, like that one-touch 'power and unlock' button, physical webcam shutter, and hidden USB-A port for dongles. On the other hand, it fails to get the basics right. Its display lacks colour and contrast to a point where simple spreadsheet work becomes painful to the eyes. What's more, it lacks a precision touchpad and its speakers are no good even for voice calls.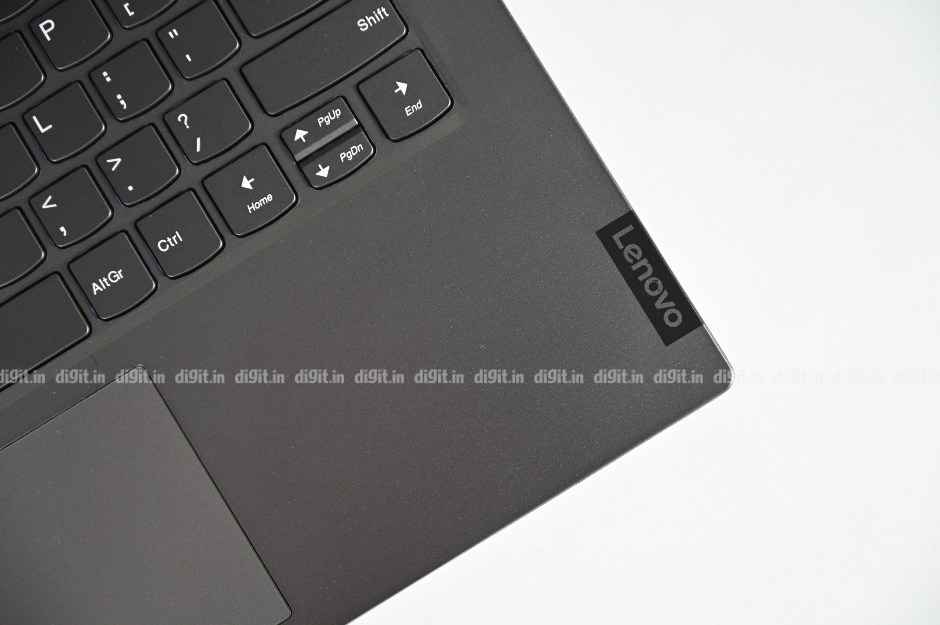 The Lenovo ThinkBook 14 is essentially an IdeaPad model with a couple of essential enterprise features thrown in, such as support for user data encryption and a wide choice of full-size IO ports. CPU and storage performance is in line with what's expected but the same can't be said of its display and touchpad. If you're willing to live with these glaring issues, you consider the Lenovo ThinBook 14 as your machine of choice at your small or medium business.