The Lenovo IdeaPad S340 has been around in the Indian laptop market for a couple of months now. It is currently on sale alongside the IdeaPad 330 and IdeaPad 330S, two models that were launched last year to fill the company's budget laptop space along with the more premium IdeaPad 530S. This year though, Lenovo has decided to rejig its entire IdeaPad line-up even if last year's models are still around in the market (especially during the sale season). Lenovo has prefixed the name of every non-touchscreen model in its updated 40 series with an 'S' to keep things uniform.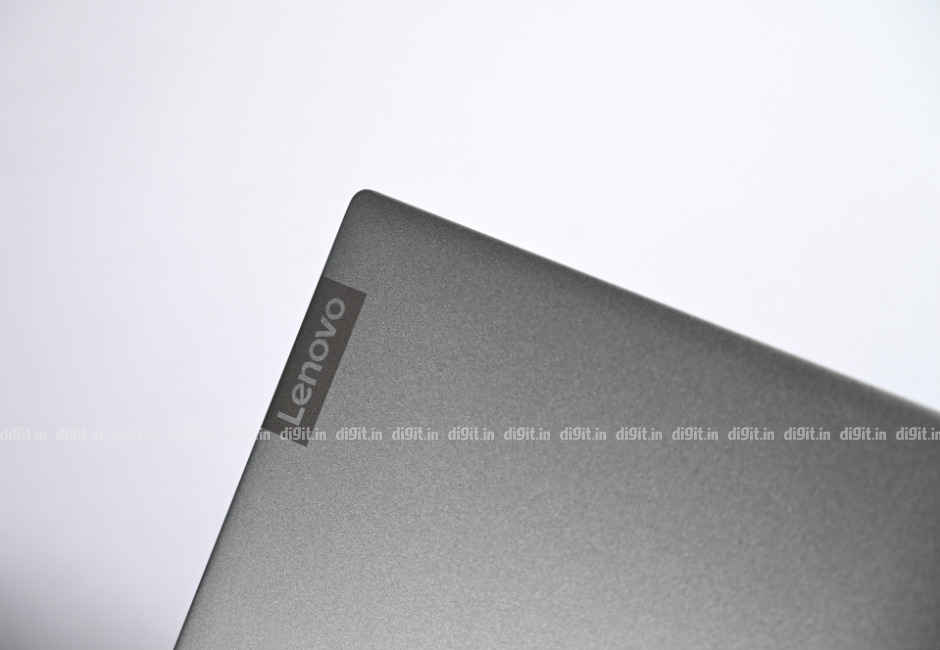 Let's review the refreshed IdeaPad line-up just so we're clear with the new model names: in the place of the IdeaPad 330, we have the IdeaPad S145. This year, it comes solely in a 15.6-inch avatar with dedicated media keys above the numpad. You can read our review of the new model here. In the place of the more expensive IdeaPad 530S, we have the IdeaPad S540. We're yet to get our hands on that one. Lastly, in the place of the IdeaPad 330S, we have the IdeaPad S340—the device in question.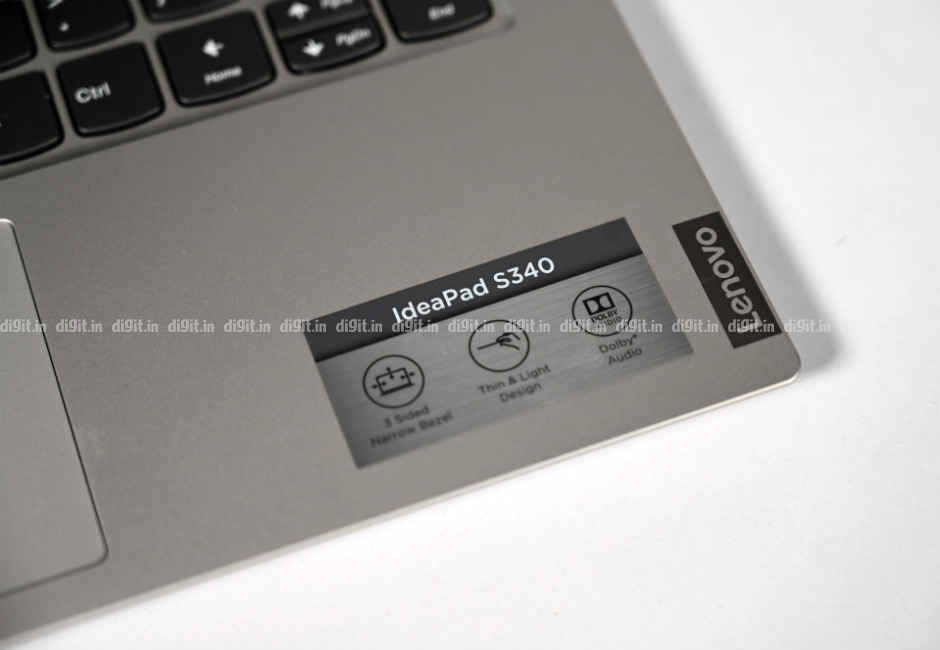 The IdeaPad S340 is available in 14-inch and 15.6-inch variants, starting at Rs 37,990. All of the variants listed on Lenovo's official website are powered by a solid-state drive (either 256GB or 512GB), a move Lenovo consciously made this time around to increase the overall computing speed and keep up with the competition. Strangely though, our review unit came with a 1TB hard drive instead. What's even more strange is that it was listed on Amazon.in for Rs 51,990 when the selfsame variant with a 256GB solid-state drive was available on Lenovo's official website for Rs 50,990.
Performance
Our review unit featured an Intel Core i5-8265U CPU with integrated graphics. System RAM came in the form of a non-removable 4GB DDR4 chip soldered to the motherboard combined with a removable 4GB DDR4 SODIMM card, bringing the total up to 8GB. This meant future upgrades were limited to a maximum of 12GB, which is forgivable. Handling storage was not a PCIe NVMe solid-state drive but a 1TB WDC hard drive spinning at 5,400 rpm. This not so forgivable, in my opinion. On paper alone, this configuration is a tad disappointing, given the fact that you can get all this and a little more from Asus for Rs 43,990.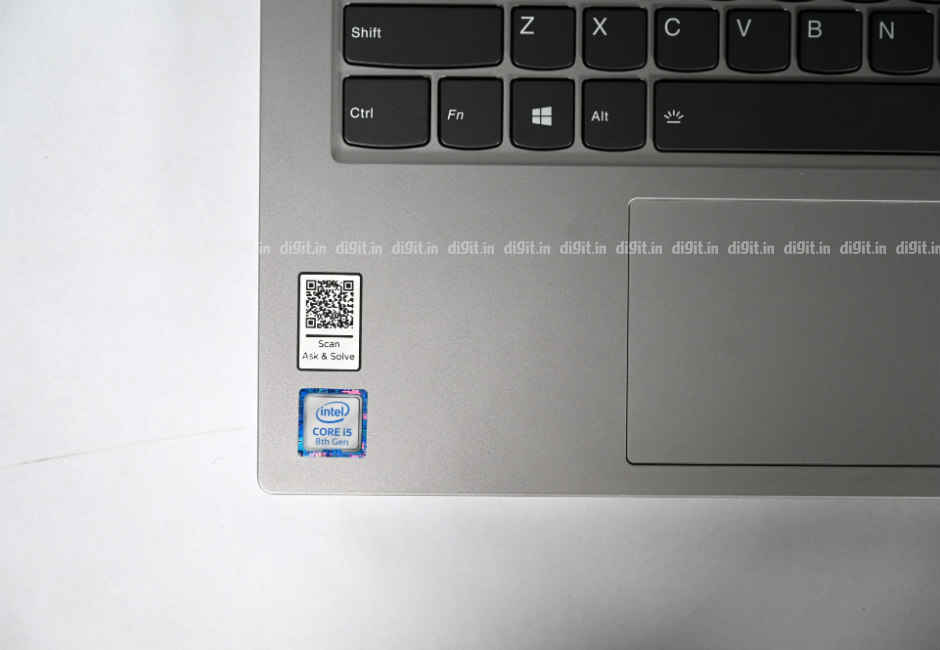 No Intel 9th Gen/10th Gen Core i5 here
The IdeaPad S340 bagged average scores on our CPU and GPU benchmark tests. On PCMark 8's Accelerated Creative test, our review unit picked up 3464 points. The Asus VivoBook S431 and VivoBook X403, by contrast, scored 3551 and 3724 on the same test, respectively. On 3DMark's Fire Strike and Cloud Gate, our review unit scored 1096 and 8468 points, respectively. The other two aforementioned Asus VivoBook models got ahead on the same two tests by about 100 points each. On CrystalDiskMark 6, the review unit scored an abysmally low 102.3 MB/s (sequential read) and 112.6 MB/s (sequential write), indicating that its hard drive is approximately sixteen times slower than the two VivoBooks on the same test.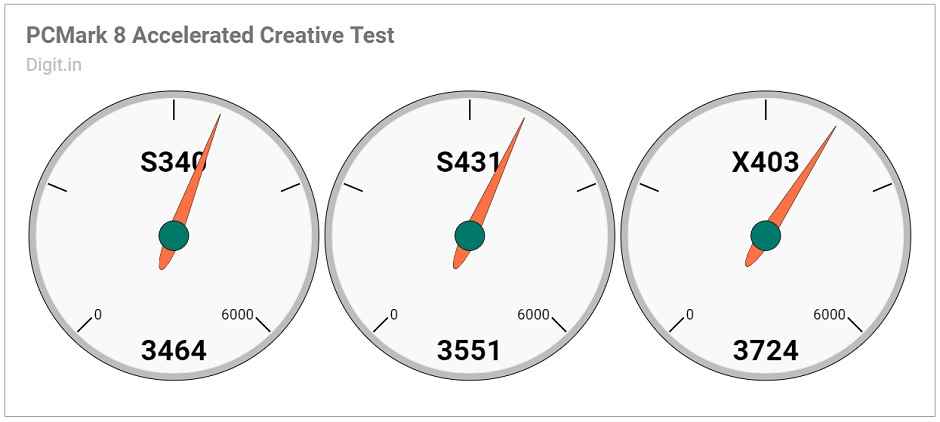 IdeaPad S340 vs. VivoBook S431 vs. VivoBook X403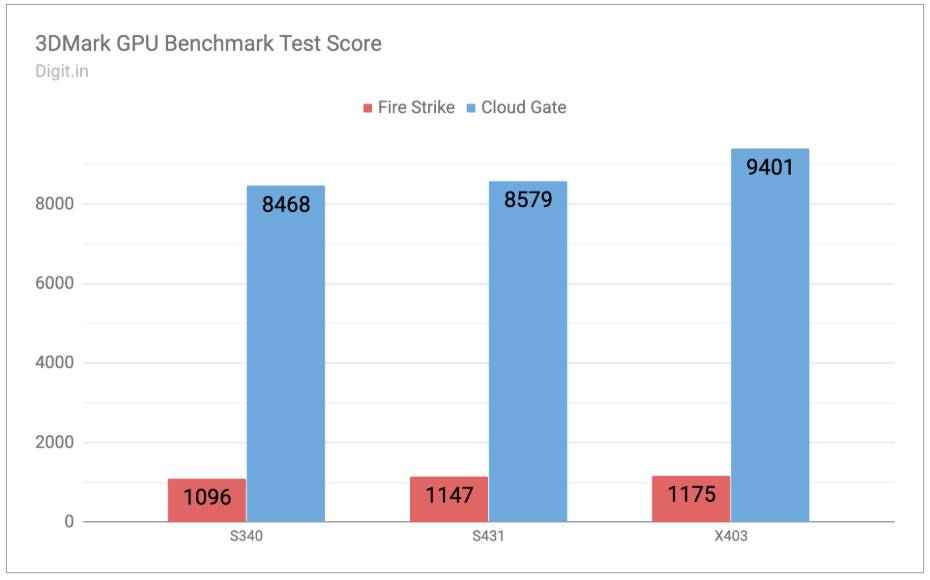 Same contenders here
Everyday performance of the review unit can be termed decent at best. It was apparent that the device's speed was limited greatly by its hard drive. A cold-boot to Windows 10's lock screen (without any pending Windows updates) took somewhere between one and two minutes. Getting to the desktop and being fully ready for use took another whole minute from that point. Opening File Explorer for the first time took about three and a half seconds. Opening a 1.0MB PNG image file in Photos for the first time took close to nine seconds and up to two seconds subsequently. Bringing up the Start menu or Windows Search took about two seconds on an average.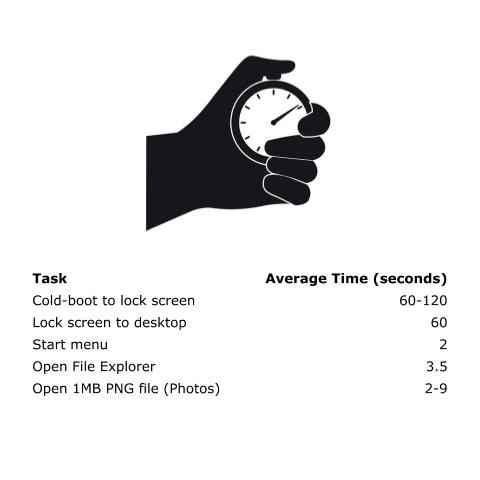 Browsing on a Chrome window with over a dozen open tabs was fairly smooth but switching between the tabs or other windows took some time. Every time I switched between windows, I noticed a second's lag in the window switcher. On the whole, the IdeaPad S340 never really stuttered or hiccupped but displayed ample lag when there was disk activity involved. It's why this model is best bought with one of the solid-state drive options that Lenovo offers on its official website. In simpler words, the sluggish hard drive inside just ruins the otherwise promising performance party on the IdeaPad S340.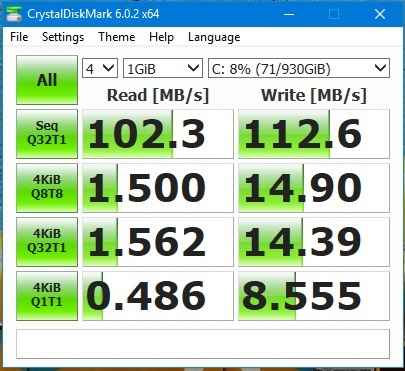 Battery
The Lenovo IdeaPad S340 packs a three-cell 52.5Wh non-removable lithium-ion polymer battery, which, for a laptop of its price, is quite meaty. On our standard battery benchmark test, our review unit lasted 4 hours, 39 minutes. That's 24 minutes over the Asus VivoBook S431's score. Understandably, the IdeaPad S431 could not beat the VivoBook X403 (6 hours, 16 minutes), which packs an unusually large 72Wh battery pack. It's an acceptable score nonetheless.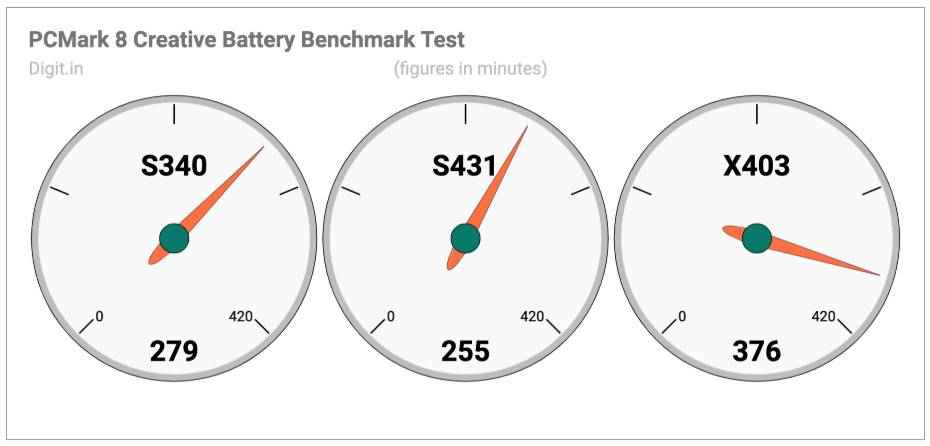 On our everyday tests, where the screen is set to 80 percent brightness and Wi-Fi + Bluetooth are enabled, the review unit's charge fell from 100 to 55 percent in exactly three hours. During the tests, the IdeaPad S340 was tasked with continuous browsing (about 15 or 20 tabs on Chrome) and constant music playback through USB headphones (YouTube window open in the background). On another such run with a slightly heavier load (full brightness, a couple of app installations, file downloads, etc.), the charge fell from 100 to 45 percent in the same three-hour time frame. Charging from 30 percent back to full took about one and a half hours.
Display, Audio, and IO
Our review unit featured a 14-inch non-touchscreen TN panel with Full HD resolution and an anti-glare finish. Colours on the panel appeared thoroughly washed out in all brightness settings. At some angles, they even appeared to have a reddish tinge. What's more, both vertical and horizontal viewing angles were severely limited. This made text quite hard to read even if the font size wasn't too small. On the bright side, text did not look grainy the way it did on the IdeaPad S145's screen. I found myself pushing the brightness all the way to the panel's maximum of 220 nits on many occasions, even when I was indoors. All things considered, the IdeaPad S340's display is a sorely disappointing one because it lacks colour and readability.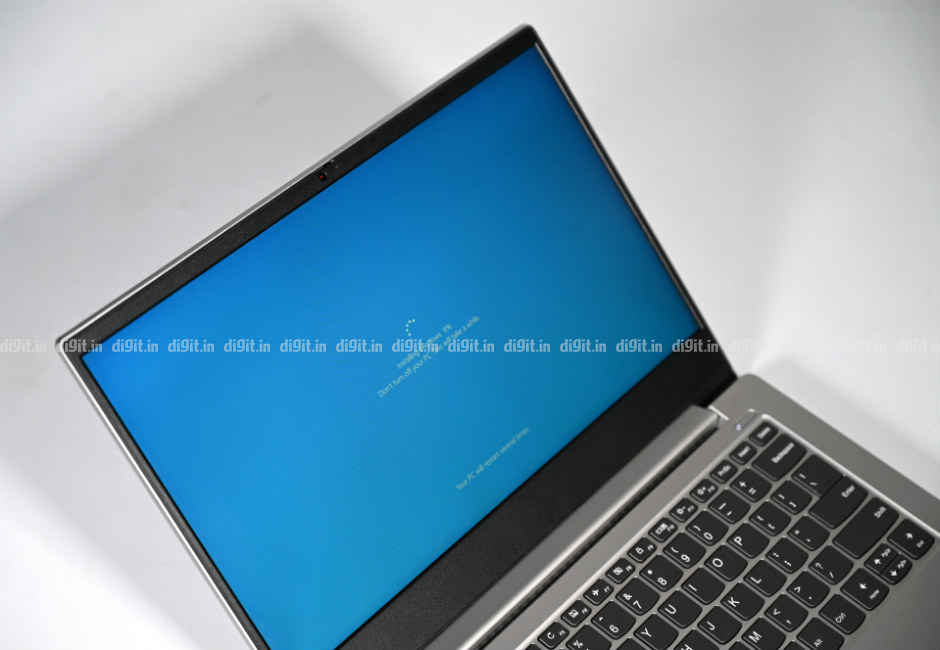 Woefully dull non-IPS TN panel
The IdeaPad S340 comes with two down-firing speakers on either side of its base panel. The sound through them is fairly loud but flat and uninspiring despite enabling the bundled Dolby Audio app. The Weeknd's Starboy sounded absolutely flat across all frequencies on our review unit. On the plus side, the max volume was enough to fill a large conference room (15 x 20 feet). This pair is best used for short, occasional YouTube watches and quick conference calls. If you want quality audio, it's best to invest in a pair of good headphones.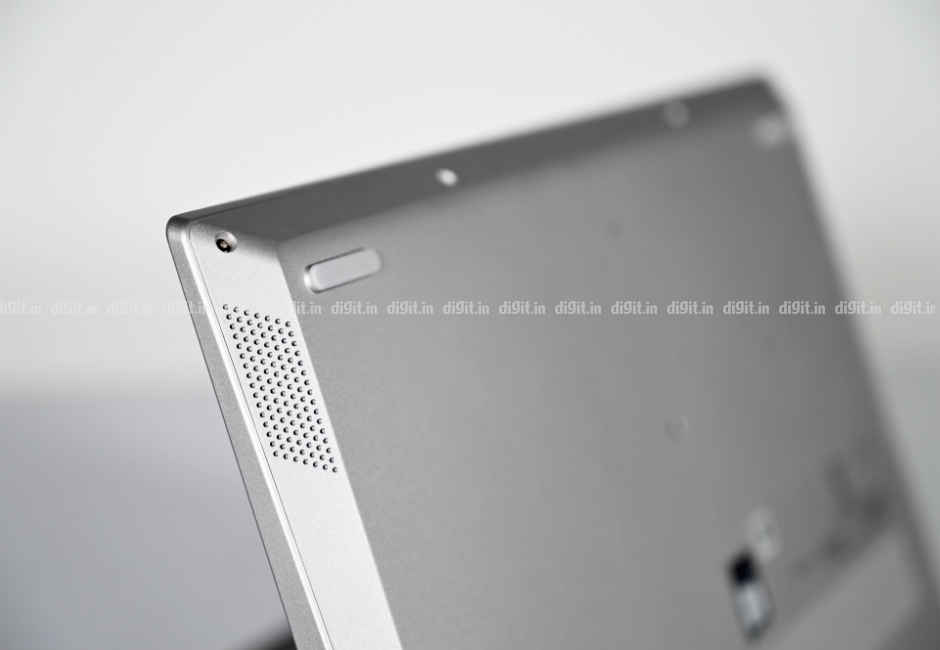 Weak audio despite Dolby Audio app
The IdeaPad S340 does not disappoint when it comes to connectivity. On the left side of its body, we see a proprietary round-pin power port, a full-size HDMI port, a USB-C 3.1 port, and a 3.5mm audio jack for headsets. On the right side, we see a couple of USB-A 3.1 ports and a full-size SD Card reader slot. Missing in action are the LAN port, fingerprint scanner, and Kensington Security Slot. The power brick is a standard 65W matte black unit, like the one that was bundled with last year's models.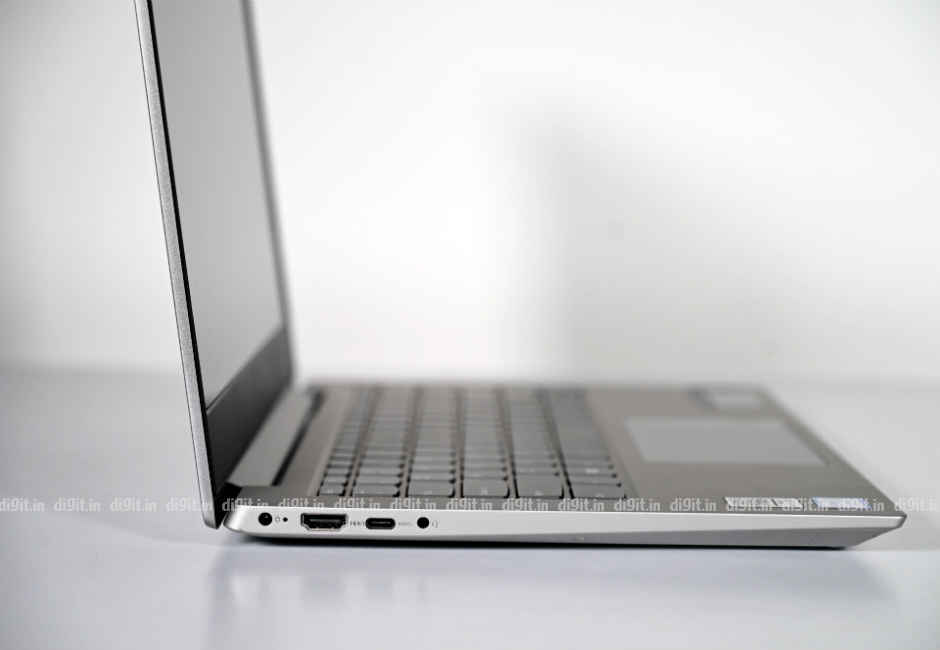 No USB-A here, sadly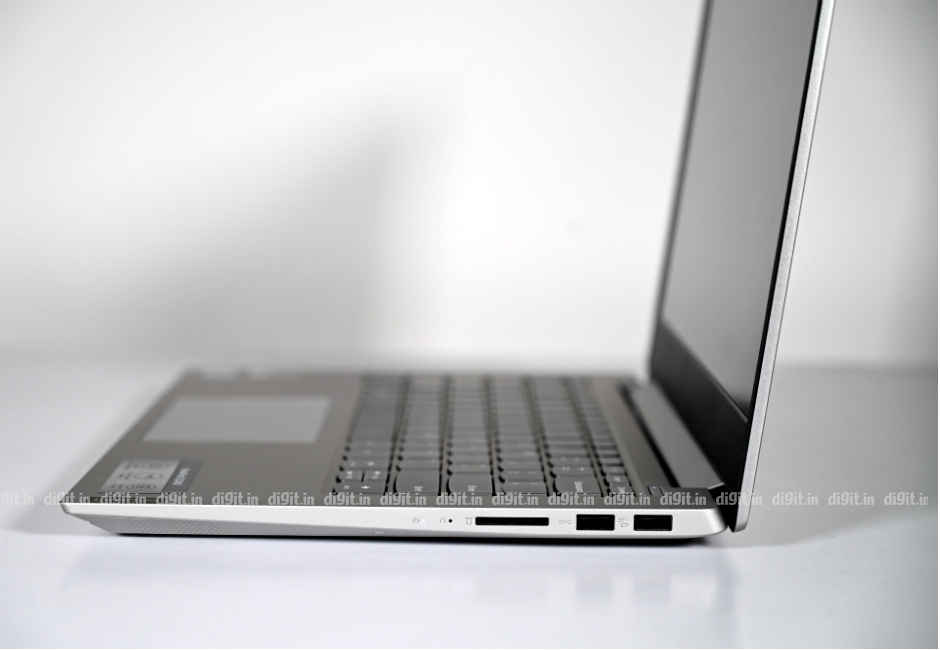 A Kensington Security Slot would not have gone amiss
Interestingly, the IdeaPad S340 comes with a physical privacy shutter for its 720p webcam. That means you won't have to go around sticking a piece of tape over the webcam lens for that added peace of mind. This is the cheapest Lenovo to get the privacy shutter. Until now the feature has been available only on the more expensive ThinkPad models.
Nifty little slider for the webcam ensures privacy and peace of mind
Keyboard and Touchpad
The keyboard on the IdeaPad S340 is no different than the one on the IdeaPad 330S, and that's definitely a good thing because that unit wasn't bad to start with. The keys possess a decent amount of resistance but could do with a bit more travel. Being a bit mushy, they could also do with a bit more 'clickiness'. That said, they work well for long emails and documents all the same; you won't find yourself mistyping too much along the way. In addition, there are two stages of backlighting for all your lowlight typing. In summary, the IdeaPad S340 sports a moderately comfortable keyboard.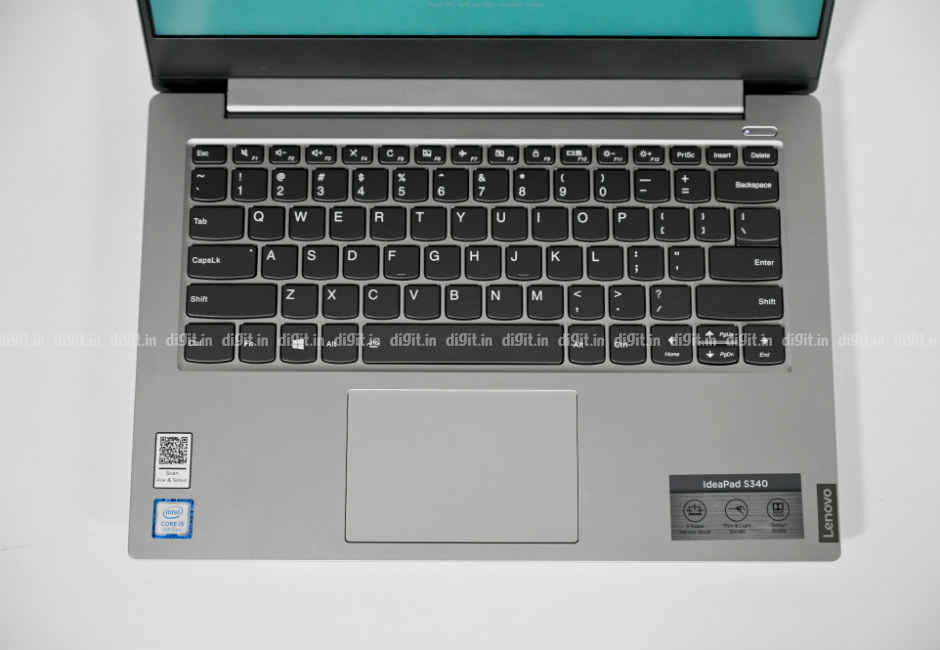 Decent keyboard, borrowed from IdeaPad 330S
Unlike the touchpad on the cheaper IdeaPad S145, the one on the IdeaPad S340 is a Windows 10-recognised precision unit. This means the pointer's movement is natural and linear. It also means multi-finger taps and swipes work right out of the box. All of the touchpad's settings can be changed in Windows Settings without installing a third-party driver or utility. The two click keys under the touchpad's smooth, smudge-free surface are fairly easy to click as long as you press within the lower half section of the touchpad.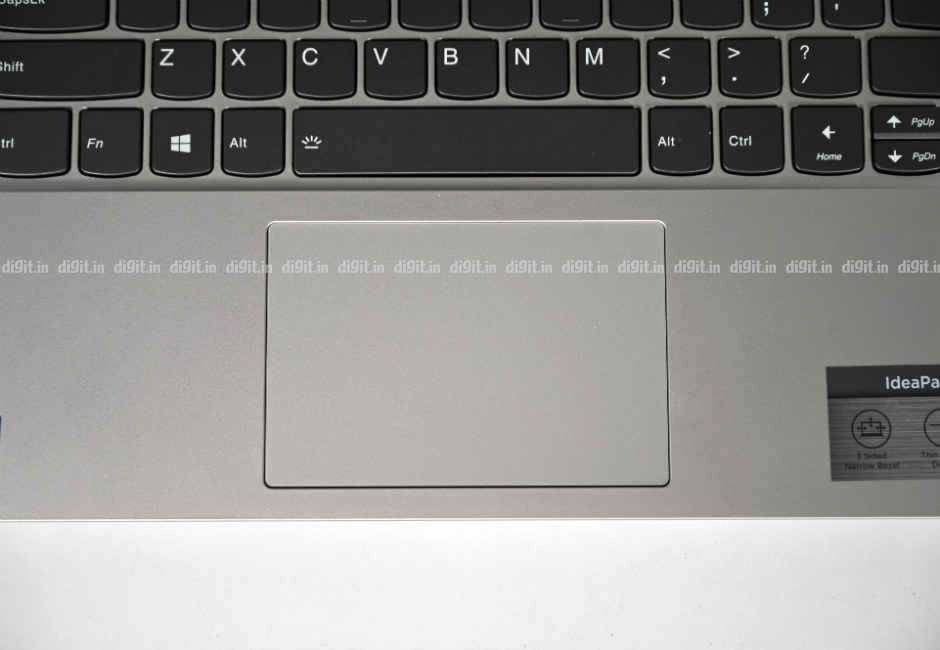 Precision touchpad, unlike on the cheaper IdeaPad S145
Build and Design
This is one department in which the Lenovo IdeaPad S340 excels without a trace of doubt. Lenovo has basically taken everything that's nice and clean in last year's IdeaPad 330S and incorporated it in the new IdeaPad S340. It has also shaved off body thickness by 1.05mm. As a result, Lenovo's refreshed mid-ranger looks neat and modern. The base panel ditches the curvy chins for a crisper, more 'ThinkBook'-like look. The slim black bezels around the display continue to look slim. What's more, there's that privacy shutter for the webcam that we covered earlier.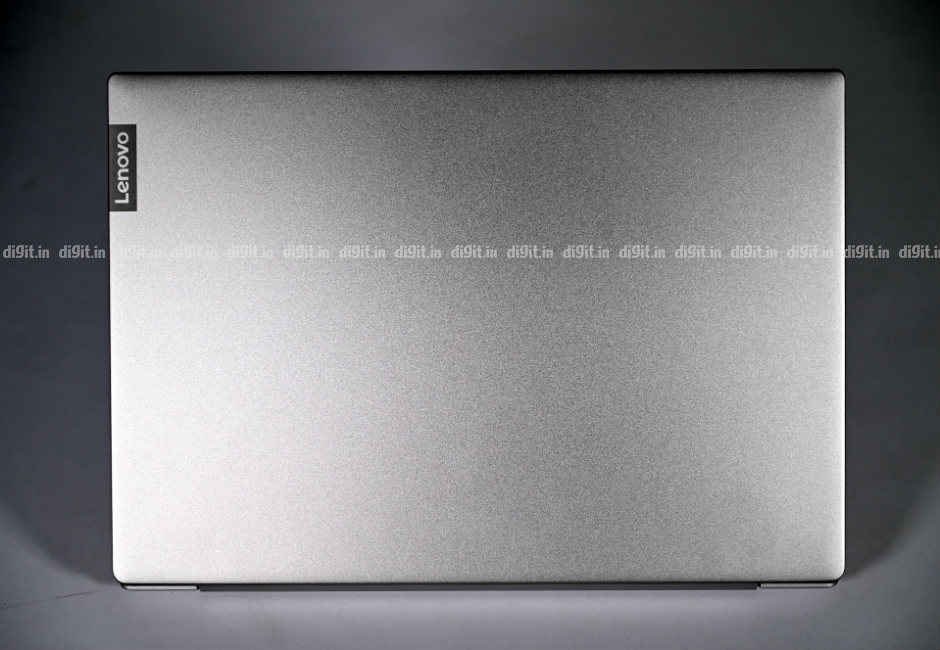 Anodised aluminium top cover offers ample grip
While the top cover of the IdeaPad S340 is made of anodised aluminium, the base panel is made of plastic with soft paint coated on top. Surprisingly, the difference hardly shows when you're carrying the device around in the hands. The IdeaPad S340 appears to be a rigid and durable machine with little flex on the lid and almost no flex on the keyboard island, so it should survive the occasional scratch (or drop, if you're lucky). There's ample grip all around too. The display on the IdeaPad S340 goes all the way back to 180 degrees, which should make your in-bed computing sessions more comfortable. All things considered, the IdeaPad S340 is well engineered laptop for its price.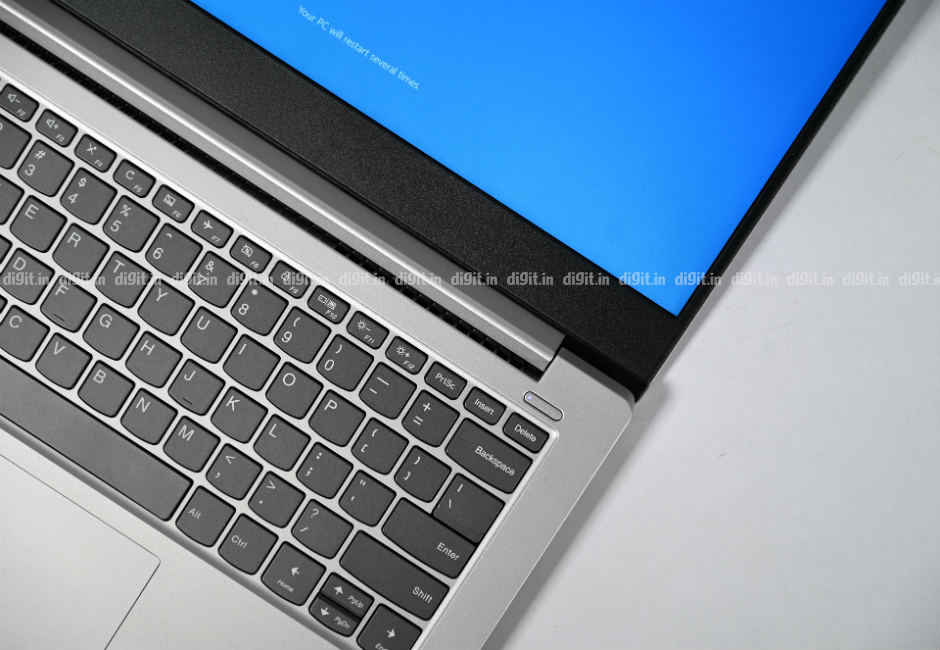 Display goes all the way back to 180 degrees
Bottom Line
The Lenovo IdeaPad S340 is practically last year's IdeaPad 330S with a few key upgrades: improved aesthetics (including a slimmer frame), that nifty little privacy shutter for the webcam, and extended battery life. Lenovo could have used this opportunity to throw in a brighter, more colourful Full HD IPS LCD panel as well. Unfortunately for us, our review unit was fitted with a hard drive (even though all of the variants on Lenovo's official website get a solid-state drive), which killed its performance across benchmark and everyday tests. I'm confident that the same laptop with Lenovo's PCIe NVMe solid-state drive offering would have done a lot better on the performance front.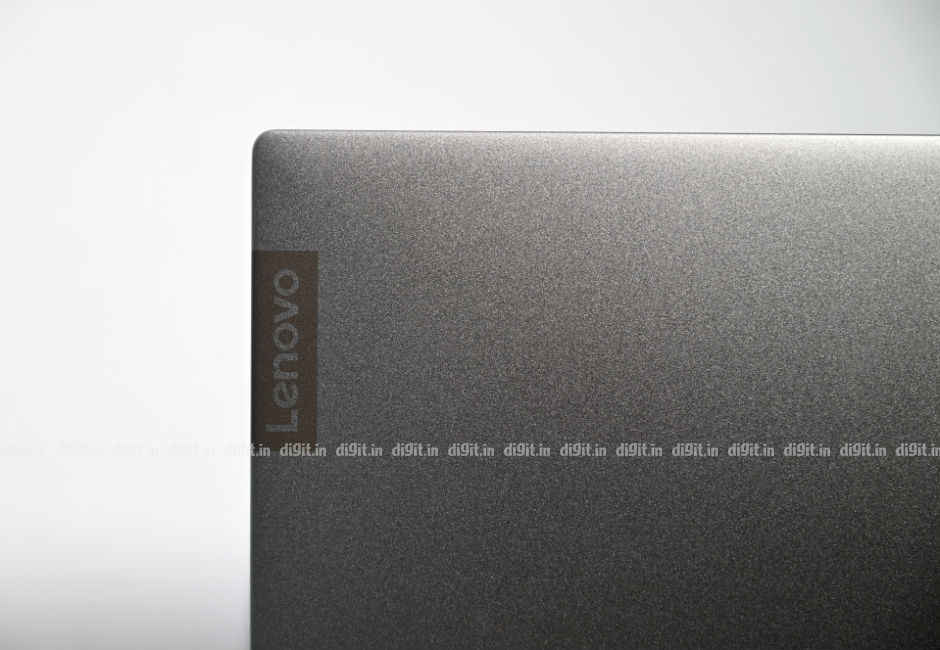 Even if we don't take into account our review unit's middling performance, the IdeaPad S340 just about manages to live up to its most immediate competitors from Taiwan. The quality of the keyboard and display on the recently launched Asus VivoBook S431 is much better. The VivoBook X403, in fact, offers roughly eight hours of battery life for a similar price. The Lenovo IdeaPad S340, then, is for hardcore Lenovo fans who missed the bus last year with the IdeaPad 330S. But if you've already got the IdeaPad 330S with the same (or similar) configuration, then the upgrade to the IdeaPad S340 doesn't make any sense. Just tape that webcam shut and keep going.