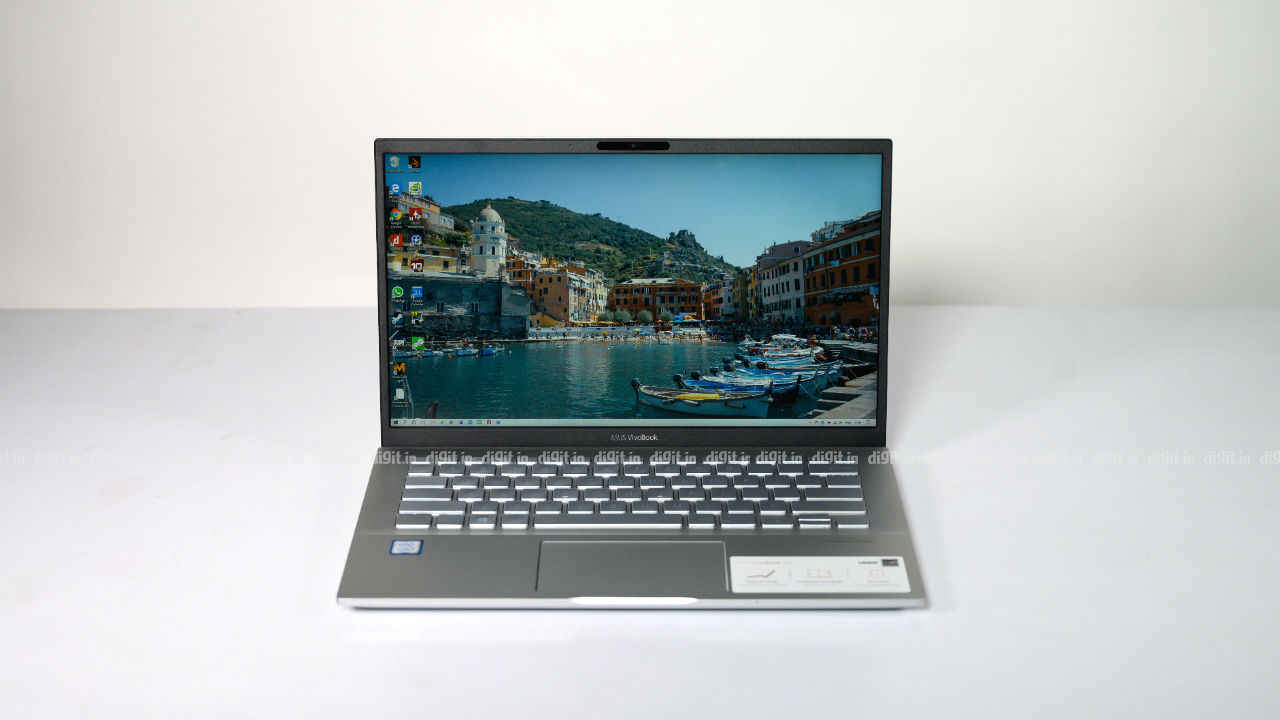 VERDICT:
Though it suffers from a mild identity crisis that's caused by its similarly priced VivoBook cousins, the Asus VivoBook S14 S431 is a fine choice for everyday computing, online video playback, and heavy web browsing.
The number of laptops launched by Asus in the last three months might just exceed the number of rainy days that my hometown of Bangalore has seen this October, and that's saying something. On the heels of the VivoBook 14 X412/X512 and VivoBook 14 X403/X409/X509 comes the similarly priced but more stylish VivoBook S431. Unlike the one we saw at Computex 2019 earlier this year, this one does not get a ScreenPad 2.0. It does, however, come in a few funky colours.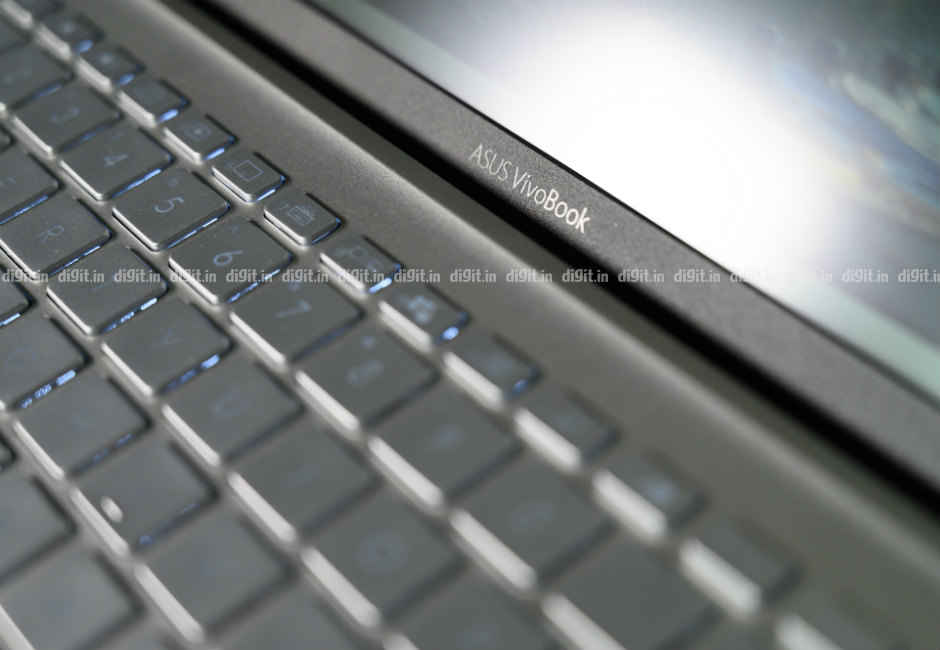 Enter the VivoBook S431
In the last two VivoBook models (VivoBook X412 and VivoBook X403) that we reviewed, we observed a great deal of improvements in the laptop's construction and configuration on the whole. Bezels around the display are indeed slimmer this time around, the keys have more travel, and many variants now sport a solid-state drive instead of a deathly sluggish hard drive. Do all those improvements make it to the new entrant as well? Let's give the Asus VivoBook S431 a whirl to find out.
Performance
Around the same time Dell launched its refreshed XPS and Inspiron models with Intel's 10th Gen chips, we received our review unit of the VivoBook S431, which was powered by an Intel 8th Gen Core i5 (Whiskey Lake refresh) CPU along with 8GB of RAM. Storage came in the form of an Intel 512GB PCIe NVMe solid-state drive. To our dismay, the review unit had no discrete graphics and only an Intel integrated UHD Graphics 620 GPU. To add to our dismay, the review unit didn't seem to have an empty SO-DIMM socket, meaning the RAM was restricted to 8GB. It did, however, appear to have an extra M.2 slot, meaning more optional storage.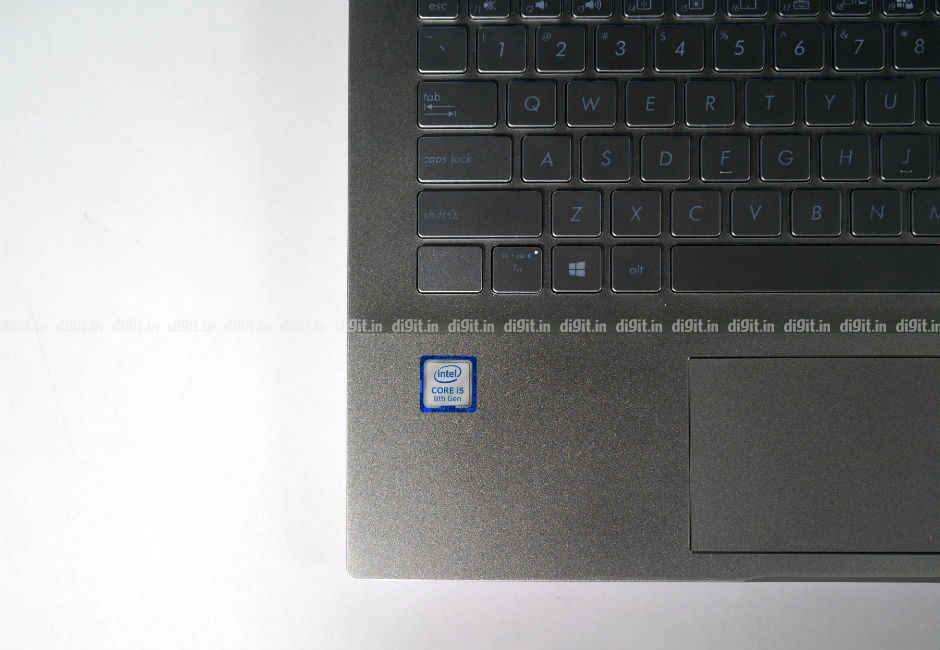 Intel Core i5-8265U inside
The VivoBook S431 bagged decent scores on our software benchmark tests. On PCMark 8's Accelerated Creative test, the review unit scored 3551 points, which is nearly 200 points lesser than the points scored by the VivoBook X412 and VivoBook X403 in the same test. Even on 3DMark's Fire Strike (1147 points) and Cloud Gate (8579 points), the VivoBook S431 did not have an edge over the integrated graphics-powered VivoBook X403. It's hard to guess how the VivoBook S431 is falling behind even though the VivoBook X403 is practically the same device.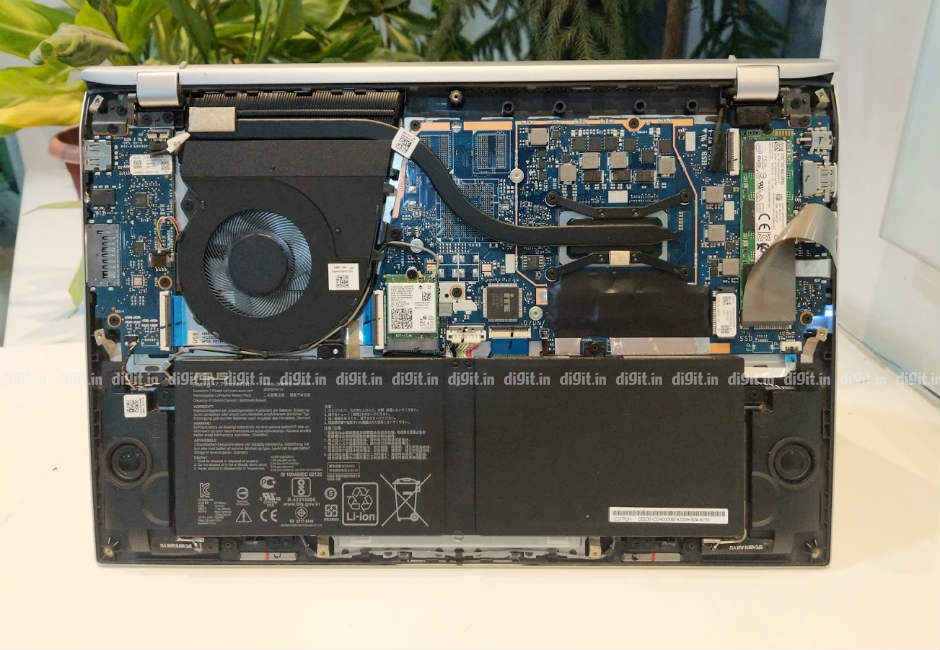 Fixed 8GB RAM, sadly
Everyday performance of the VivoBook S431 was, as expected, good. I was able to run numerous instances of applications such as Chrome, File Explorer, OneNote, Word, Excel, and WhatsApp for PC across multiple virtual desktops simultaneously and cycle through them at regular intervals. There was the occasional slowdown in response when I had over a dozen active windows open and tried to create a new workbook in Excel but it didn't last over a second or two.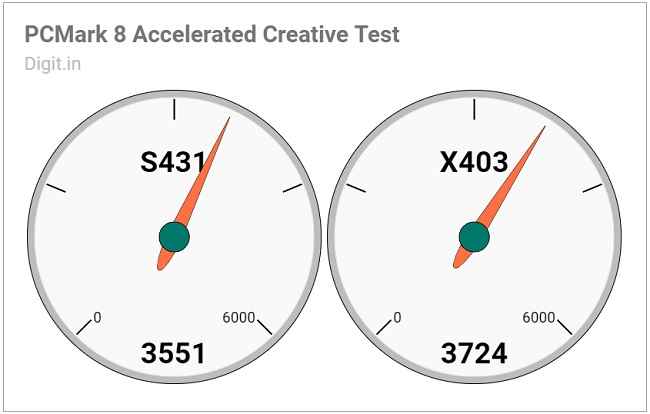 In other words, the VivoBook S431's performance is suitable for everyday tasks such as composing documents, editing spreadsheets, watching online videos, browsing with a video playing in the background, etc. That said, you wouldn't want to pick this laptop for gaming. It's a shame that the laptop doesn't get an MX-series graphics card from Nvidia, like its other cousin, the Asus VivoBook X412.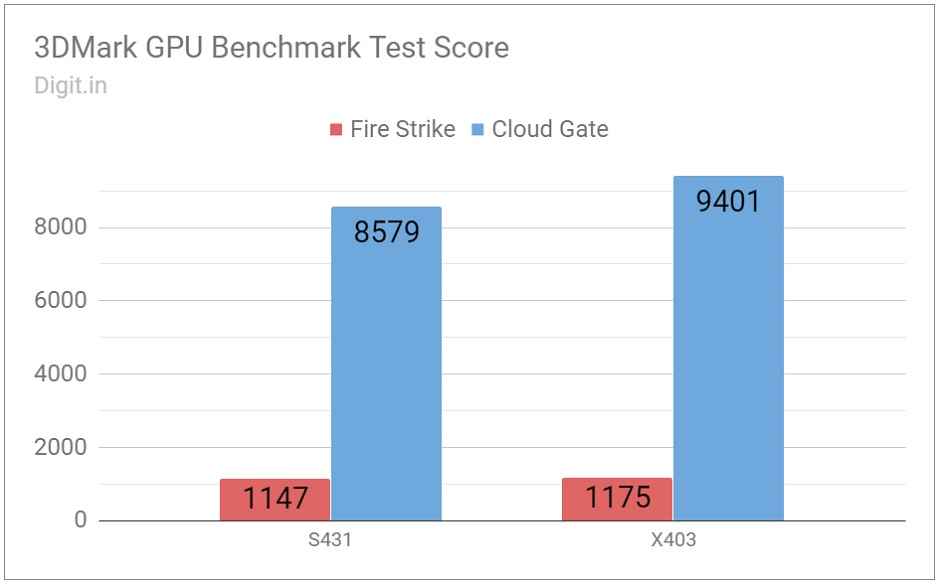 Battery
The VivoBook S431 ships with a 47Wh dual-cell lithium-ion polymer non-removable battery. On our standard battery benchmark test, the review unit bagged a respectable 4 hours, 15 minutes. This score sits somewhere between the VivoBook X412's 2 hours, 25 minutes and VivoBook X403's 6 hours, 16 minutes. Of course, it's unfair to compare the VivoBook S431's battery life with that of the VivoBook X403's because the latter ships with an unusually large 72Wh battery pack. That said, a score of 4 hours, 15 minutes is not bad at all.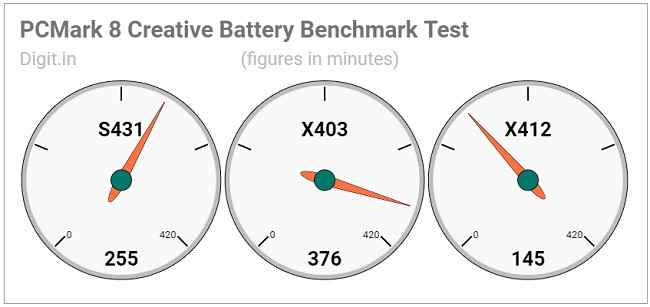 On everyday tests, the review unit lost almost half its charge (from 100 to 53 percent, that is) in about half a typical workday (from 10:20 in the morning to 2:22 in the afternoon, that is). During that time, there were over a dozen windows open (mostly Chrome instances), Bluetooth and Wi-Fi were enabled, and the screen was set to about 70 percent brightness. Oh, and a USB mouse and headset were connected to the laptop as well. There was one YouTube window open playing music in the background on and off. When I played a Netflix video for about twenty minutes, I noticed a four-percent drop in charge, which is not bad.
Display, Audio, and IO
The display on the VivoBook S431 is a 14-inch IPS LCD unit with a 16:9 aspect ratio and Full HD resolution. The screen's colour reproduction is fairly accurate but after a few days with the review unit, I was left with the feeling that everything looked a tad whitish when the brightness was turned up. In other words, colours go through some noticeable washout against the screen's fairly bright LED backlit. Fortunately, the panel appears to be lit uniformly with no uneven bleeds. What's more, the screen's matte finish is a boon for long reads under direct light. All things considered, it's still a fine panel for everyday work, movie watching, and web browsing.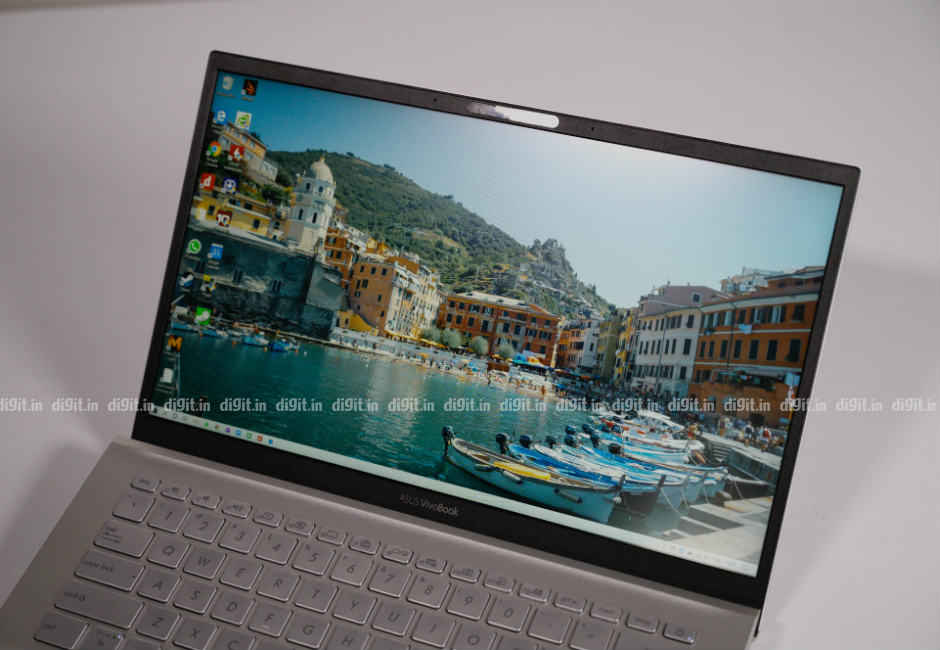 Anti-glare Full HD display is good for everyday use
Sound from the VivoBook S431's two down-firing speakers can at best be termed disappointing, especially if you have no plans of using an external pair for everyday music playback. Max volume can prove to be insufficient in a typical office setting where you're required to play a video or join a video call without wires. Lows sound hollow but mids and highs make it through with fairly decent clarity. If you're serious about audio quality, you should consider investing in a proper pair of headphones or PC speakers.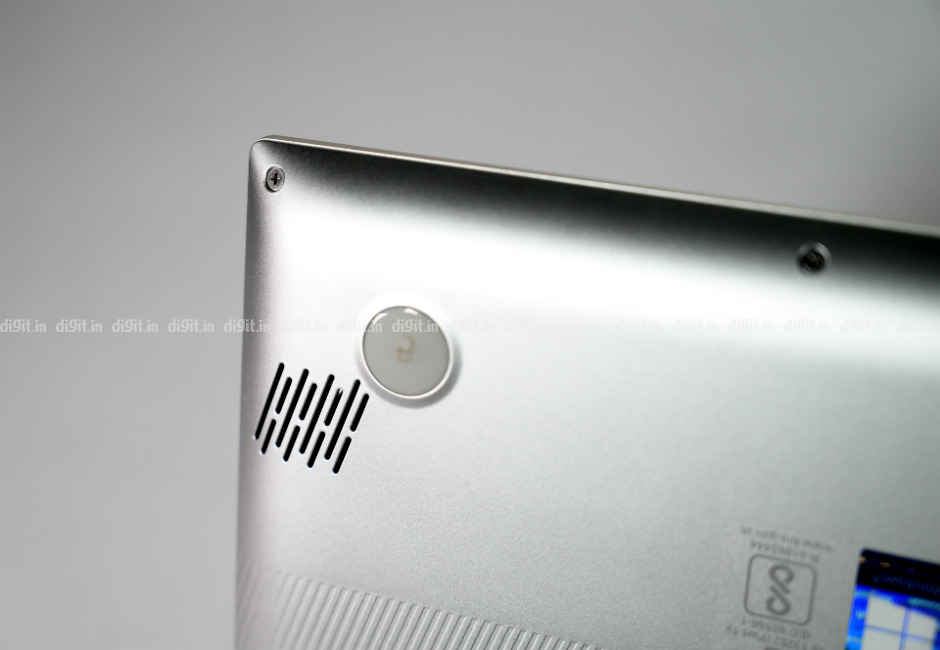 Bottom-firing speakers on the S431
The VivoBook S431 isn't shy to offer connectivity to its users. On the left side of its body, we see a proprietary round-pin power port, a full-size HDMI port, a USB-A 3.1 port, a USB-C 3.1 (Gen 2) port along with a couple of status indicators. On the right side, we see a USB-A 2.0 port, a 3.5mm audio jack for headsets, and a full-size SD Card slot. Missing from the sides of the laptop is a Kensington Lock Slot for physical desktop security.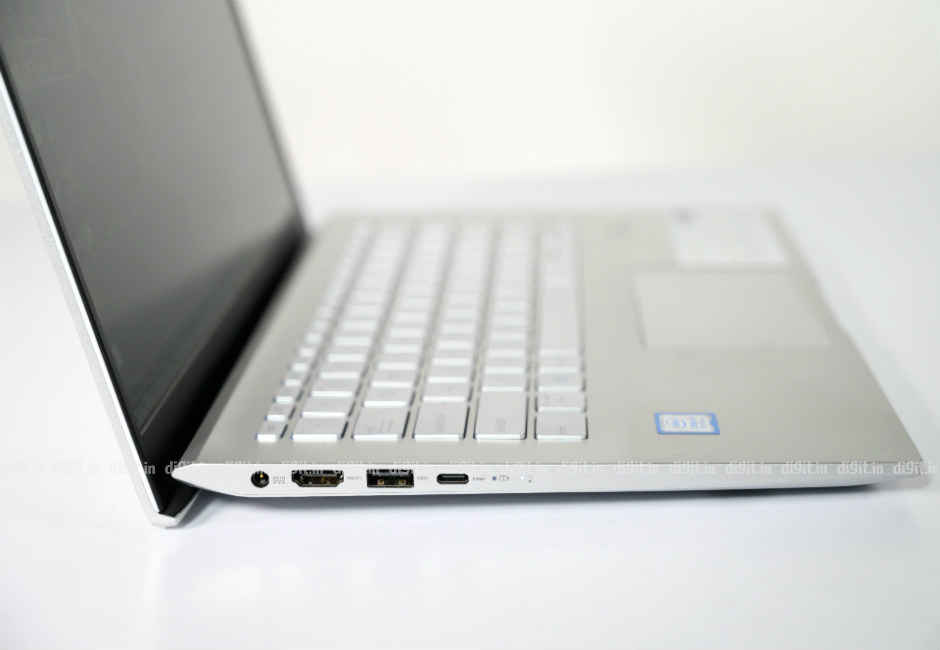 Ports on the left…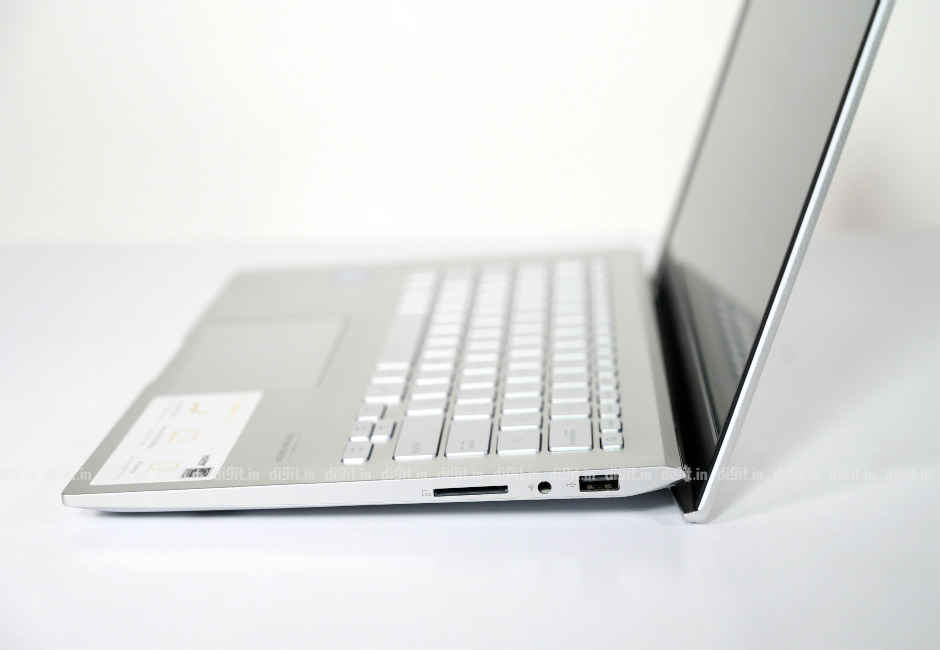 …and ports on the right
The VivoBook S431 ditches the traditional touchpad-integrated fingerprint scanner for an IR webcam, which enables face recognition through Windows Hello. In my experience, the face unlock worked only three out of five times on the review unit even when I sat directly in front of the laptop's display at an optimum distance. Unlocking the laptop from higher angles (while standing up, for example) was all the more difficult, so I resorted to using the PIN-based unlock more often than I liked. I feel a regular fingerprint scanner wouldn't have gone amiss on this device.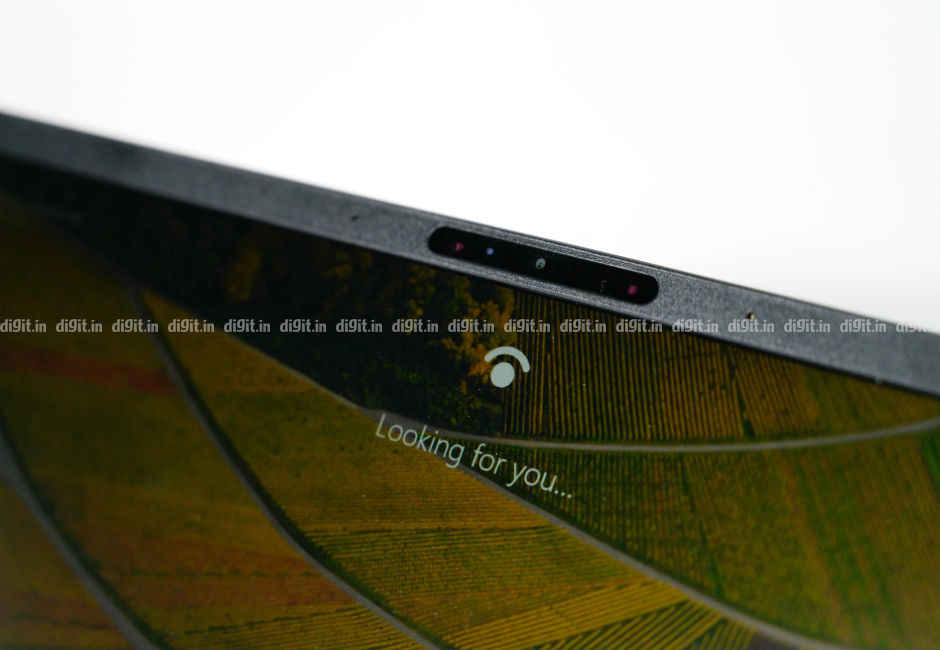 IR camera for face unlock doesn't always succeed in recognising
Keyboard and Touchpad
The keyboard on the VivoBook S431 is ideal for long hours of typing. The keys on it have ample travel and just the right amount of resistance, making for very few mistypes or strain while working. The keycaps curve towards the centre just a bit, making it easier to find the centre of each key on the keyboard. There are no separate keys for Home, End, Page Up, and Page Down functions but they can be used by pressing the Fn key in combination with the arrow keys. I wish Asus hadn't placed the power button next to the Delete key as it can easily trigger an unintended sleep or hibernate session.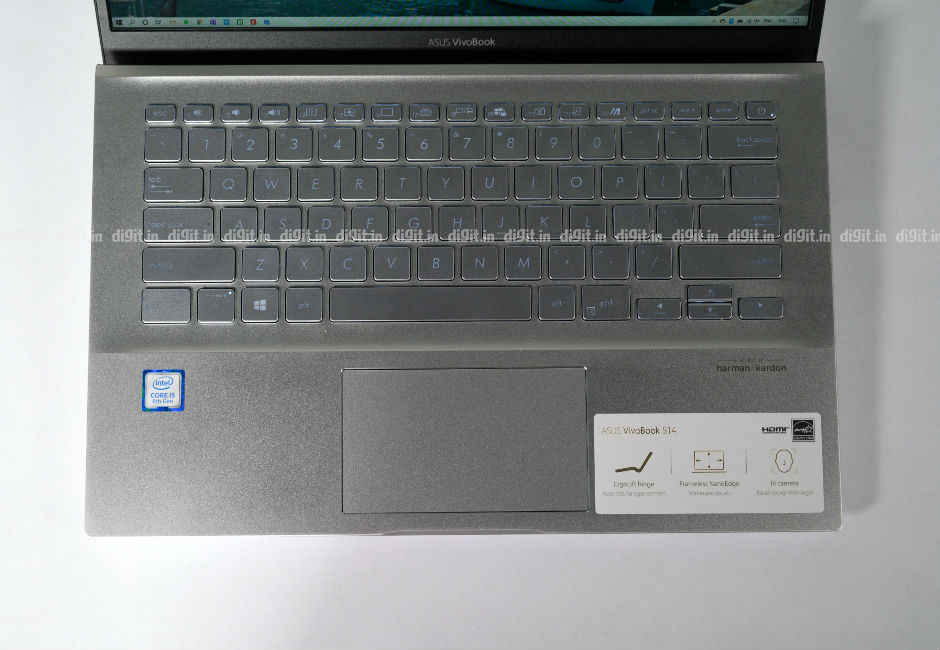 White backlighting against silver keycaps is a bad idea on any laptop
I also wish Asus had gone with a different colour for the keycaps than the same silver skin seen on the base of the laptop. I say this because the three-step bright-white backlight beneath the keys of the keyboard becomes useless against any ambient light. In other words, it's practically impossible to read the letters on the backlit keys of the VivoBook S431 unless it's pitch dark around. The touchpad, on the other hand, is a WIndows 10-recognised precision unit, which is easy to use for clicks, taps, and multi-finger swipes. The left- and right-mouse keys beneath the touchpad are fairly easy to click.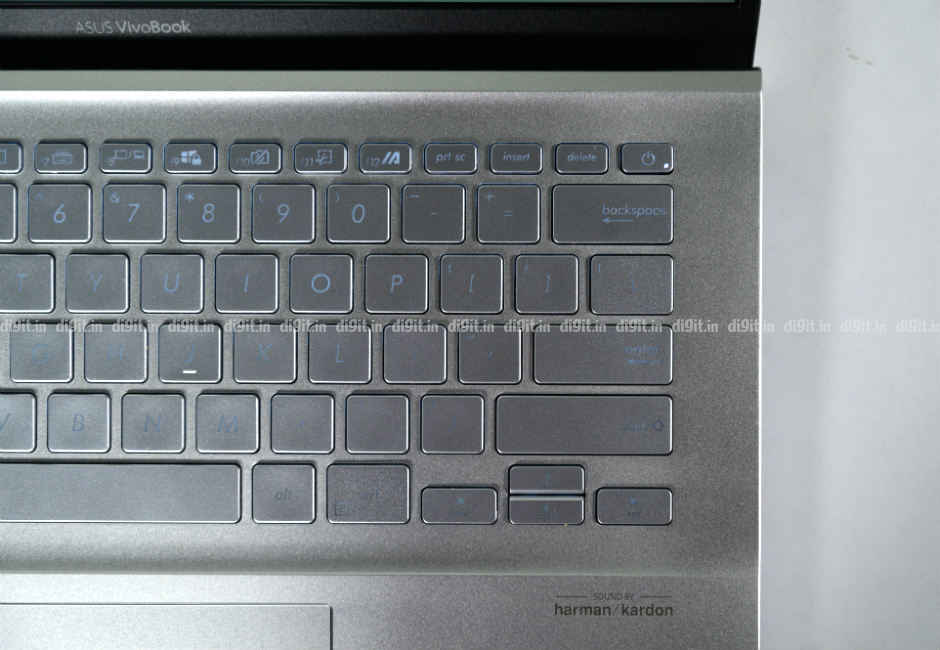 Comfortable keys on the S431 nonetheless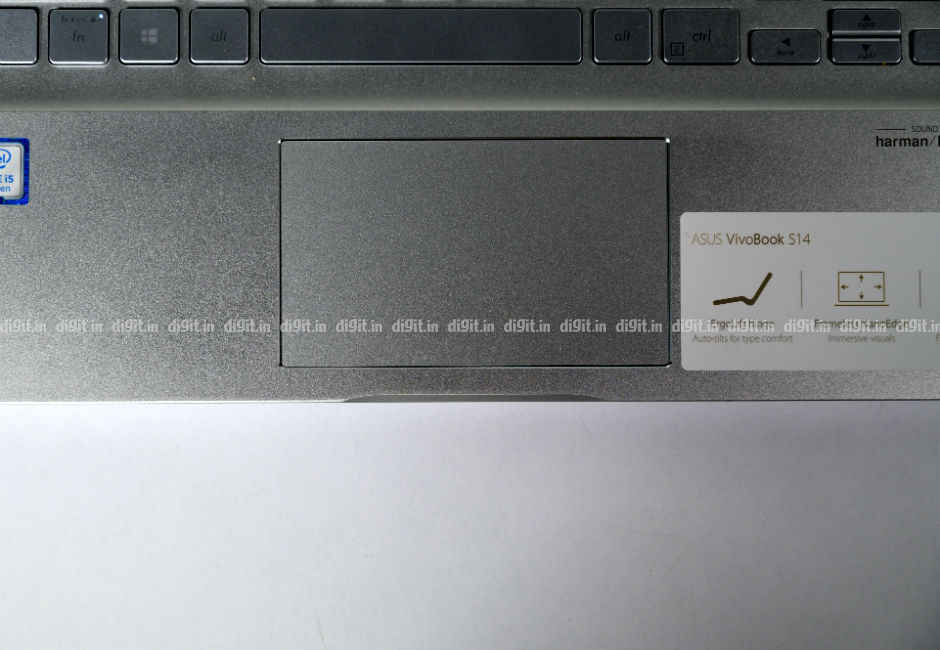 Neat touchpad response too
Build and Design
The VivoBook S431 differs from its 2019 siblings in that it's more colourful and a tad more stylish. Though Asus says the laptop will be offered in Gun Metal, Moss Green, Energy Orange, Punk Pink, and Cobalt Blue colours, we received our review unit in the same boring Transparent Silver option. If it's any difference to you, the VivoBook S431 features the company's refreshed VivoBook logo on the top cover. Unlike on previous models, the logo is now offset to the right side of the cover, which, according to the popular Taiwanese electronics manufacturer, emphasises "a breakaway from the standard laptop mold."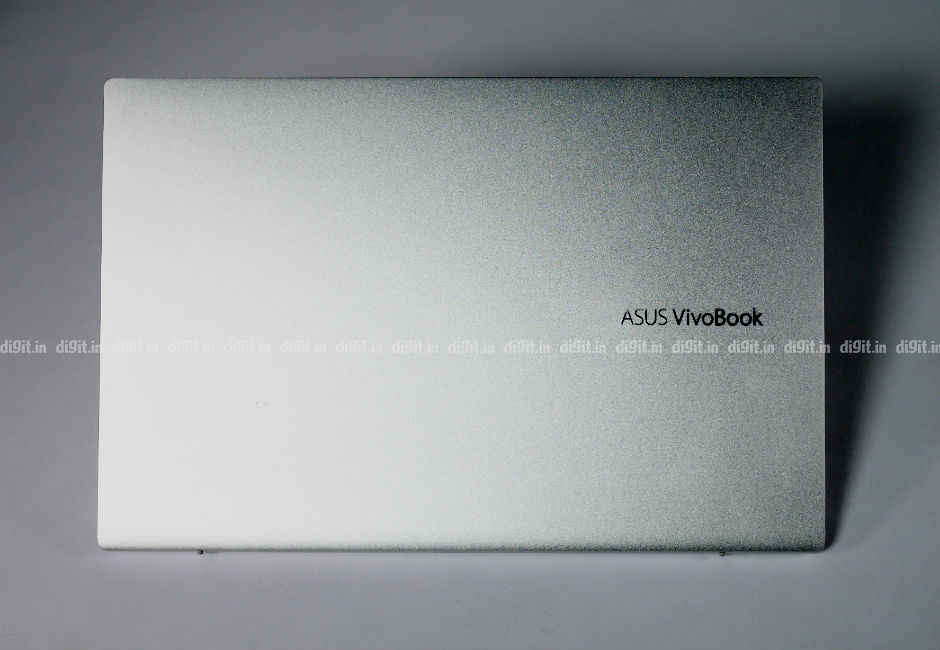 VivoBook S431 in Transparent Silver
According to Asus, the VivoBook S431 employs a metal chassis milled from solid aluminium alloy. The laptop's base panel is made of plastic but the keyboard island and top cover are made of metal. If the VivoBook S431 is indeed a direct descendent of the VivoBook S14 S406UA that we reviewed earlier this year, then the device's build quality has received a significant boost in the right direction. The VivoBook S431 feels solidly built and grippy in the hands while showing almost no sign of panel flex. At 1.4 kilogrammes, the laptop is quite lightweight too.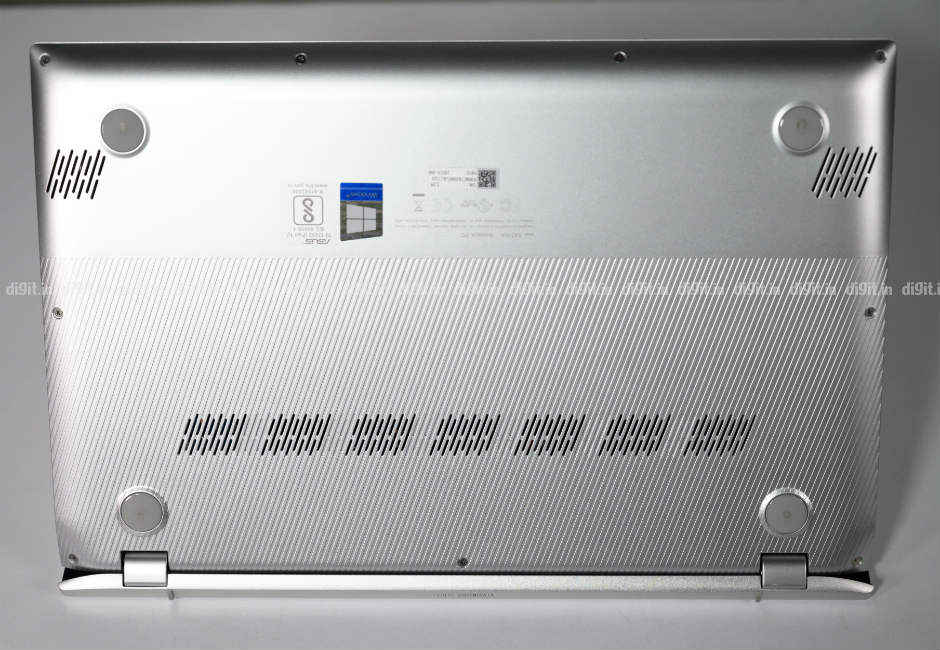 Serrated base panel enables better grip
Thanks to Asus' ErgoLift hinge design, opening the laptop lid gives the base panel a 3.5-degree tilt in the direction of the user, which makes typing just that little bit easier. Opening the laptop reveals a 14-inch matte display with fairly slim bezels on the top (9.95mm) and along the sides (6.3mm). An IR camera setup adorns the top bezel. The keyboard island houses a clean chiclet-style keyboard and a plain touchpad with neat rounded edges. Surprisingly, the base panel sees a fair bit of serration, which is presumably present for increased grip. On the whole, the VivoBook S431 is an attractive laptop that appears to be built to stand the test of time. You won't be disappointed with it to say the least.
Bottom Line
Given the fact that there's already a fairly wide array of VivoBook models to choose from, it's hard to peg Asus' newest entrant if its price tag of Rs 54,990 is hidden away. It doesn't help that the VivoBook S431 doesn't have a distinguishing feature or trait when compared to the VivoBook X412 and VivoBook X403, save for that blasted IR webcam. You've also got to remember that the RAM is not upgradeable from the inbuilt 8GB and there's no discrete graphics card on board.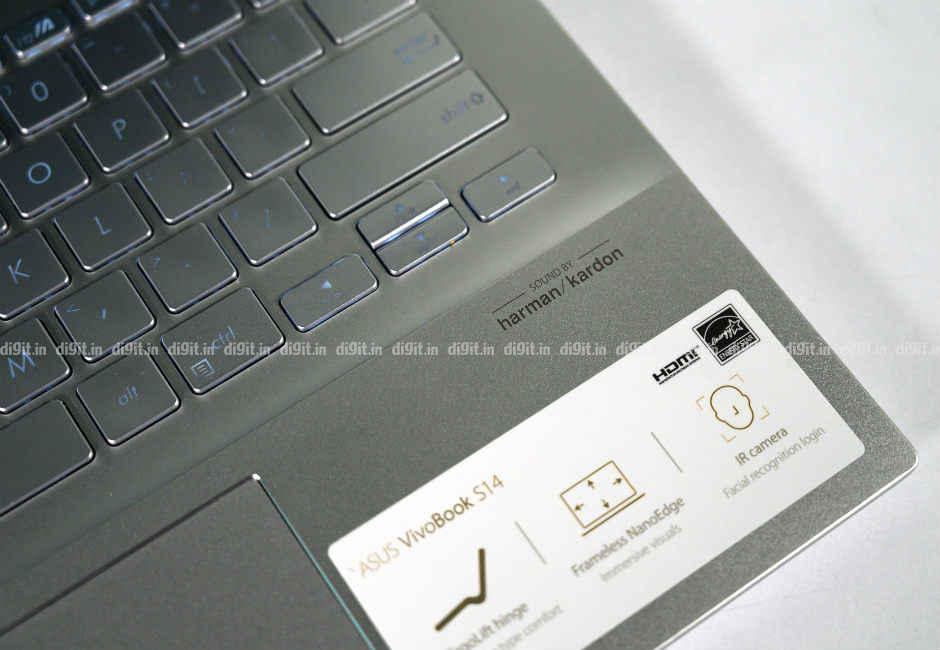 Despite its few shortcomings, it's not a bad choice by any means. The VivoBook S431 is ideal for everyday computing, online video playback, and heavy web browsing. What's more, the battery will last quite a long while too (though not as long as the VivoBook X403). Even if it suffers from a mild identity crisis, the Asus VivoBook S431 is a fine choice for students and working professionals alike. Do yourself a favour and buy it in a colour that's not as plain and boring as the Transparent Silver that we got.