VERDICT:
The Lenovo IdeaPad S145 offers decent value in most areas but begs to be upgraded with double the RAM and a solid-state drive right at the time of purchase.
Last year, Lenovo's line-up of IdeaPad laptops was spread across the price band quite evenly but the naming was a touch confusing. In the budget and mid-range segments, we had the IdeaPad 330 and IdeaPad 330S, two very similar-sounding model names but different in construction, quality, and performance. In the upper mid-range segment was the IdeaPad 530S, which we noted in our review had noteworthy performance combined with classy design. What about this year?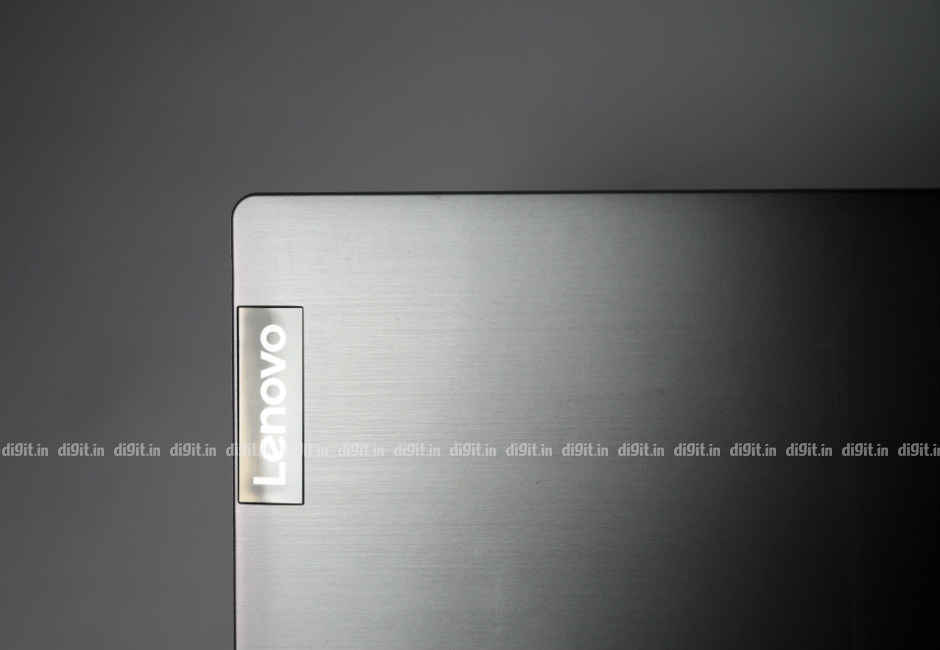 In this year's '40' series of IdeaPad 'S' models, we have the IdeaPad S540, which is, in a manner of speaking, a successor to the IdeaPad 530S. Sitting just below it is the IdeaPad S340, which, surprisingly, comes with features like a privacy shutter for the webcam. On the bottom rung, we have the IdeaPad S145: a proper 15.6-inch budget model that starts at Rs 26,990, with either an Intel or AMD chip fitted to it. Let's take a closer look.
Performance
Though the new IdeaPad S145 is offered with up to an AMD Ryzen 5 3000-series processor on Lenovo's official website, our review unit came with an Intel Core i3-8145U CPU (the Whiskey Lake refresh from last year) with 4GB of RAM. Storage was taken care of by a WD Blue 1TB hard drive spinning at 5,400rpm. Needless to say, there was no discrete graphics card on board; only the Intel UHD Graphics 620 integrated GPU. According to the hardware maintenance manual published by Lenovo, the 4GB of onboard memory can be expanded up to a maximum of 12GB by adding an 8GB DDR4 RAM chip.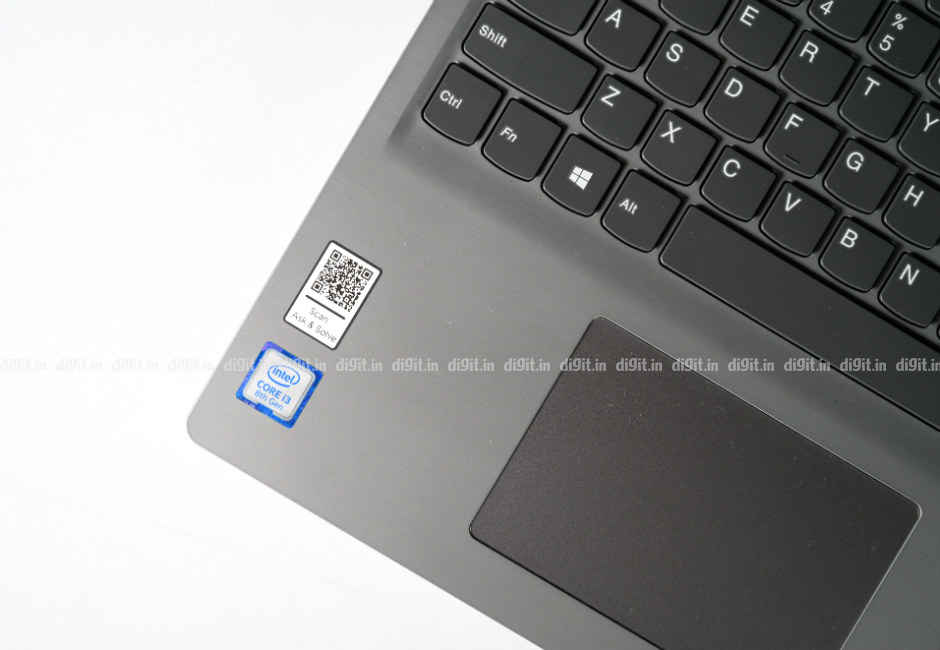 Intel 8th Gen Core i3 CPU paired with a platry 4GB RAM and slow hard drive
The review unit fared decently on our CPU and GPU benchmarks. At least its scores were better than those of the IdeaPad 330 and IdeaPad 330S from last year. On PCMark 8's Conventional Creative test, the review unit bagged 2805 points, which is nearly three times over the IdeaPad 330's score and nearly 300 points more than the IdeaPad 330S' on the same test. The scores were similar on PCMark 8's Conventional Home and Work tests. On 3DMark's Fire Strike and Sky Diver, the review unit picked up 796 and 3385 points respectively.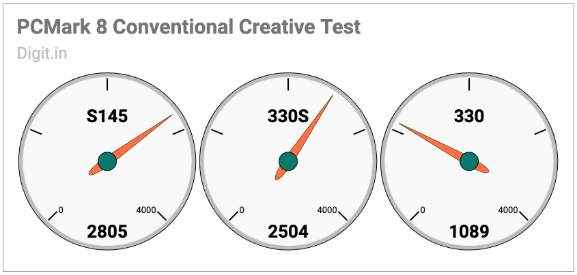 Everyday performance of the IdeaPad S145 review unit was woefully bad, but I can confidently chalk that up to the low RAM and sluggish hard drive inside. The laptop took well over two minutes to cold-boot to the Windows 10 desktop and be fully ready for use. The Start menu took over six seconds to pop up on an average. There were constant stutters and window freezes while using everyday applications like Chrome, File Explorer, and OneNote one at a time. Maximising a window would sometimes take up to five seconds to happen, and the contents inside would get stretched and distorted in the process. Even a single YouTube video in the foreground would often stutter and stammer.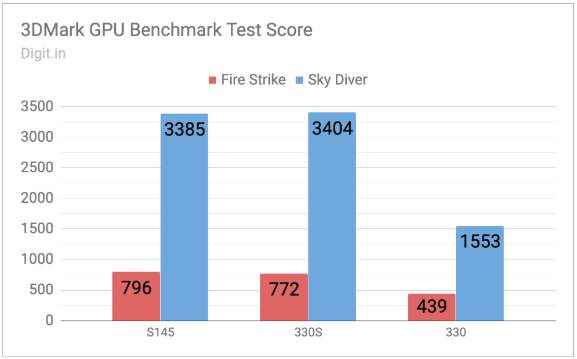 In summary, the IdeaPad S145 is an unbearably sluggish device if you use it with the bundled 4GB RAM and hard drive. I highly recommend you purchase a variant with 8GB RAM minimum and a solid-state drive if you plan to use your laptop for everyday work. If you've already bought it in the same configuration as our review unit, consider upping the RAM to 8GB and replacing the hard drive with a SATA III solid-state drive. A 256GB unit shouldn't cost you over Rs 5,000. These two upgrades will go a long way in improving the everyday performance of this laptop.
Battery
On our standard battery benchmark test, the IdeaPad S145 review unit scored 3 hours, 16 minutes, which is approximately a forty-minute advantage over the scores bagged by the IdeaPad 330 and IdeaPad 330S from last year. On everyday tests, where the screen is set to 70 percent brightness and Bluetooth + Wi-Fi are enabled, the laptop lost 42 percent of its charge in roughly two hours. Charging from 36 percent to about 95 took roughly one and a half hours. During the tests, multiple instances of Chrome, OneNote, File Explorer were open alongside WhatsApp for PC. In summary, the 35Wh dual-cell lithium-ion polymer battery inside the IdeaPad S145 appears to be an ideal companion for fairly long stretches of continuous operation away from the wall socket. Expect up to three and a half hours of continuous use on this laptop.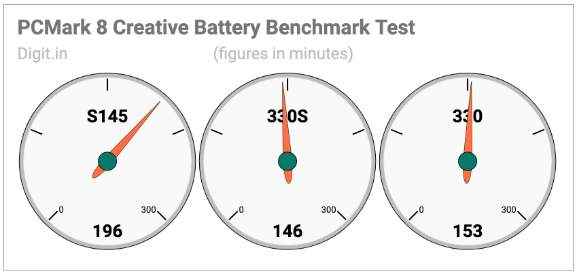 Display, Audio, and IO
The IdeaPad S145 features a 15.6-inch non-touchscreen display with Full HD resolution and 220 nits of maximum brightness. According to Lenovo, the screen is capable of covering 45 percent of an unspecified colour space (though we think its sRGB). In reality, colours on the screen appear totally washed out, leaving the white of the backlight to burn through brightly. In addition, the matte finish on the screen creates a grainy effect on the screen, thereby making the viewing experience worse. Tilting the display down by even a few degrees renders text on the screen unreadable. In summary, the IdeaPad S145's display isn't a great one for image/video-focussed work. That said, it'll do the job for the occasional spreadsheet or document.
Full HD display but colours are weak
The IdeaPad S145 sports two tiny speakers on its lower front lip, which deliver flat, uninspiring sound despite the Dolby badging (and the bundled Dolby Audio app). The maximum volume is insufficient even for the occasional two-minute YouTube watch and the sound is mostly flat across lows, mids, and highs, leaving the pair best used for Windows error sounds and message notifications. You're better off investing in a pair of headphones or portable wired speakers if you want clear audio.
Weak sound as well
The IdeaPad S145 has most of its ports on the left side of its body, which should prove convenient for right-handed mouse users. On the left, there's a proprietary round-pin power port for charging, a full-size HDMI port, a USB-A 2.0 port, and a couple of USB-A 3.1 ports. On the right side, all we see are a full-size SD Card reader and a 3.5mm audio jack for headsets. Being a budget model, the laptop skips the increasingly ubiquitous USB-C port. It also does not have a fingerprint scanner. Images from the VGA webcam are understandably grainy and pixelated.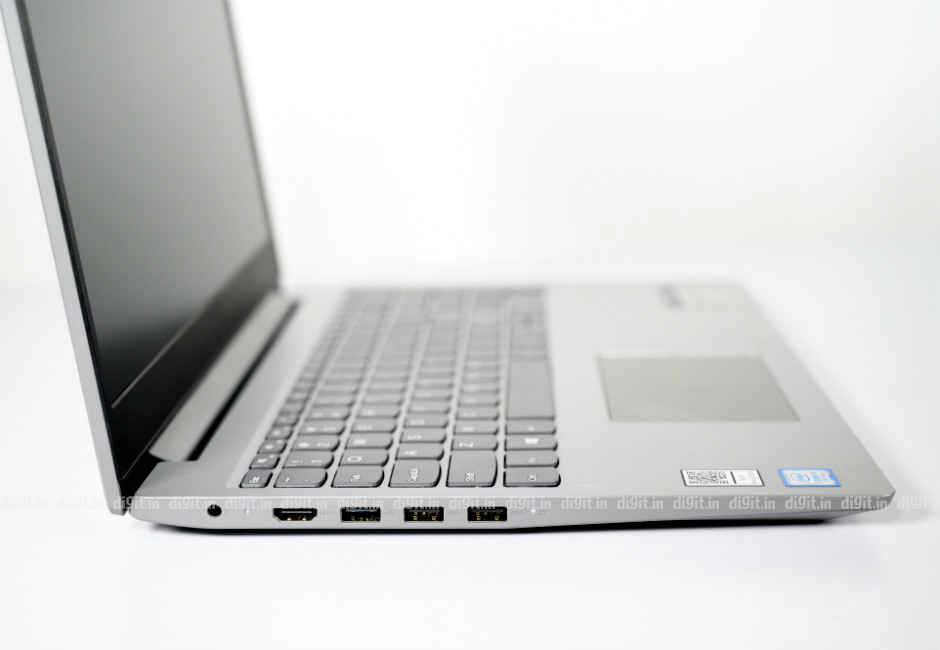 Ports on the left…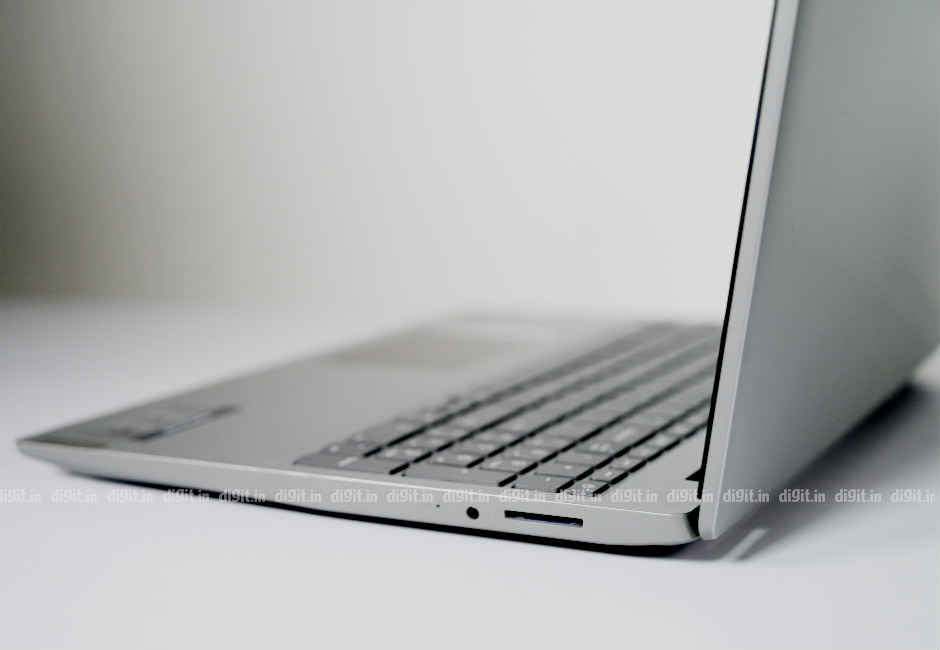 …and ports on the right…
Keyboard and Touchpad
The IdeaPad S145's keyboard is not particularly comfortable—but it's not particularly uncomfortable either. The entire keyboard island and individual keycaps are mildly convex in shape in that they bulge upwards at the centre. This is the exact opposite of what laptop manufacturers usually do to offer a more comfortable typing experience, i.e., create a cupped design (for easier key identification). In the IdeaPad S145's case, this is done presumably to maintain rigidity across the keyboard island. On the plus side, the numpad section includes dedicated keys for media playback, i.e., play/pause, next track, and previous track. If anything, I wish the keys were backlit but that's a bit much to ask for from a laptop of this price range.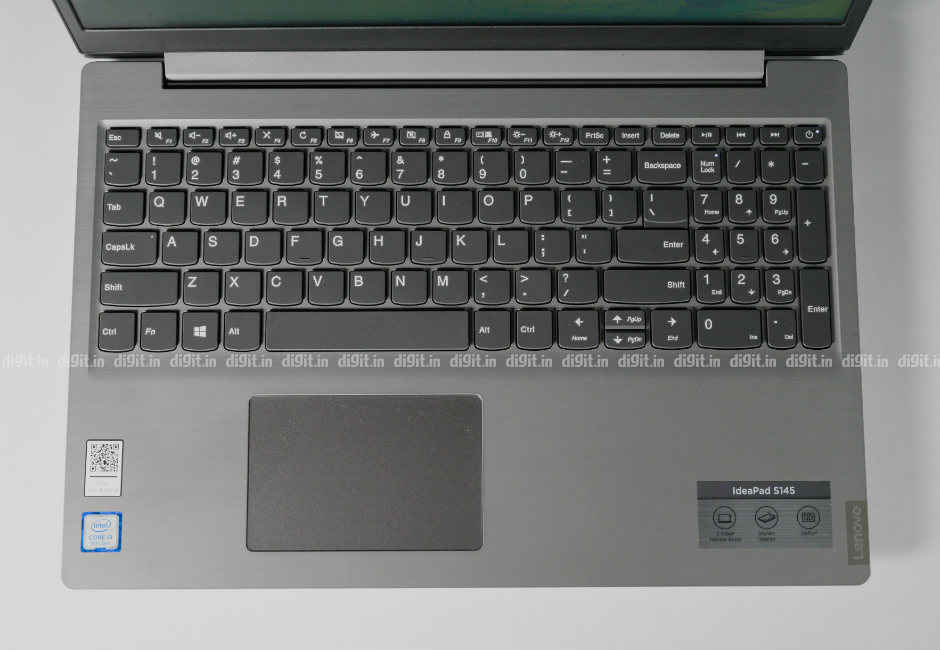 Dedicated media playback keys above numpad
Because it's not a Windows 10-recognised precision unit, the touchpad is sluggish and uneven in tracking the movement of the pointer across the screen. The acceleration of the pointer too varies with the direction of the fingertip movement, making for an unpleasant touchpad experience. A triple-tap opens up Windows Search by default and Windows Settings only lets you adjust the sensitivity of the touchpad unit. Surprisingly, the click buttons under the touchpad's plain plastic surface have great feel. All things considered, you're better off getting yourself a wired or wireless USB mouse.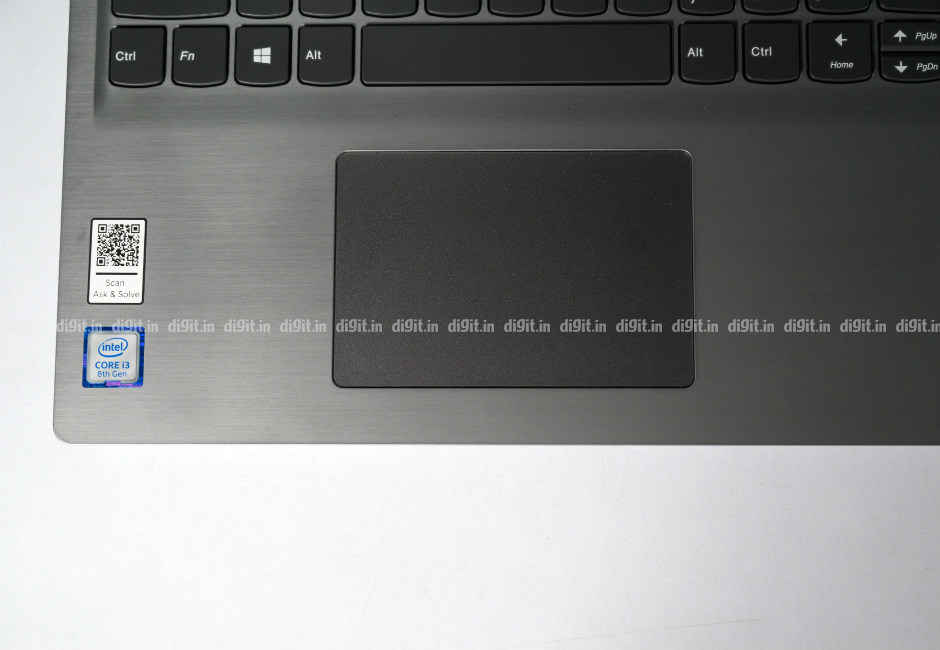 Touchpad is non-precision unit but click works well
Build and Design
The IdeaPad S145 uses plastic in its construction in a manner that's similar to last year's IdeaPad 330. The laptop's top cover and keyboard island have a glossy plasticky finish with a mild brushed design in plain silver. Not only does this lend the device a toyish look, but it also makes it less grippy in the user's hands, especially while taking it out of a backpack in a hurry. Luckily, the keycaps, hinges, base panel, and screen bezels use a darker shade for some contrast and thus improved visual appeal.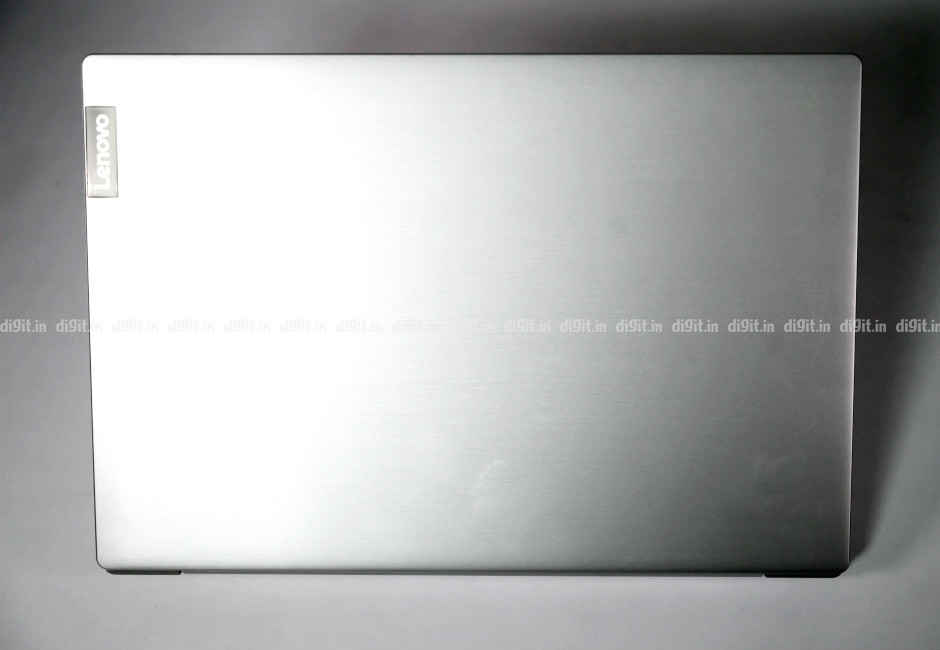 Glossy plastic top cover could do with a matte finish for more class and grip
The Lenovo badge on the top cover of the IdeaPad S145 is a refreshed single-sticker unit that sits flush with the lid's surface. Opening and closing the lid from one side reveals quite a bit of flex on the lid's surface. The same is observed on the keyboard island when the keys are tapped on hard. On the plus side, the laptop's lid opens out to a maximum of 180 degrees (like the more expensive ThinkPad range). What's more, the laptop's power brick is now integrated with the wall plug, making the entire charging kit more portable and appealing. All things considered, the IdeaPad S145 looks and feels decent for a laptop of its price range although a matte finish all around would have been better appreciated for reasons of grip and overall appearance.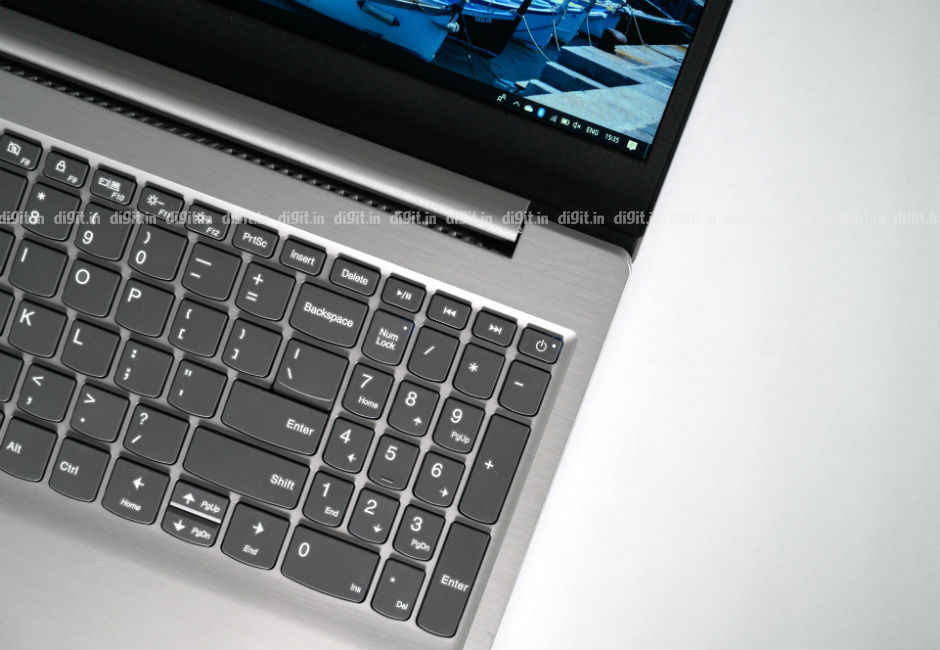 Display folds all the way back
Bottom Line
The Lenovo IdeaPad S145, in its current configuration of an Intel 8th Gen Core i3 CPU, 4GB RAM, and a 1TB hard drive, is not terrible value for its Amazon.in-listed price of Rs 32,990. But you still shouldn't buy it unless you intend to use it for extremely basic computing (like checking email occasionally or watching offline videos). It's unfit for multitasking and serious web use. We recommend you upgrade the RAM to 8GB and replace its sluggish hard drive with a solid-state drive before using it for serious work. Alternatively, pick a variant of the Lenovo IdeaPad S145 with those upgrades at the time of purchase.