VERDICT:
The Lenovo IdeaPad is a fine device for processing word, image, and some light video. Its cool performance under load matches its cool metallic look. With a sharp display, mature styling, and precise touchpad, the IdeaPad 530S definitely marks a new high in Lenovo design.
Launched in 2015, the 500 series of IdeaPads calls itself a range of 'Powerful Multimedia Laptops'. And with the most recent addition, the Lenovo IdeaPad 530S, I believe Lenovo design has matured by a large margin. The new IdeaPad is definitely a model to consider if you're in the market for a laptop that looks and feels premium and is at home handling heavy photos and light videos on a sophisticated editing suite.
Build and Design
The Lenovo IdeaPad 530S has a clean matte aluminium finish on the outside, inside, and around the long and thick hinge that spans almost the entire width of the display. At 16.4mm, the laptop is about 3mm slimmer than its predecessor, the IdeaPad 520S, and feels slim, smooth, and easy to hold. This slab of matte grey-and-silver metallic finish is well curved and neatly chamfered around the edges. Though neatly chamfered, the edge running along the touchpad is capable of cutting into the user's wrists in some angles while typing. The laptop is equally weighted across its nearly-flat body and doesn't feel too heavy on any one side.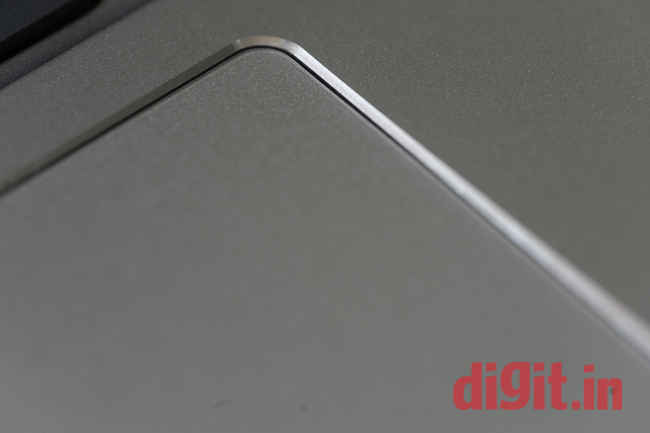 The computer sits flat and stable on the lap and on a table. The lid opens easily to reveal thin black plastic bezels around the display. The lid's hinge is neither too tight nor too loose and remains fairly steady on the move. The Lenovo branding is as subtle as it can possibly get, and that lends the computer a very elegant look.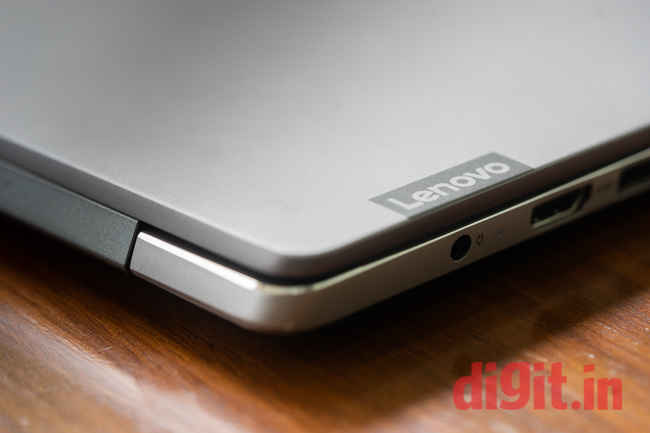 Display and IO
Internationally, Lenovo offers the IdeaPad 530S in 14-inch and 15-inch variants, but there's no word yet on whether it will sell both or only the 14-inch model in India. The 14-incher can be bought with either a WQHD resolution (2560 x 1440 pixels) or an FHD resolution (1920 x 1080 pixels) with a matte or glossy finish. Both options feature an IPS LCD panel.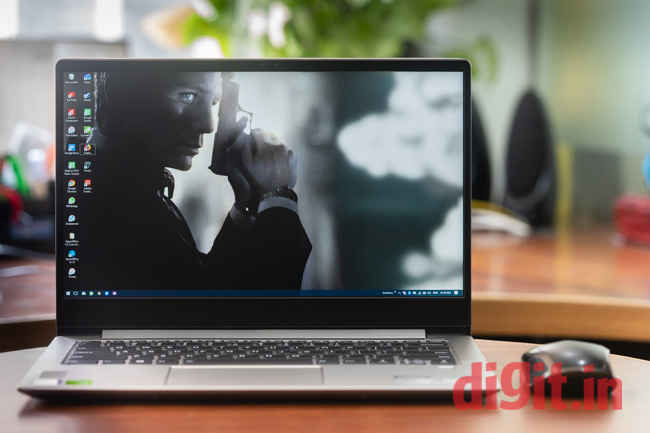 The model I tested had the 14-inch display with FHD resolution. The panel is mostly free of glare and reflection, but does tend to attract fingerprints, which can be seen from the sides. The maximum viewing angle seems relatively wide at around 173 degrees horizontal. Text can be read without too much strain even with the display pushed all the way back and when viewed from the sides. The maximum brightness of the screen is sufficient for public spots like airports and hotel lobbies, but it could do with a little more light behind the screen. I found myself pushing the brightness to max quite a number of times. Colours are neither too vivid nor excessively flat. They appear naturally neutral in terms of temperature.
The IdeaPad 530S has a full-size USB 3.0 port on either side. It also has an HDMI port, a card reader, single audio jack, and a USB Type-C port. A fingerprint sensor is present below the keyboard for faster sign-ins. It's quick and recognises fingerprints on the first go nine times out of ten. Remaining battery percentage is shown on the screen when the computer is turned off and a key on the keyboard is pressed.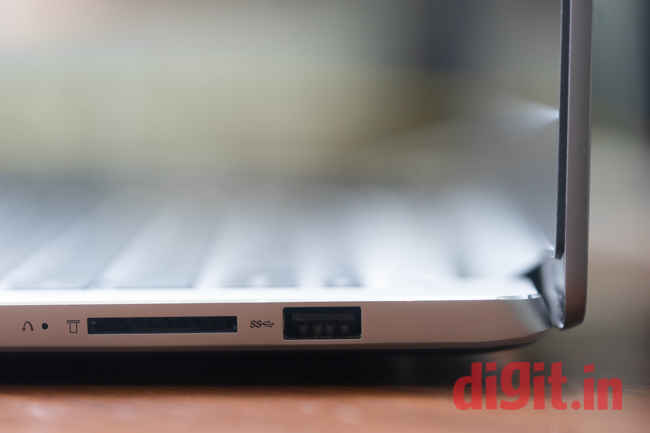 Keyboard and Touchpad
Being owners of the ThinkPad brand since 2005, Lenovo has been known to borrow the reliable ThinkPad keyboard design, or at least a part of it, for other lines of laptops. Strangely, the keyboard on the IdeaPad 530S bears no resemblance to the ThinkPad keyboard. In the last one month or so, I must've typed about six thousand words on the laptop. The keys on it are flat and shallow and offer very little throw while typing. While there are no dedicated keys for Home, End, Page Up, and Page Down functions, the arrow keys can be pressed in combination with the Function key to use them.
Depending on whether you prefer low-profile keys or not, the IdeaPad's keyboard will prove to become a 'love it or hate it' aspect. As for me, I'm not particularly fond of the keyboard; I found myself mistyping more frequently than I should because the keys were too shallow for me to feel the feedback. Having said that, it's not a bad keyboard by any means.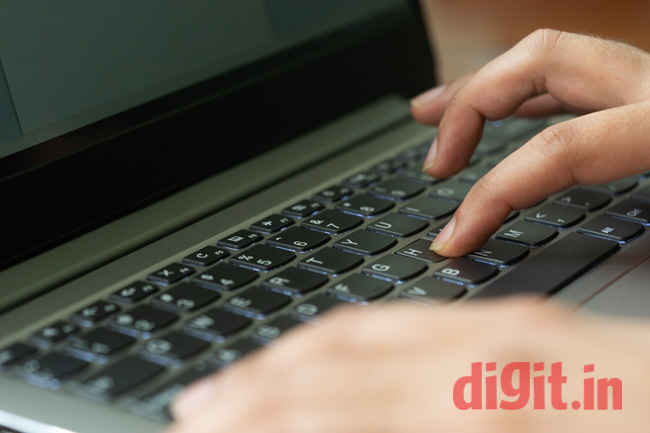 Lenovo has chosen to equip the IdeaPad with a precision touchpad setup. This means that you'll be able to take advantage of the multi-finger gestures Windows 10 offers and modify what they do directly in Windows' Settings under the Touchpad section; you'll need no extra hardware-specific drivers or utilities. The touchpad itself is large and smooth. The surface matches the rest of the body in colour and has no textures or bumps. The lower half of the touchpad is clickable for left-mouse and right-mouse click actions. The IdeaPad 530S offers a pleasurable touchpad experience overall.
Performance
Here's where the Lenovo IdeaPad 530S really comes into its own. Not only does it score favourably in benchmark tests, but it also offers a pleasant real-world computing experience. The laptop is supposedly offered with CPUs as sophisticated as Intel Core i7, but the one I received for review had a quad-core eighth-generation Intel Core i5-8250U (running at 1.60GHz). The IdeaPad 530S attained a respectable score of 4351 on PCMark 8's Accelerated Creative test and 3589 on PCMark 10.
Having used the IdeaPad 530S for well over a month now, I can confidently say that it offers a pleasurable computing experience even under stress. At maximum load, I had over half a dozen applications running concurrently: Windows' default email client, OneNote, Word, iTunes (that played music in the background), WhatsApp for Windows, Steam (that downloaded a game), WordWeb, and Chrome (with at least thirty open tabs across multiple windows). The IdeaPad didn't show an ounce of fatigue while working on any one of them or while switching between them. Applications like Apple iTunes tend to be on the heavier side for no reason, and the IdeaPad handled them with unanticipated equanimity.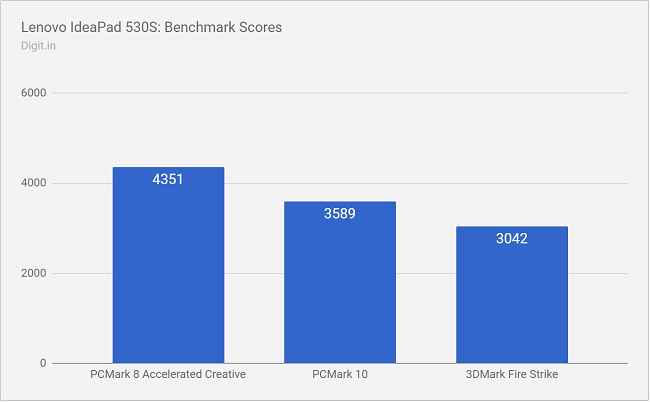 While doing all this, the IdeaPad 530S stays cool and quiet. The laptop gets warm at the bottom but doesn't ever get hot, especially to a point where you feel uncomfortable. Thanks to clever placement of the vents, dissipated heat is directed towards the inner side of the laptop hinge, and not towards the bottom. The closed airspace around the hinge creates an ideal sound stage for fan noise, but even then the fan runs fairly quiet. The fan can be heard running at different speeds in a quiet room, but not otherwise.
Battery
Let's get the claimed and test result figures out of the way before we get to the real-world usage figure: Lenovo claims the IdeaPad 530S boasts a battery life of up to 8 hours. It lasted 2 hours and 47 minutes on our PCMark 8 Creative Conventional battery life test.
During my time with the IdeaPad 530S, I used it primarily for writing, video playback, photo editing, and some gaming. With over thirty Chrome tabs (one playing video off YouTube), Windows' default email client, OneNote, and WhatsApp for Windows open, I managed to squeeze 6 hours out of this slim Lenovo machine every time I charged it. Throughout the tests, I set the screen brightness somewhere between forty and seventy per cent, Windows' power mode slider to 'Better battery', and left both Wi-Fi and Bluetooth on. Battery life dived below the 6-hour mark by almost an hour when I played videos extensively off the internet.
The IdeaPad 530S boasts a Rapid Charge feature, which allows the laptop to regain two hours' worth of battery life in fifteen minutes. However, it's important to note that this works only if the laptop is turned off. A full charge from zero takes place in under two hours.
In summary, the IdeaPad 530S' battery is sufficient for half a day of work that involves a lot of typing, but no more. A longer battery life would have been appreciated considering it's a mainstream multimedia laptop wearing an Ultrabook's clothes. That said, you might be able to juice more than 6 hours out of it if you know your applications well.
Bottom line
The Lenovo IdeaPad 530S has a lot going for it, especially under that sleek metallic hood. The latest generation Intel Core i5 CPU crunches data fast, and the Nvidia GPU keeps animations smooth. Data storage and retrieval is slick. It stays cool even when the CPU clock ticks faster. The keyboard and touchpad are a breeze to use, and the display is sharp. The Lenovo IdeaPad 530S is pretty much a new James Bond actor then.