VERDICT:
The Lenovo ThinkPad X1 Extreme combines top-notch performance with portability while maintaining its legendary build. Its 4K touchscreen display is a hit or miss but the device is on the whole quite a stunner.
– Charger cable with 135W power brick
– Network extension cord for ethernet port
I pegged the ThinkPad X1 Extreme as an outlier in the brand's long-standing X series just a few minutes after reading about its announcement at this year's IFA in August. I feel I was right in feeling that way then, now that I'm sitting here with this burly black box of power on my lap. I'll tell you why: when IBM first announced the X series in September 2000, it claimed that its 'ultraportables' were 'slimmer than a deck of cards', and 'lighter than a half-gallon of milk'. Lenovo, the ThinkPad brand's guardian since 2005 seems to have let that philosophy take a back seat with the X1 Extreme.
The X1 Extreme is the largest and the heaviest model in the ThinkPad X series line-up. It has a 15.6-inch display and weighs 1.8 kilogrammes. The largest device until the X1 Extreme's launch was the X1 Carbon, with a 14-inch display in its 1.13-kilogramme body. Though hefty for an X, the new Extreme has plenty of positives, like that bright 4K display and an NVIDIA GeForce GTX 1050 Ti GPU on the inside. But does the new ThinkPad offer enough to merit a buy? Let's find out.
Build and Design
Like its X-series brethren, the ThinkPad X1 Extreme has a large all-black graphite/carbon-fibre top cover that's both pleasant to look at and hold. It offers sufficient grip when you're lifting it off a tabletop or holding it in your hand. The neatly tapered base is made of an aluminium alloy that's equally grippy. Like most ThinkPads, the exterior surface of the device seems clean and hard-wearing. Adorning one of the corners of the lid is a ThinkPad logo with a red backlit tittle for the i. The X1 Extreme should be able to take a few scratches and minor falls in its stride. That said, you're still going to want to handle this machine with caution as the top-of-the-line variant costs more than a used Chevrolet Beat.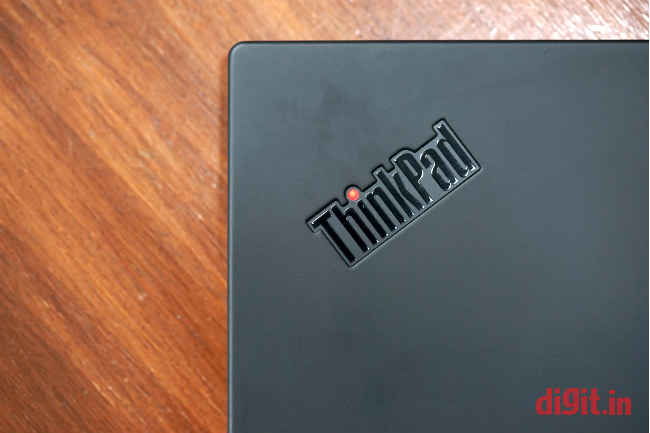 It's nearly impossible to open the ThinkPad's lid with the push of just one finger; you'll have to wrestle it open with your elbows (or nose, if you're daring) if your other hand is full while entering a meeting room. Once you open it, you see a glossy 15.6-inch display with noticeably slim bezels around it. The area around the keyboard and touchpad feels soft to the touch and is comfortable for long hours of typing. Next to the keyboard is a circular power button and a match-in-sensor fingerprint scanner, which works swiftly during sign-ins. The scanner authenticates within the sensor and does not share fingerprint data with the operating system to avoid hacking.
The display hinge on it is unlike any I've seen on a ThinkPad before. While ThinkPads generally employ two narrow but sturdy hinges on either side of the display, the X1 Extreme uses a single IdeaPad-inspired hinge that spans almost the entire width of the display. The hinge, though tight, ensures there's no free play, and the display stands erect even when the device is shaken about. In summary, the ThinkPad X1 Extreme is built excellently. My only grouse is that it doesn't belong in the X series family.
Display, Audio, and IO
The review unit I received for test was the top-of-the-line 4K touchscreen variant, which sports a 15.6-inch display with an eye-popping resolution of 3840 x 2160 pixels. According to Lenovo, the Dolby Vision HDR-enabled display has "100% color gamut". To the naked eye, it feels as if the colours are oversaturated. Major colours like red, blue, and green appear particularly darker than they are. According to our display test, the X1 Extreme's display reproduces 100 percent of the colours on the sRGB colour scale and 100 percent of the colours on the Adobe RGB colour scale. The screen is otherwise bright enough for use in sunny outdoor spots like balconies. If anything it's quite reflective because of its glossy finish, which is typical of touchscreens. A notable disadvantage of the review unit's touchscreen was the touch latency; the X1 Extreme would take a second or two to respond to sudden swipes and taps, especially while scrolling.
Audio from the Lenovo ThinkPad X1 Extreme's two downward-firing speakers is loud enough for playing music and movies at home and at work. Though there's very little bass output, violins and trumpets can be heard easily from a distance of say, six or seven metres from the laptop even when the environment is a little noisy. The ThinkPad's speakers will do the job for when you've left your headset at home and suddenly want to call somebody over VoIP.
There are plenty of ports on either side of the X1 Extreme's body. On the left, there's a proprietary Lenovo power port, two Thunderbolt 3 (USB Type-C) ports, full-size HDMI port, a network extension port, and a 3.5mm audio jack for headsets. On the right, there's a smart card reader, a four-in-one memory card reader, two USB-A 3.1 ports, and a Kensington lock slot.

Some of those ports mentioned above require explanation. While other X series models draw power through one of the two available Thunderbolt 3 ports, the X1 Extreme sticks to the good old proprietary Lenovo power port because it consumes 135W of power. The charger cable's power brick too is significantly larger than the usual 65W brick.

The X1 Extreme comes with a small wired dongle that has a full-size LAN port on one end. The other end fits into the network extension port on the body. This cumbersome setup to connect to ethernet, I assume, is because Lenovo couldn't fit a full-size LAN port on the X1 Extreme's body. The two USB-A ports on the right are 'always-on', which means they're capable of charging devices like smartphones and portable routers even when the ThinkPad is turned off.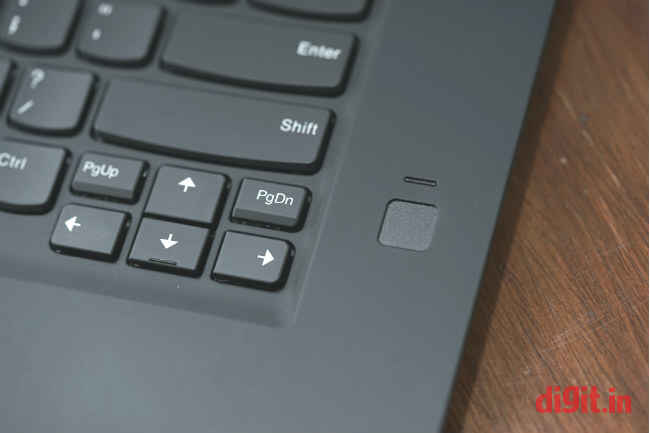 The fingerprint scanner on the review unit worked swiftly during sign-ins. By default, Windows Hello would search for a face and only if it failed would it ask for a fingerprint. Face unlock worked accurately three out of five times. At other times, it would just throw up a message and give up.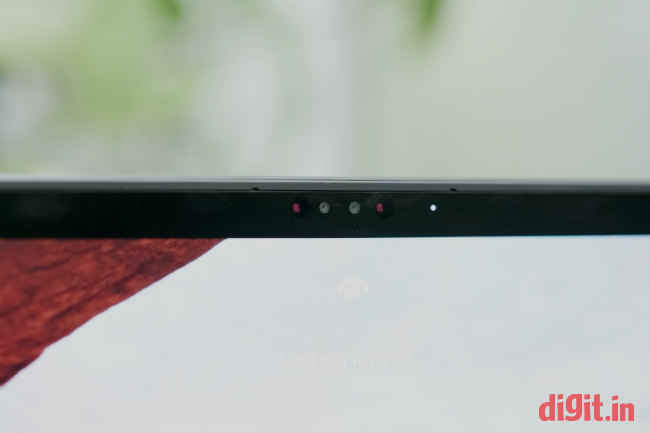 Keyboard and Touchpad
Though the ThinkPad X1 Extreme is a proper 15.6-inch model, Lenovo has dropped the number pad from the keyboard. This move, I imagine, will thrill some and disappoint others. Personally, I miss the convenience of the num pad but appreciate the comfort of a centered keyboard. What I don't appreciate so much is the hardness of the keys on the keyboard. Don't get me wrong—it's still very much a signature ThinkPad spill-proof keyboard, which means the keys have the right amount of travel, pitch, and backlighting brightness. But Lenovo has fiddled with the resistance of the keys, making them harder to press than on other ThinkPad models. As is the case with most ThinkPads, the X1 Extreme gets dedicated Home, End, Page Up, and Page Down keys.
The ThinkPad X1 Extreme's touchpad uses a combination of Windows 10's precision drivers and Synaptics software to provide a mostly pleasant touchpad operation. Multi-finger taps, swipes, and clicks can be customised in Windows Settings. There are moments when the pointer refuses to move on the first swipe but the overall experience is mostly pleasant nonetheless. The X1 Extreme also gets the good old TrackPoint and a middle mouse button option. The TrackPoint works without any fuss and the buttons click easily.
Performance and Gaming
On paper, the Lenovo ThinkPad X1 Extreme is stuffed to the gills with crunching power. The review unit I received for testing was the top-of-the-line variant, which means it came with an eighth-generation Intel Core i7 vPro CPU, 16GB of DDR4 RAM, and 1TB of storage on a Samsung PCIe solid-state drive. Graphics was taken care of by an NVIDIA GeForce GTX 1050 Ti with MaxQ Design. The card had 4GB of GDDR5 memory.
On benchmark tests, the ThinkPad X1 Extreme fared well enough to beat models like the Dell Inspiron 7572 and the Acer Swift 5 but not well enough to beat the Lenovo IdeaPad 530S in terms of overall score. On PCMark 8's Accelerated Creative test, the X1 Extreme scored just 79 points over the Core i5-powered IdeaPad 530S but zipped ahead in the graphics benchmark tests. The X1 Extreme, in fact, surpassed the current graphics benchmark for mainstream laptops in 2018 while running tests like 3DMark's Sky Diver.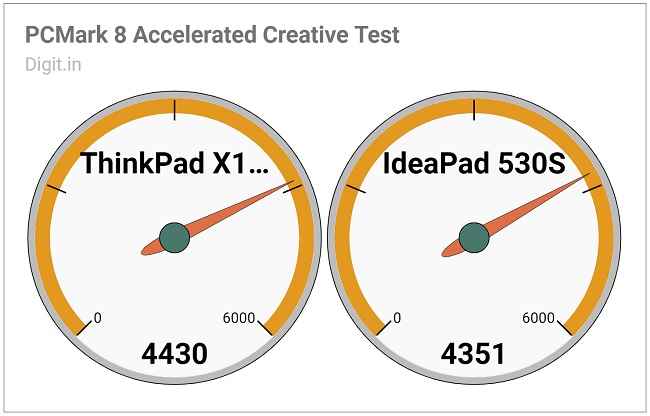 The review unit of the ThinkPad X1 Extreme performed everyday tasks with a great deal of ease. Activities like heavy web browsing, video-watching, and writing were a cinch. I regularly cycled through half a dozen Chrome windows (each containing twenty or more tabs) and other apps like iTunes, Windows Store, and File Explorer without facing any hiccups. I performed multiple CPU-intensive activities like app installations when an HD video was playing online only to see the X1 Extreme handle it all with aplomb.
Gaming was a mixed bag on the X1 Extreme review unit. Doom ran on Ultra settings at 4K resolution at 20 frames per second or less. Lowering the graphics to Medium bumped the frame rate up by about 10 frames per second. At Full HD resolution, Doom was locked at 60 frames per second no matter what the graphics settings was set to. Metro:Last Light ran rather badly on the ThinkPad. At 4K resolution and with the graphics turned all the way up, the game ran at about 7 frames per second. When I set the resolution to Full HD and brought the graphics down to Low, the frame rate climbed to around 25 frames per second. While running Metro: Last Light, at no time did the frame rate touch 30 frames per second.
Though equipped with a capable graphics card, the X1 Extreme review unit sputtered and stalled while displaying some Windows animations like switching between virtual desktops because of what I thought was a software glitch. The temperature of the CPU package rose to nearly 80 degrees Celsius every now and then, especially during app installs. Luckily, it wasn't felt on the base of the device. But the cooling fans, which turned on every few minutes, were distractingly noisy.
Battery
I was apprehensive about the ThinkPad X1 Extreme's battery life at first, what with its heavy powertrain inside and its 15.6-inch 4K display. Surprisingly it fared quite well during everyday use. With Wi-Fi and Bluetooth enabled, screen brightness set to 70 percent, the X1 Extreme ran at least ten instances of Chrome (each with at least twenty tabs open and music playing from YouTube), background Steam installations, and file transfers on battery.
With all of the above going on, the battery dipped from 100 to 26 percent in four straight hours. Considering the load it had, it's not a bad time to clock. Charging back to near 100 happened in 1 hour, 25 minutes, which is pretty swift. On our standard battery benchmark test however, the X1 Extreme scored an average 3 hours, 35 minutes. All things considered, the battery on the X1 Extreme is not all that long-lasting but not bad either.
Is it right for you?
If you're in the market for a reliable, powerful business machine and your budget stretches all the way up to Rs 3 lakh, then yes, the Lenovo ThinkPad X1 Extreme is just the machine for you. However, if you're a creator who's not brand-conscious or doesn't want to invest so much in a laptop, consider the likes of the Asus ZenBook Pro and even the Dell Inspiron 7572 (if you're aiming for something in the one-lakh range).
Bottom Line
The Lenovo ThinkPad X1 Extreme is definitely for you if you're looking for a business machine that manages to find balance between power and portability. It's a fine tool for image and video editing. Its massive powertrain inside is capable of handling a lot of tasks at the same time, heavy or light. Its 4K display, though oversaturated in terms of colour reproduction, is bright and allows for a great level of detail.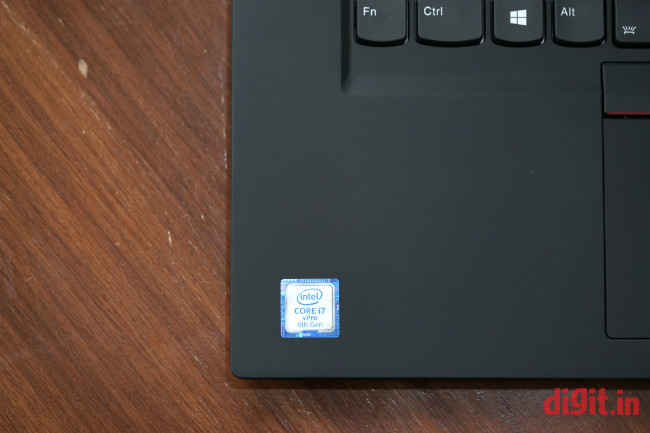 If you're looking for something more casual, the Asus ZenBook Pro is your next best option. It comes with similar specs, better audio quality, and an innovative touchpad that doubles up as a secondary display. The ThinkPad X1 Extreme commands a 3-lakh-rupee price tag for the top-of-the-line variant, which, however you slice it, seems like too much for the value it offers. Then again, it's a ThinkPad.