In a bid to make signing into its iCloud service, Apple is reportedly testing a new method. As per a report by 9to5Mac, devices running on iOS 13, iPadOS, and macOS Catalina beta can now use biometrics like Face ID and Touch ID to sign into beta.icloud.com. This option is said to be available when the iCloud website is visited using Safari on the devices running the above-mentioned beta operating systems. It apparently shows up as a pop-up and on devices supporting Face ID, the authentication option can be used. On the other hand, Macbook Pro and other eligible Touch ID capable devices can use the Touch ID feature for signing into iCloud.
As per the report, the new sign-in process doesn't require two-factor authentication confirmation. Additionally, when devices running on iOS 13, iPadOS, and macOS Catalina beta visit iCloud.com, they will be automatically redirected to beta.icloud.com. The new form of authentication could be seen as Apple's effort towards testing its 'Sign-in with Apple' option that was announced back at WWDC 2019. The new option is similar to login methods provided by Facebook and Google, which can be found on most apps. 'Sign in with Apple' is touted to be a faster and more secure way to sign into an app or service "without all the tracking". Developers will be able to integrate the option with their app and users will get to tap it and authenticate with Face ID. This will enable logging in "without revealing any personal information".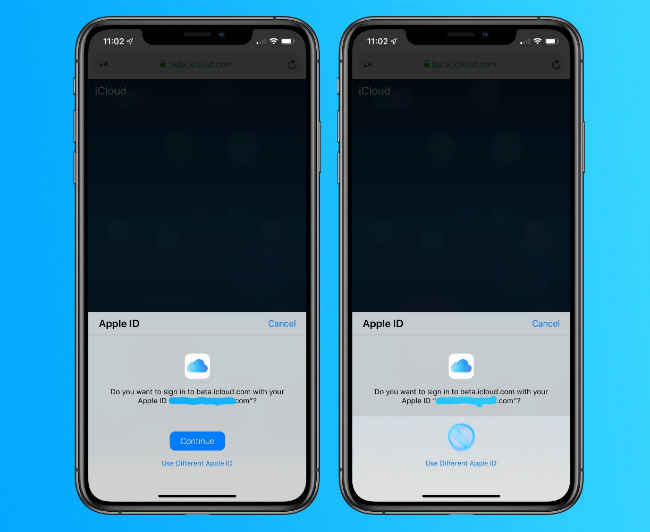 Apple also previously announced a new feature that would enable users to hide their email ID when signing into apps that require additional info. For example, for apps that need a user's name and/or email address, users will be able to create and assign a random email address that will be handled by Apple. This email ID will forward all emails from that app to the user and one can choose to stop receiving emails at any time, which is a good way to rid your inbox from unwanted emails.