The new iOS 13 for iPhones brings a slew of new features and updates.
As expected, Apple announced its iOS 13 operating system for iPhones at the World Wide Developers Conference 2019 event. While leaks and rumours had given us a fair idea of what to expect, the company made many additional announcements and features for the new OS. The event started off with Apple revealing that iOS 12 has 97 percent customer satisfaction and a high adoption rate of 85 percent. The company also took a jab at Google, whose Android 9 Pie OS was touted to feature only 10 percent adoption rate. However, the session quickly moved on to detailing the new iOS 13 operating system, what new features it brings to the table and more. As this article's headline reveals, Dark Mode will be officially available on iOS 13. The new dark scheme will be a system-wide implementation with all of Apple's first-party apps sporting a darker hue. Additionally, there are multiple new features that will be coming in iOS 13 like performance improvements, a new swiping keyboard feature, privacy-centric options and much more. Here are the top ten features that will be rolled out for iPhone 6 Plus and above with iOS 13. iPhone SE and the iPod 7th gen will also be updated to the new OS.
Performance upgrades
iOS 13 is touted to deliver improved performance over iOS 12. Face ID is said to work 30 percent faster, which means unlocking iPhones should be faster as well. Additionally, the company is revamping the way apps are packaged so that app packages from the App Store would be up to 50 percent lighter and updates being 60 percent smaller. Apps are also touted to boot twice as fast as compared to iOS 12. All these new performance changes will be rolled out in the fall with iOS 13.
Dark Mode
Dark Mode is probably one of the most anticipated features to be added with iOS 13. The new system-wide colour scheme will be applied to all of Apple's apps, along with the notifications and the dock. Apple showed off the News, Notes, Calendar and Photos apps that feature a dark theme, which certainly seems like it will be easier on the eyes. The notifications also feature a slightly glossy background with a translucent texture.
Privacy enhancements
Apple says it understands how important user privacy is and has made many changes to improve in this aspect with iOS 13. The company is revamping how apps are able to access a user's location data. With iOS 13, a user will get to share their location data with an app "just once" so that the app is unable to access it repeatedly. Additionally, one can set background tracking alerts if they want to know when an app is using location data after being granted permission. Apps will also be barred from accessing Wi-Fi and/or Bluetooth without permission to fetch user location.
Apple has also made a big announcement in terms of privacy with a "Sign in with Apple" option. This is basically similar to the login option from Facebook and Google we get with most apps. 'Sign in with Apple' is touted to be a faster and more secure way to sing into an app or service "without all the tracking." Developers will be able to integrate the option with their app and users will get to tap it and authenticate with Face ID. This will enable logging in "without revealing any personal information."
Additionally, for apps that require additional info, one can give out their name and/or email address. However, they can also choose to hide their email and in this case, Apple will create a random email address that will receive and forward mails it to the user's Apple ID to prevent spamming. The feature will also work on the web and users will be able to disable these random emails that can be crafted for each app or service anytime they want.
Apple Maps updates
Apple apparently drove 4 million miles to rebuild maps from the ground up. It was shown off to feature more detailed data than before and there will also be new features added to the recently designed launch screen like pinning favourite places for quick access, and "collections" for organizing favourite places and sharing lists of places with friends, and more. There's also a Lookaround feature, which is similar to Street View in Google Maps. Moving to Landscape mode will enable zooming down the street and one can tap on labels to learn more about new places. There will also be multiple other additions to Apple Maps that have been only outlined yet like a Junction View, ETA sharing, Real-time transit information and more. The new Apple Maps will roll out in the US in 2019, and for 'select' other countries next year.
Quick Path swiping actions for keyboard
While multiple third-party keyboard apps already offer the functionality to swipe and type, Apple's native keyboard was devoid of it, till now. While not a big announcement, swiping actions are making their way to the native Apple keyboard app, which the company calls 'Quick Path. If you have used SwiftKey, Gboard or Swype keyboard, you pretty much know how the feature works.
Revamped Reminders app
Reminders is being 'reinvented' with iOS 13 as the app is said to be rebuilt. Along with a revamped UI, It will feature new filtering options like "Today," "Scheduled," "Flagged," and "All." There will also be some AI based features that will enable users to simply type and the app will automatically suggest when you'd like to be reminded. Also, users will be able to tag contacts to be reminded while opening their thread in Messages.
New additions to camera and image editing tools
Some new additions are coming for the camera app. The Portrait lighting mode is being updated and it brings new effects that enable adjusting the intensity of lighting effects. Apple says, "With iOS 13, Portrait Lighting adjustments can be made right in the Camera app to virtually move the light closer to sharpen eyes and brighten and smooth facial features, or push the light farther away to create a subtle, refined look. A new High-Key Mono effect creates a beautiful, monochromatic look for Portrait mode photos."
Photo editing is also touted to become easier as users will be able to tap and drag on an attribute like sharpness or contrast to edit an image. This new editing UI will also be brought to videos and alongside using these new options, one will also be able to rotate, crop or apply filters to a video.
The new Photos app will use Machine Learning to organise images into different categories. The app is said to automatically hide unwanted images to render a cleaner overall look. There will be a new tab on the bottom and one will be able to Pinch to zoom in and out of an album. Images will be classified on the basis of Days, Months and Years at the bottom.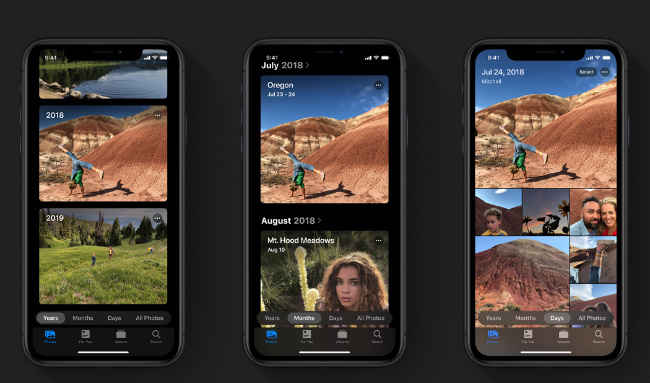 Messages and Memoji Stickers
Users will get to create a Memoji or Animoji and username for iMessages on iOS 13. Memojis will also feature new personalisation options like the ability to add makeup, accessories, hair, hats, AirPods, and more. In addition, there will be a new Memoji sticker pack that will be created automatically and placed alongside emojis in the keyboard app. All device running on A9 chip or later will support this feature.
Siri, AirPods and Radio updates in iOS 13
Siri is touted to get better with dictation in iOS 13. Using Neural TTS, Apple says the digital assistant will sound more natural. Additionally, the Siri Shortcuts app will be built in and users will be able to create Multistep shortcuts with suggested automations that are apparently based on a user's habits. Siri will also now be able to read your incoming messages as they arrive when one is using AirPods. Finally, Apple is adding Live radio to iOS and the option is said to feature over 100,000 radio stations from around the world.
Support for external storage
Apple is finally bringing the option that enables iOS to pull files from USB drives and SD cards into the Files app.