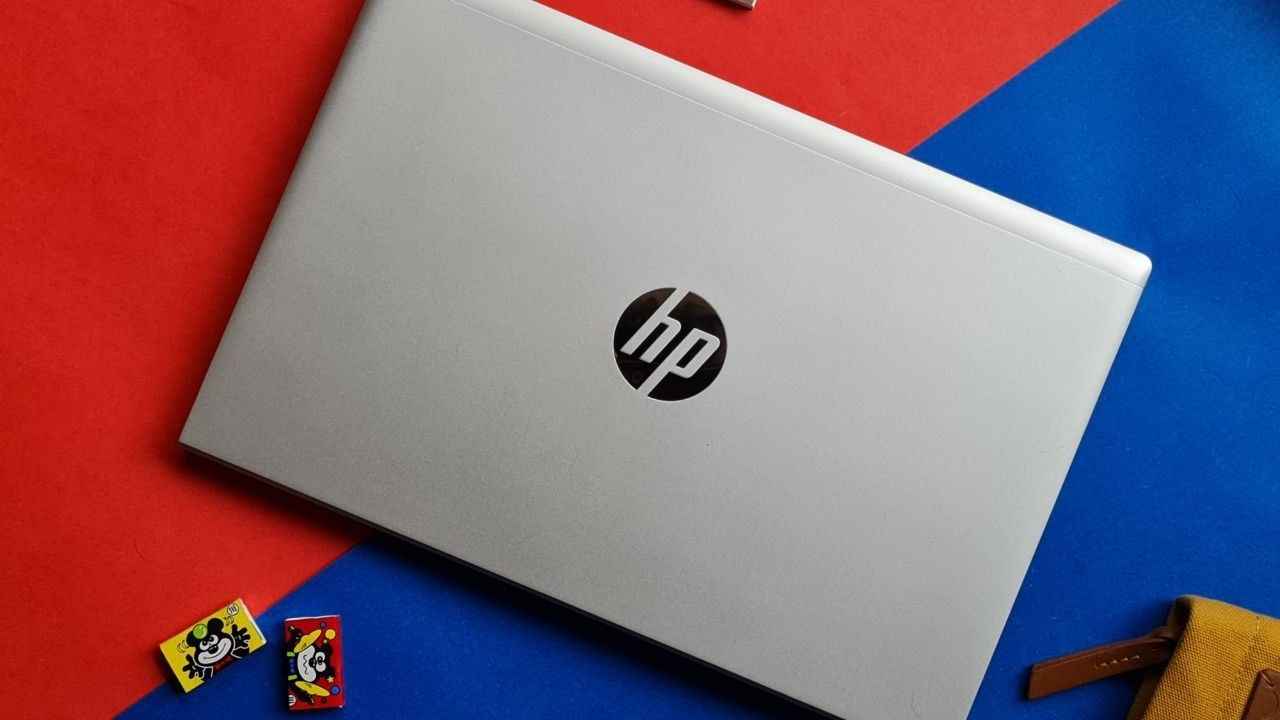 VERDICT:
The HP ProBook 635 Aero G7 is a very good AMD-powered enterprise laptop. It scores high marks for its battery life and snappy performance, but it's got other great qualities, too. The model that we reviewed is powered by AMD's Ryzen 7 4700U, 16GB RAM, and AMD Radeon graphics. This notebook is great for anyone who is looking for a long-lasting, portable notebook for day-to-day enterprise needs.
The competition in the business laptop segment is greatly picking up now that a lot of enterprises have transitioned to working from home. There are plenty of options out there on the market, and several OEMs are also adding new variants to the perennial favourites. HP also has an arsenal of business-oriented notebooks under the EliteBook and ProBook branding.
I have been using the HP ProBook 635 Aero G7 as my primary notebook for work for about 3 weeks now. There's a lot to like about this laptop that makes me want to recommend it. But is it really worth the price tag of Rs 1,16,820 that it carries? Let's have a look.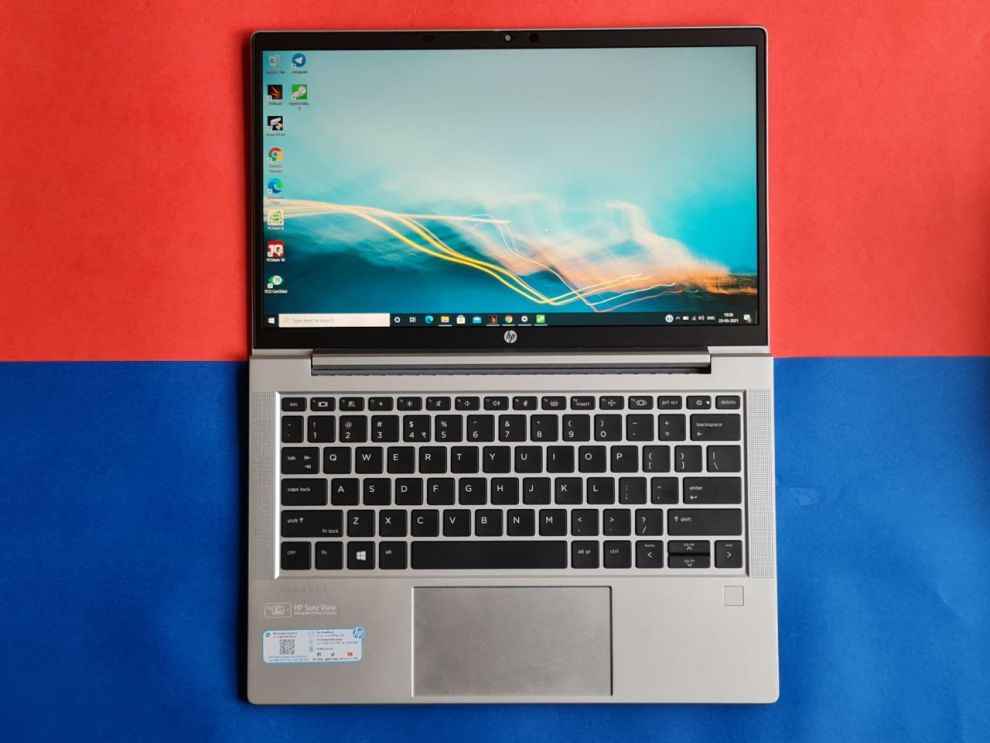 HP ProBook 635 Aero G7: Specifications
Processor: AMD Ryzen 7 4700U (2.0 GHz base clock, up to 4.1 GHz max boost clock, 8 MB L3 cache, 8 cores)
RAM: 16 GB DDR4-3200
Storage: 512 GB PCIe NVMe SSD
Display: 13.3" FHD IPS anti-glare panel, 1000 nits brightness.
HP ProBook 635 Aero G7: Performance
The AMD Ryzen 7 4700U is at the heart of this laptop, driving the performance. The AMD chips have gotten considerably better, and they are no longer lagging behind the Intel counterparts. The Ryzen 7 4700U managed to score a very respectable 4,615 on the PCMark test, which is higher than both ThinkPad 14's score as well as the Mi Notebook 14 Horizon Edition, both of which are running Intel's 10th Gen Core i7 processors.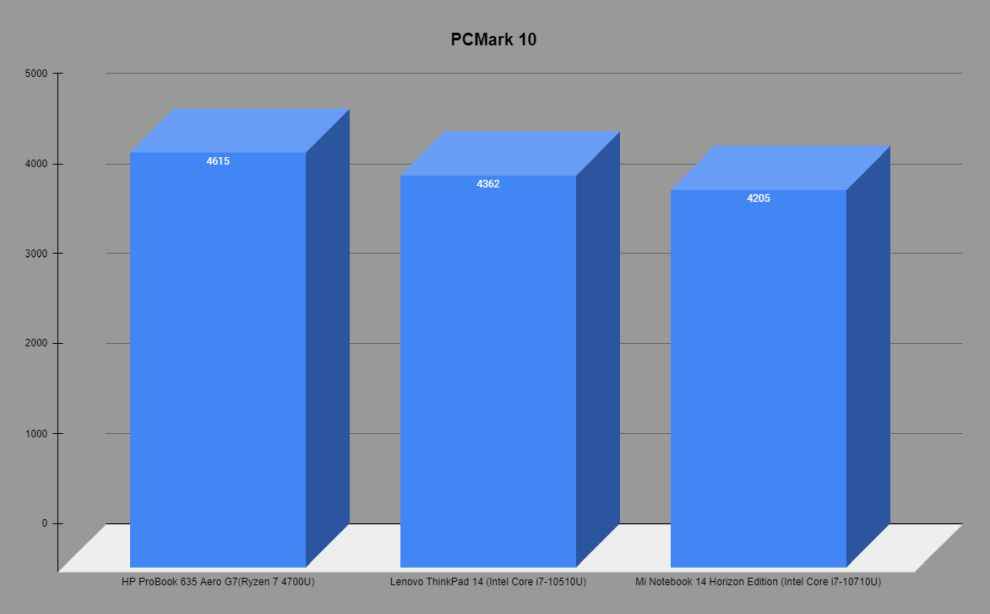 It's, in fact, on par with the HP Pavilion laptop 13's performance that's powered by the latest Core i5-1135G7. This is where Ryzen 7 4700U's strong multi-core computing power comes into play. The slightly lower score could also be due to a weak SSD or a single-channel RAM that's soldered onto the motherboard.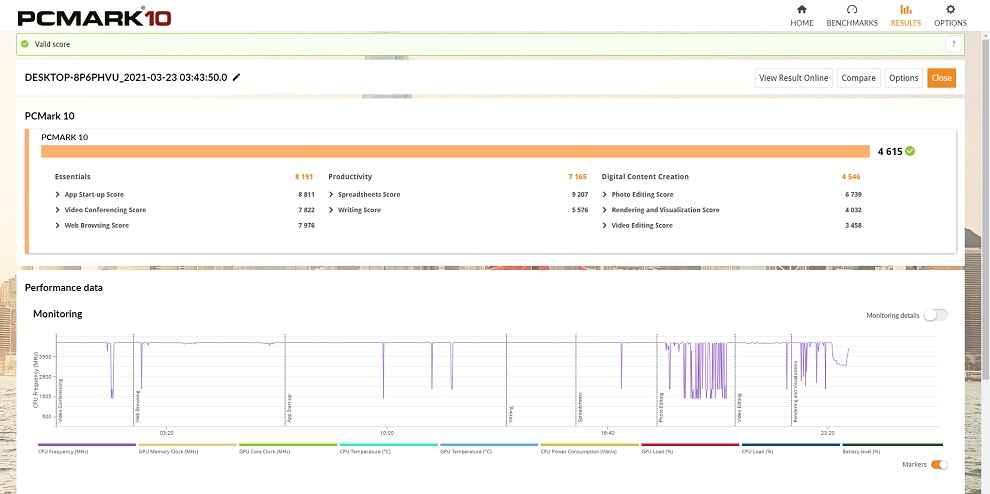 Moving on to Cinebench R20, and you see similar results, with the ProBook managing to score higher than most other laptops that we have tested here in this category. The Ryzen 7 4700U truly shines here with its cores. Of course, the Intel versions can also keep up with the Ryzen processors in single-core tests, especially the Core i7 variant. But you need to consider that they are more expensive, and the price-to-performance ratio clearly speaks for AMD.
We got some outstanding results when we ran other tests for our internal scoring sheets, like the Cinebench R15, 11.5, and the PCMark 8 in the hardware accelerated mode. This laptop gracefully handled these benchmark programs without any issues whatsoever.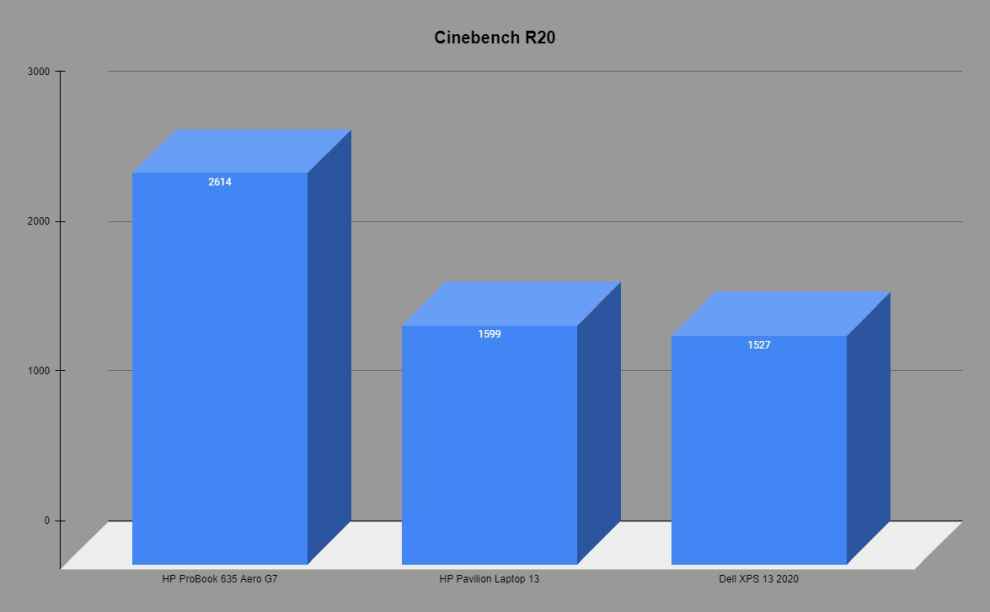 For testing the GPU performance, we ran 3DMark's Time Spy test and came out with a score of 826, which is pretty much what we expected out of this machine. It's in the ballpark of other similar laptops with Radeon RX Vega 6. In 3DMark's Sky Diver test, the laptop scored a solid 7,805 and came out better or even closer to the ones with a discrete GPU. Not bad at all.
Before I talk about real-world usage, I'd like to point out that the HP ProBook 635 Aero G7 managed to stay relatively cool even while running these stress tests. The laptop, as you can see, has a petite chassis, and I was honestly quite surprised to see it only getting slightly warm to touch on certain areas instead of getting super hot.
Credit goes to the Ryzen 7 4700U processor for this one for cranking out snappy performance without producing too much heat. The fan-noise, even under heavy load, was very less. You probably won't even hear it in a working atmosphere with ambient noise.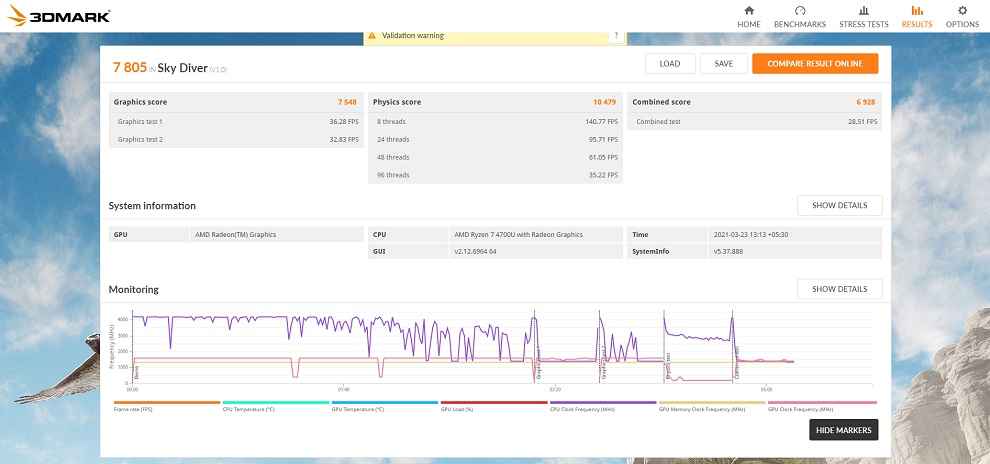 Coming to real-world usage, my day-to-day experience with the laptop was pretty good. I had no issues pushing this laptop to its limits for my everyday work. Of course, I don't use too many resource-intensive programs on a daily basis, but I tend to test out extreme scenarios like opening up 40+ tabs on Chrome and try to run a photo editing app at the same time. The laptop did manage to handle that quite effortlessly, which makes me believe that you will face no issues with the performance of this machine.
I also did some gaming on this laptop, although I have to point out that this is not a laptop that is meant to handle AAA titles. Games like Witcher 3 and Grand Theft Auto 5 barely manage to hit playable frame rates even at low settings. Trust me; there are much better laptops out there that can handle gaming at a lower price.
For storage, HP has used an SDD from SK Hynix instead of going with more expensive options. The 512 GB PCIe NVMe SSD gave me sequential read and write speeds of 2301.58 MB/s and 1066.47 MB/s, respectively, in the CrystalDiskMark test. The performance of this is similar to the HP Pavilion Laptop 13, which is serviceable for an enterprise notebook.
HP ProBook 635 Aero G7: Display
Coming to the display, the HP ProBook 635 Aero G7's 13.3"-inch IPS panel turned out to be a little bit of a bummer. On paper, it looks like a solid panel, though. It's got 1920 X 1080 resolution, anti-glare coating, up to 1000 nits brightness, 72% NTSC coverage, and HP's Sure View privacy screen. But after using the laptop for a while, I quickly noticed some issues with it.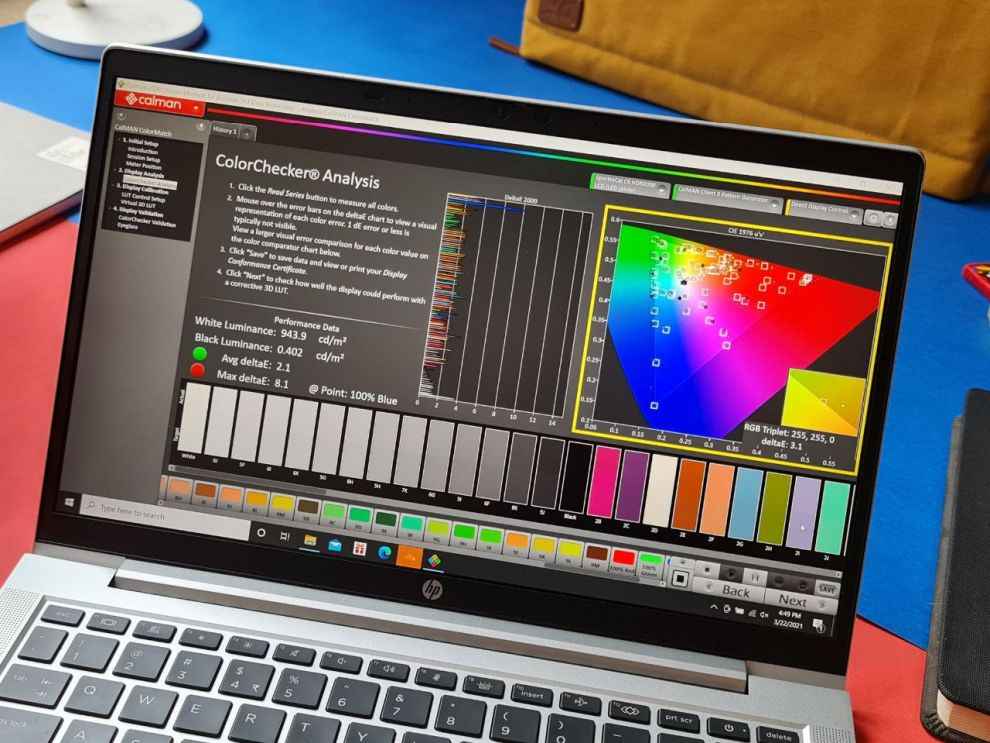 I used Portrait Displays C6 HDR2000 colourimeter to get a detailed analysis of the display first. HP says the laptop has a max brightness of 1000 nits, but I could only measure a peak brightness of 792.7 cd/m². That's still better than many laptops out there, but it didn't do much for me when I tried using the laptop outdoors.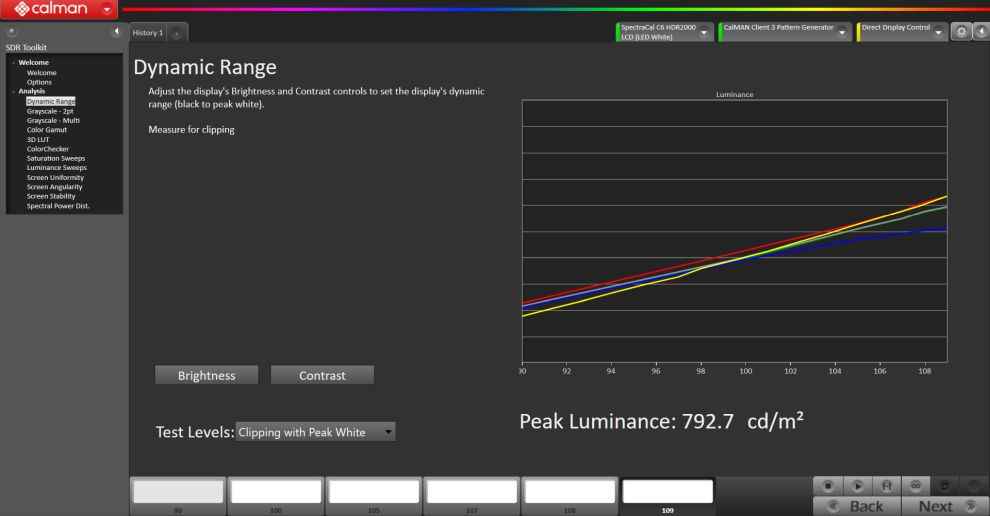 HP ProBook 635 Aero G7 display tested on Calman Ultimate
I was finding it very difficult to use this laptop outdoors, even when the sky is cloudy. But I think that has more to do with the display quality itself. I talked about the display quality at length in my other feature story, in which I highlighted some of the issues with this privacy screen. The HP Sure View tech used in this laptop gives it a built-in privacy screen that can be enabled with just a tap of a button.
The privacy screen itself works as advertised, but you end up losing some horizontal viewing angle. You really have to get the angle of the display right to see things properly. In fact, I won't be surprised if it looks like a TN panel. Viewing angle is a huge issue, which is very odd considering the fact that this laptop has an IPS panel.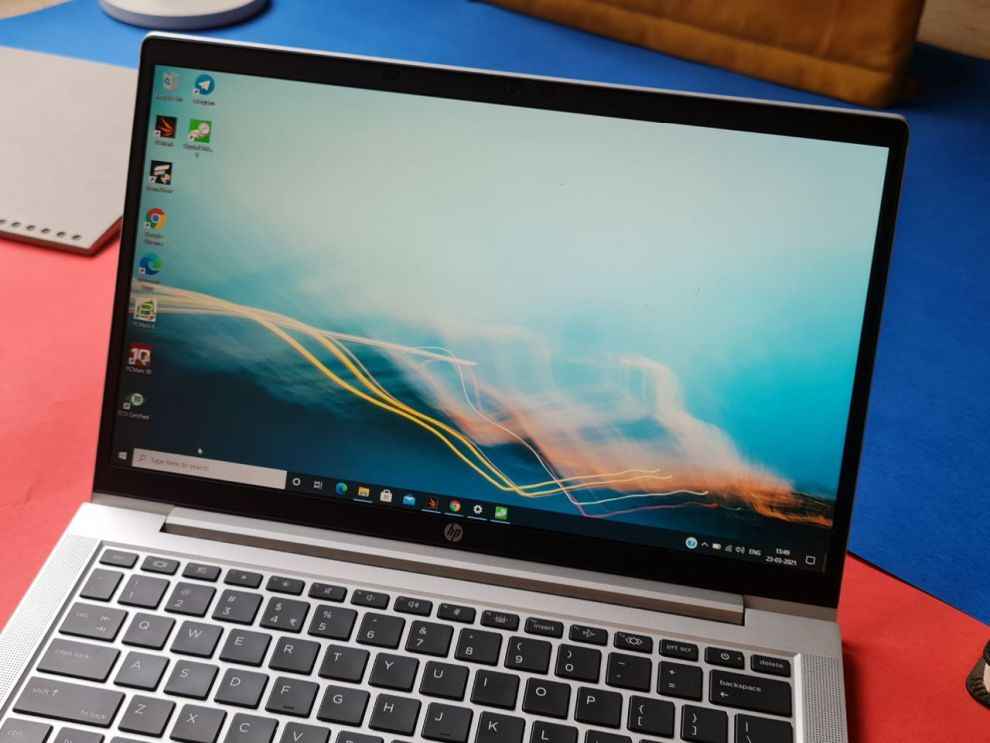 You really have to look at the display at a certain angle to see things clearly. It's good that the display opens up to 180-degree but that, unfortunately, doesn't help its cause. This is without using HP's Sure View tech, which, when turned on, reduces the visible light outside the privacy region. It makes it even harder to look at from off angles.
It's a shame that I wasn't able to enjoy the display because of this privacy screen feature fully. It's a great feature to have, but I personally found it to be an annoyance, considering how I had to keep adjusting the display to see things properly.
Diving deep into more specifics of the display, I got some pretty good results with the Calman colourimeter. The panel's contrast ratio is on par with most options out there in this price range. I also got an average Correlated Color Temperature, or CCT, reading of 6478, which means the colour temperature is on the cooler side.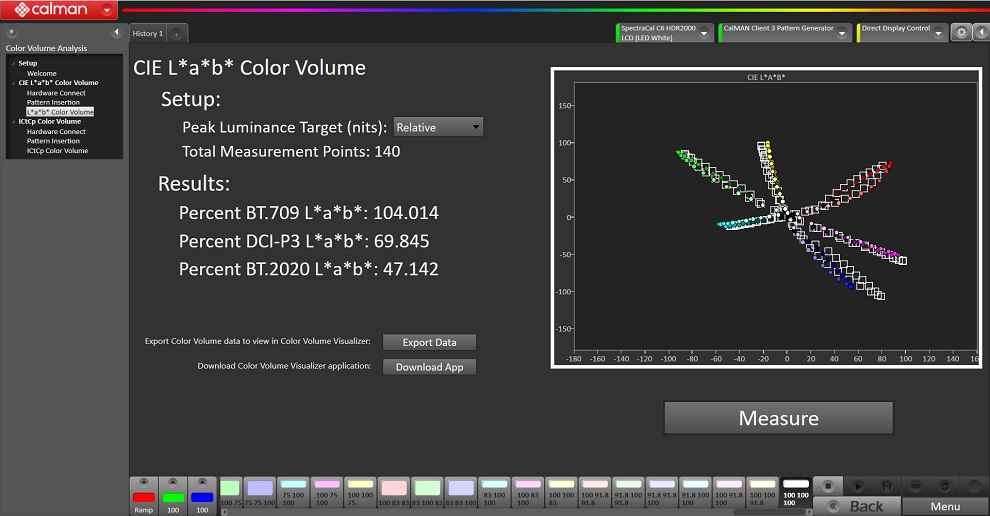 HP ProBook 635 Aero G7 display tested on Calman Ultimate
Colour reproduction out of the box is pretty solid as well. You can see that in the low DeltaE values of 1.2 and 2.1 on Greyscale and ColorChecker analysis. The display was also able to cover 105% of sRGB and 69% of DCI-P3 colour space. When it comes to the colours, I was able to notice some slight discolouration in darker shades of certain colours like Green and Blue. They tend to look a little bit paler, which is due to the huge parity in DeltaC and DeltaH values of the colours in the Luminance Sweeps test.
What this means is that the display will be able to reproduce a majority of the colours right except for some darker shades of Green and Blue. I saw no issues when it comes to skin tones, as all those shades were well under the margin of error. Overall, this is a really good display for day-to-day work and consuming content as well.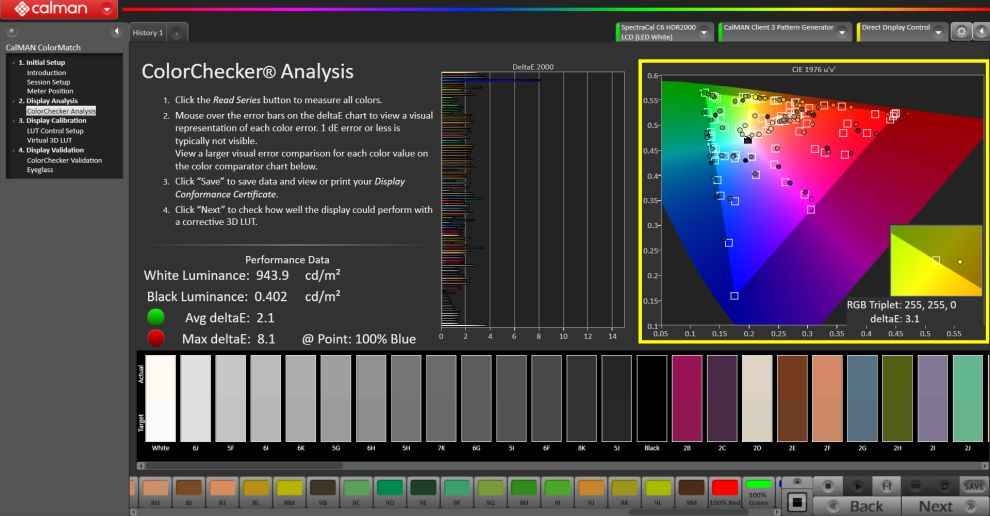 HP ProBook 635 Aero G7 display tested on Calman Ultimate
But like I said, it was hard to enjoy the display, knowing that I would face issues with viewing angles. I had to constantly adjust the angle of the display to make sure none of the text or the visuals on the display was looking off or blurry. HP's Sure View tech works very well by blocking 75% of the visible light outside the privacy region, though, so no complaints there, and I am sure you will appreciate that.
HP ProBook 635 Aero G7: Battery Life
A good enterprise laptop should be able to last at least an entire day without any need for charging. Being able to rely on battery power for day-to-day workloads makes it that much easier to recommend a laptop. Well, the HP ProBook 635 Aero G7 has excellent battery life. It packs a 3-cell 53 Wh Li-ion battery, and it charges via a 65W EM External AC power adapter.

In PCMark 10's Modern Office battery life test, the HP ProBook 635 Aero G7 lasted for 10 hours and 49 minutes. That's 649 minutes on PCMark's battery test at max brightness. This test, in case you don't know, measures the performance with a realistic balance of day-to-day tasks like writing, web browsing, video conferencing, and more. It beats a lot of other laptops in its category, like the ASUS ZenBook Duo, which has a larger 70WHrs battery and even the Lenovo IdeaPad S540, which has the same capacity battery. Check out the graph below –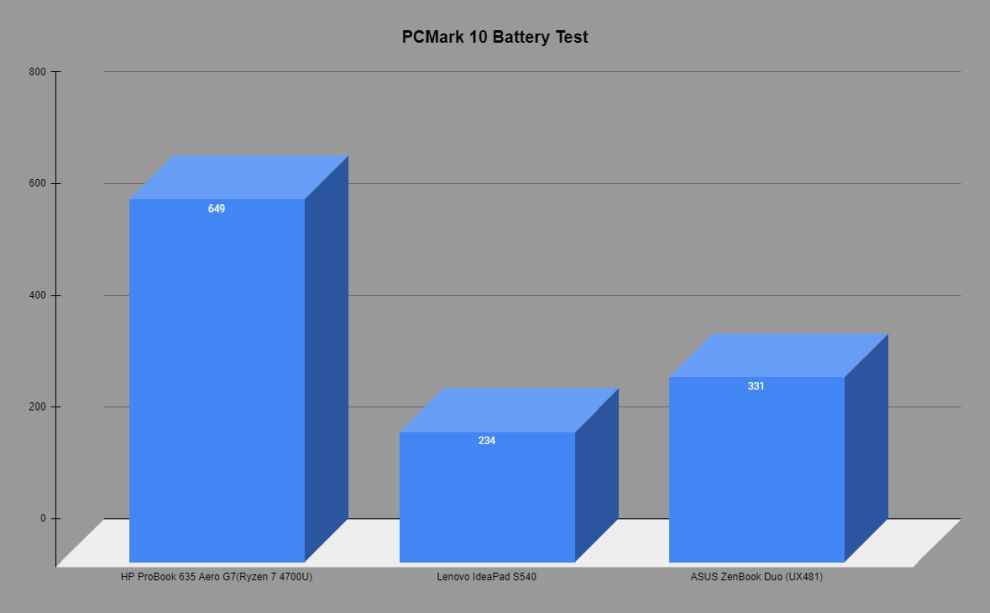 Coming to real-world usage, the HP ProBook 635 Aero G7 lasted a little over 8 hours for me on a normal workday. On a typical workday, I use the laptop for writing stories for the website, researching for info on the internet, spending some time on YouTube & Twitch, and listening to music mostly via a pair of Bluetooth headphones. That should give you a decent idea of the kind of battery life you can expect.
I monitored my battery usage across multiple days in the week and got a similar battery backup of about 8 hours. This was with max brightness, so you can definitely squeeze in some more hours by turning down the brightness by a notch or two. However, I won't recommend doing that because of the display issues I mentioned earlier in the display section that makes it difficult as it is to see things clearly. But even without that, the 8 hours of battery backup is still solid in my books.
HP ProBook 635 Aero G7: Laptop Keyboard, Trackpad and I/O
As you open the lid, you will see a full-sized backlit keyboard with two-stage backlighting. The keys themselves are black, and the lighting illuminates the surroundings as well as the labelling. These are flat keys which means they don't have a conical curvature. That didn't bother me because the keys have satisfying key travel.
I quite enjoyed typing on this laptop's keyboard. It's one of those quiet and comfortable keyboards that you immediately appreciate despite coming from a clicky mechanical keyboard.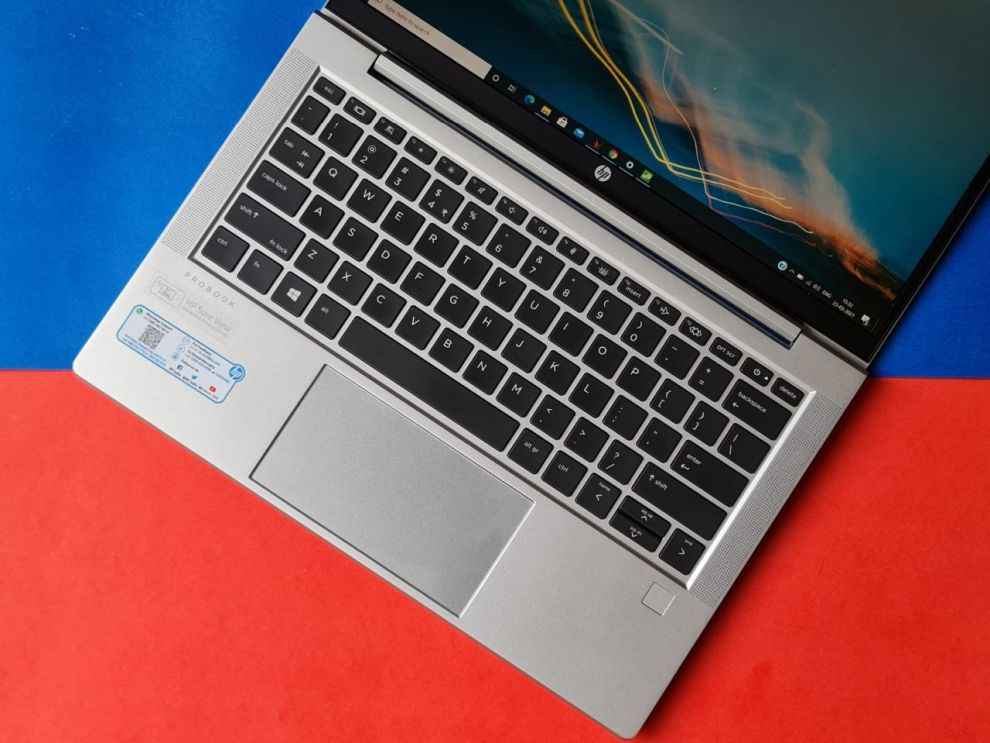 I used HP's own Pavilion Laptop 13 before this, and it had a less satisfying keyboard with mushy keys. So this was certainly a lot more satisfying to type on. HP says the keys are spill-resistant, although I wasn't able to test that, so you'll have to take their word for it.
Coming to the touchpad, this is again a relatively smaller one. It's understandable given the size of the laptop, though. It benefits from the fact that there aren't any dedicated buttons for the touchpad. The glass surface is also simply better than plastic. I found the mechanics of the ClickPad to have a crisp, high-quality pressure point. All the windows gestures also work very well, thanks to Microsoft's Precision touchpad driver.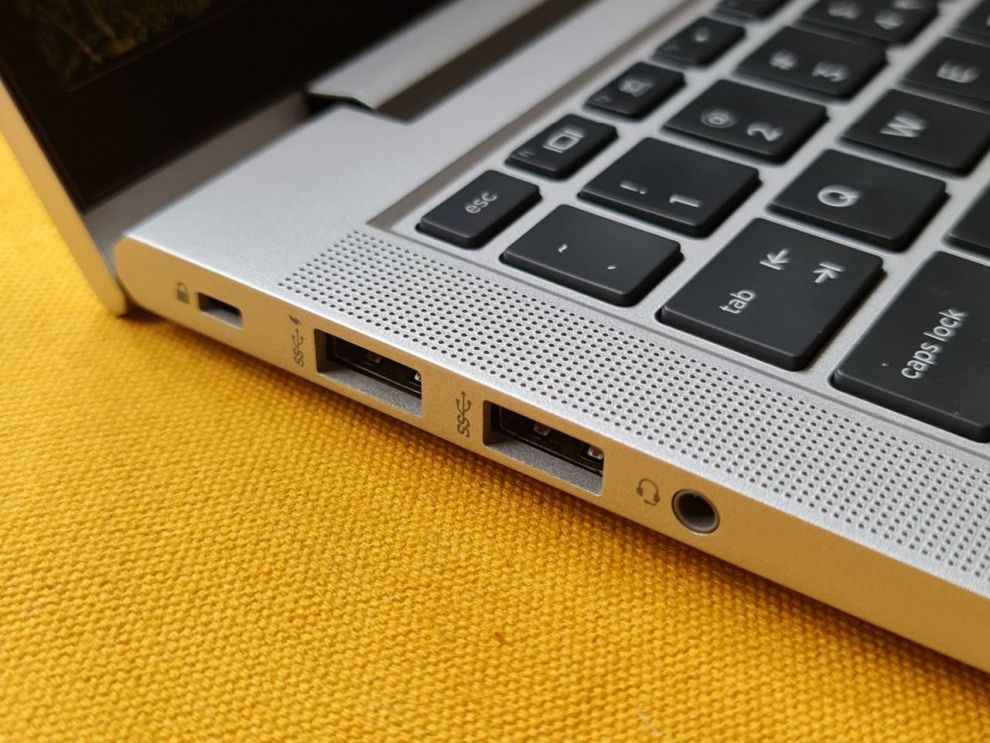 In terms of connectivity, the HP ProBook 635 Aero G7, I'd say, is good as is typical for business laptops. Unlike the older business laptops, HP has moved the air vents to the back of the hinge, so there's more room for ports. On the left side, you get 2 USB Type-A ports and 1 SuperSpeed USB Type-C on the right with a 10Gbps signalling rate. This port also supports USB Power Delivery and acts as a DisplayPort.
In addition to that, you also get a headphone/microphone combo jack, an HDMI port, and a port to connect your AC barrel adapter for charging.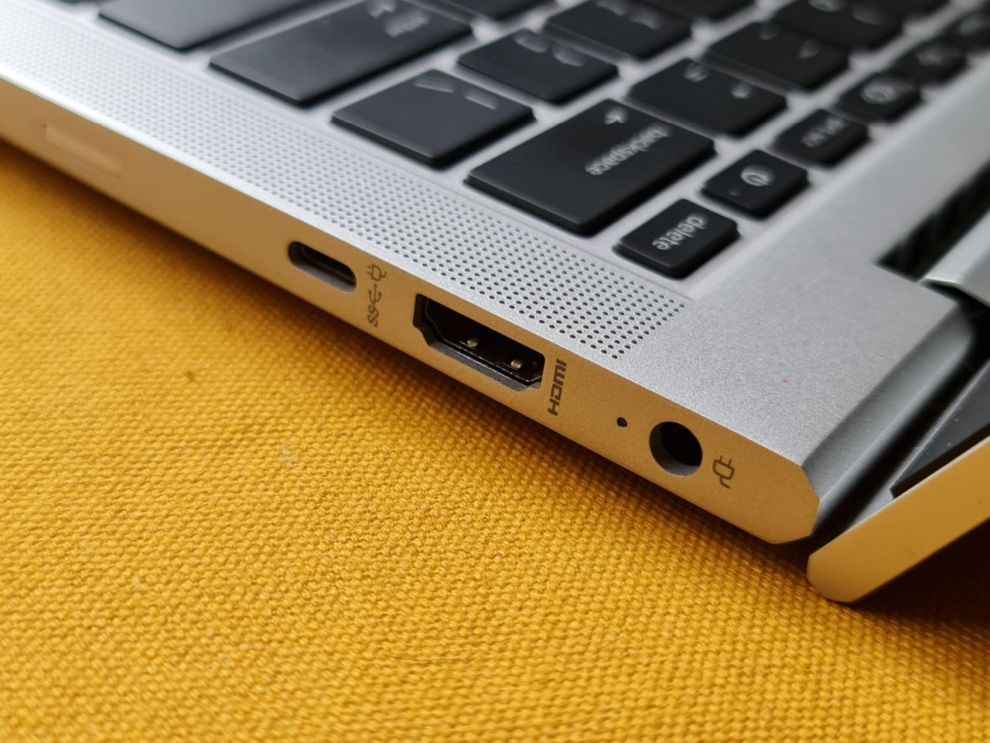 HP ProBook 635 Aero G7: Design and Build Quality
The HP ProBook 635 Aero G7 laptop is made out of recycled aluminium and magnesium that makes it sturdy. This laptop feels like it can take bumps and jolts that may befall business laptops while carrying them around. It's worth pointing out that this is not one of those ultralight laptops like the Apple MacBook Air or the ASUS ExpertBook B9450, which ASUS claims to be the lightest 14-inch business laptop available.
The ProBook has a very simple design, and it looks great. It decidedly looks more modern than some of the older business laptops that you may have used in the past. I see a lot of similarities between this one and the HP Pavilion Laptop 13 when it comes to the design. It's a good thing that HP is going for sleek designs, and this one is a svelte machine that's perfect for a conference room. The lid of the laptop opens all the way up to 180-degrees, and I like the fact that you can do it with just one hand.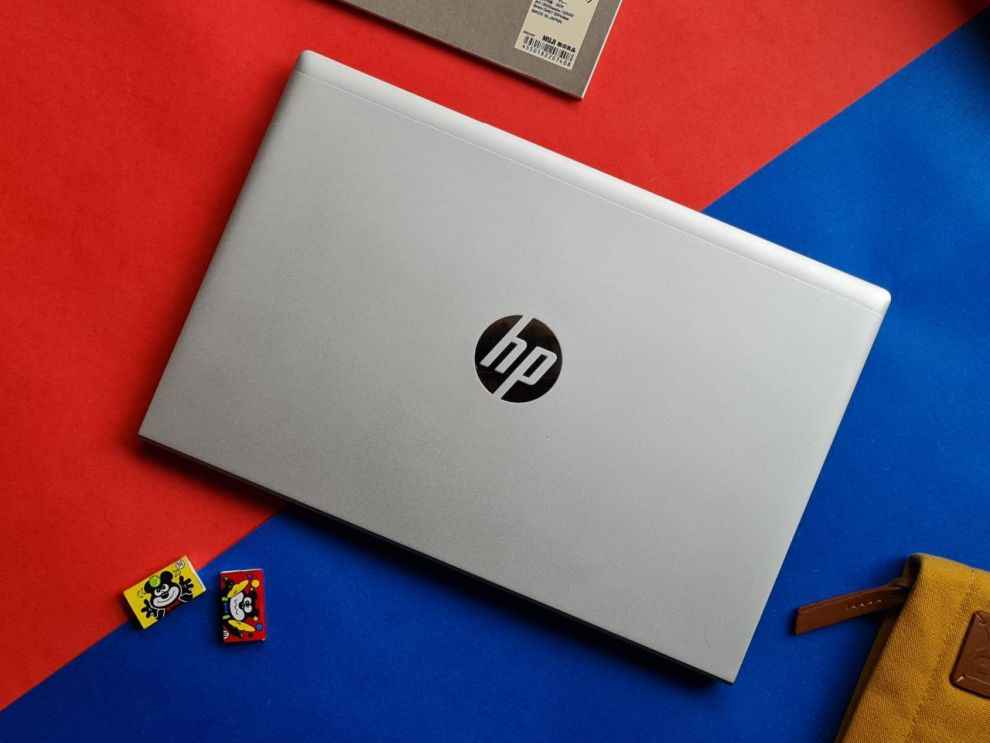 The base of the laptop is rigid, but I won't say it's torsion-resistant. The same is the case with the lid that's also made out of aluminium. It's not torsion-resistant, but slight pressure on the back doesn't cause any changes to the visuals on the screen. The palm rest is also firm, and it's got an angular edge that won't hurt your arms even with an extending period of resting.
You can also see the stereo speakers on the left and right sides of the keyboard. Its placement automatically makes it better than a lot of laptops with bottom or side-firing speakers. The speakers get moderately loud, meaning they can easily fill a medium-sized room. They provide a reasonable amount of high frequencies but lack bass. The sound coming out of the speakers doesn't distort even at max volume. They seemed to be decently tuned, but I would still rely on a pair of headphones for media consumption.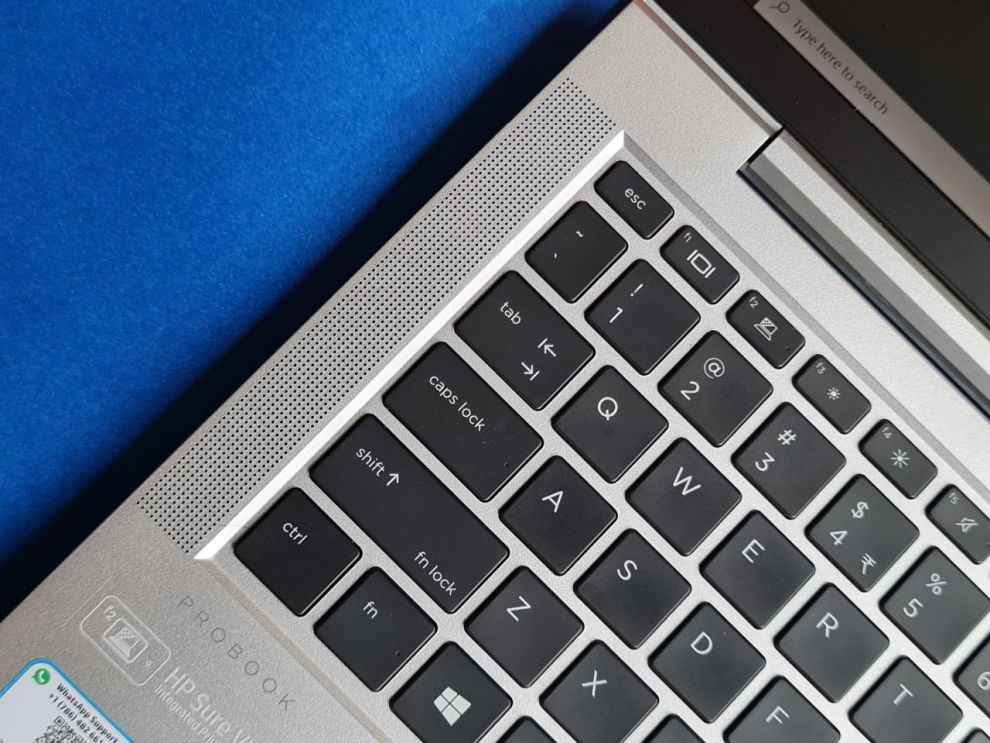 You can see a set of microphones on top of the display next to the 720p webcam. They are good enough for video conferencing, although I would not go out of my way to use them over a pair of headphones. There's no mention of noise cancellation, and the sound registration was found to be a little bit dull.
Overall, I would say the HP ProBook 635 Aero G7 is an extremely well-built machine. I have always been a fan of HP's design language, especially on their newer laptops, and I am super glad that their business notebooks are also getting a solid chassis and modern design.
Verdict
The AMD-powered HP ProBook 635 Aero G7 is a great business notebook that's packed with some awesome features. The Ryzen 7 4700U makes short work of the day-to-day productivity tasks with its snappy performance and offers incredible battery backup at the same time. It's honestly a fantastic laptop that I would happily recommend. That being said, I do have to mention my unpleasant experience with the display.
The display is not unusable by any means, but I'd say it isn't among its many strengths. But other than that, there's a lot to like about the HP ProBook 635 Aero G7 for business execs, and it handles all of it without breaking a sweat. HP has also packed in a slew of enterprise and privacy features like the HP Sure View privacy screen to make it more desirable. So if you don't fancy an ultra-premium machine for your workloads, then the HP ProBook 635 Aero G7 is a stalwart laptop to buy.