The HP Pavilion series has been the go-to option for value-buyers looking to get the most out of their purchase. In fact, that's been the Pavilion's strongest selling point for years, with more premium features reserved for the Spectre and Envy series. The new Pavilion Laptop 13 also sticks to the same idea but there are some surprising additions that make it feel more like a premium machine without costing nearly as much. But does it justify the price tag? We try to answer that in our detailed review.
HP Pavilion Laptop 13 Specifications
Processor: Intel Core i5-1135G7
RAM: 16 GB DDR4-3200
Storage: 512 GB PCIe NVMe M.2 SSD
Display: 13.3" FHD IPS panel, 250 nits brightness.
HP Pavilion Laptop 13 Performance
The HP Pavilion laptop 13 unit we received for review comes with an Intel Core i5-1135G7 processor and the Intel Xe graphics. The Intel Xe graphics come standard on this SKU and there's no word on an AMD or an Nvidia option available at the moment. You also get 16GB of DDR4 RAM and 512GB NVMe SSD. I went into this review with an open mind and kept my expectations in check with what the laptop can do and how it can help me with my day-to-day workload.
I will be dividing this particular section into two parts - One showing you some detailed Synthetic benchmark scores and the other one with real-world tests.
I ran all the benchmark programs on Windows' Best performance mode for the best results. The Intel Core i5-1135G7 is a quad-core CPU based on the 10nm process. It has 8 threads and has a max Turbo frequency of 4.20Ghz on paper. Starting off with PCMark 10, Pavilion Laptop 13 managed to score 4,704 when we tested its office-centric benchmark tool. The score is higher than Mi Notebook 14 Horizon Edition that's powered by the Intel Core i7-10710U processor.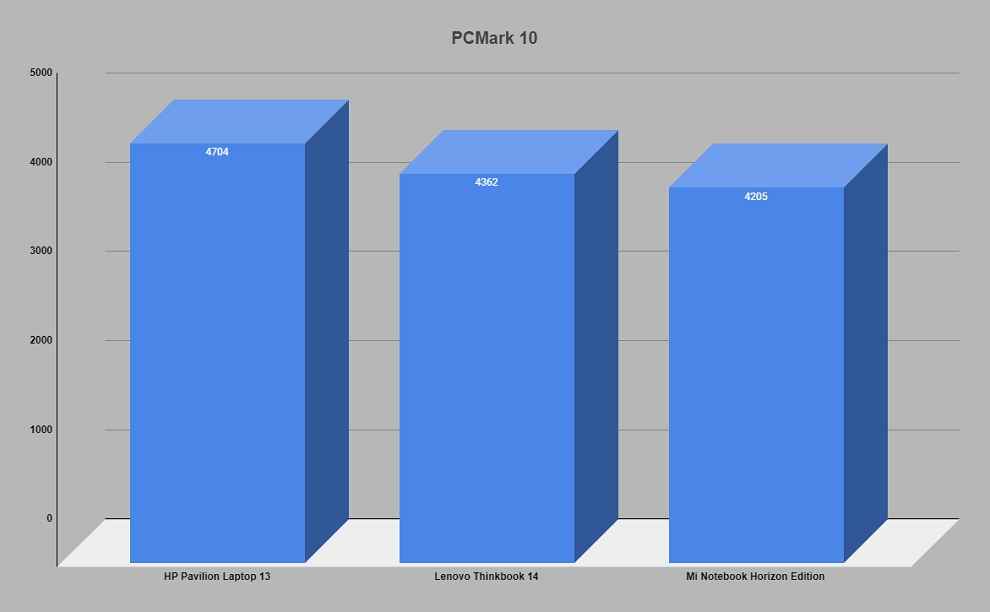 On Cinebench R20, the HP Pavilion Laptop 13 scored 1599. It's, in fact, higher than what the Dell XPS 13 had managed to score with its Intel Core I7-1065G7 when we tested it. I got similar results on Cinebench 15 and Cinebench 11.5 in which the HP Pavilion Laptop 13 managed to beat some of the laptops that we had reviewed earlier here at Digit.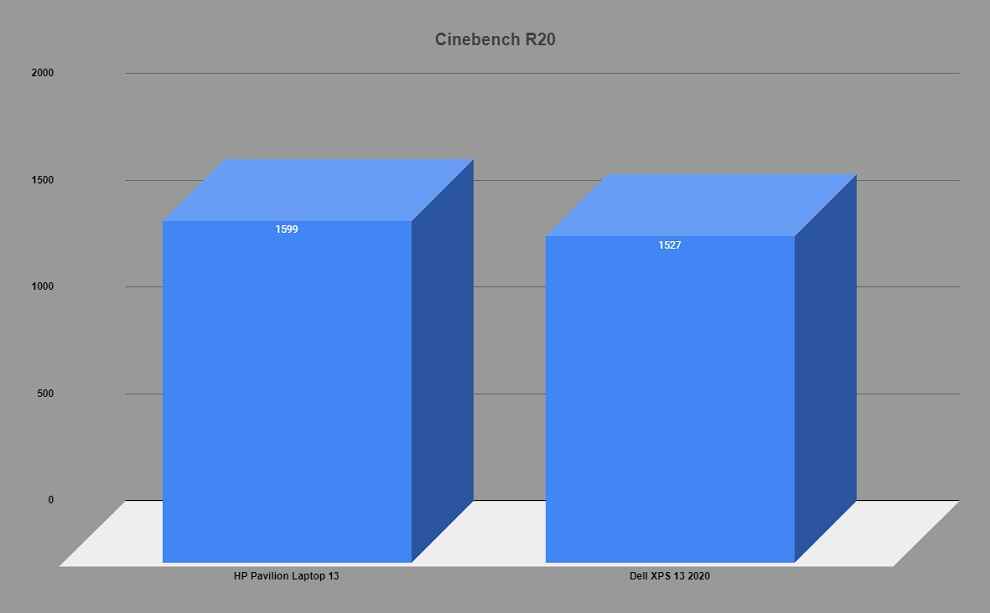 For testing the GPU, I loaded 3DMark's Fire Strike benchmark and ended up with a score of 2909, putting it high up on the list of mainstream laptops we have tested. All test runs were successfully completed without any software or hardware issues. That's always a good sign because some Windows laptops tend to break down at times during these benchmark tests.

Now coming to the real-world tests, the laptop managed to hold its own without giving up on me at any point. It was easily able to handle the notorious Chrome browser with about 25-30 tabs spread across multiple windows. Switching between them was a breeze and it was also comfortably sitting in the background while I was working on something more resource-intensive like Photoshop.
I also did some gaming on this laptop to see if the Intel Xe GPU can keep up with your gaming needs. AAA titles like GTA V and Witcher 3 will give you playable frame rates at low settings. It is, by no means, an ideal way to play these games but it's nice to have the ability to play them.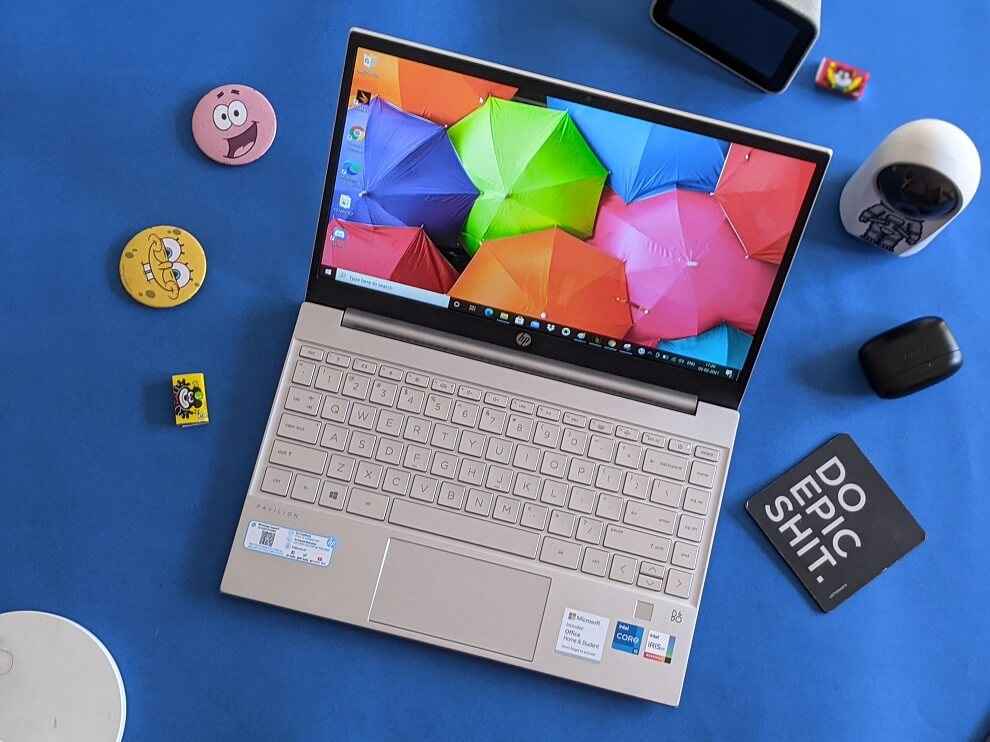 We usually run our games at max and one setting below that for testing, but this is not a gaming laptop and anything above low settings will make you reconsider your idea of gaming on this laptop. Esports titles like CS:GO and Apex Legends will also run perfectly fine as long as you keep your expectations in check. Overall, I would say the HP Pavilion Laptop 13 will keep up with your gaming needs every now and then.
Under heavy load, the laptop gets noticeably warm to touch on both the bottom and on the top around the keyboard. That's not to say that it was very uncomfortable to use the laptop at any given point. It is also worth pointing out that the laptop did not throttle due to the thermals. I did experience minor stutters at times but I have no reason to believe that the laptop was crying for help due to the thermals.
Lastly, I tested the 512GB M.2 NVMe SSD using the CrystalDiskMark. I ran all the sequential read and write tests along with other KiB random tests to see how it performs. The CrystalDiskMark program gave sequential read and write speeds of 2301.58 MB/s and 1066.47 MB/s respectively. It's not as fast as some other machines like HP's own Spectre X360, but it's serviceable for a mainstream laptop at this price.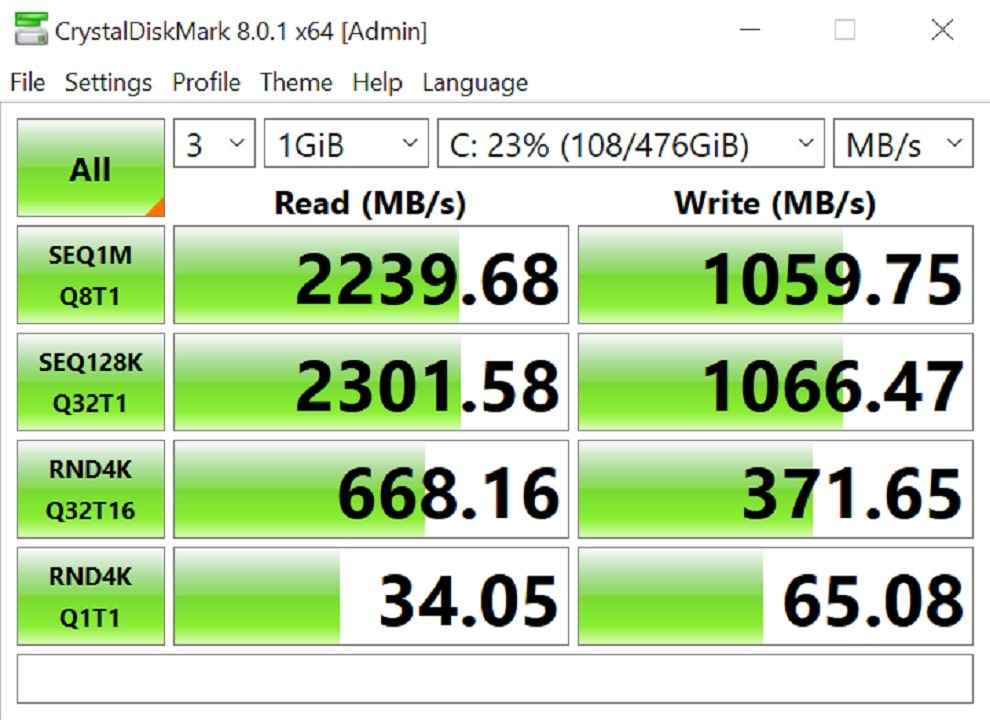 HP Pavilion Laptop 13 Display
The HP Pavilion Laptop 13 comes with a 13.3" FHD IPS display which reveals itself as you open the lid. The display has an aspect ratio of 16:9. It is surrounded by plastic bezels on all four sides, which as I have mentioned in the design section of this review, looks very cheap compared to the other parts of the laptop. The 720p HD camera on the front is good enough to handle your Google Meet and Zoom calls.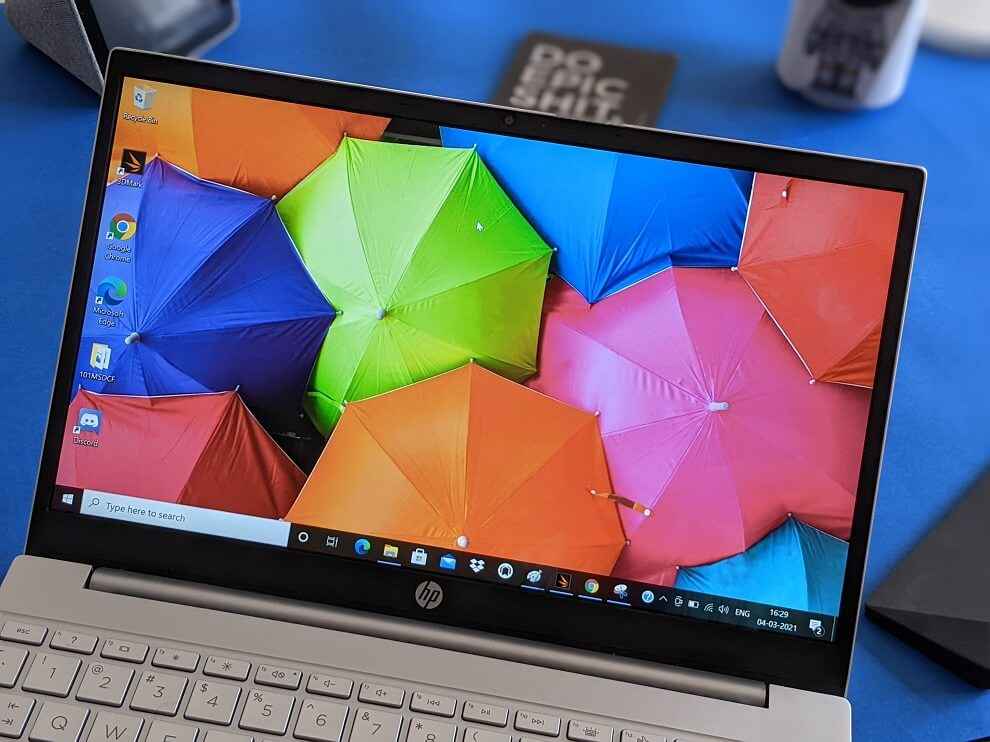 We used the Portrait Displays C6 HDR2000 colourimeter to scratch the surface of the display and ended up with some detailed analysis of the display. The display peaked at a maximum brightness of 269 nits against the 250 nits that HP advertised.
The colourimeter tells us that the display is uncalibrated out of the box, which is not a surprise considering the fact that this is a budget laptop. We are looking at an average Greyscale DeltaE value of 3.5, a value that can be better post a manual colour calibration. The Colorchecker DeltaE values of most light colours are also well under the margin of error, with some darker shades looking pale. But if you look at the graph below, you will notice the issue that creeping up with the blue colour in the RGB spectrum. The numbers are way off.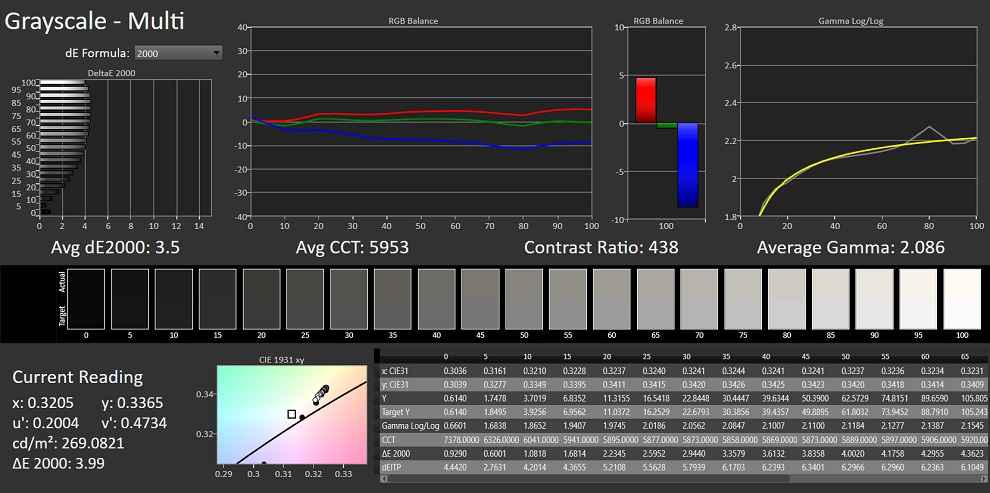 Calman Analysis of the HP Pavilion Laptop 13
Subsequently, when you move to the ColorChecker graph, you will notice the issue with the blue colour. All the scenes involving some shade or the other of this colour will show some discolouration. The screenshot embedded below shows exactly how much the DeltaE numbers are off for the scenes involving the colour like the blue sky, blue flower, and the rest. Sadly, even a manual colour calibration won't completely fix this issue and your DeltaE value will still be off by a significant margin.
So what does it actually mean and what can you expect from this display for your day-to-day usage? Well, it's not the most colour-accurate panel in the world, so it's not ideal for colour-sensitive work. The panel was only able to reproduce 60% and 39% of sRGB and DCI-P3 colour space accurately, which means there are better laptop displays out there for your everyday media consumption.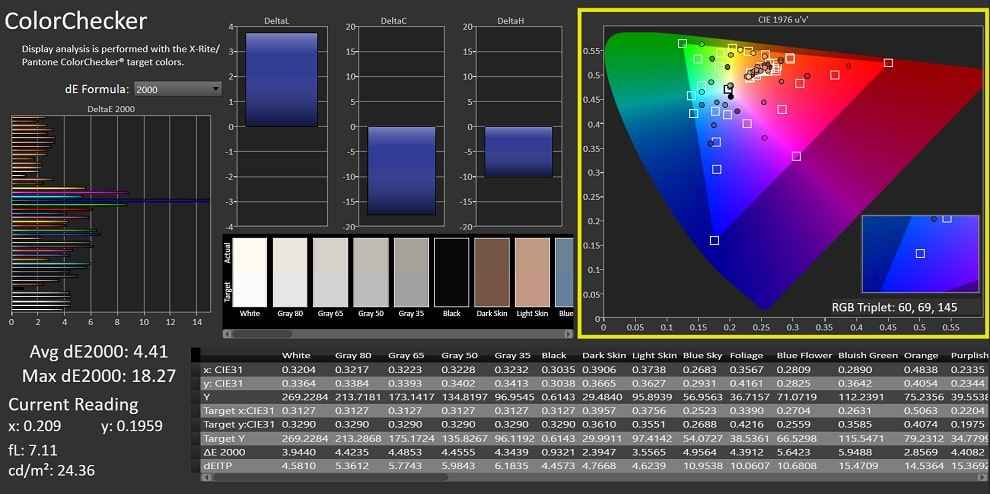 Calman Analysis of the HP Pavilion Laptop 13
Overall, the Pavilion Laptop 13 packs a decent display in its class. It could be better, yes, but it's still perfectly serviceable for day-to-day work-related usage. The FHD resolution display makes up for crisp visuals on this smaller 13.3" panel and it has great viewing angles too.
Now, coming to the things that I don't like about the display. First off, it's glossy. A glossy panel is not very desirable or even necessary for that matter, since there's no touchscreen input. On top of that, the maximum brightness of 269 nits makes it quite difficult to use the laptop outdoors. Outdoor visibility can be a pain for users and direct sunlight will completely wash out the display.
HP Pavilion Laptop 13 Battery Life
The HP Pavilion Laptop 13 packs a 3-cell 43Wh battery inside its relatively small chassis. I wasn't expecting to see crazy runtimes, and it fell quite short, given the small capacity. On Wi-fi and at peak brightness, I was only able to get about 5 hours of real-world usage with the performance mode set in favor of the battery.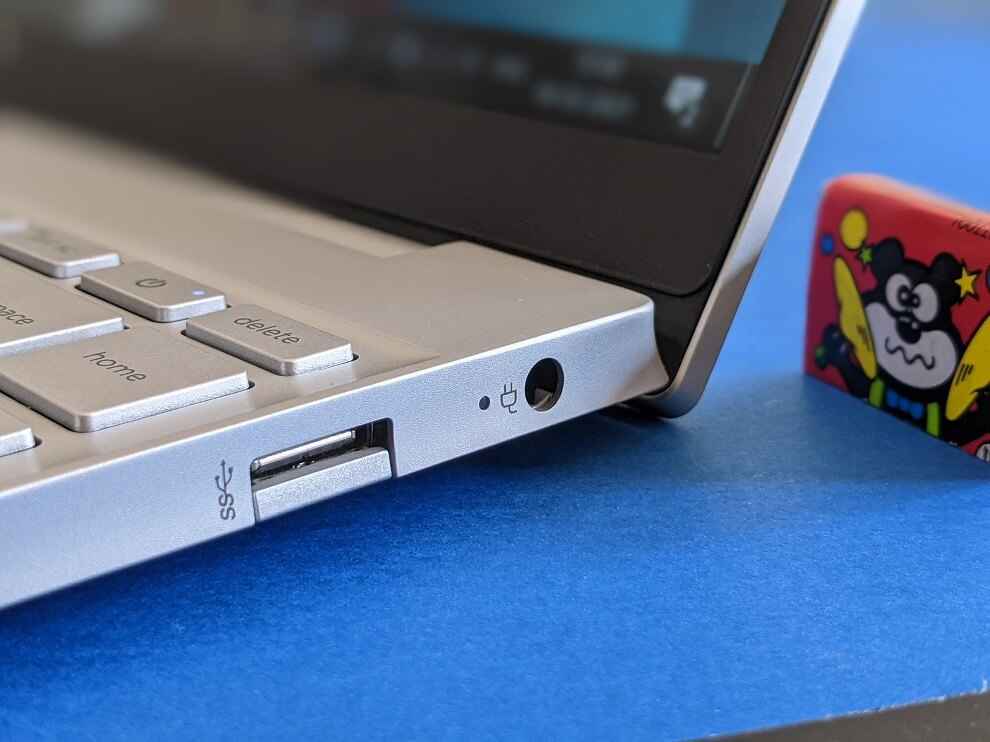 My usage on a typical workday includes things like researching and writing stories for the website, editing images for the same, constant pings on WhatsApp, and streaming music via Bluetooth. I suggest you carry the charger every time you step outside with this laptop. The thought of having to constantly hug a charging point was a little disappointing, but you can get a little more usage out of it by lowering the screen brightness.
In the PCMark 10 Modern Office Battery Life test, the HP Pavilion Laptop 13 lasted for 394 minutes. What's good about the battery, however, is that it doesn't take too long to fully charge up. Charging the laptop from a dead state to full capacity takes about 1.5 to 2 hours. Thanks to HP Fast Charge, you can charge up to 50% in just 30 minutes. The laptop can also be charged via USB-C, but it ships with a proprietary barrel charger.

HP Pavilion 13 Laptop Keyboard, Trackpad and I/O
The HP Pavilion Laptop 13 features a standard full-size keyboard in which the keys are backlit. You can't change the colours of the light, but you do get an option to adjust the brightness. The keys are mushy and shallow, which means your key presses are probably going to be less satisfying depending on the kind of keyboard you are coming from. That being said, it's not a bad keyboard and is very easy to get used to.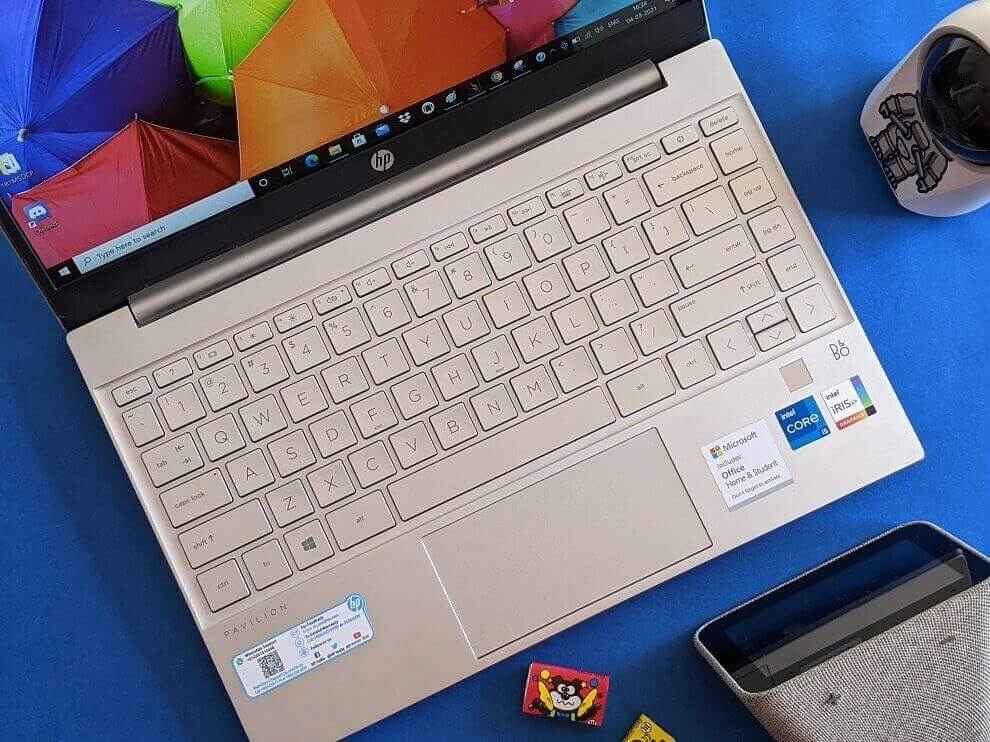 You will also come across a fingerprint reader on the keyboard deck. It's good to see a dedicated space for the reader instead of positioning it within the keyboard itself by replacing a key like how it's done in one of HP's Envy laptops.
The touchpad, as you can see, is quite small. It feels cramped in this small form factor, and you might want to consider investing on an external mouse. The touchpad itself is very accurate and I had no issues gliding my fingers over it. It supports Windows Precision drivers, so the cursor control is smooth and gestures are very reliable.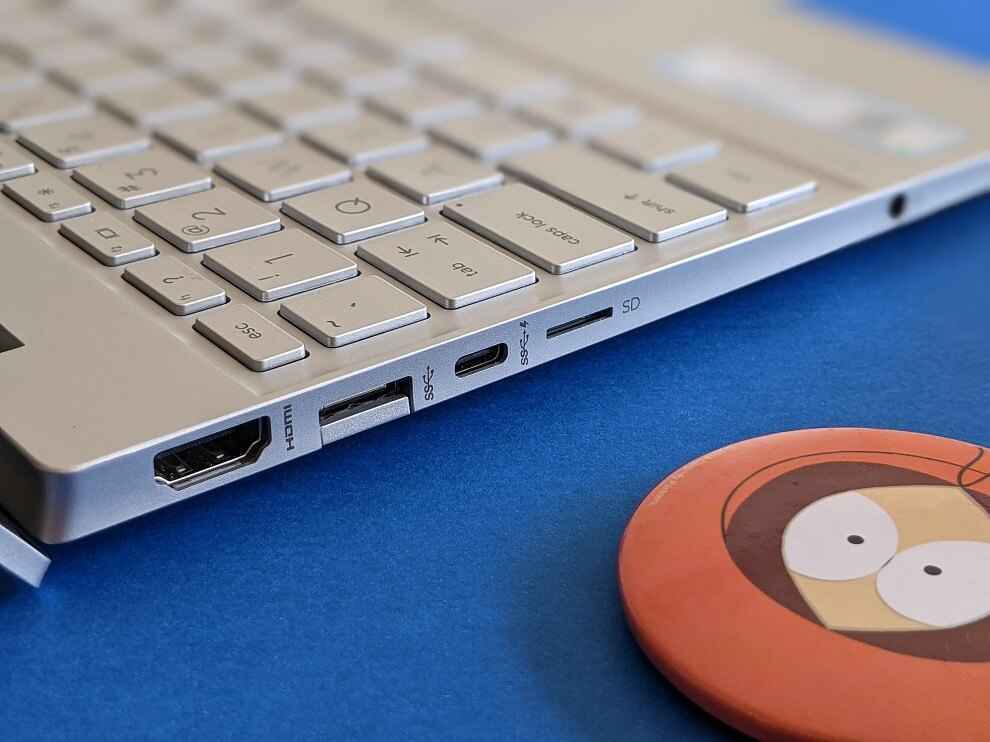 Moving on to the port selection, the HP Pavilion Laptop 13 will feed you plenty of them. There are two USB-A (5Gbps) ports and a USB-C (10 Gbps) port that are compatible with both Power Delivery and DisplayPort. You also get an HDMI 2.0 port and a headphone/microphone combo. You also get a microSD reader, which, during my testing was able to transfer about 1GB of files in roughly about 11 seconds.
HP Pavilion Laptop 13 Design & Build Quality
"HP Pavilion" branding immediately made me recollect the older Pavilion laptops that were made to reflect their price tags. But the new Pavilion Laptop 13's svelte aesthetics took me by surprise. It instantly made me think of HP's more expensive laptops from the Spectre series that are second to none when it comes to design.
I absolutely love how the Pavilion Laptop 13 has inherited many of the design features of the Spectre and even the Envy series. HP has done a great job and the end result is a product that looks classy. It just looks more premium than what its price tag would suggest. The laptop only weighs 1.24kgs, which makes it very comfortable to carry around. Its thin and light profile makes it even better to just throw in a laptop sleeve and carry without any hassle.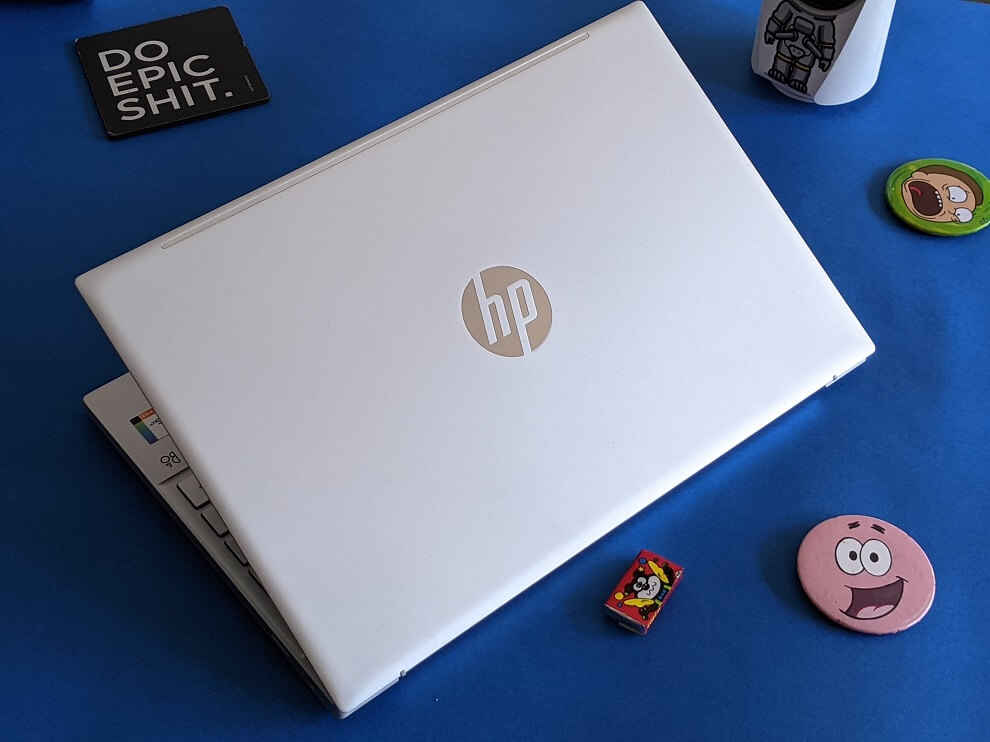 But as someone who has spent some time with the laptop, I do have a couple of things that I would like to point out about the laptop's build quality. Although the Pavilion Laptop 13 sports a premium design, the chassis is made out of plastic. That's particularly noticeable because it is susceptible to flexing. Push down at the center of the keyboard deck and you'll see a substantial dip.
The lid also flexes quite a bit and you'll notice it while opening it by lifting it up from the corners. The inner bezels around the display are also made out of plastic, which just looks cheap on an otherwise stellar-looking laptop. The bottom chin is also slightly thicker than the other sides.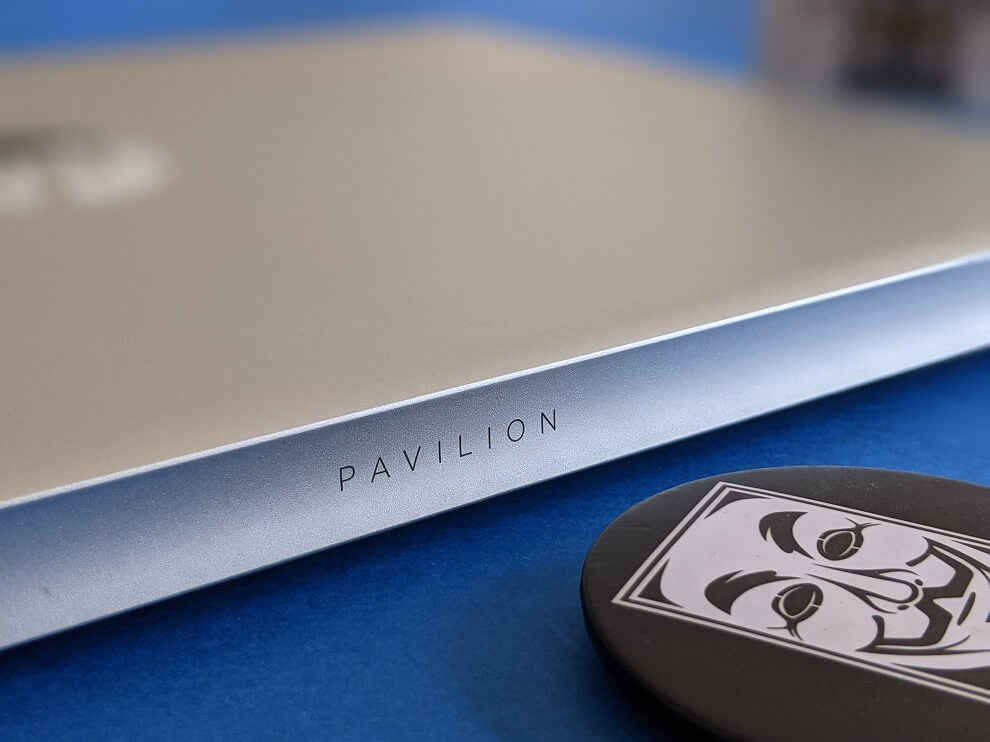 The lid of the laptop opens to a max angle of about 140-degrees. The base of the laptop also lifts up ever so slightly when the lid is opened all the way. It's nothing significant but definitely opens up some space for air to escape. The laptop also comes with plenty of ports as I have already mentioned above.
The HP Pavilion Laptop 13 also comes with dual speakers placed at the bottom of the device. These speakers are tuned by B&O and they get decently loud. They don't come anywhere close to the speakers on some premium laptops but are enough to fill your ears when you are not using a pair of headphones.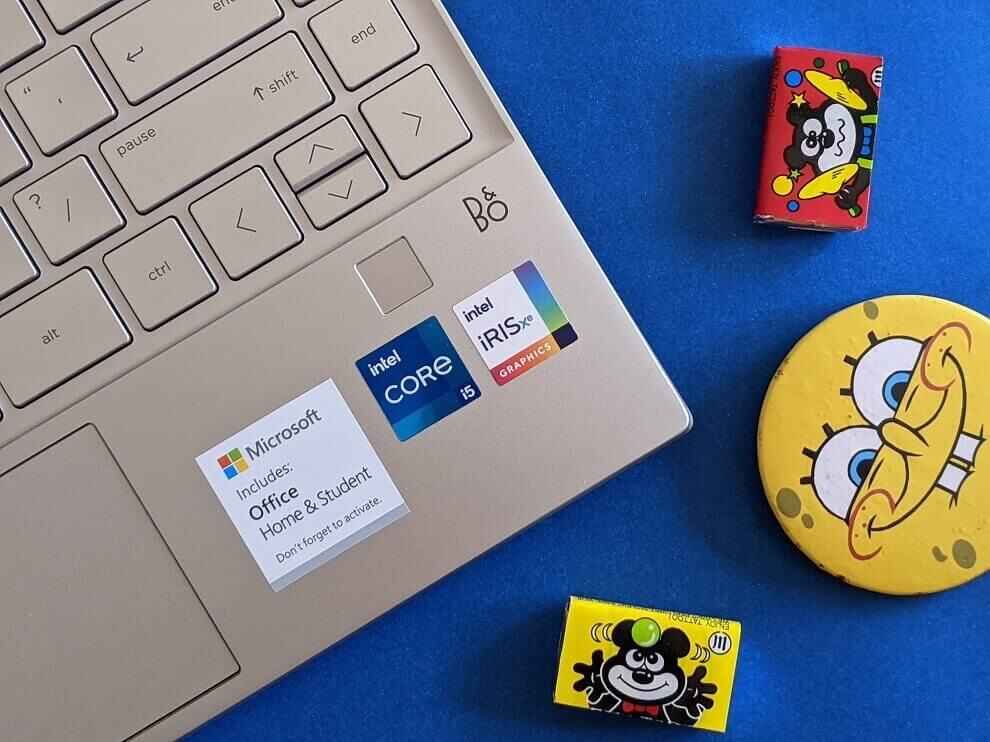 Overall, the HP Pavilion laptop 13 is a well-built machine that will impress you with its aesthetics the moment you look at it. It's quite refreshing to see mainstream laptops getting a sleek and classy look. I would go as far as to say that it's very much comparable to the Dell XPS 13, which we adore for design and build quality. The Pavilion 13 comes close to it and that says a lot.
Verdict
The HP Pavilion Laptop 13 is priced at Rs 71,999 in India. And at that price, you get an Intel Core i5-1135G7 with Intel Iris Xe graphics, a good FHD display, 16GB of RAM, and 512GB M.2 NVMe SSD, all wrapped in a chassis that looks and feel great to use. It also earns brownie points for inheriting some premium features from the Spectre and Envy series.
What I don't like much about the laptop, unfortunately, is its battery life. HP can definitely put in more work to make it last a little longer. I can get used to a small touchpad but it's very difficult to turn a blind eye towards the mediocre battery life. Barring that, the Pavilion Laptop 13 excels in almost every aspect, making it an absolute no-brainer in this price segment. The Spectre-inspired look and feel of the laptop is just the icing on the cake to make it even more appealing.