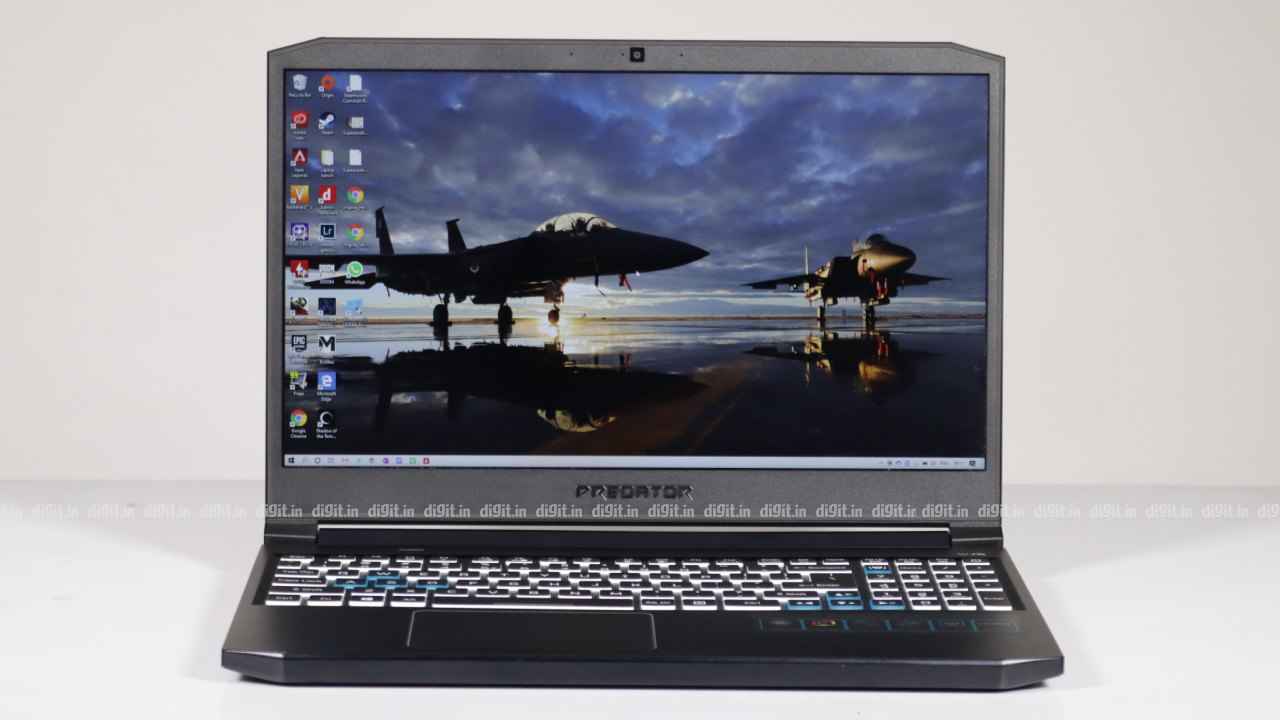 VERDICT:
The Intel Core i7 and Nvidia GTX 1650 chips on the Acer Predator Triton 300 work well together to offer consistent performance on popular game titles. However, the exact configuration of our review unit is nowhere to be found online, making it sour grapes for the moment.
Acer, it appears, is finally catching up to the competition in terms of web presence and product portfolio strength. In December, the popular Taiwan-based PC manufacturer launched its ConceptD series of laptops for creators, namely the ConceptD 7 Pro, ConceptD 7, and ConceptD 5. Started last year, ConceptD is an Acer sub-brand that focusses on products specifically created for professional artists and designers. The latest ConceptD 7 Ezel Convertible series, which the company showcased at CES 2020, sports an Intel 10th Gen Core series chip with Nvidia Quadro RTX graphics. You can read more about that here.
Come to think of it, December 2019 was an extremely important month for Acer in India. Not only did it mark the launch of the ConceptD series in the country but it also marked the launch of the Acer online store, which finally gives customers the option to buy products directly from an official Acer portal without having to choose between models listed on the likes of Flipkart and Amazon. The new online store, which is located at store.acer.com, is currently populated with deals on popular laptops such as the Nitro 5 and Aspire 3. Interestingly and maybe even worryingly, there's no sign of the Predator Triton 300 on it. Nonetheless, let's take a closer look at Acer's newest gaming laptop.
Performance
Though not available on the Acer online store, the Triton 300 is listed on Flipkart for Rs 79,990. For that money, you get the laptop with an Intel 9th Gen Core i7 CPU with 8GB of RAM. Storage is handled by a 256GB solid-state drive working alongside a 1TB hard drive. Complementing the CPU is an Nvidia GeForce GTX 1650 graphics card with 4GB of dedicated video RAM. Now the GTX 1650 is, as we all know, the base model in Nvidia's 2019 line-up of laptop GPUs. Our review unit, on the other hand, came equipped with the same Intel 9th Gen Core i7 and GTX 1650 chips but a more generous 16GB of RAM. Storage was taken care of by a WD 512GB PCIe NVMe solid-state drive with no hard drive to accompany it. This variant of the Triton 300 is expected to make it to online stores like Flipkart soon.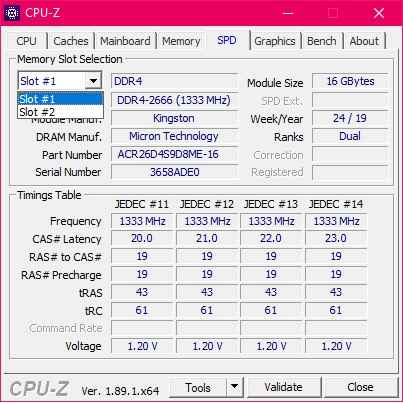 Opening up the base panel revealed a fairly tidy arrangement of components with enough room for expansion. The CFL Auris motherboard on the review unit had a total of two DDR4 SDRAM slots, one of which was eaten up by the Kingston 16GB chip. The motherboard also had two M.2 slots for storage, one of which was occupied by the Western Digital SN720 512GB chip. While the motherboard had space for a 2.5-inch hard drive, there was no caddy fitted on our review unit. This meant that if we wanted to expand storage, we'd have been forced to get another M.2 solid-state drive. To the right of the M.2 slots was a Killer 1650X Wi-Fi 6 card.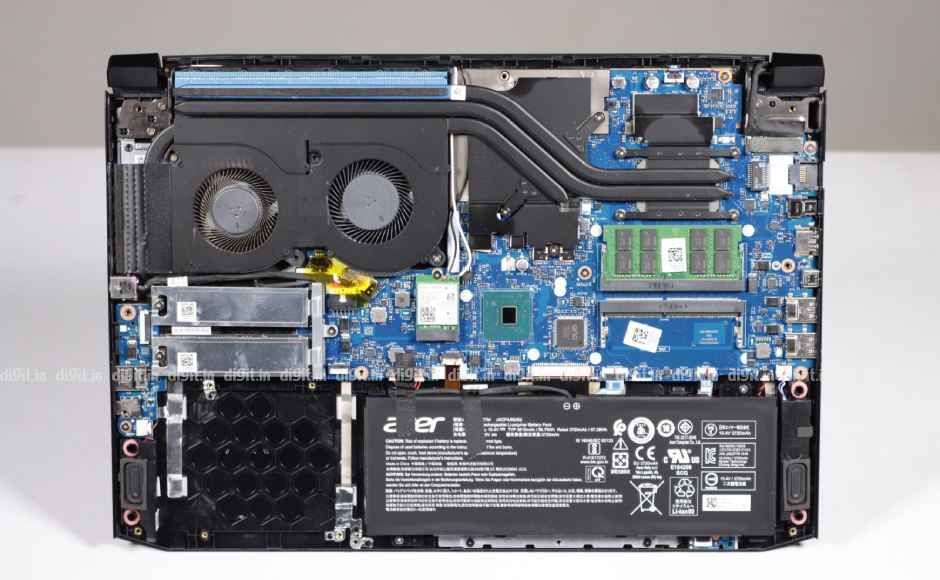 Our review unit with a 512GB M.2 SSD lacked a hard drive caddy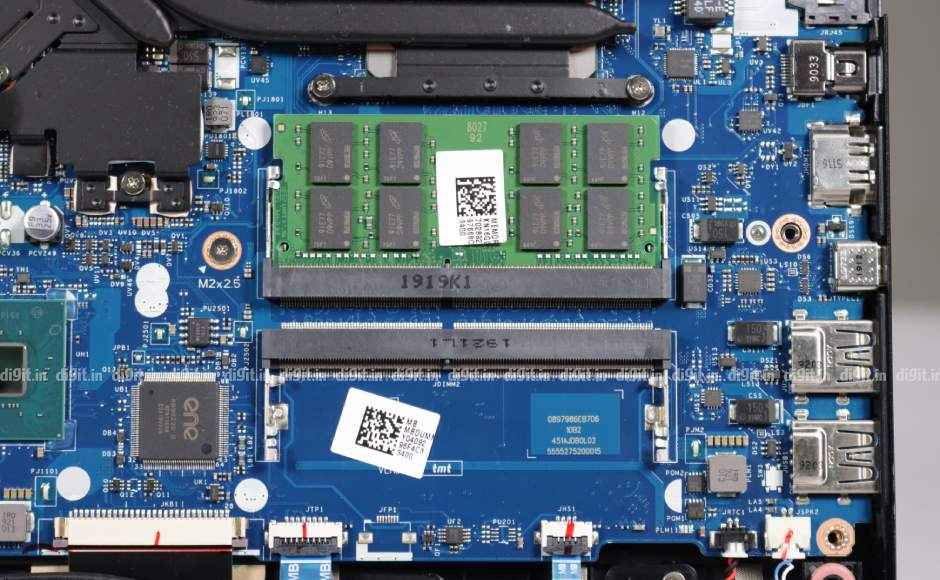 The empty RAM slot is a good idea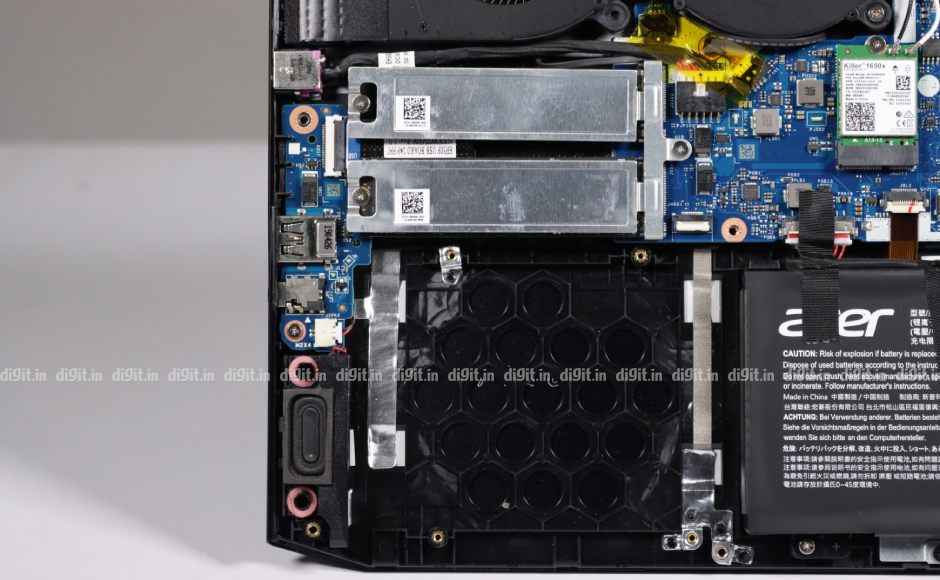 You can throw in up to two M.2 SSDs and a 2.5-inch hard drive
The review unit performed quite well on our synthetic benchmark tests. On PCMark 8's Conventional Creative test the Triton 300 scored 4001 points, which is well ahead of what was scored by the FX505DY and FX705DT from Asus' 2019 AMD Ryzen-powered TUF Gaming line-up. On 3DMark's Fire Strike and Sky Diver the Triton 300 picked up 8163 and 24350 points, respectively. Again, both scores are well above those picked up by the FX505DY and FX705DT. For reference, you can find our review of the 15-inch FX505DY here and the 17-inch FX705DT here.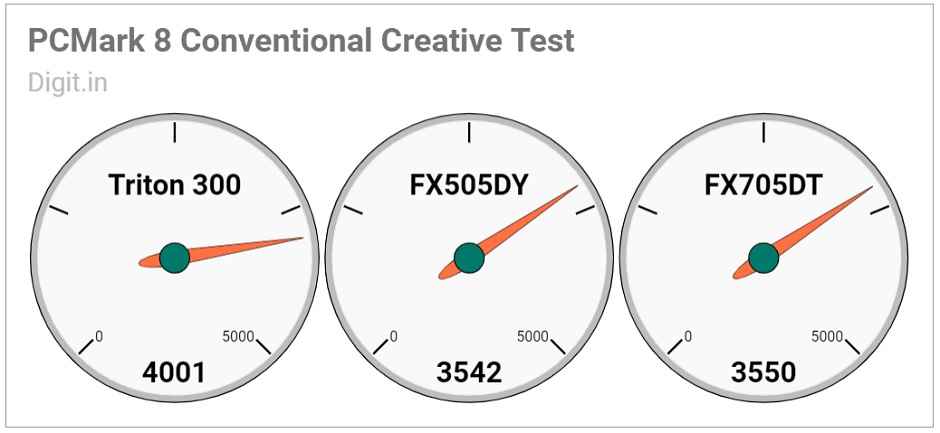 Everyday performance of the Triton 300 was more than up to the mark. I was able to run multiple instances of common applications such as Word, Excel, Chrome, File Explorer, and WhatsApp for PC across multiple virtual desktops with noticeable ease. Even with background game downloads happening on Steam or Origin, I didn't notice any distinguishable drop in performance. On one occasion, I was able to export 100 image files on Adobe Lightroom Classic CC in about 5 minutes. In summary, the Triton 300 offers great performance for everyday tasks, including heavy browsing, heavy file transfers, and online photo editing.
Gaming
Gaming on the Triton 300 was a pleasurable experience. The review unit clocked far better frame rates than the FX505DY or FX705DT. I ran a bunch of games on the laptop in its native screen resolution of Full HD first on Medium graphics settings and then on High (i.e., one notch above Medium) to compare frame rates. V-Sync was turned off across all titles. Doom ran more than comfortably on Medium at an average frame rate of 103 frames per second but slipped to 95 on High. Battlefield V managed 68 frames per second on Medium before falling to 57 on High. Apex Legends clocked an average of 93 frames per second on Medium and 85 frames per second on High.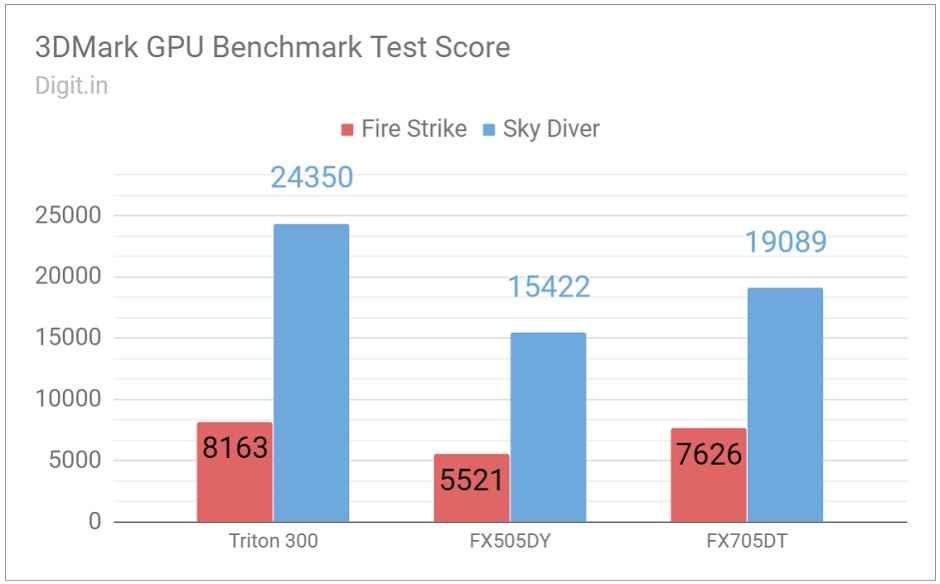 Shadow of the Tomb Raider's internal benchmarking utility reported an average frame rate of 55 frames per second on Medium settings and a negligibly lower 51 frames per second on High settings. Hellblade: Senua's Sacrifice—which is probably the most graphically taxing game on our list—managed 69 frames per second on Medium but fell to 54 frames per second on High. Finally, Crysis 3 ran at an average frame rate of 96 frames per second on Medium before falling to 73 on High. All these games ran on the Triton 300 with consistent smoothness. As V-Sync was disabled, these games—especially Battlefield V—displayed a fair bit of screen tearing.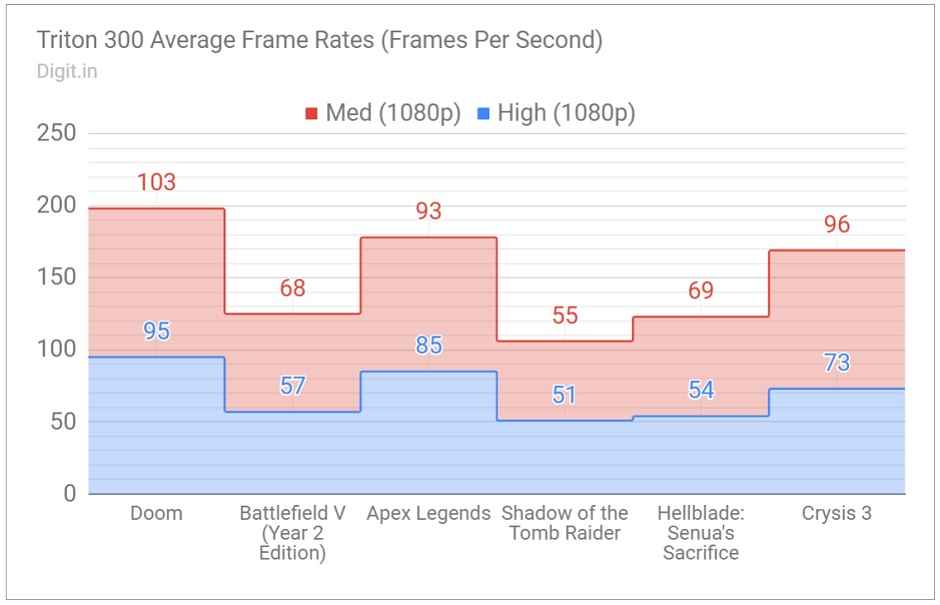 At room temperatures of around 14 degrees C, the Triton 300 was well behaved. With heavy CPU and GPU activity happening on the inside, the WASD keys registered about 36.2 degrees C on average and the heat vents on the sides saw about 42 degrees C on average. With both fans spinning at max speed, the Triton 300 was noticeably noisy in the office but it wasn't as noisy as the slimmer Asus Zephyrus G GA502.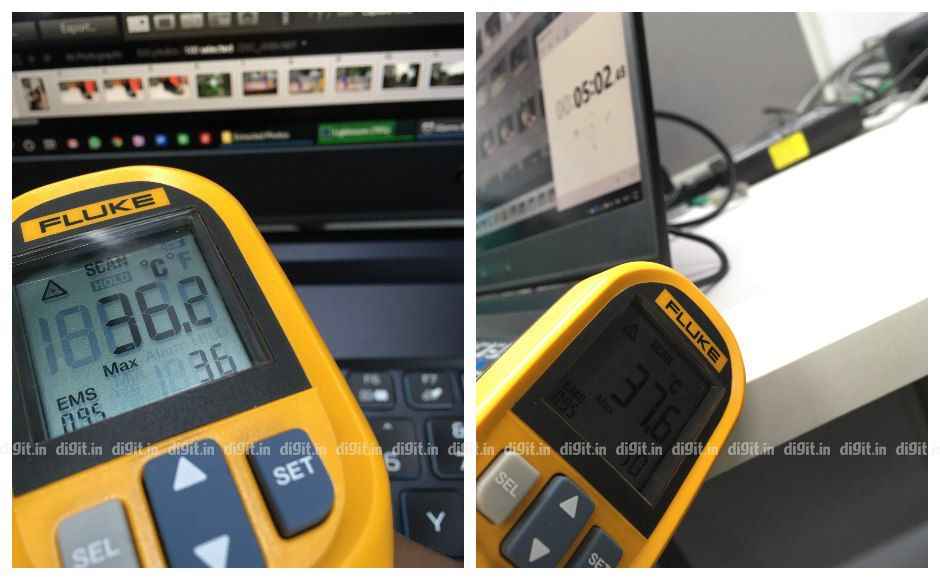 The Triton 300 is a cool cat for the most part
Gaming, on the whole, is a very enjoyable experience on the Triton 300. On one occasion, I played Metro Exodus in Ultra (the highest possible graphics settings, not counting Extreme) and saw very playable frame rates (between 40 and 60 frames per second). All that said, I don't see why Acer hasn't lined its Triton 300 stable up with other GPU options apart from the entry-level GTX 1650. An RTX 2060-powered Triton 300 would've been a good match against the Lenovo Legion Y540. You can read our review of that laptop here.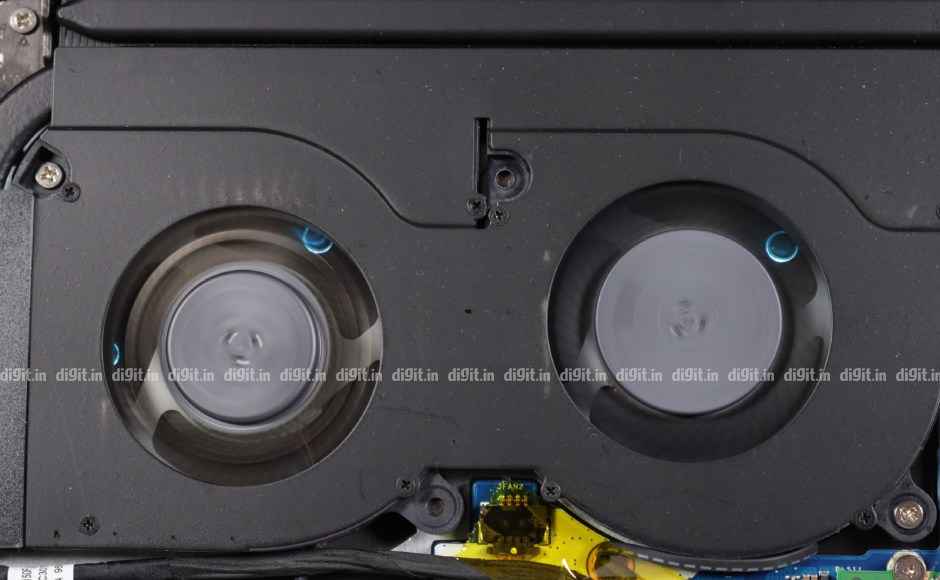 Pressing Turbo pushes both fans to about 6,000rpm
Battery
The Triton 300 comes with a quad-cell 58.75Wh non-removable lithium-ion battery, which is frankly not too dependable if you travel a lot. On our standard battery benchmark test, the review unit managed a middling 2 hours, 22 minutes. The FX505DY and FX705DT, by contrast, managed 3 hours, 30 minutes and 4 hours, 45 minutes, on the same test with the exact same parameters, respectively. Sadly, the review unit performed no better on our everyday test runs. With Wi-Fi and Bluetooth enabled, the laptop lost battery charge from 100 to 19 per cent in 2 hours, 32 minutes. During this time, the laptop was tasked with intense browsing and background music playback. When I brought the screen brightness down from 75 per cent to 55, things improved quite a bit. In summary, don't expect over four hours of continuous battery life from the Triton 300.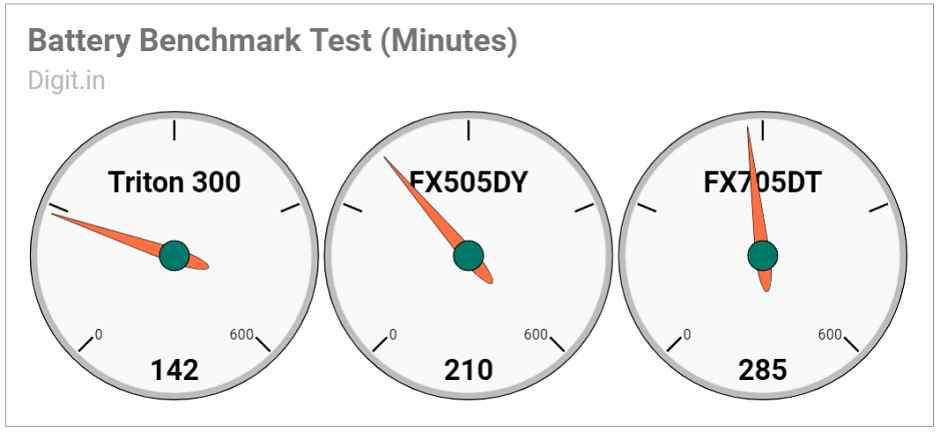 Display, Audio, and IO
The Triton 300 comes with a 15.6-inch 'ComfyView' LED-backlit IPS LCD panel with Full HD resolution and 144Hz refresh rate. Colours on the panel appear a bit washed out (especially when the screen brightness is pushed to max) but not to a point where it becomes noticeable while consuming content. On the bright side (sorry for the pun), the screen brightness is sufficient for most indoor and outdoor spots. In addition, the matte finish on top of the display ensures overhead lights (in conference rooms, etc.) don't become a bother while working. It's a fine panel for work and play alike.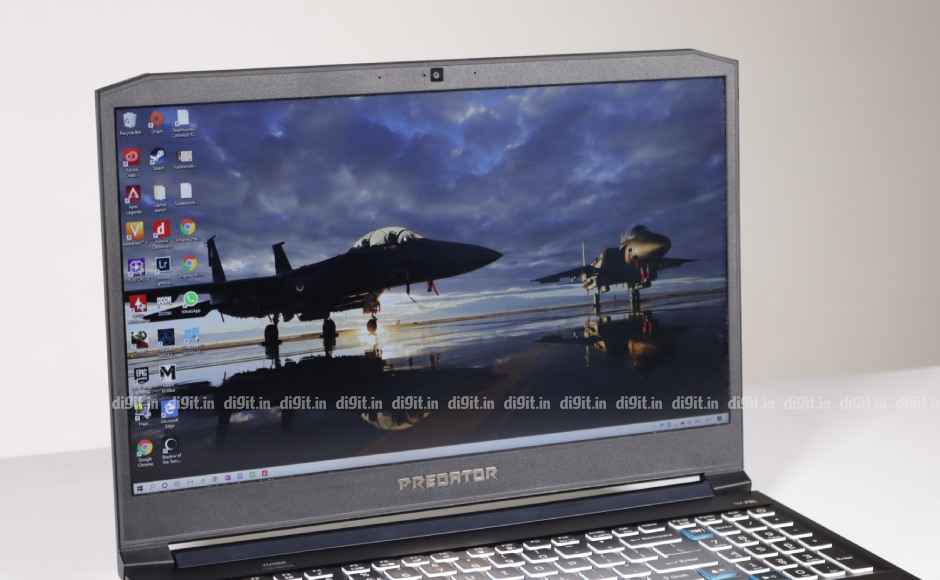 Colours are a bit washed out but that doesn't get in the way of gaming
The Triton 300 sports two down-firing speakers on its base panel. The sound from them is rather tinny for long sessions of music playback but they should get the job done if you're watching a quick video clip on YouTube. While there's noticeable stereo separation in them, they lack volume. So, if you're trying to show your friends a new game trailer in say, an empty classroom, you might need an external Bluetooth speaker. For serious gaming, you should definitely get yourself a good pair of headphones.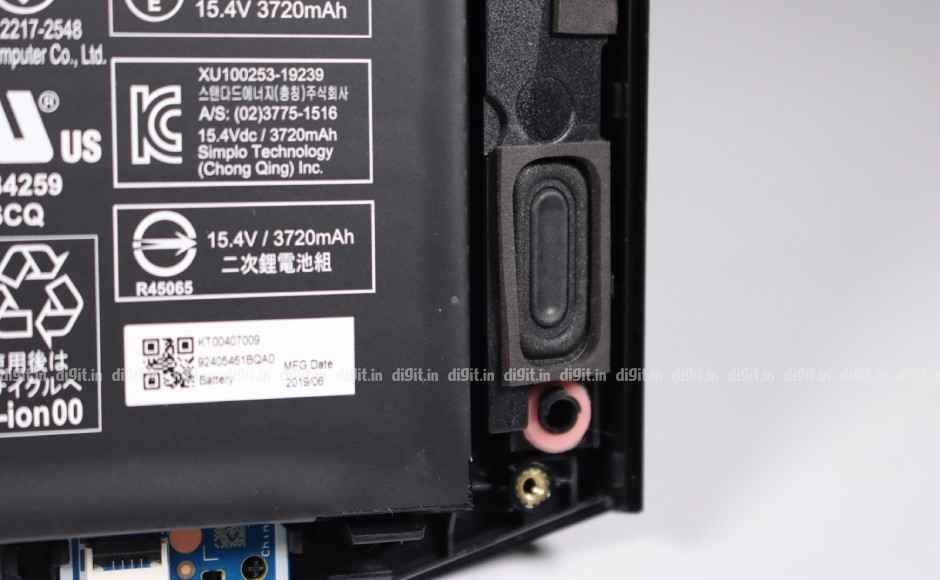 Speakers are tinny and lack volume
The Triton 300's audio setup is powered by Waves MaxxAudio, which means there's a bundled app of the same name to control the equaliser and surround sound settings. The in-app sound settings include 'Revive' and 'Reduce Noise', which work pretty well. In addition, there's a sound technology that works only when the headphones are plugged in. Called Waves Nx, the technology uses the laptop's webcam to track the movements of your head so it can make the sound "follow" you virtually, thus giving you the feeling there are fixed speakers on the laptop. I must say that this feature works quite well even if it requires the webcam to be running at all times.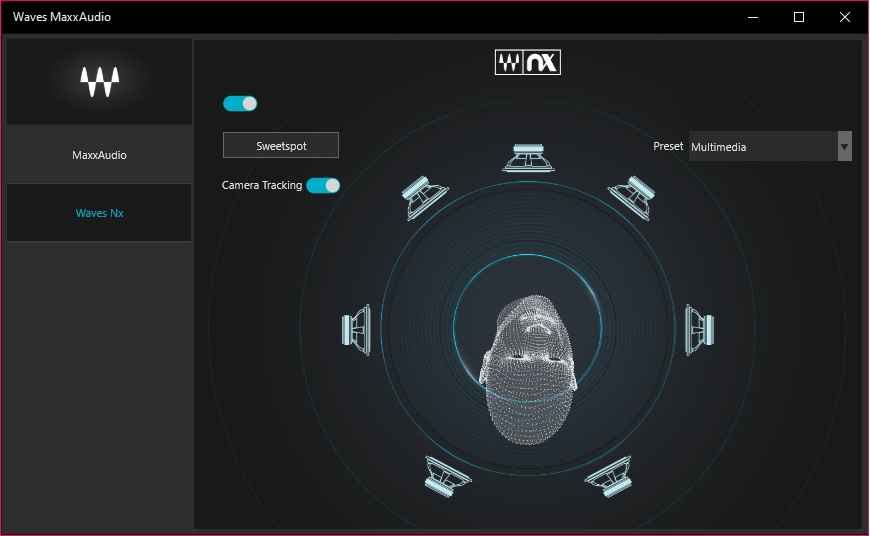 Waves Nx tech uses webcam to create the effect of a virtual room
The Triton 300 comes with plenty of ports to get you hooked up to accessories easily. On the left side of its body, we see a LAN port (with a spring-loaded flap), a Mini DisplayPort, a full-size HDMI port, USB-C 3.1, and a couple of USB-A 3.1 ports (one of which can juice up smartphones even during sleep). Oh, and there's a Kensington Lock Slot for added security. On the right side, we see a proprietary round-pin power port, a USB-A 2.0 port, and a single 3.5mm audio jack for headsets. The inclusion of an SD Card slot would've made life easier for users who frequently edit photos and videos.
Ports on the left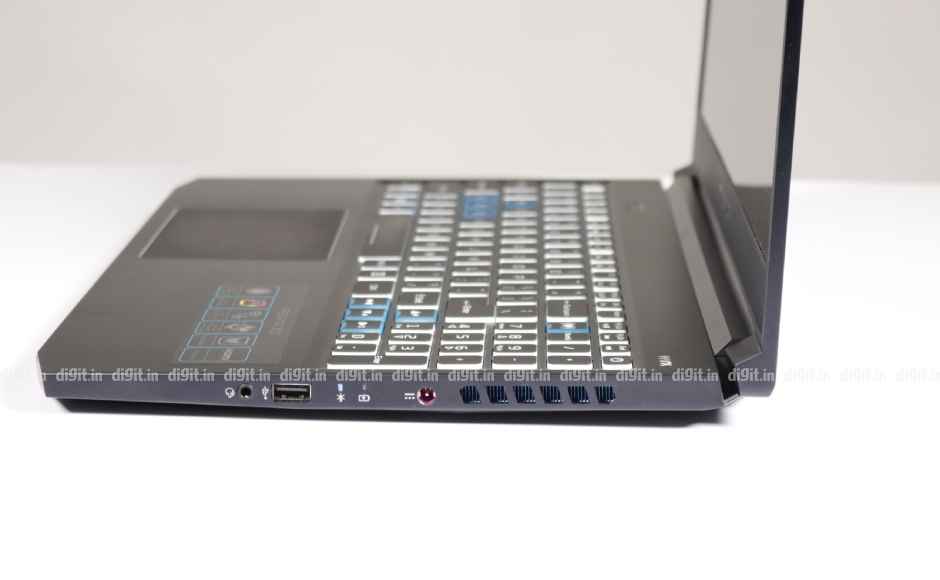 Ports on the right
Acer has equipped the Triton 300 with a Killer E2500 Ethernet Controller and a Killer AX1650 Wi-Fi 6 module, both of which take advantage of Killer's DoubleShot Pro technology to let the user switch between Ethernet and Wi-Fi for specific online tasks. For example, the user could reserve the faster Ethernet line for video streaming and use the slower Wi-Fi connection for game downloads. The laptop sports a webcam on top of the display but lacks a fingerprint scanner for faster log-ins.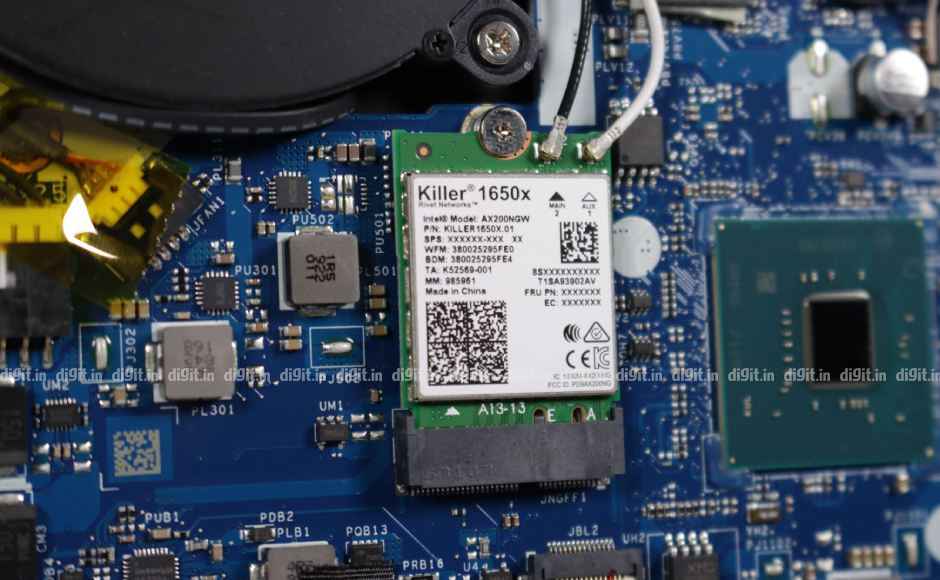 Wi-Fi 6 card from Killer
Keyboard and Touchpad
The Triton 300's keyboard is a mixed bag in that it has a few good qualities and a few bad. Going for it are the large, clearly marked keys with multiple brightness settings. There's a numpad on the right side with dedicated Home, End, Page Up, and Page Down keys. There's also a dedicated shortcut button to bring up the bundled PredatorSense app. Now, this app lets the user set a custom speed for both fans individually, control GPU overclocking, and manage the lighting profiles on the keyboard's four-zone RGB lighting. Essential keys, like the WASD and arrow keys, allow more light to pass through for easier recognition while gaming.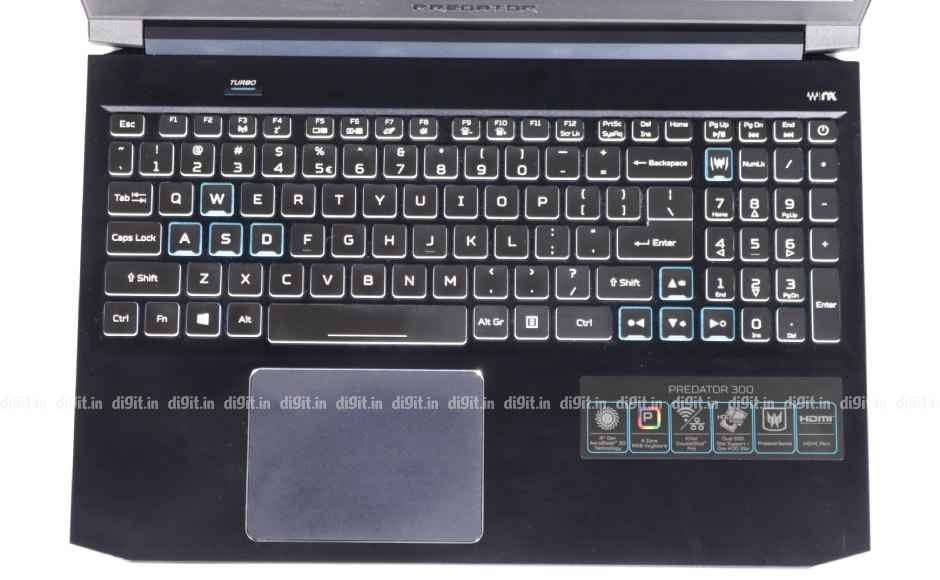 The four-zone RGB-backlit keyboard has mostly good qualities
Letting the keyboard down are the hardness of the keys and the badly programmed dedicated Turbo button. Let me explain: the keys have ample travel but are a little resistant to keypresses. Acer could have made the setup a tad softer, in my opinion. The Turbo button, on the other hand, is a different sort of problem. Pressing it once makes the two internal fans spool up to max speed but pressing it a second time does absolutely nothing. In other words, it can only enable the Turbo fan profile but not disable it. Despite these flaws, it's a pretty good keyboard for work and play alike. What's more, it looks fantastic when the ambient light is dimmed.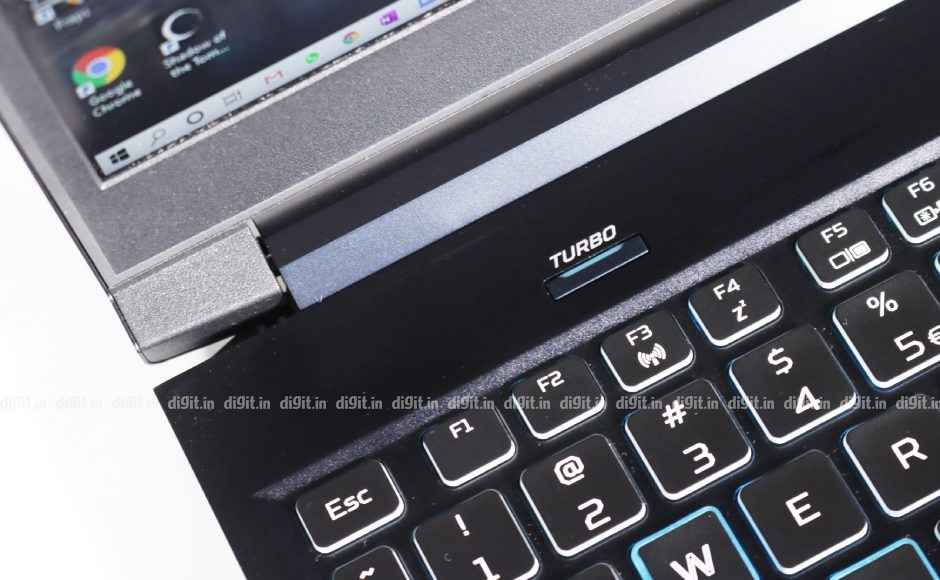 Turbo button enables max fan speed but can't disable
The Triton 300 comes with a large precision touchpad that works brilliantly for pointing, tapping, scrolling, and dragging with multiple fingers. Because Windows 10 recognises it as a precision unit, there's no need to install a third-party driver or utility to make the most of the touchpad's gesture control. Unlike the unit on Asus' TUF Gaming models, this one does not show any signs of unnecessary play when a finger lands on the surface. The two click keys under the touchpad surface, too, are easy to press. All in all, it's a fine input device for when you decide to leave your usual gaming mouse behind.
Precision touchpad is easy to use
Build and Design
The Triton 300 comes clad in an all-metal cover with a tasteful blue-black finish that sets the laptop apart in its own quiet, calm way. The laptop's overall design is subtle but not as subtle as the Lenovo Legion Y540's. The brightly backlit Predator logo on the top cover and the aggressive cuts on the rear heat vents are a dead giveaway that it's a machine built for gaming. The clipped corners of the top cover and base panel, too, add to the laptop's identity. While the laptop offers a fair amount of grip, it does not go easy on the user's arm muscles. Weighing in at 2.5 kilogrammes, the Triton 300 is quite a heavy brick to carry around.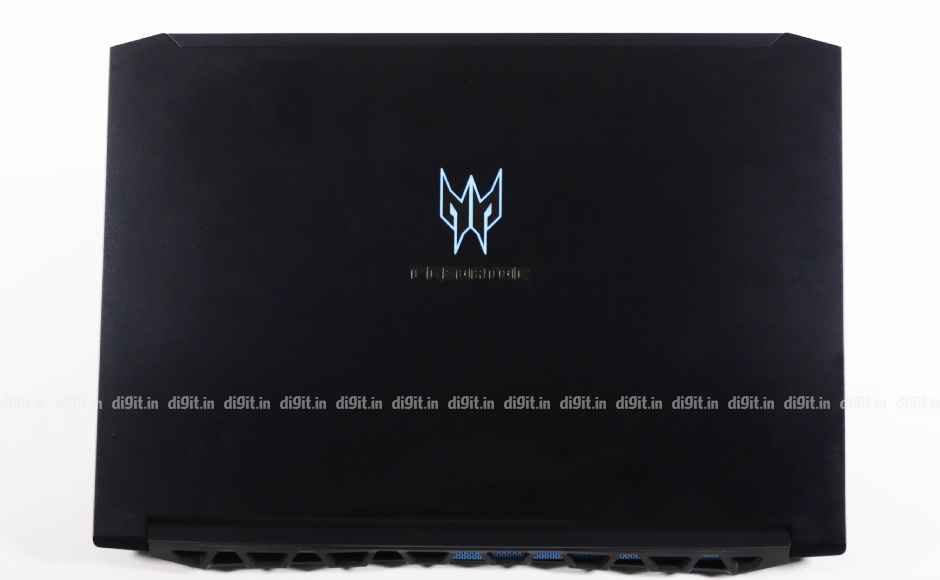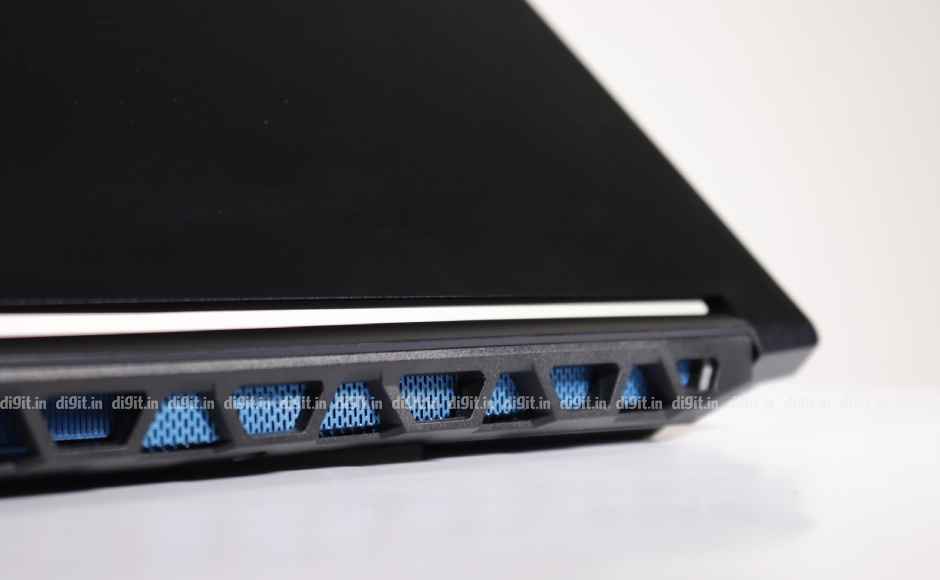 Neat blue paint job on the vents inside
Opening the lid of the Triton 300 is a one-hand operation but it easily demonstrates just how bendy the slim panel is. A similar amount of flex is seen on the keyboard as well when the keys are tapped hard. The 15.6-inch screen with a matte finish is surrounded by fairly thick bezels all around. The top bezel is home to the webcam and a dual-array microphone. The keyboard island, which lacks a fingerprint sensor, manages to look elegant thanks to the four-zone RGB lighting on the keyboard and the neat chrome finish around the touchpad. Despite the noticeable flex on some of its panels, the Triton 300 manages to come up as one of the better built mid-range gaming machines.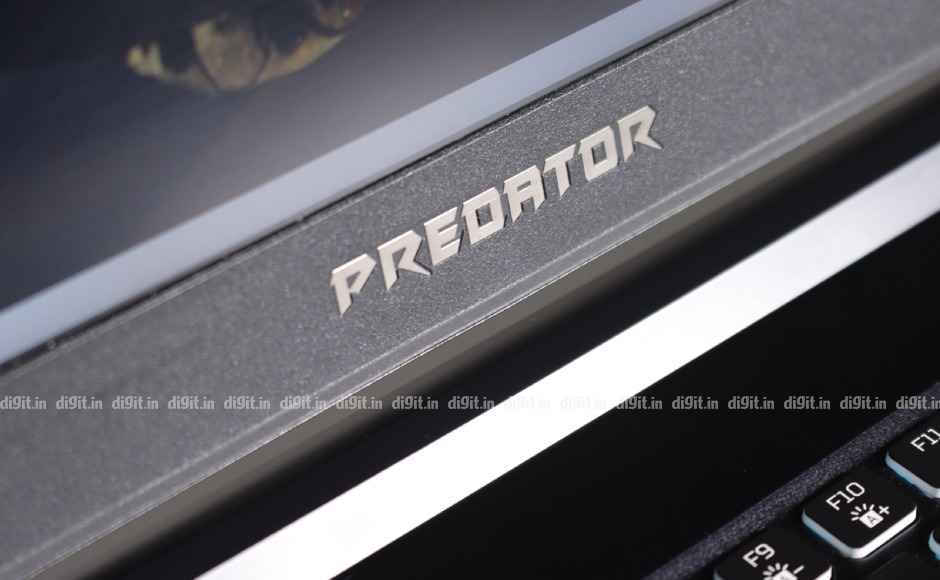 Bottom Line
The Acer Predator Triton 300 is easily one of the best GTX 1650-powered gaming laptops we have seen since last year, especially in terms of CPU and GPU performance, but it's not without its faults. Its screen could use a bit more colour, its speakers, a lot more volume, and its 2.5-kilogramme build, some slimming down. Luckily, all those flaws can be overlooked if all you care about is consistent performance from its well-stacked internals. The GTX 1650 graphics card inside matches well with the Intel 9th Gen Core i7 CPU to offer a pleasurable gaming experience on most popular AAA titles as long as you're not adamant about pushing that slider to Ultra in video settings, leave alone VR.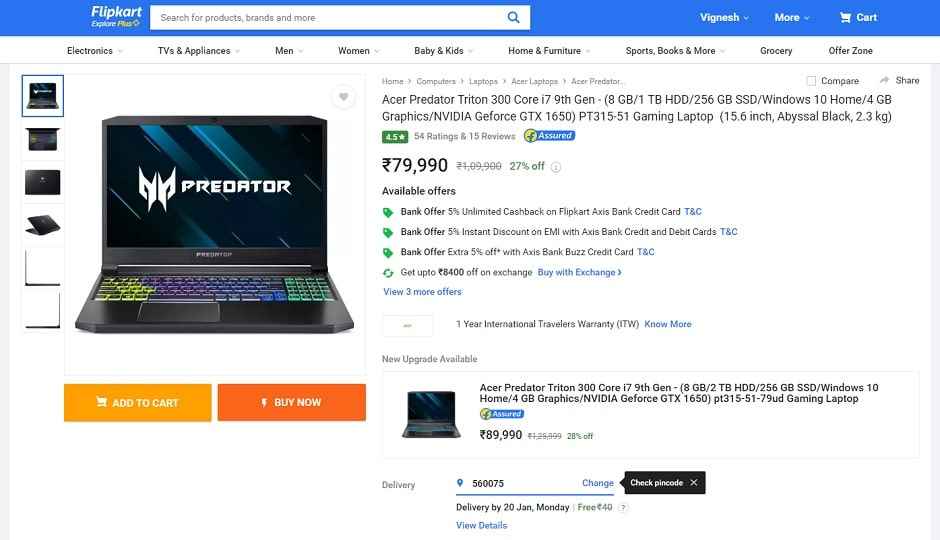 The variant currently available in India has 8GB RAM. Storage comes from a 256GB SSD + 1TB hard drive
In terms of numbers alone, the Acer Predator Triton 300 pushes past the two Asus TUF Gaming models we saw last year—the FX505DY and FX705DT. So, why then, do I feel a bit unsure about recommending the Acer over the two Asus models? It has something to do with the fact that this review unit is different in configuration from the variants that sell in the market. The Triton 300 listed on Flipkart and the nearest Acer Mall (as of writing this review) has half the RAM available on the review unit and dual-disk storage, so I'm not sure how well it will hold up against the TUF Gaming series, or even a GTX 1650-powered Legion Lenovo Y540. If you're particular about getting the Acer Predator Triton 300 with the exact same specs as our review unit, then you'll have to wait till it pops up in the market. It's expected to go on sale sometime soon. Acer, unfortunately, has not shared the exact price of this unit.