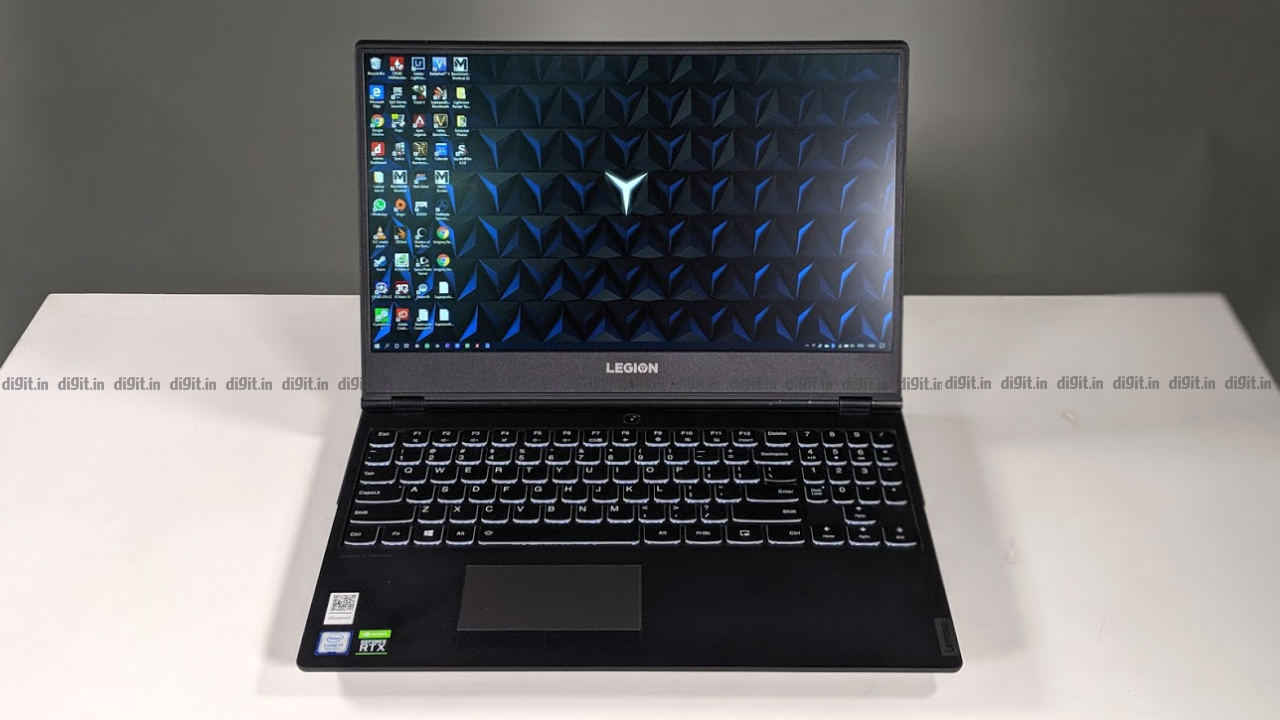 VERDICT:
The Lenovo Legion Y540 is a well-built, capable gaming laptop that's ideal for seasoned gamers who want to upgrade their aging rig with an unshowy RTX 2060 laptop that costs around Rs 1,30,000.
It takes a few minutes of quiet reflection to realise just how far the Legion brand has come in the last couple of years. While the Lenovo Y510P didn't even get the Legion badge, models starting from the Lenovo Legion Y520 started seeing it. The Legion Y530 that followed enjoyed a much-deserved redesign and got a big Legion badge on its top cover. As Lenovo India Executive Director Shailendra Katyal mentioned in a recent speech, it's only in the last one year or so that Lenovo has begun to take the Legion brand much more seriously. And that is distinctly visible in Lenovo's newest product: the Legion Y540.
Anyone familiar with the Lenovo Legion Y530 from last year will be able to tell that this year's Legion Y540 is simply a refresh and not a complete redesign. That said, the Legion Y540 comes with the right stuff on the inside: the base variant, which is roughly Rs 6,500 cheaper over last year's model, gets an Intel 9th Gen Core i5 CPU combined with 8GB of RAM. Powering the graphics is an Nvidia GeForce GTX 1650 graphics card with 4GB of video RAM. Taking care of storage is a 256GB PCIe NVMe solid-state drive working alongside a 1TB hard drive. The Lenovo Legion Y540 starts at Rs 76,990. Let's find out how it did in our review.
Performance
Let's dive right into performance. While the Lenovo Legion Y540 starts at Rs 76,990, the review unit we received was the top-of-the-line variant, which costs approximately Rs 1,27,150 (according to the online configurator on Lenovo India's website). It was powered by an Intel Core i7-9750H CPU with 16GB of RAM and an Nvidia GeForce RTX 2060 with 6GB of video RAM. Storage came in the form of a 1TB Samsung PCIe NVMe solid-state drive. Users looking to expand storage get the option of adding a 2.5-inch hard drive.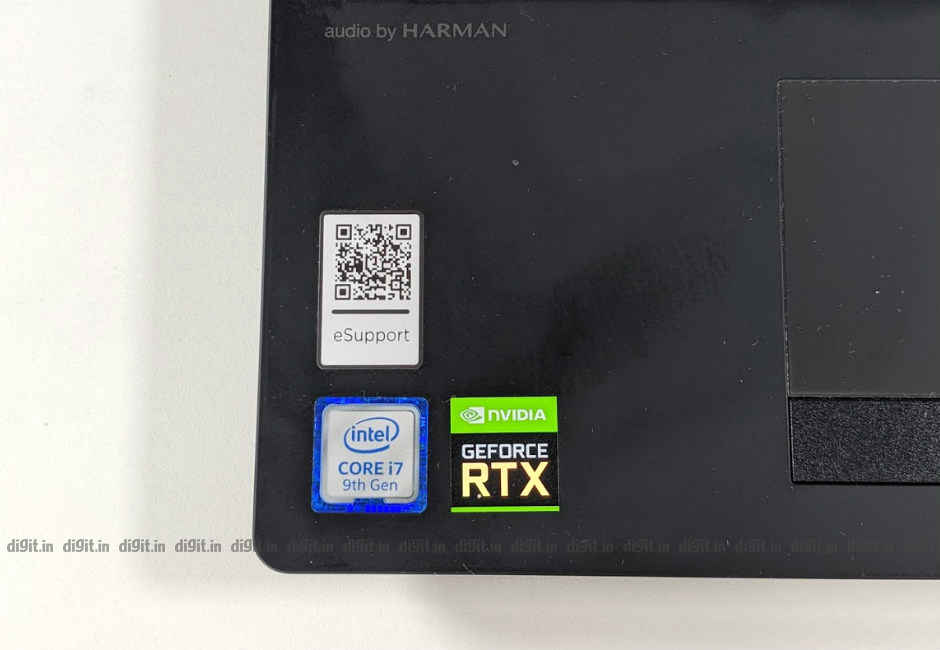 Everyday performance on the Legion Y540 review unit was admirable. Lenovo's newest gaming laptop handled multiple instances of common applications such as Google Chrome, OneNote, Word, Excel, File Explorer, Photos, and Microsoft Store across multiple virtual desktops without any signs of lag or stuttering. Switching between slightly heavier applications such as Adobe Lightroom Classic and Epic Games Launcher happened smoothly without any problems. Simultaneous game downloads happened without any fuss too.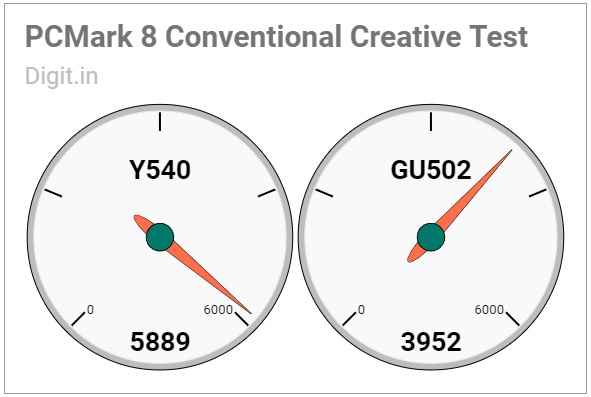 The review unit fared remarkably well on our CPU and GPU benchmark tests. On PCMark 8's Conventional Creative test, the review unit bagged 5889, which is well above the average we have seen in the past in the same category. The Asus ROG Zephyrus M GU502, which was launched recently, scored 3952 in the same test. On 3DMark's Fire Strike Ultra and Time Spy, the review unit scored 3462 and 5749 respectively. The Zephyrus M GU502, on the other hand, scored 3005 and 5281 in the same two tests respectively.
Gaming
Gaming in native Full HD resolution was a pleasurable experience on the RTX 2060-powered Legion Y540. On the review unit, Doom ran on Ultra graphics settings (the highest in any game, by our definition) at an average frame rate of 140 frames per second, a figure that is bordering on the maximum refresh rate of the 144Hz LCD panel. The same game on High graphics settings (the second highest in any game, by our definition) ran at 141 frames per second, meaning there was practically no difference between the two settings.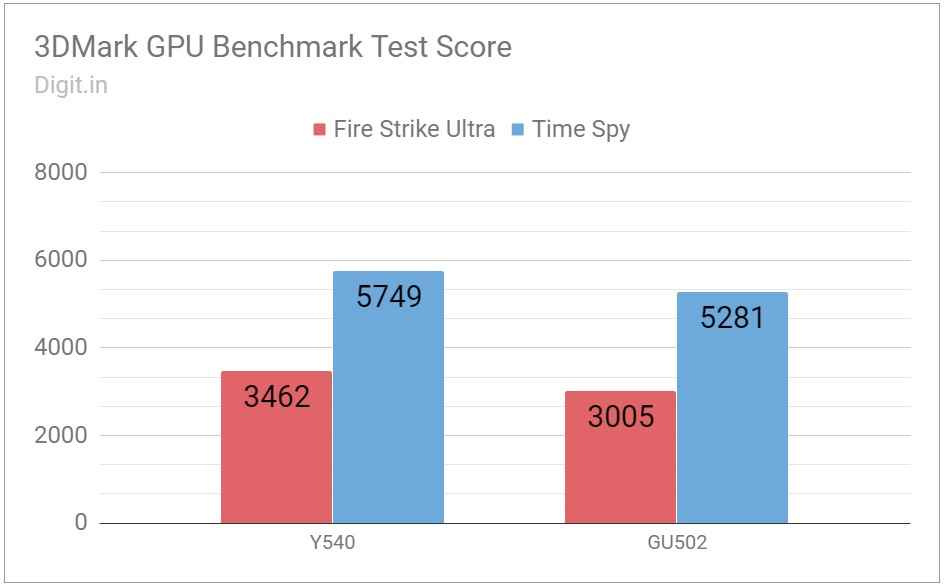 The Metro Exodus benchmarking tool gave us an average score of 42 frames per second for Ultra and 52 frames per second for High. It's worth noting that we did not consider the 'Extreme' graphics setting in Metro Exodus as Ultra in our tests because the developers of the game themselves claim there's little visual difference between the two. Battlefield V ran on Ultra at an average frame rate of 83 frames per second but the rate jumped up by 10 frames on High.
Apex Legends ran on Ultra at a respectable average frame rate of 98 frames per second and on High at 104 frames per second. The benchmarking tool in Shadow of the Tomb Raider showed a score of 71 frames per second for Ultra and 80 frames per second for High. Hellblade: Senua's Sacrifice managed an average frame rate of 72 frames per second on Ultra, which rose to a negligible 75 frames per second on High. Crysis 3 ran on Ultra at an average frame rate of 79 frames per second but displayed an average frame rate of 115 frames per second on High, which is a considerable jump.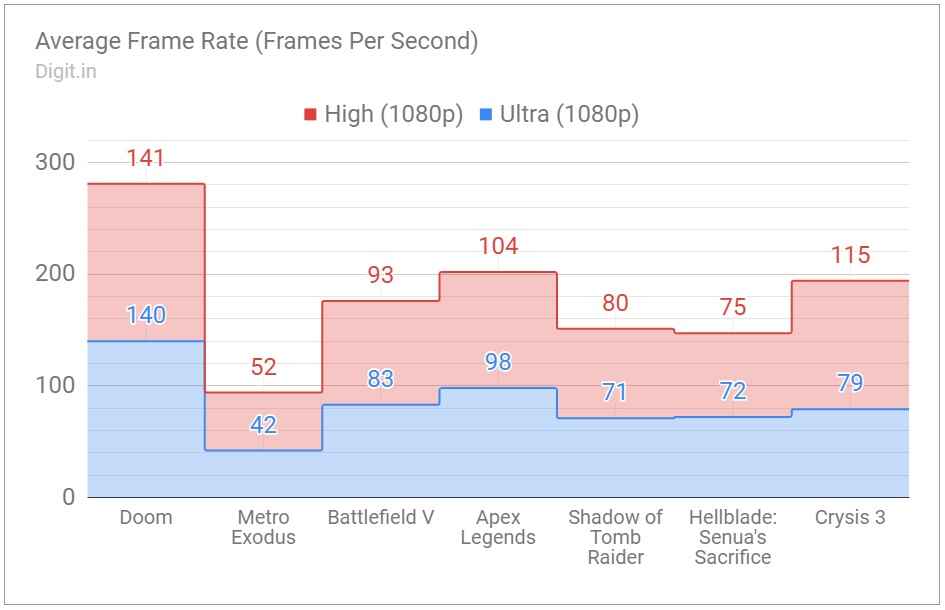 Gameplay, with or without ray tracing, was pleasant on the Legion Y540 review unit. I was able to play all the aforementioned games without coming across any visible signs of lag or stuttering. On games like Doom, the frame counter was practically locked at 144 frames per second between cutscenes, which of course played at 60Hz. Heat and noise too were in check. While the underside and rear vents of the laptop got quite hot (49 degrees Celsius on average) during gaming sessions, very little of it was felt around the WASD keys (38 degrees Celsius on average). In a quiet conference room, the two fans could be heard when a game was running (approx. 60dB) but they weren't so loud that they distracted me from the game.
Display, Audio, and IO
The Legion Y540 comes with a 15.6-inch IPS LCD panel with Full HD resolution and 144Hz refresh rate. According to Lenovo, the display can manage 300 nits of brightness and reproduce 72 percent of the colours in the sRGB colour space. In my experience, the display is crisp and colourful for web browsing, reading, and content consumption. To sum it up, you won't be disappointed by the Legion Y540's display whether you're gaming or working.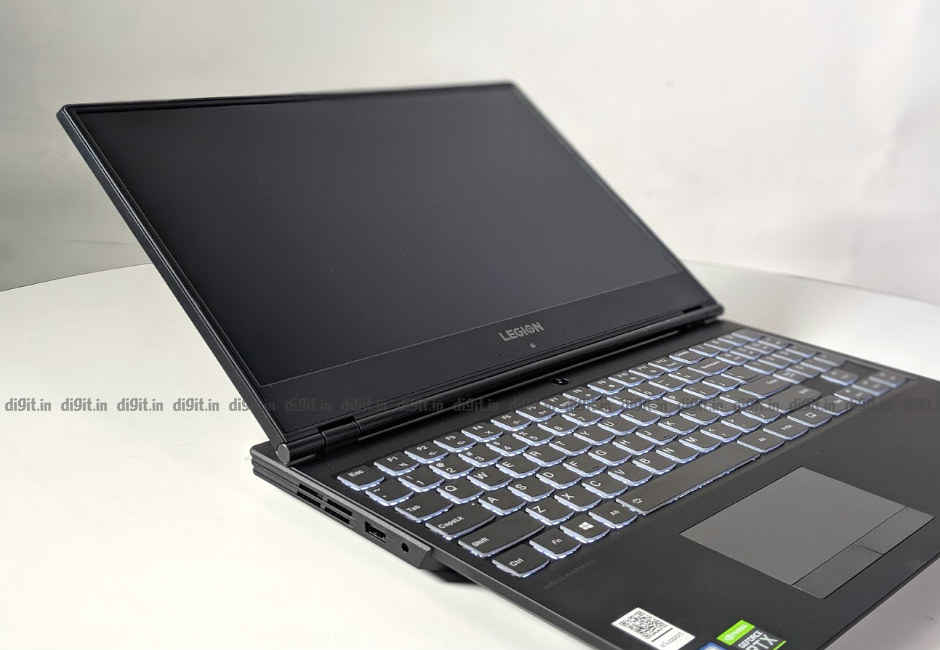 Sound from the Legion Y540's two slanted front-firing speakers is surprisingly good. The maximum volume is sufficient for watching a short video in a quiet bedroom but falls short in say, a noisy office cubicle. You're better off getting a good pair of gaming headphones or speakers for everyday content consumption. That said, vocals and highs from the two drivers are heard clearly while watching video game trailers. Surprisingly lows make it through too without sounding muffled.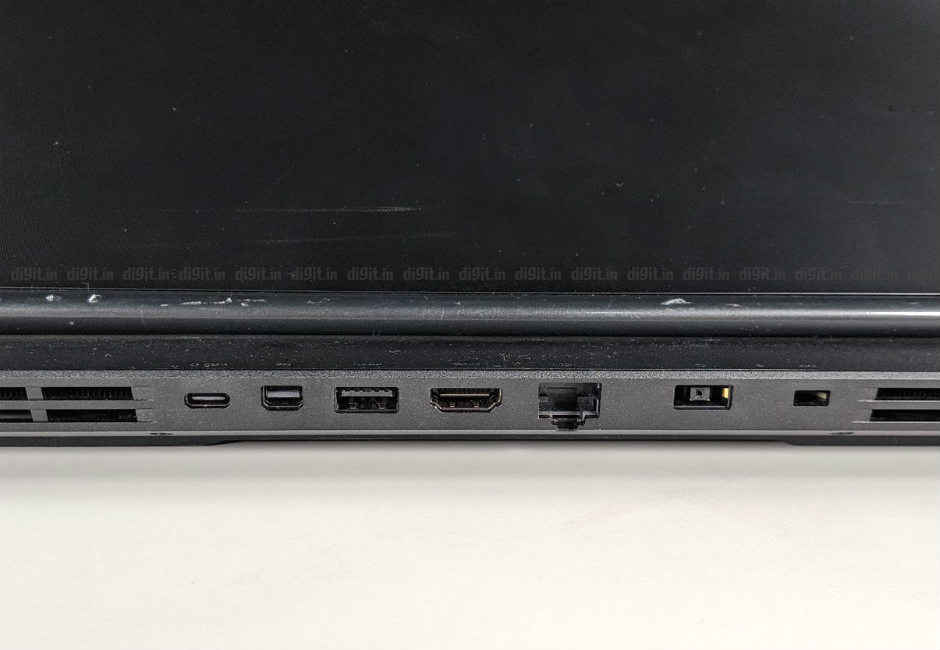 The Legion Y540, like its predecessor, has ports on the sides and back. On the left side, we see a USB-A 3.1 port and a single 3.5mm audio jack for headsets. On the right side, we see a single USB-A 3.1 port. On the back, which is a rather inconvenient place to have ports, we see a USB-C port, a Mini DisplayPort, a USB-A 3.1 port, a full-size HDMI port, a LAN port, and the proprietary power port. There's also a Kensington lock slot in case you need to tie it down. Lenovo's selection of ports is just fine but the placement is less than convenient. Also, a fingerprint scanner would not have gone amiss.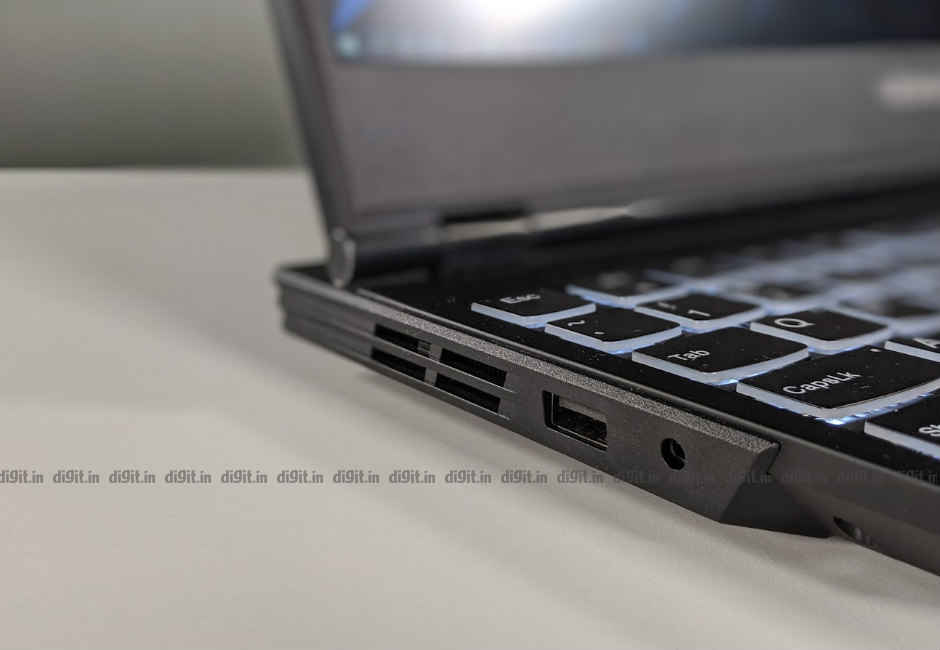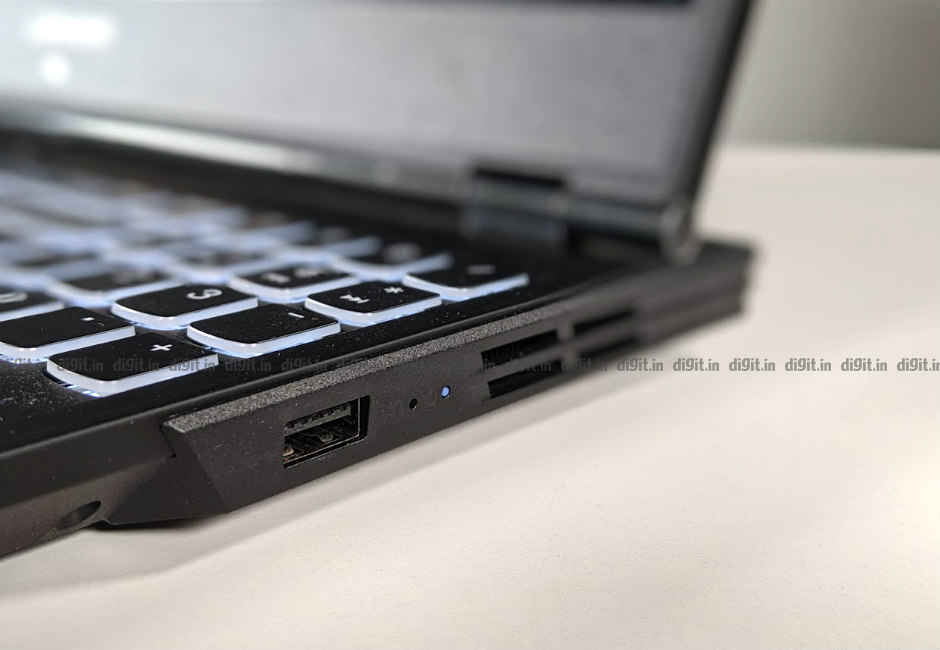 Keyboard and Touchpad
The keyboard on the Legion Y540 is something of a mixed bag in that the keys on it are large and easy to read but not exactly comfortable for typing long documents. The flat, white-backlit keys feel left-aligned more than usual because of the number pad. What's more, the keys have low travel and lack the right level of resistance. As a result, you end up mistyping quite a bit. That said, they get the job done for gaming and short documents. RGB backlight-lovers will be disappointed to see only a single white colour on offer. On the bright side, every row of keys is large including the top-most one.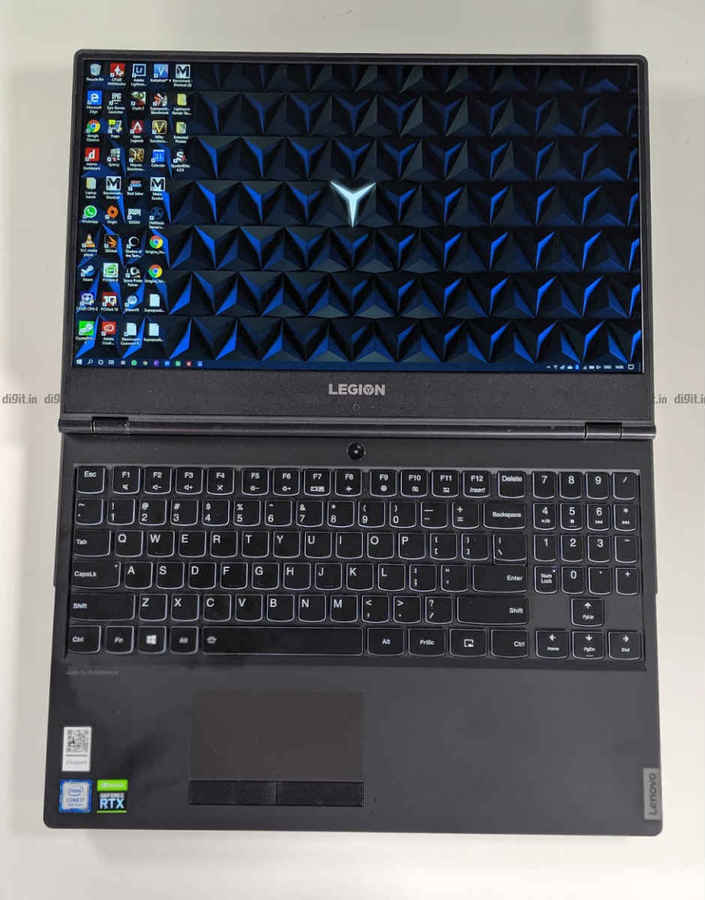 According to Lenovo (APAC) Category Head Clifford Chong, who was present at the launch of the new Legion gaming laptops last month, the Legion Y540 has a refreshed keyboard unit. Unlike the unit on the previous Legion Y530, the new one features anti-ghosting technology on all the keys. "The Y540 may look the same as the old model, but we have focussed on the internals this time around," said Chong in an interaction with us at Digit.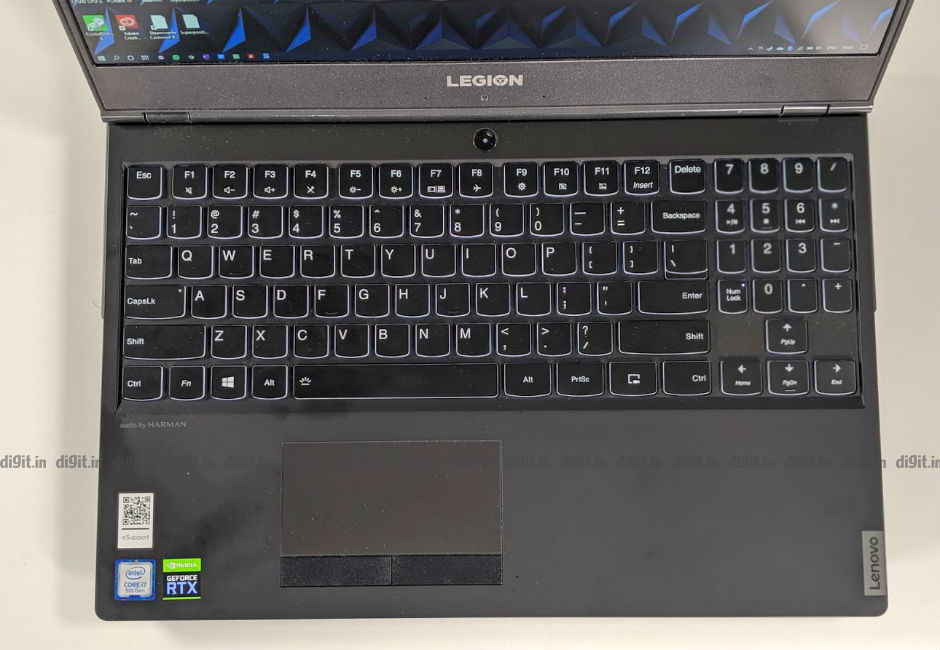 The touchpad on the Legion Y540 is extremely easy to operate. It's large enough for clicks, taps, and swipes. The plain matte-finish surface is grippy but not sticky, which is the way a touchpad should be. Being a precision unit, the touchpad accepts multi-finger gestures without needing any third-party drivers or utilities. That means switching between apps and virtual desktops is a breeze. The two independent left- and right-mouse buttons are a bit hard to press but you'll get used to it with time.
Build and Design
The Legion Y540 undoubtedly builds on the subtle, classy design of its predecessor. Actually, it's the exact same body as the Legion Y530's. There is, however, one tiny but significant difference in the new model. Lenovo has removed the tiny Lenovo logo from the rear overhang of the top cover and placed it inside on the palmrest of the keyboard island. This is clearly a move aimed at promoting the Legion brand over Lenovo's own. It's Lenovo's reticent, low-cost effort towards making gamers and potential buyers remember 'Legion' better as a mainstream gaming brand.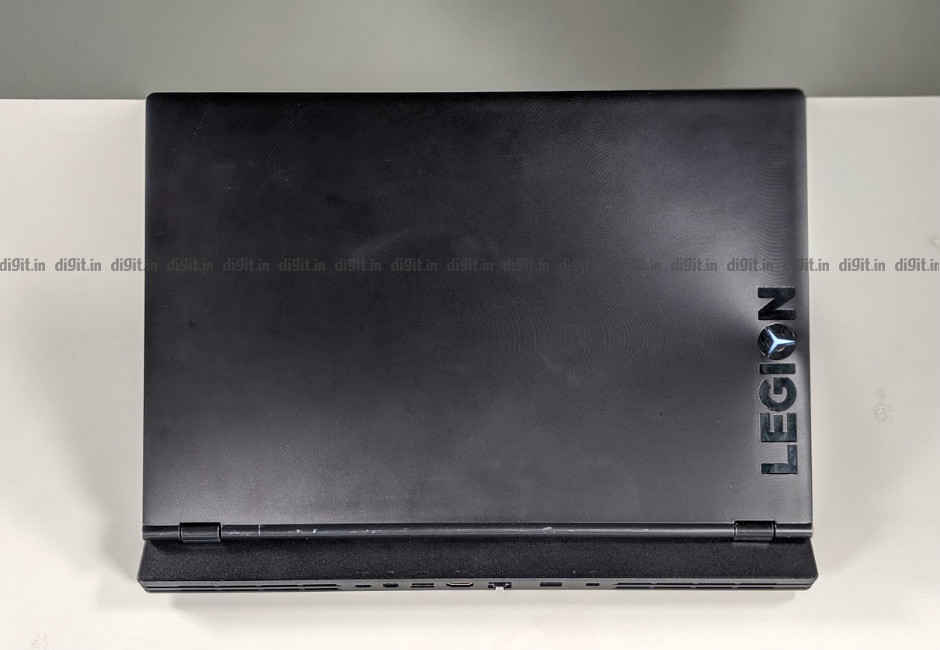 All that said, the Legion Y540 looks good and feels sturdy when held. The top cover is made of serrated plastic but it feels quite strong when the lid is held. There's little flex while opening or closing the lid and using the keyboard. The overhang behind the display hinges is long enough to be used as a handle but you might not want to do that, unless you're the type to live life dangerously. At 2.3 kilogrammes, the Legion Y540 is quite heavy in the hands. The weight of the laptop can be felt when you're carrying it around in a bag or in your hands.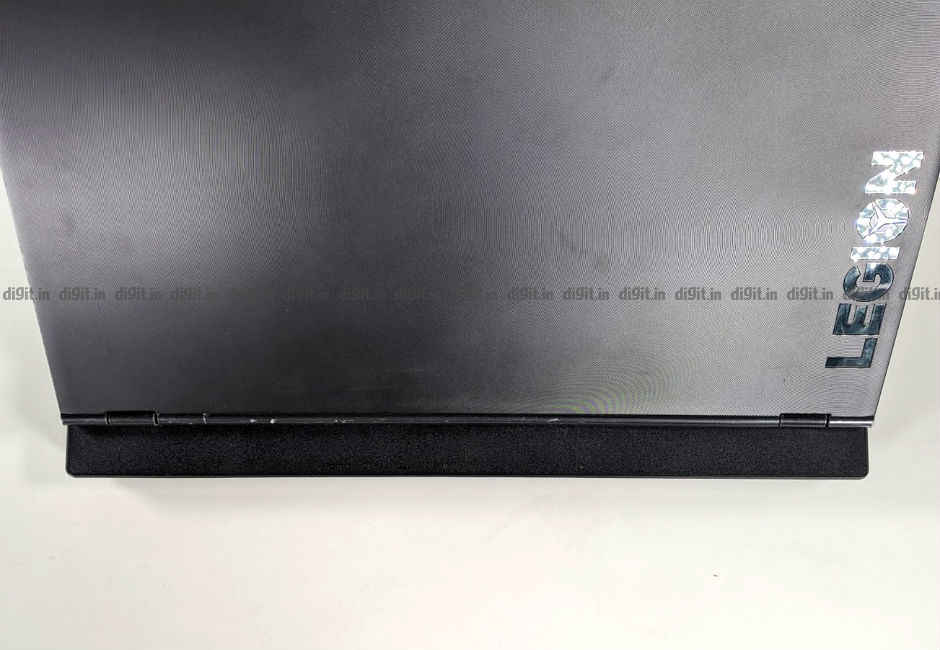 On the inside, we see a 15.6-inch matte-finish LCD panel with really slim black bezels on three sides. The bottom bezel is large and home to a single camera, which is sure to expose your nostrils in a video call. The display folds back all the way to 180 degrees, which we don't get to see on a lot of gaming laptops. All things considered, the Legion Y540 enjoys a clean look and robust build for a device of its price. I only wish the top cover were metallic in construction. Lenovo has specifically designed the new Legion series to look quiet and understated in a crowd of other gaming machines and I think the Legion Y540 succeeds in doing that.
Battery
The 52.5Wh three-cell internal battery on the Legion Y540 is the weakest I have seen on a gaming laptop yet. On our standard battery benchmark test, the review unit scored a disappointing 1 hour, 46 minutes. In everyday use scenarios (where Wi-Fi and Bluetooth were enabled and the screen was set to 70 percent brightness), the review unit's battery dropped from full charge to 63 percent in about 51 minutes. During these test sessions, I opened and browsed on several tabs on Chrome and copied some files. During another such session, the battery dipped from full charge to 21 percent in about two hours. Charging the laptop back up took close to two hours.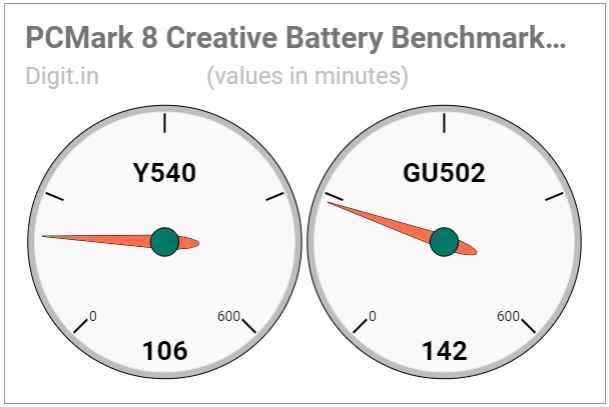 In the bundled Lenovo Vantage app in Windows 10 is an option called Hybrid Mode, which lets the laptop use the integrated Intel graphics card when running on battery. Using the internal graphics card instead of the dedicated Nvidia chip saves power. So, while I performed the aforementioned tests with Hybrid Mode turned off, I used the review unit with it turned on as well. The battery lost about 24 percent of its full charge in half an hour, which perhaps a mild improvement. What's more, I noticed stutters in window animations every now and then. In summary, the Legion Y540 is not for you if you're expecting to work unplugged for long hours.
Bottom Line
The Lenovo Legion Y540 is a well-built, neatly designed, and capable gaming laptop that does its predecessor proud. If you're in the market for an RTX 2060-powered gaming laptop that costs around Rs 1,30,000, then you needn't look any further. The Legion Y540 can run new AAA titles with a surprisingly high level of composure and ease. Its strengths include good display and sound quality, clean physical design, and a responsive touchpad.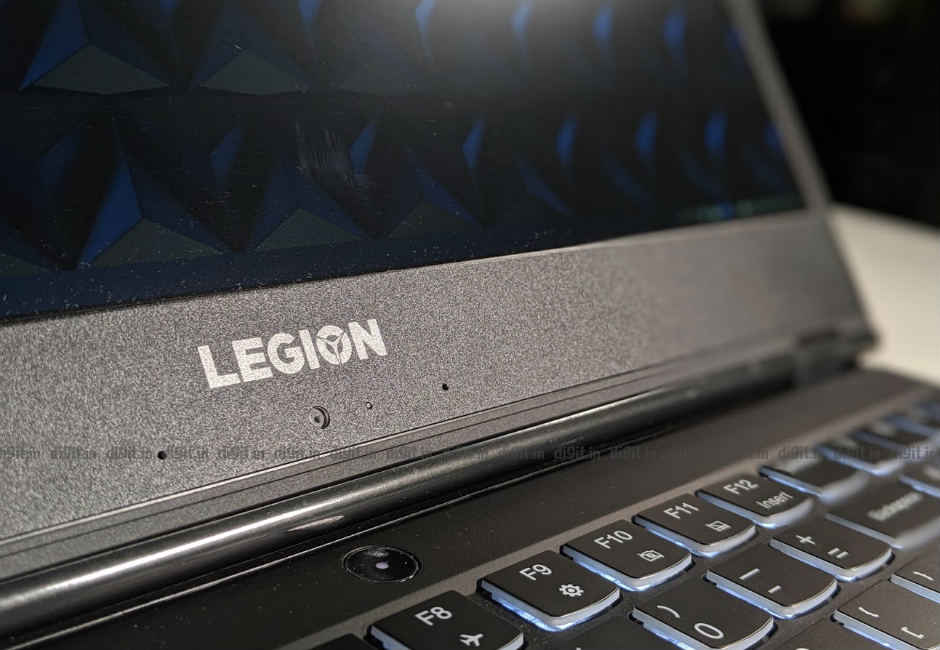 That doesn't mean the Legion Y540 is free of flaws. To begin with, it could have been priced a bit lower. Rs 1,30,000 for an Intel Core i7 CPU, 16GB of RAM, Nvidia GeForce RTX 2060 GPU, and 1TB of solid-state storage seems expensive by a couple of tens of thousands. What's more, the laptop lacks a metal body, a comfortable keyboard, and a strong battery. Despite those limitations, the Lenovo Legion Y540 comes up as a winner in our books.