Lenovo Legion Y520 detailed review
If you've been following Digit for long, you may know that the Lenovo Y700 won our Zero1 award for "Best Mainstream Gaming Laptop" in 2016. This year the company is pushing the envelope a little further, with the Legion Y520, which is the replacement for the last year's machine. The design has been tweaked, the guts have been upgraded, weight and dimensions lowered, and the machine is now part of Lenovo's Legion sub-brand. On paper, it looks quite interesting and somewhat similar to the Dell inspiron 7567 I reviewed recently, which means there is plenty of 1080p performance to exploit. Exploit I did, the Legion Y520 has been a good gaming partner in the past two weeks. But not everything is up to the mark either.
Tech specs of our test machine:
Display: 15.6-inch, 1080P, IPS Panel
CPU: Intel Core i7-7700HQ
RAM: 16GB GB
GPU: NVIDIA GeForce GTX 1050 Ti
Storage 1: 128GB Samsung NVMe SSD
Storage 2: 1TB Seagate 5400RPM
Battery: 45 Wr
Price: Rs. 1,05,101
Design and Build: New and refined
Like its predecessor, the Legion Y520 continues the red-and-black gaming theme. It's made primarily of plastic, but it is a sturdy machine and easily comparable to entry level Thinkpads. The use of red accents in places gives the machine a more attractive look, and the angular front lip makes it distinctive among a horde of rectangular designs. The orange exhaust at the back and the shoulder mounted speakers not only look appealing, but enhance the aesthetics too.
The Y520 uses a similar middle mounted single-hinge mechanism as the Dell Inspiron 7567 gaming, but here the flex in the display is noticeably lesser, albeit not completely missing. The keyboard deck offers ample space for both hands and the use of matte-ish paint feels good. The laptop is fairly thin and has amply rounded edges, making it easier to reach the keyboard and use it for a longer period.
I/O: All you need
I am pretty satisfied with the I/O selection on the Legion Y520, as it covers all the basics. On the left, you get a USB 2.0 port, a Gigabit ethernet jack, microphone/headphone combo and the proprietary power port taken directly from the Thinkpad lineup. On the right, you have two USB 3.0 ports, an SD card reader, a USB 3.0 Type-C port and an HDMI out.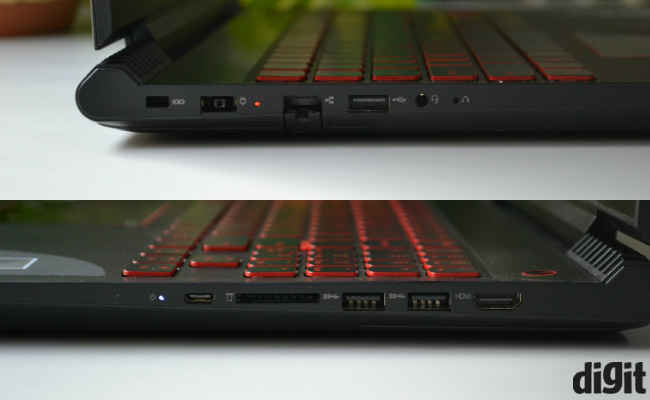 At this point, I should say that the laptop misses out on a Thunderbolt port, but limited compatibility of third party graphic amplifiers and the lack of 4K gaming performance on the NVIDIA 1050 Ti makes it a moot point. That being said, I would have preferred a third USB 3.0 port with fast charging capabilities.
Display: Good not great
While the 4K capabilities of the 1050 Ti are limited to video playback and some non-graphic intensive games, it does justice to the 1080p display here. The matte 15.6-inch panel, is one of the best I have seen in the category, although it is not as bright as I hoped. Producing 260 lux at the centre, it is definitely better in terms of quality and viewing angles than the Dell Inspiron 7567 and most other laptops, but it leaves me wanting for more. Colour reproduction is decent, but as long as you are not using this machine for Photoshop, it will serve you well.
Keyboard and touchpad: Good enough
The Lenovo Legion Y520 features a similar island style keyboard we have seen from the company in the past. It has large keys, is quite tactile and offers good feedback. The red backlighting on it matches the whole gaming theme of the laptop. Moreover, this time it uses a two step backlighting, which means it has two intensity settings. The addition of dedicated screen record button is also appreciated.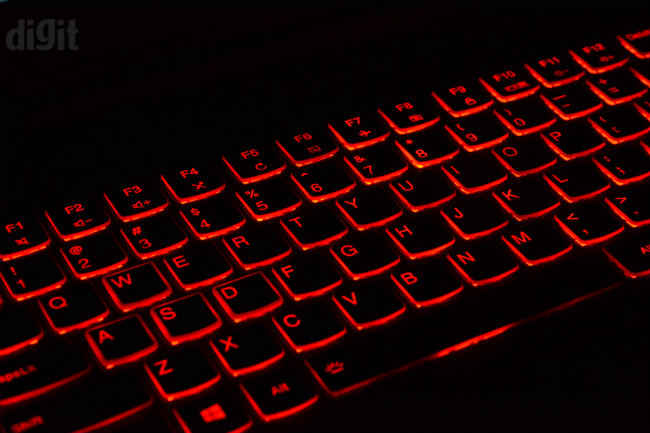 The synaptics touchpad is also quite good and responsive. Compared to the Dell, it certainly feels more smooth, but the precision is almost at par. The two cursor keys are glossy and somewhat raised, which may give the appearance that they might have more depth, but in reality the depression is quite small and both buttons are a little stiff to press.
Performance: At par with competition
The Lenovo Legion Y520 packs a similar hardware setup as the Dell Inspiron 7567 Gaming and the performance is pretty much at par as well. The Intel Core i7-7700HQ is a good performer through and through and offers unthrottled performance whether you are converting a video or playing rigorous games. It was really impressive to see the smallest GTX GPU from Nvidia putting out more than 65fps consistently on Doom, running at Ultra settings.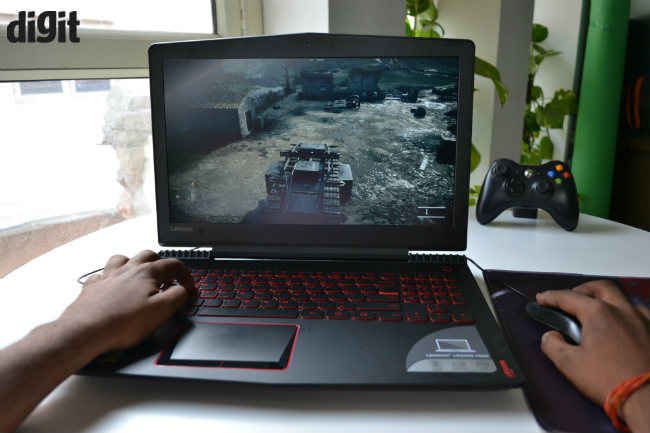 Graphic intensive titles like Battlefield 1 maintained more than 45fps at ultra settings with occasional screen tearing. I did get better frame rates once I dialled down the graphics quality to high, producing more than 50fps easily. Less graphic intensive tiles like Dota 2 ran comfortably, at over 120fps on ultra settings.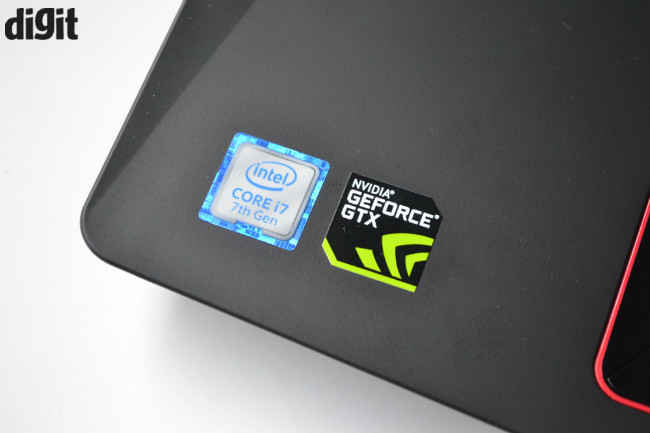 While the gaming performance is fine, I faced an odd issue which prompted me to connect an external keyboard. The thing is, the Lenovo Y520 locks the Windows key when in game, which is actually a good thing, but if you press it accidentally, the keyboard occasionally locks itself in (Windows key + X) format. This means, after you accidently pressed the Windows key, pressing just Q opens Cortana, or if you press E for instance, a new explorer window will open, and so on. It happened to me during Dota 2 and I can tell you it was way more infuriating than the slight heating issue the machine has.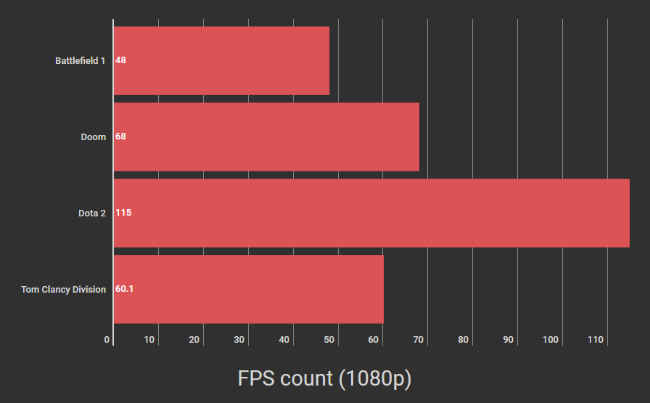 Speaking of heating, I found traces on the right side of the keyboard and felt it only if while gaming in a non-airconditioned room. It is not uncomfortable, nor does it affect performance in any way, but it is there and your palms are bound to get sweaty at least.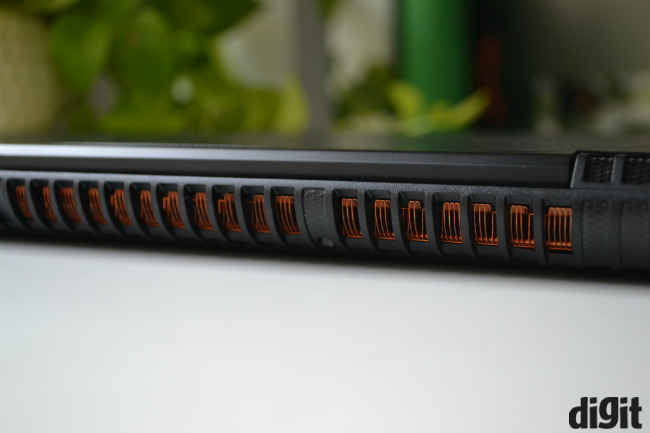 The 16GB of RAM on our test machine coped up well on the variety of workloads we threw at it. Moreover, the 128GB SSD + 1TB HDD storage solution is one of the fastest amongst its peers. Although, I would have preferred a 256GB SSD on this higher variant of the Y520.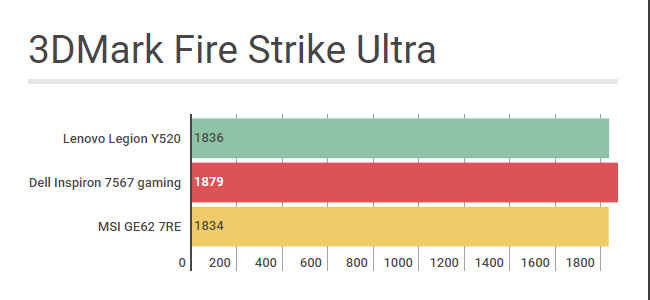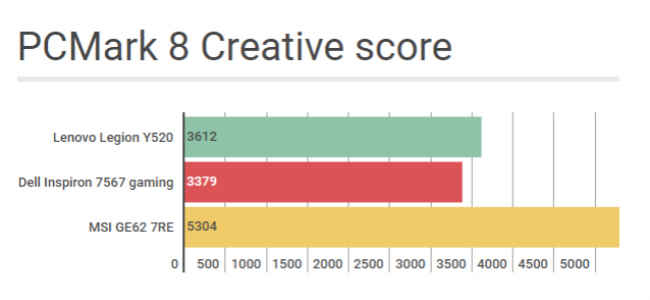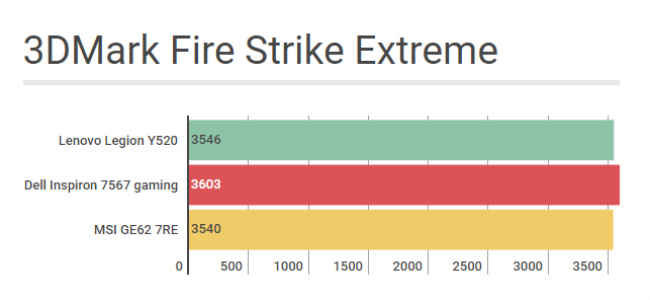 Audio quality via the two shoulder mounted speakers is also nothing short of amazing and while audiophiles won't agree with me, the machine does a really good job for its price. There's little bass to speak of, but it doesn't seem like laptop makers will ever get that right. Still, the speakers try to keep things immersive when you're gaming, but they're nothing worth writing home about. They are loud though.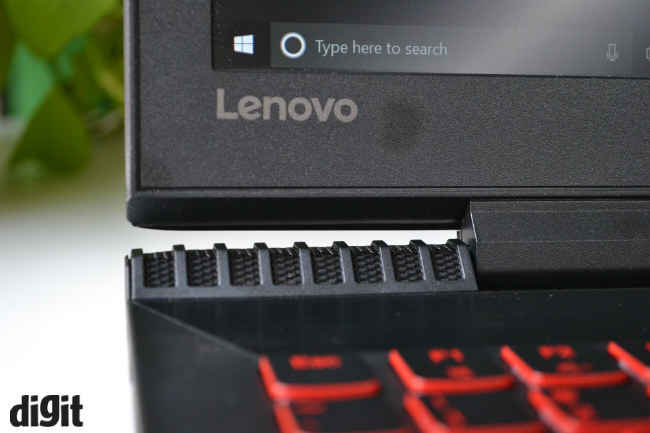 Battery Life: Just Enough
As for the battery, the Dell Inspiron 7567 Gaming has set up a new benchmark, which is tough to outperform. The Lenovo Legion Y520 tries, but manages only half of what the Inspiron achieved on the battery test. It lasts for two hours and two minutes on our battery test. You can game on the go, without the GPU and processor being throttled, but just for about an hour or so. Video playback time is still good and you can finish a movie or two on a single charge.
Bottomline
The Lenovo Legion Y520 is a good gaming laptop, with a very severe issue. Although the Windows key issue is not persistent, if you look past that, the design looks good, build is sturdy and performance is impressive. In addition, battery life is dependable and having an IPS display certainly helps enhance the visual experience.
On the other hand, I believe it would have been a more complete package, with a larger SSD option. Overall, I would easily recommend this machine to whomsoever is looking to invest on a sub-one-lakh laptop, capable of 1080p gaming.
Lenovo Legion Y520 Key Specs, Price and Launch Date
| | |
| --- | --- |
| Price: | |
| Release Date: | 19 May 2017 |
| Market Status: | Launched |