When I finished writing about the Zephyrus M GU502 back in June, I remember thinking to myself, it's a fine, well-engineered gaming laptop with a 1660 Ti card; I only wish it were cheaper, or at the very least had a cheaper variant. It appears Asus heard me because I am currently sitting in front of what is practically the same laptop as the Zephyrus M GU502 but significantly cheaper (by Rs 43,000 to be specific). Enter the Asus ROG Zephyrus G GA502.
On the face of it, the new entrant appears to be a watered-down version of the original Zephyrus M GU502 (read the review here), which was first showcased at this year's Computex in Taiwan in a new Glacier Blue colour option (India does not get it). For example, the Zephyrus G GA502 comes with an AMD Ryzen 7 processor, unlike the Intel Core i7-powered Zephyrus M GU502. There is a GeForce 1660 Ti graphics card on board but it employs Nvidia's Max-Q design to fit snugly into the device's slim chassis. Let's see in which other ways the new Zephyrus G is different.
Performance
As yet another Asus member in the Red Team, the ROG Zephyrus G GA502 features an AMD Ryzen 7 3750H combined with 16GB of RAM, which can be upgraded to a maximum of 32GB. Complementing it is an Nvidia GeForce 1660 Ti graphics card with Max-Q design. There's a single Intel 512GB PCIe NVMe solid-state drive attached to the laptop along with space for one more PCIe NVMe card, should you choose to upgrade storage.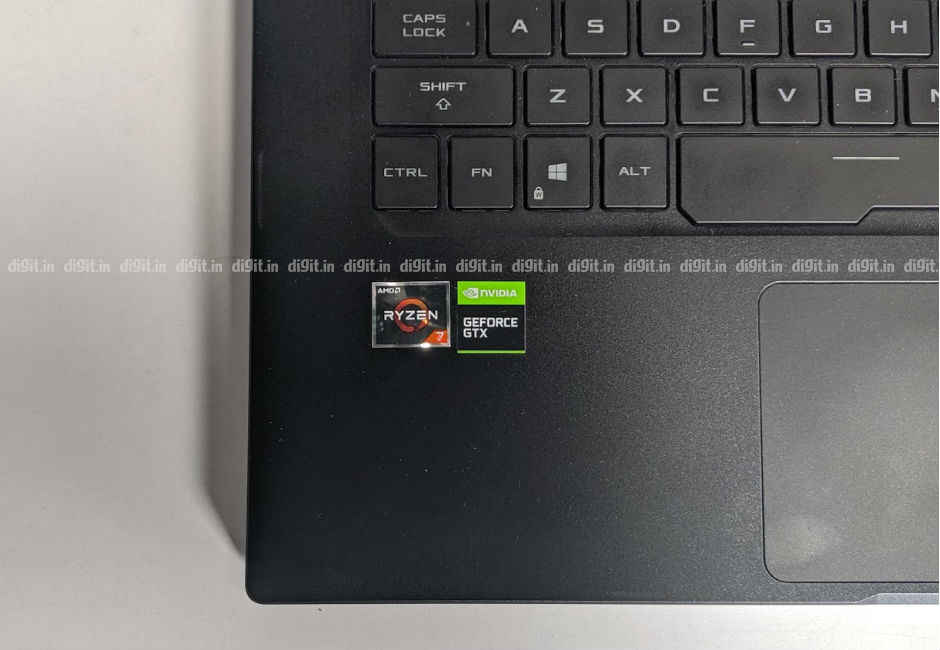 AMD Ryzen 7 + Nvidia GeForce GTX 1660 Ti Max-Q
Everyday performance of the review unit was expectedly good. I was able to run multiple instances of numerous applications such as Chrome, Word, Excel, File Explorer, Adobe Lightroom, Steam, and WhatsApp for PC across more than two virtual desktops without any noticeable signs of lag or stuttering. Switching between these applications too was a smooth experience visually. When, on one occasion, I maintained some sixty tabs in one Chrome window, the laptop felt compelled to reload many of the tabs when they were made active, but that's understandable given the extreme workload. Exporting hundreds of photos from Adobe Lightroom Classic took almost half the time models like the Asus TUF Gaming FX505DY or FX705DT did.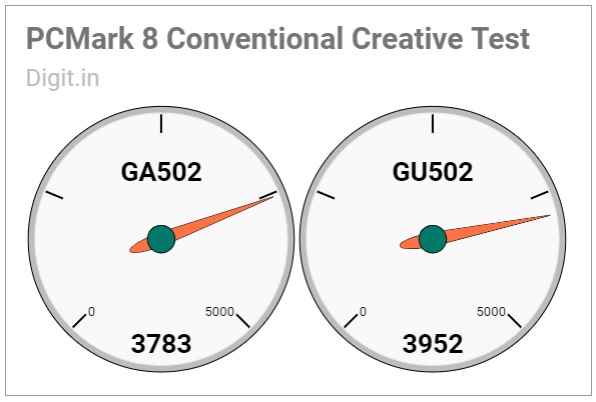 The review unit fared rather well on CPU and GPU benchmark tests. On PCMark 8's Conventional Creative test, the Zephyrus G GA502 scored 3783 points, which is in the same neighbourhood as its close competitors, such as Acer Nitro 7 and Lenovo Legion Y530. The more expensive Zephyrus M GU502, however, bags a slightly higher 3952 points on the same test. On 3DMark's Fire Strike and Time Spy, the Zephyrus G GA502 bagged 9820 and 4242 points respectively. For reference, the Zephyrus M GU502, scored 12340 and 5797 on the same two tests respectively. To sum it up, performance on the Ryzen 7-powered Zephyrus G GA502 is not better than that on the Core i7-powered Zephyrus M GU502 but it comes quite close.
Gaming
The costlier cousin Zephyrus M GU502 comes with a full-size Turing version of the Nvidia GeForce GTX 1660 Ti graphics card but the Zephyrus G GA502 gets a Max-Q version of the same. Max-Q Design is Nvidia-speak for a slimmer construction with downclocked chips so there's lesser heat and noise produced while gaming. According to Asus, the Max-Q Design variant was chosen for the Zephyrus G GA502 to keep costs low.
The frame rates clocked by the Zephyrus G GA502 are comparable to those recorded by the slightly older and cheaper TUF Gaming FX705DT, which is equipped with the same Ryzen 7 CPU but an Nvidia GeForce GTX 1650 graphics card and half the RAM. On the review unit, we chose to run our suite of games on native Full HD resolution at High (what we call one notch below the highest Ultra) and Medium (two notches below the highest Ultra) graphics settings with V-Sync disabled.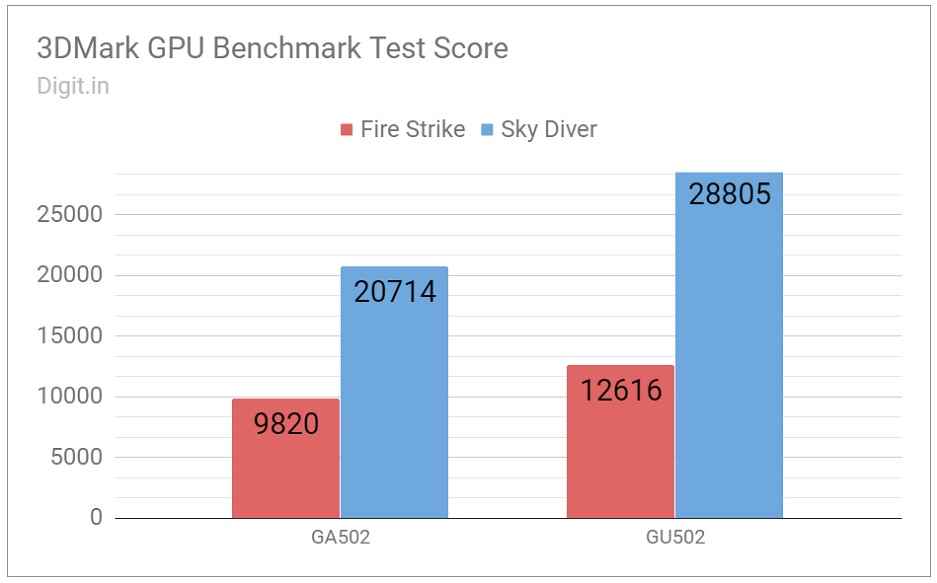 Both Doom and Crysis 3 ran at an average frame rate of 73 frames per second on High but jumped to 88 and 124 respectively when switched to Medium. Battlefield V averaged 58 frames per second on High but climbed to 66 on Medium. Apex Legends went from an average of 86 frames per second on High to 94 on Medium. Shadow of the Tomb Raider's internal benchmarking tool clocked 54 frames per second on High and a slightly higher 59 on Medium. Hellblade: Senua's Sacrifice averaged 63 frames per second on High but did 70 on Medium.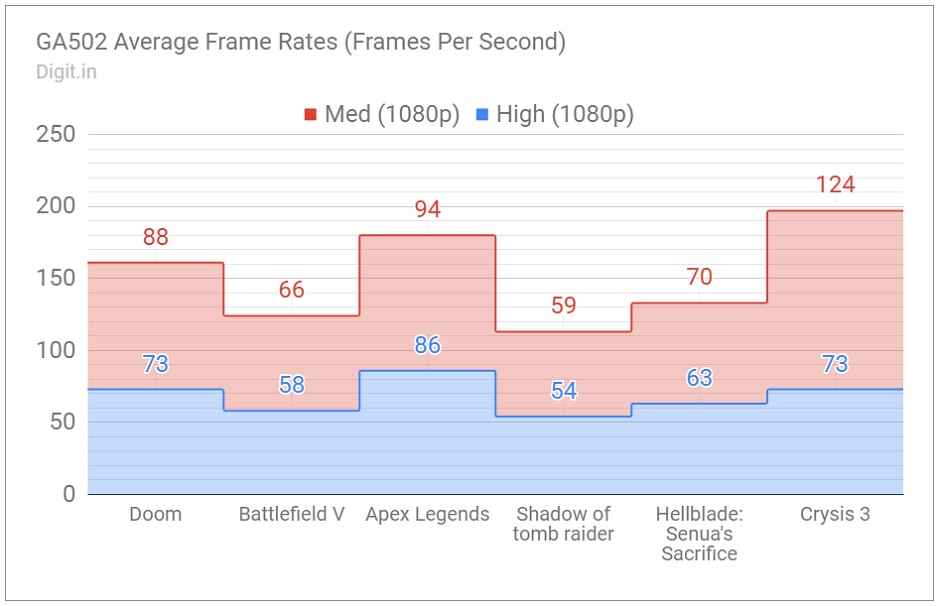 Playing video games on the review unit was mostly pleasurable. Games ran more or less smoothly on High and Medium settings. I noticed one distinct stutter in Crysis 3 (High) a few minutes into the game but nothing after that. I noticed quite a number of skips and stutters in the cutscenes of Battlefield V (High and Medium) but none during gameplay. Doom was perhaps the smoothest game on both High and Medium. After a 30-minute run, our heat gun recorded an average of 30 degrees Celsius around the WASD keys and over twice that figure around the rear vents.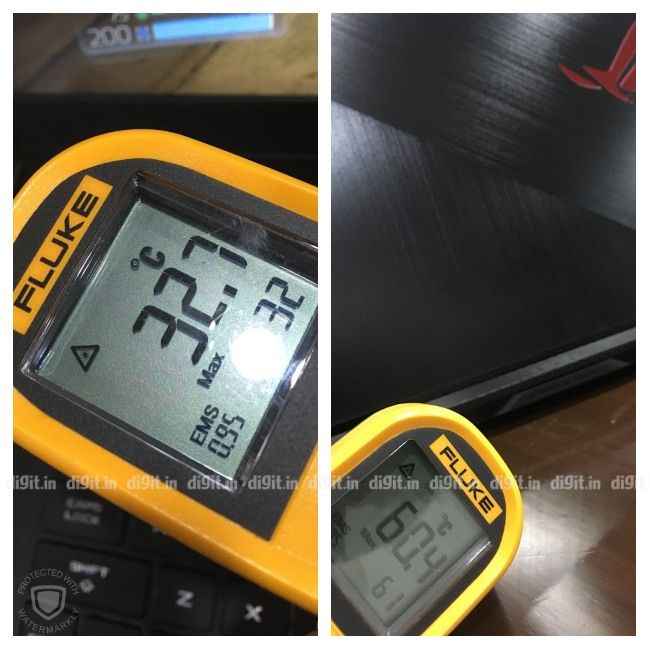 WASD keys | Rear heat vents
While the review unit ran our suite of games just fine, it was noticeably loud while doing so, especially in our office conference room. The noise from the dual internal fans was enough to make our editor, who was seated several feet opposite me, ask, "Is it raining outside?" This was the case with the Zephyrus M GU502 as well but I believe this unit's slightly louder. If you aren't wearing noise-cancelling headphones, this noise could creep into your gameplay experience.
Display, Audio, and IO
The 15.6-inch display on the Zephyrus G GA502 is understandably not the same unit as that on the costlier Zephyrus M GU502. Instead of a 144Hz 3ms Pantone-validated LCD screen, the Zephyrus G GA502 settles for a 120Hz IPS LCD unit that's equally bright but not quite as colourful. While primary colours look mostly neutral for browsing, watching movies, and playing games, they tend to appear a bit washed out on occasion. The matte finish on the display ensures overhead lights don't cause a distraction. On the whole, it's a good display for everyday use.
Sound from the laptop's two down-firing speakers is surprisingly loud and clear, which is generally not the case with gaming laptops of this price range. Highs, mids, and even lows make it through while playing most songs. What's more, there's ample stereo separation when you sit facing the laptop directly. The pair inside the laptop is fine for the occasional YouTube video but you might want to get yourself a proper pair of headphones for gaming.
Dual bottom-firing speaker drivers
The Zephyrus G GA502 is not shy to offer ports for connectivity. On the left side, it sports a proprietary round-pin power port, a LAN port, a full-size HDMI 2.0b port, a USB-A 3.2 port, a USB-C 3.2 (Gen 2) port with DisplayPort 1.4, and a 3.5mm audio jack for headsets. On the right, it features two USB-A 3.2 ports and nothing else. Unfortunately, there's neither a fingerprint scanner nor webcam on offer. If you're planning to use this laptop for both work and play, that's a limitation to make note of.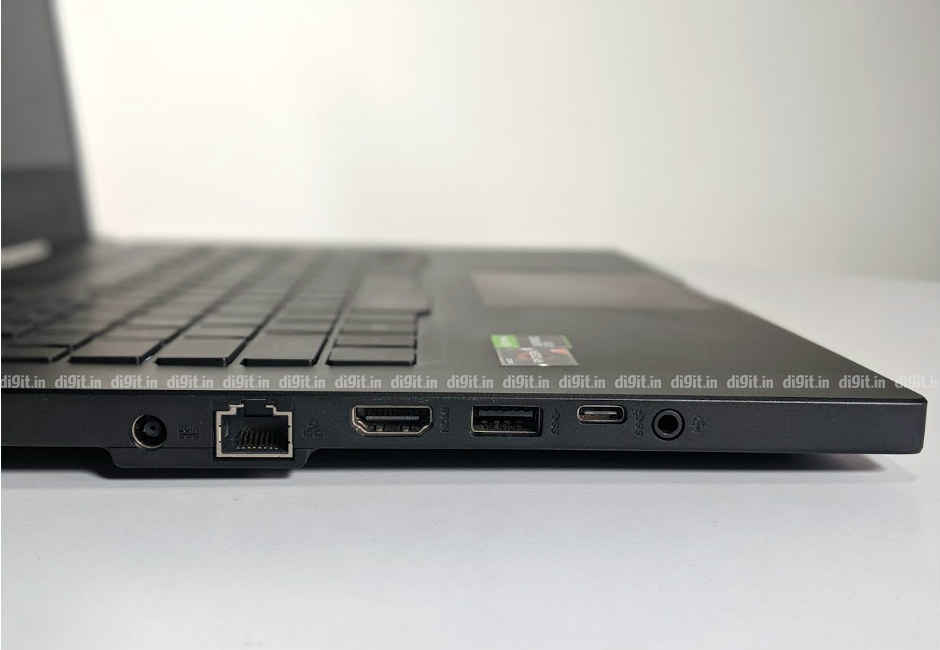 Ports on the left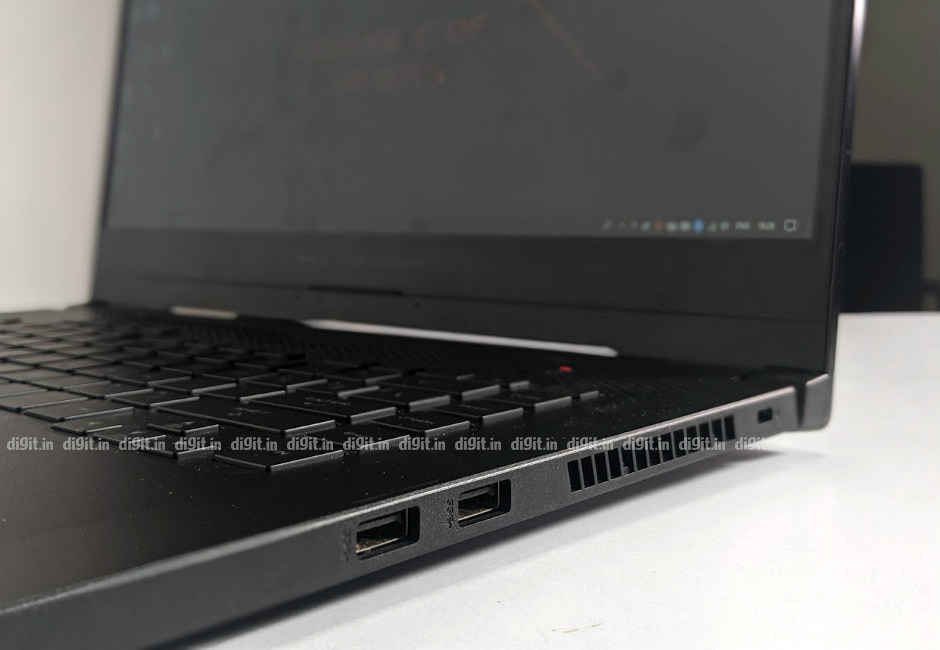 Ports on the right
Keyboard and Touchpad
Like the unit on the Zephyrus M GU502, the keyboard on the Zephyrus G GA502 is adequately comfortable for typing long emails and documents. The same goes for gaming. The keys have sufficient resistance but could've used a bit more travel. A dedicated row of keys above the keyboard lets you control volume, mute the microphone, and bring up Asus' proprietary Armoury Crate app.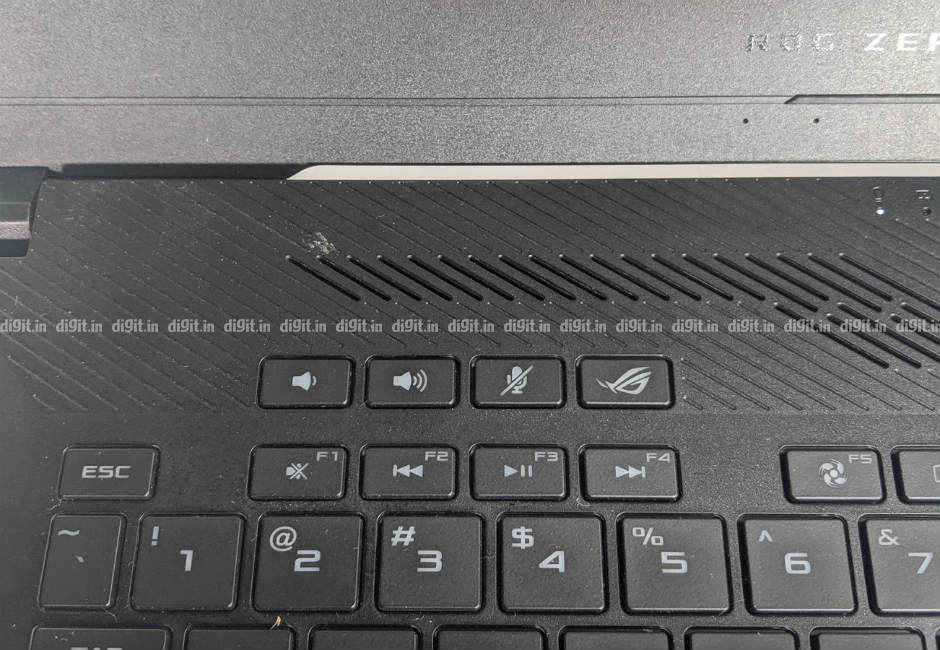 Dedicated volume control keys come in handy
In addition, there's a column of keys on the right side with dedicated buttons for Home, End, Page Up, and Page Down functions. Why, there's even an extra Fn key there for added convenience. The one thing the keyboard misses is RGB lighting. Instead it gets a plain white backlight with three levels of brightness control.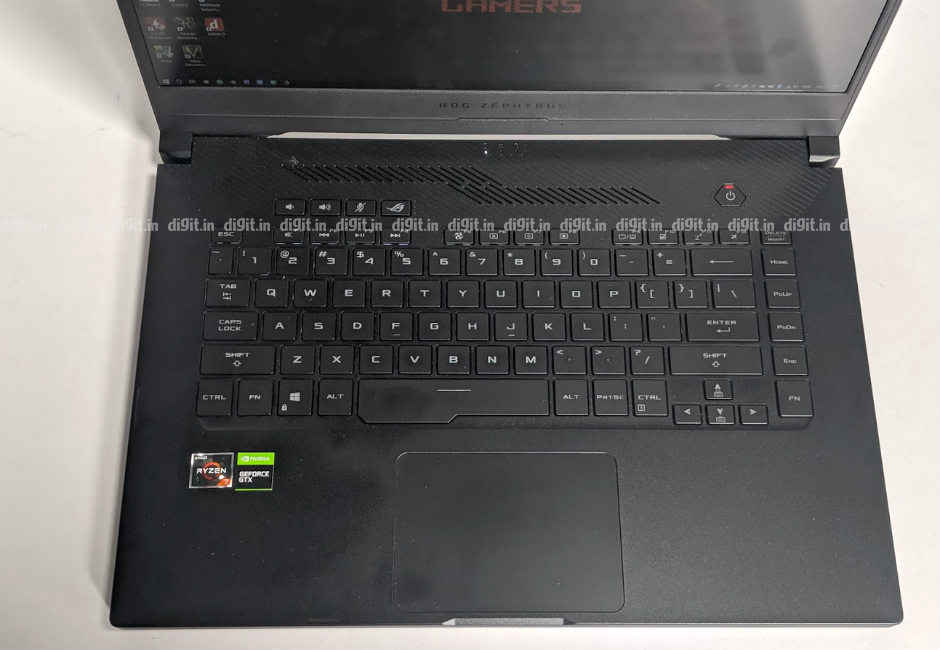 Flex-free keyboard island
The touchpad on the Zephyrus G GA502 is a sufficiently large precision unit. It means you can perform multi-finger taps and swipes without needing a third-party driver or utility. These actions can be modified directly from Windows 10's Settings. The touchpad's plain surface is smooth for frequent use and the two click keys beneath it are fairly easy to press.
Build and Design
The Zephyrus G GA502 is a spitting image of its costlier Intel counterpart, and that's no doubt a good thing because the Zephyrus M GU502 is a well-built and well-designed product to begin with. The Zephyrus G GA502 sports a similar metallic top cover with a classy brushed finish. For a 15.6-inch gaming laptop, it's moderately slim (0.8 inches) and surprisingly lightweight (2.1 kilogrammes). A dimly lit red ROG logo adorns the top cover to give the laptop some extra character.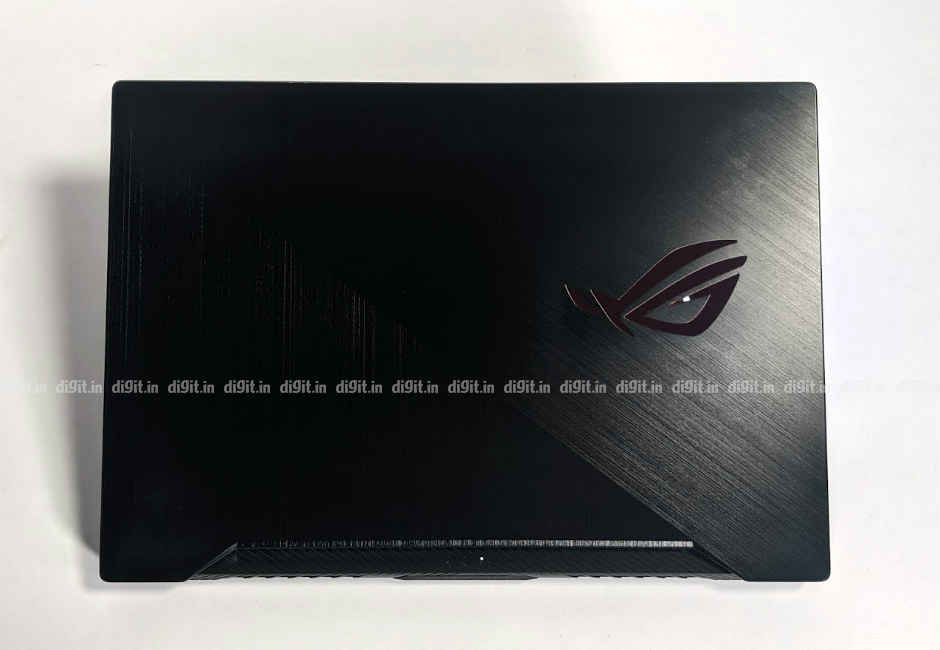 Classy metallic brushed design
Opening or closing the display reveals almost no sign of flex in the lid, which is impressive, given the slimness of the panel. On the inside, the 15.6-inch anti-glare display is surrounded by thin bezels on three sides. The tall bottom bezel houses just the dual-array microphones. Tapping hard on the keys causes no movement in the keyboard island, which is once again a sign of impressive build. On the whole, the Zephyrus G GA502 is well-made laptop. It manages to look subtle without ending up looking uninteresting.
Battery
The Zephyrus G GA502 sports a four-cell 76Wh lithium-ion internal battery, which, on our tests, fared decently. On our standard battery benchmark test, the review unit lasted 3 hours, 1 minute. When compared to the result scored by the more power-hungry Zephyrus M GU502, that's thirty-nine minutes more. In our everyday tests in which Wi-Fi and Bluetooth are enabled and the screen is set to 70-percent brightness, the review unit managed heavy browsing and background music playback through headphones for 1 hour, 16 minutes before showing a 32-percent drop in battery charge. Charging the laptop back up from near-zero to full takes a little over one and a half hours.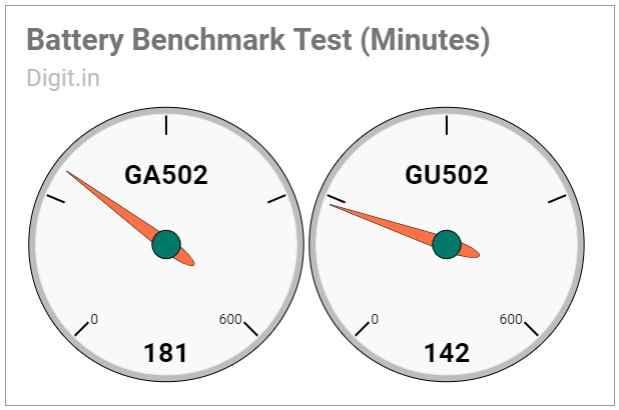 Bottom Line
As of writing this review, the Core i7-powered Zephyrus M GU502 costs Rs 1,42,990. This Ryzen 7-powered Zephyrus G GA502, on the other hand, costs Rs 99,990. If you're planning to get the cheaper alternative so you can save Rs 43,000, you'll be happy to note that you won't be losing out on too much kit. You'll end up with a (slightly) less powerful CPU and GPU but it won't make a vast difference to your gaming experience, especially if you're a casual gamer. The same goes for the display quality.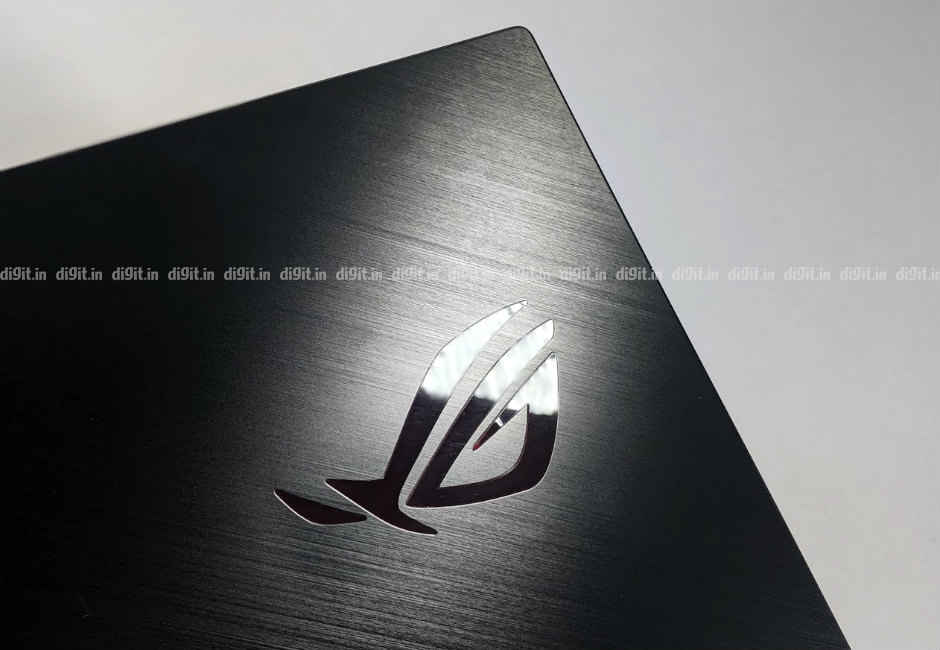 By choosing the Zephyrus G GA502 over its costlier cousin, expect the average frame rate on your next AAA game title to hover around, say, 70 frames per second instead of 90. If getting those twenty extra frames per second is important to you (along with a more colourfully lit keyboard), choose the Zephyrus M GU502 over this. If not, get the Asus ROG Zephyrus G GA502 without any hesitation.