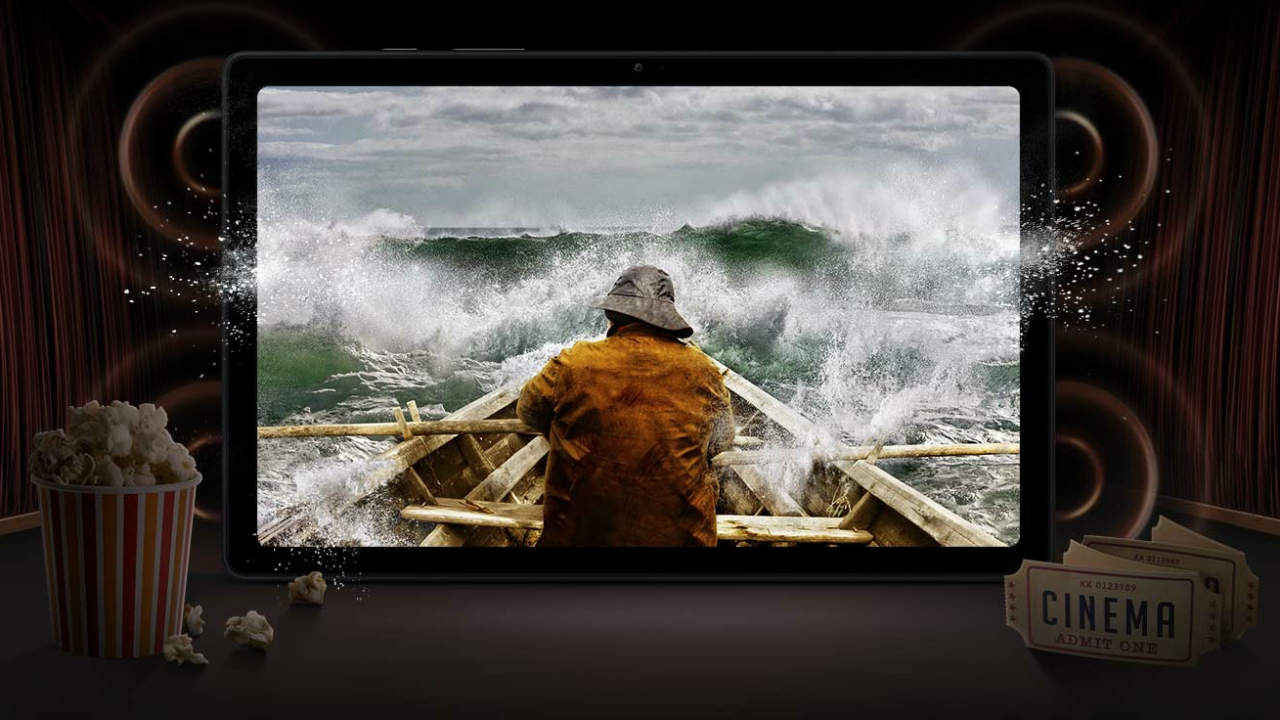 VERDICT:
The Samsung Galaxy Tab A7 brings with it a good display, great sound output and a premium build. It is ideal for those looking for a content consumption device from streaming services, some gaming and light productivity work. It will also work if you need a device to attend classes online and type some notes. It has good battery life too. The camera is good enough for video calls but won't replace your smartphone for photography needs. The processor can play all the games you want and run apps from the Play Store, but high-end productivity apps can cause the device to stutter.
Unlike smartphones, tablets don't launch every year. And even when they do launch, they are far and few out there. The reason for this is that one does not purchase a new tablet as often as one does a smartphone. Unlike smartphones, which are more active devices, tablets can be considered passive devices. And by passive, I mean they are a better fit for content consumption rather than content creation. High-end tablets like the iPad Pro and the Samsung Galaxy Tab S7 aim to blur the lines between a tablet and a laptop, offering high-end specs and functionality when compared to their budget counterparts.
With more and more people working from home and especially students attending online lectures, does a budget tablet with long battery life, a decent display and access to a host of apps fill a void that smartphones are too small for and laptops too big for? Let's find out.
In the Box
In the box, you get the tablet along with a USB-C cable and a power adaptor. That's it. There is no protective cover or a stylus in the box. You will have to purchase a cover separately as an accessory.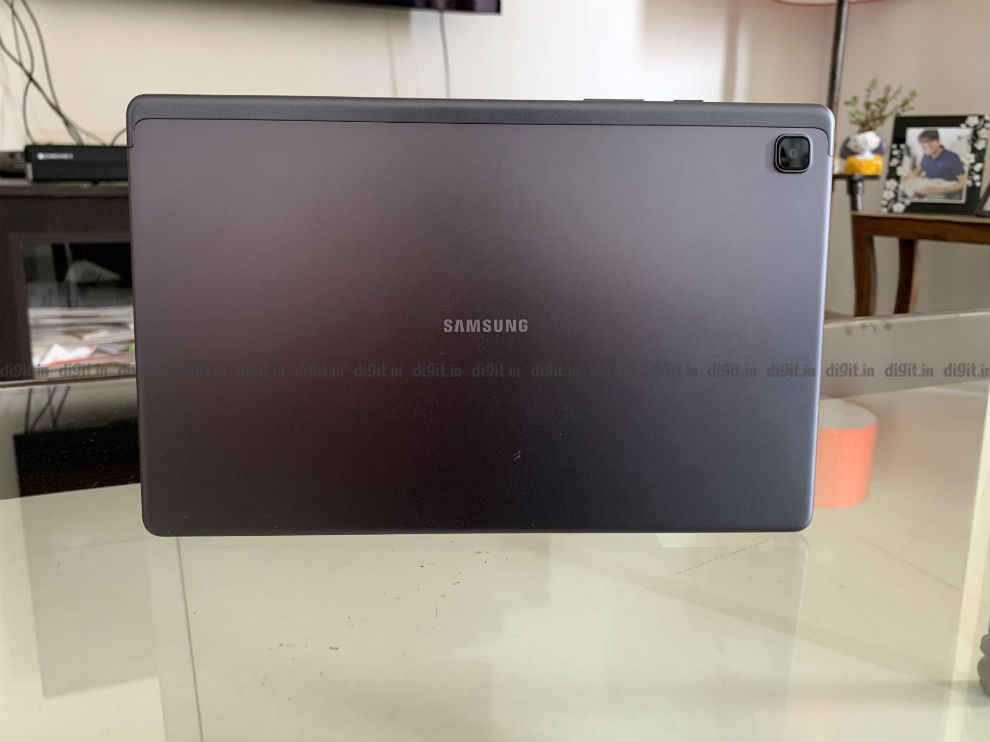 Samsung Galaxy Tab A7: Key specifications at a glance
Display: 10.4-inch TFT 2000 x 1200 pixels (WUXGA+)
Platform: Qualcomm Snapdragon 662
RAM: 3GB
Built-in storage: 32GB
Expandable storage: up to 1TB
SIM Card slot: No (there is a 4G model, this one is Wi-Fi only)
USB-C: Yes
3.5mm jack: Yes
Thickness: 7mm
Battery: 7040mAh
OS: Samsung One UI 2.5 over Android 10
Rear Camera: 8MP
Front Camera: 5MP
Speakers: 4
Bluetooth: 5
It's a little surprising to see the tablet running on the Snapdragon 662 when we have seen the more capable Exynos 9611 on Samsung's smartphones. But more on that in the performance section.
Display and Audio performance
While Samsung's Flagship tablets like the S6 (review) and the S5e (review) sport an AMOLED display, the Tab A7 has a TFT display. It has a 2000 x 1200-pixel resolution, giving it a 224 PPI pixel density. While it isn't the crispest display out there when it comes to resolution, it isn't bad either. Colours don't look as vibrant as we've seen them on Samsung's AMOLED display on other tablets, but it isn't as washed out and lackluster on as we've seen on other budget tablets. To put things into perspective, the Samsung Galaxy Tab A7 is priced at Rs 17,999 for the 32GB Wi-Fi only variant. To get the entry-level 32GB Wi-Fi only iPad 8th gen you'll have to shell out Rs 29,900. So, while Samsung is targeting a relatively vacant price point with the A7, going for a cheaper tablet will mean a bigger compromise on the display and one step above the A7 means spending a little over 10K.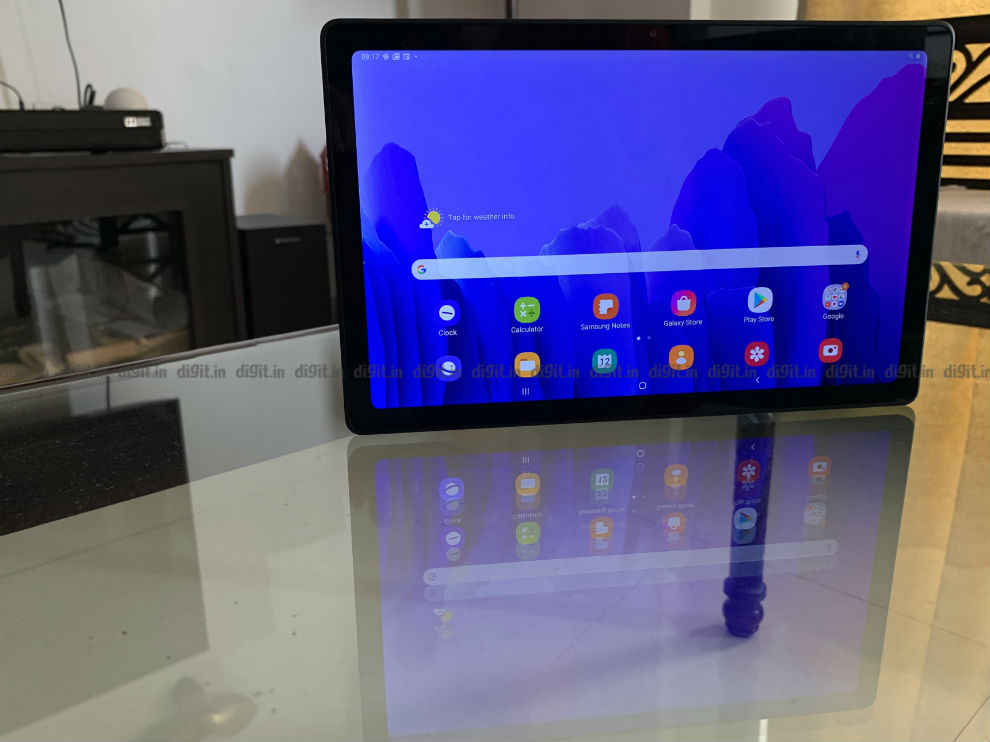 To judge the performance of the Samsung Galaxy Tab A7's display, we played a lot of content from popular streaming services like Netflix, Prime Video, Disney+ Hotstar and YouTube and it all looked quite crisp and surprisingly colourful.
From the Cyberpunk 2077 trailer showing off the neon coloured Night City to the cars in the Grand Tour and even the vivid colour palette of Young Sheldon, it was a treat to watch. The display on auto-brightness got slightly dim for my taste, but you can always bump it up manually. The tablet doesn't support HDR and for the price, it is ok, especially when you consider the display can produce rich colours.
The display can also get really bright. Just like other Samsung devices we've seen in the past, you can push the brightness just that bit above the maximum setting and this helps with daytime viewing of content.
Safe to say that if consuming content is something you are getting this device for, or even attending online classes, then you should do fine with the display. The touch response is good as well and the tablet responded to the slightest of touches.
Coming to the audio performance, it has 4 speakers (2 on each side when held in landscape mode) and they can get pretty loud. Loud enough that you can place them on a table and a bunch of you can enjoy a movie without needing to attach a Bluetooth speaker. Needless to say, that if you want to watch online classes on this tablet, you won't need to resort to headphones.
Performance
As we said above, what's baffling is that despite Samsung having its own Exynos 9611 chip we see the tablet running on a Snapdragon 662. While the chipset isn't the weakest out there, we have seen offerings from MediaTek trump it in raw performance on smartphones. While it isn't fair to compare smartphone benchmark scores against a tablet, below are some of the benchmark scores of the Samsung Galaxy Tab A7.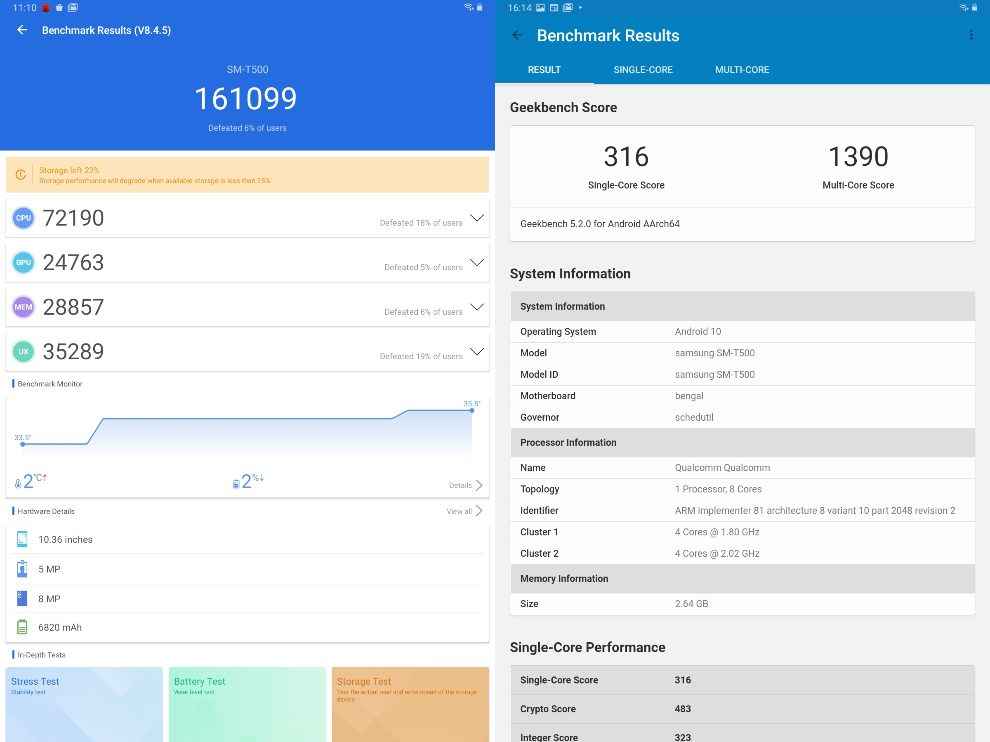 Moving to gaming, by default, the Graphical Quality and Frame Rate was set to high in COD Mobile, while other settings like Depth of Field and Ragdoll Effects were off. This is, of course, the auto-selection of the game based on the hardware and we did find this to be the ideal way to play the game. While this isn't the prettiest, we've seen that COD Mobile it is definitely playable, smooth and enjoyable. Maxing out the settings did hamper the performance, though.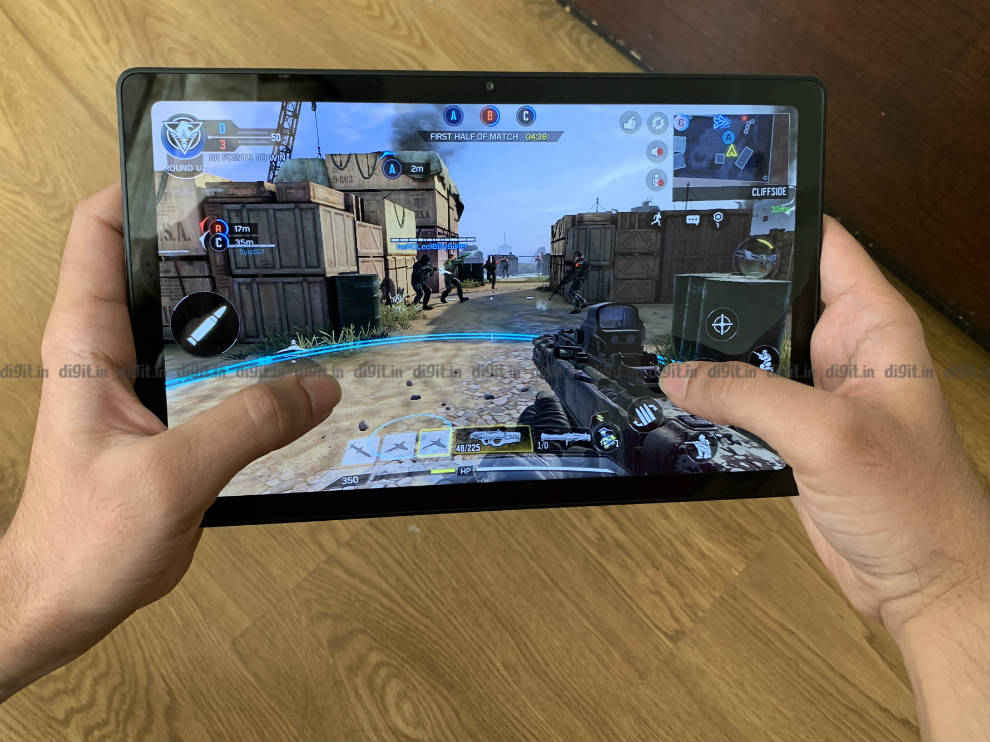 Moving over to everyday performance, like checking mail, browsing the Internet, watching videos, etc. the tablet performed impressively without any stutters. The only underwhelming experience is typing. I wish each letter had a tad more real estate in landscape mode to give users a comfortable typing experience. If you are someone who will type a lot, then investing in the keyboard accessory will be a wise decision. If you need to type a mail or a short document or some notes, you should do ok. But if you are looking to type for long periods of time, then this keyboard feels cramped.
Samsung Galaxy Tab A7 UI
The tablet runs on Android 10 with Samsung's One UI 2.5 overlaying it. While Samsung's One UI has evolved a lot to make one-handed operations and the general flow of the UI on a Samsung smartphone a lot smoother, on a tablet it is still a two-handed task. Since there is no fingerprint sensor, you will have to resort to a pin or pattern unlock. There is also the face unlock using the front camera which worked 9 out of 10 times. From aspects like multitasking to populating the home screen with your favourite apps and even navigating the settings, it is a lot like you'd find on a Samsung smartphone, making Samsung users feel right at home on this device.
Camera
The performance of the camera is lacklustre, if you are thinking of using this as your primary shooter. It works well for video calls but for photos, your smartphone will still be a better choice. It can click relatively decent photos in well-lit conditions, preserving details and making photos look good. In the night, however, the shutter speed feels slow, the tablet takes its own sweet time to focus and images are very noisy. Below are some camera samples resized for web.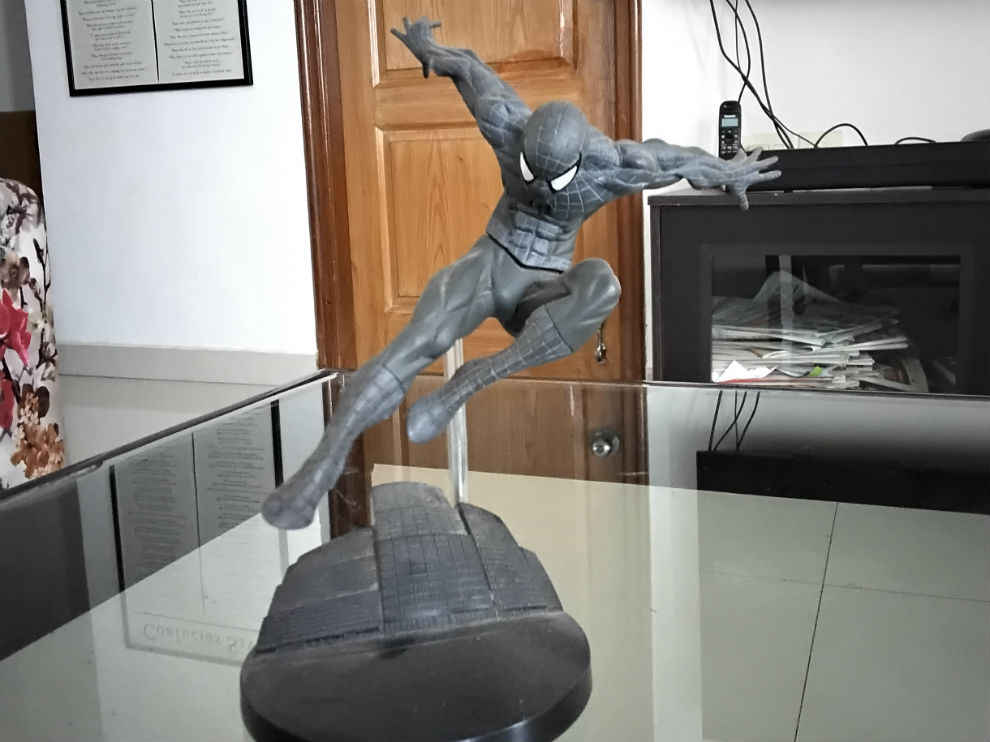 Above: Well-lit image sample from the rear camera (resized for web)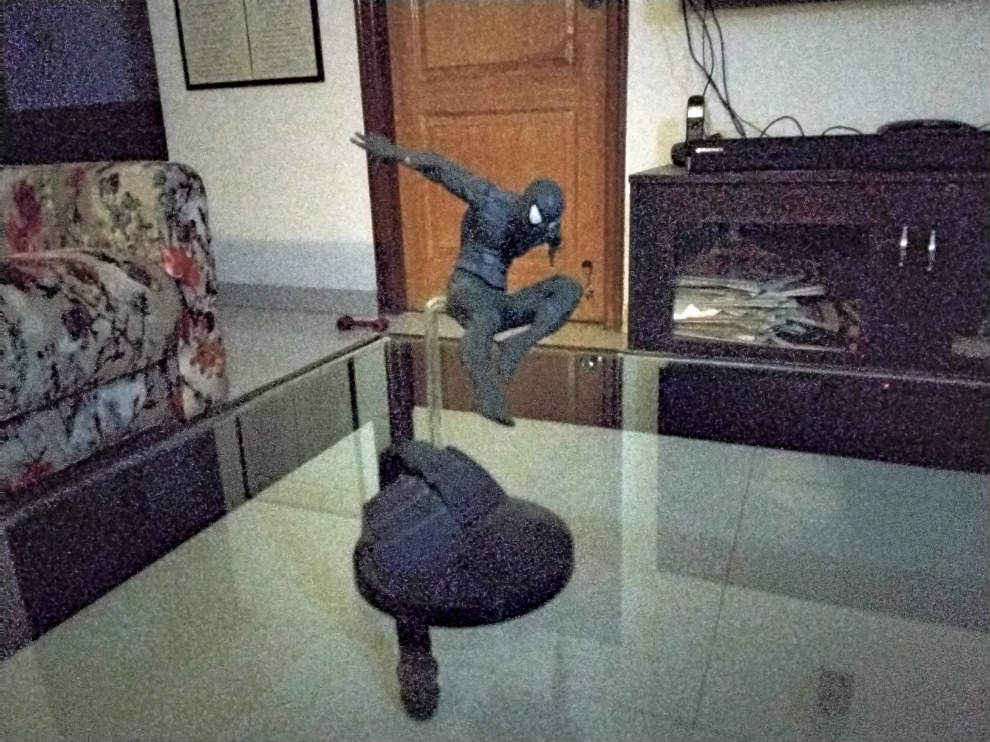 Above: Low light image sample from the rear camera (resized for web)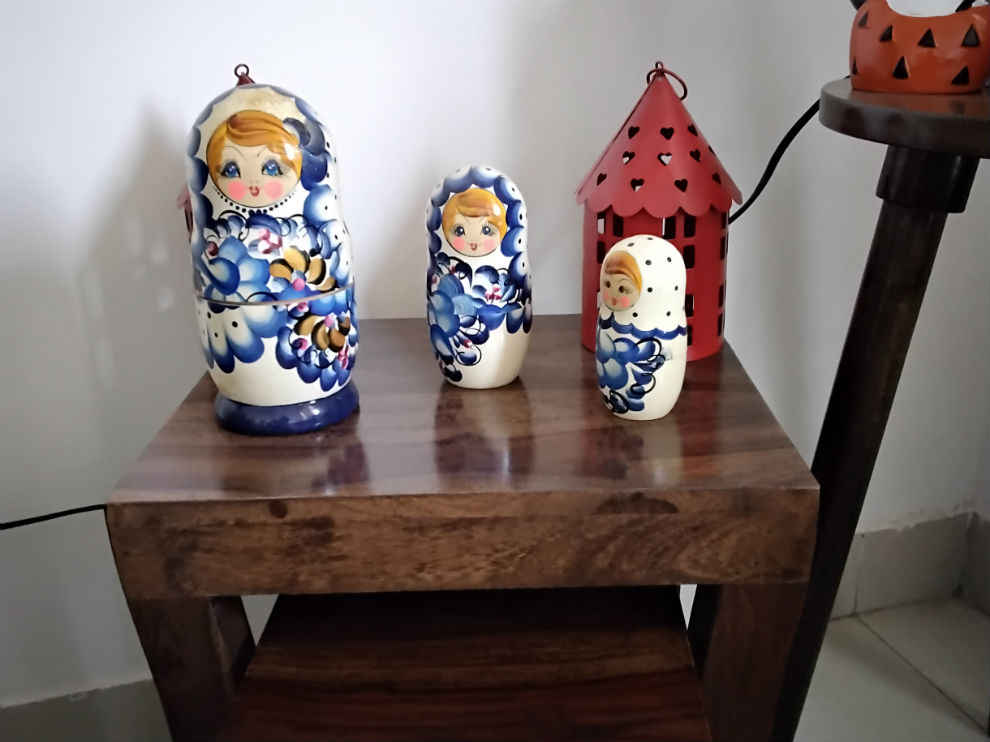 Above: Well-lit image sample from the rear camera (resized for web)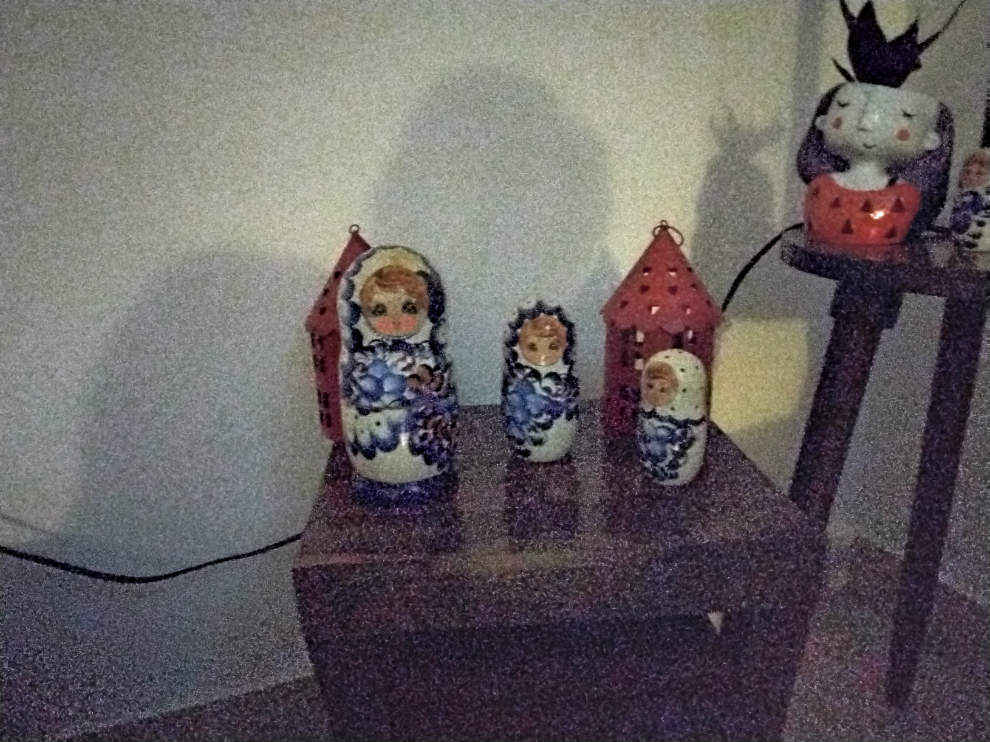 Above: Low light image sample from the rear camera (resized for web)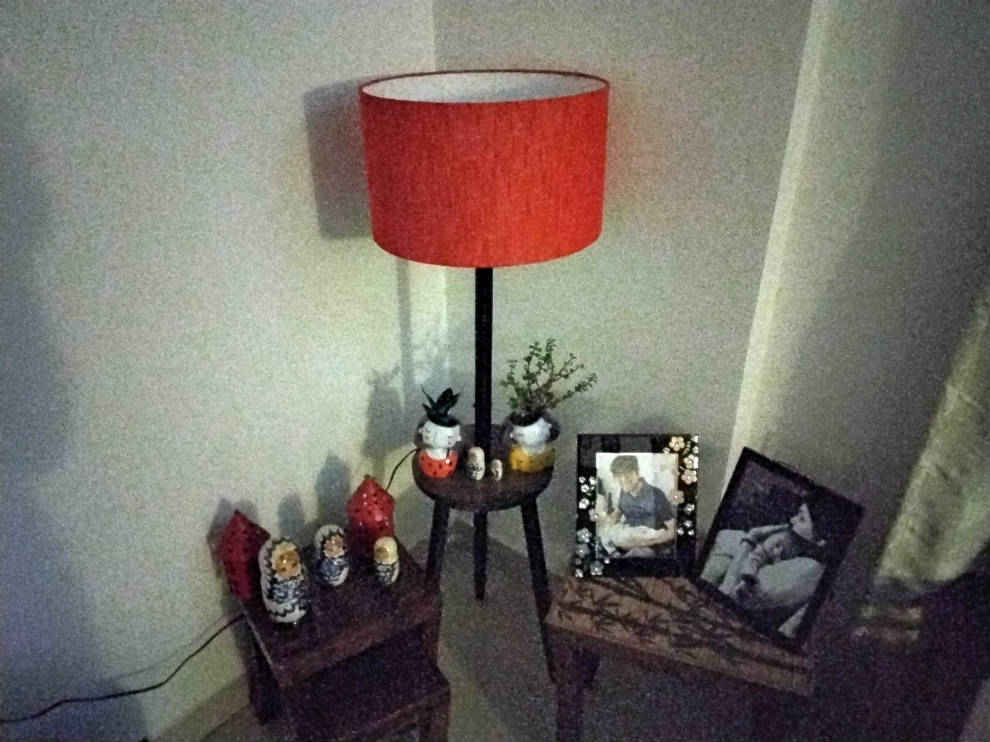 Above: Low light image sample from the rear camera (resized for web)
Build and Design
Slim, elegant and well-built are the first things that will come to mind when you see the Galaxy Tab A7. The one we have here is the grey variant but it is available in Silver and Gold as well. Starting with the back of the tablet, it has a smooth metal finish which feels premium but may not be the most ergonomic. I found the tablet slipping a bit from my hands on multiple occasions and the lack of a cover to prop it on a table was felt dearly. The back of the device is as premium as the iPad.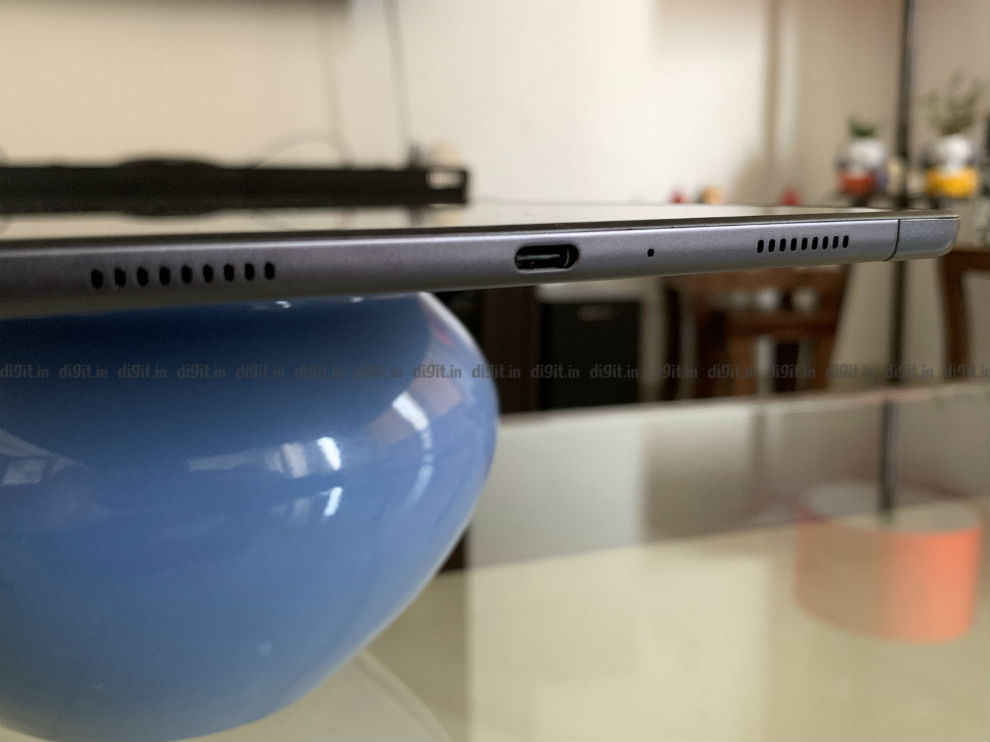 The 10.4-inch form factor is a tried-and-tested one so as far as ergonomics are concerned, you will feel right at home. When playing games or watching videos, the device is comfortable to use.
Moving to port placement, (holding the tablet in portrait mode) you have the power button and the volume rocker on the right. The tray for the microSD card slot is on the left. At the top and the bottom, you have the quad-speaker setup. At the bottom, you also have the USB-C port and the endangered headphones jack. The back of the tablet also houses the camera. On the front, the camera isn't in the traditional position. Rather it's on the side bezel in the centre when held in portrait mode. This makes it the ideal position for the front camera when held in landscape mode to make video calls.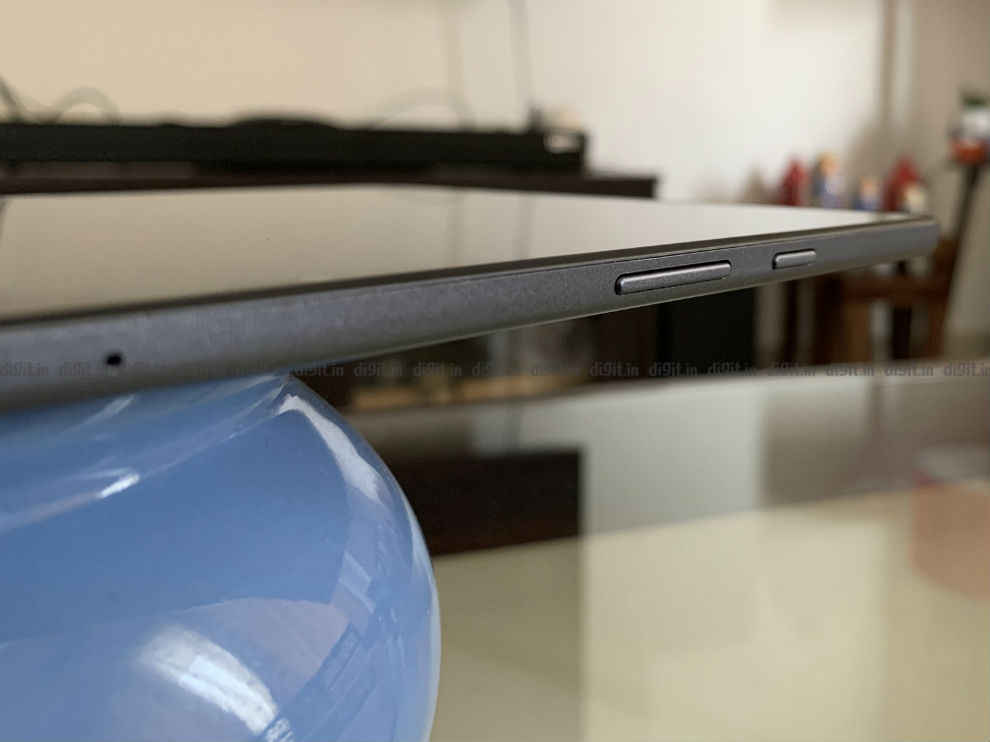 Overall, the build of the tablet is good and premium. The tablet is slim and without investing in a case to prop it up at an angle, typing in landscape mode is a tad annoying. The size is good enough for playing games and watching videos.
Battery
The Samsung Galaxy Tab A7 has a 7040mAh battery – in line with what we saw on the Galaxy Tab S5e. In our battery benchmark with the display on full brightness, the tablet died in a little less than 8 hours, which is actually pretty good. Especially when you compare it to its predecessors. In real-world usage, it can last much longer. Playback from streaming services saw a drop of about 14 percent in one hour, based on the streaming service. Local playback saw about 16 percent drop per hour using VLC. Keeping the brightness higher than auto, and you have a device that can last about 10 hours of content consumption with ease. The battery life will vary based on usage and some productivity scenarios may see it drain faster.
Should you buy the Samsung Galaxy Tab A7?
The cheapest iPad will cost you a whopping Rs 10,000 more than the Tab A7 and while there are cheaper options as well that one can consider, at about Rs 18,000 for the Tab A7, we have a device that's targeted at those that want a device for content consumption. Sure, you can add a Bluetooth keyboard and type school and college assignments on this one, if you like. However, if Netflixing late into the night, attending online classes and playing some games is what you are looking for, then you can absolutely consider it. It brings with it a bright display, good battery life and great audio output. If you are a productivity user, then this tablet is not for you as heavy editing apps and multitasking can cause the device to stutter. The performance of the camera is good for video calls, but lacklustre when clicking photos. Needless to say, you will resort to your phone instead of this to click family photos.