Audio Technica ATH-ANC40BT detailed review
Audio Technica has a range of devices that cater to consumers across various budget segments. The ATH ANC40BT was launched under the company's QuietPoint active noise-cancelling (ANC) headphones range at Rs 14,990. Alongside Bluetooth connectivity, it also works as a wired earphone, supports aptX audio codec and promises to deliver good audio for the price, which is now down to Rs 11,999. We have tested its performance and other features to find out how the device fares.
In-the-box
Audio Technica has a good idea of what its consumers want while buying an earphone. One will get varying sizes of silicon eartips in-the-box, along with a faux leather protective pouch. There's also a 1.0 m micro-USB charging cable and an airplane adapter, along with a USB Type-C to 3.5mm audio jack that comes into play when the earphone runs out of battery and needs to be used in wired mode.
Specifications
Impedance: 16 Ohm
Sound Pressure Level: 100 dB
Max power input: 10mW
Frequency range: 20Hz ~ 24KHz
Audio Performance
The ATH ANC40BT features a balanced sound signature where there's no emphasis on the higher or the lower range of frequencies. The IEMs sound peppy with good audio reproduction, be it the bass in the lower frequencies, vocals falling in the mid-range or while listening to songs with a good amount of treble. However, there's a light drawback to this as one can feel tired after extensive hours of listening. Instruments falling in the lower range of the audio spectrum, like bass guitar or kick drums, are well defined. The bass is punchy in songs like The Weeknd's Starboy and doesn't linger for too long with a short decay, which is a favourable characteristic of the earphone. The bass is also not muddy and it doesn't bleed into the higher frequencies.
Even though the audio is not as expansive as it could have been, the ANC40BT performs well when it comes to sound staging with decent instrument spacing. The stereo channel separation is also commendable and is easily noticeable around the 1:11 mark in The Less I Know The Better by Tame Impala when the kick drum can be experienced on the left and playing piano moves from center to the right. The earphone manages to preserve flair in heavily layered audio tracks like Carribean Blue by Enya and Pull Me Under by Dream Theater, thanks to the bright characteristic of the device's audio output. However, there's better composure in quieter tracks.
We have heard earphones that lean towards the brighter range of the audio spectrum, even when they are balanced and exhibit attenuation in the lower mids. However, there's no such issue with the ANC40BT, even in songs with vocals that range between the mid and lower octaves of a baritone singer like Chris Rea in Call On Me. Overall, the mids on the earphone are smooth, crisp and are well complemented by both, treble and bass.
Coming to the highs, the earphones don't let them overpower the lower frequencies and there is also no noticeable sibilance but there's slight harshness when listening at a higher volume. The earphone is loud and the audio levels are synced independent of the device's volume levels, thus enabling even louder audio playback. The earphone might not appeal to a basshead but it is a good performer that treats all the audio ranges fairly. The audio performance is well-rounded with well-defined lows and smooth mids but the highs could have been handled a bit better.
Active Noise Cancellation, Video and Gaming Performance
The Active Noise Cancellation (ANC) on the ATH ANC40BT works well when you step out and are travelling in public transport. Although it won't filter out voices or sharp sudden noise in close proximity. ANC on the device drowns out the humming of an air conditioner and reduces nearby noises by a considerable factor. While attending a call, the ANC does make a dramatic difference by cancelling out ambient noises, wind and other minor auditory distractions. The noise cancellation contributes faintly to audio playback to set a slightly more hushed backdrop for listening to music. However, it would be unrealistic to expect an earphone at this price range to provide an absolute cocoon against the external environment.
With clear vocals and well-defined mid-range, watching videos and movies on your mobile devices or a laptop while connected to the earphones is also a pleasant experience. The bass also kicks in while watching action-filled sequences but the soundstaging impressed us more. The stereo separation was helpful in spotting enemies running by when playing the popular battle royale game, PUBG mobile.
Build and design
Audio Technica decided to implement a neckband design for the ANC40BT. Like conventional neckband earphones, there's a rubberised band that connects both ends of the device. What we liked was the amount of wire leading to the earpieces that ensured that they don't hang too low when not in use. The earphone is made with a blend of matte and glossy plastic, and does not exude a premium feel but is sturdy nonetheless. Even though the earphone is not waterproof, it was able to survive some splashes of water but not before its microphone stopped working. Almost a week later, the mic started working again on its own but we suggest you take care to not spill any liquid on the device. We would've liked the earphones better if they had been splashproof at this price.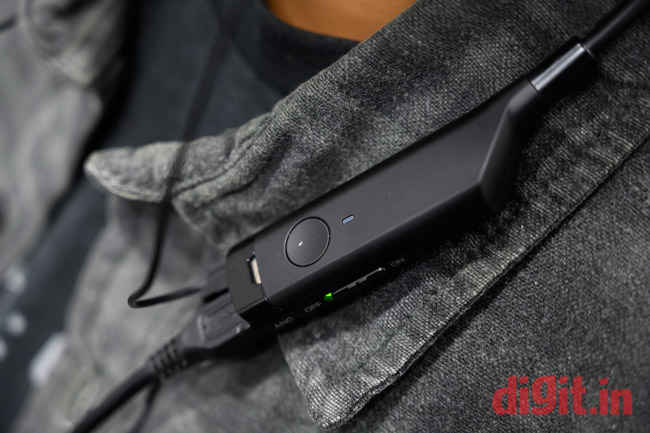 The ATH ANC40BT features a total of four buttons and a slider on its left side, along with a small LED indicator. The large rounded button on the top of the earphone's left module switches the device on and off, and the volume rockers are nested on the inside edge, along with the play/pause button that can also call up the Google Assistant when long pressed. There are no complaints here since the four buttons are clicky with a nice feedback. However, one shortcoming of the earphone is the use of a slider for toggling the noise cancellation on and off. While the button can be easily slid for enabling or disabling the feature, it is a moving mechanical part that will be subjected to wear and tear over time. We observed that the slider would sometimes fail to turn on ANC and had to be wiggled a bit to get it to work.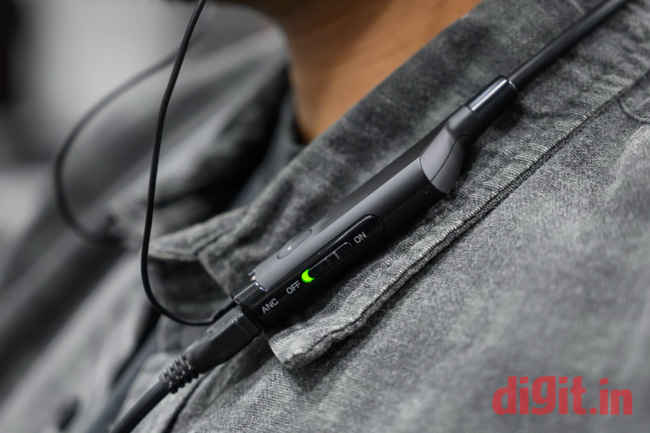 The earphone sits comfortably on the neck and is fairly lightweight to such an extent that you can forget that it's there after a while. The earpieces are slightly larger to accommodate the 13.5mm drivers and sport a unique design with the shiny Audio Technica logo on the back. The overall build and design of the ATH ANC40BT is fairly decent but definitely with much room for improvement.
Battery life
Battery life is on the ATH ANC40BT is commendable. We were able to squeeze out around eight hours of continuous audio playback from the earphone, when ANC was turned on. Turning the ANC off will provide a couple of extra hours of audio playback but if you use only the ANC, without turning the earphone on and connecting to Bluetooth, it will easily last for over a day. However, a major pain point is that the device uses a micro-USB port for charging and it takes around three hours to fully charge its battery.
As the earphone works in a wired manner too, ATH provides a 1.2 m micro-USB cable with a 3.5 mm stereo mini-plug with it. It's quite helpful in case the device's battery is depleted as we simply plugged it in and it was ready to be used as a wired earphone. The earphone's onboard buttons don't work when it is being used in wired mode, which is a tad disappointing since we had to whip out our phone every time to change a track or adjust the volume. The earphone will last easily for a couple of days on standard use, which includes a couple of hours listening to audio, gaming or watching videos with the active noise cancellation turned on.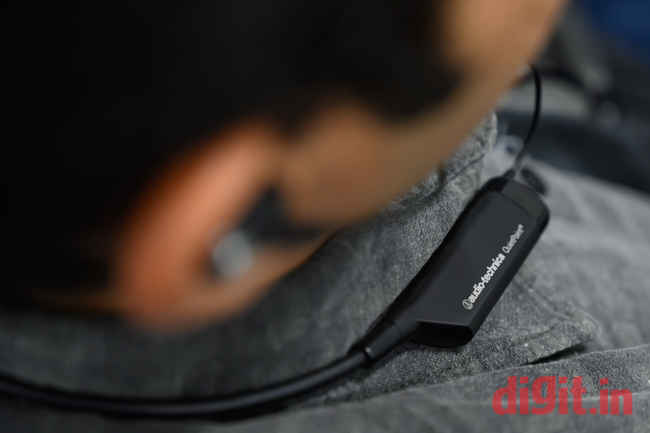 Bottomline
The ATH ANC40BT performs well when it comes to its primary duties of streaming audio but it falls short on some other aspects. The device's build could have been better and a Type-C charging port would've definitely been welcomed. The headphone can also be used both wired and wirelessly, which is great, but the lack of in-line controls when you go wired can be irksome at times. If you need an earphone that delivers great audio, has decent active noise cancellation capabilities and comes with good battery life, look no further than the ATH ANC40BT. However, keep in mind that you'll have to accept the device's shortcomings as well.