ICC World Cup 2019 will kick off starting today. Ten teams will play 48 matches between May 30, 2019 and July 14, 2019 to decide which teams and players reign champion in the game of cricket. The first match in the Round-robin World Cup tournament will kick off at 3PM today when home team England meets South Africa for the first tussle. While a lot of Indians will be stuck to their TV screens for the duration of the cup, many would be stuck at work without access to live television. Here are a bunch of solutions for those who want to watch live world cup matches and follow the ball-by-ball action online, on their smartphones, smat TVs, Fire TV Sticks, or desktop computers.
How to watch World Cup 2019 Online?
As usual, the most popular platform for streaming live cricket matches in India will also be streaming the ICC World Cup 2019. Hotstar has exclusive rights to live stream all World Cup 2019 matches on its app across smartphones, web browsers, Apple TV, Amazon Fire TV Stick, Android TV, Samsung Smart TV, Roku TV and more. Users can simply download the Hotstar app and start streaming world cup matches in 6 different languages. This year, Hotstar US and Canada customers will also be able to live stream World Cup 2019 matches through all the above mentioned sources.
Fans should note that there is at least a 4-5 minute lag between the live broadcast and what they see on Hotstar. This way, streamers could find themselves 4-5 balls behind the live match.
Hotstar will also be retaining its Watch 'N Play feature during ICC World Cup 2019 live streams. The social interactivity layer was first introduced on the streaming platform with IPL 2019. Hotstar claims 64.4 million users who engaged on the platform's Watch 'N Play social feature during the IPL tournament, and 1.2 billion users answered Watch 'N Play game questions, sent over 5.9 billion emojis, and 43.5 million comments.
The first match between England and South Africa will start at 3PM IST today. India's first match will happen on June 5 against South Africa at 3 PM IST.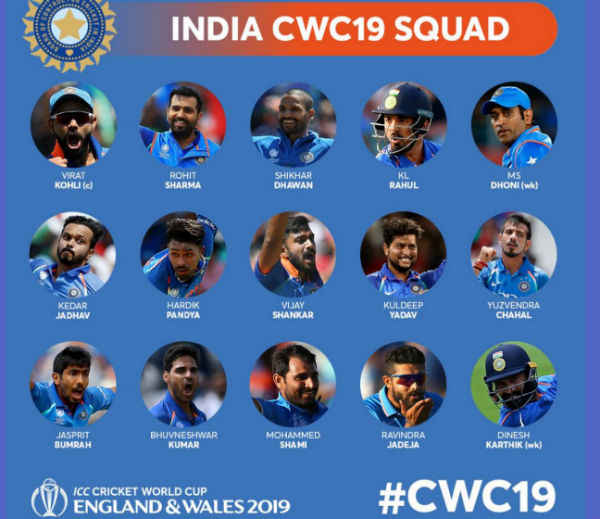 How to follow World Cup match updates online?
While there are multiple cricket-focussed websites out there, Google Search is one of the best sources to follow match schedules, timings, updates and more. Simply typing in World Cup or World Cup 2019 in Google Search or the Google app will yield results on the day's match along with its time and details of the following matches. The information is clearly presented in cards and split into three sections namely, Matches, News and Table.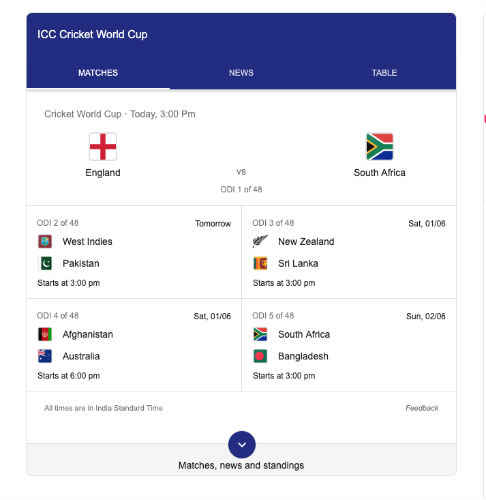 The Matches section will show match timings and contending teams. The News tab will show curated articles and videos from sports websites, and the Table tab will display points, matches played, runs, wickets taken and all other in-depth information about each match. You can also see how the ten teams performed in warm-up matches through Google's world cup search tool.
Which TV channels will broadcast ICC World Cup 2019 in India?
In India, World Cup 2019 will be telecast on Star Sports 1 Bangla, Star Sports 1 Marathi, Asianet Plus SD (For 9 India + Semis + Final), Star Sports Select 1, and Star Sports Select 1 HD.
Images courtesy: ICC