Call of Duty: Mobile recently updated the game to Season 8 and with it came two new major additions. This included a brand new map called Highrise for multiplayer, as well as a new game mode called Juggernaught. However, that's not all that Activision has in store for players. The company has revealed the roadmap for Call of Duty: Mobile and it looks like players have a lot to look forward to in terms of events, challenges and more.
Ongoing events (July 10 to July 16)
This period will see a bunch of game modes and events available to players. Game modes available to players include One Shot One Kill and Gun Game Team Fight. Events include Highrise Brawl and Juggernaut Mania.
New perks and weapons
The new perk added to the game is called Shrapnel. This perk includes the number of grenades that players carry. It also delays health regeneration on opponents damaged by you explosive weaponry. This makes the perk a good option for players who rely a lot on grenades or high-explosive weapons like the SMRS to create panic amongst groups of enemies.
New weapon: DR-H assault rifle
The game also sees the addition of a new assault rifle called the DR-H. This weapon can be unlocked by all players upon reaching Tier 21. This offers a strong damage, but with high recoil. So has the potential to be devastating when used in close quarters, or in the hands of skilled players. It also comes with a unique OTM attachment that increases the damage of any shot that lands on an enemy player's body.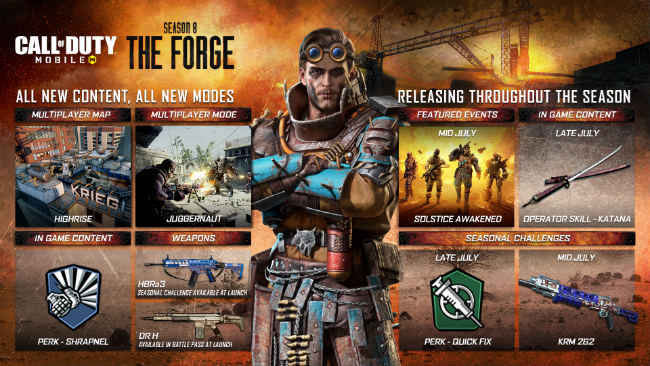 Upcoming events
Solstice Awakened (July 17 to July 30)
The Solstice Awakened Event features a post-apocalyptic themed event and will task players with collecting items when playing various maps. All of these items are based around resources that will have to be collected using featured playlists and each playlist will offer different resources. Players will have to get kills in these playlists and will then automatically acquire resources, which can then be exchanged for rewards. The developers note that they will reveal more information about the event later, but did note that players will be able to win a Season 8-themed epic Man-O-War assault rifle.
Besides this, the devs have also teased another event called the Days of Summer event. This event is said to offer unique summer-themed rewards for 'general tasks". The company also notes that this event will see the debut of skin for an Operator Skin, notably the Purifier.
New operator skill: Katana
As the name would suggest, the Katana Operator Skill hands you a Katana to slice and dice your opponents. When activated, the camera moves to a third-person perspective and players will be able to lock onto enemies. The Katana kills enemies in one shit, but the player will be just as vulnerable to enemy fire. The exact date when this Operator Skill will be available is not yet known, only that it will be available in late July.
New Perk: Quick Fix
The Quick Fix perk removes the delay in health regeneration when they kill an opponent or capture objectives. This makes the skill a handy tool for assaulters who like to be thin the thick of things. Like the Katana Operator Skill, this perk is said to be available in late July.
If you are looking for some tips to ace the newly added Highrise map, check this out.