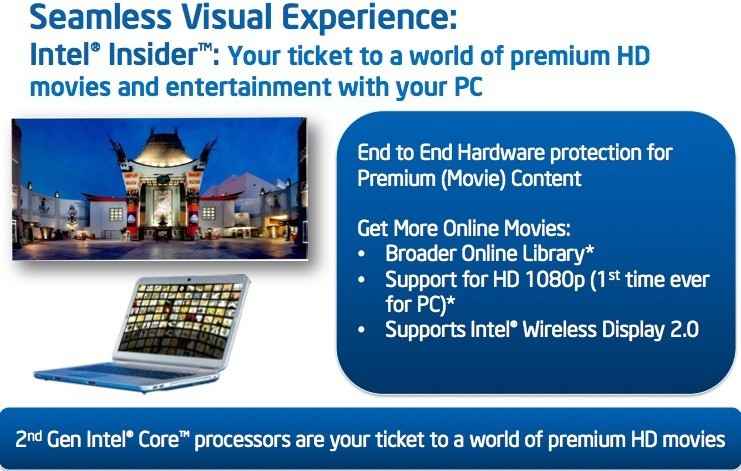 Just as expected, Intel has introduced Sandy Bridge processors and its associated video/graphics technology, exactly one year after the launch of the first family of Core processors in January 2010. However, some might find the following news to be much more exciting!
While most companies (including Google with its Google TV) wouldn't think of trying out content partnerships and the like in uncharted waters, and usually end up sticking to the United States, it seems Intel is not going to be shy. Right from the get-go, Intel has announced it would be offering premium 1080p HD content from the worlds of Hollywood AND Bollywood to subscribers of its Intel Insider service.
Subscribers of the Intel Insider service will be able download (purchase/rent) movies and other video entertainment in full 1080p HD quality, and see it on their 2011 Core-powered laptops and desktops. And, since Intel Insider supports Wi-Di 2.0 (Wireless Display) technology, you will also be able to stream the content wirelessly from your laptop to your HDTV.
Intel promises a broad movie library, and has already tied up with numerous major players in the market, from CinemaNow, Dixons Retail, Image Entertainment, Sonic Solutions, and Warner Bros. Digital Distribution, as well as Hungama Digital Media Entertainment. Expect more to join on board soon.
[RELATED_ARTICLE]So, while it still not clear whether the content will be hosted on an Intel Insider portal, or available from certified sites, you can be sure that Intel will be able to entice more content providers, as it is promising them something very important (but not to the end-user) – "End to End Hardware Protection". In other words, you purchased/rented content is hardware locked to your desktop or laptop, or you could say, hardwired.
This would also entice providers and distributors into releasing high-definition video digital content on the same date as DVD/Blu-ray releases, or even sooner. According to Intel "Commercial distribution of HD premium content using the Intel Insider technology is expected to begin during the first quarter of 2011…and services will be available in Q1."
As for the Wi-Di adapter, Netgear already offers its wireless Push2TV adapters in India, and will presumably bring the Wi-Di 2.0 adapters here as well (to clarify, it is still unknown whether Wi-Di 1.0 adapters will be able to support 1080p HD video streaming or Intel Insider – we'll let you know soon!).