The Samsung Galaxy series of phones have almost always been at the pinnacle of the Android ecosystem, offering premium features backed by a robust software experience.
This year too, Samsung brings its A-game with the Galaxy S22 series and fixes most of the shortcomings from the last generation. The Galaxy S22 is a perfectly great Android phone with solid build quality, gorgeous display and a super versatile camera setup making it one of the most well-rounded phones from Samsung this year.
In this review of the S22, we compare it to the iPhone 13 (review) and try to find out whether it sets a benchmark for premium Android phones in 2022.
Samsung Galaxy S22 review: In the Box
The retail box of the Galaxy S22 contains the phone along with a Type-C cable for charging. There is a SIM ejector pin and some paperwork to go along. As expected, you won't find a power adapter in the box and it is an added accessory that you can buy for Rs 1,999.
Samsung Galaxy S22 review: Key specifications at a glance
Price: Rs 72,999 - 8GB/128GB | Rs 76,999 - 8GB/256GB
Display: 6.1-inch AMOLED, FHD+ (2340x1080 pixels), 120Hz refresh rate, HDR10+, Gorilla Glass Victus+
Thickness: 7.6mm
Weight: 168g
Platform: Qualcomm Snapdragon 8 Gen 1
RAM: 8GB LPDDR5
Built-in storage: 128GB/256GB UFS 3.1
Expandable storage: No
5G support: n1/2/3/5/7/8/12/20/25/28/38/40/41/66/77/78
USB-C: Yes
3.5mm jack: No
OS: One UI 4.1 based on Android 12
Rear Camera: 50MP (f/1.8, OIS) + 12MP ultra-wide (120-degree FOV) + 12MP telephoto lens with 3x optical zoom
Rear Camera Video: 8K (24fps), 4K (upto 60fps)
Front Camera: 10MP (f/2.2)
Speakers: Stereo speakers (Tuned by AKG)
Battery and charging: 3,700mAh, 25W fast wired and 15W fast wireless charging
Samsung Galaxy S22 Performance review
Unlike the past few years, this year Samsung has launched the Snapdragon 8 Gen 1 version of the S22 series in India which means that you get solid performance across the board, be it in your day-to-day use or intensive gaming. The Galaxy S22 can hold off on its own when it comes to tasks like web browsing, scrolling through social media feeds, playing games, taking pictures or videos.
In my use, I did not come across any major issues with the S22 and its general performance remains solid, going toe-to-toe with its major competitor, the iPhone 13. Both phones have their fair share of pros and cons but what makes them different is the optimizations under the hood along with a tight synergy between hardware and software, where Apple always has an upper hand.
Now, don't get me wrong, but having used the iPhone 13 for a while now, I can see that the S22 isn't as fluid even though it has the hardware chops to provide that experience. And the iPhone 13 doesn't even have a high refresh rate display, yet it's ever so slightly smoother. The S22 demonstrates overall solid performance and is generally smooth at all times. But when it comes to intensive tasks like playing a round of BGMI on extreme frame rates, you will witness some frame drops and jitters like I did. While it isn't a complete deal-breaker, people who play these games, sometimes hours at a stretch, could end up being disappointed.
The Galaxy S22 doesn't top the charts in synthetic benchmarks like the iPhone 13, but demonstrates commendable performance that is enough to power through daily tasks and then some.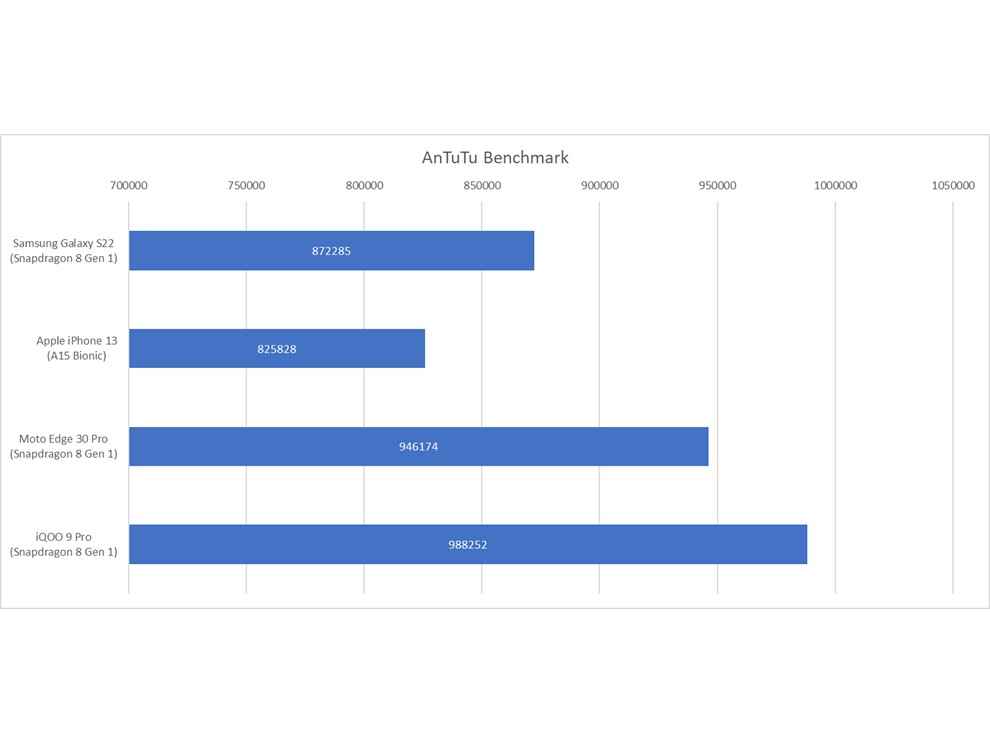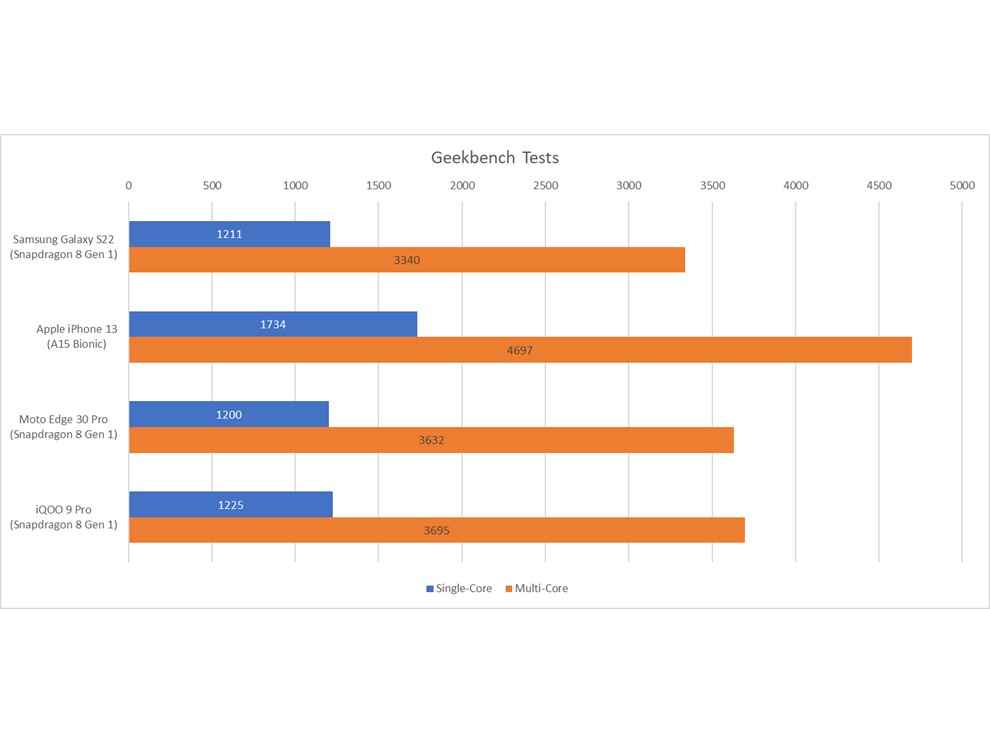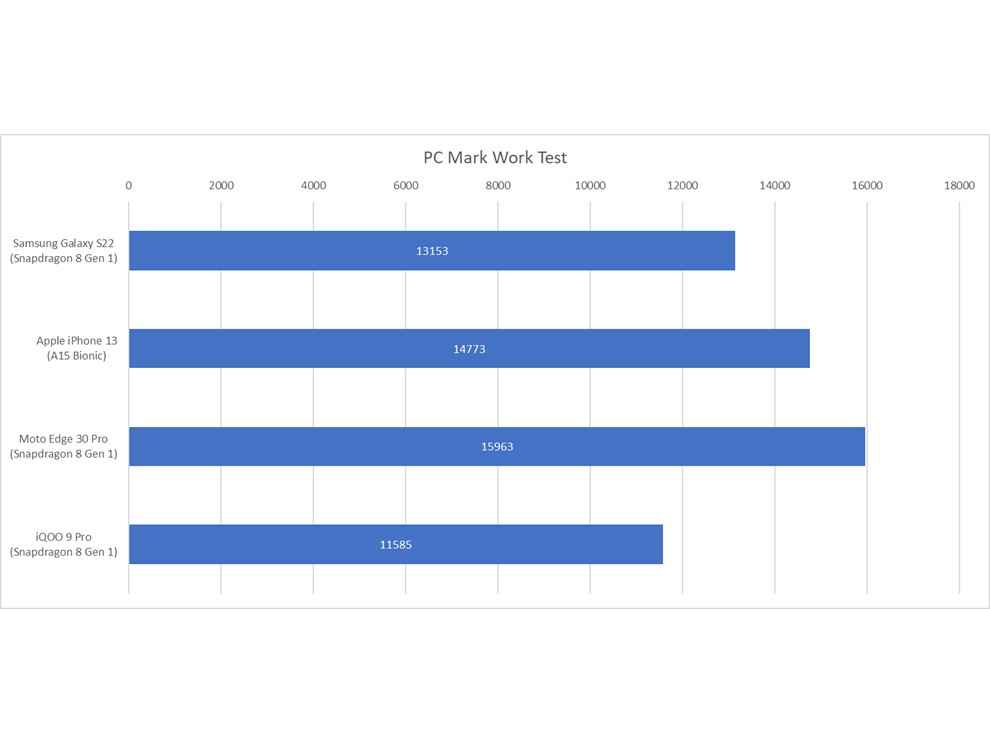 In AnTuTu benchmark, the S22 doesn't come close to 1 million points which is something we have been seeing happen with other Snapdragon 8 Gen 1 phones like the Moto Edge 30 Pro and iQOO 9 Pro. It got 872285 on AnTuTu. Similarly in Geekbench and PCMark workload tests, the S22 got good numbers that reflect it can handle your daily tasks with ease.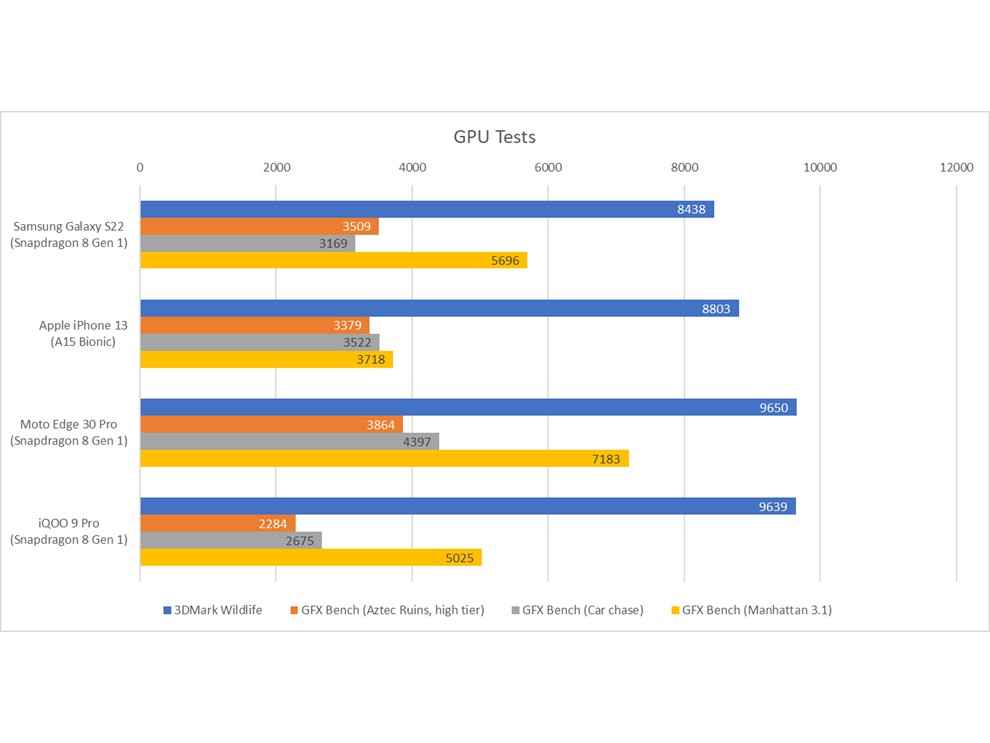 When it comes to the GPU tests like 3DMark Wildlife and GFXBench, the S22 got decent scores which means that it is perfect for casual gamers. For those looking for sustained gaming performance, there are dedicated gaming phones like the iQOO 9 Pro or even the ROG Phone 5s that are tuned to run intensive games for hours at a stretch.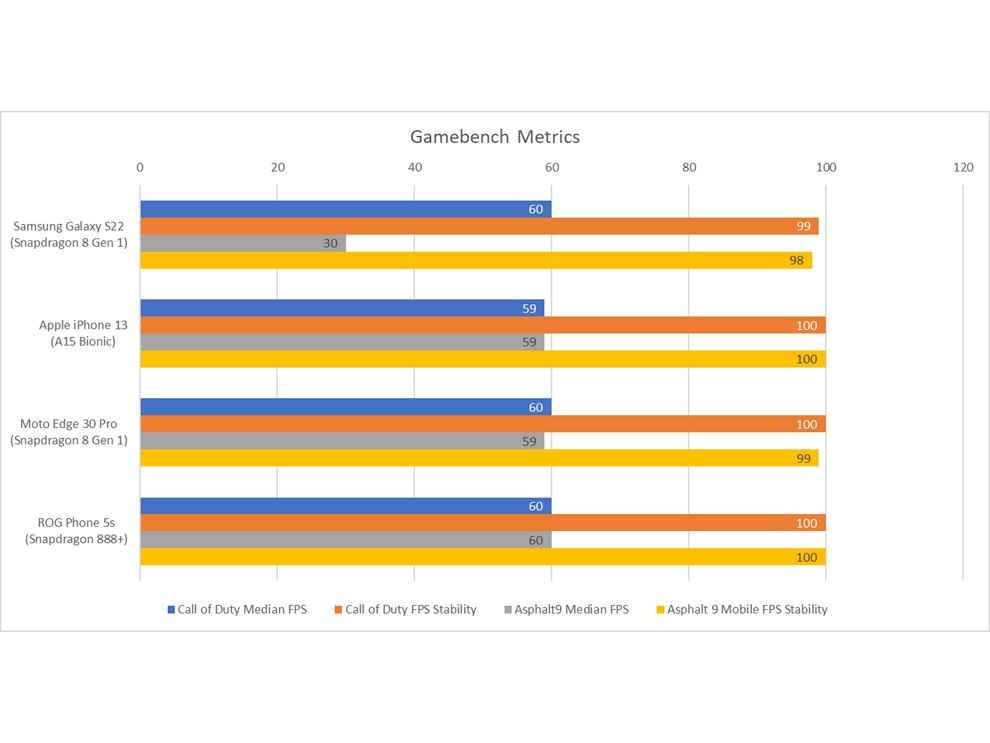 We used Gamebench metrics to analyse the in-game performance and as per the recorded gameplay, the S22 runs COD Mobile at 90FPS with 99% stability and Asphalt 9 at 30FPS with 98% stability. It runs BGMI (Battlegrounds Mobile India) in UHD graphics and Ultra frame rates at 40FPS with 100% stability and bumping up the settings to HDR graphics and Extreme frame rates allowed it to run at 51FPS at 99% stability.
The Snapdragon 8 Gen 1 is a fairly new chipset and as such, I feel phone makers need to put in more time and effort to better optimize and integrate it with Android 12. In its current state, the Galaxy S22 often gets warm to the touch after just playing a couple of rounds of COD Mobile and especially when recording a 4K video. While it isn't unbearable, it does affect the battery life. Since the profile of the phone is slim and compact, it's likely that to mitigate thermals, the performance of the S22 is being throttled to ensure that it doesn't go overboard, ensuring longevity.
Samsung Galaxy S22 Battery Life
Samsung Galaxy S22 is equipped with a smaller battery than the S21, which is a result of its small and light profile. Even then, I managed to get a screen-on time of around 5.5 hours on heavy use. Depending on your use case, you can get a day's worth of battery life out of the S22 if you do not play games or record videos that much. In our video loop test, the Galaxy S22 lasted for 9 hours and 52 minutes which is a decent score for this battery size. And this was with the brightness turned to the maximum with the adaptive refresh rate enabled. Using a 25W charging adapter, the S22 takes around an hour to fully charge.
One of my pet peeves with Samsung and the S22 here is that it supports 25W fast wired charging which is the same as last year and in no way justifies the premium you are paying for. Interestingly, the S22 Plus gets a faster 45W fast charging support, but the youngest sibling gets the short end of the stick.
Samsung Galaxy S22 Camera Review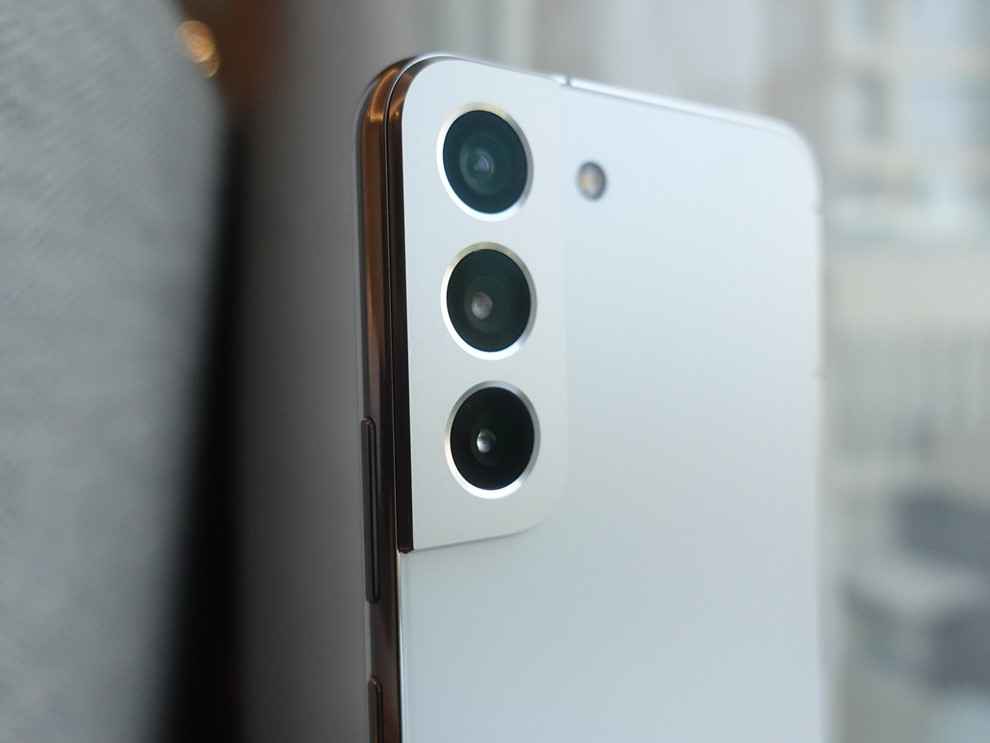 The Galaxy S22 is a great and compact point-and-shoot camera, perfect to capture fleeting moments of your life. It's essentially the same camera system as on the S22 Plus. The pictures from the main camera are sharp, vibrant and look pleasing to the eye. I tried to capture some samples in a variety of conditions and the results were just beautiful. In daylight, the camera lends a natural depth of field, which looks great in closeups and generally you will be able to get good pictures out of this phone without much effort.
I also had the iPhone 13 handy and surprisingly the results were equally good, if not better. The details, sharpness and HDR processing are good but the shadow regions are not highlighted as much. Now, I get that it's a bit subjective when it comes to photography, but generally people have grown a likeness towards more vibrant and colourful images over a natural one. And the S22 hands you just that on a platter! The iPhone 13 produces close-to-natural colours. But in my opinion, both phones make equally good-looking pictures.
At night, the pictures were clear and sharper than the iPhone 13, but you will see an influx of noise when pixel-peeping. The iPhone 13 samples have a warm white balance, while the S22 tends to fall towards the cooler spectrum. The night mode brings more clarity but at the cost of more noise. The iPhone 13 pictures in night mode add more sharpness, but the highlights are better processed on the S22.
The ultra-wide camera on the Galaxy S21 produces slightly more saturated pictures than the balanced colour tones on the iPhone 13. But the S21 has seemingly less barrel distortion and ample sharpness in corners. The shadow regions are not highlighted as on the iPhone 13, which is able to maintain exposure levels. At night, the camera on the S22 adds noise but the night mode comes in handy as it reduces noise and increases clarity.
The telephoto camera on the S22 gives you the ability to zoom upto 3x and the results are great. You can also use the telephoto camera for macro photography which is a good addition and the pictures I got were crisp. This is something the iPhone 13 cannot do as the telephoto lens is reserved for the Pro models.
The selfie camera upfront takes close to natural pictures with balanced colours and sharpness. The iPhone 13 selfies have a wider field of view but look more processed.
The Samsung camera app is fairly simple to use and facilitates point-and-shoot photography. You get to shoot in different styles and the Pro mode lets you control every aspect of the shot. One of the coolest additions to the camera on the S22 is Object Eraser which removes people or objects from a picture. It can also erase shadows and reflections, which comes in handy when someone photobombs.
Samsung Galaxy S22 Build and Design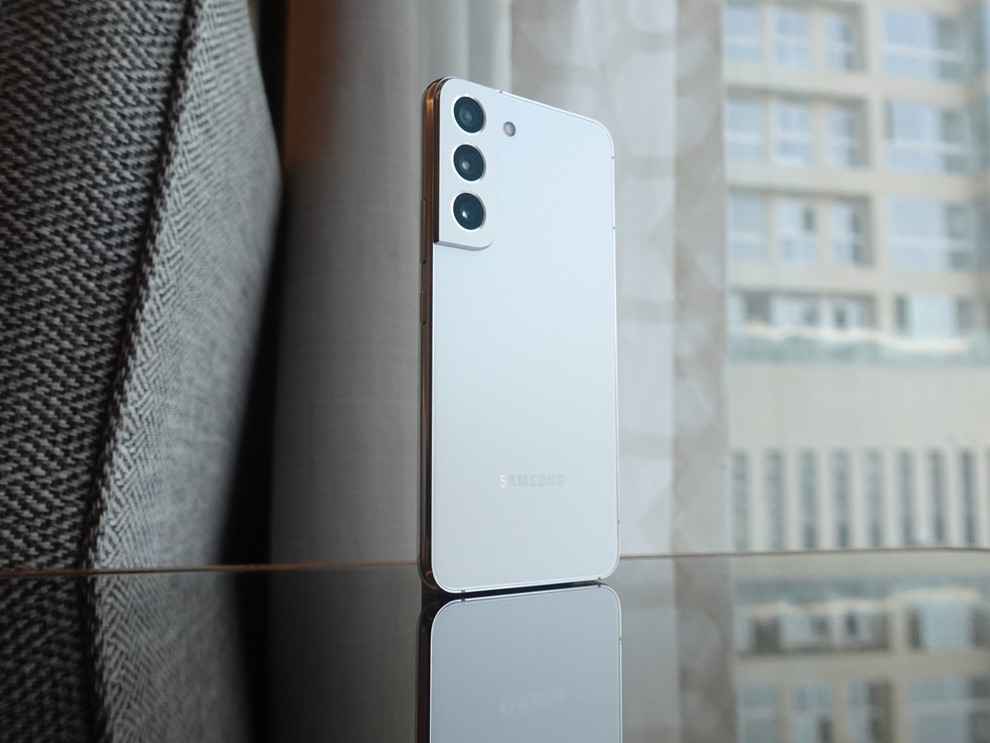 The Galaxy S22 looks and feels great in the hand. It is slightly thinner and lightweight than both the S21 and the iPhone 13. The edges have been rounded-off that give it great ergonomics and the S22 feels solid. I'm not particularly a fan of huge phones and the S22's size is perfect for daily use as it is comfortable to hold and does not weigh down your pocket too.
One major difference between the S22 and the S21 is that it has a Gorilla Glass Victus+ glass rear panel and the frame is more durable than before. Samsung sent us the Phantom White colour for this review and it has a matte finish on the back. This handles fingerprints and smudges with ease. The chrome finish of the frame lends an elegant touch and it looks more premium than ever.
Samsung Galaxy S22 Display
Samsung Galaxy S22's display is a 0.1-inch smaller than the S21, but is the same size as the iPhone 13. It supports upto 120Hz variable refresh rate which can cover between 48-120Hz and is not an LTPO panel like on the S22 Ultra. Regardless, the display is great for daily use and watching videos. The visuals look crisp, bright and colourful at all times while giving you an immersive experience, complimented by the stereo speakers that can get pretty loud.
Samsung claims that the display on S22 offers 1300 nits peak brightness and while that is achievable in lab conditions, it doesn't mean the display isn't bright. As per our tests, the display measured around 490 nits of peak brightness in normal mode and around 500-525 nits of peak brightness in High Brightness mode. While the numbers may seem low, the S22's display can get plenty bright and offers great sunlight legibility.
Samsung Galaxy S22 Bottom Line
The Samsung Galaxy S22 is hands-down one of the best premium compact phones in India right now. It's the right size for daily use and is packed to the brim with features like a bright and gorgeous display, a premium design and capable cameras that are perfect for point-and-shoot photography.
While the iPhone 13 offers long-lasting performance that might appeal to power users, the S22 is no slouch either, at least on the Android side of things. It can perform daily tasks with ease which is perfect for the average user.
The cameras on the S22 offer improved photography experience over the last generation and it can hold off on its own in front of the iPhone 13. The telephoto lens is great and lets you zoom into a frame without losing much clarity and makes the camera system all the more powerful.
If you are looking for a great and compact Android phone, you cannot go wrong with the S22. While the iPhone 13 offers a more refined experience and is a much more secure OS, the S22 brings a great balance of features and software that make it a sweet deal for people who are looking for an iPhone 13 alternative. The elder sibling, S22 Plus is also going to be my recommendation here for those looking for a bigger phone with a larger display. You can read our review of the Samsung Galaxy S22 Plus here.