Redmi has marked its entry into the laptop segment in India with the launch of new laptops - the RedmiBook 15 Pro and the RedmiBook 15 e-Learning edition. The company is looking to replicate the success it had in the audio, wearable, and TV space by trying to offer more value for money in the laptop space as well.
The RedmiBook 15 Pro laptop brings an Intel Core i5-11300H CPU with 8GB RAM and Intel's Iris Xe graphics. On paper, the laptop looks like it can go head-to-head with more expensive laptops on the market. I was super excited to test the RedmiBook 15 Pro laptop to see if I finally had a laptop that I could call the best machine under Rs 50,000, a price tag that usually doesn't get too much love in the laptop space in my opinion. Well, I have been using the RedmiBook 15 Pro as my daily machine for day-to-day workloads and I think I am ready to answer that question.
RedmiBook 15 Pro Specifications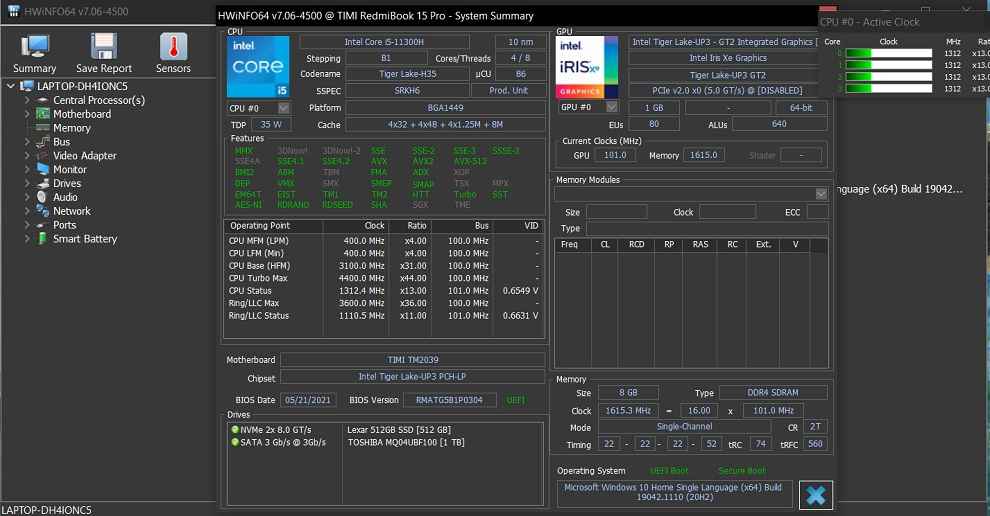 Processor: 11th Gen Intel Core i5-11300H, 4.4GHz max clock
Graphics: Intel Iris Xe Graphics - 80EU
RAM: 8GB DDR4 onboard
Storage:
512GB PCIe NVMe SSD
Display: (39.62cm) 15.6-inch,FHD (1920x1080) 16:9, TN panel
RedmiBook 15 Pro Performance
Xiaomi has decided to go with an H-series processor for the RedmiBook Pro which is kind of interesting. I want to point out that even though this is an H-series processor, it's essentially a U-series chip moving up to 35W. The performance is going to be slightly better but I thought I'd add this info to clear the confusion around using a performance-based processor that's usually seen in gaming laptops. This, however, means the RedmiBook 15 Pro is also more powerful than the Mi Notebook Horizon Edition that was fitted with an Intel Core i7-10710U.
The result is quite evidently reflected in the suite of benchmarks that I ran on this laptop to compare the raw performance of this machine. In PCMark 10's Modern office test which tests the laptop's performance for day-to-day workloads, the RedmiBook Pro managed to score 4,851. The Mi NoteBook 14 Horizon Edition was able to score 4205. The RedmiBook Pro managed to come close to the ASUS ExpertBook B9400 Ultrabook that's powered by the Core i7-1165G7.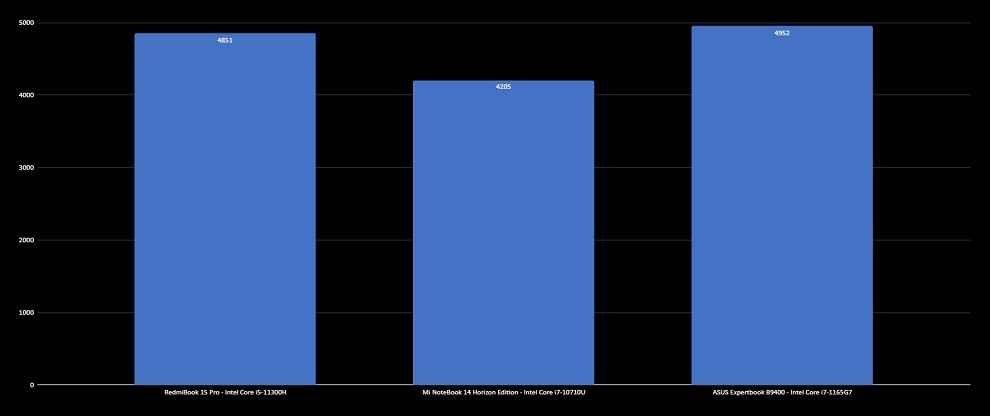 Moving on to Cinebench R23, the RedmiBook Pro scored 4647 in the multi-core test and 1424 in the single-core test. These scores are higher than the Mi Notebook 14 Horizon Edition. Both are quad-core CPUs here but the higher TDP is helping the RedmiBook's i5-11300H hit faster frequency. These numbers reflect very well in real-world usage as well. The RedmiBook 15 Pro would handle a ton of Google Chrome tabs and even have some applications running in the background. None of it was an issue for this laptop as I was using it as my daily driver.
Graphics Performance
Moving on to the graphics performance of the laptop, the RedmiBook Pro as I mentioned earlier comes with Intel Iris Xe graphics. There's no discrete GPU here in this machine and that's fine because the chassis doesn't feel like it can handle the thermals. The Iris Xe graphics that are paired with the Intel Core i5-11300H has a max dynamic frequency of 1.3Ghz. It has 80 execution units which is a good number. It's usually higher on performance-oriented notebooks. Basically, the higher this number is, the better your performance is going to be.
In terms of graphics performance, the Iris Xe GPU was able to deliver the results that I was expecting from the machine. In 3DMark's FireStrike test, the RedmiBook Pro managed to score 1824 which is lower in comparison to Mi NoteBook 14 Horizon Edition's score. That's understandable considering the fact that it's fitted with a discrete GPU MX350 GPU. That being said, the RedmiBook Pro Iris Xe graphics did manage to score higher than what ThinkPad 14's AMD Radeon 625 graphics scored as you can see here. Here are the rest of the 3DMark scores in case you are wondering -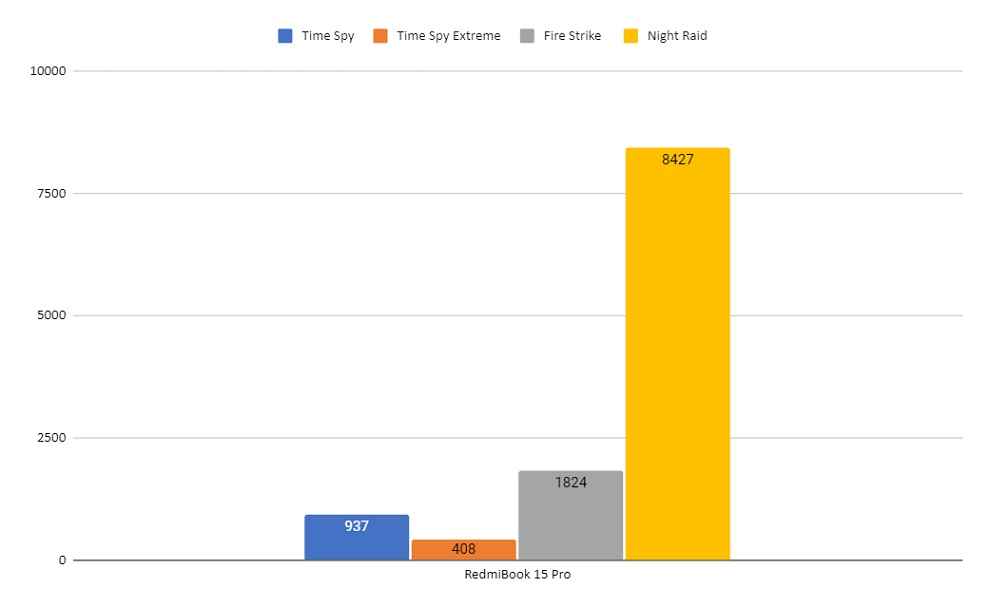 I also tried playing games on the RedmiBook Pro. In Valorant, I was able to hit the 60FPS mark rather comfortably. I want to point out that this is not a gaming laptop and it's not fitted with a high refresh rate panel so keep your expectations in check. Even the Iris Xe graphics isn't going to help you with that. But I was also able to play GTA V and it worked fine for the most part as long as I set the graphics settings to favour the performance. Games like Apex Legends, FIFA 21, DOTA 2, etc. will also work just fine. You may struggle to play the modern AAA titles but as I said, this isn't a dedicated gaming laptop, to begin with.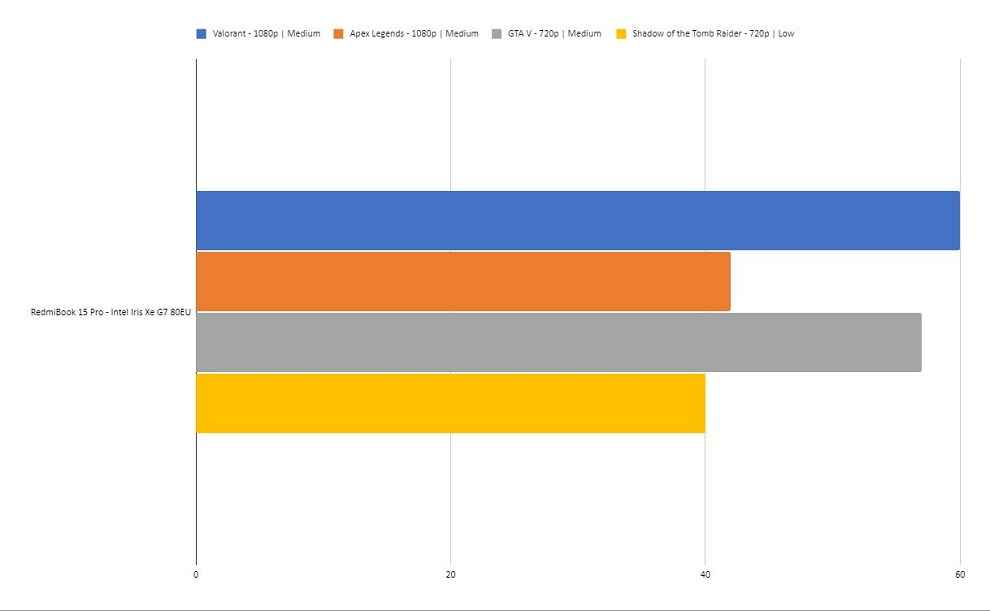 Creative Workloads Performance
The RedmiBook 15 Pro isn't exactly a creative-friendly laptop since it doesn't have the necessary tools. But at the same time, it's also not a "bringing a knife to a gunfight" type of situation. The Intel Core i5-11300H is very much capable of pushing through some creative workload apps. To test the performance, I fired up the Blender test and the test results for those tests are shown below -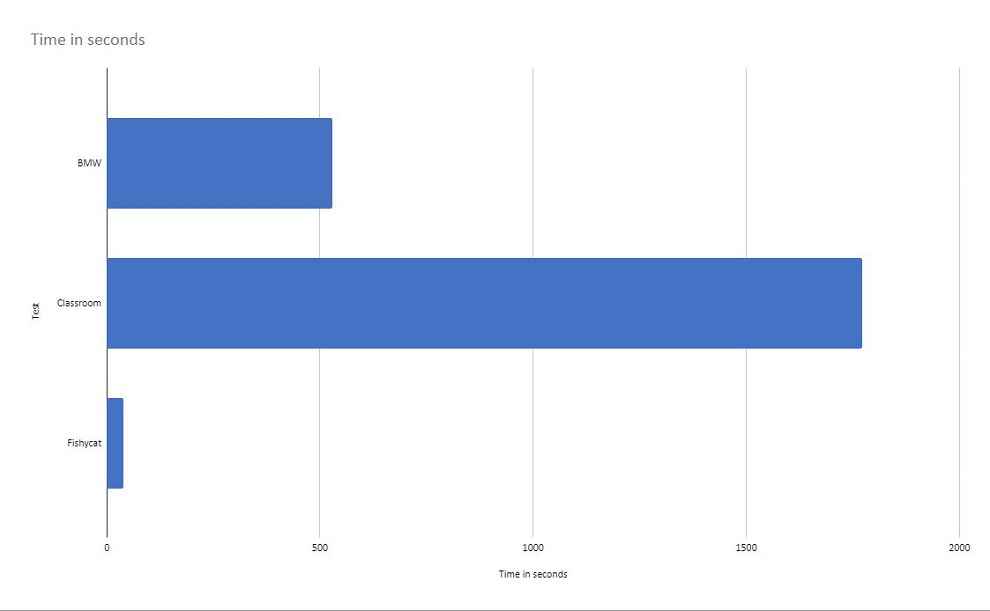 The RedmiBook 15 Pro was also able to handle Adobe Lightroom renders very well. I loaded up a few hundred RAW files from a Nikon D850 onto the RedmiBook 15 Pro's internal SSD to see how it would handle the rendering process. Rendering these 45-megapixel RAW files is no joke and I'd say the RedmiBook 15 Pro did a decent job by not keeping me waiting for a very long time.
The RedmiBook 15 Pro was able to render a batch of 50 RAW files in 216 seconds, 100 RAW files in 404 seconds, and 200 RAW files in 795 seconds. These numbers are obviously not that exceptional but they're also fairly decent for a notebook that's not essentially meant for heavy workloads such as this. The H35 processor is definitely putting in the work to deliver a good performance. All cores were fired up during the render process as expected and the single-core boost clock hit 4.3Ghz.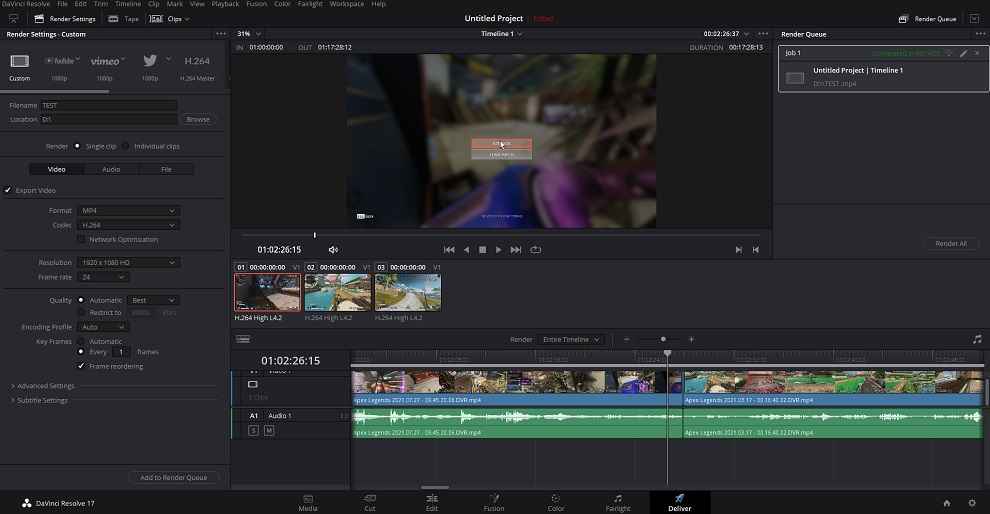 Moving on to Davinci Resolve, I was able to export a ~20 mins 1080p H.264 MP4 video in 14 minutes and 5 seconds. This duration could've been reduced if there was a discrete GPU at play here. Even then, then the RedmiBook 15 Pro was able to export it faster than the Mi Notebook 14 Horizon edition even though it has a discrete GPU. Davinci Resolve is known to put both the GPU as well as your CPU to work while churning out exports, so I am not surprised to see the RedmiBook 15 Pro perform better here in this case.
Overall, I'd say the RedmiBook can essentially be used for photo and video editing applications as well. Of course, it's not going to blow you away with its performance, but I am glad to the processor being able to perform well even though it did throttle down quite a bit during the process. You might want to use a proxy while editing videos to save some time before hitting the render button.
Lastly, Xiaomi has used a Lexar 512GB SSD and CrystalDiskMark tells me that it has a max sequential read-write speed of 1610 MB/s and 1440 MB/s respectively. This, in case you are wondering, is slightly on the slower side when compared with some other mainstream notebooks like the HP Pavilion Laptop 13 due to the betterquality SSDs.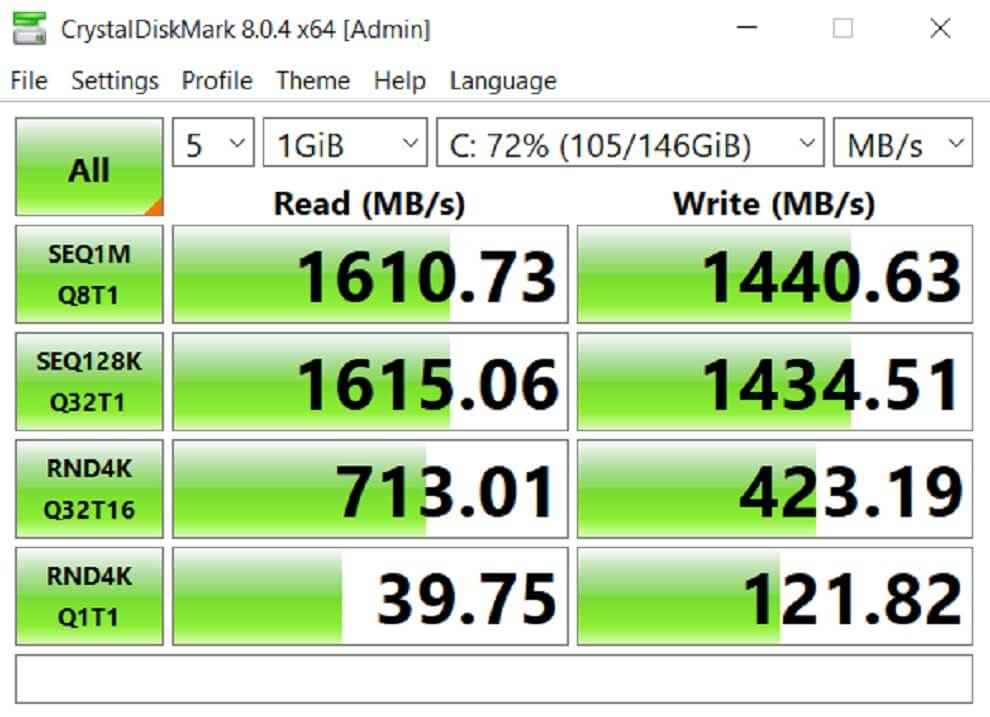 Looking at everything, I think the RedmiBook 15 Pro delivers a pretty solid performance on board with some respective figures. The RedmiBook 15 Pro's performance managed to impress me even outside of the synthetic benchmark. In fact, it performs much better than a lot of other laptops in this price range.
Thermals
Before we talk about the other aspects of this laptop, I want to discuss thermals to shed some light on how the Intel Core i5-11300H lives inside this chassis. Fitting a 35W CPU inside this chassis, as I mentioned, seemed like a rather interesting decision to me and that was mostly due to the thermals. Just to put things into perspective, even the 28W Intel Core i5-1165G7 tends to run hot on chassis like this.
As expected, the Intel Core i5-11300H was being choked due to the thermals. As soon as the Cinebench R23 multi-core test starts to pull those cores, the CPU temperature soars past 95°C getting closer to the TJMax limit of 100°C. Subsequently, the CPU starts to throttle below the base clock of 3.10Ghz to keep the temperatures in check. The graph below shows the spike that happened initially, after which the temperatures drop down to keep the CPU and the system from overheating.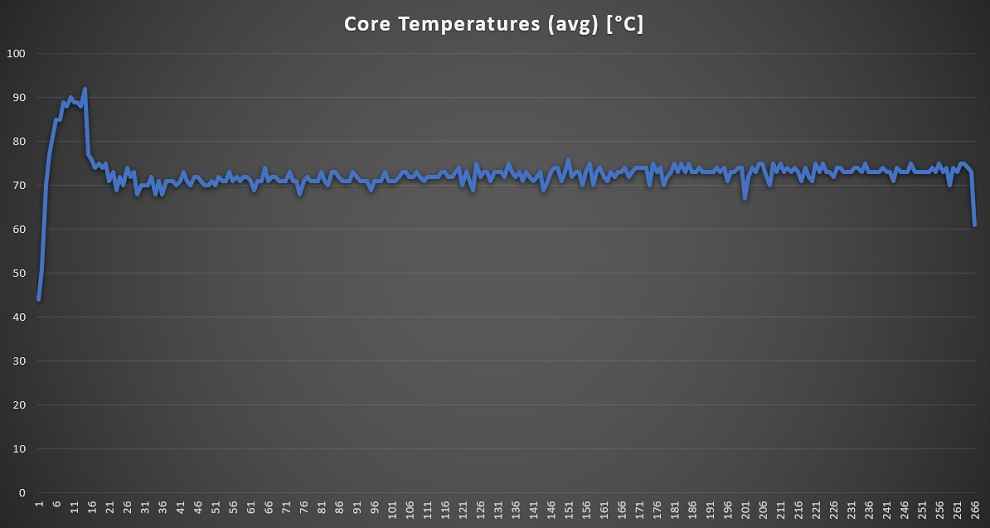 The Intel Core i5-11300H CPU has a 'Configurable TDP-down Frequency' of 2.6Ghz at 28W and that seems to be the sweet spot for this processor. I noticed a similar behaviour while running GPU-related workloads on the RedmiBook 15 Pro. The combined package temperature ended up hitting a peak temperature after which the system started throttling.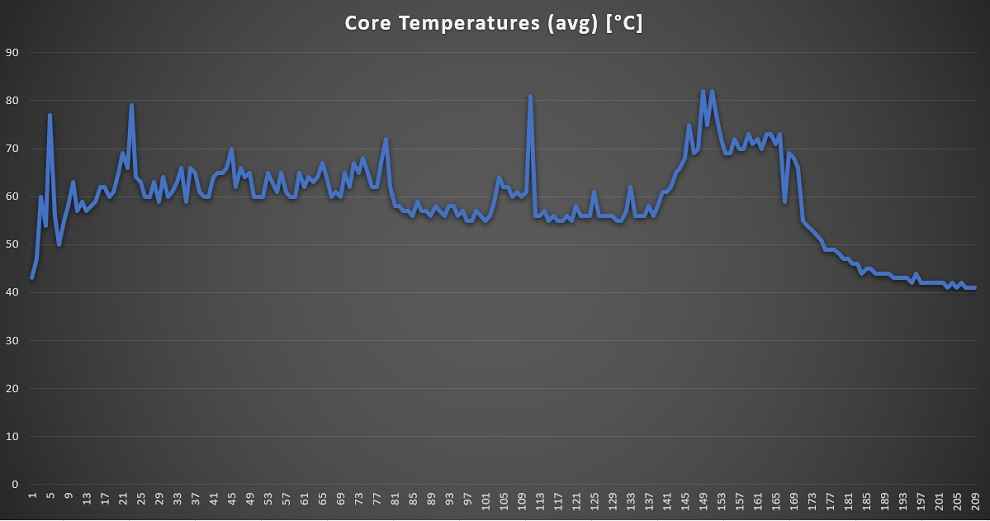 Is this a bad sign? Well, it's not unusual for laptops, especially the ones without a sophisticated cooling solution to throttle. But it makes me wonder if using a lower TDP processor would've alleviated some of the heating issues. Short bursts of CPU usage or day-to-day workloads may not be affected but constantly putting a load on the CPU might actually bring it down to its knees, so just keep that in mind.
RedmiBook 15 Pro Display
If there's one thing about this laptop that I am utterly disappointed by, then it has to be the display. So the RedmiBook 15 Pro comes with a 15.6-inch 1080p panel. It's a TN panel which means it's got pretty bad viewing angles and some gaudy colors. I was able to find the exact panel which Xiaomi is using here for this laptop, and it clearly seems like a cost-cutting measure to keep the price low.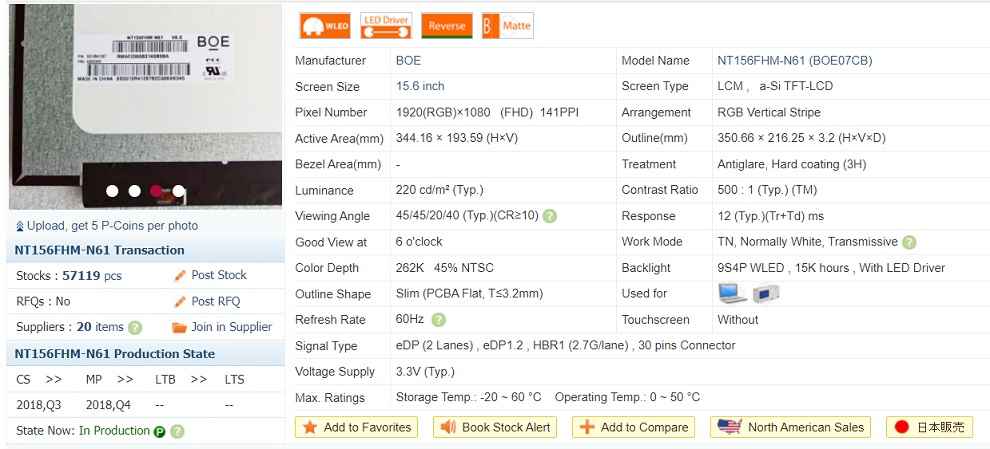 Before I even talk about the display performance, I want to point out that I wasn't expecting a highly colour accurate or fully calibrated panel out of the box. This isn't an expensive creative-centric laptop to show that kind of performance, but I was kind of disappointed as I started looking at some specific numbers which I am going to talk about.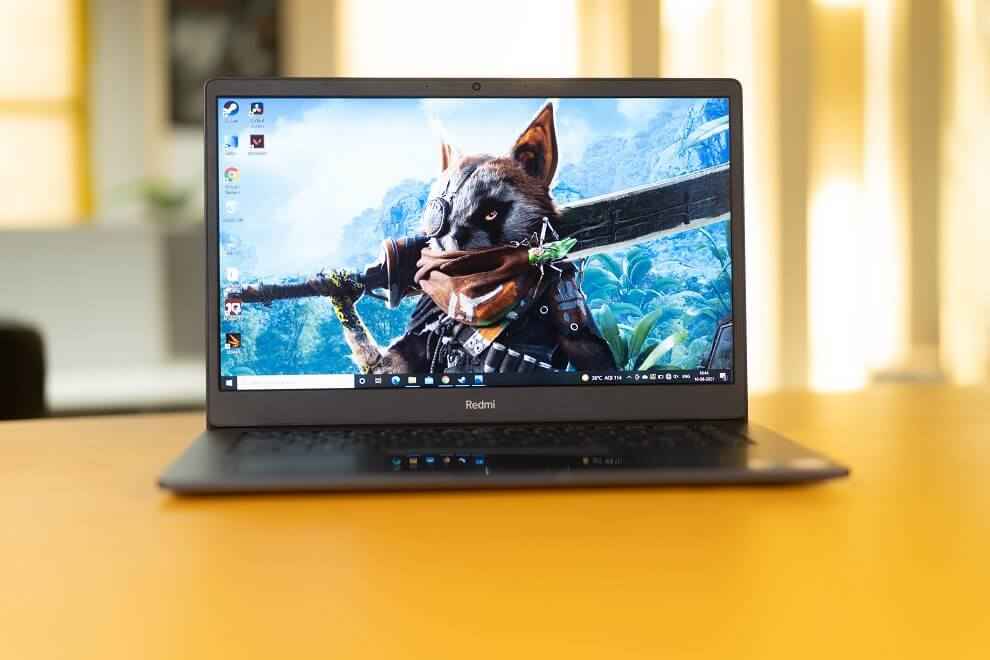 First of all, I was able to record a peak brightness of 212 nits and a contrast ratio of 264:1. The Calman Studio software tells me that the RGB balance is way off. The display shows a heavy blue bias as you can see in this screenshot below. And because of that heavy blue, the colour actually spills over to basically every other colour in the gamut making the overall panel look pretty bad.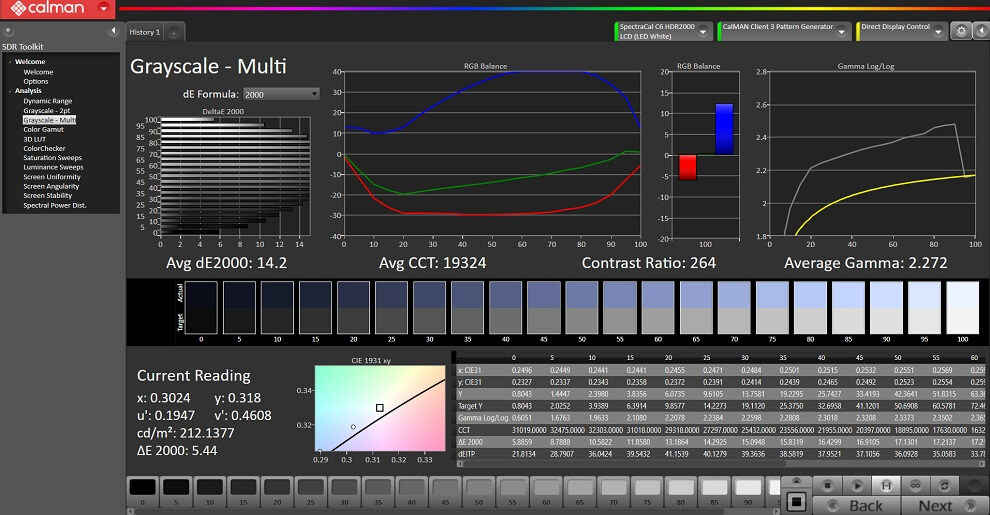 RedmiBook 15 Pro display tested on Calman Ultimate
I was able to record an avg DeltaE value of 14.7 with the max DeltaE value being as high as 23.5 out of the box. What does this mean? Well, pretty much any content you watch on this display will have pretty bad colours overall. I am not talking about colour sensitive work in particular. Even watching a movie or a TV show will look very weird with the colours being so off.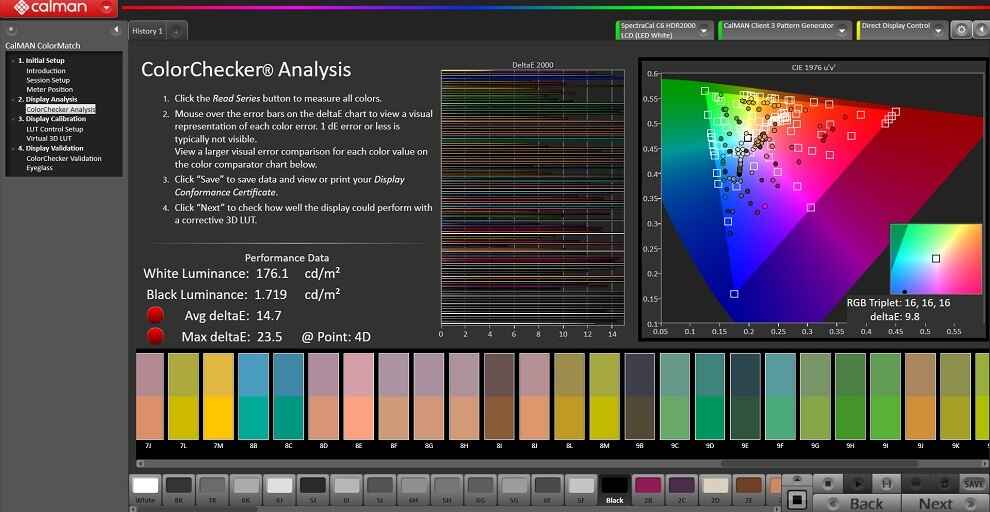 RedmiBook 15 Pro display tested on Calman Ultimate
If you end up comparing it side-by-side with any other display, you will notice that the colours on the RedmiBook look very pale. That applies to skin tones, blue, green, etc. And this was the case across all the colour gamuts that I tested. Not to mention, the display only covers 59% of sRGB and about 47% of DCI-P3 colour space.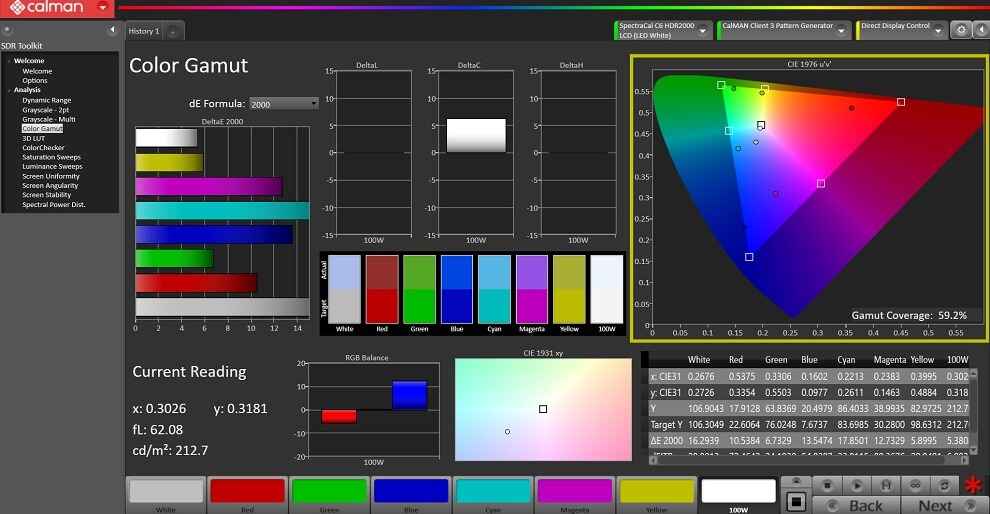 You can try and colour calibrate the panel up to a certain level but the experience is still going to be pretty bad given how tight the viewing angles really are. It was honestly really hard for me to keep the display on a proper angle for work. I had to constantly adjust the angle of the lid to go with my posture which was kind of getting annoying after a point. I really wish Xiaomi wouldn't have cut the corner here because the display is literally the only thing you'd starring at constantly and this one makes it look like a laptop you'd have bought in, say 2014. I wish there was some other way to put it but sadly the display has got to be the weakest aspect of this laptop.
Keyboard, Trackpad, & IO
Moving on, let's talk about the keyboard, trackpad, and IO situation. The keyboard deck, as you can see, looks very similar to the one on the MacBook Pro minus the top-facing speakers. There's a ton of room here for the trackpad and palm rest. Xiaomi is using a scissor mechanism for the keys and actually feels good.
The keys have a slightly rough texture that really grew on me. It's a really good keyboard with a good amount of key travel and satisfying feedback. I got used to it very easily as well, which is great. The drawback here is the lack of backlighting, a feature that makes it a deal-breaker for many users. A lot of people who asked me about this laptop weren't particularly happy about not having a backlight for the keyboard.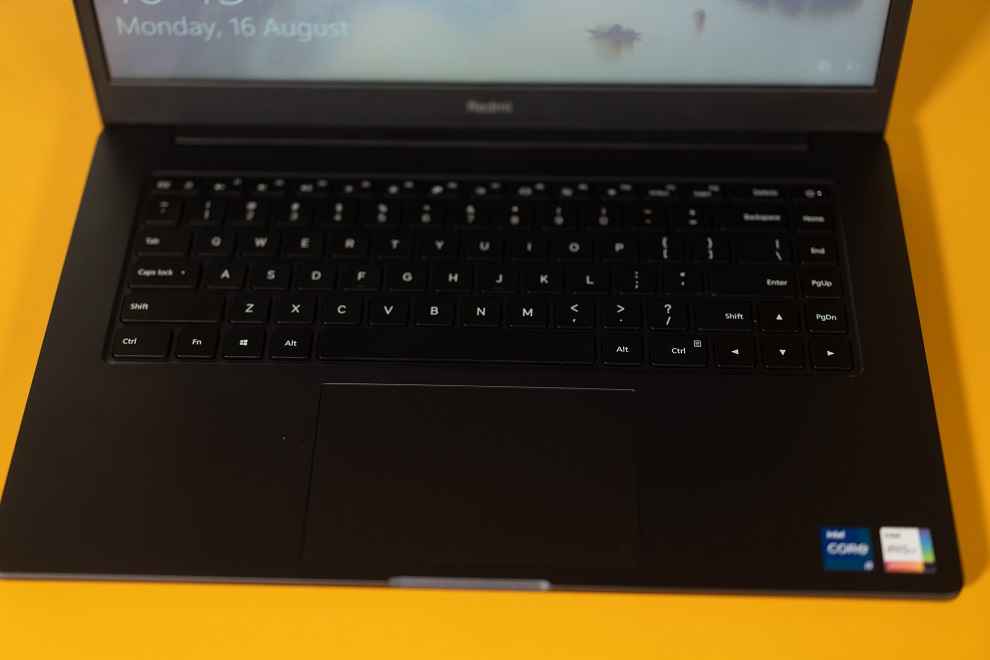 The trackpad, as you can see, is super big. I am glad that Xiaomi used all the leftover space to put a huge trackpad with Windows Precision drivers. It's a soft touch trackpad with no separate buttons. But just like the one of the Mi Notebook 14 Horizon Edition, the trackpad on the RedmiBook 15 Pro felt a little flimsy. There's a little of a play before the clicks are actually registered. It's not a deal-breaker and you will definitely get used to it, but it's worth making a note of. Even though it looks as nice and big as the one seen on Apple's MacBooks, it's nowhere close to the experience. That's fine because it's not meant to replicate the experience, but I just wish it was a bit sturdier to make me feel more confident about my clicks.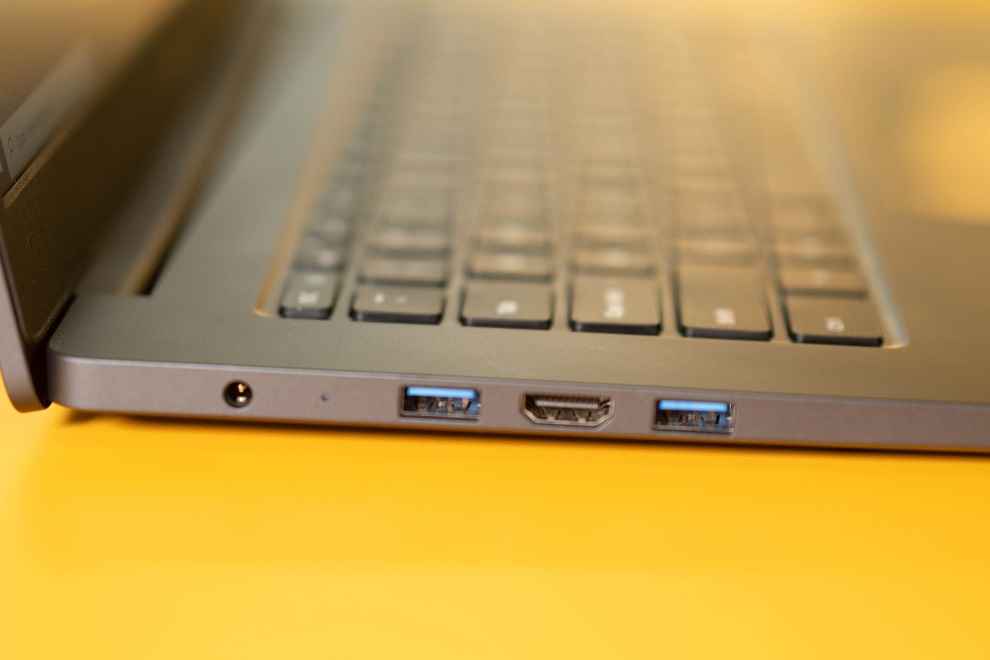 Speaking of things I like, the RedmiBook 15 Pro also has a healthy number of ports to take care of your IO needs. What's missing here is a USB Type-C port but you do get a USB 2.0 port, 2 USB 3.2 Gen 1 port, an HDMI port, an RJ45 port for ethernet, a 3.5mm audio jack, a Kensington lock, and an SD card reader.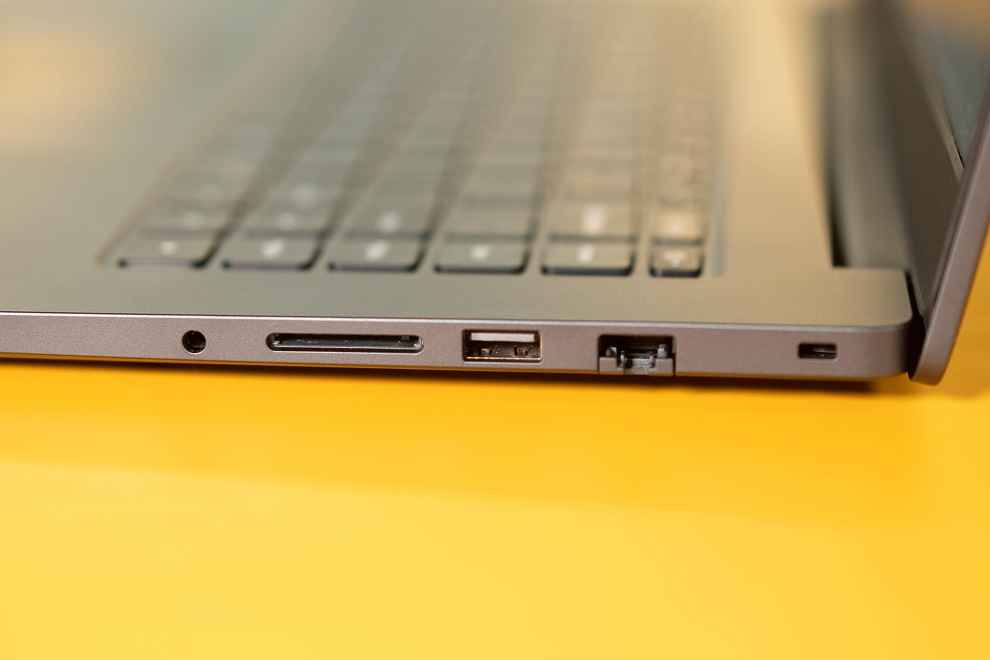 Design & Build Quality
Unlike the Mi Notebook 14 Horizon Edition that we reviewed earlier, the RedmiBook 15 Pro isn't designed to impress. In fact, it actually looks very plain with a fairly muted design. It's only available in one colour which is this Charcoal Grey and there are no textures to be seen anywhere. It looks Xiaomi was trying to go for a minimal look, but I personally think they could have given it a bit more personality.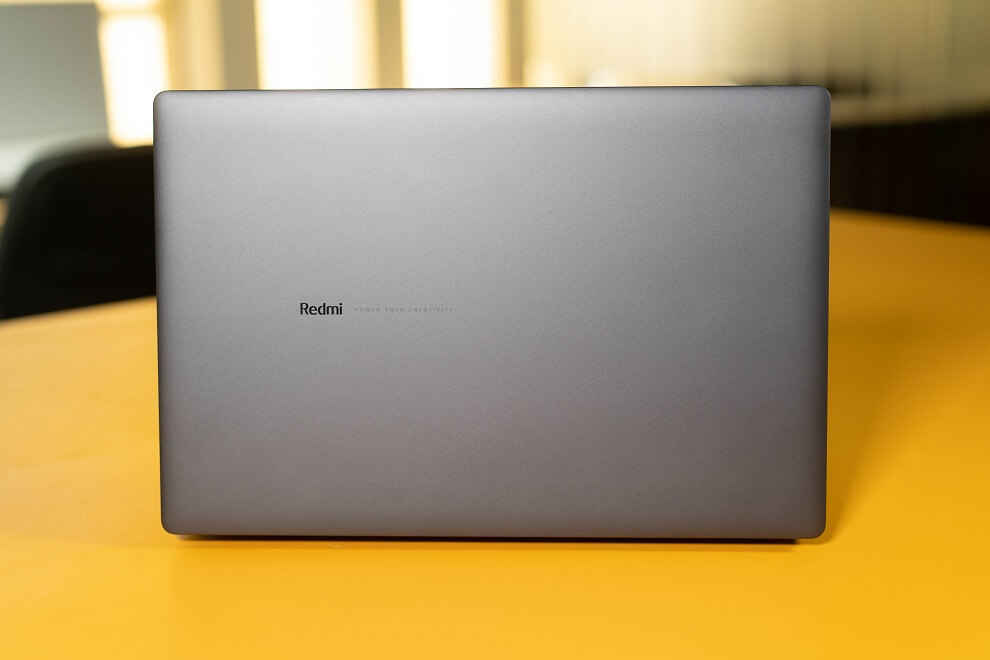 This, by the way, is a polycarbonate chassis and it weighs 1.8Kgs and measures 19.9mm in thickness. It's heftier than the Mi NoteBook Horizon and a lot of other mainstream machines these days, so you might want to get a feel for it before buying and putting it in your backpack. The display also has a noticeable amount of bezels around it but there's a webcam on the top this time, so that's nice. It's a 720p webcam and the quality is, well, just about what you'd expect from a budget laptop with a 720p camera. The hinge connecting the chassis and the lid is actually solid and I love how you can lift the lid with just one finger. The weight distribution is something I like here.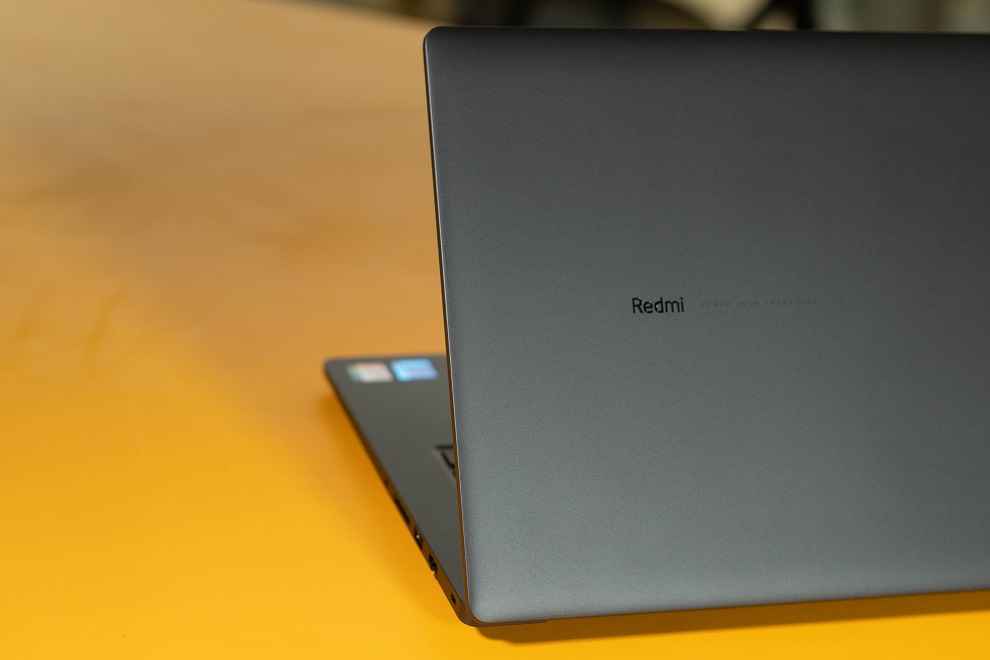 The speakers are located at the bottom panel here, where there's pretty much nothing else apart from the vents here. You can open the screws but as I said, you cannot upgrade the RAM and only storage can be upgraded for which Xiaomi suggests you go to the nearest Xiaomi service centre. The 2W stereo speakers sound pretty good. They get decently loud and deliver balanced audio that's better than some other laptops that sound tiny and thin. There's very little bass and percussion is weak and I even heard a bit of distortion at max volume but it's not the worst sounding speaker I've heard from a laptop.
RedmiBook 15 Pro Battery Life
The RedmiBook 15 Pro packs a 46Whr battery inside which charges via a 65W charger that comes inside the box. In PCMark 10's battery life test, the RedmiBook 15 Pro managed to last for 5 hours and 9 minutes at max brightness. Just to put things into perspective, the Mi Notebook 14 Horizon Edition's battery lasted for 7 hours and 10 minutes in the same test.
With my day-to-day workloads, the RedmiBook 15 Pro managed to last for about 6 hours. It's not super impressive, but I also consider myself a heavy user, so you'll definitely be able to get at least 8 hours of usage out of the laptop with the brightness set to 75% and the performance mode set in favour of the battery. Overall, I'd say the battery life is not the high-scoring aspect of the laptop but it's certainly not an issue either.
Verdict
The RedmiBook 15 Pro laptop is priced at Rs 49,999 in India, a price tag with which it's cutting it really close to last year's Mi Notebook 14 Horizon. Deciding whether to buy the RedmiBook 15 Pro comes down to understanding what the big drawbacks are. In this case, the two major caveats we are looking at are the screen quality and the lack of backlighting on the keyboard, both of which, in my opinion, are huge corners to cut.
But the question is: Given those caveats, can you rely on the RedmiBook 15 Pro for your day-to-day usage? Well, if you are just going to use this machine to do basic web browsing, churn out documents on word, email people, and run some YouTube videos, then I would say you can. It might not be the best experience mainly due to the below-average display, but you can. And if you are willing to live with that, then the RedmiBook 15 Pro does deliver some good benefits in other areas, from reliable performance, a good keyboard, a decent port selection, and battery life.
Considering the fact that you have a limited number of reliable laptops under Rs 50,000, the RedmiBook 15 Pro isn't a terrible option. It surpasses many of the laptops I'd recommend in this price range. So if you are okay with its flaws, you'll find that the RedmiBook 15 Pro offers quite a bit for its budget price. If not, the HP 14 with a Ryzen 5 5500U is a worthy alternative to consider and so is Xiaomi's own Mi Notebook 14 Horizon that offers a more refined experience in a relatively compact chassis. At the time of filing this review, a few more laptops are on the horizon, so feel free to wait a bit longer to see what's coming soon in the market.