VERDICT:
The Dell Inspiron 11 3000 Series is pretty fast for the price, but it's not the best option. Its display is tough to deal with and the laptop doesn't last for more than 5 hours on a single charge. The HP Pavilion x360 is a better convertible to buy, even with the added cost.
To be clear, cost effective here means spending 40k instead of Rs. 1 lakh. Of course, that means you have to make trade-offs, and it makes the Dell Inspiron 11 3000 Series a weird mix of good and bad.
Build and Design
You get plastic all over, but with a sturdy finish. Dell has made this year's Inspiron 11 colourful, offering the convertible laptop in blue, red and white colours. We don't see them catching everyone's fancy, though.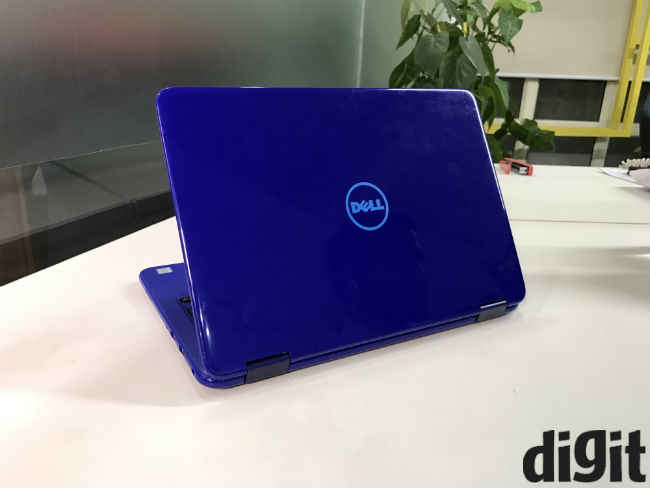 The hinge doesn't show any wobbles, and there's little flex to speak of. It's all packed into a small and compact package, which fits in any bag, sling or backpack.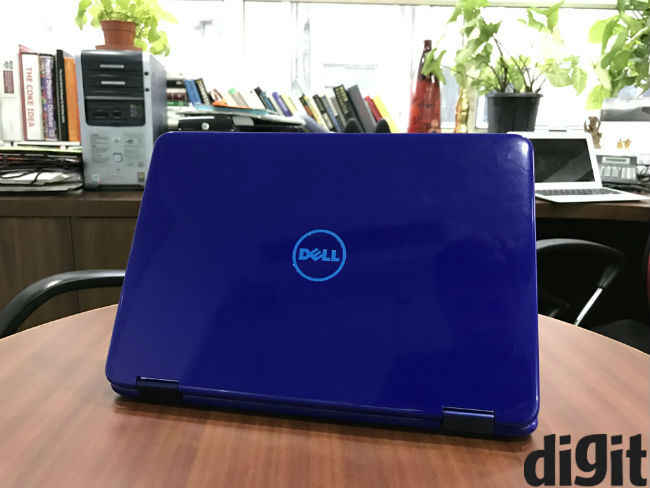 However, the button placement is problematic. Dell has placed the volume and power buttons on the left side, towards the front. As a result, you end up pressing the power button when you don't want to. Needless to say, that's annoying and affects usability.
It's also heavy. 1.2 kg doesn't sound very bad until you have to carry it around in a sling bag for long hours. We did that, and two hours were enough to exhaust us. It's even worse when you have to carry the charger, too.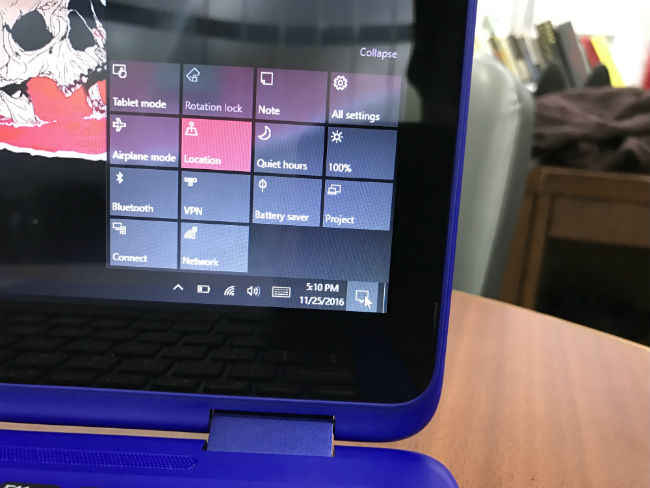 Another issue is that the keyboard is not disabled when you turn this around for the tablet mode. This makes it nearly impossible to use this convertible as a tablet, at least in hand.
Ports
The collection of ports on this laptop is quite good. It has two USB 2.0 ports on the right, and the left side has a USB 3.0 port. There's also an HDMI port, a card reader and the headphone jack.
Together, that should have most regular users covered.
Display
The Inspiron 11 isn't a hybrid alone, it's also a netbook. The 11.6-inch display offers 1366×768-pixel screen resolution. Sadly, it's all downhill beyond that.
The display is washed out, dim, and colour reproduction is disappointing. In addition, the viewing angles aren't the best either, and the display is dull in terms of colours.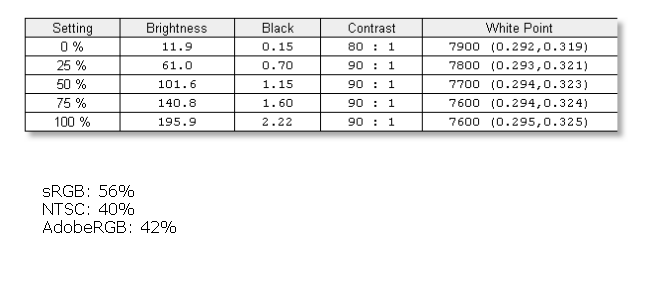 At max brightness, the laptop recorded barely over 200 nits at the centre of the display, and it's not uniformly bright, either. Using a colorimeter, we found poor values for color gamut as well. The Inspiron 11 can reproduce only 56% of the sRGB gamut and 40% of the NTSC gamut. We got contrast ratio readings of 90:1 in a dark room, at 50% brightness. These are sub par, to say the least.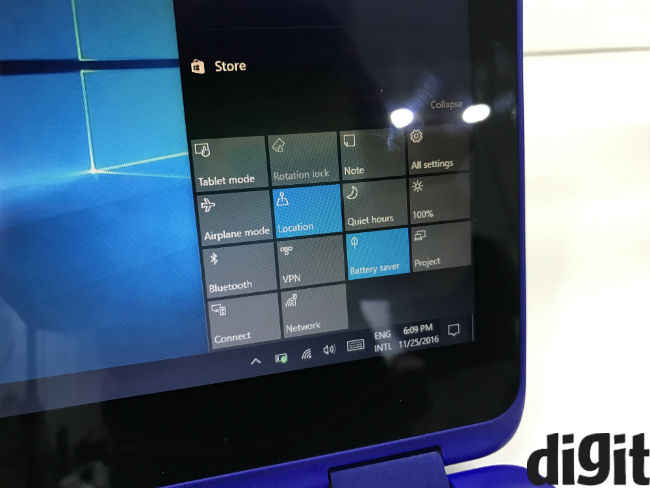 In practice, you'll often notice dull colours while watching a movie or a TV show, and the display won't do well outdoors. Moreover, you see a colour shift quite easily, thanks to poor viewing angles.
The touchscreen is quite responsive. Barring Windows' poor touchscreen usability, you will be able to use it without any issues when needed.
Keyboard and Touchpad
This is where it gets slightly better. The keyboard on this laptop is pretty easy to get used to. Key spacing and travel don't get in the way of typing. The actuation point is good for short term typing, but it may get difficult over longer periods.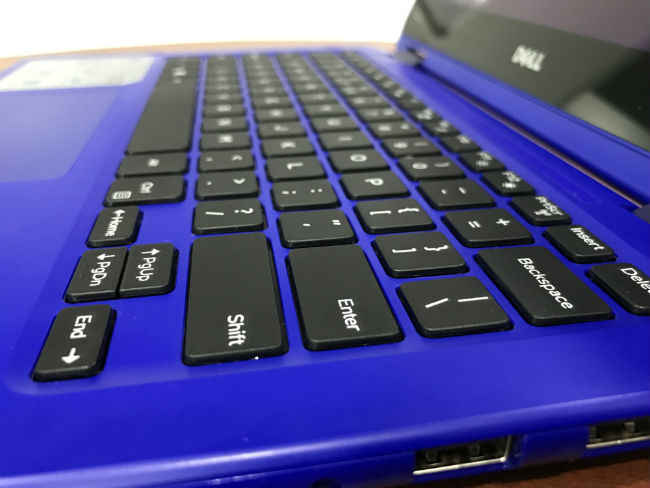 The same can be said about the trackpad. But this one takes longer to get used to. It missed gestures ocassionally, but for the most part it gets the job done. It's a tad hard to press, but over time you shouldn't have much trouble with that.
In general, the touchpad responds to Windows gestures reasonably well, and scrolling is easy enough. Using a mouse is certainly better, but this touchpad gets the job done when needed.
Performance
The best thing about the Inspiron 11 is its performance. It runs on the Intel Core m3-6Y30 processor, which gets the job done. In fact, you can even play mobile games like Asphalt 8 from the Windows Store, but that's about it.
Depending on what is open on the Inspiron 11, you can use up to 15 tabs on Chrome at a time, before the device starts lagging. This falls to about 12 if you're streaming on YouTube, etc. Spotify takes a toll, too. We also tried running six Chrome extensions alongside, and they worked fine.
For regular users, it delivers decent performance. In fact, we used the laptop right after last year's Atom-powered Surface 3, and this one's much, much faster. Interestingly, most of its competitors in India are also Atom-powered.
For students and regular home users, the Inspiron 11 is quite good. It's surprising how hot it can get. We recorded temperatures of 46 degrees Celsius on the underside, but the keyboard doesn't heat up enough to get uncomfortable.
The Inspiron 11 also has a 500GB 5400 rpm hard drive. We transferred a 30GB file over the USB 3.0 port in just over 7 minutes. A 5GB transfer from an external HDD to the hard drive took just under a minute, and the same time was recorded for 5GB spread over smaller files. The transfer speeds are at around 88-89 MBps, which works for regular users. It isn't the best, though. We tried the same with an Atom-powered Surface 3, and it took even longer.
Audio
Here's another thing that works for the Inspiron 11. You don't always need external speakers with it. For movies and regular video consumption, the in-built speakers are good enough. It's even better in silent rooms, of course.
We wouldn't recommend listening to music on these, but unless you have a tuned ear, it can be quite likeable. Basically, they'd work for most.
Battery
Okay, so back to the difficult bits now. The Inspiron 11 lasts for about 5 hours on average brightness, with continuous video streaming. For typing and regular usage, you can stretch this to about 6-6.5 hours.
Remember how we talked about the weight earlier? Well, poor battery life means you'll need to carry your charger around, adding a few more grams to your shoulder(s).
Bottomline
There are very few cost-effective yet good options available in hybrids and convertible segments, and the Dell Inspiron 11 3000 series doesn't change that. The Lenovo Yoga 500 offers more value, at a slightly higher price. If you can spend an extra 10k, the HP Pavilion x360 brings a 7th gen Intel i3 processor, and is much better as well.
We wouldn't recommend the Dell Inspiron 11 3000 unless you really can't spend a penny more. Even then, you will be making considerable compromises on this one.