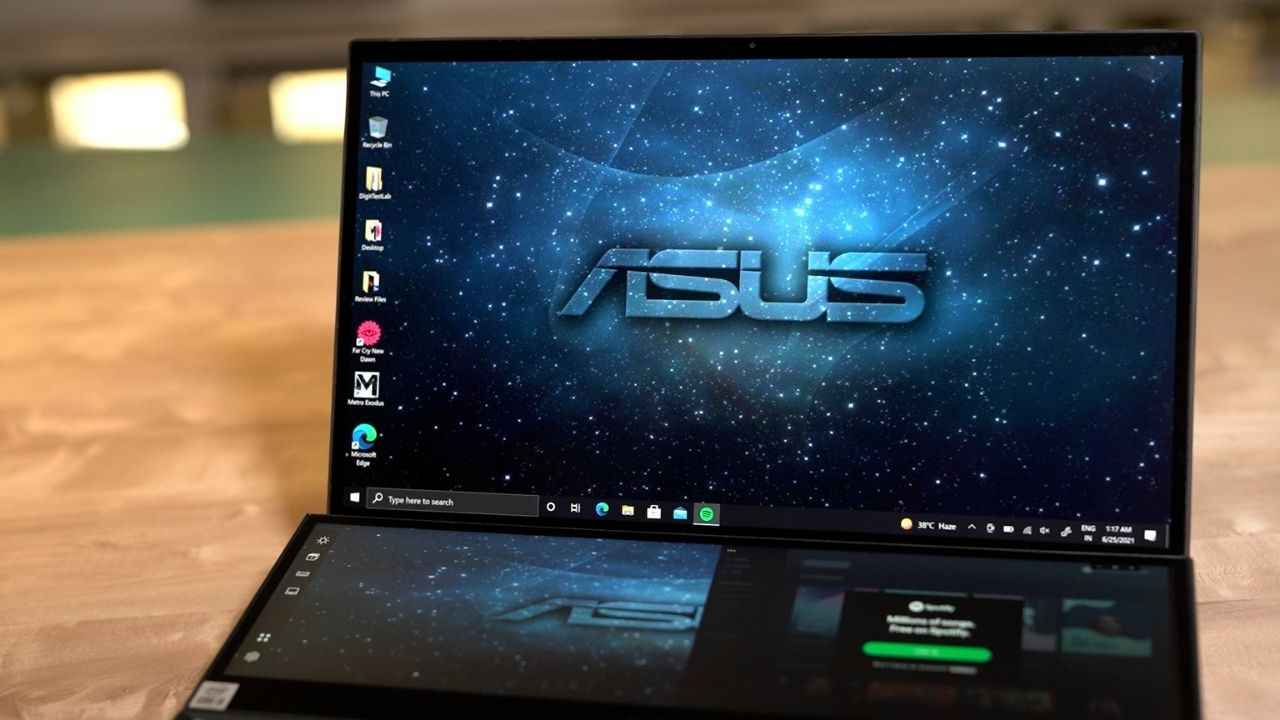 VERDICT:
The ASUS ZenBook Pro Duo 15 OLED is not your average 15-inch notebook. And that's the obvious takeaway when you look at its eye-watering price tag and its elusive form-factor with dual touchscreens. It's a power-packed machine that will prove to be a great tool for creative professionals and even gamers looking to get their hands on a unique laptop. As much as this machine has improved upon its predecessor, there are a lot of caveats that make it somewhat of a weird recommendation.
The ASUS ZenBook Pro Duo 15 OLED looks very similar to its predecessor. But, there are a lot of improvements this time around and most of them include something that we've always wanted this machine to have. While the primary OLED is the highlight here, the secondary IPS panel is also a great addition that will allow you to take full advantage of the powerful internals it comes with.
Well, I have been using the ASUS ZenBook Pro Duo 15 OLED as my primary machine for a couple of weeks now, and I think I am ready to share my experience and thoughts about this laptop that should help you decide if this is something that you should buy –
ASUS ZenBook Pro Duo 15 OLED Specifications
I was a little bummed to know that the new ASUS ZenBook Pro Duo 15 OLED this year doesn't actually come with an 11th Gen Intel Core processor. Instead, there's a 10th gen processor inside this machine to handle the load. It's still a powerful processor at heart, but I think it's something you should keep in mind while shopping for laptops this year.
Processor: Intel® Core™ i9-10980HK Processor 2.4 GHz (16M Cache, up to 5.3 GHz, 8 cores)
Graphics: NVIDIA® GeForce® RTX 3070, With Boost up to 1440MHz at 90W (110W with Dynamic Boost),8GB GDDR6
RAM: 32GB DDR4 onboard
Storage: 1TB M.2 NVMe™ PCIe® 3.0 Performance SSD
Display: Touch screen,(39.62cm)15.6-inch,OLED,4K UHD (3840 x 2160) 16:9,Glossy display,440nits,DCI-P3: 100%,Pantone Validated
Secondary Display: ScreenPad Plus (14" 3840 x 1100(4K) IPS-level Panel Support Stylus)
ASUS ZenBook Pro Duo 15 OLED Display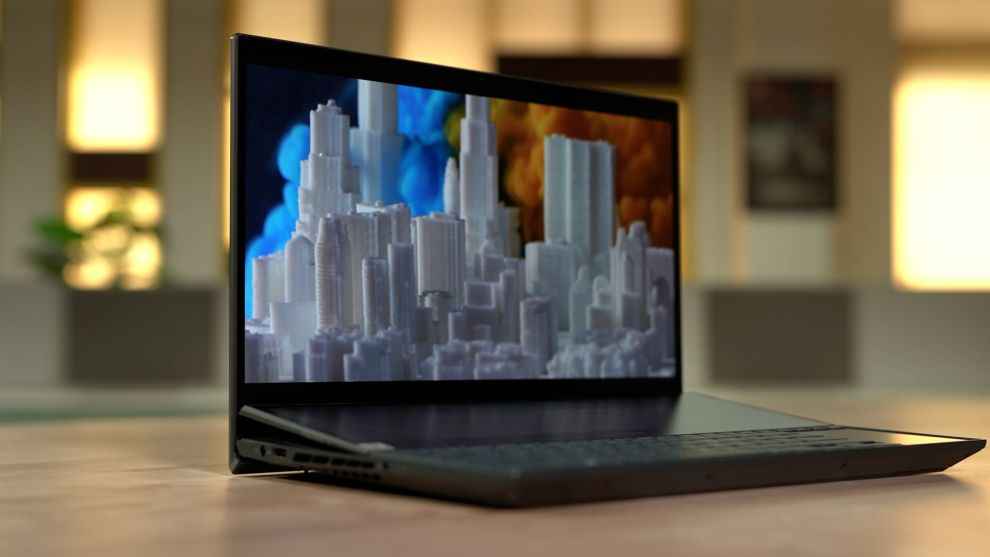 I am going to jump straight into the display section this time because those dual touchscreens are the main selling points of this laptop. As the name suggests, the main screen that you see here is an OLED panel that measures 15.6-inches and has 4K resolution. The secondary display, which is also called ScreenPad Plus, is an IPS panel. ASUS has gone with the same ultrawide 32:10 implementation. It measures 14-inches and is half-4k, which means it's going to be just as crispy and beautiful-looking as the main display.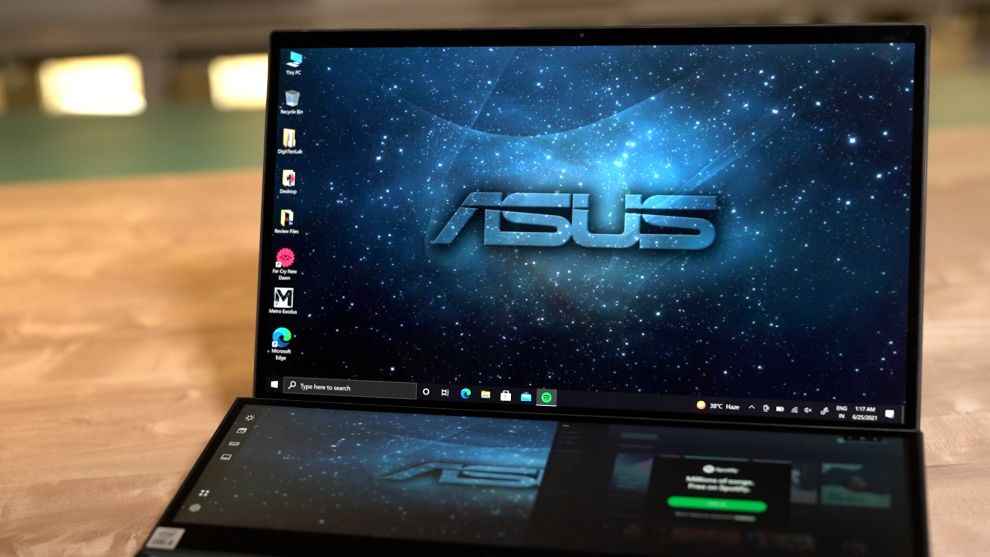 Both displays support touch and pen input, but the main screen is a glossy panel whereas the bottom one has an anti-glare coating to prevent the reflections from the main display.
In terms of the image quality, there's a huge difference between the two for some obvious reasons. It's quite noticeable even by looking at the laptop with both displays turned on. The hinge mechanism for the ScreenPad, which was missing on the predecessor, does help a little bit but you will still be looking at this display at an angle all the time, so there's bound to be some issues with the viewing angles.
Now, for the display test, I did run our usual set of tests on the primary OLED screen, but I skipped those for the Screenpad display. That's because I think if you are buying this laptop, you should run all your day-to-day workflows on the primary display only. For example, if you are a photo or a video editor, doing some colour sensitive work, then you should be running those only on your primary display and use the Screenpad only as an extension for your side apps running in the background. So yeah, just keep that in mind, and you should be good.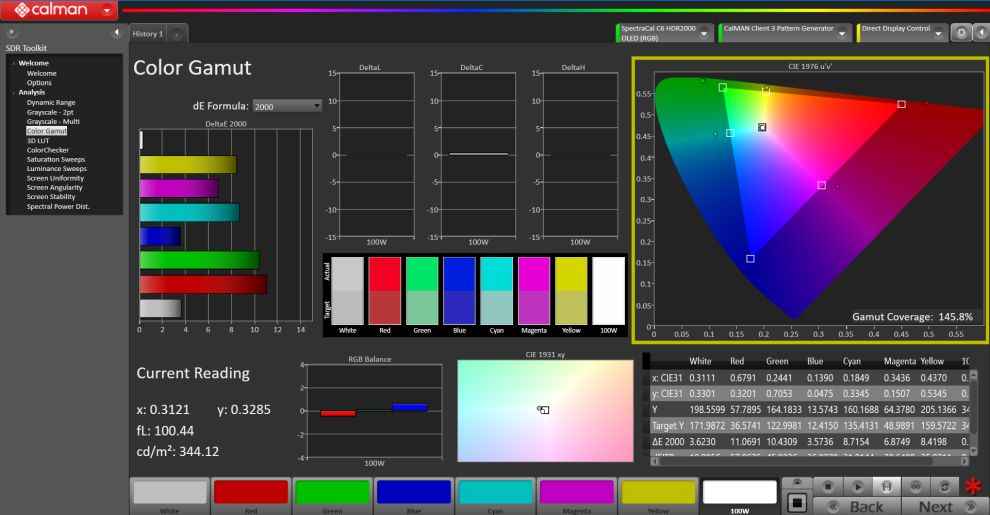 ASUS ZenBook Pro Duo 15 display tested on Calman Ultimate
So the OLED panel here is bright and vivid with excellent colour coverage and viewing angles. As per my testing, the display covers 100% of the sRGB and 99.5% of DCI-P3 colour space, which is more in line with what ASUS claims. That being said, the ColorChecker analysis tells me that there's a lot of discolouration happening here. It gave me a DeltaE value of 7.5, which is a lot, and even a manual colour calibration couldn't entirely fix this issue.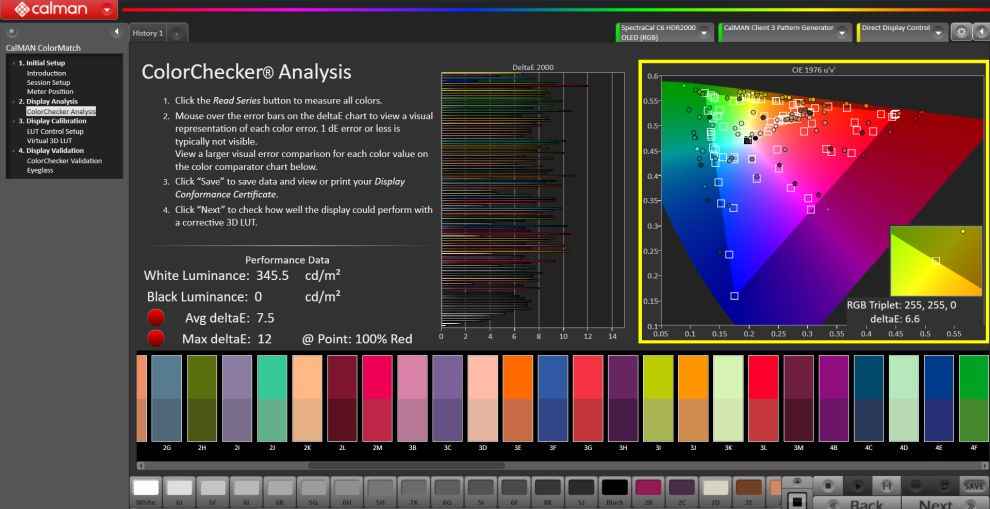 ASUS ZenBook Pro Duo 15 display tested on Calman Ultimate
On the plus side though, the display gets adequately bright even though it's not on par with what ASUS claims but it has great contrast ratios and inky blacks. Overall, I think this laptop has a fantastic primary OLED panel. But I am sceptical about how the colours deviated from the target values with the max deltaE value being as high as 12. It means it's not the best for colour sensitive work even though both the sRGB and DCI-P3 colours spaces are completely covered. That being said, it's an incredible display for content consumption and even for gaming since the colours pop and everything looks vibrant.
ASUS ZenBook Pro Duo 15 OLED Performance
My review unit is a top-specced configuration that's kitted with a 10th gen Intel Core i9-10980HK, which is a Comet Lake processor with 8 cores and 16 threads. This particular processor has a base clock of 2.40Ghz and a max turbo frequency of 5.3Ghz. This is a 45W TDP CPU that can be configured with up to 65W by the OEMs, provided that the chassis and the cooling solution allows it.
For memory, you get 32GB of DDR4 RAM running in Dual-channel and you also get a 1TB NVMe SSD with great read and write speeds. For graphics, you get an Nvidia GeForce RTX 3070 GPU with 8GB of GDDR6 VRAM with a base TGP of 90W, but it can jump up to 110W depending on the title and in performance mode.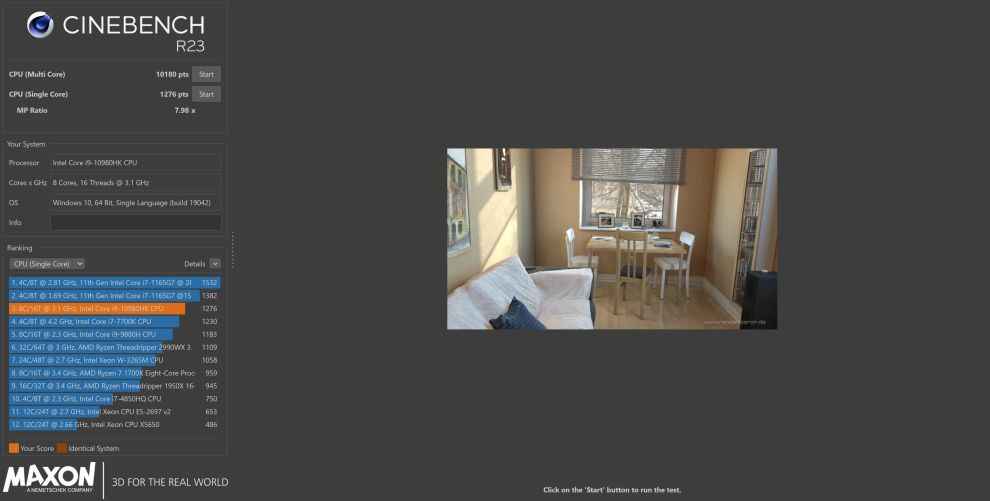 InCineBench R23 test, I noticed that the Core i9-10980HK CPU did hit the 5Ghz mark but there was a lot of fluctuation happening in the clock speeds as you can see here in this graph below. This isn't unusual on the machines that throttle due to either power or the temperatures, but I am glad that it at least delivered the results despite this behaviour.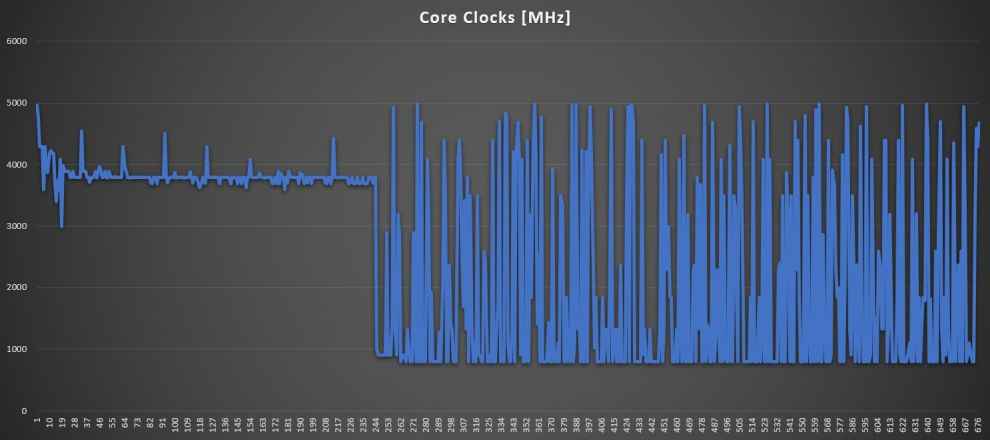 The laptop managed to get a single-core score of 1276 and a multi-core score of 10180 in Cinebench R23. It is on par with the 2020 Zephyrus Duo, but the multi-threaded performance is lacking when compared with the ASUS ROG Strix Scar 15 running the Ryzen 9 5900HX. I got similar results on the Cinebench R20 as well. On PCMark 10, the ZenBook Pro Duo managed to score 5931, which is actually less than the ASUS Zephyrus G15's score of 6927 running the Ryzen 9 5900HS. In fact, it's less than the score of the MSI Pulse GL66 that we tested running the 11th Gen Intel Core i7-11800H CPU. So, the older CPU is definitely showing its age here.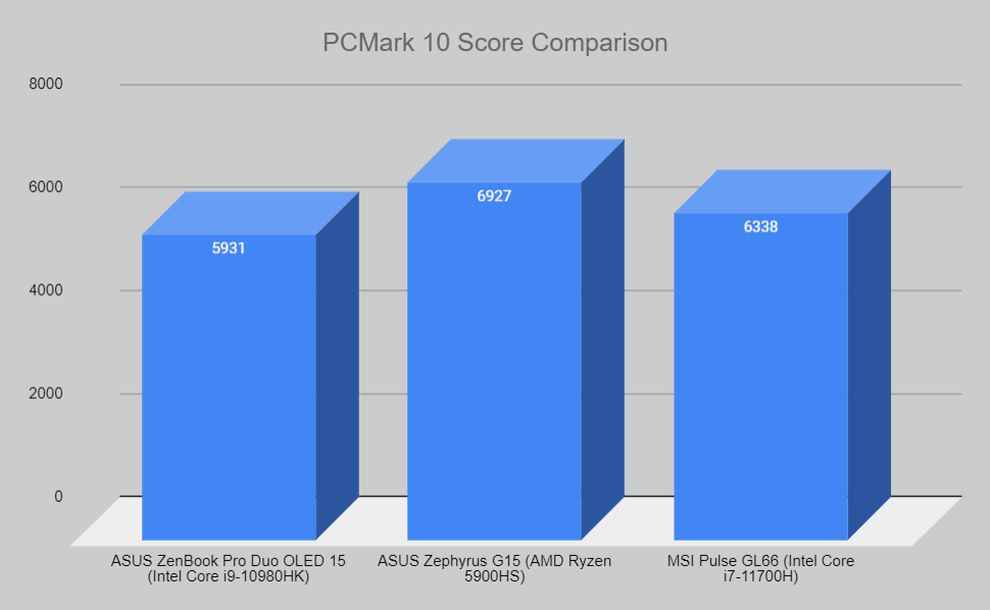 Before I move on to the creative workloads, I want to talk about the gaming performance of this laptop because I think a lot of people will play games on this machine even though it's not exactly a gaming laptop. The RTX 3070 will get you some good gaming performance and below are some benchmark numbers that I managed to record –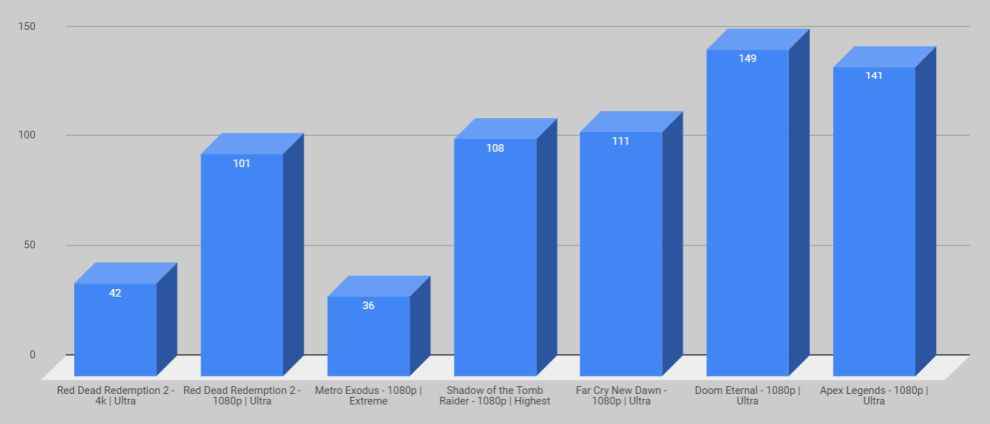 Even though it has a 4K display, I will still suggest you play games either at 1080p or 2K resolution only. Running games at 4K will force you to tone down graphics settings to hit that sweet 60FPS mark. Moving over to the 3DMark test results, the ZenBook Pro Duo managed to score 9,137 on the Time Spy test, 4,463 on Time Spy Extreme, and 18,351 on the FireStrike test. The scores are nothing extraordinary and are pretty much what you'd expect from an RTX 3070 GPU.
ASUS ZenBook Pro Duo 15 OLED Creative Workloads
The ASUS ZenBook Pro Duo can mainly be seen as a creator centric laptop. Those dual touchscreens are great for multi-tasking and they give more room for creative workloads apps for photo and video editing. But how does it perform? Let's take a look –
I started with some Workstation related loads with the Blender test and those numbers are displayed right below. To test the creative workloads, I fired up the Adobe Lightroom to export from RAW files and the laptop managed to export 50 RAW files in 2 minutes, 100 RAW files in 3 minutes and 45 seconds, and 200 RAW files in 7 minutes and 16 seconds. When it comes to Davinci Resolve, the ZenBook Pro Duo managed to export a 5 minute 4K project in 4 minutes and 45 seconds, which is not bad.
So, overall, the ASUS ZenBook Pro Duo OLED performs just about how I expected the Core i9 and an RTX 3070 combo to perform. The laptop did manage to impress me with high power allocations and high clock speeds in longer duration loads, but there's only so much that an i9-10980HK can do when it goes head-to-head with newer CPUs on the market, so there's that.
ASUS ZenBook Pro Duo 15 OLED Thermals
As for the thermals, the CPU runs hotter than the RTX 3070 here in this case. The CPU was hitting its TJMax temperature of 100°C more often than I thought. Due to this, I noticed a lot of clock speed fluctuations and thermal throttling. The GPU, on the other hand, ran surprisingly cool throughout the testing process. The GPU was constantly under 80°C regardless of the load, and I only saw it go past that while running games at 4K.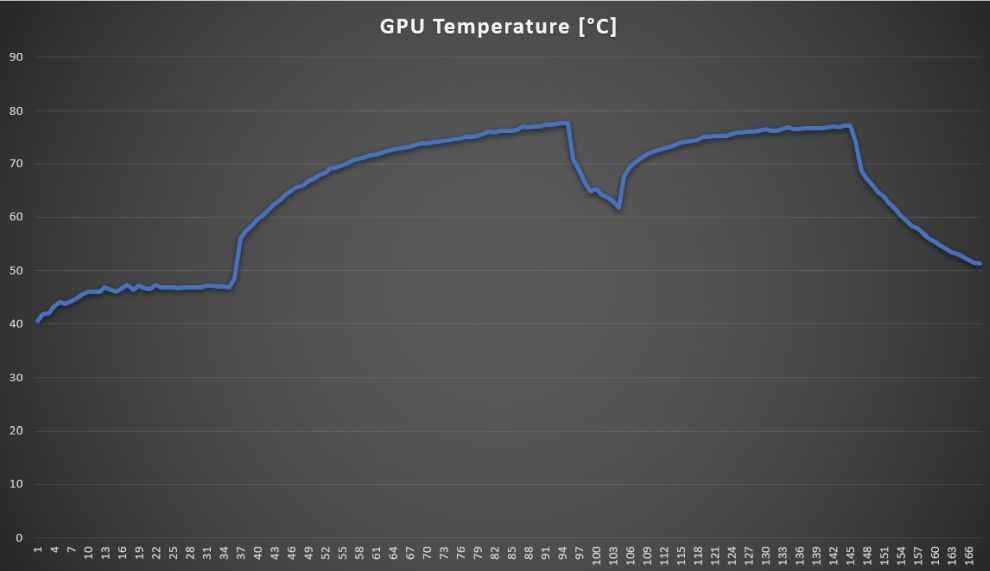 ASUS changed the design a little bit to add two huge vents on the sides to push hot air out of the chassis. And since I was running the laptop on Performance mode throughout the testing, the fans kicked in almost immediately and they got super loud.
But thanks to that, the surface temperatures were well under the acceptable limits. And since the keyboard is shifted towards the bottom, away from the internal cooling solution, I was only recording temperatures under 40°C on the keyboard deck. So, no complaints here whatsoever.
ASUS ZenBook Pro Duo 15 OLED Keyboard, Touchpad, & I/O
The keyboard on the ASUS ZenBook Pro Duo has a standard layout with an extra set of keys on top of the clickpad. The typing experience, I'd say, is okay-ish at best. The keys have 1.44mm of key travel but they are very similar to the rubbery keys seen on other ZenBook notebooks. Yes, they are comfortable to type but don't expect much from these chiclet-style keys with limited travel if you are coming from a mechanical keyboard.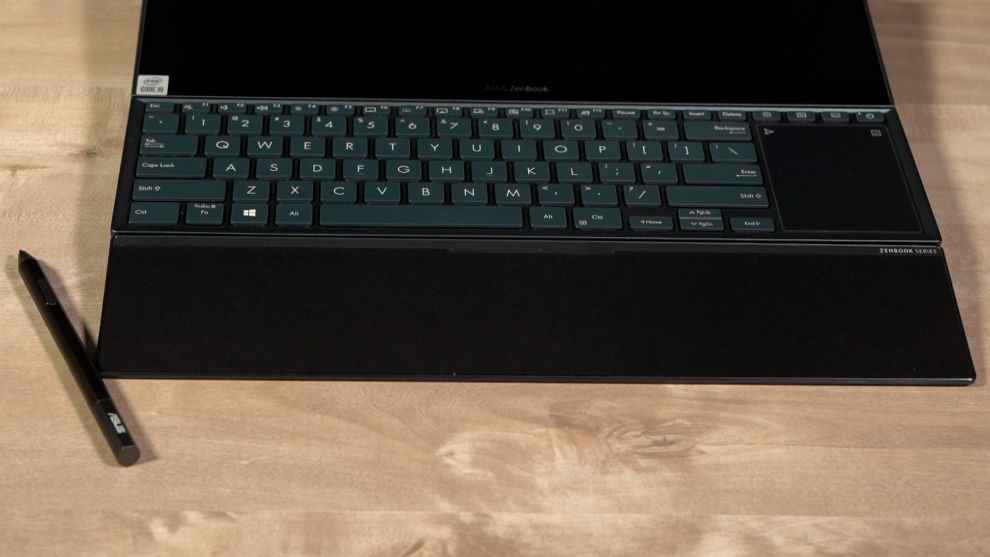 One of the main issues for me is the keyboard placement on the laptop. ASUS has shifted the keyboard to the bottom of the deck to make room for the ScreenPad. That's understandable but I was never a fan of this keyboard style and it hasn't changed. Do not expect to comfortably type while using the laptop on your lap, or in cramped spaces. You will need a spacious desk with a palm rest to get any meaningful usage out of it.
The same is the case with the touchpad. I can never get used to this touchpad placement, and frankly speaking, I don't want to. It's a really bad experience, so please get yourself an external mouse. Yes, it's a great surface to use gestures and it has Windows Precision drivers. It even doubles up as a NumPad thanks to the white LED Numpad layout that looks similar to the white keyboard backlit colour. But none of that could make me get used to it.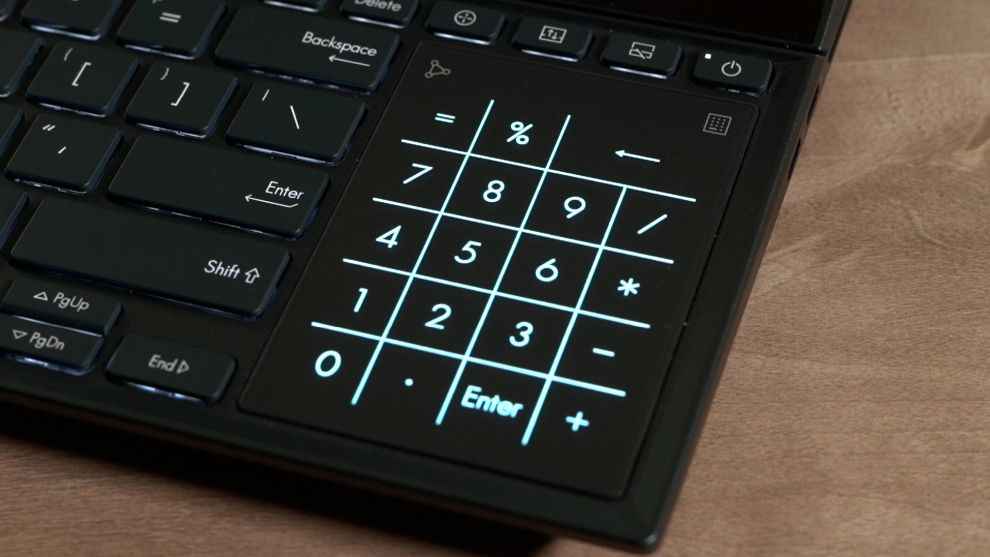 Moving on to the ports selection, I like how the ports are all distributed on both sides. But sadly, there's not enough space to accommodate a lot of them due to the huge vents that we talked about earlier. On the right side, you get 2 USB Type C Thunderbolt 3 ports, and a USB Type-A 3.2 Gen 1 port. Moving over to the left side, you have an HDMI 2.1 port, a 3,5mm stereo jack, and a port to charge the laptop. The thing that's missing here is an SD card reader, which is very weird since this is a creator centric laptop, after all. And don't get an RJ-45 connector either, so keep that in mind.
ASUS ZenBook Pro Duo 15 OLED Design & Build Quality
Anyway, let's talk about the design and the build quality now. ASUS hasn't changed the design much from its predecessor. The design, with all its angles, colours, and even the materials is pretty much identical to last year's ZenBook Pro Duo 15. Even the lid has the same concentric circles textures as the ASUS logo and is still prone to fingerprints.
The main difference this year is the addition of this new hinge mechanism for the secondary display. The secondary display now lifts up more as you lift the laptop's lid. The mechanism, honestly, looks a bit fragile. It even shows signs of flexing when you press down on the secondary display, but I can assure you that it's tough and won't break down that easily. In fact, the overall stability of the chassis is very good. BTW, the ASUS Ergolift mechanism is still there, which means the chassis still lifts off the ground as you open the lid.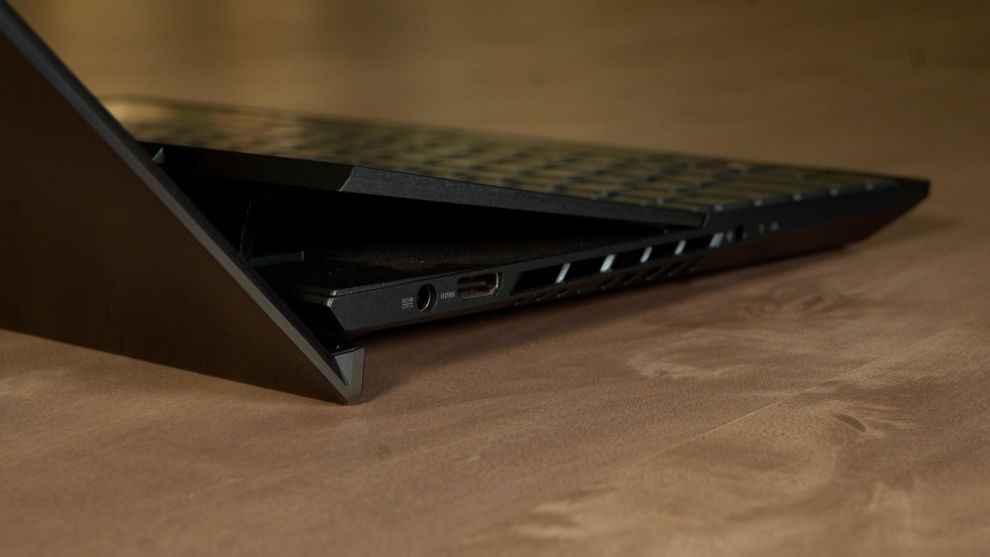 As I mentioned earlier, ASUS has also added more vents to the chassis for better airflow. I wouldn't say it's a compact laptop by any means, but it's slightly thinner than the predecessor. The laptop weighs almost 2.5Kgs, which means it's comparable to some beefier gaming laptops and workstations and you should consider resting it as a desktop replacement.
ASUS ZenBook Pro Duo 15 OLED Battery Life
You can't expect much from a laptop's battery when you're looking at some powerful internals like the ones that this machine packs. Not to mention, there are two 4K displays as well. Well, the ZenBook Pro Duo OLED packs a 92Whr battery inside, which is quite bigger than what the predecessor had. In PCMark 10's Battery Life test, the laptop only managed to last for around 3 hours, which I am honestly not surprised by.
In day-to-day usage, you'll only be able to get around 4-5 hours of usage at max, that too when the brightness isn't set to its max value. I suggest you turn off the ScreenPad display when it's not in use to save battery and even switch to Dark Mode and use black-coloured themes since this is an AMOLED display and your mileage will vary based on what's displayed on the screen.
ASUS ZenBook Pro Duo 15 OLED The Final Say
So, my closing thoughts on this laptop. Well, let me tell you that it's not your average 15-inch notebook. That should be very obvious looking at the price tag of this machine; coming in at Rs 2,39,990, as well as the form factor. But you are paying a premium here for the kind of engineering that's put into this device, its high-resolution dual touchscreens, the OLED panel, and the powerful internals.
But at the same time, it also has its fair share of compromises w.r.t to its weights, size, and the overall practicality of using it as a laptop. For starters, it's fairly chunky for a 15-inch laptop. There are much more portable laptop options out there that are similarly specced such as the ROG Zephyrus G15 that I reviewed not too long ago. It's also not very practical to use without a desk due to that down-shifted keyboard. Not to mention, it also only has a 10th gen processor. It should be enough to handle just about anything and everything, but I would've loved to see an 11th Gen processor.
So if you are looking to buy this laptop, then I'd suggest you take a look at some other options like the ROG Zephyrus G15, or even the ROG Zephyrus Duo which also has two screens like this. So the whole idea of having dual screens is not exclusive to this laptop alone, which by itself makes it a weird recommendation. Alternatively, you can also check out the MSI Pulse GL66 gaming laptop that I tested recently. Yes, it doesn't have the same appeal when it comes to the form factor, but it comes with one of the new Tiger Lake H45 processors that can handle creative workloads very well. That being said, I am very excited to see where ASUS will take this series next year with the newer iterations.