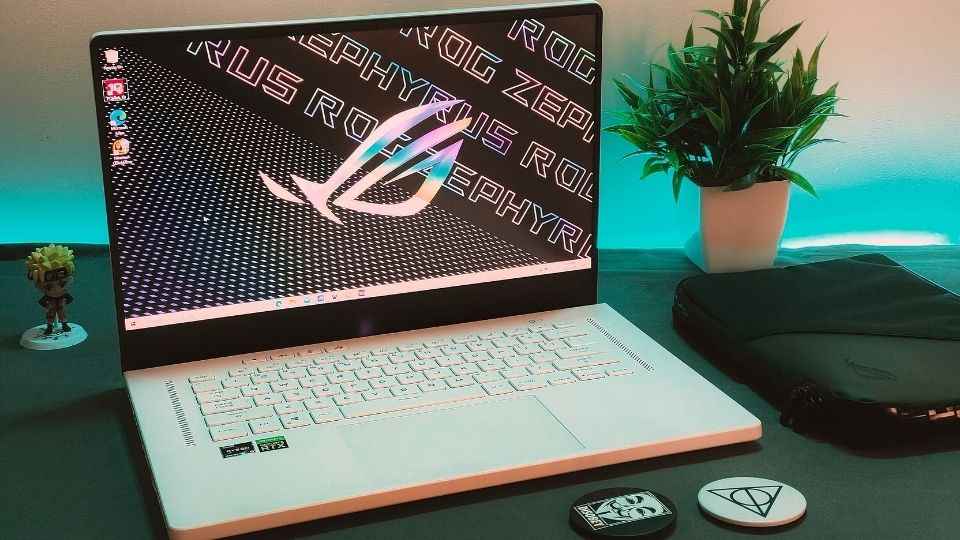 VERDICT:
ASUS has a ton of gaming laptops to its name but every year, only a couple of them manage to shine through and land under the spotlight. After using the ROG Zephyrus G15 extensively for about 2-3 weeks now, I think ASUS has packed in pretty much everything I want from a solid gaming laptop in 2021. It's relatively lightweight, looks fantastic without any obnoxious RGB lighting, and it packs some impressive hardware inside that can keep you glued to it for long gaming sessions without breaking a sweat.
The ASUS ROG Zephyrus G14 gaming laptop wowed everyone with its good looks and powerful hardware. In our review last year, we mentioned that it's a pretty well-rounded laptop, one that performs admirably good and looks great doing so. I wasn't able to check out the G14's sibling, the ROG Zephyrus G15 due to, well, 2020 and all its madness.
But now, I have been using the new 2021 Zephyrus G15 and I must say that I've been enjoying it a lot. The Zephyrus G15 basically takes everything that's good about the ROG Zephyrus G14 and brings it in a larger form factor. The result is a very clean laptop tailored to deliver some really good performance.
Coming in hot at Rs 1,37,990, the real question is whether the ROG Zephyrus G15 has what it takes to go against the dozens of RTX 30-series laptops that are already soaring in the market? Let's find out in this detailed review.
ASUS ROG Zephyrus G15 Specifications
ASUS is bringing two variants of the ROG Zephyrus G15 to India. You get to choose between either the AMD Ryzen 7 5800HS or the Ryzen 9 5900HS. For GPU, you can get the Zephyrus G15 with either Nvidia RTX 3060 or an RTX 3070, both configured with 80W TDP. Besides that, you essentially get the same set of specs with both laptops.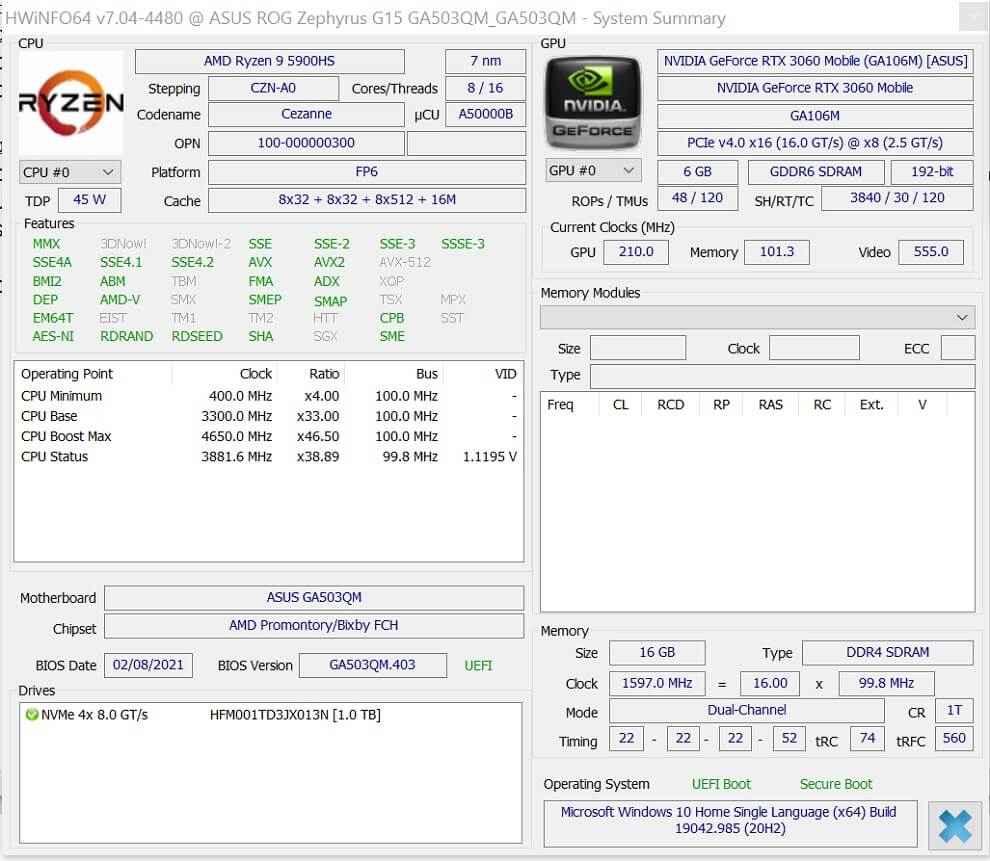 Processor: AMD Ryzen 7 5800HS or AMD Ryzen 9 5900HS 3.3 GHz (Turbo up to 4.8 GHz, 8 cores)
Graphics: Nvidia GeForce RTX 3070, 8GB GDDR6 (80W TGP + 20W Dynamic Boost) or Nvidia GeForce RTX 3060, 6GB GDDR6 (80W TGP + 20W Dynamic Boost)
RAM: Up to 48GB DDR4 3200MHz (Dual channel)
Storage: 2* PCIE SSD Slot M.2 512GB/1TB
Display: QHD (2560×1440) IPS 165Hz, DCI-P3 100%, 300nits, 3ms Pantone validated, Adaptive sync
ASUS ROG Zephyrus G15 Performance
The variant which I got for review comes with the AMD Ryzen 9 5900HS along with an Nvidia GeForce RTX 3060 GPU. The Ryzen 9 5900HS is an absolute beast of a CPU with 8 cores, 16 threads, and 16MB L3 cache. The base clock speed of the 5900HS is 3.3Ghz and it can go up to 4.6Ghz under load via Turbo. This is the exact same CPU that was also on the ROG Flow x13 that we tested not too long ago.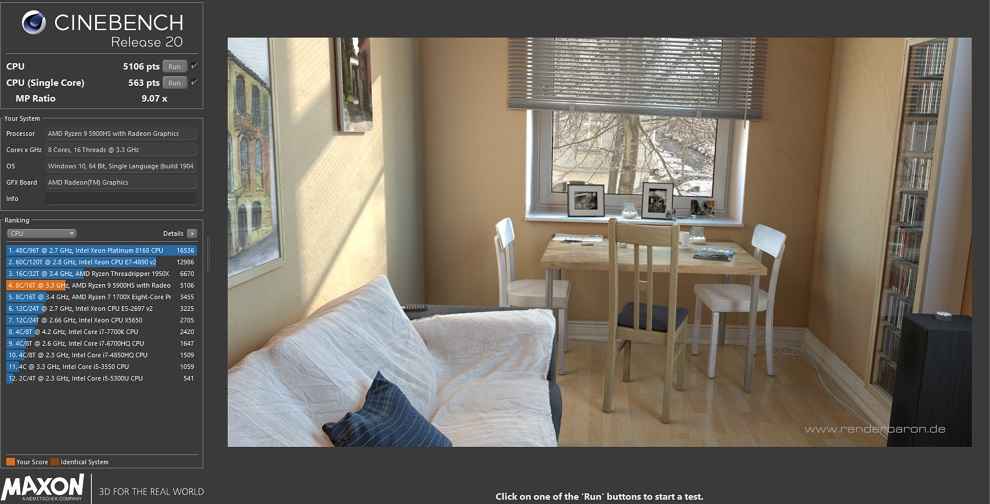 In single-core scenarios, the 35W Ryzen 9 5900HS will sit anywhere between 3.5Ghz to 4.0Ghz. However, the clock rate will settle at around 4.0Ghz when all the cores are fired up. In Cinebench R20, Zephyrus G15 managed to score 563 pts in the single-core test and 5106 pts in the multi-core test. It turned out to be better than the laptops powered by Intel's Comet Lake CPU in this case.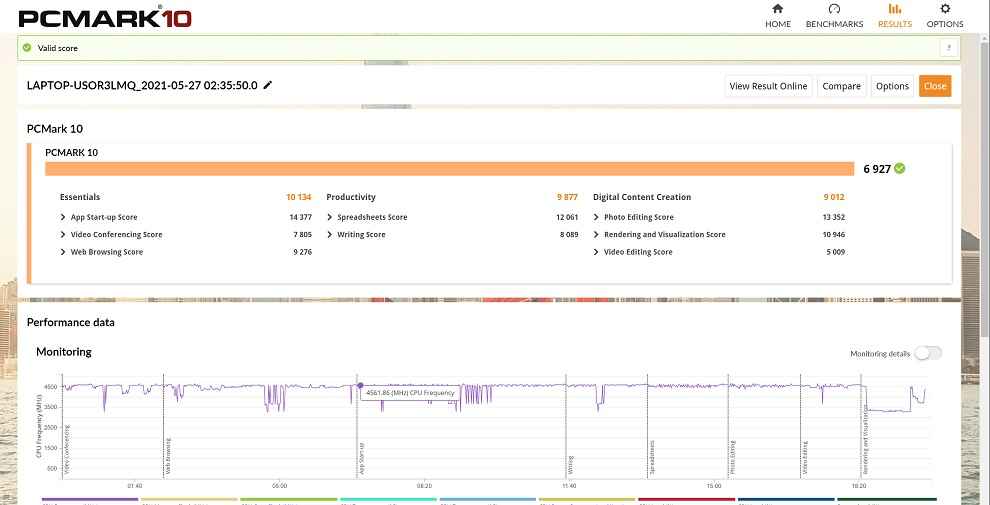 In PCMark 10's modern office test, the Zephyrus G15 scored 6927 pts and outperformed the competition here as well. It's quite evident that the overall system performance is hugely benefited from the fast CPU. Below, I have compared the G15's PCMark 10 score with the Flow x13's score as well the Zephyrus G14's score from last year when we tested the Ryzen 9 4900HS variant.
I was able to get similar numbers on other benchmarks that I ran on the G15 for the internal scoring sheet. Overall, I think the Ryzen 9 5900HS CPU is a solid option for this laptop and it outperforms that competition by up to 10-percent at least on the CPU-centric tests.
Gaming Performance
Moving on to the gaming performance, my ROG Zephyrus G15 review unit comes with an RTX 3060 GPU configured for 80W TDP. You can also get the RTX 3070 variant of the laptop but ASUS is not selling any other models.
It's worth pointing out that the RTX 3060 on laptops can be configured with up to 115W TDP. ASUS has decided to go with a relatively weaker option with 80W TDP, so I was expecting a correspondingly negative impact on the performance. The 6GB VRAM may also fall short a little bit considering how modern AAA titles are chewing through memory.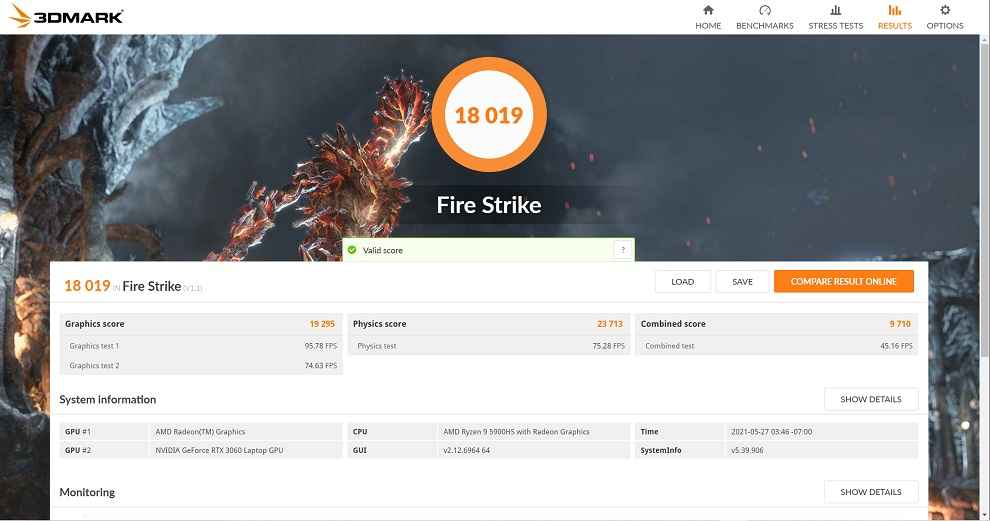 The Zephyrus G15 managed to score 8028 pts in 3DMark's TimeSpy test and scored 18019 pts in 3DMark's FireStrike test at 1080p. Both scores, as you can see are indeed comparable to that of the ASUS ROG Strix Scar 15 that packs the RTX 3080 GPU. These are pretty solid numbers on board and with that I can say that I saw a similar performance while playing games as well.
The Nvidia GeForce RTX 3060 can handle the games at the laptop's native resolution i.e. 1440p. Shadow of Tomb Raider was running at around 70FPS at 1440p resolution with the highest graphics preset. Apex Legends also maxed out at around 120FPS at 1440p & maximum settings. Modern AAA titles like Red Dead Redemption 2 are also playable at 1440p resolution with maximum graphics settings.
1440p gaming is definitely possible with this GPU but modern AAA titles will force you to bring down the graphics settings to get better frame rates. Here's an FPS graph to give you an idea of how games run at 1080p on the Zephyrus G15 laptop –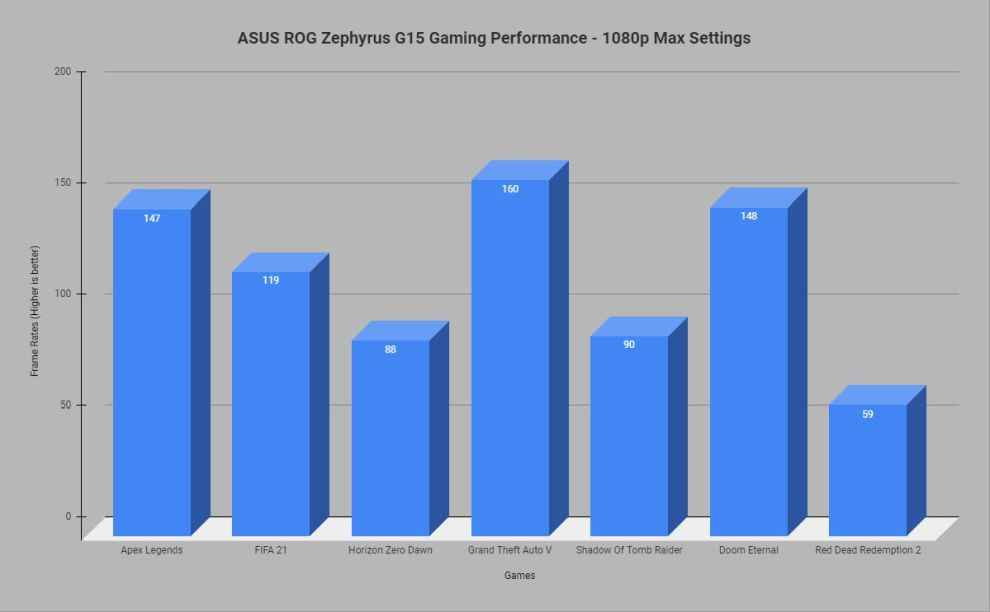 I noticed that even prolonged hours of gaming will not underpower the GPU due to thermal throttling, etc. On average, the RTX 3060 laptop GPU ran at around 1,500Mhz and it did not suffer from any thermal throttling or performance issues.
I also ran some tests on the 1TB M.2 NVMe SSD to see if it can keep up with the other hardware. CrystalDiskMark gave me a maximum read speed of 3580MB/s and 2843MB/s for writes. Those are the numbers I expected from a PCIe Gen 3.0 drive and it should be able to help with faster booting times and great loading times in games and applications.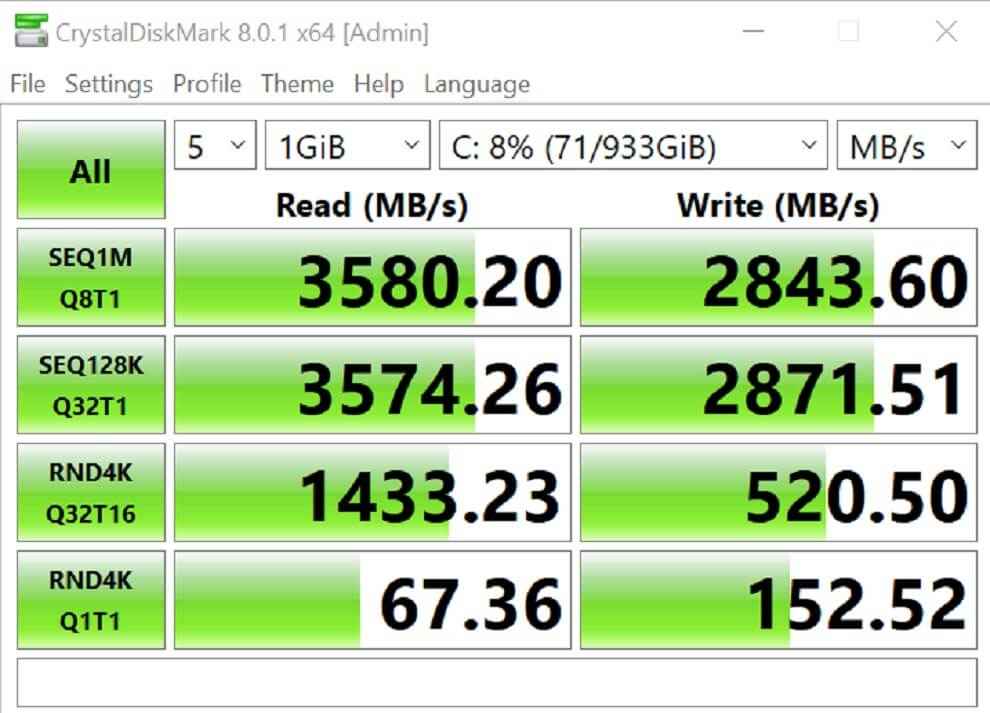 ASUS ROG Zephyrus G15 Creative Workload Test
The ROG Zephyrus G15 sports one of the best laptops panels with high colour accuracy. And with solid specs onboard, I think this laptop can be a dream for content creators who are not willing to empty their pockets on a sophisticated setup. To test the creative workload performance of this laptop, I used Adobe Lightroom and Premiere to see if it can handle photo and video editing.
In Lightroom, I was able to export batches of 50, 100, and 500 RAW files shot on a Nikon D850 in just about 119, 237, and 1098 seconds respectively. It's more or less similar to the numbers I got on the ROG Flow x13 laptop since they have the same CPU. On Adobe Premiere, I was able to export a 5 minutes 4K project in 279 seconds, which is not too shabby. Clearly, the Ryzen 9 5900HS and the RTX 3060 GPU combo can help you get through even the most demanding render loads.
ASUS ROG Zephyrus G15 Thermals
The Zephyrus G14 suffered from some major heating issues, making it quite difficult to recommend the laptop last year. I was wondering if the G15 will suffer from the same issues, especially now since we are looking at the Ryzen 9 5900HS and the RTX 3060 GPU. Well, I must say the laptop handles thermals very well, so there's nothing to worry about.

I recorded a max CPU temperature of 95°C, but it was mostly hovering at around the 75°C to 80°C marks. These numbers were recorded while I was performing stress tests, so I'd say the CPU will mostly be sitting at around 70°C while even while performing some CPU-intensive tasks.
As for the GPU temperature, I was able to record a peak temperature of 84.6°C. While playing games, even at max settings, the GPU was constantly hovering between 50°C to 80°C, which is quite normal for gaming laptops. The best part is that both the CPU and GPU didn't suffer from thermal throttling. I didn't see any performance dips even as I was running the benchmarks back-to-back.

Even during the peak load, the laptop's case temperature will not go above 50°C – 55°C. The area around the WASD keys was at about 45°C whereas I recorded a peak temperature of about 35°C on the keyboard deck. This means you can comfortably use the laptop's keyboard for gaming.
ASUS ROG Zephyrus G15 Display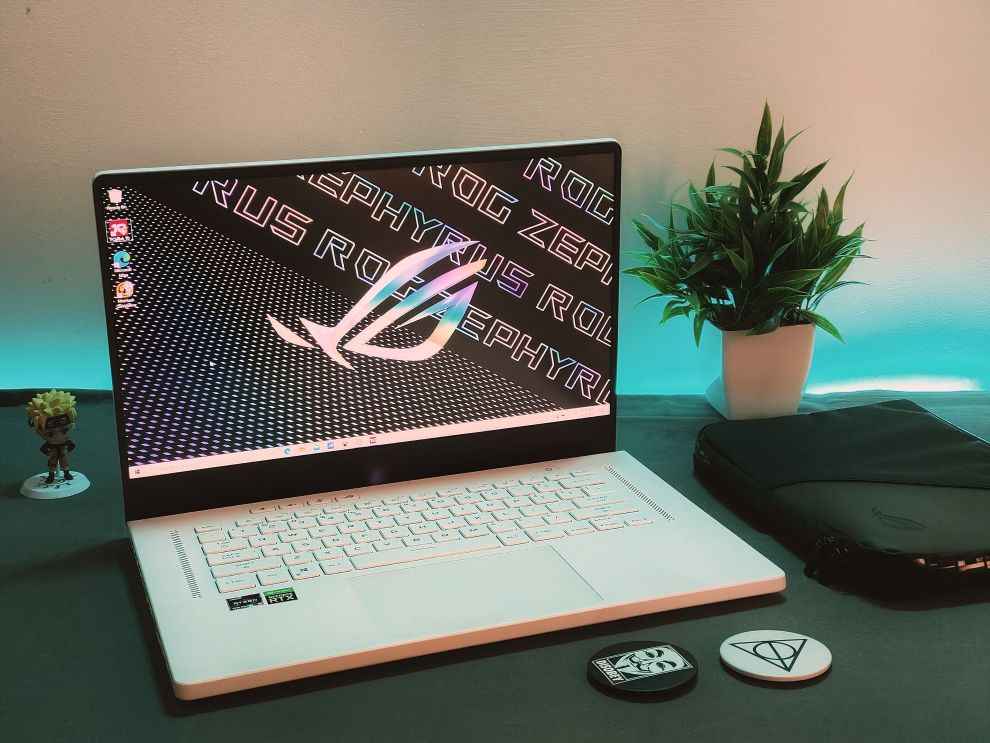 The time of 1440p gaming laptops is upon and ASUS has decided to jump on the bandwagon. Just like the ROG Strix Scar 15, the Zephyrus G15 also comes with a 15.6-inch 1440p panel with support for up to 165Hz and 3ms response time. 1440p looks noticeably more crip than 1080p panels and ASUS decided to take it up a notch by adding a higher refresh rate and a colour calibrated panel.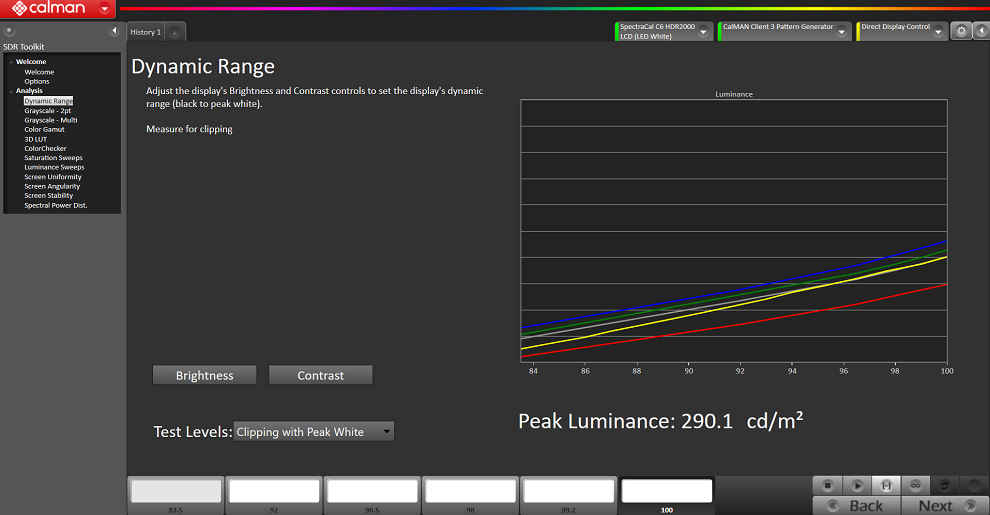 Calman Analysis for Peak Luminance
I recorded a peak brightness of 290cd/m² and it showed a black luminance level of just 0.3cd/m². The display also yielded a contrast ratio of 966:1, which isn't bad by any means for an IPS display. The display certainly shows some blue bias as I was able to record an average colour corrected temperature of 7133. It also covers 98.4-percent of DCI-P3 and 146.6-percent of sRGB colour space, which I'd say is pretty good. What I really liked about the display here is that it wasn't uncalibrated out of the box unlike the Strix Scar 15 or the Flow x13 that we reviewed earlier.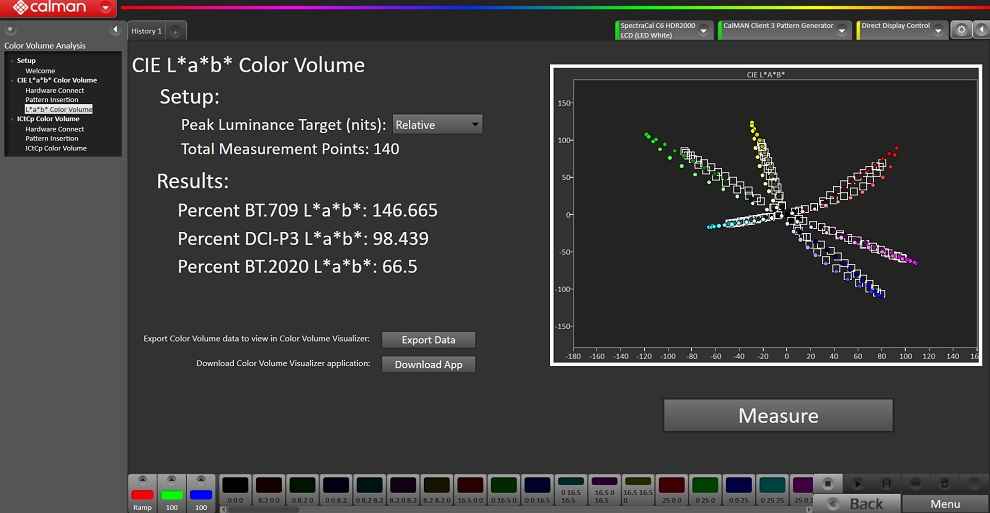 Calman Analysis for Colour Gamut
I noticed that the display showed an average DeltaE value of 3.2 and a maximum DeltaE value of 6.2 in our ColourChecker analysis. These numbers are significantly better than what we got earlier with both the Flow x13 and the ROG Strix Scar 15. I didn't see any particular colours on the gamut shift by a huge margin except for a few shades of Blue. A manual colour calibration might make it even better but I think the display is perfectly suitable for colour sensitive work out of the box. And with 16GB RAM and an RTX 3060 GPU, content creators can definitely get good usage out of this.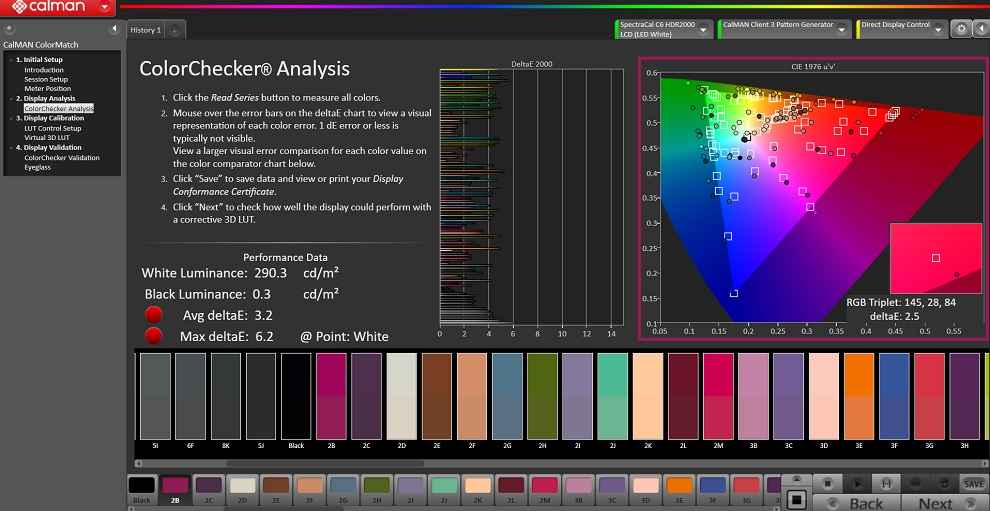 Calman Analysis for Colour Accuracy
ASUS ROG Zephyrus G15 Battery Life
The ASUS ROG Zephyrus G15 is packed with a 90Whr battery inside that charges via a typical barrel charger. Wanting to buy a gaming laptop with good battery life is considered to be wishful thinking but the Zephyrus G15 proves otherwise. In PCMark 10's battery life test that we run on basically all the laptops that come here for testing, the Zephyrus G15 managed to last for 6 hours and 20 minutes at peak brightness. That's about 370 minutes of usage, which is honestly not bad.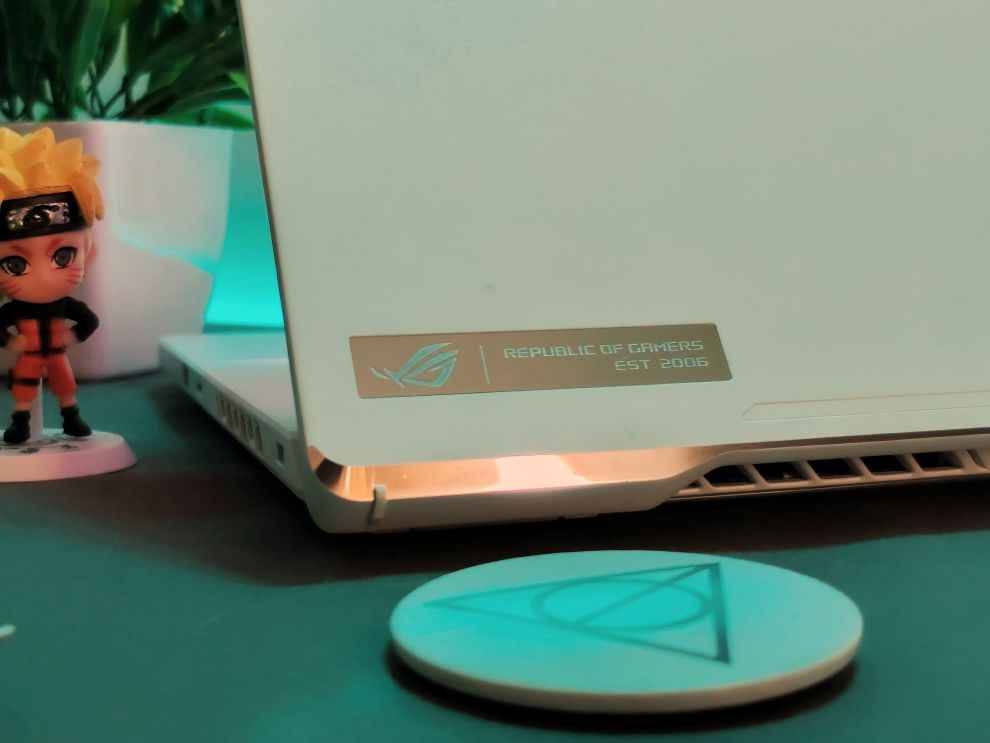 How does that translate to real-world usage? Well, I was able to use the G15 for an entire day for work without having to charge even once. You can set the brightness to about 200 nits instead of the peak brightness and use Windows's Battery performance mode in favour of the battery to achieve that. For day-to-day use-case scenarios in which you are not using the GPU, I also recommend swapping to the iGPU to yield better battery life.
That being said, the Zephyrus G15 can handle a typical workday which involves me writing and researching for my reviews, watching YouTube videos and Twitch streams, and listening to music over a pair of Bluetooth headphones. Besides that, you can also charge the laptop for around 30 minutes to get half the juice back. It goes without saying that you shouldn't run games or any 3D-related tasks on battery power as you will see a massive 3D performance drop without a power adapter. Overall, I really like the battery performance of the Zephyrus G15 gaming laptop.
ASUS ROG Zephyrus G15 Keyboard, Trackpad, & IO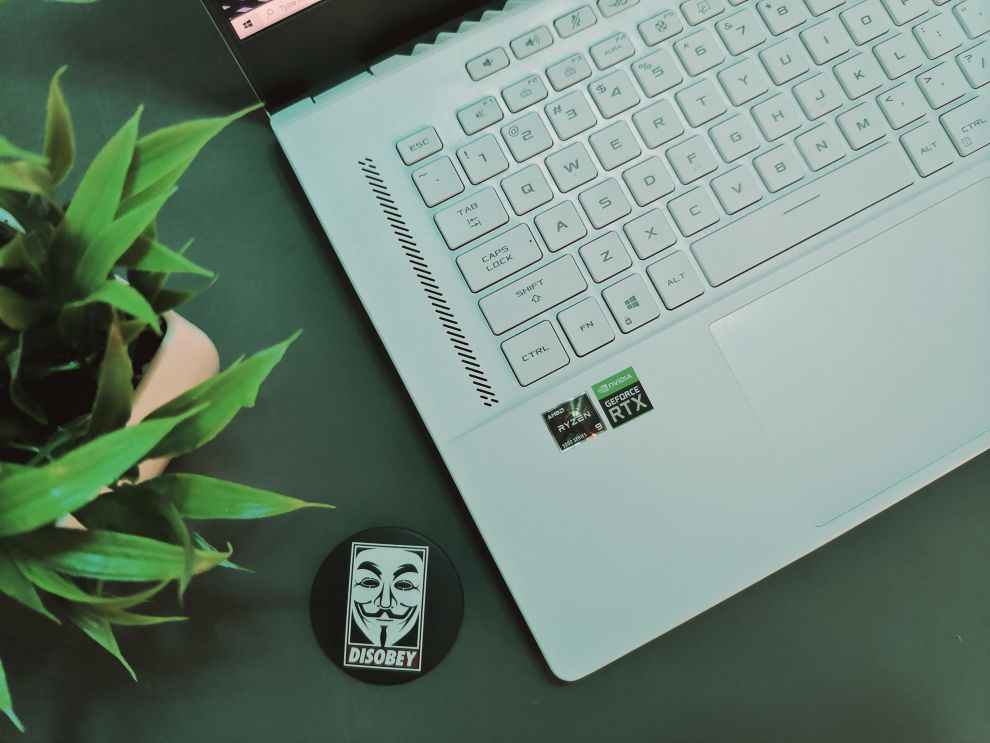 The keyboard on the Zephyrus G15 took me a little while to get used to. I blame the layout for that because I had to adjust my wrist on the deck properly to hit the keys in the middle. It's is partly due to the oversized touchpad, however, this is not a deal-breaker. The keys themselves are pretty good and the typing experience is comfortable with 1.7mm of key travel and silent keys. The keys are a little mushy though, so you might not enjoy it if you are coming from a keyboard with crisp and clicky keys. I like the dedicated volume buttons on the top and the three-stage adjustable backlight. Also, don't forget that there's also a fingerprint scanner built into the power button.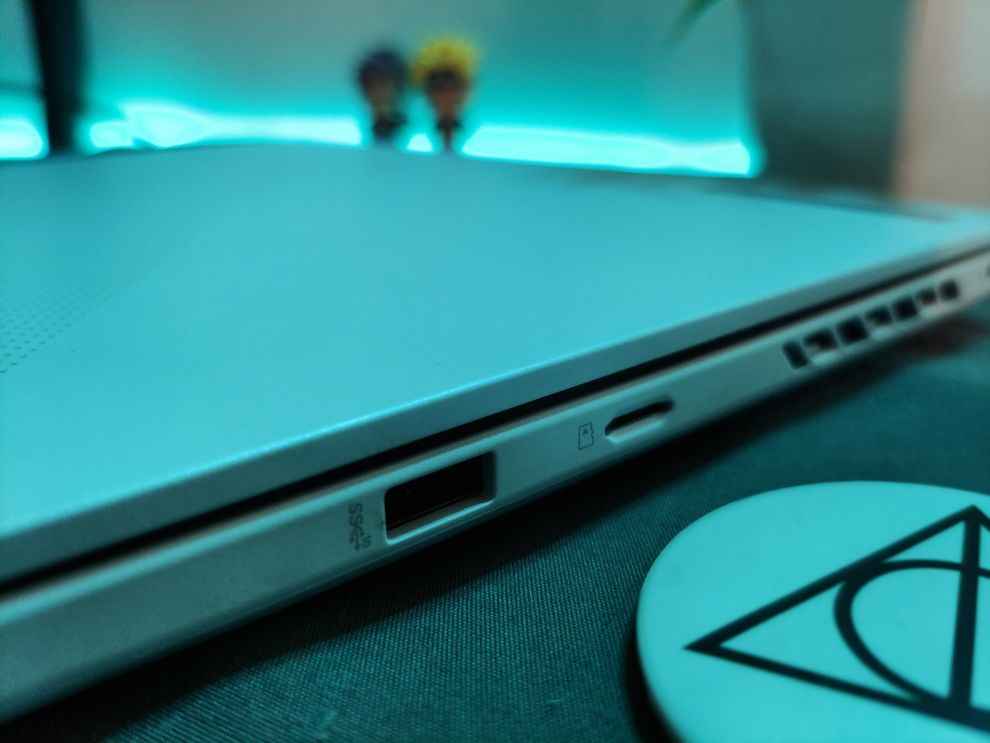 The trackpad, as I mentioned earlier, is huge. I am glad that ASUS has used the bigger chassis here to accommodate a bigger trackpad. This was one of my main complaints with ROG Flow x13. Besides just the size, the trackpad also impressed me with a smooth and very gliding-friendly surface. This is, without a doubt, one of the best trackpads I have ever used on a Windows laptop.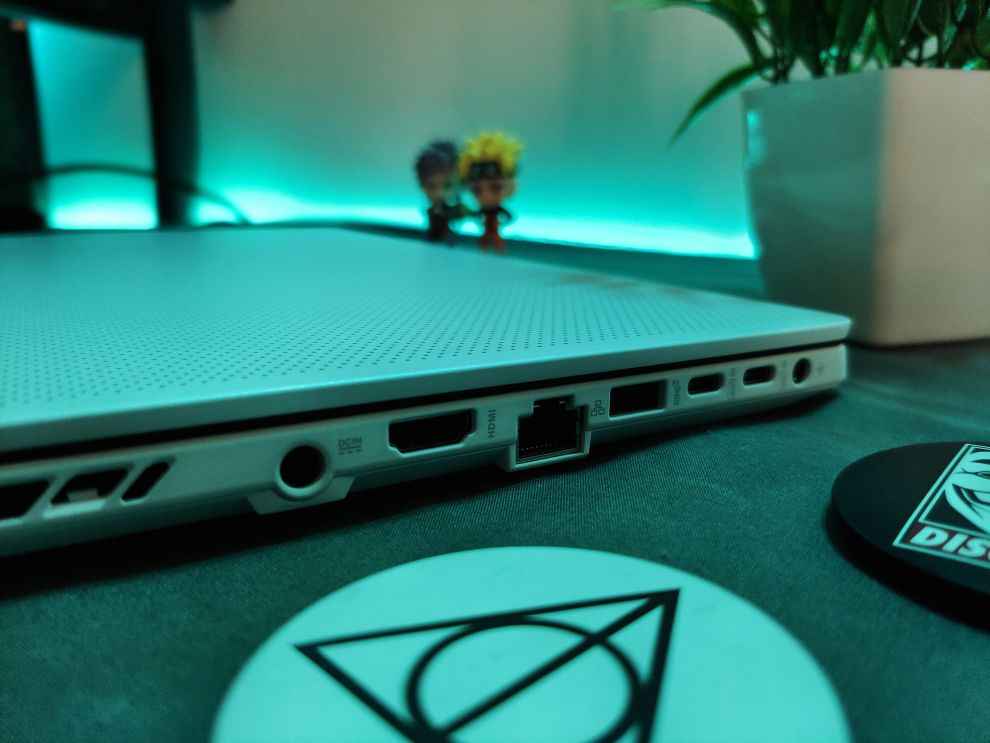 Coming from the ROG Flow x13 laptop without its eGPU unit, I was very much satisfied with the number of ports on the Zephyrus G15 laptop. It has two USB Type-A ports and two USB Type-C ports (Gen 3.2 each) with 100-watts of Power Delivery and DisplayPort support. In addition to that, you also get an RJ45 port, an audio jack, an HDMI 2.0 output, a Kensington lock slot, and a micro-SD card reader.
ASUS ROG Zephyrus G15 Design & Build Quality
The Zephyrus G15 is eye candy, especially the white variant of the laptop which I got to use for review. ASUS has been making some really good-looking laptops lately, and this is high up on the list of beautiful laptops for me. It's got a thin profile, coming in at just 19.9mm. It's not exactly a thin and light laptop but it only weighs 1.9Kgs, which still makes it lighter than most gaming laptops on the market with a similar set of specs.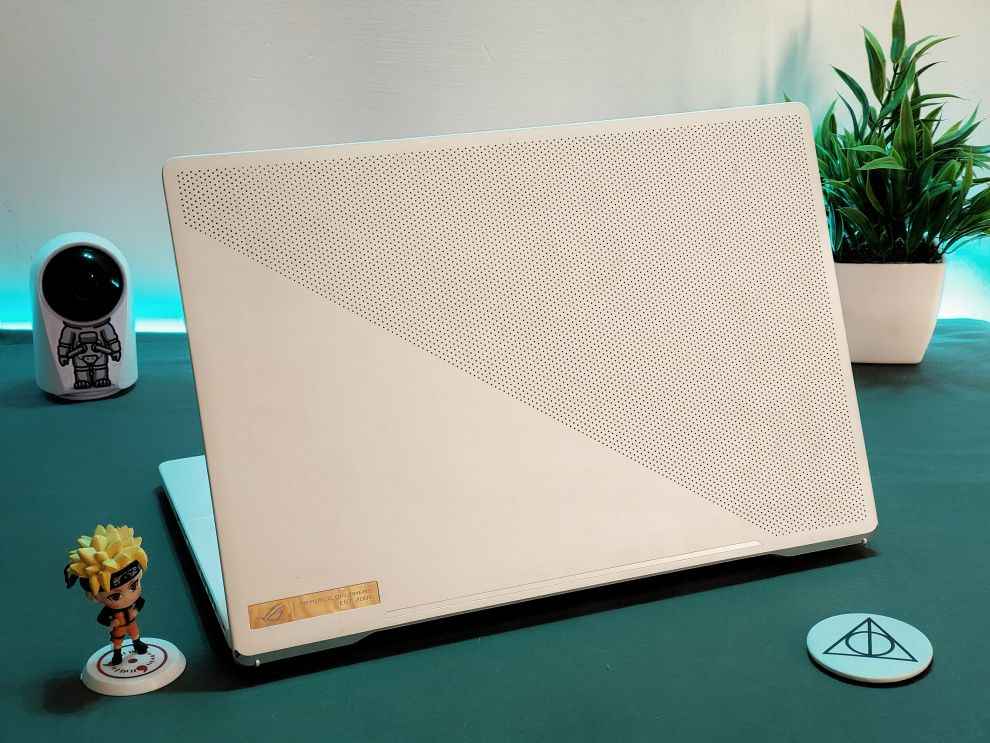 The Zephyrus G15 body is made out of a blend of magnesium and aluminium, and the chassis is very rigid. It also has ASUS' Ergolift design with which the body of the laptop lifts ever so slightly when the lid is open all the way. The lid of the laptop comes with over eight thousand tiny perforations and it's got thin strips of prismatic film underneath that. I'd say it creates an interesting rainbow stripes pattern depending on how the light falls on it. Honestly, I like this better than the Dot Matrix display which they introduced on the Zephyrus G14 last year.
The ASUS ROG Zephyrus G15 also comes with 6 speakers – two front-firing tweeters and a set of force-cancelling woofers under the palm rest. Unsurprisingly, they sound great. The audio quality is clear with very strong bass and powerful percussion. You can also jump between multiple equalizers thanks to Dolby Access. I don't get to write this often, but the Zephyrus G15 offers one of the best laptop audio experiences.
Verdict
Alright, if you read through everything I had to say about the laptop, then you've probably already guessed my verdict here. ASUS has left no stones unturned to make the Zephyrus G15 one of the best gaming laptops, and there's honestly very little left to complain about. My experience of using this laptop was so satisfying that there's no reason for me to not recommend it. Yes, there's no webcam on the laptop and it doesn't have a faster display like the 240Hz options we have started seeing. But if you don't mind using an external webcam (bundled in the box) and the 165Hz display, then you should look no further.
The Ryzen 9 5900HS and the RTX 3060 GPU work well together to offer some impressive performance and the laptop is also superior when it comes to battery life and its stunning build quality. The ROG Zephyrus G15 is a fantastic gaming laptop and I already see this laptop making it to a lot of our top recommendation lists for this year.