As somebody who gets to spend a lot of time testing and recommending laptops for a living, one of the questions I get asked the most is "Why I don't own a laptop myself?" Well, it's because I am always two minds about the form factor.
The main problem is that I like thin and light laptops for work, but at the same time, I want a screamingly fast machine that can keep up with my gaming needs without any compromise. No matter how good the modern-day laptops are, it seemed technically impossible to make a tiny thin & light gaming laptop without making any performance sacrifices, unless you defy the laws of physics. But this is where the new ASUS ROG Flow x13 came knocking on my door.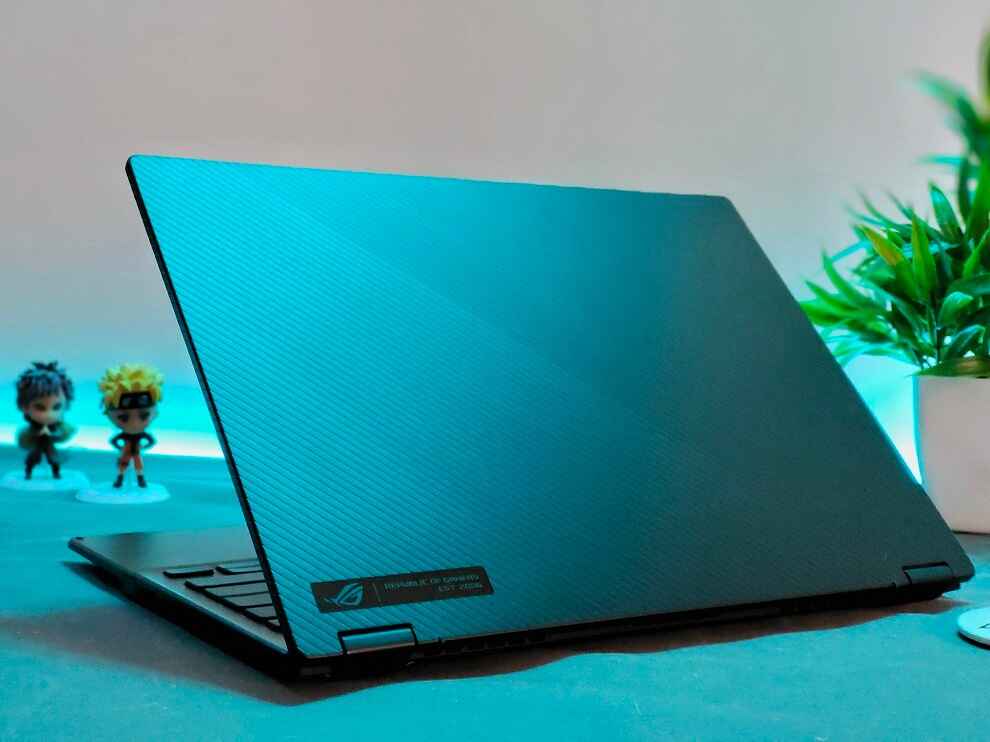 The ASUS ROG Flow x13 is as tiny as a 13-inch thin and light ultrabook can get. But it is packed with some powerful components that make it competitive against even the best notebooks out there. But should you really bother considering the Flow x13 or is it just another expensive notebook that will slide under the radar? Let's find out in this detailed review.
ASUS ROG Flow x13 Specifications
Processor: AMD Ryzen 9 5900HS 3.3 GHz (Turbo up to 4.8 GHz, 8 cores)
Graphics: NVIDIA GeForce GTX 1650 Max-Q - 4096 MB
ASUS ROG XG Mobile unit with RTX 3080 - 150W TGP - 16GB GDDR6
RAM: 32GB DDR4-4266MHz, dual-channel
Storage: 1TB M.2 NVMe SSD
Display: 13.4-inch 16:10 4K 60Hz IPS display with touchscreen support
ASUS ROG Flow x13 Performance
Starting off with the performance, let's take a look at what this CPU can do. Unsurprisingly, the AMD Ryzen 9 5900HS showed impressive performance on both single-core as well as multi-core benchmarks. In PCMark 10 test for the modern office workloads, the Flow x13 managed to score 6,341, which is higher than what all mainstream stream laptops and even some dedicated gaming laptops managed to score when we tested them here at Digit. That goes to show how impressive the Ryzen 9 5900HS really is.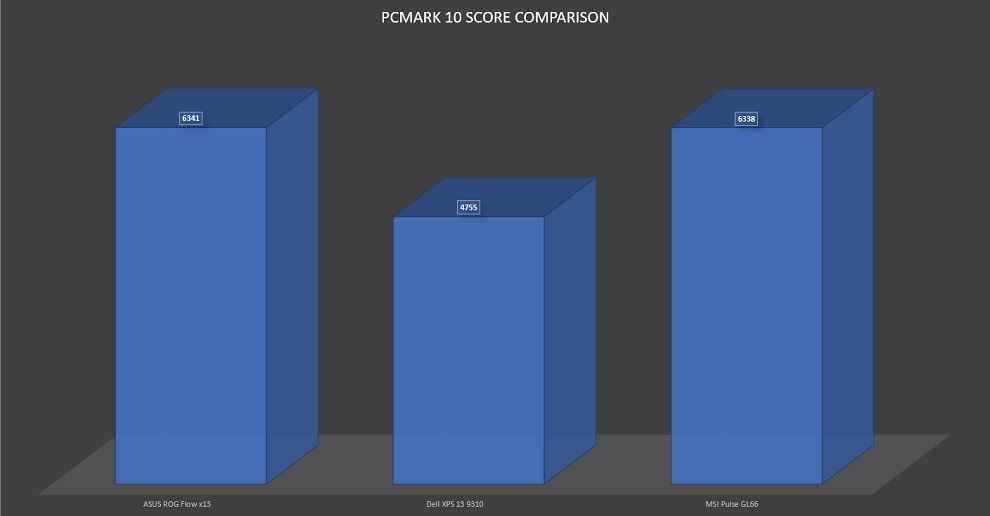 Moving on to Cinebench R20, the ROG Flow x13 scored 4,361 pts, which makes it better than even some of the high-gaming laptops like the Zephyrus G14 that's powered by the Ryzen 9 4900HS. It came closer to the AMD Ryzen 9 5900HX-powered ASUS ROG Strix Scar 15 with its score. On Cinebench R23, the Ryzen 9 5900HS on this laptop actually managed to beat the new Intel Core i7-11800H powered MSI Pulse GL66 gaming laptop as well.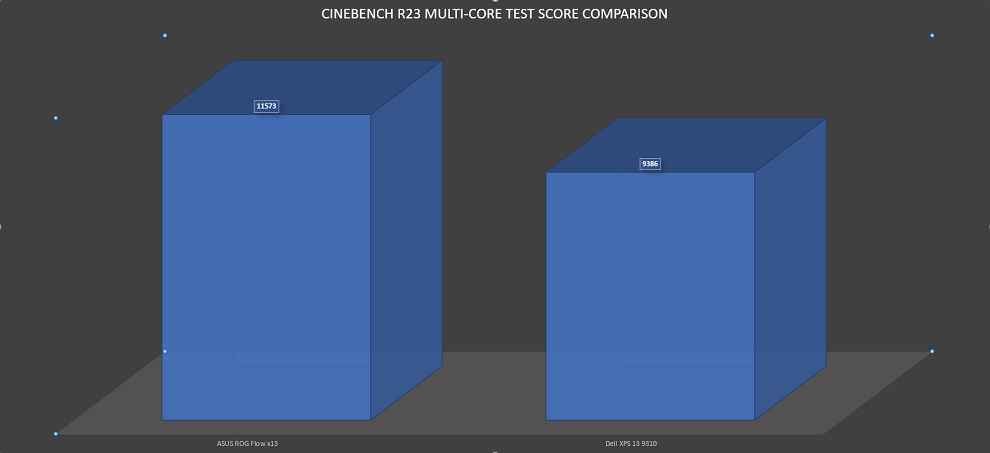 Graphics Performance
Moving on to the GPU-centric tests, let's take a look at the performance of the laptop both with and without the XG Mobile unit. That way, you'll get a better understanding of how the ROG Flow x13 performs if you don't have the XG Mobile unit.
I first ran 3DMark's suite of tests on the laptop without the XG mobile unit and then I repeated the same ones with the XG Mobile unit. Those scores can be seen in the screenshot below. The scores with the XG Mobile unit obviously outperform the built-in GTX 1650, but that's not really a surprise, right? If you want to unlock the true potential of this laptop in terms of gaming performance, then I highly suggest you buy the XG Mobile. It's expensive, yes, but that's how you will be able to get the best experience out of this laptop because that GTX 1650 GPU is going to be on its knees as soon as you run some modern games, just like this.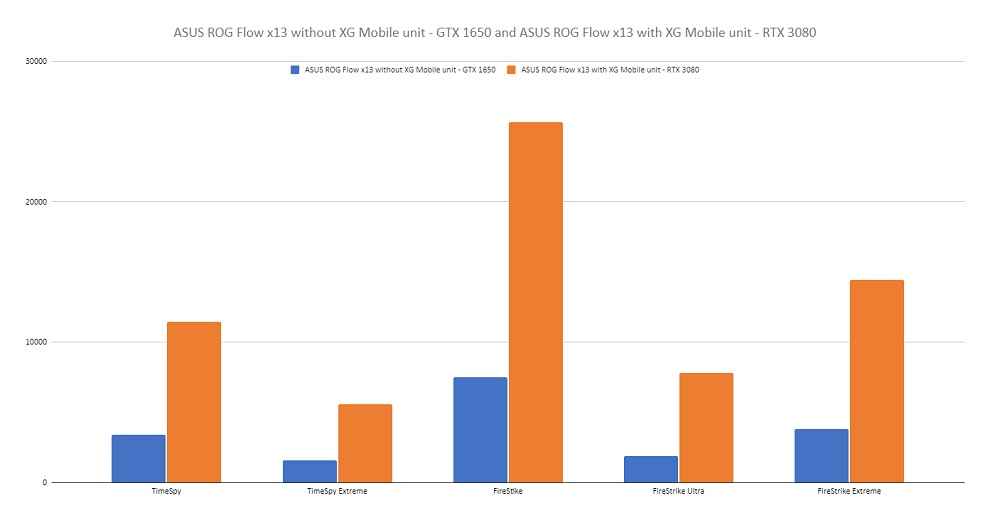 Speaking of gaming, I ended up doing a lot of gaming on this laptop mainly because I had to run them twice to test on both GPU. You can see the results for those in the screenshot that's embedded below. Games like Doom Eternal and Forza Horizon 4 show a huge difference in terms of performance and this is what I meant when I said you will need the XG Mobile unit to get the best performance out of the ROG Flow x13 gaming laptop. That being said, the Flow x13 laptop itself with just the GTX 1650 discrete GPU should be able to quench your thirst for gaming as long as you keep your expectations in check. Although the Flow x13 comes with a 4K panel, I do not recommend playing games at 4K resolution while it's running on the built-in GTX 1650 Max-Q GPU. In fact, the GPU was barely able to hit playable frame rates at 1080p as it quickly reaches its limits in relatively new titles like Red Dead Redemption 2.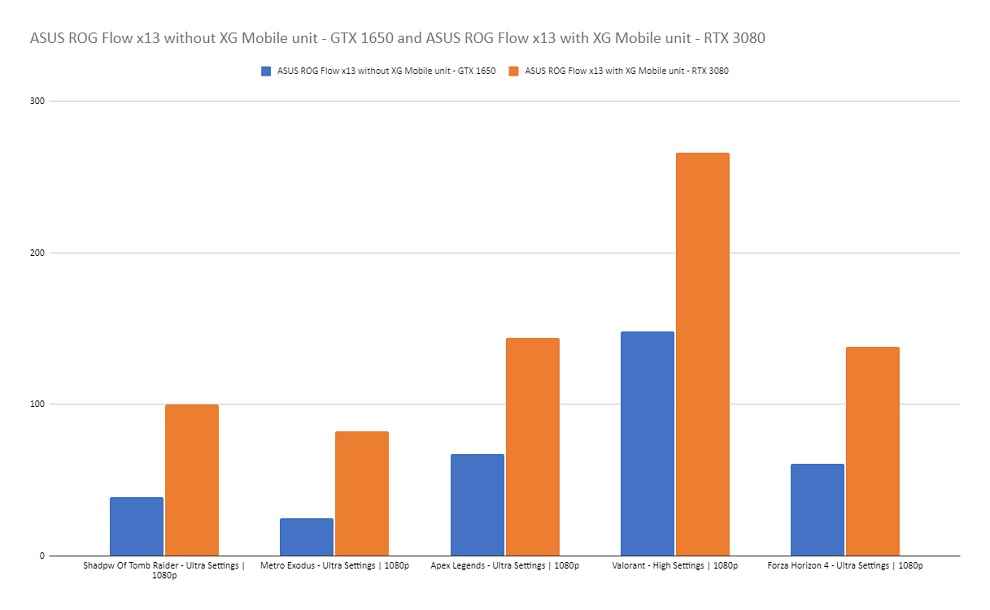 The ray-tracing performance is also rock solid with the XG Mobile unit thanks to the RTX 3080 GPU. Being able to run titles like the Metro Exodus Enhanced Edition at High RT settings and getting 60FPS is quite impressive for a laptop this size.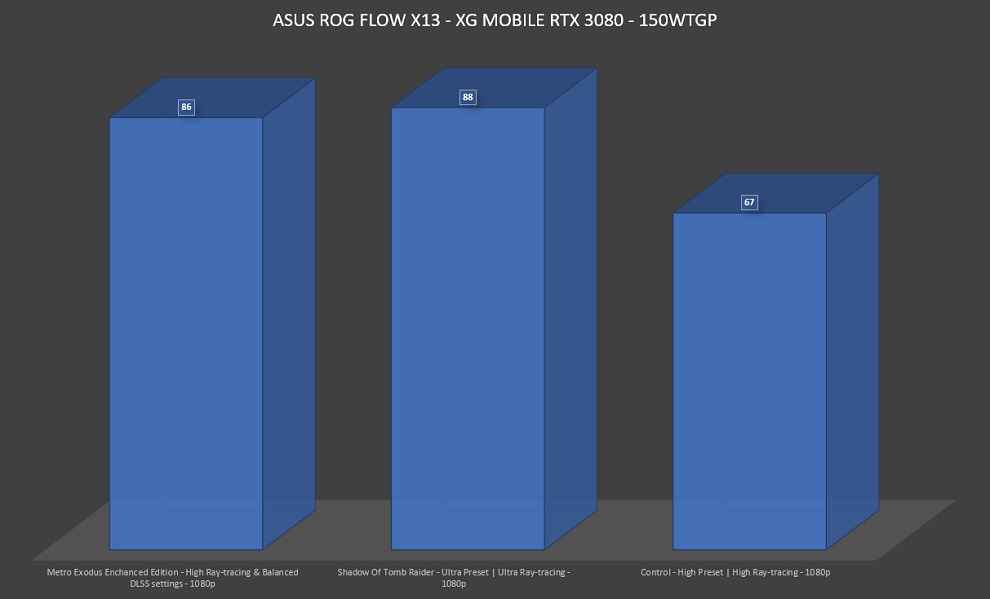 ASUS ROG Flow x13 Creative Workloads performance
The ROG Flow x13 delivers reliable performance when it comes to creative workload applications as well. I ran a couple of Blender tests to test 3D rendering speeds and the results for both with and without the XG Mobile unit and the results showed some impressive numbers. It's no surprise that the 3080 renders the scenes at lighting fast speeds compared to both the CPU as well as the GTX 1650.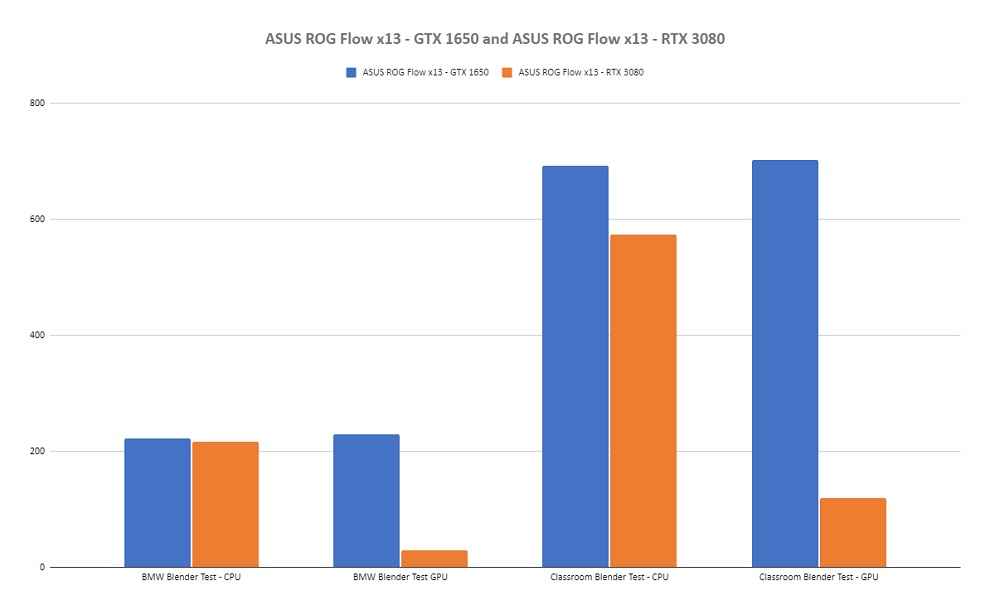 To further test the Flow x13's capabilities for handling creative workloads, I fired up Lightroom Classic to export batches of 50, 100, 250 and 500 RAW files shot on a Nikon D850. The lesser time it takes for a laptop to export the files, the better it is in this particular scenario. The Flow x13 managed to export batches of 50, 100, and 500 RAW files at 132, 279, and 1297seconds respectively. The AMD Ryzen 9 5900HS truly managed to shine here, putting it high up on the list of some of the most powerful laptops.
Moving on to the Premiere, I exported a 4K project with the duration of 5 minutes and 20 minutes to see how much time it takes to render the clips to disk. The laptop was able to render the clip in 352 seconds, which is again very impressive. Using an XG Mobile accessory with either an RTX 3070 or an RTX 3080 will greatly reduce the time taken to render the file.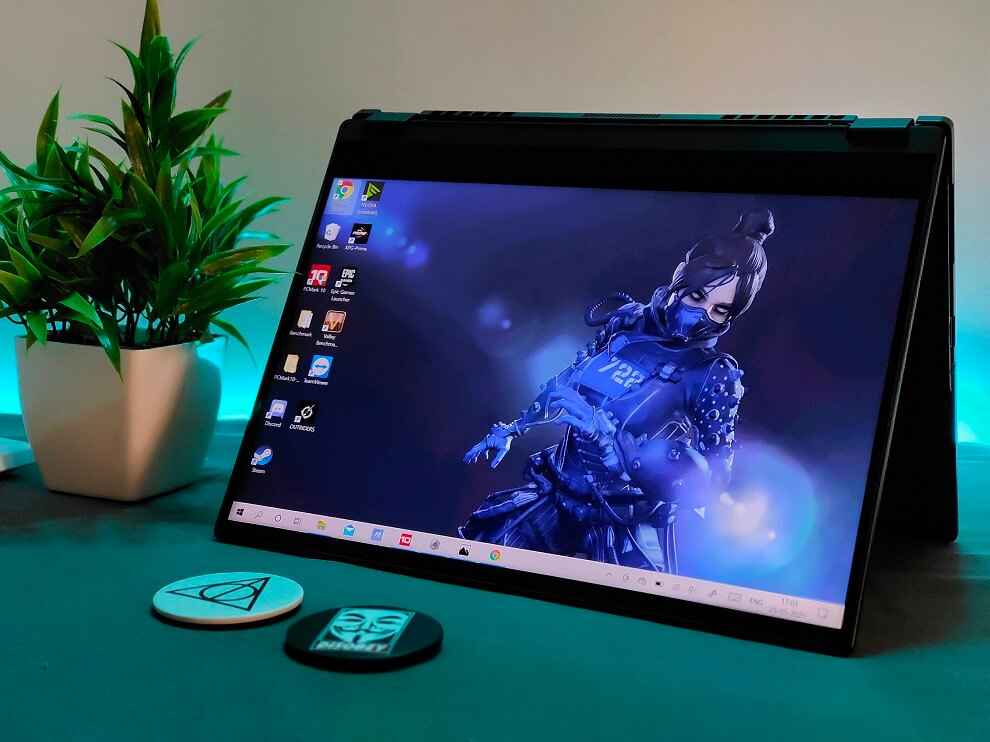 Judging the laptop by the above numbers, I'd say the laptop is perfectly suited for creative workloads. The Nvidia GeForce GTX 1650 Max-Q GPU isn't exactly as powerful as some of the newer GPUs, but it can handle it nonetheless. That being said, it's worth pointing out that 16GB RAM can act as a bottleneck when dealing with Lightroom and Premiere, so do keep that in mind while making a purchase decision.
ASUS ROG Flow x13 Thermals
It's hard to expect a thin and light laptop to have impressive thermals, which is why both CPU and the GPU suffers from thermal throttling under heavy loads. But the ROG Flow x13 was a pleasant surprise. It noticed that both CPU, as well as the GPU temps, were well under the limits even under heavy loads.
The AMD Ryzen 9 5900HS hit a peak Core temperature of about 87°C. This is while I was performing a stress test and the CPU usage was at 100% with all cores running at a high frequency. The CPU core temperature peaked at 81°C while running the Cinebench R20 test and this is the kind of temperature I expect the CPU core to hit while performing even the most demanding tasks on a day-to-day basis. You will, however, start to see the clock speed go down and settle at around 2.0Ghz an hour or so of continuous load on the SoC.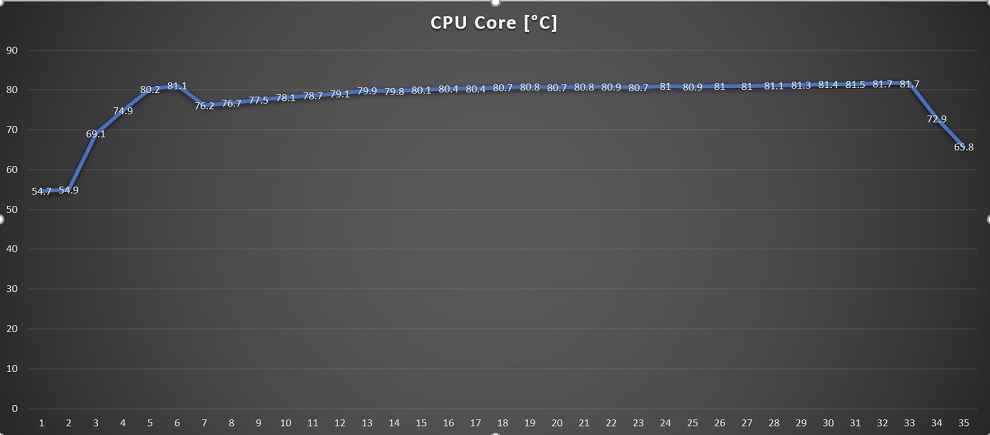 The GTX 1650 Max-Q peaked at around 71°C, which I'd say is under the acceptable limits. You may notice some extent of thermal throttling under heavy loads when the GPU has its hands full.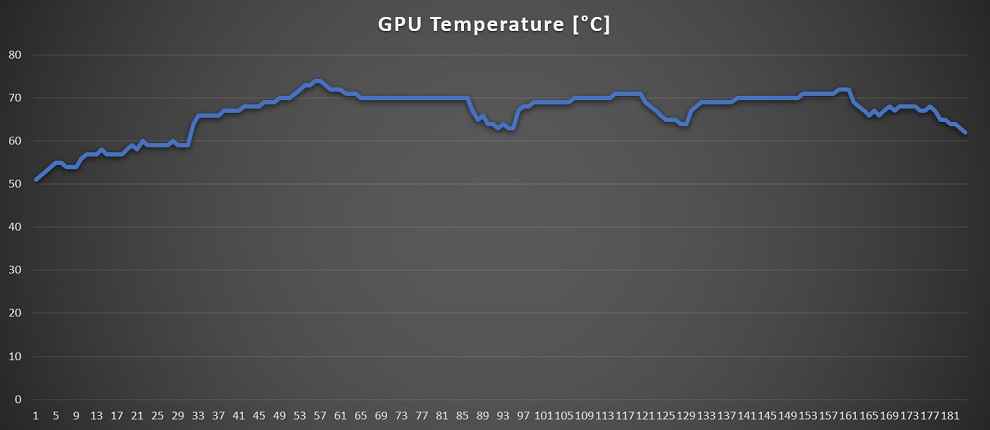 Irrespective of the core temperatures of both the CPU as well as the GPU, the laptop surface temperatures never crossed 50°C. The centre of the keyboard remained at around 48°C whereas the area around the WASD keys was sitting comfortably at around 40°C. Yes, the laptop's core temperatures hit high numbers, but the surface temperatures, especially the keyboard deck remained cool and I didn't feel uncomfortable at any point. This is a good thing for those who aren't willing to invest in an external keyboard.
The XG Mobile unit was able to keep up with the load very well too. The accessory is kitted with a built-in fan and it pushes out hot air rather aggressively. The hot air coming out of the XG unit is about 50'C, so it's recommended to maintain a cool ambient temperature if you are planning to play for long hours or push the GPU to its limits. That being said, the RTX 3080 was able to stay under acceptable limits.
ASUS ROG Flow x13 Storage Performance
Our ASUS ROG Flow x13 unit shipped with a 1TB M.2 NVMe SSD, which I think is plenty as a primary drive. I'd like to point out that there's no room for a secondary M.2 slot in the tiny chassis of this laptop. In terms of the read-write speeds, I was able to record sequential read-write speeds of 2418MB/s read and 1957MB/s respectively on the CrystalDiskMark test. The laptop's booting speeds and loading times for apps and games are super fast and I had no issues whatsoever.
ASUS ROG Flow x13 Keyboard, Trackpad, and IO
Not a lot of thin and laptops have a good keyboard, but I really enjoyed the keyboard on the ASUS ROG Flow x13. It sports a 6-row chicklet-style keyboard which I really felt comfortable typing on. The keys have great feedback and they also have a resounding click noise as you hit them. I'd say the typing experience was similar to the one that had while using the Asus Zephyrus G14 keyboard when it came out. I just wish the keys were a bit bigger because I often found myself hitting the adjacent keys while typing.
It's a backlit keyboard that lets you adjust its brightness up to three levels. I like the fact that there's no RGB lighting. It goes well with the minimal aesthetic looks of the laptop. Overall, I think it's a solid keyboard and I am pretty sure you will enjoy typing on it and get used to it in no time.
The trackpad, however, ended up being a little disappointing for me. The main reason for that is its size. Yes, it's very difficult to fit in a huge trackpad on a chassis this small, but I found my fingers moving outside the trackpad more often than I'd like. It's almost the same size as the trackpad on, say, a 13-inch Dell XPS laptop. So if you are used to that, then I am pretty sure you'll manage just fine. The trackpad surface itself is very smooth and it has Windows Precision drivers accurate tracking and Windows gesture support.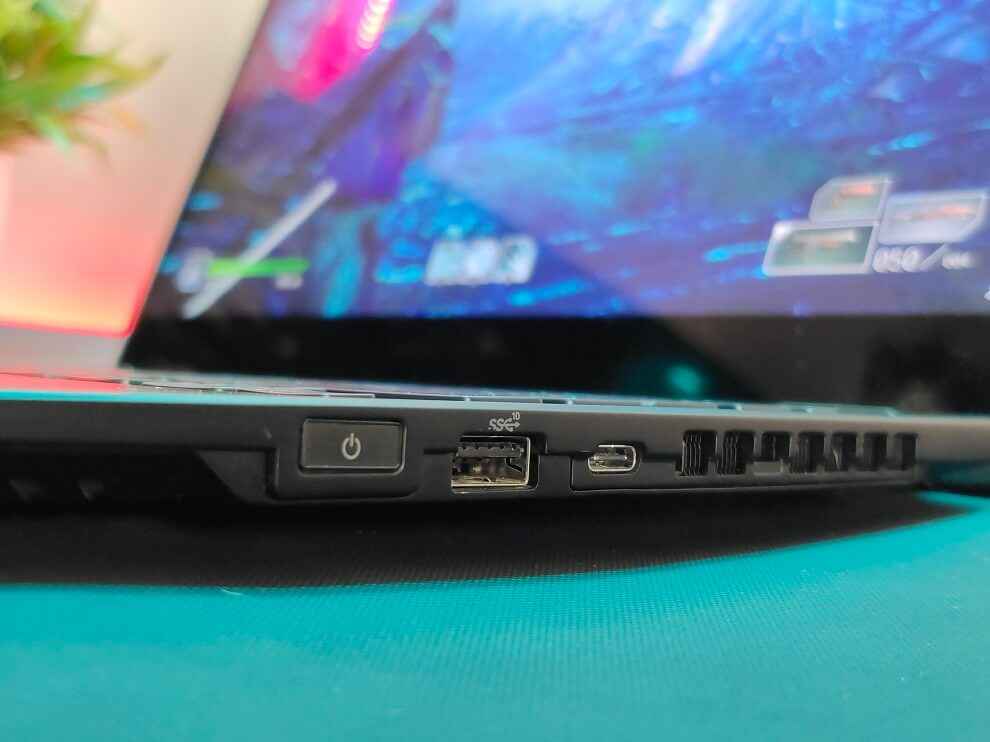 Moving to the IO, this is one of the major gripes I have with the ROG Flow x13. The port selection is very limited if you are not using the XG Mobile unit accessory. You only get three USB 3.2 Gen 2 ports that support Power Delivery and DisplayPort. One of them is a USB Type-A port, whereas the other two are Type-C ports. You also charge the laptop with a Type-C port, so you are already losing one of the ports to that, leaving you with just two remaining ports.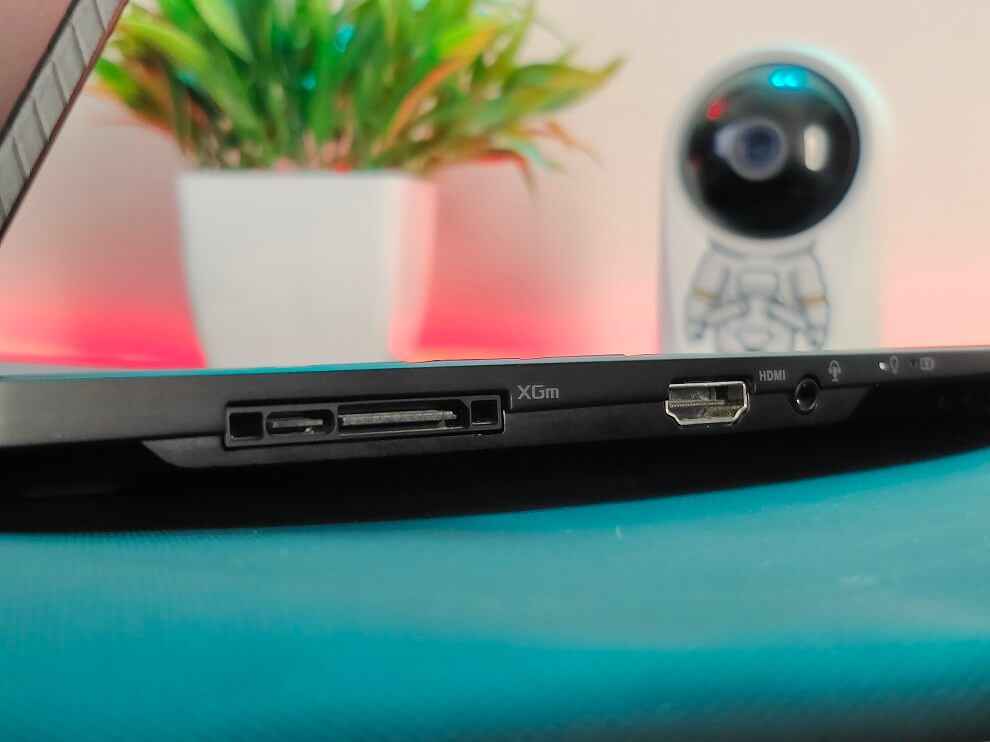 Besides that, there's also an HDMI port and a 3.5mm headphone jack. A lot of the space on the side is taken by the proprietary ROG XG Mobile Interface on the left side. It's worth it if you are indeed splurging on an XG Mobile since you get a wide variety of ports on the eGPU unit. But if not, then you are left with a useless interface and a very limited port selection. You do have a lot of air vents on the sides of the laptop in addition to the power button on the right side.
Coming to the ports on the XG Mobile unit, you get four USB 3.2 Gen 1 Type-A ports, an HDMI 2.0 port, a DisplayPort 1.4 with support for G-Sync, an RJ45 LAN port, a DC input jack, and finally an SD Card reader. So like I said, you do get a great selection of ports on the XG Mobile unit, but they're very limited on the laptop itself.
ASUS ROG Flow x13 Battery Life
The ASUS ROG Flow x13 is fitted with a 62Whr battery inside, which lasted for about 330 minutes on PCMark 10's battery test at peak brightness. 6+ hours of battery backup on PCMark 10's battery test is just about what I expected out of the ASUS ROG Flow x13, so I'd say it didn't really disappoint.
In real-world usage, that translates to about 4-5 hours of usage on a single charge. Of course, your mileage is bound to vary depending on the kind of task that you are running, but the laptop should be able to last for at least 4 hours without any issues. You can turn down the display brightness a little bit to get more usage out of it though.
I also recommend turning down the display resolution when you are desperate for more juice and don't have the charger with you. I don't recommend running any kind of resource-intensive tasks on battery power as I did notice that both the CPU as well as the GPU performance is throttled.
ASUS ROG Flow x13 Display
Part of what makes the experience of using this laptop worthwhile is its display. You are looking at a 13.4-inch 16:10 display with 3840x2400 pixels. Yes, it's a crisp 4K panel with a pixel density of 338 PPI. It's also a touchscreen panel and hence it has a glossy finish. I would've opted for a 1920x1200 resolution panel for a higher refresh rate, but that's not really an option here.
ASUS claims that this is one of the best displays they have ever put on a laptop. According to them, it's a highly colour-calibrated Pantone validated panel, so I was super excited to test it out.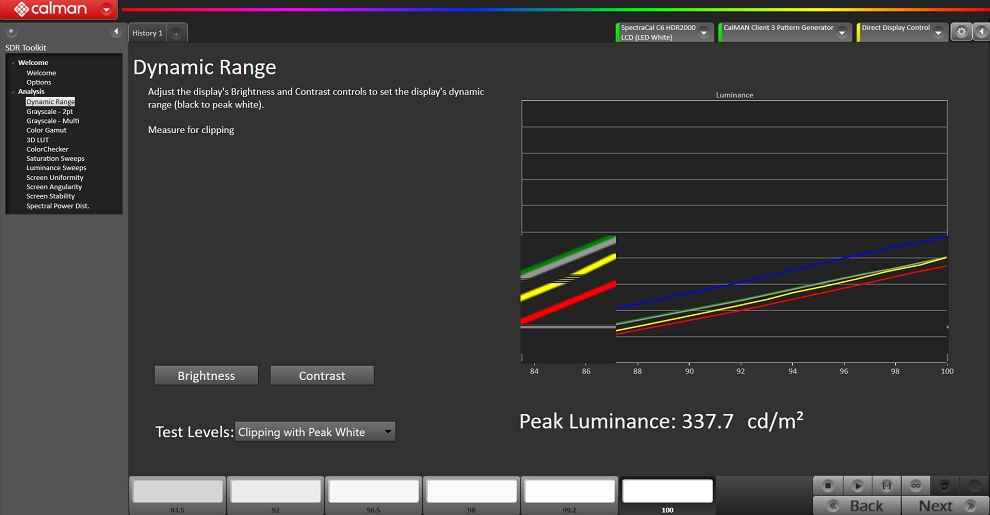 During my testing, I was able to record a peak brightness of 337 cd/m² with a black level of 0.25 cd/m. It has a contrast ratio of 1360:1 and I was able to record an Avg Correlated Color Temperature of 7119. This means that the panel's colour temperature is on the cooler side.
The display manages to cover 100% of sRGB and 85% of the DCI-P3 colour space. I was also impressed with the panel's colour accuracy in the sRGB colour space. We are looking at a DeltaE value of 2.1, with the max DeltaE value on Calman ColourChecker Analysis being well under the acceptable limits. It's a fantastic panel for both your normal day-to-day usage as well as colour sensitive work.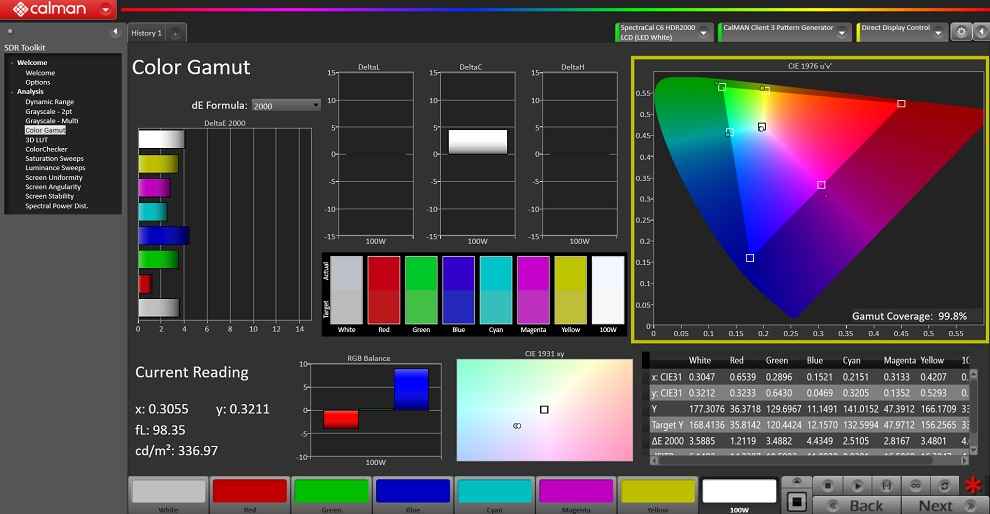 The panel is capable of showing great colours with great accuracy. It's only a matter of calibrating it to reflect the DCI-P3 or the sRGB space. Out of the box, the panel is configured to have good sRGB compliance.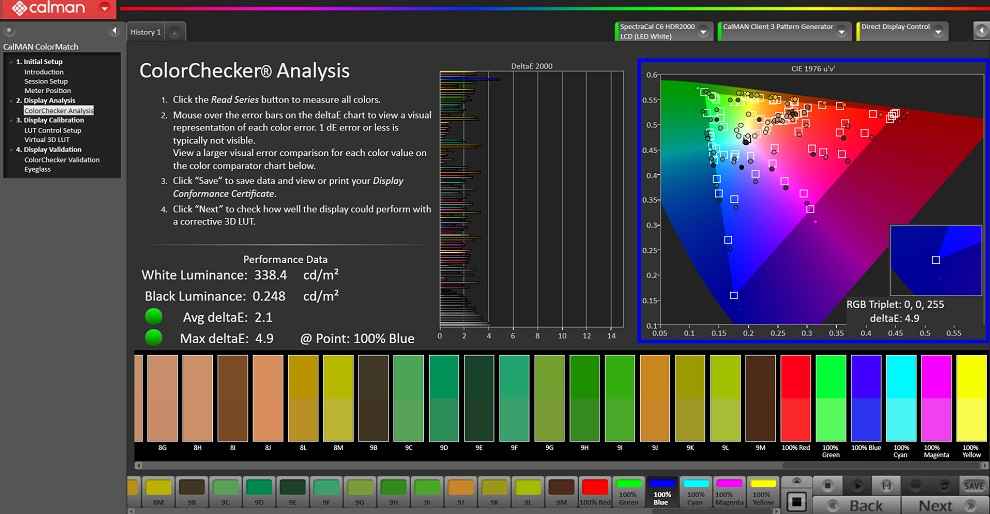 Even outside of the colour sensitive work, I think the panel is super crispy thanks to the 4K resolution and everything looks nice and vibrant. It is great for both gaming as well as media consumption. I ended up having a great time using this display.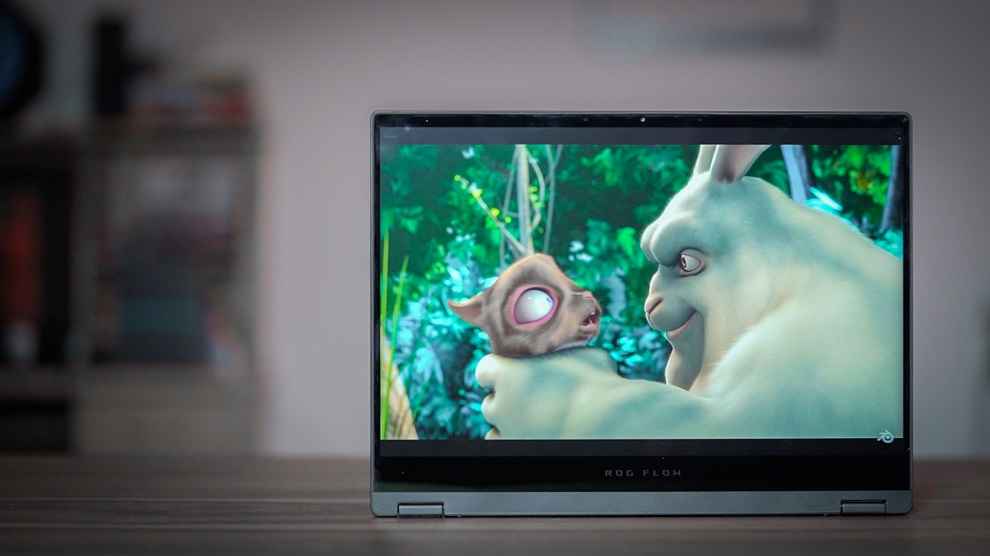 The only downside to having a touchscreen panel is having to deal with a glossy panel. Viewing angles can be a pain point. Glossy surfaces, as you probably already know, cause reflections on the panel, so it can be a little annoying while using this laptop outdoors, especially on a sunny day. Just keep that in mind.
ASUS ROG Flow x13 Design & Build Quality
If you were to see a ROG Flow x13 laptop in the wild, there's a very good chance that you will not be able to tell it's a gaming laptop. It's a tiny 13.4-inch convertible 2-in-1 laptop that weighs about 1.3Kgs and is about 16mm thick. You can also flip the display and use it as a tablet. None of these are traits of a gaming laptop, so good luck with the guessing game.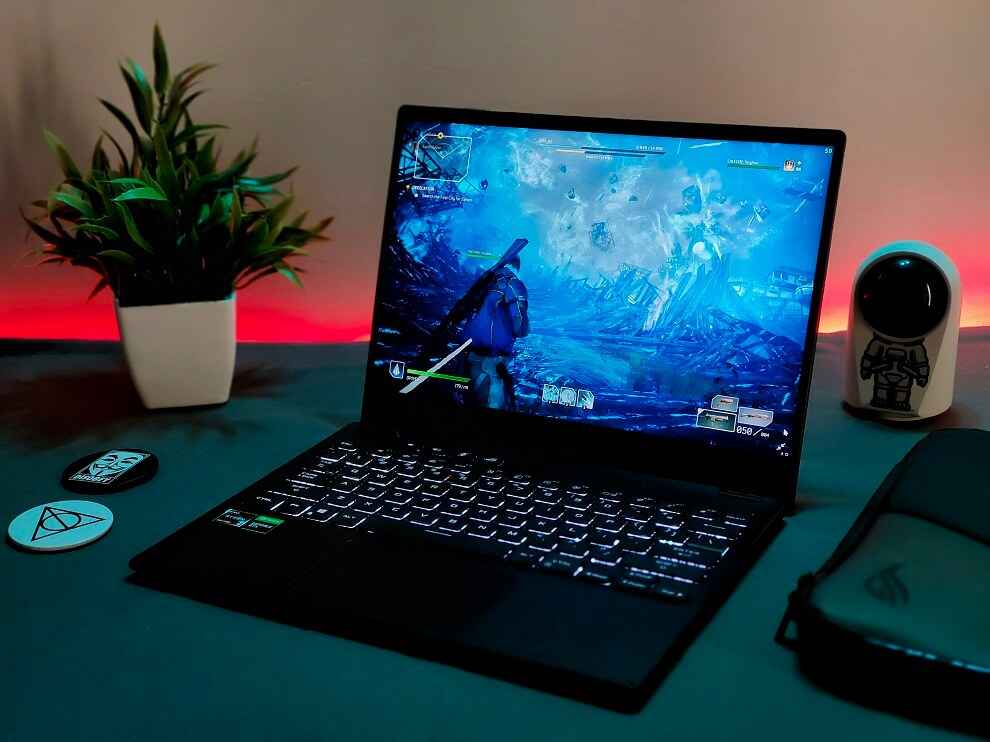 In addition to being one of the lightest gaming laptops I have ever used, it also has a unique texture that makes it feel very comfortable. The texture runs across the lid, the palm rest and the bottom deck of the laptop. It's hard not to acknowledge this and run your hands over it every time you open it. As you can see, the texture also gives it a futuristic look while maintaining a very minimal aesthetic at the same time.
I like the fact that there are no RGB lighting or ROG logos that light up anywhere on the body. RBG lighting and a striking design are cool but it would've ruined the otherwise stealthy look of the Flow x13. It's perfect to be used a work laptop at the office during the day. It does, however, have some "gaming" elements like the imprinted ROG logo on the right palm rest and the dedicated keys on the top of the keyboard to control volume and muting and a key to launch the Armoury Crate gaming software.
The 360-degree hinge will let you use the laptop as a tablet. Additionally, you could also set it down like a tent or leave the screen up like a standalone display. I used it in the tent mode with an external display hooked up for the most part while gaming to get those extra frame rates.
The ROG Flow x13 has bottom-firing speakers, but they were surprisingly loud. Sure other gaming laptops go louder but I wasn't expecting this laptop to fill up my room considering how small the chassis is. I still recommend getting a pair of headphones for gaming or external speakers for content consumption, but it's a nice set of speakers that won't disappoint you out of the box.
ASUS ROG Flow x13 Verdict
The ASUS ROG Flow x13 is definitely one of the most unique laptops I have used in recent times and I truly appreciate ASUS for this ambitious attempt. That being said, it's hard to simply pass a "Yes or No" verdict here. Hear me out!
The ROG Flow x13 just by itself without the XG Mobile is a really good work/entertainment laptop. But you will have to compromise on battery life and deal with the low-powered graphics card while using it just as an ultrabook without the accessory. It's not a terrible choice since you are getting a beast of a CPU, a 4K panel, and a well-built machine, but you might want to look at other ultrabooks as well before buying this one, especially at Rs 1,19,990.
The true potential of the ROG Flow x13, however, can only be unlocked with the Mobile XG unit with that external GPU. Yes, the dedicated GTX 1650 Max-Q does fit into the entire concept but for it to be a true "Republic Of Gamers" machine, it needs that extra power to fully transform into a true desktop replacement. It's an absolute beast with the XG Mobile unit accessory,
The ASUS ROG Flow x13 starts at Rs 1,19,990 in India. The variant that we reviewed here today goes for Rs 1,39,990. The XG Mobile starts at Rs 69,990 for the RTX 3070 GPU. The variant with an RTX 3080 is priced at Rs 1,39,990. The entire package, as you can see, is super expensive and it's not for everyone. But if you are looking for a portable laptop that's also good for gaming without any limitations, then the ROG Flow x13 and the XG Mobile unit combo is something that simply can't be ignored. The ROG Flow x13 is still a lighting fast AMD-powered laptop without that accessory, but don't hesitate to look at other ultrabooks in the market as well.