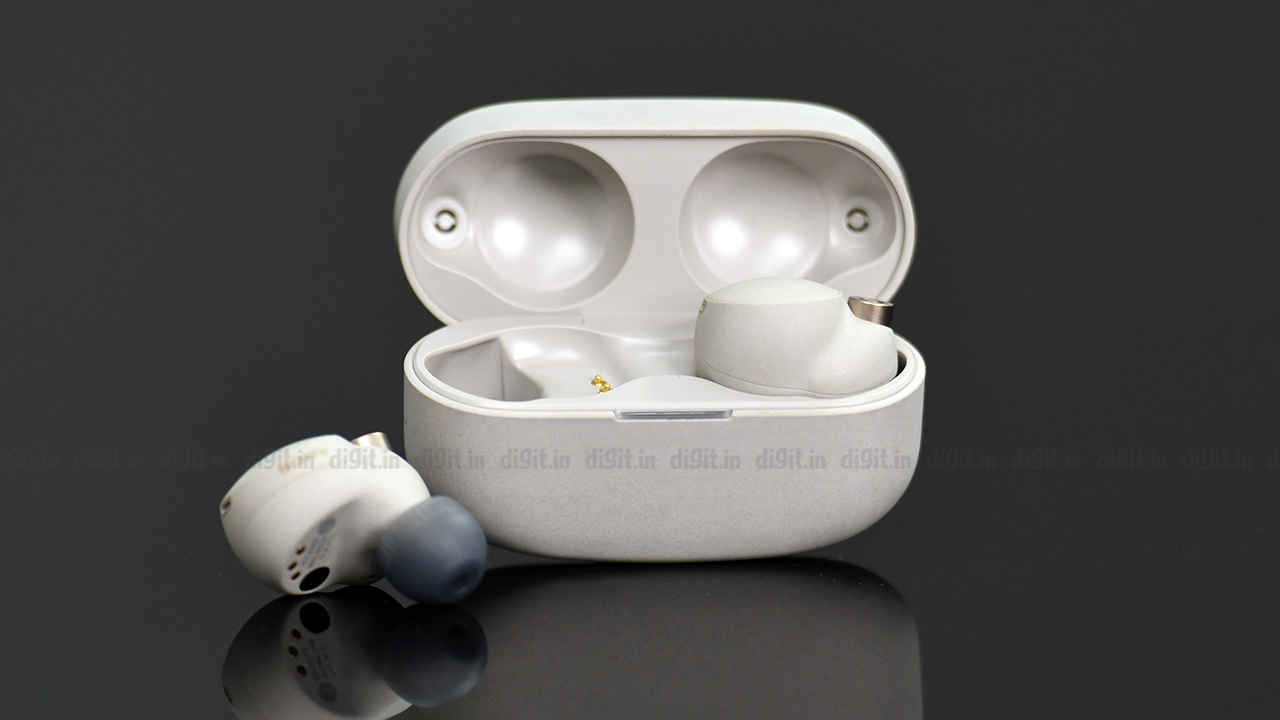 PROS:
Impressive sound quality, LDAC codec supported, Sony Headphones Connect app is fantastic, Excellent ANC performance, IPX4 water resistance
CONS:
No multipoint connectivity, Bulky earbuds
VERDICT:
There's a reason why Sony's ANC headphone launches are surrounded by so much hype. This company consistently makes some of the best ANC audio devices on the market rivalled by few others. The Sony WF-1000XM4 is simply the best noise-cancelling truly wireless earphones money can buy. It has dethroned the Sony WF-1000XM3 to take up this spot which shows Sony's prowess in this area. Apart from excellent ANC performance, you get impressive sound quality with LDAC codec, excellent app support, great battery life and microphone performance, and so much more.
Even though the acclaimed Sony WF-1000XM3 TWS earphones were launched in 2020, these noise-cancelling earbuds continued to reign supreme in our noise-cancelling TWS lists until now. This just indicates Sony's prowess in this noise-cancelling space. Now that the latest model in Sony's supremely successful WF-1000X lineup – Sony WF-1000XM4 ("Mark 4") – has finally made its way to India, we have a feeling it may just dethrone its predecessor. Sony has a formidable presence in the TWS market in India with gems such as the Sony WF-1000XM3, the Sony WF-SP800N, and others that users can choose from. If history is any indicator, the Sony WF-1000XM4 will continue the trend of being one of the best TWS earbuds money could buy. But will it continue to be the best ANC TWS?
Sony WF-1000XM4 Quick Menu (Click on the below links to jump to the section)
– Build and Design
– Comfort and fit
– Companion App
– Performance – Noise Cancellation
– Performance – Sound, microphone, and connectivity
– Battery life
– Verdict
The newly-launched Sony WF-1000XM4 comes packing numerous improvements that set it apart from the previous-gen model. These include the new and improved V1 chip, LDAC codec support, IPX4 water resistance, Qi wireless charging, and a brand new design. These premium TWS earbuds go toe to toe with the likes of the Apple AirPods Pro, Samsung Galaxy Buds Pro, and Sennheiser Momentum True Wireless 2. We had a blast reviewing these earbuds and came away with many thoughts. Here's how the Sony WF-1000XM4 fared in our review.
Let's begin with the box. The Sony WF-1000XM4 arrives in a box 34 per cent smaller than the WF-1000XM3 box and it's completely plastic-free. The box is made of recycled paper which is certainly a step in the right direction for the environment, however, it does take some of the glamour out of the unboxing experience. Nevertheless, we appreciate Sony's efforts in going the environmentally-friendly route, all without removing any important accessories from the box. Inside the box, you get 3 sizes of silicone eartips, a Type-C charging cable, some documentation and the earbuds themselves.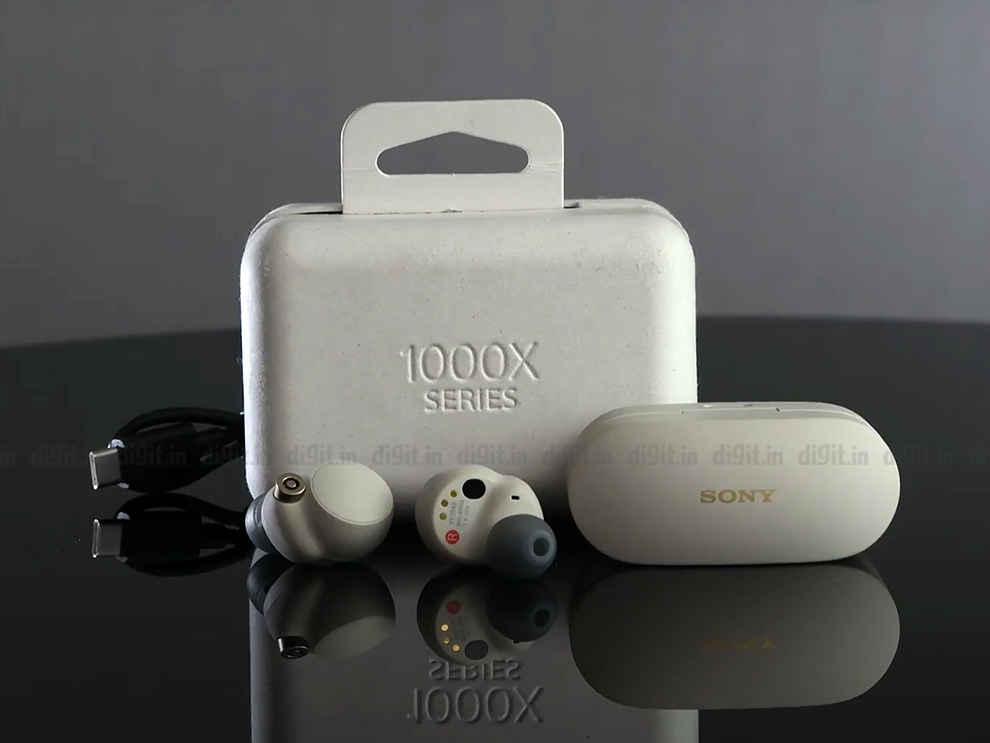 As for the design, Sony went back to the drawing board and completely redesigned the Sony WF-1000XM4. While the WF-1000XM3 looked sophisticated and classy, the charging case and the earbuds were anything but discreet, making it quite a hassle to carry around in pockets or small bags. The new Mark 4s have a case that's 40 per cent smaller and earbuds that are 10 per cent smaller. While there's a clear reduction in size compared to their predecessor, the charging case and earbuds of the Sony WF-1000XM4 are still on the bulkier side of TWS earphones.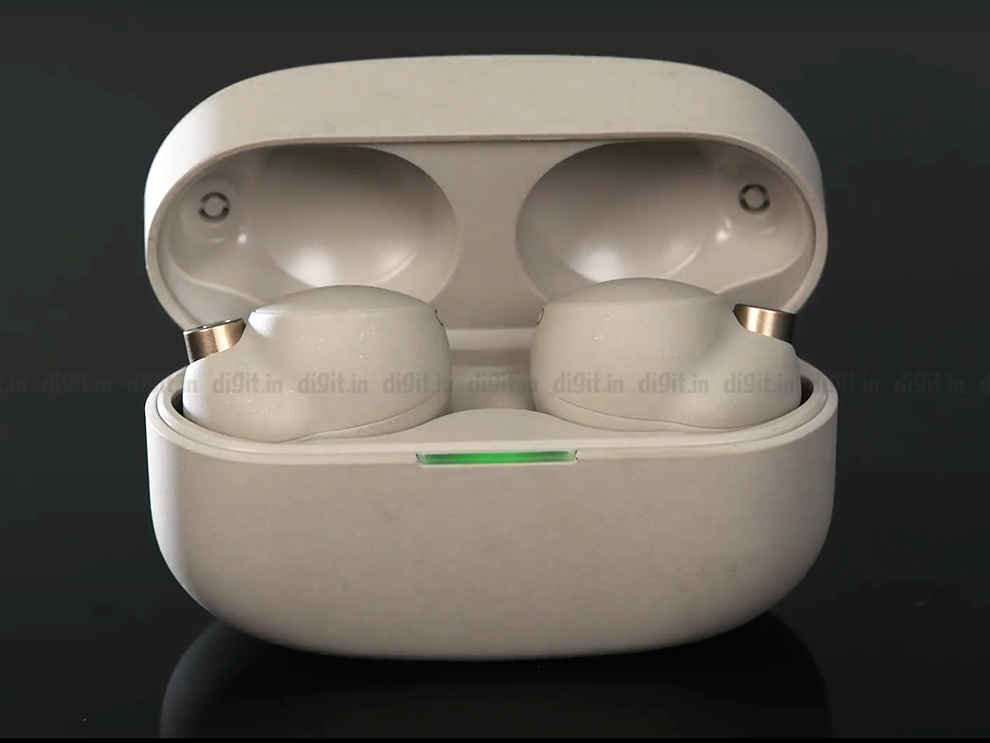 The earbuds are available in two colours – Black and Silver. We got the latter for review. The cream-coloured case has a simple matte texture with the Sony logo stamped on top in golden. There's a large LED battery indicator on the front and a USB Type-C charging port on the back. The case is also wireless charging compatible, all you need is a compatible Qi wireless charger. The magnets inside the case are extremely strong and hold the earbuds securely, however, the lid feels a tad flimsy since it isn't reinforced by metal. The case is definitely more pocketable than its predecessor's case, but it will still bulge out considerably from pockets, especially if you're wearing skinny jeans.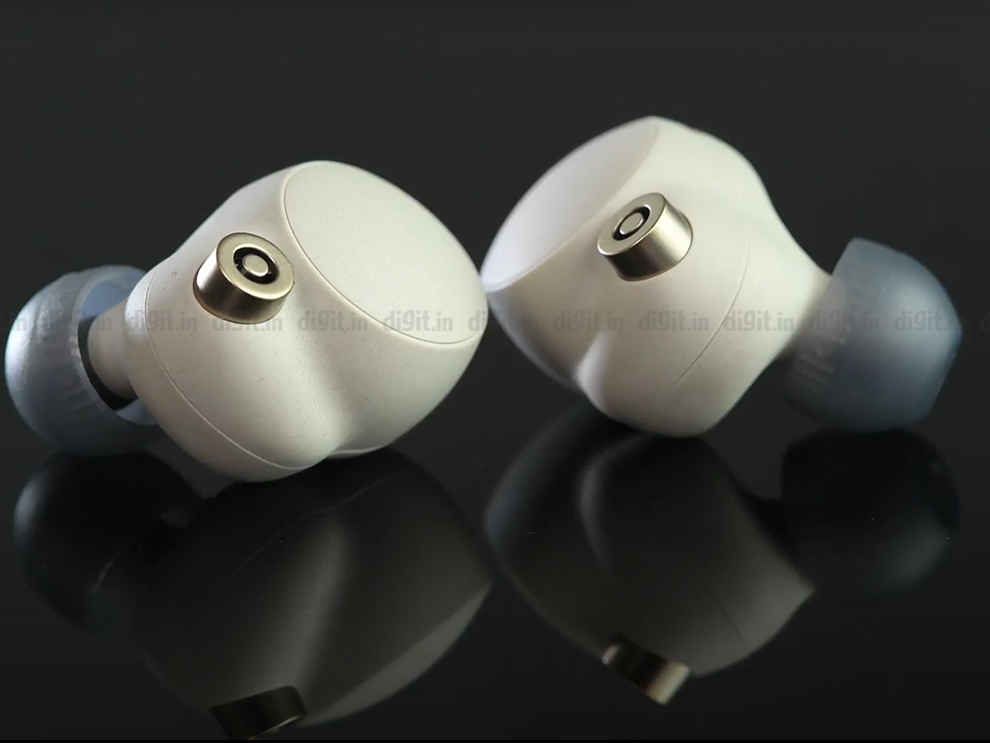 The earbuds are more rounded than the Mark 3s and have a circular golden accent around the microphone that adds some flair. The back of the earbuds houses capacitive touch controls, which are reliable and responsive. The earbuds are pretty bulky and hefty in comparison to other premium TWS earbuds on the market such as the Jabra Elite 7 Pro and Samsung Galaxy Buds Pro. Overall, the WF-1000XM4 earbuds are a definite improvement in terms of build in comparison to the WF-1000XM3. But we're hoping Sony can shrink down the size even further with the next iteration in this lineup.
Owing to the bulky nature of the earbuds, the Sony WF-1000XM4 is definitely not the most secure pair of earbuds we've worn. We definitely think that the Jabra Elite 7 Pro and Samsung Galaxy Buds Pro reign supreme when it comes to fit in the premium TWS segment. Nevertheless, what you get with the Sony WF-1000XM4 is still a pretty decent fit that may need some readjustment in your ears from time to time. They're definitely miles better than the Mark 3s when it comes to fit. The Mark 3s used to easily slip out of ears during intense activities such as working out, but that's not too much of an issue with the Mark 4s.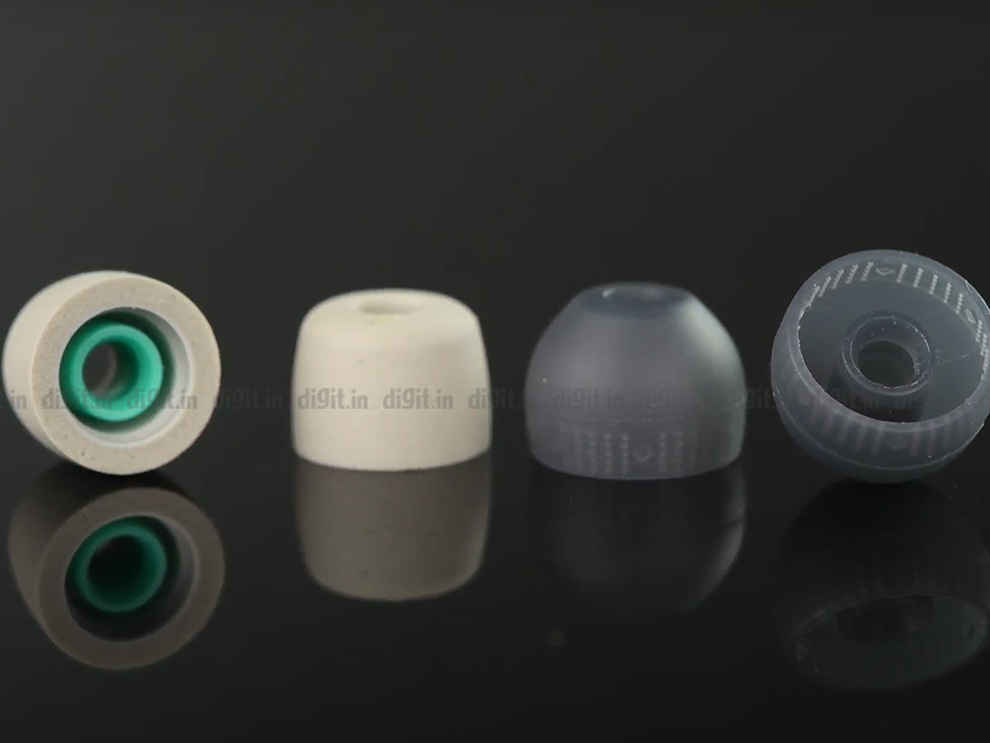 One big complaint we have with the Sony WF-1000XM4 is that they come with rubber silicone ear tips. We distinctly remember when these earbuds launched in the international market, we were excited to see Sony's new Noise Isolation Earbud Tips that were made out of polyurethane foam. Unfortunately, we're getting the regular silicone ear tips here in India that are much less secure and snug-fitting than foam.
UPDATE (13 January 2021 – 13:30 hours): Sony has clarified to us that the Sony WF-1000XM4 will actually come with the polyurethane foam ear tips in the Indian retail box as well. This is great since the fit of the foam ear tips is much better than the silicone ones they provided us in the review box.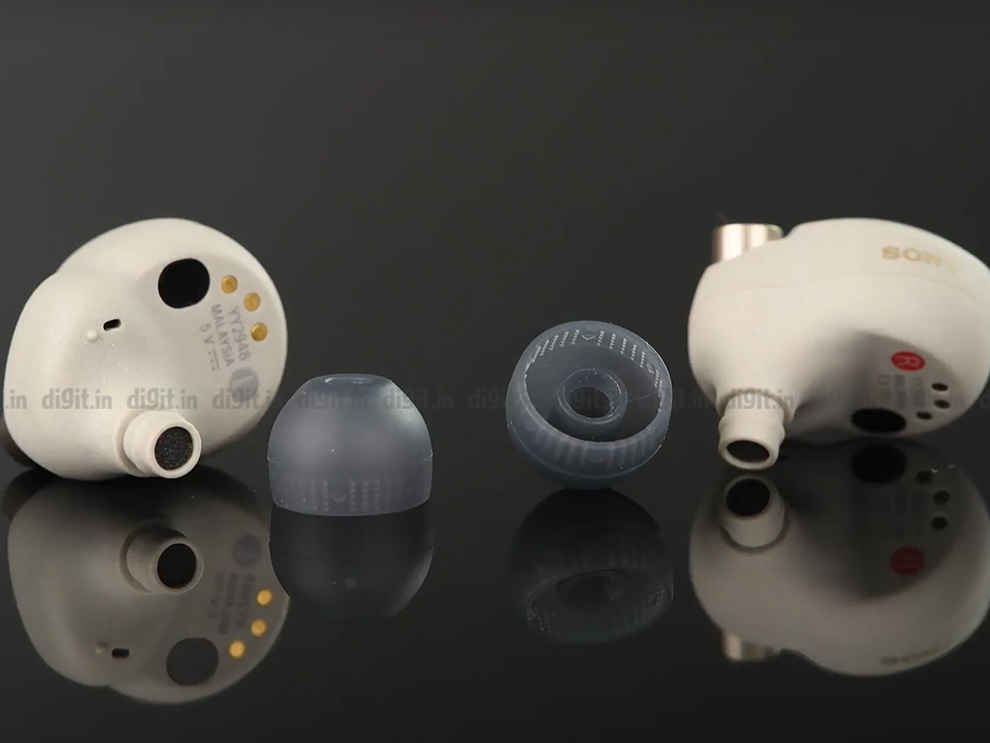 That aside, the foam ear tips provide a snug fit and you can go jogging with them, although the earbuds may feel loose at times. They're comfortable to wear over long periods though, and don't really strain the ear. Let's move on to a big positive now – IPX4 sweat and water resistance. Yes, these buds come with a water resistance rating which was woefully absent on the Mark 3s. So, you can go jogging with them in light rain without worrying about any damage.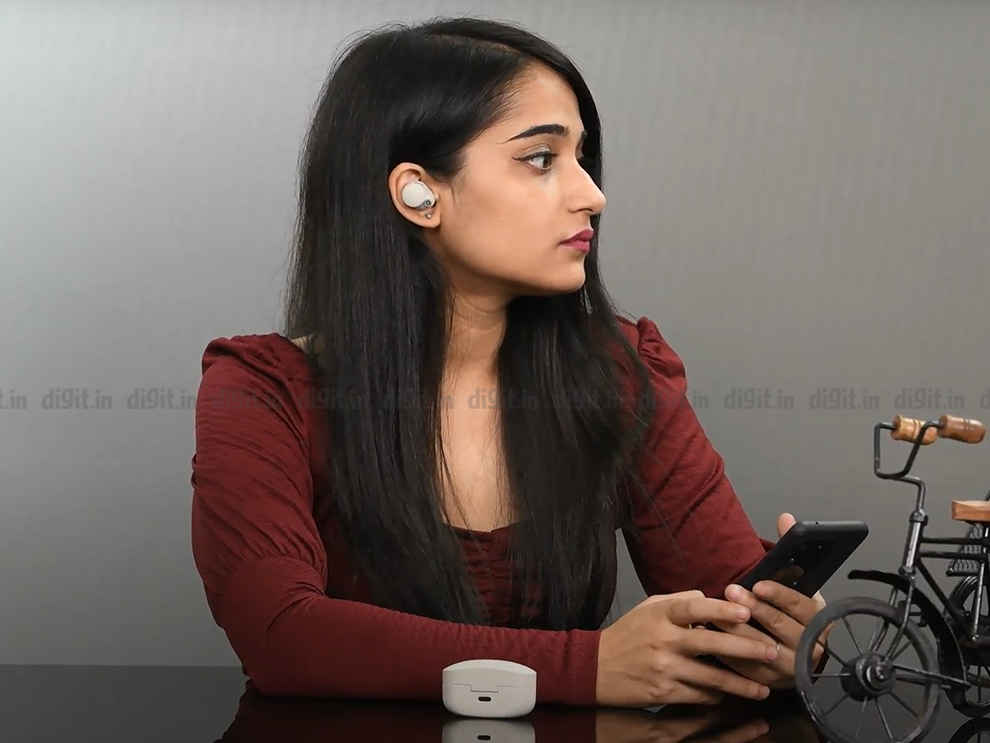 Companion app: Sony Headphones Connect and other features
The Sony Headphone Connect app is possibly one of the most utilitarian and versatile companion apps we've ever used with TWS earbuds. The app has a plethora of features and customisation options that give users granular control over the earbuds. The app has nifty features such as a 5-band customisable EQ, sound presets, charging status, and customisable controls. However, the exact controls cannot be chosen, all you can do is switch the control type for each earbud.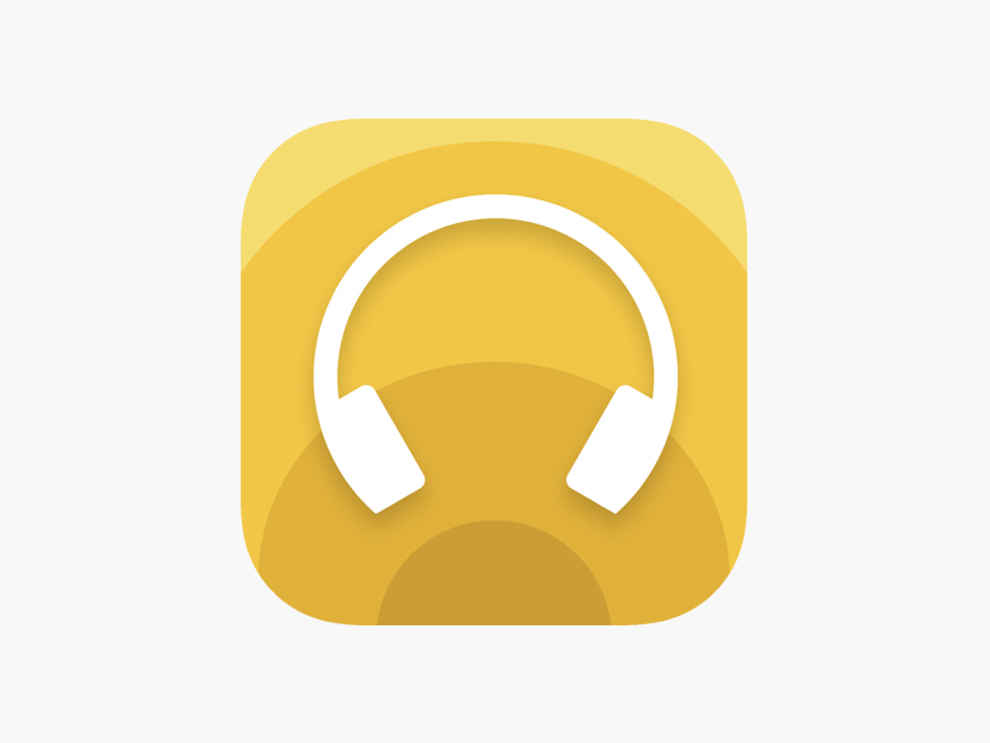 For example, by default, the left earbud is set for Ambient Sound Control. So, a tap will cycle between noise cancellation profiles and pressing and holding will turn on something called Quick Attention mode. You can't change the function of a 'tap' and 'tap and hold' individually. You can switch the entire touch control profile with something like Volume Control where a tap now raises the volume and pressing and holding decreases the volume.
There are four control types to choose from – Ambient Sound Control, Volume Control, Playback Control, and None. You can apply any one of these on one earbud. So, essentially, you can have only two profiles active simultaneously. We opted for Ambient Sound Control and Playback Control (which also has a voice assistant gesture), so we had to miss out on volume controls. We don't like this implementation and would rather have Sony provide users with the option to remap specific gestures as per their own preferences.
Aside from that, the earbud's app allows users to access features such as Adaptive Sound Control, Speak to Chat, 360 Reality Audio, DSEE Extreme, Earbud Fit test, and more. Adaptive Sound Control is a useful feature that uses AI smarts to determine your activity (staying, walking, running, or transport) and applies noise-cancellation settings accordingly. It can also detect your location and apply noise cancellation settings that you usually prefer in that location. The feature worked exceedingly well in our tests with it promptly switching between NC modes as the activity called for it.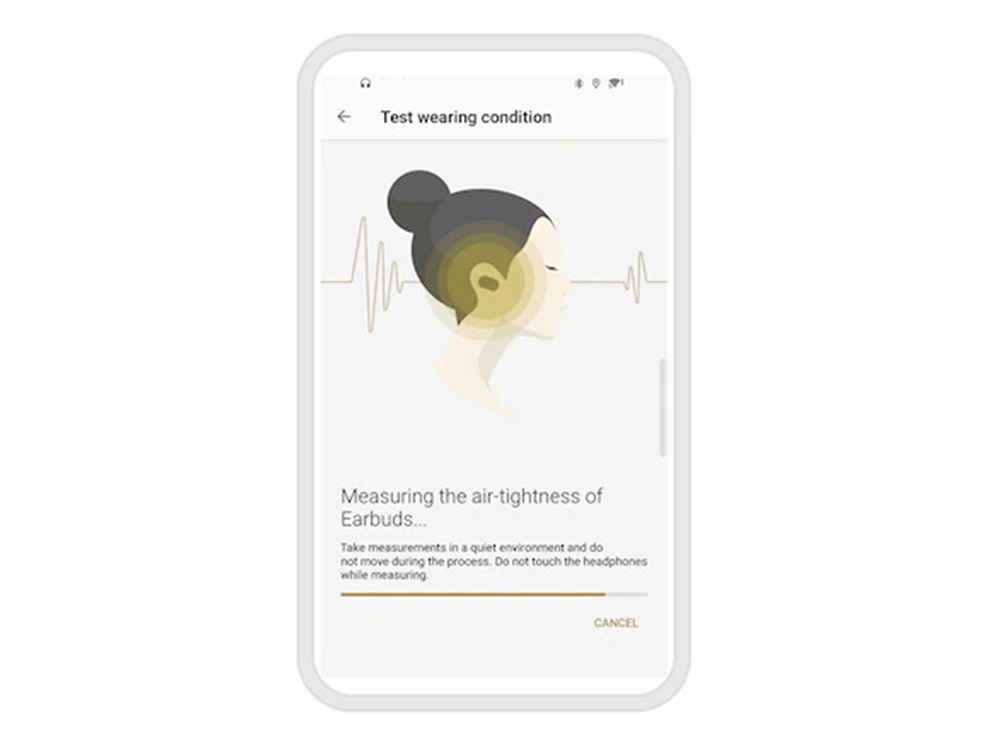 DSEE Extreme is a feature that uses AI to upscale compressed lossy files. The effect is minimal and there isn't a stark difference in the sound when using it versus when it's toggled off. The Earbud Fit test is convenient and it lets you know if the eartips you've used are giving you a good seal.
One of our favourite features on the Sony WF-1000XM4 is Quick Attention mode. It is present by default on the earbuds and can be activated by pressing and holding the left earbud's touch panel (if you've left it on default control settings). Activating this will enable Ambient Sound and turn down media volume so you can have a quick conversation without having to pause your music and manually turn on Ambient Mode. It is an extremely nifty feature that we used a lot during our time with these earbuds.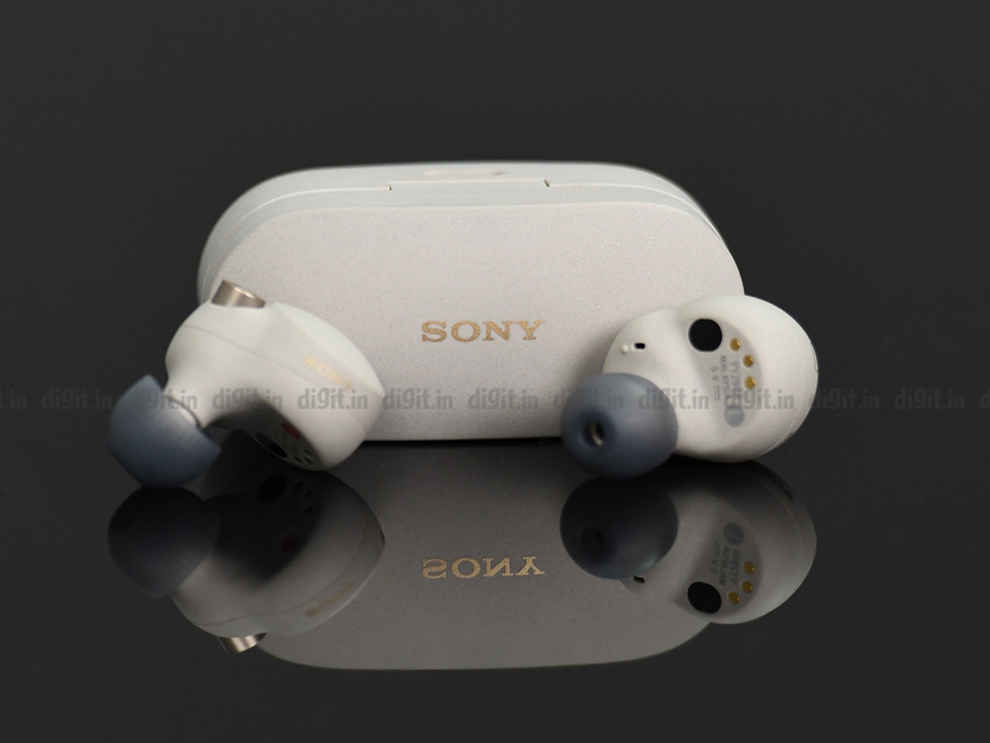 One feature we did miss is multipoint connectivity which lets you connect the earbuds to two source devices simultaneously and switch between them seamlessly. It's a shame that a premium TWS like the WF-1000XM4 has skipped this feature. We would rather have multipoint support than features such as Speak to Chat or 360 Reality Audio, both of which are not very useful since Quick Attention mode basically does the same thing as Speak to Chat more reliably and there aren't a lot of apps that support 360 Reality Audio in India.
Overall, the Sony WF-1000XM4 is extremely feature-laden and a large portion of the features are accessible via the app. The Headphones Connect app is available on both the Google Play Store and Apple App Store. We definitely recommend using these earbuds with the app installed to unlock their full potential.
Performance – Noise cancellation and Ambient Sound
We've already discussed Adaptive Sound Control that automatically switches between Active Noise Cancellation and Ambient Sound mode according to the activity or location. Now, let's talk about the performance of these headlining features in detail. Sony headphones are formidable in the ANC category, and for good reason. The company has consistently launched some of the best ANC headphones and earphones on the market for the past few years. Fortunately, the Sony WF-1000XM4 more than lives up to the legacy of Sony noise-cancelling headphones.
Active Noise Cancellation on these earbuds is truly exceptional, so much so that it almost matches up the performance of their over-ear noise-cancelling cans! From an AC's drone to sounds of rail tracks when travelling in Mumbai locals to noisy office environments, the Sony WF-1000XM4 suppresses all these sounds to a truly impressive degree. Low-frequency, constant sounds are almost cut out entirely. So, you can be assured that turning on ANC on these earphones will immediately isolate you from your surroundings.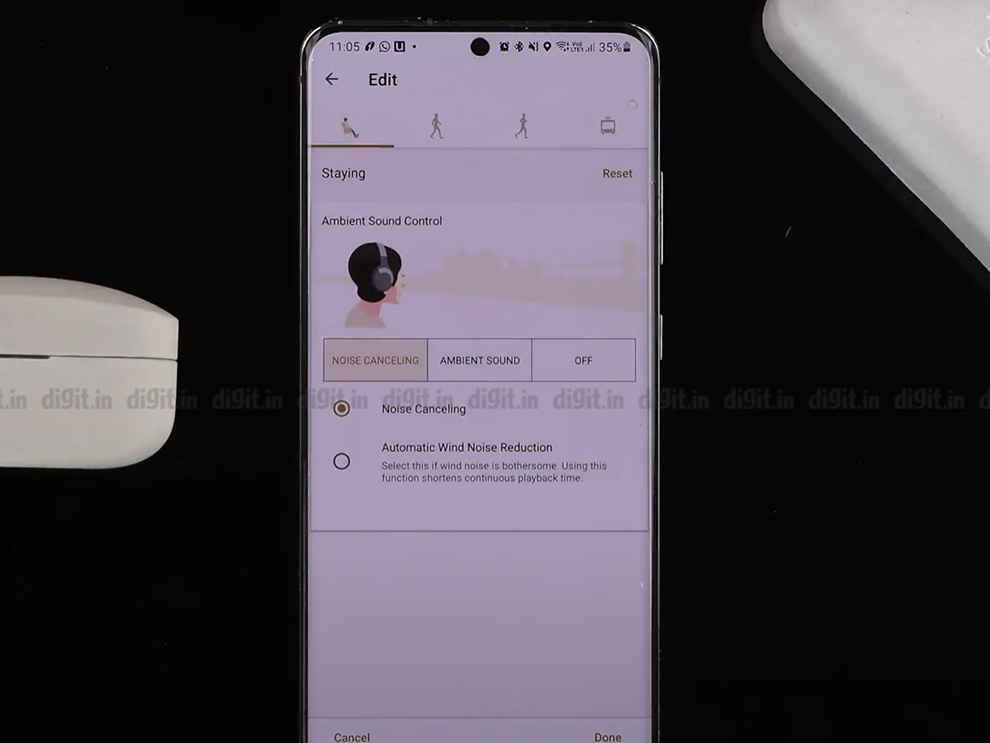 All of this is accomplished by the new Sony V1 processor – the successor to the lauded QN1e chip that was present in the Mark 3 – and dual noise-sensing microphones in each earbud. The chip and microphones work together to provide improved ANC performance over the last-gen model that greatly diminishes most ambient sounds as per our tests. The earphones easily beat the Jabra Elite 7 Pro and the AirPods Pro when it comes to ANC performance. The only earbuds that come anywhere close are the Bose QuietComfort Earbuds.
As for Ambient Sound, we noticed an improvement in this area compared to their predecessors. The ambient sounds that are let in with Ambient Mode turned on sound natural and clear, while they sounded slightly artificial on the Mark 3s.
Performance – Sound, microphone, and connectivity
While Sony is mostly known for their bass-forward headsets and earphones, the WF-1000X series is where they keep the sound as clean and balanced as possible. The Sony WF-1000XM4 packs 6mm drivers that produce energetic yet balanced sound. The earphones support the SBC, AAC and LDAC codecs. We tested the earphones on the LDAC codec since it provides the highest quality of all the available ones. The Sony WF-1000XM4 has dynamic bass response, pristine mids, and decent highs. We tested these earbuds with our audio testing equipment and you can check out its sound signature in the frequency graph below.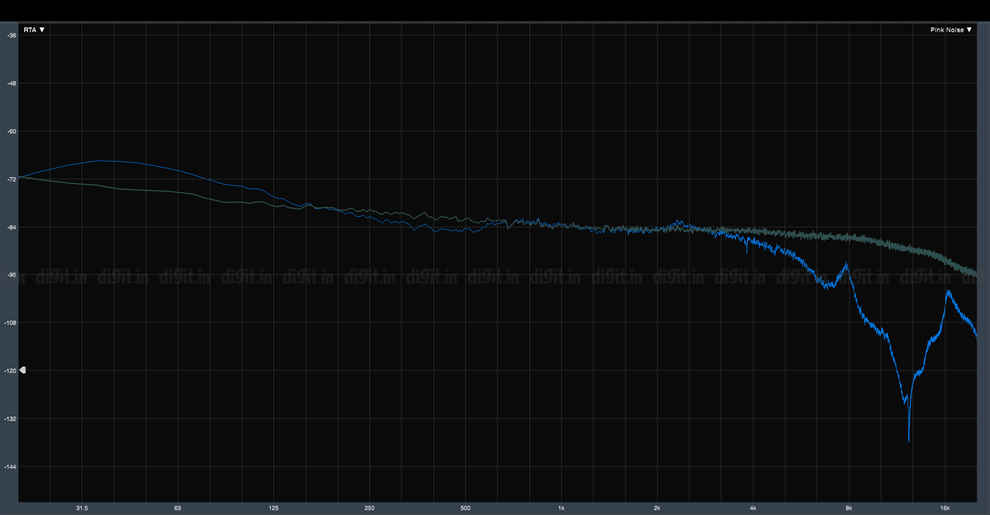 Uncompensated frequency response graph of Sony WF-1000XM4 (Blue) vs Flat response (Dark Green)
In the frequency graph, you can see that the bass response is boosted, but not by too much as is the case with Sony's more bass-forward headphones in their XB lineup. The bass response is also toned down from what the Mark 3s had. This result is an analytical yet energetic bass response that brought out the rumble in the lows while still maintaining clarity and accuracy. In tracks like Heat Waves by Glass Animals, the bass beats sound punchy yet controlled and the vocals sound absolutely sublime. We are seriously impressed by how exquisitely detailed the lows are but even more impressed with the mids' clarity. The region from 500Hz to 3kHz is almost identical to the neutral sound signature making vocals and instruments in this range sound almost clinical. In the track Easy On Me by Adele, you can hear almost every breath she takes between lines, which is often not heard on other TWS.
As a result, these headphones are excellent for not only popular genres such as pop, rap, EDM and more but also to listen to classical tunes, podcasts and watch movies. The frequency range past 3kHz sees a drop so the highs do see a slight drop in detail and clarity after that point. So, you may notice that cymbals and hi-hats don't sound as good in the mix, but just tweaking the highs in the EQ settings in the app pretty much fixes this issue. So, in tracks such as Something From Nothing by Foo Fighters, the cymbals lose some of its sparkle since they're under-emphasised but when we EQed up the highs, we got back some of the missing detail. Overall, the Sony WF-1000XM4 seriously impressed us with its exquisite sound quality in the lows and mids, rivalled by only a few earphones such as the Devialet Gemini, Sennheiser Momentum True Wireless 2, and Shure AONIC 215 TWS Gen2.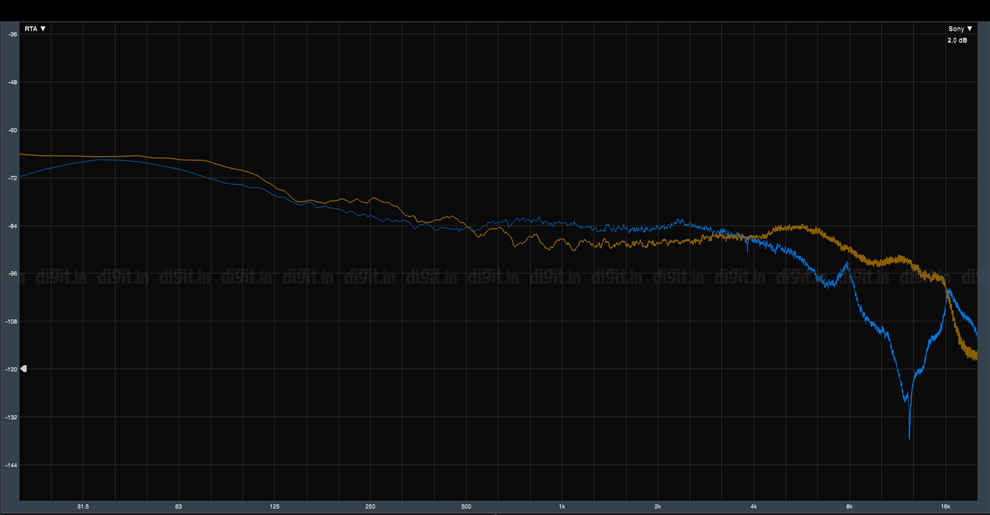 Uncompensated frequency response graph of Sony WF-1000XM4 (Blue) vs Sony WF-1000XM3 (Orange)
The imaging on these earphones is fantastic. In Selkies by Between the Buried and Me, the instruments can be distinguished and are placed accurately within the mix. The soundstage is pretty good for TWS earphones, although the Sennheiser Momentum True Wireless 2 still holds the crown in this department.
Now, let's move on to the microphone performance. The earphones come with Sony's Precise Voice Pickup Technology that leverages the beamforming microphones and bone conduction sensor on the buds to pick up your voice and relay it. The microphone quality is very good, voices are clear and loud on calls and during recordings. Ambient sounds are suppressed to some degree but if you're in extremely noisy environments, some surrounding noise will make its way through. Overall though, these earphones have one of the best microphone setups on TWS earphones.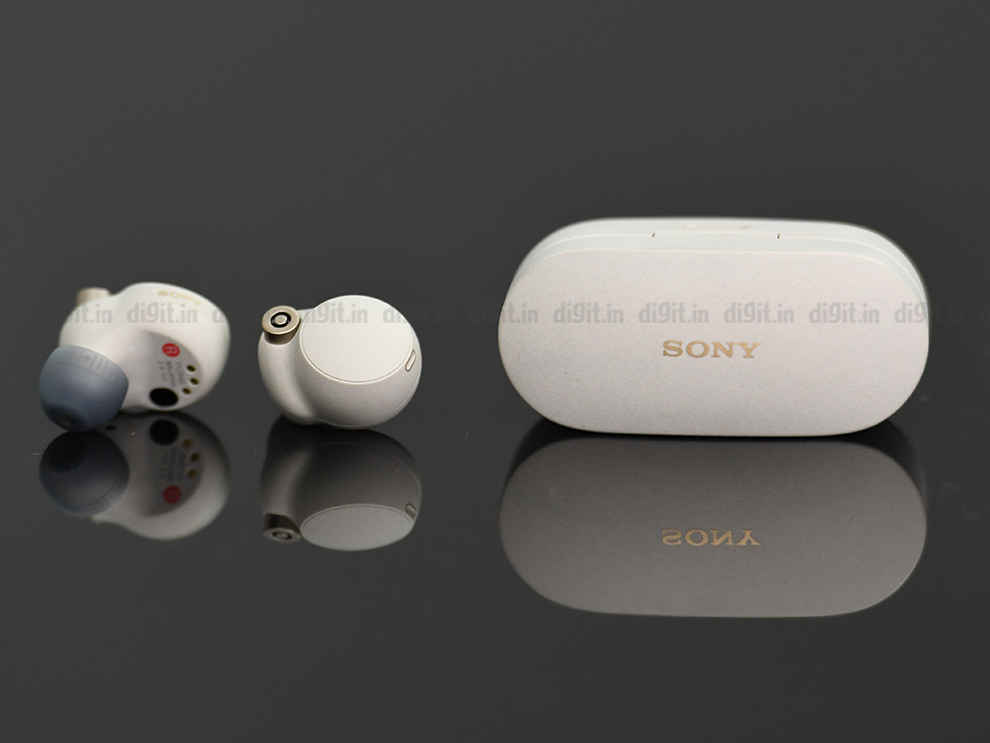 As for wireless connectivity, the WF-1000XM4 is powered by Bluetooth v5.2 and supports Google's Fast Pair feature. This allows Android users to quickly connect to the earbuds with just one tap. The wireless range on these earbuds is pretty good and the connection stays put even if you are a room or two away from the source device. There are also minimal lags and connection drops, and the overall experience is quite seamless. Sony has also added a swift pair feature for PCs. Swift Pair brings up a pop-up pairing guide on nearby Windows 10+ PCs or laptops, allowing users to connect in a jiffy. The latency is also minimal and we noticed very little delay between the content and audio.
Owing to the reduced size of the charging and earbuds, we were fully expecting the battery life on the Mark 4 to take a hit in comparison to its predecessor. Fortunately, though, that's not the case. The Mark 3s were capable of 6 hours of wireless playback from the earbuds with ANC turned on. This number has been bumped up to 8 hours with the newer Mark 4s, according to the company. Along with the charging case, you get 24 hours of total battery life (8 hours on earbuds + 16 hours from charging case).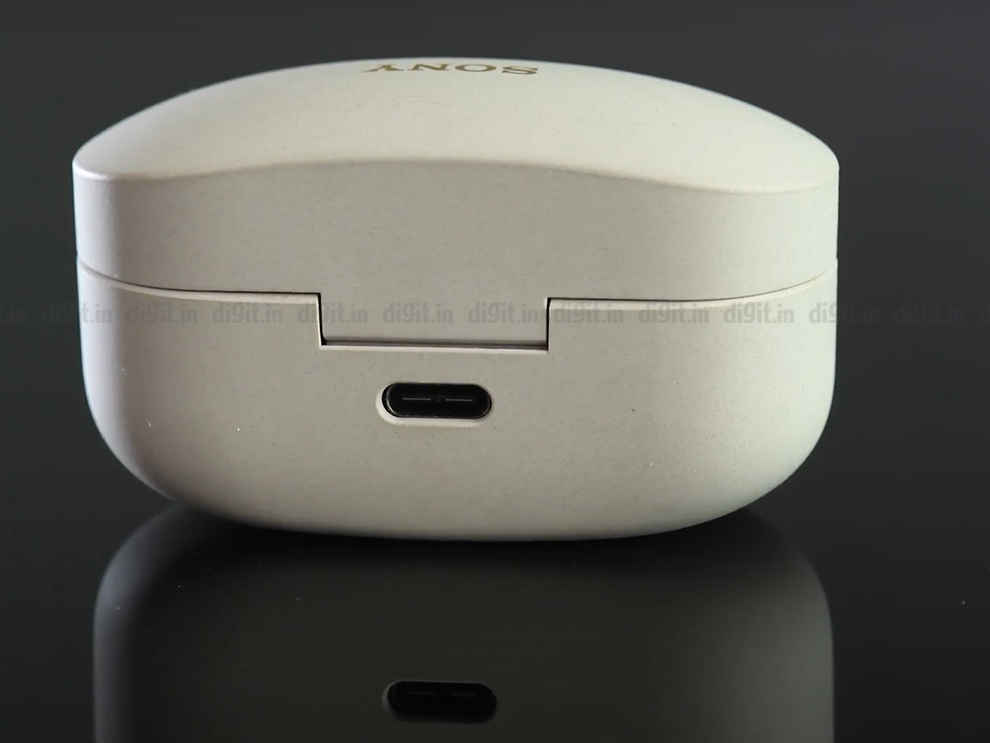 If you use the earphones with ANC turned off, on the other hand, Sony claims you get 32 hours of total battery life, which is pretty good. In our tests, the earbuds themselves lasted 6.5 hours with LDAC and ANC turned on. If you turn LDAC off, you'll get better mileage. The case provided another 2 charges and still had some juice left over for a partial third charge.
The earphones also come with Quick Charge capabilities where 5 minutes of charging will provide an hour's worth of playtime. The earbuds' charging case finally comes with wireless charging capabilities, which was absent on its predecessor. So, you can simply set the case down on any Qi-compatible charger or a phone with reverse wireless charging to power it up.
There's a reason why Sony's ANC headphone launches are surrounded by so much hype. This company consistently makes some of the best ANC audio devices on the market rivalled by few others. The Sony WF-1000XM4 is simply the best noise-cancelling truly wireless earphones money can buy. It has dethroned the Sony WF-1000XM3 to take up this spot which shows Sony's prowess in this area. Apart from excellent ANC performance, you get impressive sound quality with LDAC codec, excellent app support, great battery life and microphone performance, and so much more. The only two drawbacks are the missing multipoint connectivity support and the fit. For users with smaller ears especially, you may not get a snug fit from these earbuds since they are pretty hefty and stick out from the ears considerably. So, if getting the best fit from your earbuds is a top priority for you, we'd definitely recommend the Jabra Elite 7 Pro or the Samsung Galaxy Buds Pro over these earbuds. However, for almost everything else, the Sony WF-1000XM4 is an excellent choice. The Sony WF-1000XM4 is truly an all-rounder like no other that not only does so many things, but does most of them well.
Sony WF-1000XM4 Key Specs, Price and Launch Date
| | |
| --- | --- |
| Release Date: | |
| Market Status: | Launched |
Key Specifications
Dimensions

‎9.4 x 6.5 x 8.61

Frequency rangev

000Hz, 20Hz - 40