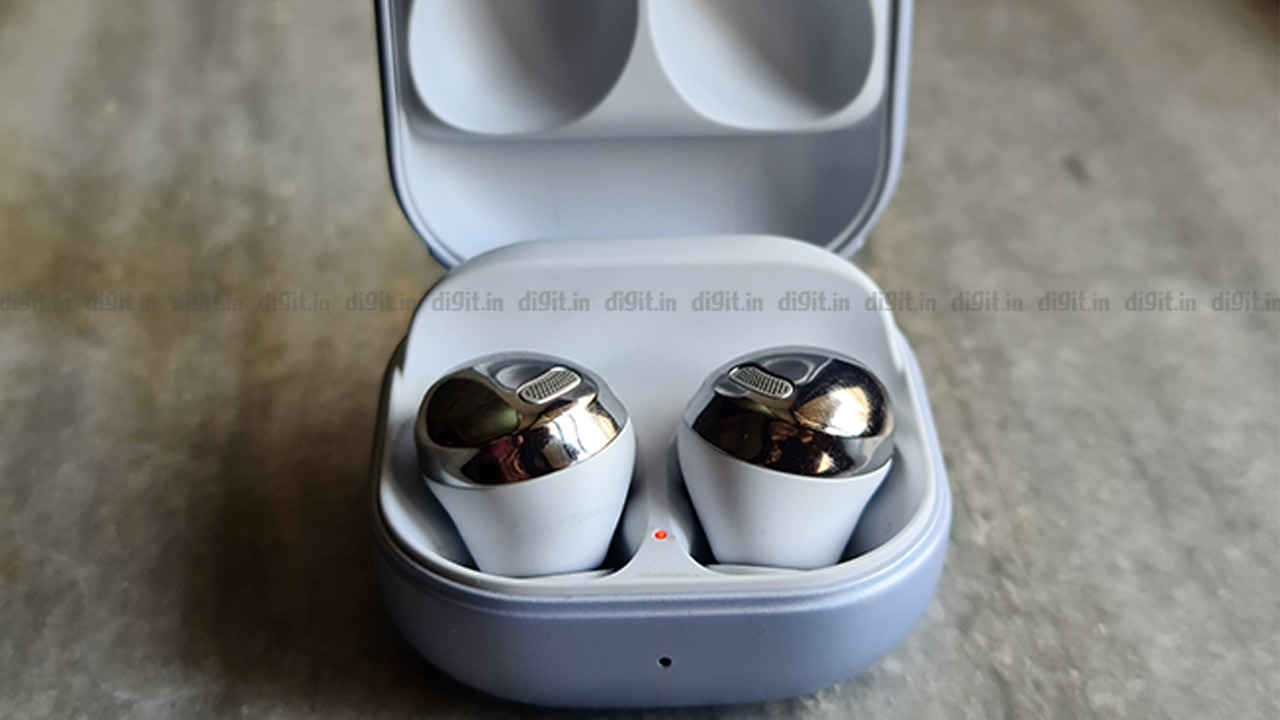 VERDICT:
The Samsung Galaxy Buds Pro are a no-brainer if you're a Samsung user since you will get excellent sound quality and access to all the Samsung-exclusive features. If you're not a Samsung smartphone/tablet user, you will miss out on some features but you will still get good performance and an array of premium features at a competitive price of Rs 15,999. However, if you are an iOS user, the Galaxy Buds app does not support the Buds Pro yet, so you will be missing out on in-app customisations and adjustments.
Samsung's foray into the popular truly wireless earbuds market has been a bit of a hit and miss. The hit being the excellent Samsung Galaxy Buds Plus, and the miss being the Samsung Galaxy Buds Live, primarily due to its polarising bean-shaped buds. The company launched the Samsung Galaxy Buds Pro with its S21 lineup of 2021, and the company seems to have moved on from its bean-shaped folly and have adopted a more traditional in-ear design. The buds also come equipped with a wide array of premium features such as Active Noise Cancellation, Voice Detect, Ambient Sound, 360 Audio, Dolby Head Tracking, Auto Switch and much more. Do note that many of these features work only on modern Samsung devices. Nevertheless, the Buds Pro still provide a wide range of features that can be used by all, while still undercutting competing products from Sony, Bose, Sennheiser, Apple, and others. Priced at Rs 15,999, let's find out if the Galaxy Buds Pro are a worthy premium TWS option to consider.
Build and comfort
Available in three colours – Phantom Black, Phantom Silver and Phantom Violet, the Samsung Galaxy Buds Pro match the colours of the new Samsung Galaxy S21 series alongside which they released this year. The buds feel like an uncanny mashup between both the Galaxy Buds Plus and the Galaxy Buds Live with it borrowing the glossy metallic look and the clamshell charging case design of the Buds Live and the in-ear form factor of the Buds Plus.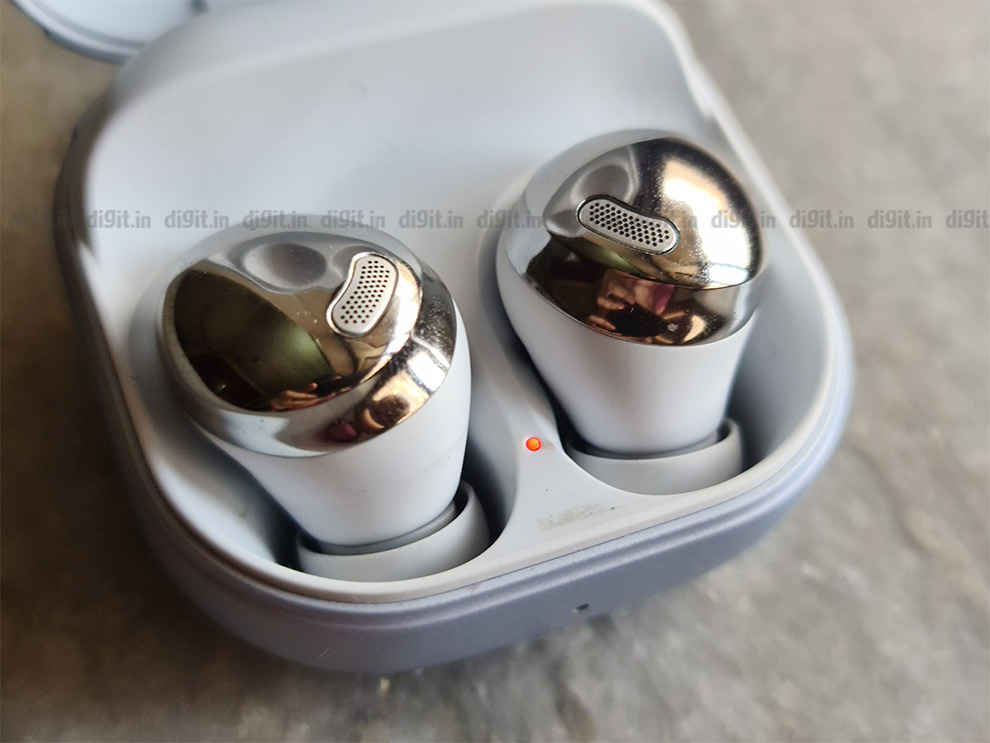 The earbuds lack the fin-like protrusions that were present on the Galaxy Buds Plus but still feel amply secure, but they do bulge out of the ears considerably. The in-ear fit should seal most ears securely but those with smaller ears might find it harder to get the perfect fit. Nevertheless, the company has provided 3 pairs of silicone tips in the retail box, so most people should be able to find a secure fit.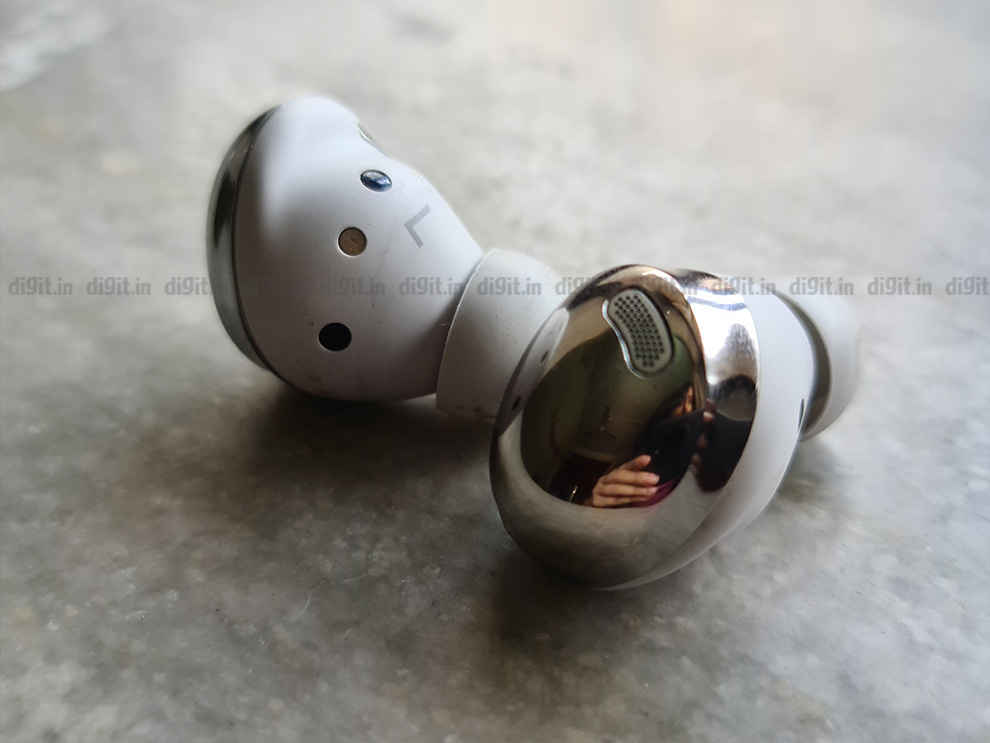 Passive isolation achieved from the snug fit and ear tips is extremely satisfactory. The buds stayed firmly put during jogging, light exercises, and even an overenthusiastic session of head-banging! The buds are also comfortable to wear over extended listening sessions. We felt no overbearing discomfort over 3-4 hours of wearing the buds at a stretch, which is a true testament to the ergonomic design Samsung has managed to deliver.
The buds sport a half-matte, half glossy texture, that can be slightly polarising to some, especially the Phantom Silver colour we got for review, which looks slightly gaudy. Samsung has also thrown in IPX7 water resistance, so they should be able to shrug off splashes and sweat easily.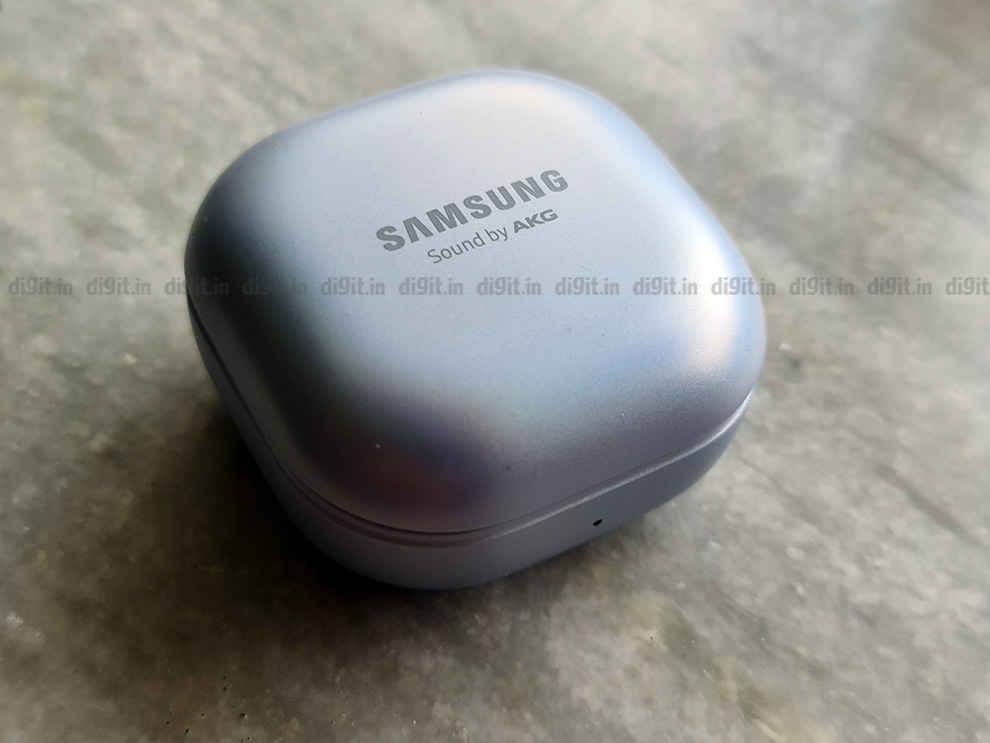 Moving on to the case, it has a clamshell design similar to the Galaxy Buds Live and has a slightly iridescent look. The square-shaped case houses an LED indicator in the front and a USB-C charging port at the rear end. The magnets in the case are strong and the lid snaps shut in a satisfying manner. The case also supports Qi Wireless Charging, so you can simply throw it on to a Qi charging mat or even the back of your phone if it supports wireless reverse charging.
Galaxy Wearable app
The Samsung Galaxy Buds Pro use Samsung's Galaxy Wearable app to access many of its features. The app allows users to tweak noise cancelling and ambient sound levels, customise a few touch controls, try out different EQ settings, activate 360 audio, and more. Users can toggle between Active Noise Cancellation, Normal mode, and Ambient Sound via the app. They can also control the levels of ANC (2 levels) and Ambient Sound (4 levels).
The app also allows users to customise some touch controls. Now, most premium true wireless earbuds also offer this feature but Samsung has limited touch control customisation to the 'Touch-and-hold' command only. This means users cannot play around with other commands and set them as per their preference. Nevertheless, you can set the touch-and-hold command to switch noise controls (ANC or Ambient Mode), activate voice assistant, or control volume.
The app also allows users to activate a feature dubbed 'Voice Detect'. We saw a similar feature on the Sony WH-1000XM4 where the headphones detect when you're speaking and promptly switch over from ANC mode to Ambient mode, allowing users to have a quick conversation. The feature is a bit of a hit and miss, and only worked about half the times we tried it.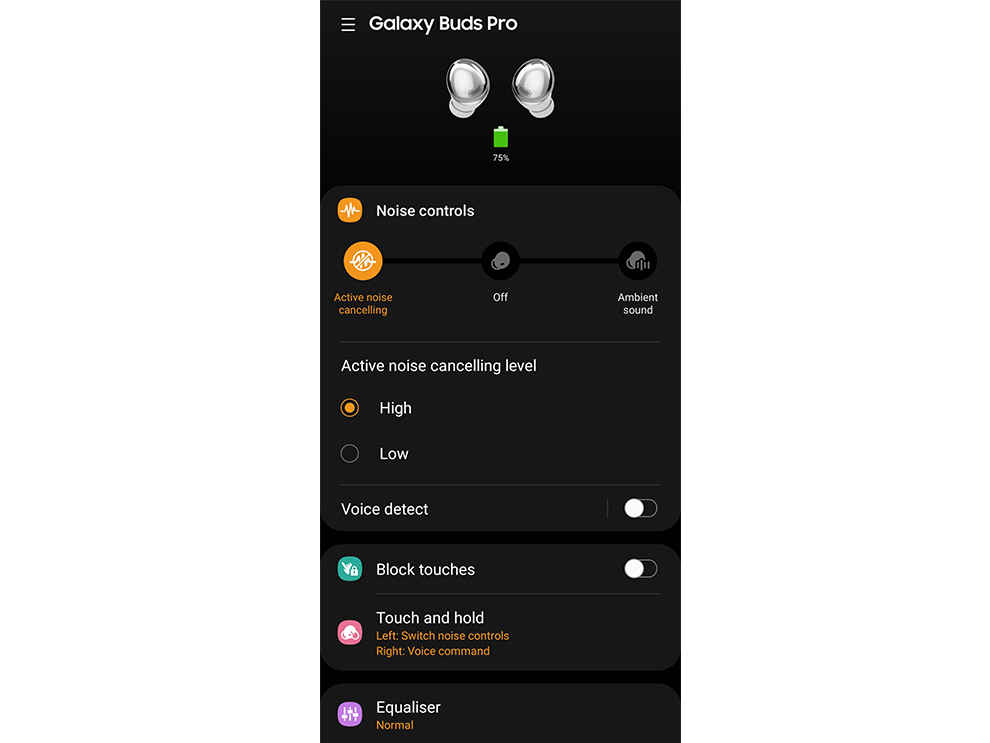 You can also switch between EQ profiles which include Bass Boost, Dynamic, Soft, Clear, Treble Boost, and Normal. However, you cannot customise your own EQ settings, which is slightly disappointing.
The Galaxy Wearable app also offers 360 Audio, which is a spatial sound solution like the one on the Apple AirPods Max. It creates a virtual surround sound environment with Dolby head tracking support. It's a pretty cool feature that certainly ups immersiveness, unfortunately, it is only available when paired with a Samsung Galaxy phone or tablet. We reviewed the Buds Pro on a Samsung Galaxy S20 Ultra and were able to use the feature extensively on streaming services such as Netflix, Disney+ Hotstar, YouTube, and others. But if you don't have a Samsung device, you won't be able to utilise this feature.
The Galaxy Wearable app is available for Android devices and the Samsung Galaxy Buds Pro is supported by the app. The Galaxy Buds app on iOS, on the other hand, doesn't have support for the Galaxy Buds Pro yet. So, iOS users will be able to use the buds only at default settings at the moment and will not be able to leverage any of the customisations and adjustments available via the app until it is updated.
Active Noise Cancellation and other features
One of the most eye-catching features on the Samsung Galaxy Buds Pro is, of course, Active Noise Cancellation. ANC on this device is pretty decent. Three built-in microphones on the inside monitor external sound and do a good job at mitigating most low-end, constant sounds such as an AC drone, low-speed ceiling fans, and more. However, it isn't as sophisticated as the ANC on the Sony WF-1000XM3 that does a much better job isolating mid-range and even some high-range sounds such as mechanical keyboards, people's voices, and others.
Ambient Sound is also available and users can tweak the amount of ambient noise let in via the Wearable app. Now, the Ambient Sound mode isn't at all natural and sounds almost jarring in some cases. We would advise you to keep Ambient Sound mode at the lowest level since the higher levels sound way too overpowering and ruin the overall experience.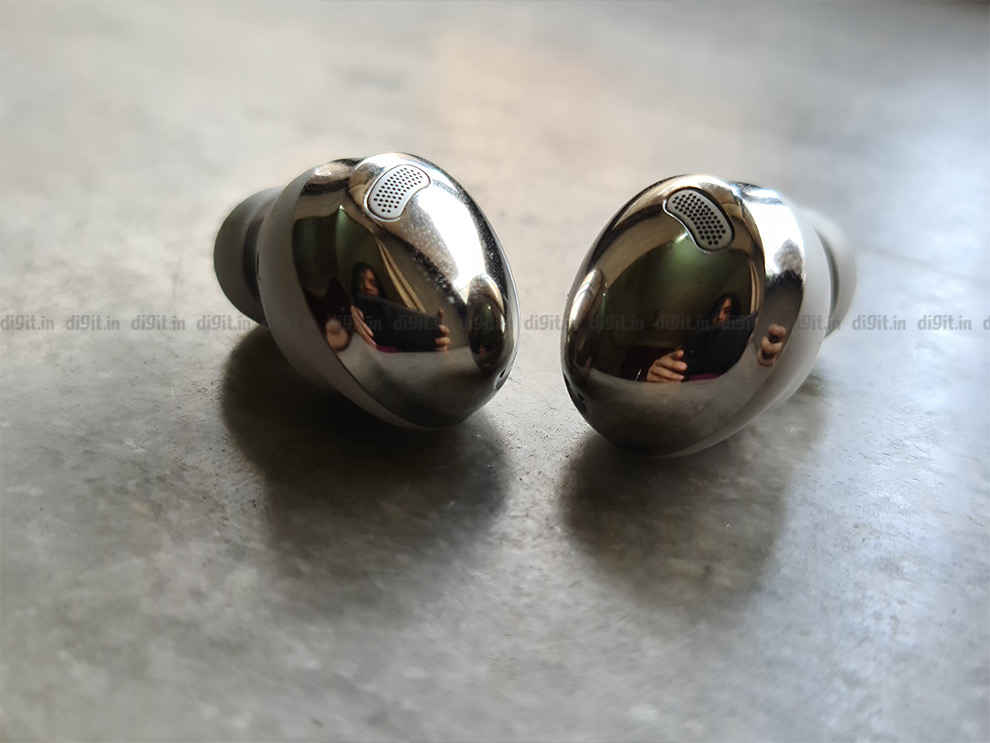 The Galaxy Buds Pro come with touch controls via the glossy capacitative touch surface on the buds. The touch panel is sensitive and activates even unintentionally at times, which can get slightly aggravating. The default controls are – single touch for pause/play, double touch for next track/answer or end calls, and a triple touch for previous tracks. The touch-and-hold command is customisable but is set to switch between ANC and ambient sound mode by default. We would have liked the option to customise all controls, and not just one.
Then there are a few Samsung-phone specific features such as a hands-free Bixby mode and a Find My Earbuds feature powered by SmartThings Find. Also, if you own multiple Galaxy products, you can seamlessly switch devices with the Buds Pro with the Auto Switch feature. The feature worked as expected and was pretty nifty, but the reviewer is one of the few people who have two Samsung devices handy.
The earphones are powered by Bluetooth 5.0 and support three Bluetooth codecs – SBC, AAC and Samsung's proprietary Scalable codec that only works on modern Samsung devices. The Scalable codec supports UHQ audio streaming over Bluetooth at up to 24-bit / 96kHz, which makes it comparable to aptX. However, aptX would have allowed a more widespread adoption since most Android phones support aptX.
Sound quality and microphone
The Samsung Galaxy Buds Pro is designed, first and foremost, for Samsung users. The earbuds come equipped with a two-way driver system with an 11mm woofer alongside a 6.5mm tweeter in each earbud. The buds are tuned in collaboration with AKG, a subsidiary of Harman owned by Samsung itself. Apart from SBC and AAC codecs, the device also supports Samsung's Scalable Bluetooth codec that is compatible with Samsung smartphones, so you will get better sound when you use the buds with a compatible Samsung device.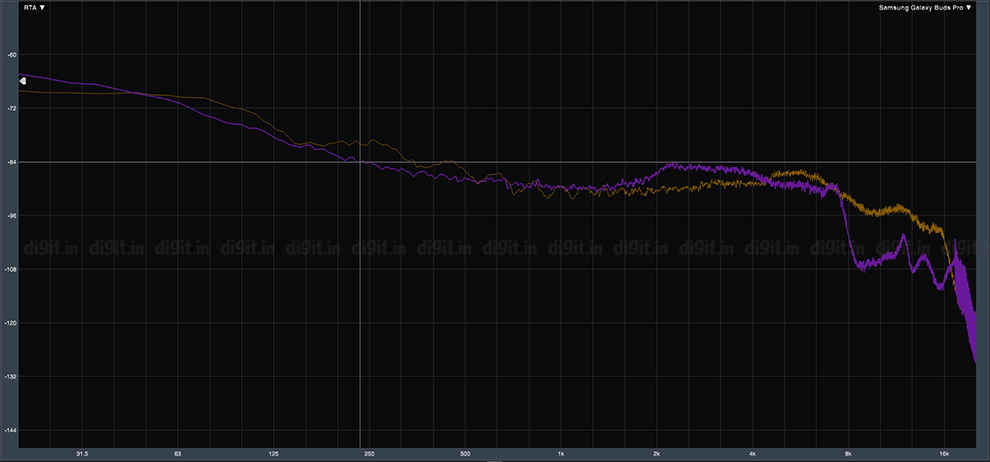 Uncompensated Frequency Response of Samsung Galaxy Buds Pro (Purple) vs Reference IEM (Orange)
If you don't have a modern Samsung smartphone or tablet to leverage this codec, you will have to reply on the AAC and SBC Bluetooth codecs instead. The Scalable codec improves both audio quality and connection stability and the difference is easily felt. Listening to Pull Me Under by Dream Theatre with a compatible Samsung device with the Scalable Bluetooth codec in operation, we were pleasantly taken back by the natural and open sound. Instruments sounded lively, the soundstage was spacious and vocals were clear and detail-packed.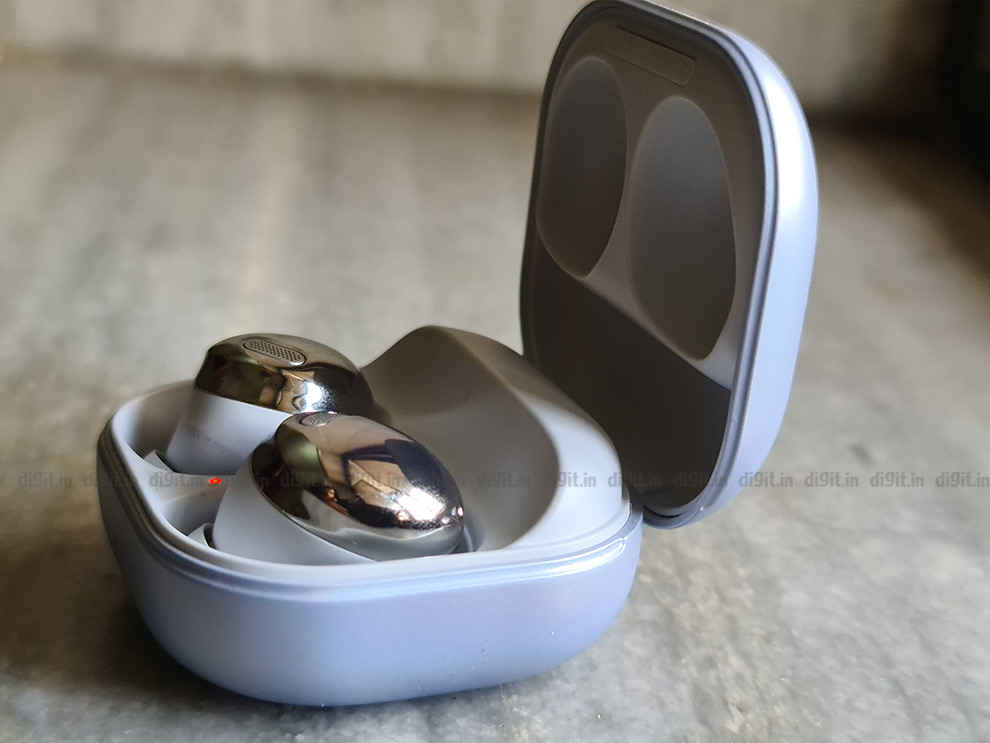 The bass response is slightly exaggerated, especially in the high-lows, but it doesn't impact the clarity of the mid-range instruments and vocals with the Scalable Bluetooth codec in operation. When we switched over to another device that used the AAC codec instead, the sound was definitely more flat and uninspiring, but still pretty good in this price range. Using the AAC codec, the soundstage is narrowed down too. In the track Hunter by Bjork, the hi-hats and vocals were too cramped, whereas with the Scalable codec instruments and vocals were given more room to breathe.
Nevertheless, we'd categorise the Samsung Galaxy Buds Pro as having good audio quality despite the codec used which is largely due to the dual-driver setup. The woofer and tweeter in each earpiece handle their own parts of the frequency range which allows much more clarity and detail to shine through. Overall, the earbuds sound excellent for Samsung users but are impressive enough even for others. You still get natural and balanced sound but the soundstage is narrower and some of the detail is lost.
Now moving on to the microphone, the earbuds are pretty capable of handling calls regardless of the device we tested them on. Voice calls are clear, for the most part, and background sounds are mitigated to an acceptable level as well.
Battery life
The battery life on the Samsung Galaxy Buds Pro is mediocre. We've seen TWS earbuds pushing the limit when it comes to battery life, so it is slightly disappointing that we get a total battery life of only 18 hours (5 hours on buds + 13 hours via case) with these earphones. In fact, in our tests, with ANC turned on and the volume set to about 60 per cent, we got 16 hours of total usage and about 4 hours on the buds alone.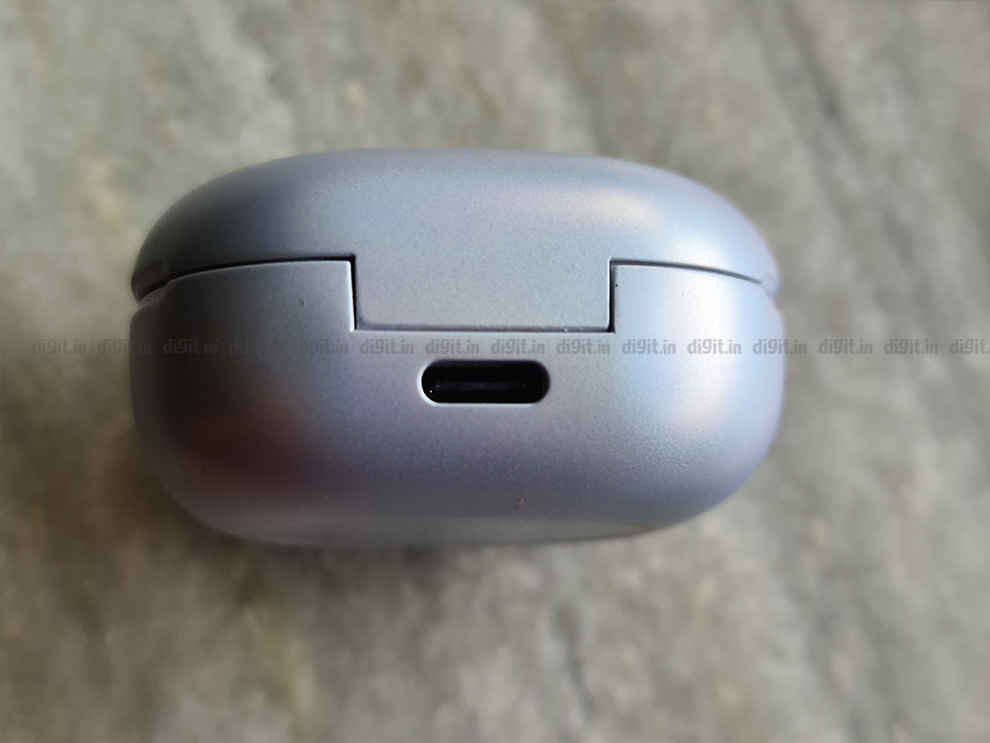 These numbers will see a significant bump if you choose to turn off Active Noise Cancellation and/or listen to music at lower volume levels. The company has rated the battery life without ANC turned on at 28 hours (8 hours on the buds + 20 hours via case). So, your mileage should vary as per your usage. However, the battery life still isn't what we'd deem as impressive, especially for this price.
You do get Fast Charge support where five minutes of charge will get you 1 hour of playtime, which is useful if you need some power in your buds in a jiffy. There's also Wireless Charging for the case, so you can use any Qi wireless charger or the back of the newer flagship Samsung devices to charge the earbuds.
Verdict
If you're a Samsung user, there's very little that should dissuade you from purchasing the Samsung Galaxy Buds Pro. They're Samsung's best truly wireless earbuds yet with a great, noise-isolating fit, amazing sound quality with the Scalable Bluetooth codec, an array of premium features, a good accompanying app, and much more. However, if you're not a Samsung user, you won't get the best sound quality possible since you will be relegated to using the AAC or SBC codec and you will also not be able to utilise some eye-catching features such as 360 Audio, Dolby Head Tracking, Find My Earbuds, and a few others. All in all, the Samsung Galaxy Buds Pro are a great pair of true wireless earphones that offer a lot for their price and severely undercut some of its competitors. However, if you want the best ANC experience, we'd recommend the Sony WF-1000XM3 or the Apple AirPods Pro over these. Additionally, if you are an iOS user, the buds aren't supported on the iOS Galaxy Buds app yet, so keep that in mind before taking the plunge.