Homegrown Bengaluru-based startup, GOVO, launched a number of products in the competitive audio segment. We got our hands on the GOVO GOBUDS 920 – one of the company's top-of-the-line TWS earphones priced at ₹2,499. The brand has a plethora of TWS earphones in its portfolio; all priced inexpensively to cater to price-conscious Indian consumers, which we appreciate. Packing 6mm drivers, Bluetooth v5.1, IPX5 sweat resistance, and 30 hours of playtime, these are basic entry-level TWS earphones that compete against products from realme, OPPO, DIZO, and OnePlus in the same price bracket. Let's see how this homegrown brand's GOPODS 920 stacks up against the competition.
GOVO GOBUDS 920 Review: Build, design, and comfort
The GOVO GOBUDS 920 have a simple, no-frills aesthetic. The company has opted for a simple matte black finish on the case and earbuds that looks decent and is resistant to fingerprints. However, the case and buds can get smudged easily if your hands are oily. The top of the case and the back of the earbuds house a simple, blue GOVO logo. However, there's no real flair in the aesthetics. That said the case is fairly pocketable and should fit inside most pockets and handbags.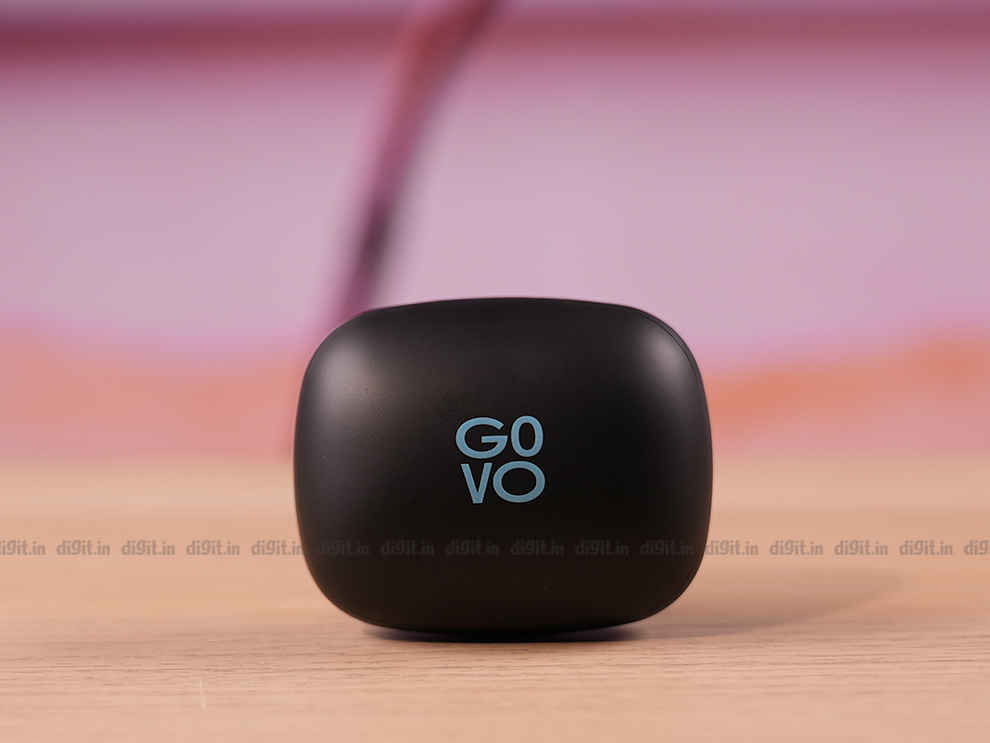 The front of the case features three LED battery indicator lights and the back features a USB-C charging port. This isn't the easiest case to open one-handed but you can do it with some finger gymnastics. The earbuds have silicone ear fins attached that add a little something to the overall look. But that's not all that they do.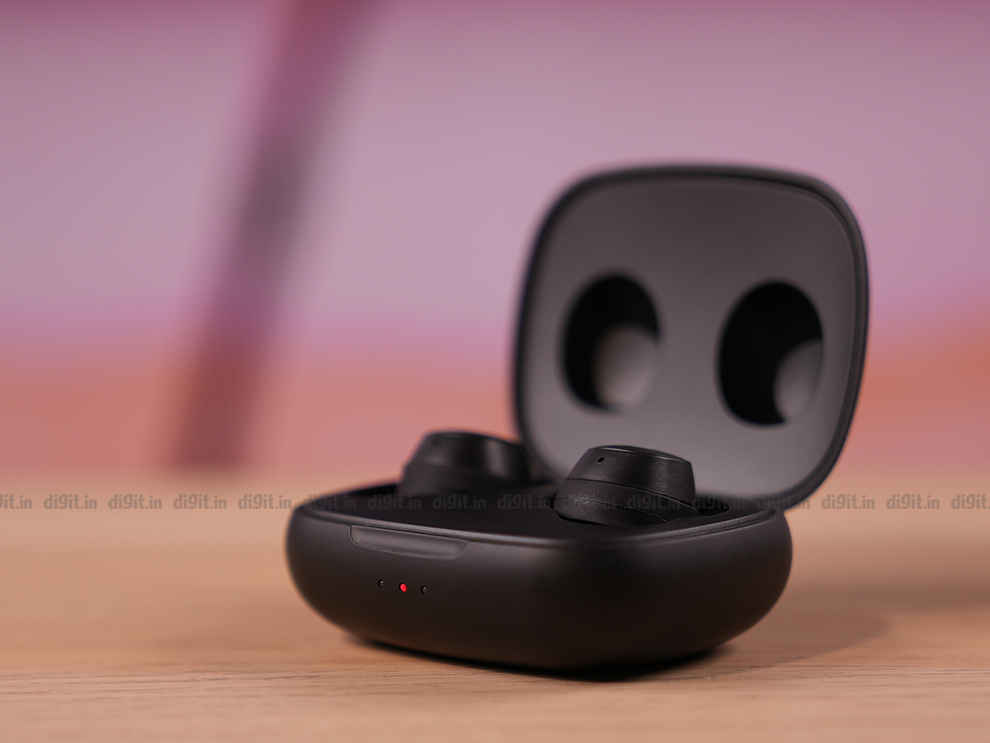 The ear fins provide an excellent in-ear fit allowing you to use these earbuds when you're running or gymming with ease. They fit snugly inside the ear; as long as you find the correct size of ear tips. The company has provided a total of three sizes of silicone eartips, so finding a decent fit shouldn't be an issue.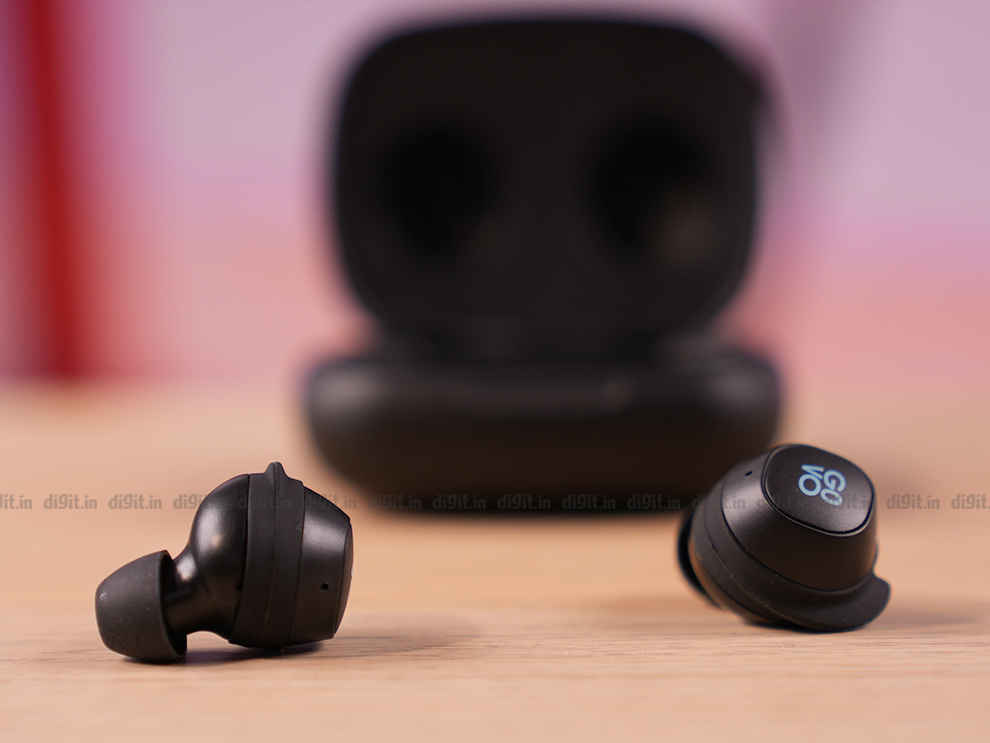 The buds are also extremely lightweight; only 4 g each. So, they're exceptionally comfortable to wear over extended periods of time. The silicone fins slot into the ears and give it that extra snug fit. We're glad GOVO has chosen to incorporate this since many companies give it a skip. Overall, these are comfortable earbuds for daily use, but they lack any aesthetic flair.
GOVO GOBUDS 920 Review: Features
GOVO has incorporated touch controls on the GOBUDS 920 – the back portion of each earbud doubles as a capacitive touch surface. The controls work fairly well but since there's no dedicated app, you do not get the option to customise the controls. This is something you will get on most Realme and OPPO earphones at the same price point.
Touch controls aside, the GOVO GOBUDS 920 are quite barebones when it comes to features. You get basic features such as voice assistant support, an IPX5 rating, Bluetooth v5.0, and mono-mode support. However, the earbuds are missing other features such as a dedicated app, multipoint connection, on-ear detection, and Active Noise Cancellation.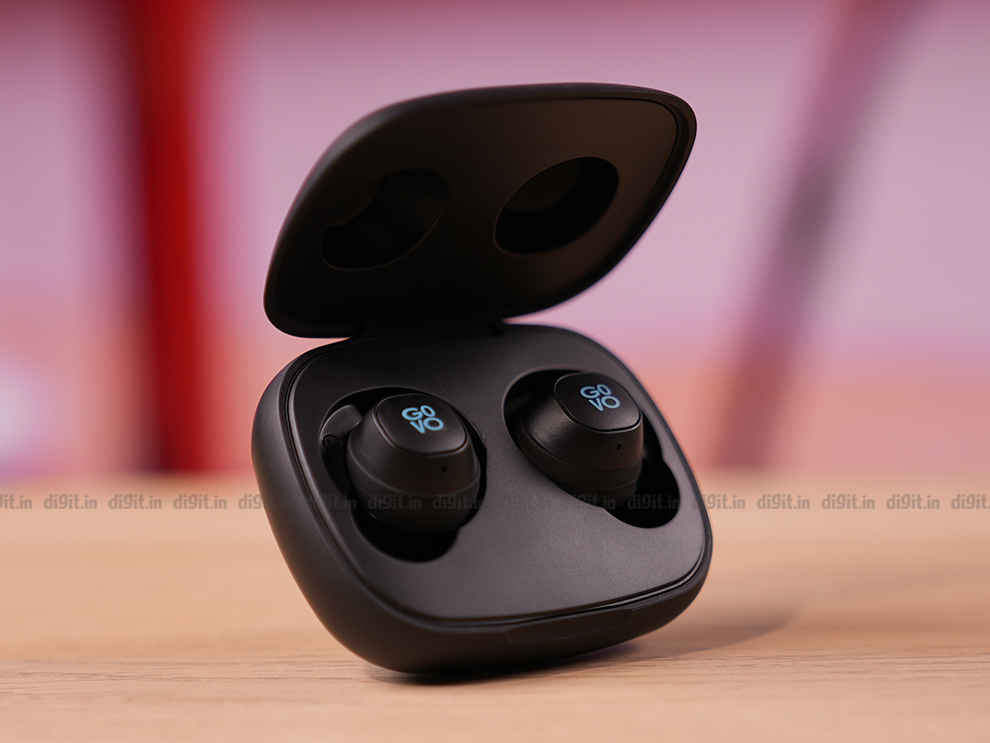 In contrast, the DIZO GoPods (review) which cost just ₹500 more come with pretty decent ANC and the Realme Buds Q2 (review) – which are available at the exact same price – also have ANC. Therefore, it becomes rather difficult to recommend these earphones when competitors that are priced similarly offer not just high-end features such as ANC but also quality-of-life features such as an accompanying app.
GOVO GOBUDS 920 Review: Performance
The GOVO GOPODS 920 have a dark and muddy sound profile since the bass response is excessively bloated on these earphones while the mids pale in comparison. The buds support the SBC and AAC audio codecs, which is standard at this price. While most budget TWS earphones favour the bass response, the GOVO GOPODS 920 takes it one step further by pushing the bass excessively while limiting the mids too much.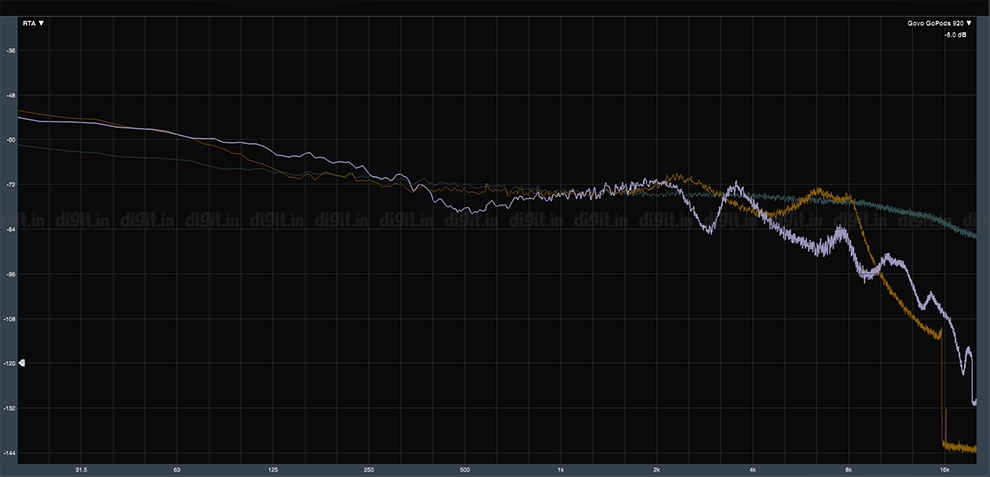 Uncompensated frequency response graph of GOVO GOPODS 920 (White) vs Realme Buds Air 3s (Yellow) vs Neutral (Dark Green)
This kind of sound profile can often mar the fine details in tracks and it can especially impede the quality of vocals and lead instruments to shine in the mix. For example, in the track bad guy by Billie Eilish, the bass thumps overpowered Billie's wispy vocals which essentially ruins the ASMR-like quality of the song.
The highs are decent enough for a pair of budget earphones, however, the auditory masking from the bloated bass response can be felt here as well. They don't sound as sparkly as necessary which can cause a loss of detail in tracks with cymbals and hi-hats such as Something From Nothing by Foo Fighters.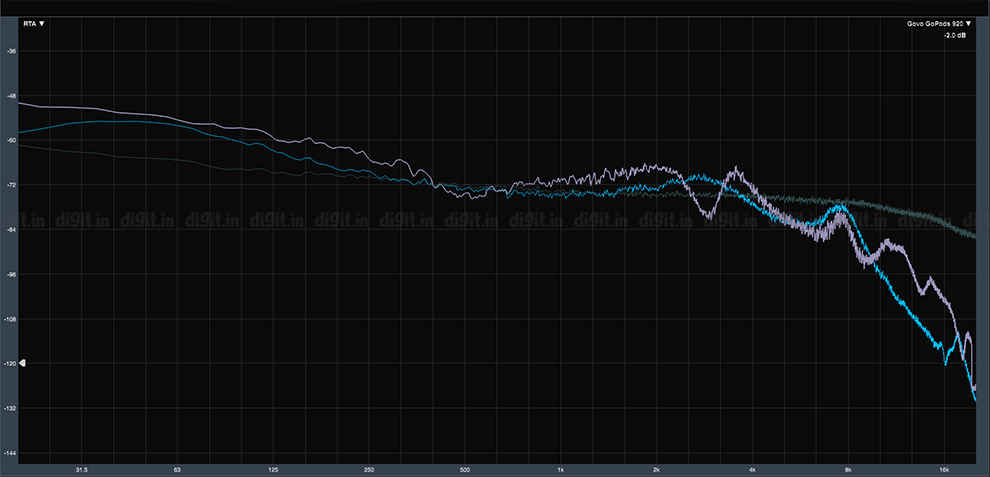 Uncompensated frequency response graph of GOVO GOPODS 920 (White) vs DIZO GoPods (Blue) vs Neutral (Dark Green)
Overall, the earphones' dark and muddy sound profile struggles to keep up with competitors such as the DIZO GoPods and Realme Buds Air 3s (review) since the mids are much better defined on these competing buds. The buds have decent passive isolation though, achieved by the solid fit, so they're a good pair of earphones for outdoor usage if you can stomach the excessively boosted bass response.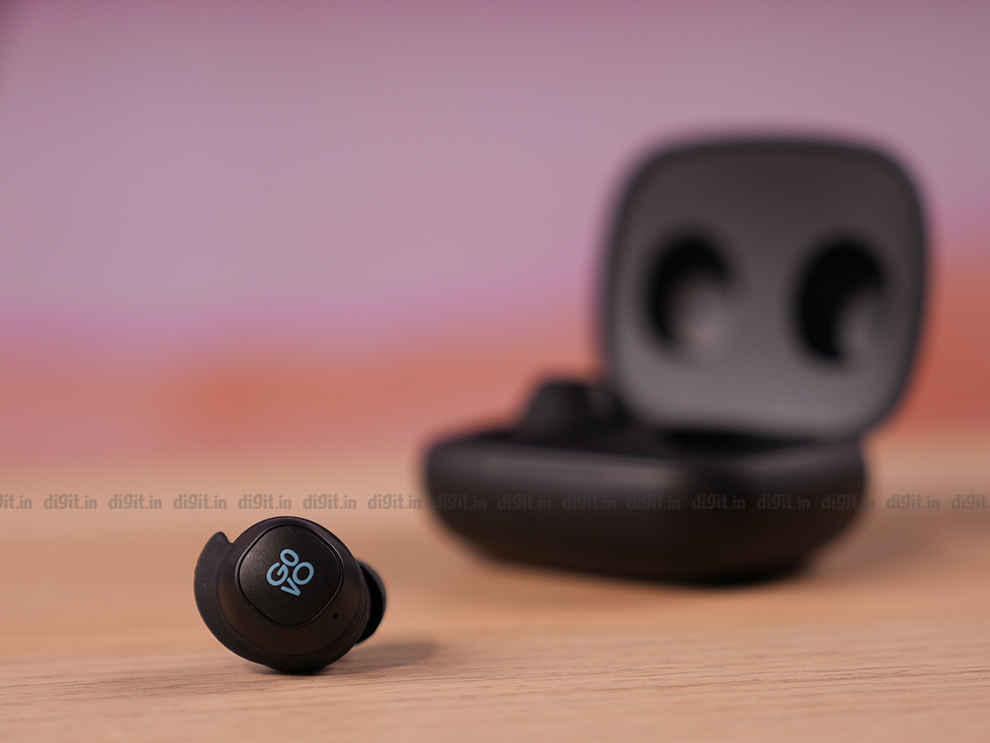 Another area where the GOVO GOPODS 920 fails to impress is the microphone performance. The earphones' mics deliver muffled sounds even when you're taking calls in an indoor setting. In an outdoor setting, the microphones capture too much ambient noise which can get distracting when you're on a call.
GOVO GOBUDS 920 Review: Battery life
With a rated battery life of 30 hours, the GOVO GOPODS 920 has quite a decent playtime for its price. The earbuds are rated to last 5 hours on a single charge, and our testing (with the volume at 60 per cent) yielded similar results with the earbuds lasting 4 hours and 52 minutes on a single charge.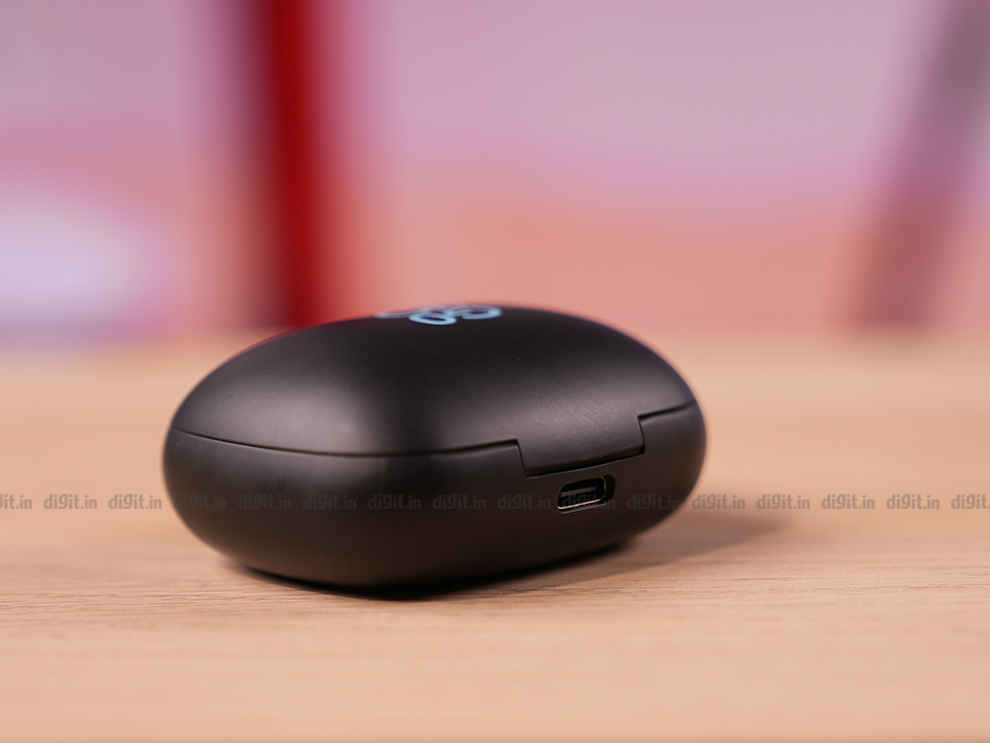 The case adds another 25 hours of playtime to the mix, meaning you can charge your buds five times over before having to power up the case itself. This is decent enough for the price, but the OnePlus Nord Buds (review) and the OPPO Enco Buds2 (review) are capable of a much more impressive 7 hours of playtime on a single charge.
The GOBUDS 920 do come with fast charging support – so, a quick 10-minute charge will provide you with 3 hours of playback, which is impressive. We can confirm that a 5-minute charge provided us with about 1 hour and 20 minutes of playback during our testing.
GOVO GOBUDS 920 Review: Verdict
With the GOBUDS 920, homegrown brand GOVO attempts to carve a spot for itself in the competitive budget TWS market in India. While the earbuds have a solid, snug fit and come with an IPX4 rating for sweat and splash resistance, they don't particularly impress in other areas. The feature set is barebones, the sound quality isn't up to the mark – even considering the price, and the battery life, while decent, is bested by some of its competitors.
Given these shortcomings, we would find it difficult to recommend these pair of earphones over the OnePlus Nord Buds, Realme Buds Air 3s, OPPO Enco Buds2, Realme Buds Q2, and DIZO GoPods. Each one of these earbuds offers an extra feature or two and comes with a more palatable sound signature. However, if you do find these earbuds in the price range of ₹1,200 – ₹1,600 during sales, they could be a decent purchase at that price.