Back in September 2021, when we wrote our Oppo Enco Buds review, we said that "entry-level truly wireless earphones are improving at a meteoric rate". Cut to August 2022, when its successor – the Oppo Enco Buds2 has launched in the market – the statement rings more true than ever. Budget truly wireless earphones have continued to make massive strides in quality in the last year. Take the Oppo Enco Buds2 as an example, the company has gone ahead and not just overhauled the design, but has also upped the battery life, incorporated a larger driver, added Dolby Atmos support, and more to this next-generation affordable product.
The market is rife with competition though, from the likes of companies such as Realme, OnePlus, Xiaomi, boAt, Soundcore, and others offering similarly-priced yet feature-rich TWS. So, the Oppo Enco Buds2 has its work cut out for it if it intends to make a considerable splash in the sub-₹2K TWS segment. Does it succeed or is the grass greener elsewhere? Let's dive right into it.
Oppo Enco Buds2 Review: Build and Fit
Oppo has gone ahead and revamped the design of its budget TWS offering this year sporting a vastly different design than the Oppo Enco Buds with its pill-shaped case and stem-less buds. The new Oppo Enco Buds2 sports a circular charging case with subtle Oppo branding in the centre. The buds come in only one colour – black.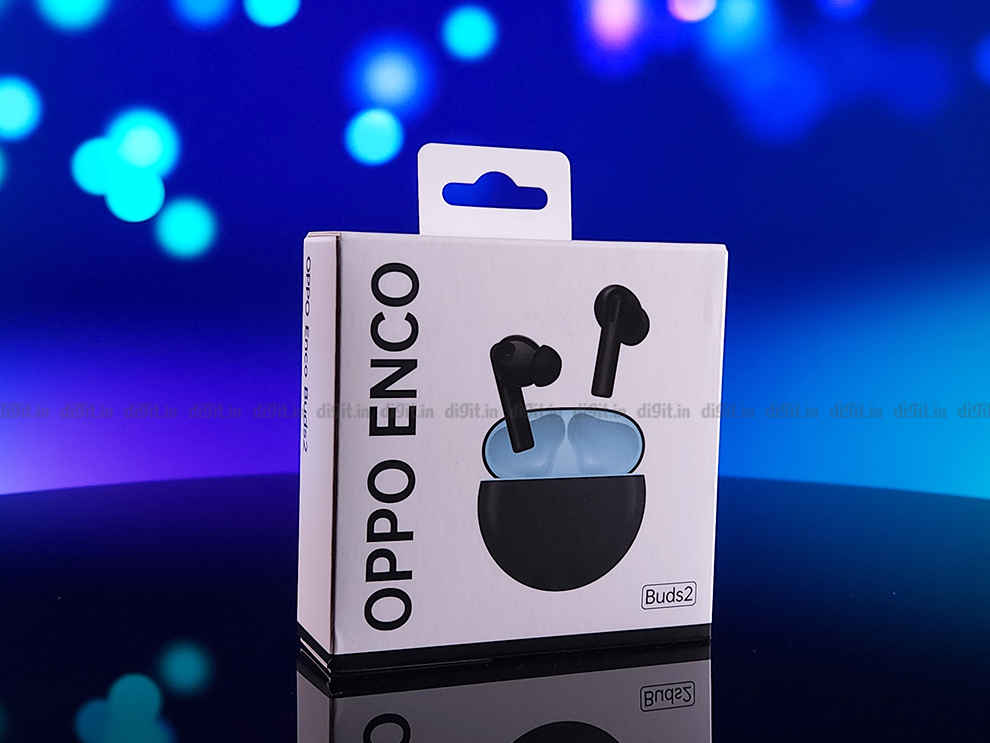 The case and the buds sport a matte finish which feels premium for the price. It has a glossy black strip running across the circumference of the case. In our opinion, it's a step up over the entirely glossy white finish of the OG Enco Buds. Personally, though, we would have liked a few more colour options.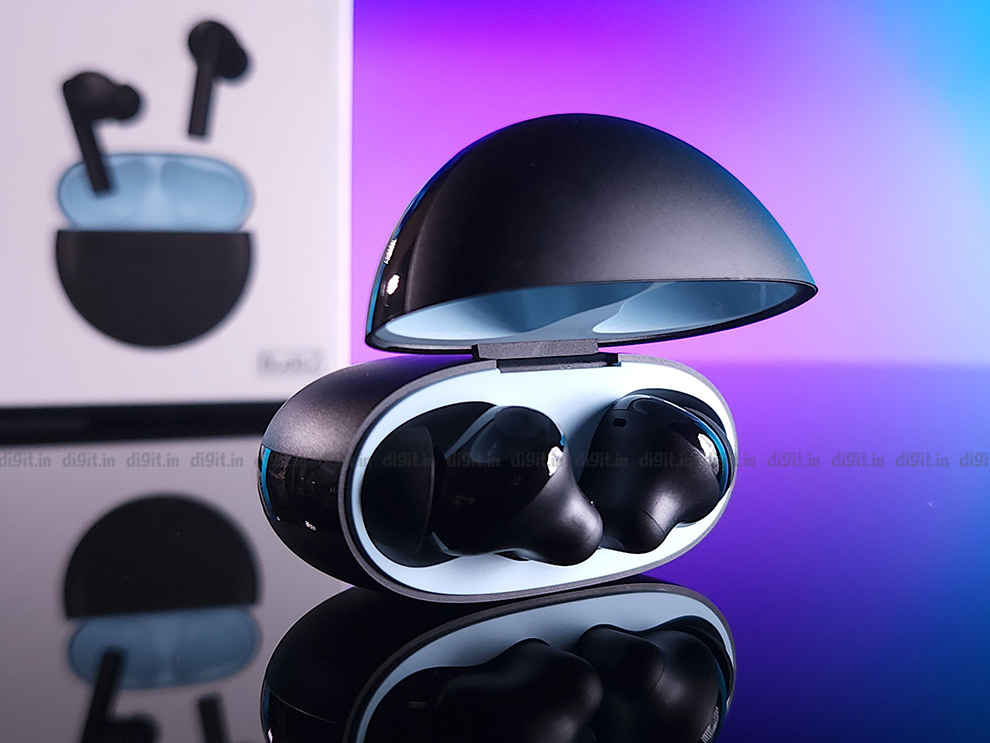 The case has a slim profile and doesn't bulge out of pockets noticeably. The bottom of the case houses a USB Type-C charging port and an LED indicator. The case is extremely easy to open one-handed but the hinge doesn't feel very robust. Also, the plastic build means the case is slightly flimsy. Opening the case reveals a black and pastel blue dual-tone design which looks pretty sweet.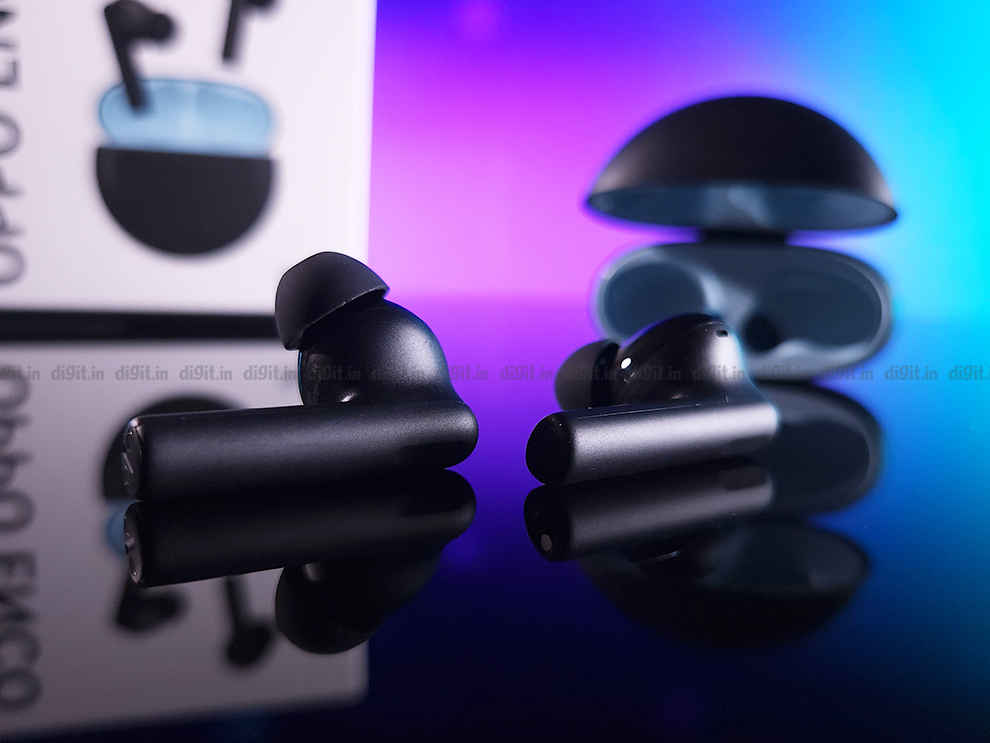 Unlike the rounded design of the original Oppo Enco Buds, the Enco Buds 2 have long stems with touch sensors embedded on the top of the stem. The touch controls are very responsive and work without hitches in most instances. The fit of these earbuds is fantastic, and even with the addition of stems, Oppo has managed to keep the weight down to 4 g which makes them non-strenuous to wear over extended periods of time. You get three pairs of silicone tips, so most users should be able to find a good enough fit.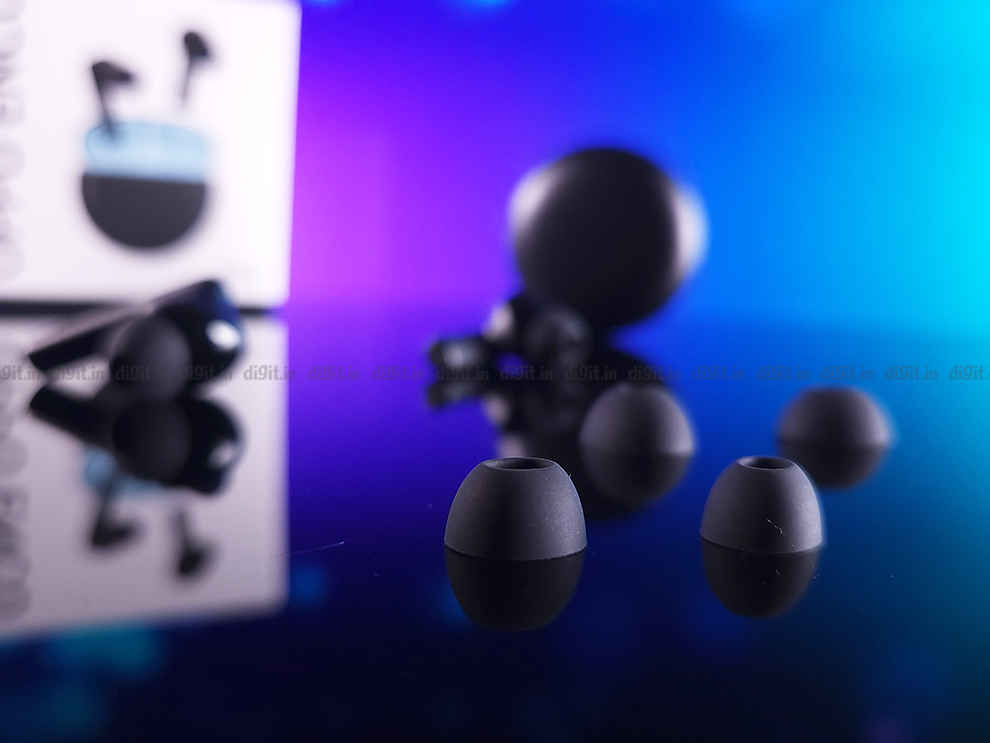 Overall, the Oppo Enco Buds2 have a decent build, look premium enough for the price, and have a fantastic fit. For ₹1,799, you won't get much better. The Realme Buds Air 3 Neo we reviewed recently have a bit more of an eye-catching design, but there's nothing wrong with the more minimalist approach Oppo has taken as well.
Oppo Enco Buds2 Features
Priced under ₹2K, the Oppo Enco Buds2 have an array of features, however, some of these are reserved for users with Oppo phones only. Let's run by them. First off, the earbuds can leverage the HeyMelody app to check battery levels, perform firmware updates, activate Game Mode, select "Enco Live" EQ presets, and customise controls. Users of ColorOS 11.0+ phones can find these options in the phone's settings itself.
Users can customise the single tap, double tap, triple tap, and touch and hold functions as per their preference – and, there are volume controls as well! Something that many brands skimp out on. It's a pretty feature app, but unfortunately, it is something iOS users will miss out on since the Enco Buds2 is not supported on the iOS HeyMelody app.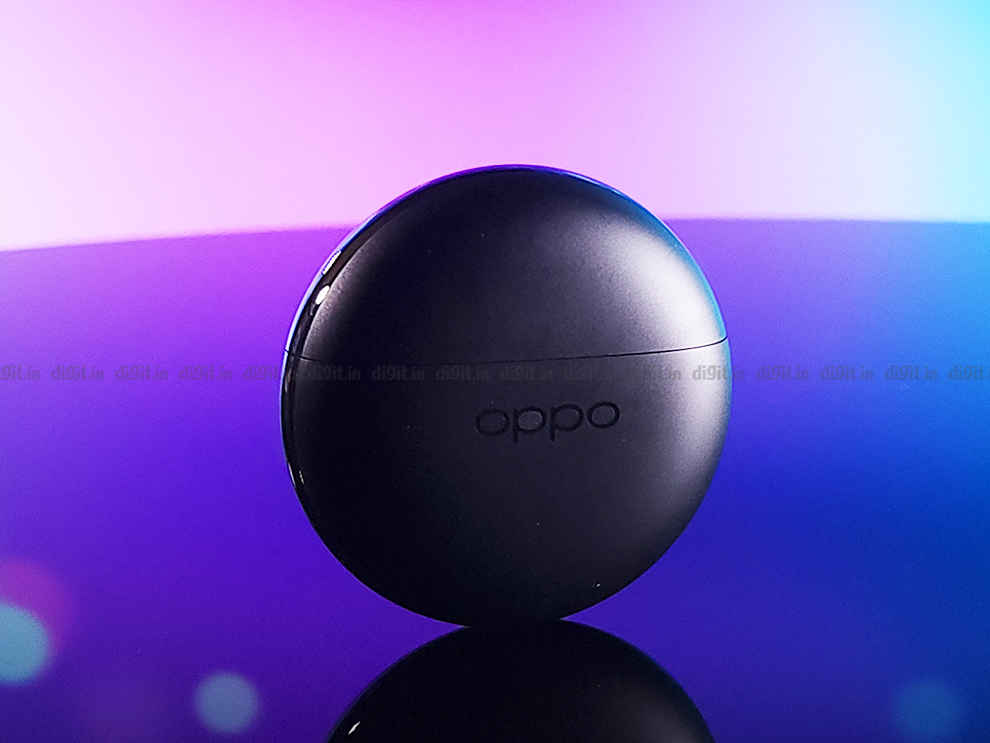 The earbuds also come packing other features such as Game Mode (which lowers latency down to 94 ms) and IPX4 splash and sweat resistance. However, Oppo has skimped out on dust ingress protection which was present on the Enco Buds with its IP54 rating, which is disappointing. Additionally, Game Mode on the original Enco Buds would lower the latency to 80 ms, so you're getting a bit of a downgrade here as well.
These features aside, you also get mono earbud usage, Bluetooth v5.2 connectivity, and voice assistant support. There are some features that work on Oppo devices only such as Instant Pairing via a prompt and double-tap to control the camera (ColorOS 11.3+ phones). You also get Dolby Atmos support which we will talk more about in the next section. Wireless connectivity is also solid and stable and we encountered no connectivity issues in our testing period.
All in all, these earbuds are pretty feature-laden but competing devices such as the Realme Buds Q2 come with ANC and Transparency Mode for just ₹200 more.
Oppo Enco Buds2 Review: Performance
Equipped with 10 mm dynamic titanised drivers, the earbuds come with a pleasant enough bass-boosted sound similar to the Realme Buds Air 3 Neo (with Balanced EQ preset) and the OG Enco Buds. The earbuds' default EQ preset – Original Sound – has a warm quality with boosted and punchy bass and well-produced mids. The earbuds come with Dolby Atmos support but the soundstage is very narrow so it doesn't provide an immersive-enough spatial audio experience.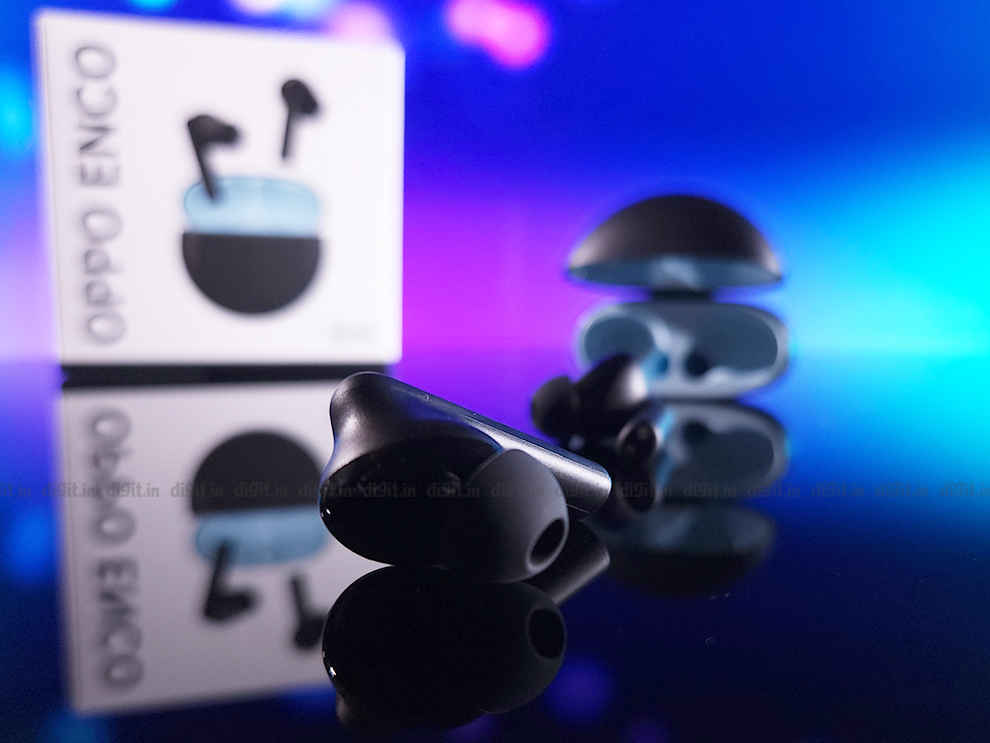 We tested the earphones' frequency response graph via the SMAART-Di v2 software. The highs are slightly muted post the 4 kHz mark and that means that instruments such as cymbals and hi-hats will be a bit shrouded in the mix. The Realme Buds Air 3 Neo has slightly more detailed highs. The bass can get a bit overwhelming at times, and the details in the mids do get slightly drowned due to auditory masking but we are just nitpicking here. At ₹1,799, this is perfectly good audio quality that most of the general public will enjoy. The bass response is loud and punchy, which sounds good when listening to genres such as rap, hip hop, Bollywood, and EDM.
Uncompensated frequency response graph of Oppo Enco Buds2 (Green) vs Oppo Enco Buds (Red) vs Neutral (Grey)
If you're looking for a bit more clarity in the high-mids and highs, we suggest switching to the "Clear Vocals" preset in the app since it is tuned to let those elements shine more. We do prefer the sound quality of the Realme Buds Q2 though, due to the slightly more controlled bass and boost in the 2 kHz - 3.5 kHz range which brings more clarity.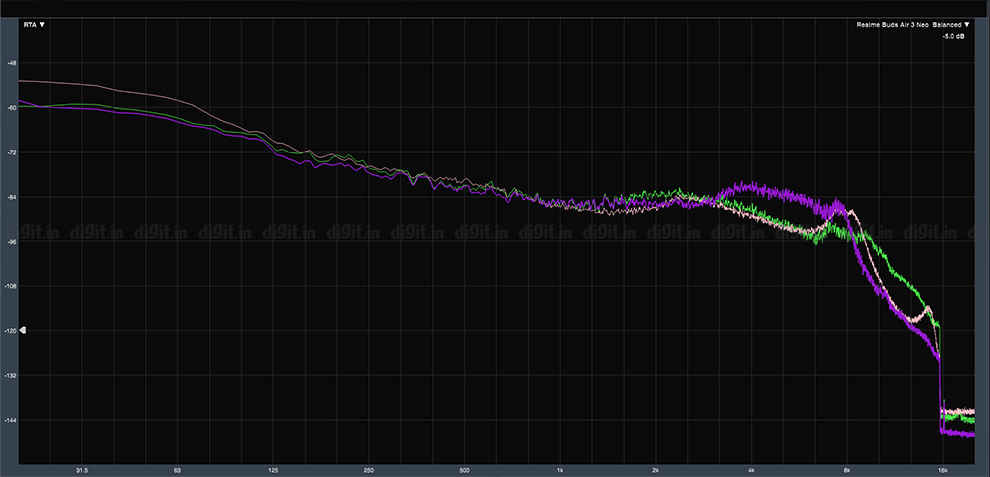 Uncompensated frequency response graph of Oppo Enco Buds2 (Green) vs Realme Buds Air 3 Neo (Purple) vs OnePlus Nord Buds (Light Pink)
These buds don't come with Active Noise Cancellation, so you will have to rely on passive isolation to keep the ambient sounds at bay as much as possible. The isolation is decent enough and subdues ambient sounds – but don't expect to be enveloped in a sonic cocoon as even half-decent ANC earbuds do.
Lastly, the microphone on these buds is pretty decent; they are improved when compared to the original Enco Buds due to the stem design which brings the mics closer to the mouth. The sound on calls and in recordings is clear and distinct. The buds come with AI Noise Cancellation for calls based on a DNN (deep neural network) but we still found that external sounds such as people talking, keyboard clacking, and others were picked up.
Oppo Enco Buds2 Review: Battery Life
Last but definitely not least, battery life. The battery longevity has been upped compared to the last-generation product from 24 hours of playtime to 28 hours – earbuds and charging case combined. The buds themselves provide 7 hours of uninterrupted listening, so there's enough juice to last you for days with the charging case before having to plug them in.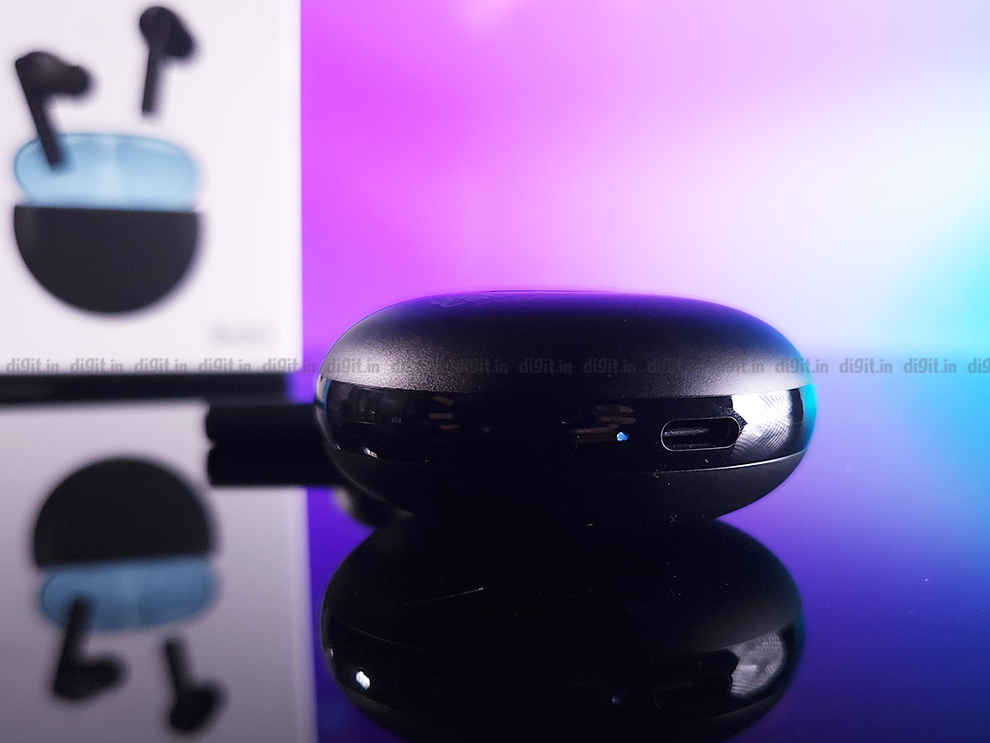 In our tests, the earbuds lasted just shy of 7 hours – 6 hours and 50 minutes to be precise – before needing to be charged up. This was at 50 per cent volume since the buds are extremely loud. The charging case provides 3 extra charges with ease.
There's also fast charging, so 10 minutes of charging time will provide an hour's worth of playback, which is handy. However, this isn't the fastest since the Realme Buds Air 3 Neo can last for an hour with just 5 minutes of charging.
Oppo Enco Buds2 Review: Verdict
At ₹1,799, the Oppo Enco Buds2 is a value-for-money purchase with good bass-rich sound and an array of features to boot. You also get a pretty solid-looking, minimalist design and good fit. Coupled with the IPX4 rating, these are great workout earbuds for fitness enthusiasts. However, the problem arises when you look at competing products in the market – especially from Realme which has just been on top of the game when it comes to the price to features ratio.
The Realme Buds Air 3 Neo is just slightly better, but still better, in most areas such as battery life, overall sound quality, and water resistance rating. Additionally, Realme's Buds Q2 just costs ₹200 more and comes packing ANC and Transparency Mode. So, the value proposition of the Enco Buds2 is diminished in comparison. Nevertheless, in comparison to offerings from OnePlus and Xiaomi, these buds are an excellent option with better sound and more features offered. If you get these on sale at around ₹1,200-₹1,400, we'd say buy them without any ounce of hesitation.