Even though 1More hasn't yet achieved the status of being a household name in the audio world, the company has begun creating waves in this market. Their pocket-friendly devices often sport a high-quality look and feel, and they attempt to achieve the same with their new entrant in the true wireless IEMs segment - the 1More Stylish True Wireless. While the earphones have a lot going for them, there are also certain drawbacks that hold us back from asking you to leave your comfy seat right now and get your hands on these babies. Let's see if 1More's latest offering lives up to the calibre of their popular Triple Drivers.
Performance
Competing against the Apple AirPods is something most True Wireless earphones end up doing since they popularised this growing audio segment. We can confidently say that the 1More Stylish True Wireless earphones surpass the audio quality derived from the AirPods, all without the high-end price tag that comes attached to the Apple AirPods.
The audio generated by the 7mm dynamic drivers is extremely crisp, warm-sounding, and rich. There's an unmistakable thump of bass, prominent across several genres. The bass response is not too overwhelming in most cases, however, in some genres, they did veil some of the finer details in the mids. Speaking of bass response, it is essential that you find the right fit of ear tips and O-Hooks since they are key to obtaining the intended bass response. Also, with the right seal, you will find that the noise-floor of these earphones is nearly silent and there is no hiss in the void when no music is playing. However, passive isolation is certainly lacking since we could hear the clicking of our mechanical keyboard while listening to music, which isn't ideal.
In Centuries by Fall Out Boy, you will see that the earphones can extend highs without producing any harshness or sounding tinny. There's also no distortion at high volumes, which we tested when we cranked this song out on maximum volume which often spells disaster for budget earphones we've tested in the past. Uptown Funk by Mark Ronson ft. Bruno Mars really highlight the bass as being tight and punchy without being overbearing, since the vocals are quite clear despite the bass thumps in the background that encompass the entire song. However, the mids sometimes seem a little recessed on these earphones, which may hamper some details.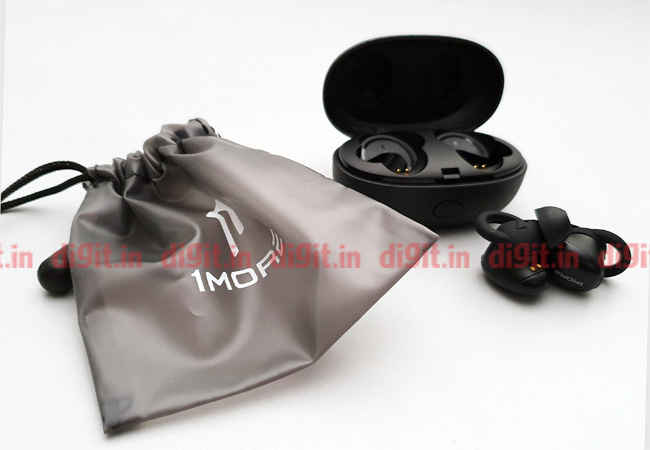 Audio separation is great as well and the soundstage is pretty decent for a pair of true wireless earphones. The instruments in Pink Floyd's Shine On You Crazy Diamond and Queen's Bohemian Rhapsody are easily distinguishable and both the songs' right and left channel separation holds and translates well on these buds. These earphones lean more towards being warm-sounding but bright tracks also play quite well, especially with the right seal which lends the buds a more balanced and well-rounded sound signature.
Wireless connection strength and stability is good as well. We rarely experienced any lags or skips and the connection stays put until you go round about 30 feet away (company claim is 33 feet). While watching media on Netflix and YouTube, there is a slight latency delay which is barely noticeable.
Coming to battery life, in our tests, we found that keeping the volume constantly at around 50 per cent nets us a battery life of 6 hours and 35 minutes on the earphones while bumping it up to 70 per cent brings the battery life down to about 5 and a half hours. The charging case offered three, and sometimes even four additional full charges to the earbuds, which is impressive.
Unfortunately, where the 1More Stylish True Wireless fails is call-quality. The receiver on the other end said that the reviewer's voice sounded hollow and unclear, which indicates that the microphone isn't of the greatest quality and earphones such as the AirPods, Jabra Elite Active 65t and Sennheiser Momentum True Wireless undoubtedly surpass the 1More Stylish True Wireless on this front. This isn't necessarily a dealbreaker, but 1More could certainly improve considerably here.
Features
In terms of battery life, the 1More Stylish True Wireless earphones offer significant hours of juice. The company claims that the earphones should deliver around 6 hours of battery life while the charging case should be capable of topping them off an additional three times, offering a total of a whopping 24 hours of battery life. So, you will achieve the same amount of juice of out these as the AirPods 2 and RHA TrueConnect earphones, which is commendable. Another quality-of-life feature available is that 15 minutes of charging can get you 3 hours of use, which is just about accurate, as per our tests.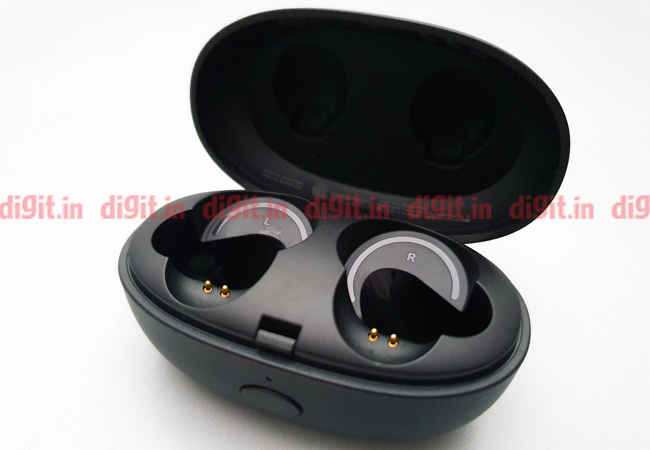 As previously stated, the 1More Stylish True Wireless has a single physical button on each earphone. However, they are fairly limited since there's no way to control volume using these physical buttons, which is an absolute shame. This means you're going to have to pull out your phone repeatedly in case you're the kind of person who likes varying volume levels across different tracks. Also, users will need to pause their music first, and then double click one of the earphones to activate their voice assistant, which feels slightly unnatural and may be difficult to come across unless you canvass the user manual.
Appreciation must be given where due and 1More really impressed us by slipping in the feature which allows users to use the earbuds independently from each other. So, if the battery dies on one of the buds, you can continue watching that Netflix show or listening to those latest tracks uninterrupted as long as the other bud is still going. This is extremely convenient. Unfortunately, this convenience brings us to another drawback. The charging of the buds within the case seems to be significantly inconsistent, where we ended up to 100 per cent charge on the right earbud, while only charging to a mere 20 per cent on the left earbud, which caused extreme levels of annoyance. Either 1More knew about this flaw and included the independent earbuds usage as a relief measure, or we just got a wonky piece for our review. In either case, it's a real shame.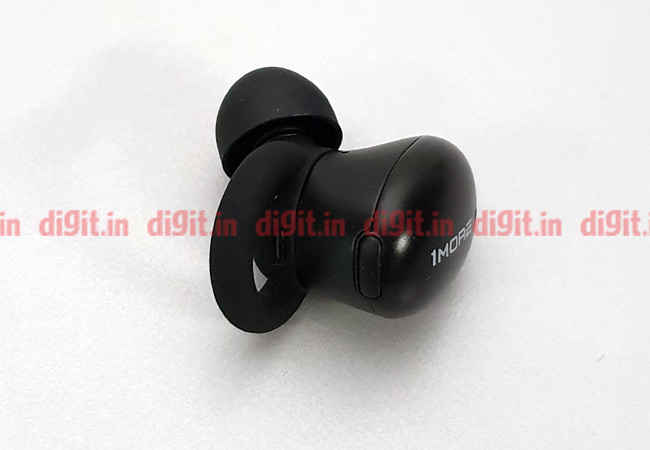 The earphones also come with auto power and pairing capabilities which essentially powers the buds on and connects them to a previously-paired device when extracted from their case. Take this feature with a pinch of salt, since it seemed to work only about 50 per cent of the time we tried it, with us having to manually turn them on by long-pressing the physical buttons in the instances when the aforementioned feature failed to perform. There's also no accompanying app to tweak EQ settings, so keep that in mind if you enjoy customising your music sound.
On a more positive note, the earphones are sweat-resistant, offer Bluetooth 5.0 connectivity which resulted in seamless wireless connection stability, and even support AAC and aptX codecs. They are priced conservatively at Rs 6,999 which makes the purchase even more attractive, since, as we will cover in the next section, the audio sounds great and balanced.
Build and design
1More has gone with a more inconspicuous and seemingly understated design for their Stylish True Wireless earphones. Unfortunately, contradictory to their name, these earphones did not manage to fit our criteria for being called 'stylish', especially the generic-looking black colour variant we received for this review. There are other colours, such as Gold and Pink, that certainly are flashier, but mostly look gaudy in the pictures.
The earphones, as well as the accompanying charging case, are completely made out of plastic. You also get a drawstring pouch in the box to store the charging case. The matte, oval-shaped charging case looks quite generic and the logo which is indented into the centre of the case fails to pop as well. Additionally, it is quite a bulky case and often protrudes out from under your pocket.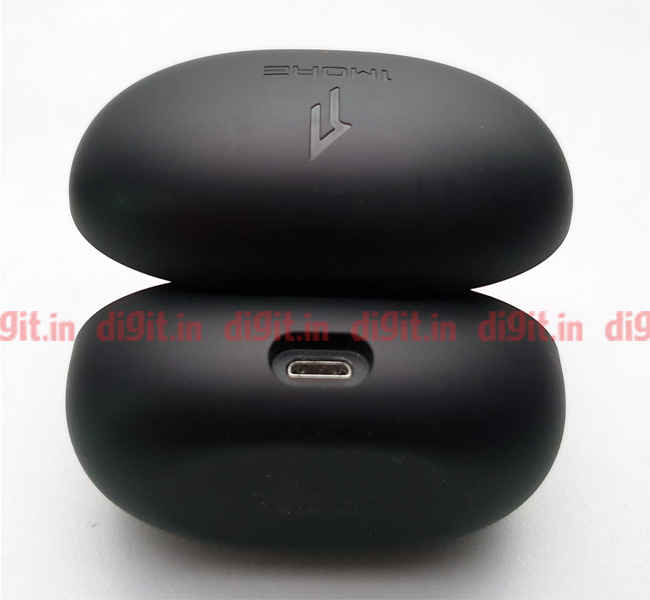 The case also houses a micro-USB charging port, which is a slight disappointment, but it is expected in budget-friendly true wireless earphones, so we will refrain from complaining too much about this. There's also an oval-shaped button which pops open the spring-loaded case in an efficient manner to reveal the earbuds resting inside it. Additionally, there's also a battery indicator LED light which reveals the amount of charge the case has remaining.
Each earphone is shaped like an oval polished pebble (1More has really stuck with the oval design theme with these, it seems), and house a single LED indicator and a multifunction button. The physical button on each earbud does allow you to pause or play music, skip tracks, go to previous tracks, and answer phone calls.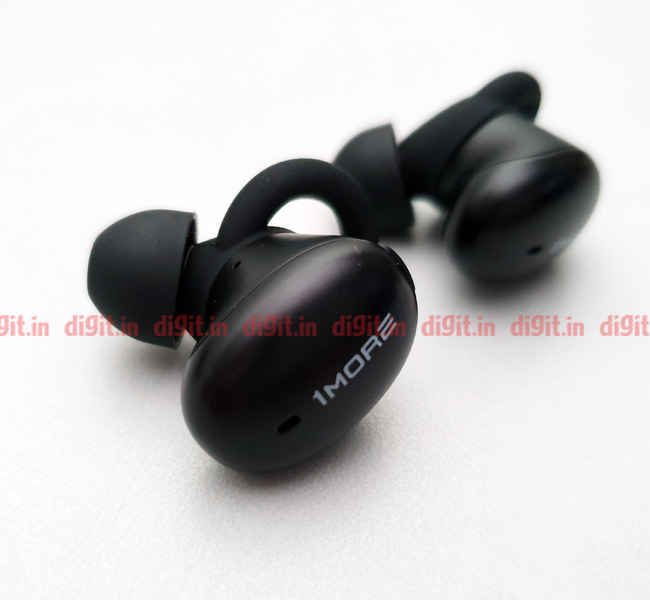 The earbuds offer a comfortable fit and we listened to music for hours on end without feeling any kind of fatigue. The 45-degree angled ear nozzles, as well as included stability gels (O-Hooks), enhance the fit and comfort. We were extremely pleased to see that 1More included four sizes of ear tips (XS, S, M, L) and three sizes of O-Hooks (S, M, L) which mostly ensures they fit like a puzzle piece for just about anyone.
Overall, the plastic body of the charging case and earphones make them look and feel flimsy and less premium, however, they are quite lightweight as a result. While the case doesn't feel as plasticky as the Redmi AirDots case, it isn't quite as premium-looking as the Galaxy Buds case either. The comfortable and secure fit, as mentioned above, means that you could easily use these buds while taking a leisurely stroll in the park or during your commute to work. However, they tend to slip out sometimes while running, so they're not exactly built to cater to a fitness-oriented lifestyle.
Bottomline
The 1More Stylish True Wireless earbuds may not necessarily be as 'stylish' as the name suggests, but they do sport competitive sound quality, good battery life and a snug seal, as long as you find the right eartips and O-Hooks. They also offer some high-end features such as sweat-resistance, fast charging, Bluetooth 5.0 and voice assistant access, all at a budgetary price point of Rs 6,499. We can't help but yearn for a USB-C port, a companion app, and volume controls, but we're mostly just being nitpicky here, minus the case of the absent volume controls, which is a basic feature you'd expect earphones to have.

While there are definitely true wireless earphones that sound superior to 1More's offering such as the Klipsch T5 and Sennheiser Momentum True Wireless, the 1More Stylish True Wireless offers good sound quality for their price point with a relatively balanced, well-rounded sound signature. The earbuds can also function independently from each other which is quite convenient. The somewhat generic design of the matte black version of these buds can be unappealing but the capable sound quality and the support given to high-end audio codecs such as AAC and aptX more than make up for it. However, the Galaxy Buds also prove to be a great alternative to these earphones at this price range. Overall, 1More's Stylish True Wireless should prove to be a solid budget-friendly purchase.