Apple AirPods 2 detailed review
The second generation of Apple AirPods is touted to come equipped with numerous new features. While the most notable change is a new wireless charging case, the audio capabilities and battery life of the earphones are also apparently improved. However, it remains to be seen whether, or how, the addition of new features has affected the new AirPods' audio capabilities.
In the box
Apple AirPods
Wireless charging case
Standard Lightning cable
Build and design
AirPods take the cake when talking about build and design. The earphones are made of hard plastic that is not only durable but also glossy and quite shiny. They are made to turn heads and while reviewing, I observed people noticing them dangling from my ears. However, the only qualm with their design is their fixed shape without the ability to use eartips. While the AirPods are shaped in a manner to fit almost everyone, I experienced discomfort after using them just 15 minutes, which is certainly an anomaly. Trying to fit them properly in my ears to get the best audio experience was literally a painful experience. This could've been a one-off problem because of my smaller ear canals, as none of my colleagues who tried them out, faced the same problem. Still, I would suggest that one try them out before buying to ensure that they are not uncomfortable.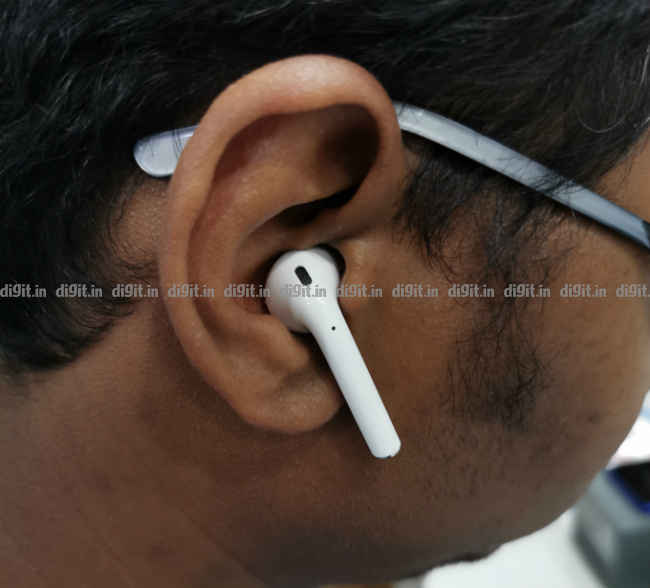 They were a good fit for all my team members but hurt my ear, and my feelings in the process
The cans are not water or sweat resistance and there's very low passive noise sealing due to the design. Ambient noise creeps in easily, which might be a good or bad thing depending on the use case scenario. If you're using them at work, or while jogging, the ambient sound leaking in might be a good thing. If you are on a flight, sitting next to a crying toddler, well, then not so much. However, we would've personally preferred a better fit to ensure a better listening experience since the Live Listen feature on an iPhone can be used to amplify ambient noise. The dual-beamforming mics on the cans were capable of picking up one's voice in a fairly noisy environment and we faced no issues while taking calls through the AirPods. Additionally, one can use only one earphone, if need be, and this has proved to be a great option for me when I want to be more aware of what's happening around me but still listen to some tunes.
Moving on to the charging case, it is small, compact and similar to the cans with a glossy complexion. It is compact enough to fit in your pants without being prominently visible and is extremely convenient to open with one hand. We highlight this because some other charging cases for truly wireless earphones, like the Jabra Elite Active 65T, are quite difficult to open with a single hand.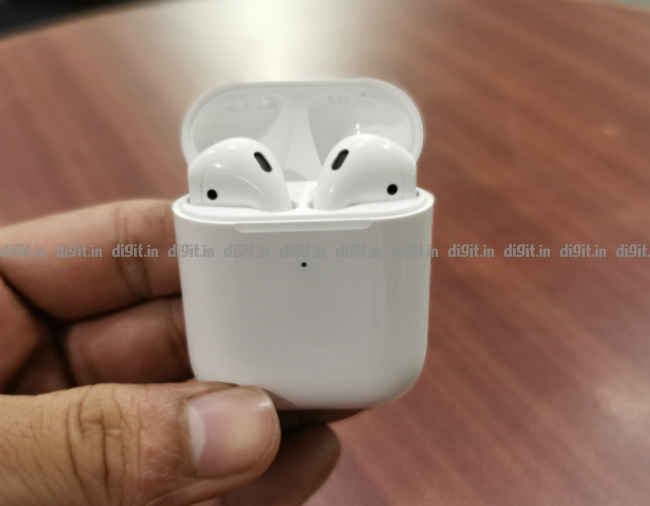 Small and compact AirPods case
The hinge on the AirPods charging case is also magnetic, which opens and closes smoothly without any problem. Additionally, the build quality suggests that there shouldn't be any problem in using the case for a very long time. However, a major caveat of the AirPods and their case is that they are prone to scratches and attracting grime and dirt. We found the seams and edges of both the case and the earphone capturing dirt after being used for a day.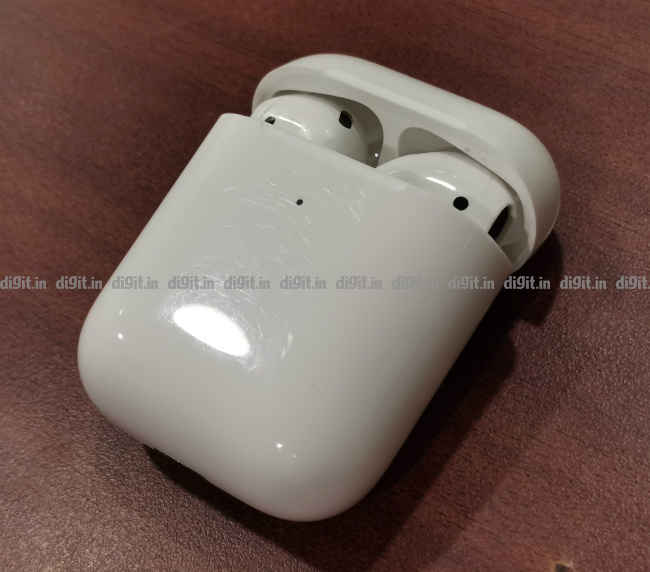 Those shiny scrathes ain't so pretty
The lightning connector sits on the bottom of the charging case, while a small button to pair it with devices is on the back. The new wireless charging supported case features a small LED light on the front, which vaguely indicates the battery life of the earphones and the case, unless you have the device paired with an iPhone.
Audio Performance
After listening to the second generation Apple AirPods for a couple of weeks, it's clear that they sound their best when reproducing lower mid and higher mid frequencies. With a slightly relaxed V-shaped sound signature, the earphones noticeably put more emphasis on the lower and higher end of the audio frequency spectrum. However, what's surprising is that the cans still manage to preserve the mids without losing too much accuracy, most of the time. The overall sound output of the earphones varies depending on what genre of music one listens to, and it can be understood by breaking down the new AirPods' audio performance into different segments.
Starting with lower frequencies, the new AirPods feature strong bass but without a fast response. This characteristic can be observed in titles like Chris Rea's Call on Me, where some details in the lower audio segment are lost due to the faintly booming bass, causing the bass guitar's riff's decay to slightly extend. As a result, there is some loss in detail that is mostly because of the boomy bass that envelops the lower-mid audio range. This causes Chris Rea's gravel-like voice to sound diluted at times. However, we did listen to other bass rich tracks like Lose Yourself to Dance by Daft Punk or in the track Rude by Magic!, where the singer's vocals linger between upper-mid and lower-high audio range and are rendered succinctly. While the bass in these tracks ranges from sub-bass to the lower-midrange spectrum, it does so without overpowering the vocals or most other mid-range frequencies.
While we've already observed how the second gen AirPods' bass output affects its mid-range frequency reproduction, there are some more observations to be added here. As mentioned, the V-type sound signature of AirPods should downplay the mid-range segment and it does so when we talk about the lower-mids. However, the mid and upper-midrange are less affected by the device's sound signature and boomy bass. Singers like Micheal Jackson and Adele sound pleasant and peppy without any shrillness when hitting high notes in their songs, Billie Jean and Hello respectively.
The new AirPods are tuned to boost the upper range of audio frequency but the tuning is such that they aren't harsh or shrill. The sound in this segment is fairly accurate and fast. However, It is also slightly relaxed with the upper-highs rolling off smoothly and toned down when compared to the upper-mids. The smooth roll-off is observed while listening to Earthquake by Labrinth, while Yellow by Coldplay sounds a bit more relaxed. However, very slight fatigue starts building up after listening to music via the earphones continuously for a couple of hours, which is us nitpicking. Coming to soundstaging, it's neither too wide not to shallow on the AirPods. The cans manage to provide just about enough spacing between instruments when listening to Hunter by Bjork, without mashing them up.
Controls
The new AirPods feature touch-based controls, same as its predecessor. We paired the earphone with both Android phones and an iPhone and the controls worked well in both the cases. However, these controls can be customised only when the AirPods are connected to an iPhone. When connected with an iPhone, you get a number of options such as the ability to invoke Siri, play/pause audio, and skip or go back a track. Unfortunately, there's no option to control the volume but as the new AirPods support Siri and as we surprisingly discovered, also works with Google Assistant, you can ask the digital assistant to do that for you, along with numerous other commands like setting a reminder, an alarm or calling a contact.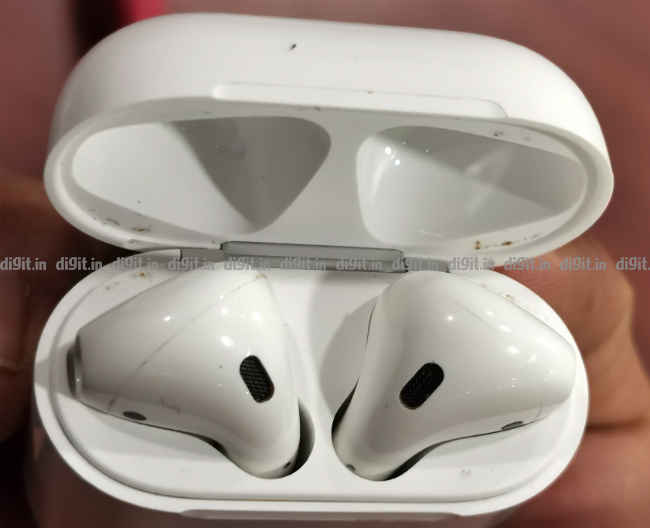 Alonside the dirt, you can also see the tiny, circular IR sensors that on the sides of the AirPods
The AirPods also come equipped with dual optical sensors that pause the audio playback when you take one of the earpieces out of your ear. This feature is limited to iOS devices and doesn't work when the cans are paired with an Android phone.
Battery Life
In terms of battery life, the new AirPods fair rather well and last more than the original AirPods. We were able to get around five hours of audio playback from them, with the volume set at 70 percent, and around 4.5 hours when placing a couple of 20 minute calls in-between. The case is capable of fully charging the AirPods almost four additional times, meaning the new AirPods can deliver slightly over 20 hours of usage. It takes around one and a half hours to fully top up the charging case when the earphones are also fully depleted, which is in line with other truly wireless earphones.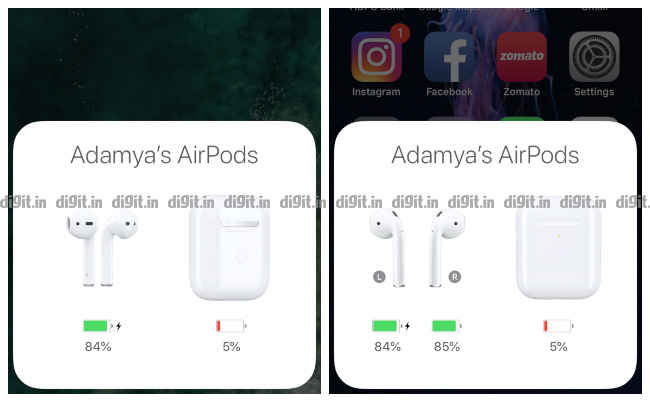 When you pair the AirPods with an iPhone, you get to see the case's and the AirPods' charge
Bottomline
The Apple AirPods 2 comes with a host of new features like the new H1 chip. These new additions make for a genuinely great truly wireless earphones both, in terms of design and usability. While the audio experience is not as good as what you would get from a pair of wired earphones (in this price range), the new AirPods can be considered a well-rounded package for a truly wireless earphone.
While the new AirPods are not a device audio purists will flock to, it is good enough for the average users and to cater to one's day-to-day audio needs, given you have about Rs 18,900 to spend. The value for money proposition may be far from ideal for Android users but, for an iOS user, the convenience factor is enough to justify the price. If the Rs 18.990 price tag is too high, then you could just get the second generation AirPods without the charging case and save some money.
However, if you are an Android smartphone, there are better options to explore like the Jabra Elite Active 65T (review) or the RHA TrueConnect (review).
Apple AirPods 2 Key Specs, Price and Launch Date
| | |
| --- | --- |
| Price: | |
| Release Date: | 24 Apr 2019 |
| Variant: | None |
| Market Status: | Launched |
Key Specs
Playback Time

NA

Frequency Range

NA

Channels

NA

Dimensions

NA