Apple has once again led the smartwatch market by a huge margin and registered 35.8 percent share in the globale smartwatch market shipments in the first quarter of 2019, Counterpoint Research has said. In fact, every one in three smartwatch is an Apple Watch, the research firm said. Apple registered a 24.7 percent lead over the second placed Samsung that captured only 11.1 percent of share. In fact, the top nine brands contributed to 75 percent of the market shipment in the quarter.
"Apple Watch shipments grew a solid 49 percent year-on-year (YoY) despite the weak demand for its iPhones. Apple continues to focus on the health-related features like ECG and fall detection in the Apple Watch Series 4. The ECG capability in the Apple Watch is the most desirable feature, according to our latest Consumer Lens survey. Apple has now received approval on its ECG features from healthcare authorities of Hong Kong and 19 other countries," Satyajit Sinha, Counterpoint Research Analyst, said in a statement.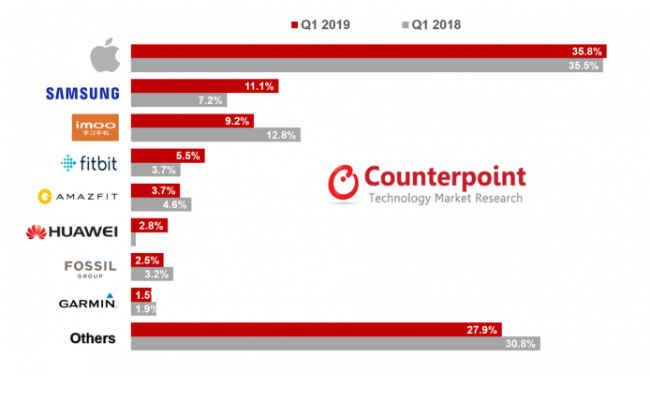 According to Sinha, the heart rate sensor for health monitoring, GPS and pedometer sensors for fitness, and NFC embedded for payment are some of the key integrated technologies. Related use-cases and in addition to notifications with cellular capability are driving the smartwatch adoption, he noted. This comes as the global smartwatch shipments grew a healthy rate of 48 percent YoY in Q1 2019 driven by Apple, Samsung, Fitbit, and Huawei, where the latter three grew exponentially.
"Samsung grew exponentially at 127 percent YoY as the Korean brand's market share jumped to 11 percent in Q1 2019. Its success was due to the latest Galaxy watch series which came with better battery life as well as a very traditional round clockface design. Further, it provides cellular LTE connectivity which gives it an edge over others targeting Android-based smartphone users. It is a great alternative to the Apple Watch for Android and Samsung's huge installed base of users," Sujeong Lim, Senior Analyst, added.
Huawei's market share jumped to 3 percent due to good traction for its latest Huawei Watch GT. Further, Huawei has shifted focus to sell more Huawei branded smartwatches whereas the smart bands are selling well under its Honor brand.
Talking about innovation in Nubia Alpha, Brady Wang, Associate Director, said that the "smartphone + smartwatch" design adds smartphone level capability to the wrist form-factor. The UI of Nubia Alpha comes with features like gesture control, shortcuts with image capture, and moving through apps. "This makes the smartwatch versatile and user-friendly. However, we are still in nascent stages in the evolution of smartwatch form-factors. These new form-factors will need to excel on various metrics. They need to be less bulky, ruggedized but stylish and also possess a less fragmented software/UI which at the same time is also intuitive. We estimate flexible smartwatches will hit mainstream post-2025," Wang added.