All eyes are on the OnePlus Nord, but the company is seemingly working on a lighter version of the Nord as well, going by a new report. A new OnePlus smartphone was spotted on Geekbench which is powered by the new Qualcomm Snapdragon 690 SoC, which is perhaps the biggest hint at a more affordable mid-range device from OnePlus.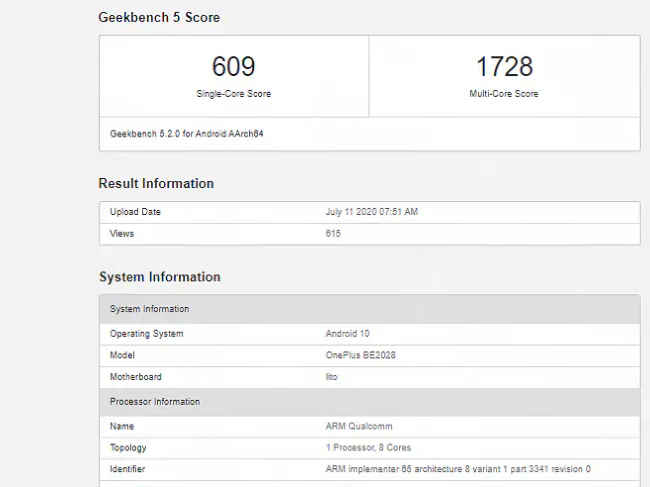 The unknown device is listed with the model number 'OnePlus BE2028', indicating a new lineup. Interestingly, the model number of the OnePlus Nord is OnePlus "AC2003". The Geekbench listing reveals the upcoming unknown OnePlus device will have a 'lito' motherboard, which is commonly associated with devices powered by the Snapdragon 765 chips. However, the base frequency of the CPU along with other details points towards the new Qualcomm Snapdragon 690, the first in the 6-series to come with a 5G modem.
The listing also reveals the phone runs on Android 10 and offer 6GB of RAM. The Snapdragon 690 is an interesting choice, however. It succeeds the Snapdragon 675 and offers eight Kryo 560 CPU cores clocked at up to 1.7GHz, similar to what the Geekbench listing suggests.
OnePlus Nord Lite powered by Snapdragon 690 could be incoming
It all points towards a lighter version of the OnePlus Nord that scheduled to launch in India on July 21. Interestingly, OnePlus has dropped no hints of a 'Nord Lite' previously, but that's just how the company operates. It focuses on the immediately upcoming launch and keeps fans on a drip-feed of information around the device to build up hype. We don't really expect this lighter version to show up alongside the OnePlus Nord next week, to be honest.
In fact, it could very well be an early prototype of the OnePlus Nord itself, which OnePlus was probably testing with the Snapdragon 690 SoC before switching to the more powerful Snapdragon 765. Little is known at this point, and if this is indeed a new device the company is working on, we are sure to hear more about in the coming few days.