Qualcomm announced the Snapdragon 690 SoC powered by the Snapdragon X51 5G modem promsing a 20 percent better CPU performance and 60 percent better GPU performance.
Even if 5G is still something reserved for the flagships in India, Qualcomm is working to scale down 5G technology to more affordable segments. The San-Diego based company announced the Snapdragon 690, the first 5G chipset in the 6-series, although it only supports the slower sub-6GHz of 5G with the new Snapdragon X51 5G modem.
The Snapdragon 690 succeeds the gaming-centric Snapdragon 675 with the latest Arm Cortex A77 cores inside, along with support for 120Hz displays and 4K HDR video recording.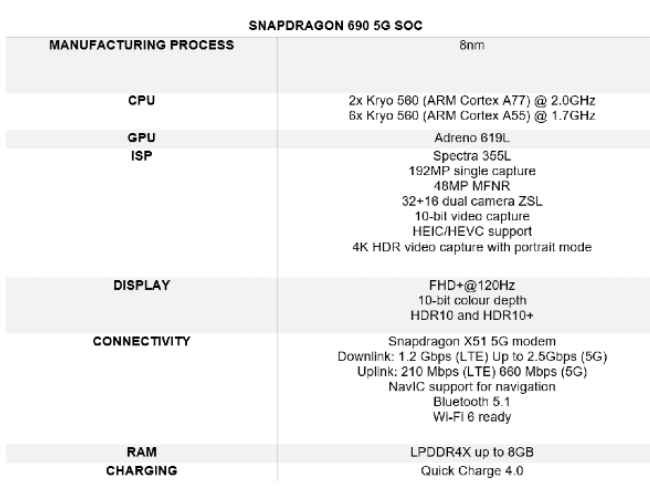 Based on an 8nm manufacturing process, Qualcomm promises a 20 per cent boost in CPU performance along with 60 percent faster graphics rendering, as compared to the Snapdragon 675. But the biggest addition is still the 5G modem inside, which makes it the first budget chipset from the company to support the next-generation connectivity. The 6-series chips are used in budget devices by Xiaomi, Moto, and Nokia and they are usually priced far more affordably than an 8-series or 7-series chipset.
Alongside 5G, there are a few more improvements as well. The Snapdragon 690 can support up to 192-megapixel cameras and support 4K HDR video capture. Both of these are a first for the 6-series. The chipset supports the AI-enabled smooth zoom as well. Furthermore, the chipset will have the capability to support a 120Hz display.
Yet, the Snapdragon 690 will still be relatively expensive. In India at least, the 6-series chipsets are used in the sub-$150 (roughly Rs 12,000) range, but Dipu John-Senior Director, Product Management at Qualcomm told us the chipset will be powering devices priced around $300-$500 (roughly Rs 22,000) range in the US. But then again, with no 5G available in India, OEMs will have less incentive to launch these devices in India, because the premium Qualcomm charges for the 5G bit will not be feasible in the face of competition from the Snapdragon 720 SoC or even the Snapdragon 730G, both of which power devices priced less than Rs 20,000.
Qualcomm said HMD Global, LG, Motorola and TCL are among the companies who are planning to launch devices powered by the new Snapdragon 690 and will be rolling out in the second half of 2020.