Until now, Google's own Pixel smartphones have been the only devices to recieve every new release of Android first, right after the announcement. With the upcoming Android 10 update, however, that could change. We say that because, according to a screenshot shared on Reddit yesterday, OnePlus is preparing to roll out the Android 10 update to some of its devices on the very day Google announces its OS. Google is expected to announce Android 10 on September 3.
The screenshot shared by Redditor Staafnek (Nick) shows a chat conversation with an unnamed OnePlus support agent. According to the support agent, OnePlus is planning to roll out its Android 10 update on the same date Google officially announces Android 10 for the first time, which is on September 3. It's important to bear in mind that, since the screenshot shared contains no names or official details, there's a chance the image is doctored.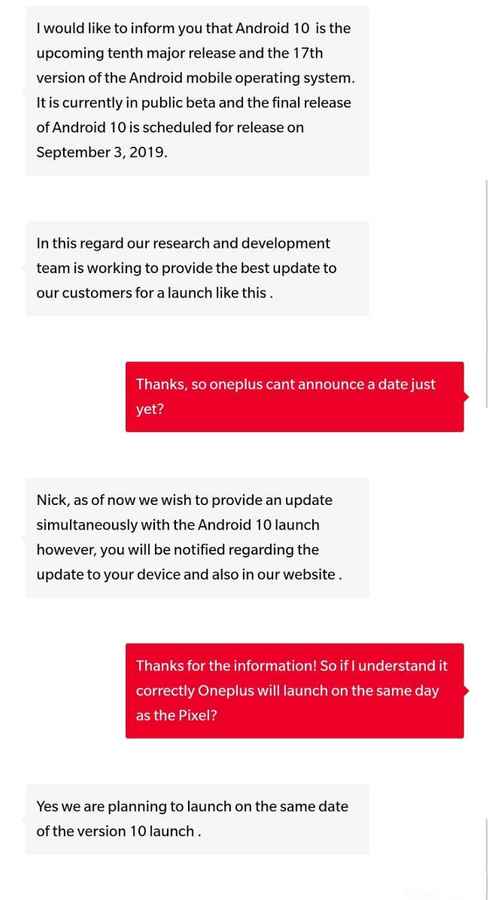 When we at Digit reached out to OnePlus India to get more information on the matter, the Chinese smartphone company declined to comment. That leaves us with more questions than answers. Which OnePlus devices will receive Android 10 first? What about the launch of the OnePlus 7T and OnePlus 7T Pro? OnePlus is expected to launch the two 'T' phones on October 15. They were recently spotted in the wild running the beta version of Android 10 (previously Android Q).
If the image shared by the Redditor is to be believed, then OnePlus will most likely roll out its OxygenOS update based on Android 10 to its latest devices: the OnePlus 7 and OnePlus 7 Pro. Models launched before them will probably get the update in the coming months. The OnePlus 7T and OnePlus 7T Pro are expected to be launched on October 15 but it could happen sooner than that. You can read more about that here.